Downloading a file was once a very boring and unpleasant task. Nowadays, users are blessed with lots of download managers to use on Linux. When you will download something and want to manage them proficiently, a download manager will be your best helping hand. However, recently, I have used an open source and effective download manager for Linux. It is Motrix.
Motrix comes with a lot of useful features, and while using this app, I have found some surprising facts in it. That's why I planned to write about it so that people who are looking for an efficient download manager can learn about it. Let's start with a proper introduction to Motrix. And then, I will continue disclosing every single fact of this application.
What is Motrix?
---
Motrix has good news for you. It is a completely free application and you don't have to pay for any feature. However, it is an open source download manager that comes with a very minimalist interface. It contains every sort of feature to run properly on all popular platforms, including Linux.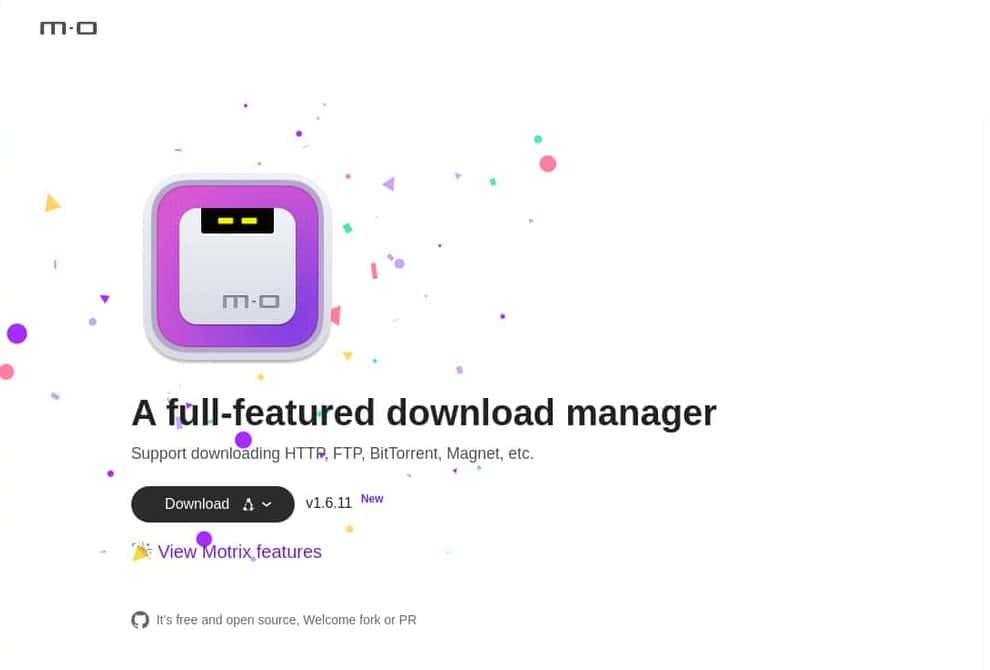 If you start using Motrix, downloading and managing files will be fun and easier. Additionally, it will inform you right after a file is downloaded. Besides, you can customize the theme and select the language of the software. It also supports BitTorrent selective download and updates the system on a regular basis to improve the tracker list.
When I was using Motrix, torrent files worked well with it. Eventually, it was good to detect the download link directly from the clipboard. On Ubuntu, I installed this software using the snap codes. And surprisingly, I didn't find any serious issue with this application. Let's check out the essential features of Motrix.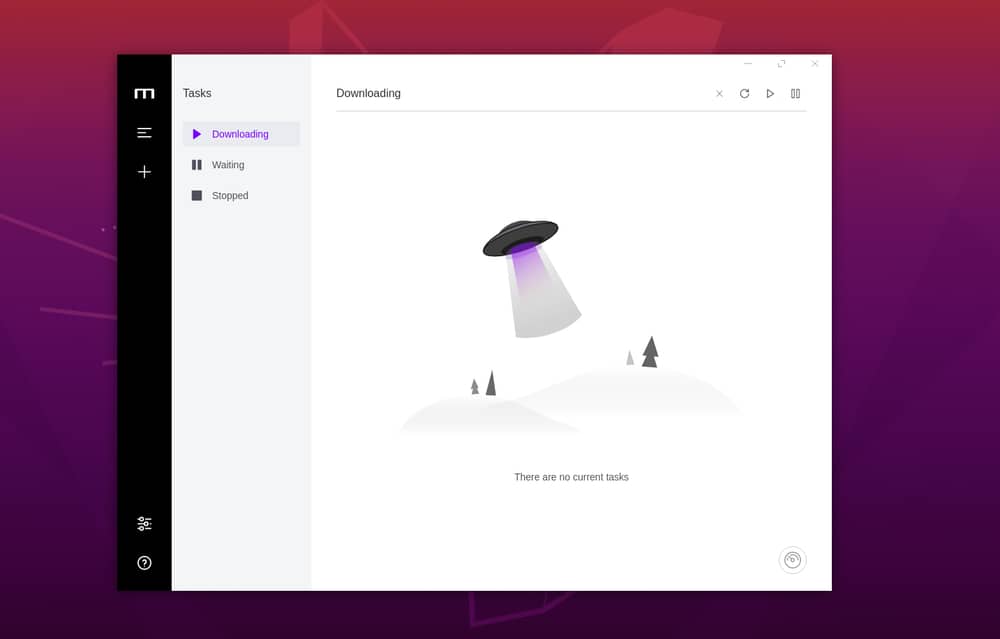 Features of Motrix
Motrix supports magnet, HTTP, FTP, and BitTorrent selective download.

You can check the download progress and other details on the dynamic graphic display.

For a single task, it supports up to 64 thread downloads.

It initially comes with a dark mode feature and multiple language support.

UPnP & NAT-PMP port mapping and parallel download functions are available here.

In Motrix, you can change the user agent and set the speed limit.

For quick operation, you can use the resident system tray.

Motrix lets you delete double and related files when you will move and manage the files.
How to Install Motrix?
---
Unlike most other applications, Motrix offers so many options to install. I am not aware of which option you prefer the most. So, I am leaving all the possible ways to install Motrix on Linux. I preferred using snap to install it on Ubuntu. You should be careful to execute the accurate command for your current Linux flavor.
----------- On Debian/Ubuntu -----------


$ sudo apt update




$ sudo snap install motrix



----------- Arch Linux/Manjaro -----------


$ git clone 

https://aur.archlinux.org/snapd.git


cd snapd




makepkg -si




$ sudo systemctl enable --now snapd.socket




$ sudo ln -s /var/lib/snapd/snap /snap




$ sudo snap install motrix



----------- Fedora/Red Hat -----------


$ sudo ln -s /var/lib/snapd/snap /snap




$ sudo snap install motrix



----------- Linux Mint -----------


$ sudo rm /etc/apt/preferences.d/nosnap.pref




sudo apt update




$ sudo apt update




sudo apt install snapd




$ sudo snap install motrix

To install Motrix on the latest version, Linux Mint 20, you need to remove etc/apt/preferences.d/nosnap.pref. For Arch Linux, Manjaro, Fedora, and Red Hat, the installation process require logging out and in or just restarting your computer after installing snapd. It is a system requirement to update the snap path.
Besides snap, you can also download the DEB/RPM packages of Motrix from Github. If you are using Arch Linux, you can download the AUR file as well. To get the file in Github, visit the following link.
The next option is to install it from Flatpack. Run the following command or visit the Flathub site to directly install Motrix on your system.
$ flatpak install flathub net.agalwood.Motrix


$ flatpak run net.agalwood.Motrix
Also, you can install Motrix using Appimage. The official website of this software also showcases the Appimage download link for Linux users. You can directly download this application from the link unless you are using Arch Linux. 
How to Download Files With Motrix?
---
Once you install Motrix on your system, you can easily download files, videos, images, and whatever you like with this powerful software. But you may not know the process yet, right? Well, I am here to briefly tell you what to do. So, don't worry.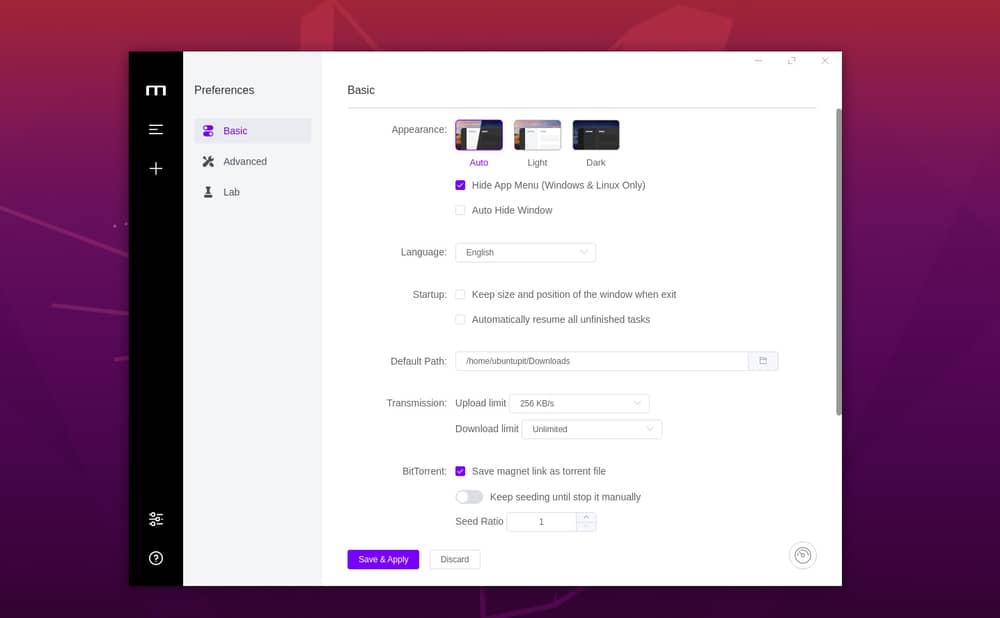 You can check the settings option to change the theme, language, upload limit, and others. However, let me teach you how to download a torrent file with Motrix. Open the app, and on the left side panel, you will see an option, '+'. Hit on it, and a small tab will appear with a place to enter a link. There are two different options for URL and Torrent. Choose your preferred one and paste the link.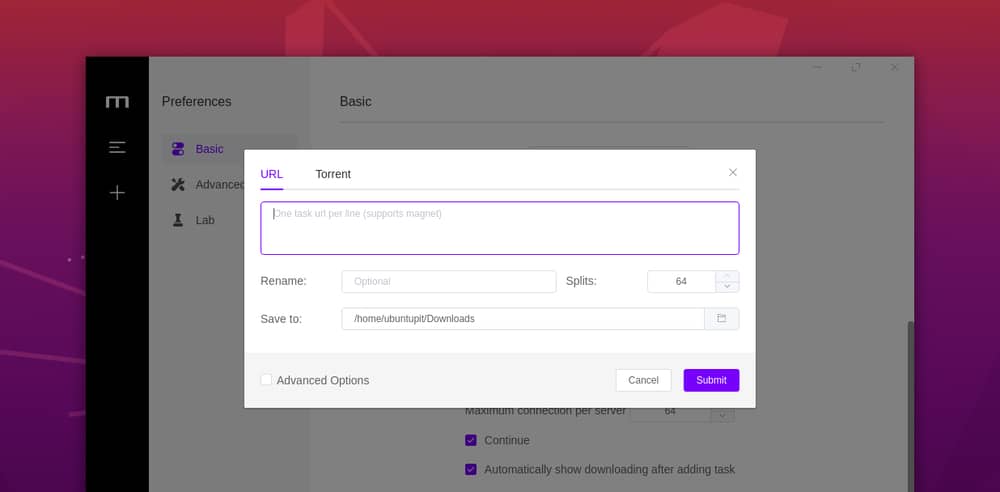 Right behind the link entrance place, you will see an option to rename the file. In the same way, you can download images too. On the URL link entrance place, you can paste the list from Git to download any file from Git. Submit it to let the file be downloaded. You can replace Chrome's native download application by adding the plugin Motrix WebExtention.
Wrapping Up
---
Undoubtedly, a download manager is an essential tool to use our PC. And for Linux, it is indeed a must-have. And what I found in Motrix is enough to impress me from the very first minutes of using it. Its minimalist UI and UX grabbed my notice from the beginning. Just anyone can use it for the elegant, clean UI. Besides, it is completely free. So, you can give it a try to experience the best file downloading and managing experience.
You have stayed with us till now. Thanks for that. But I would like to ask you something more. Can you please inform me about some other efficient and must-try download managers for Linux? You know, I am quite curious to learn about and try new Linux applications. I will wait for your response. Thanks again in advance.