Liferea is a beautiful, simple to use and open source news aggregator and RSS client for Linux. You can easily keep track of various content RSS feed in one place so that you don't miss any vital updates of your favorite collections of blogs, news, etc. This news aggregator also let you read in offline mode that save mobile data as well.
Liferea supports all the modern feed format like CDF, Atom, OPML, RSS/RDF, and OCS. Besides being a feed reader and news aggregator, it can also play the Podcasting content. It has a build in a web browser that used to fetch the web pages linked with feed/RSS content. Moreover, you also listen to embedded podcasts and audio files which are included in content feed entries.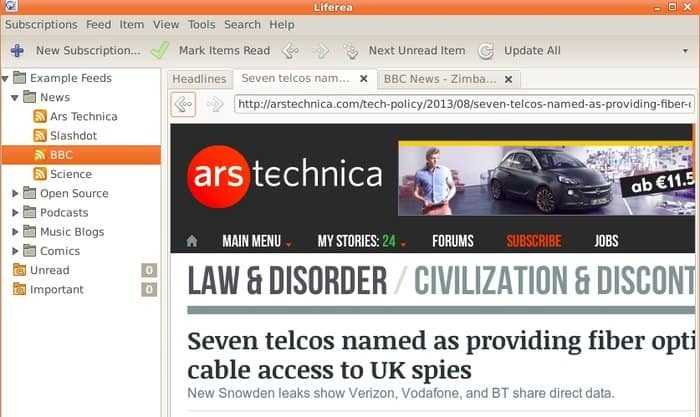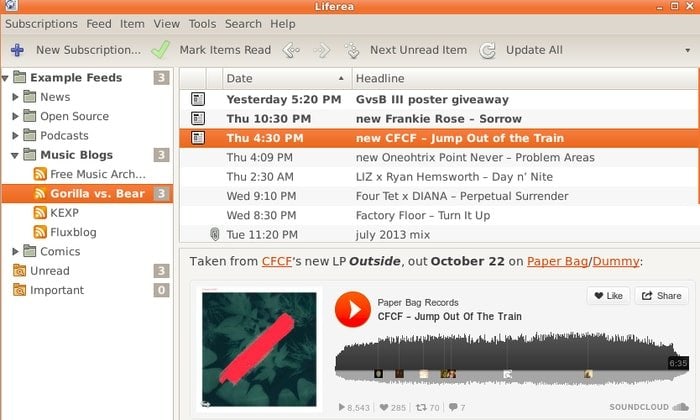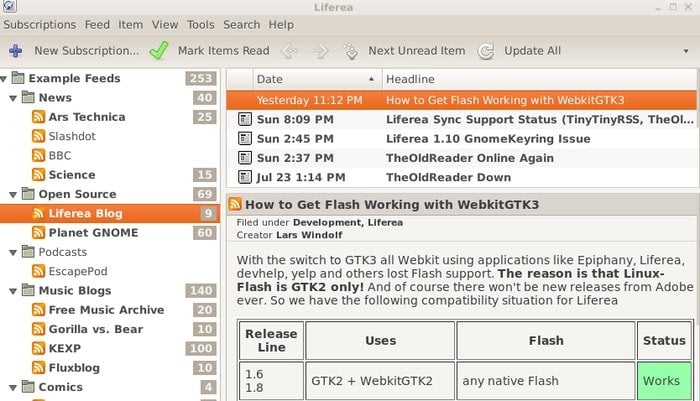 You can also import and export your RSS feed list and sync with all the favorite online feed manager including InoReader, Reedah, TheOldReader, TinyTinyRSS, etc. If you are in a problem with sorting lots of feed content, then folder and subfolders features of Liferea will come as handy to manage all those effortlessly.
Install Liferea in Ubuntu Linux
---
In this quick tutorial; I show you two ways to install Liferea in Ubuntu Linux. There is a third party PPA repository available to install in Ubuntu, Linux Mint, and other Ubuntu derivatives. Run the below command to install it:
sudo add-apt-repository ppa:ubuntuhandbook1/apps


sudo apt-get update




sudo apt-get install liferea
If you are not comfortable with Terminal command, then download the source code and install in Linux, FreeBSD, and Cygwin.
Remove Liferea
---
If you want to uninstall it from your system, first remove the PPA by launching Software & Updates >> Other Software tabs.
Now run the below command to remove this news aggregator software:
sudo apt-get remove --autoremove liferea
I hope, this short tutorial will help you to install Liferea in your Linux system. If you think that it helps, please take a moment to share it on your social media. And let us know your suggestions and queries in the comment below.