First of all, let me show my heartfelt greeting to all the users who have successfully installed the latest Ubuntu 18.10 'Cosmic Cuttlefish' on your laptop or desktop. As you are a new user and installed a fresh copy of Ubuntu, I highly recommend you to follow this list of things to do after installing Ubuntu 18.10 'Cosmic Cuttlefish.' Here I will be sharing all the tips that are tested and will not damage your system. But you may not follow all the things listed here except what you like most and seems useful for you.
Things To Do After Installing Ubuntu 18.10
---
Let me clear something about what to do after installing Ubuntu 18.10 'Cosmic Cuttlefish.' It depends on how users want to use the system. For a developer or programmer, users might be installing a lot of editors, IDEs, Tools. For a gamer, users must look into installing games and configuring graphics card. For a graphics design, he or she may install Gimp, Krita, Inkscape, Karbon and so on. So it entirely depends on how the task needs to get accomplished or the different mindset of the various users.
Here I am going to share a list of things to do after installing Ubuntu 18.10 'Cosmic Cuttlefish,' and it's mostly a generic list which helps the users, especially new users, to get the best out of their new Ubuntu system.
1.  New Changes in Ubuntu 18.10 'Cosmic Cuttlefish'
---
This time Ubuntu 18.10 'Cosmic Cuttlefish' comes with some minor changes. If you are using Ubuntu 18.04 LTS release then hardly you will find any difference except for some performance improvements and bug fixes. As usual, It comes with a set fantastic desktop environment – Mate, KDE or Gnome Desktop (default). Whatever may be the user- advanced or newbie, you must know the latest changes come from new Ubuntu 18.10 'Cosmic Cuttlefish' desktop. I recommend you to watch a video made by omgubuntu.co.uk and see what's changes the latest Ubuntu has brought for you.
Though Ubuntu replaces Unity desktop environment with the Gnome desktop, you may find some similarity with Unity with left-hand Dock system, top panel, status menu, and new message and calendar menu.
2.  Enable Additional Repositories
---
Ubuntu doesn't come, by default, with enabling additional repositories. Before updating and upgrading your Ubuntu system must allow the additional canonical repositories.  To do so, search for software & update. In the other software tab, enables "Canonical Partners." Now close the window, ignore if it says reload.
3.  Check for Update and Upgrade
---
Though you have installed the latest version of Ubuntu; there might be some updates for resolving bug fixes, security patches, and software update. It's always better to have an updated system. To check the update and do upgrade, go to the Software Updater tool from the Applications Overview and follow the on-screen prompts. You can also the do the Ubuntu update and upgrade by using the command into the Terminal. Run the below command into Terminal, hit enter and provide the password for further process.
sudo apt update
sudo apt upgrade
sudo apt dist-upgrade
If you get a question of "y/n," then select "y" for completing the subsequent task.
4.  Install Latest Graphics Drivers
---
This step is a must to do if you want to play latest Ubuntu Games and do a high graphical designing task. All the modern Linux laptop and desktop comes with high processing performance and graphics card, so to get the best performances you should enable proprietary drivers. To install and see the availability of the proprietary drivers for your hardware, Applications Overview >>> Software & Updates >>> Additional Drivers >>> Install/Apply changes
5.  Customize Gnome Shell
---
The default settings app, which comes preinstalled, doesn't offer much control over the system. If you want to change the system environment including fonts, window style, animation, GTK themes, icons, then you must install the Gnome Tweak Tool. Install it by running the below command.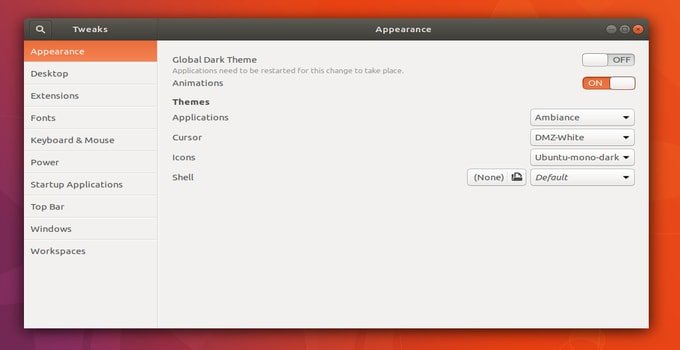 sudo apt-get install gnome-tweak-tool
Recommended Post: How to Customize Gnome Shell. Tips to Beautify Your Gnome Desktop
6.  Install Gnome Shell Extensions
---
Gnome Shell Extensions is the best tool to customize your Linux. You will merely enhance the beauty of your Linux desktop with some excellent, icons, personalized fonts, awesome skin pack, etc. Gnome shell has some excellent extensions which will provide you with extra features. First, you should activate the tweak tool to install all of the extension.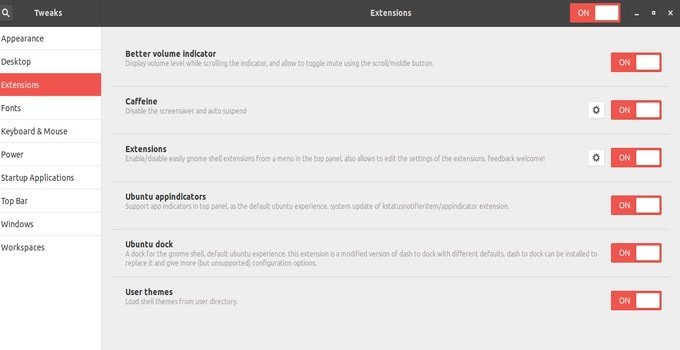 Recommended Post: 19 Best Gnome Shell Extensions For Your Ubuntu Gnome Desktop
The Gnome Shell Extensions are like as the traditional browser extensions you use on your chrome or Firefox browser, and these are free of cost. You need a browser for a successful installation. The extensions are so excellent that you can't imagine. However, the extensions are straightforward to use and perfect for the better customization. You can modify, enable/disable and uninstall without any difficulties. You will find the changes when you will install it on your Ubuntu Linux.
Recommended Post: How To Customize Ubuntu Gnome Shell Extensions
7.  New GTK and Icon Themes
---
Ubuntu provides a set of nice looking default themes and icons, but sometimes it may feel dull and need some changes. There are lots of GTK themes and icons out there to make the Ubuntu amazing and fabulous. For more customization of the appearance of Ubuntu distro, Gnome tweak tools can be used.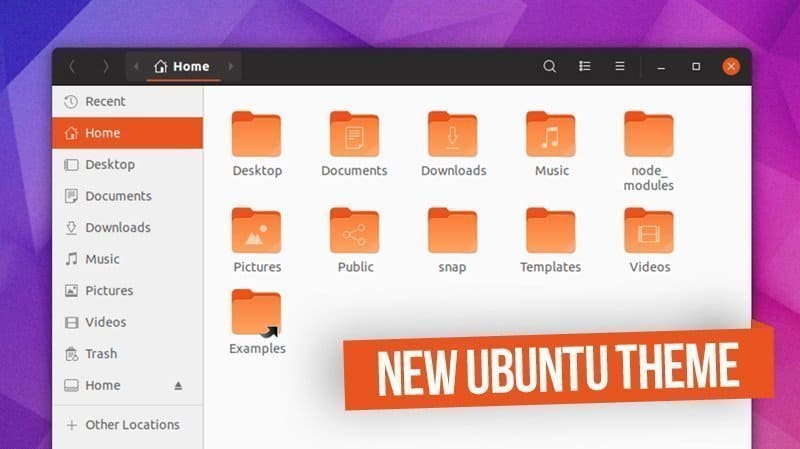 Recommended Post: Top 28 Best Ubuntu Themes That Will Blow Your Mind
After installing the above Ubuntu GTK Themes on your system, use Ubuntu Gnome Tweak Tools or follow the instruction on how to install themes on any Linux Desktop Environment.
8.  Third-party Media Codecs & Extras
---
By default, Ubuntu does not provide any media codec to play multimedia files. So to enjoy movies, music, and entertaining application, you need to install media codecs. Use the following code into Terminal.
sudo apt install ubuntu-restricted-extras
Here I recommend installing the free version of libavcodec also to avoid an issue while performing media task with video editors or transcoder. Use the following code.
sudo apt install libavcodec-extra
Moreover, to enable encrypted DVD playback, you have to install… "libdvd-pkg."
sudo apt install libdvd-pkg
9.  Enable Night Light
---
Ubuntu system offers a blue light filtered night mode option as like window 10 or Oxygen OS or iPhone. Implementing into the system is easy. Follow Settings > Devices > Displays and toggle the Night Light on.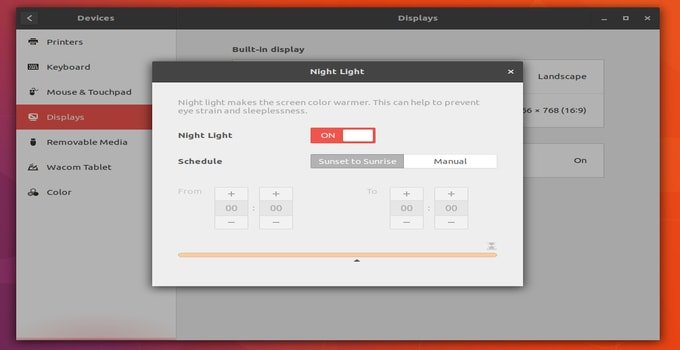 10.  Install Applications from Ubuntu Software
---
Ubuntu comes preinstalled with a set of best software like Mozilla Firefox as a web browser, Thunderbird as an email client, LibreOffice as a complete office suite. But this is not it; you can install a variety range of alternative apps of any software from the Ubuntu software center. There are thousands of apps available in the software center; you need to click on the Install button. Some best and popular software are given below.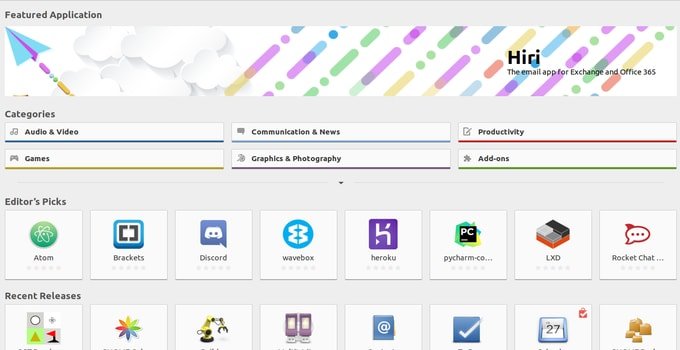 VirtualBox – Install it if needed
Gimp – Image Editing Tool
Corebird – Desktop Twitter Client
Telegram – Cross-platform messaging app
Chromium – Google Chrome Open Source Version
Geary – A user-friendly desktop e-mail client
11.  Install Other Favourite Ubuntu Software
---
You may find many favorite and useful apps on Ubuntu software center, but some software needs to download and install as .deb packages or install via Terminal as official PPA like Google Chrome, WeChat, Dropbox, Atom, Java, Skype and much more. So here I am sharing a list of best Ubuntu software which will make you more productive.
12.  Speed up Ubuntu System Performance
---
I have a tutorial on how to speed up Ubuntu desktop Performance. Here I have shown the details on how you can use small tips and tweaks to make your Linux system fast and smooth. See the recommended post for further steps to follow to speed up Ubuntu Gnome System.
13.  Sync Your Cloud Account
---
Who does not want to keep all the personal and essential documents onto cloud accounts? To do such a task, Ubuntu comes with online cloud backup and natural synchronization process. Most of the essential cloud providers can be used in Ubuntu. You can use Dropbox, Google Drive, and owncloud by native natural to handle clients.
14.  Tweaks For Ubuntu Power Management
---
Here are some tips, which help to get optimum output from Ubuntu Linux OS…
Turn off WiFi and Bluetooth, when it's not required.
Reduced screen brightness to the optimum level.
It's always better to hibernate rather than suspend power features. To do so follow…Settings >>Power Management >>On Battery Power
Try to disable keyboard brightness
Apart from these tips, you can follow to install TLP, which helps to keep the laptop cool and safe.
sudo add-apt-repository ppa:linrunner/tlp
sudo apt update
sudo apt install tlp tlp-rdw
sudo tlp start
You can also Install Laptop Mode Tools, which helps to reduce power consumption by slowing down Hard disk speed and kernel control. To install it run the following command.
sudo add-apt-repository ppa:ubuntuhandbook1/apps
sudo apt update
sudo apt install laptop-mode-tools
After installing, get the GUI for further customization. Run the command.
gksu lmt-config-gui
15.  Experiment with Desktop Environments
---
Ubuntu comes with many flavors like Ubuntu Gnome, Mate, Budgie and much more, but if you want to taste other desktop environments, then previously I have written "Top Linux Desktop Environment," you can have a look on it.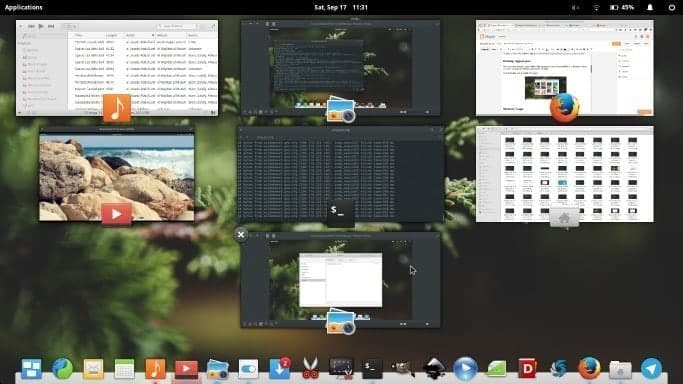 16. Play Games on Ubuntu Linux
---
As a Linux or Ubuntu user, you have a lot of options for playing amazing games just like Windows OS. There are lots of free Linux games and also free Steam games available in the market which are quite sufficient for fulfilling your thirst for gaming. Moreover, playing games on Linux are much more comfortable than you think. Just follow the proper and easy tutorial of installing and configuring your system for games.
Recommended Post: How to Play Games on Linux: An Easy Tutorial for Newbie Users
17. Text Editors for Programmers
---
If you are a programmer or writer then you must be searching for a good Code editor or IDE editor or even a suitable and comfortable LaTeX editor. Ubuntu Linux offers lots of options for these sort of application out there.
18. Educational Software for Your Kids
---
Don't just get bogged down with your personal job. Spare some time for your kids also. Install some amazing and resourceful educational applications for your children that will help the kid to grow in the right way.
19. Enable Firewall and Install Antivirus
---
By default, Ubuntu has a firewall called UFW which is pretty good and straightforward. But you need to enable it first. You can either enable it through command or install a GUI for UFW.
To enable the firewall to execute:
sudo ufw enable
UFW is quite intuitive to use. To disable firewall execute:
sudo ufw disable
sudo apt install gufw
Nowadays, our system is too vulnerable to various malware and virus. Even Linux is not safe in many cases from this malware or trojan. So you may think of use antivirus which will help you to protect the system. There are lots of best antivirus available in the market.
Recommended Post: Best Linux Antivirus: Top 10 Reviewed and Compared
20. Get a Set of Best Application for Ubuntu
---
Here I am sharing some set of best Linux software for your Ubuntu system.
21. Learn How To Install Software in Ubuntu
---
In this step, I recommend you to learn some other ways to install software in Ubuntu Linux or any other Linux distros. Installing software in Ubuntu is easy and straightforward but it's always better to learn the alternative. To help you out, I have written a comprehensive tutorial on how to install software in Ubuntu Linux following various method including Snap package, Appimage, Flatpak, source code, Pip etc.
22. Ubuntu Command Cheat Sheet
---
There are thousands of Linux commands available for performing any task via command line interface. It's challenging for Linux users to remember or memorize all those Linux commands. And most probably it's not wise to remember or memorize all those Linux commands either. In this scenario, Linux commands cheat sheet comes handy for the Linux users. It will help them to perform the day to day task quickly. I have written a comprehensive Linux command cheat sheet which also includes some of the best Ubuntu command cheat sheet also. You can have a look at it and be a pro-Linux or Ubuntu users.
23. System Cleanup
---
you can do it in many ways.
You can clean partial packages using a command
sudo apt-get autoclean
You can auto cleanup apt-cache
sudo apt-get clean
You can clean up of any unused dependencies
sudo apt-get autoremove
Final Thought
---
I hope you liked the latest Ubuntu release and after installing the system, it will be more robust and resourceful if you follow the steps as mentioned above. All the tips and tricks, described here, are being tested on latest Ubuntu and didn't find any problems. But if you face any difficulties to install or do any tweaks, please feel free to share your experience and suggestion in the comment section.