If you're looking for the best Ubuntu themes, look no further! This article will help you choose the perfect theme for your Linux desktop that fits your style. With so many amazing options available, it can be tough to decide which one is right for you. But don't worry, we've got you covered.
If you want to change your desktop environment into something more aesthetically pleasing, Ubuntu Themes can help. With a few easy Terminal Commands and Tweak Tools configurations, it's a piece of cake to use. Do not fret; I will teach you how to install all of these visually appealing Ubuntu Themes and Icons on various desktop environments.
Before going to the list of best ubuntu themes, you can have a look at our latest compilation of best Gnome Themes for Linux.
Best Ubuntu Themes Collection
---
In this article, I will focus on Ubuntu themes. However, if and only if the theme's PPA supports it, I will also show you how to install that specific Linux theme onto other distributions like Manjaro, Arch, Elementary OS, Linux Mint, etc.
Resource Link: 10 Best Ubuntu Terminal Themes and Color Schemes
Now let's get started with the easy tutorial on Best Themes for Ubuntu, which will make your desktop more appealing and beautiful. Here are the basic steps of how to install themes and apply them system-wide.
1. Sweet GTK Theme
---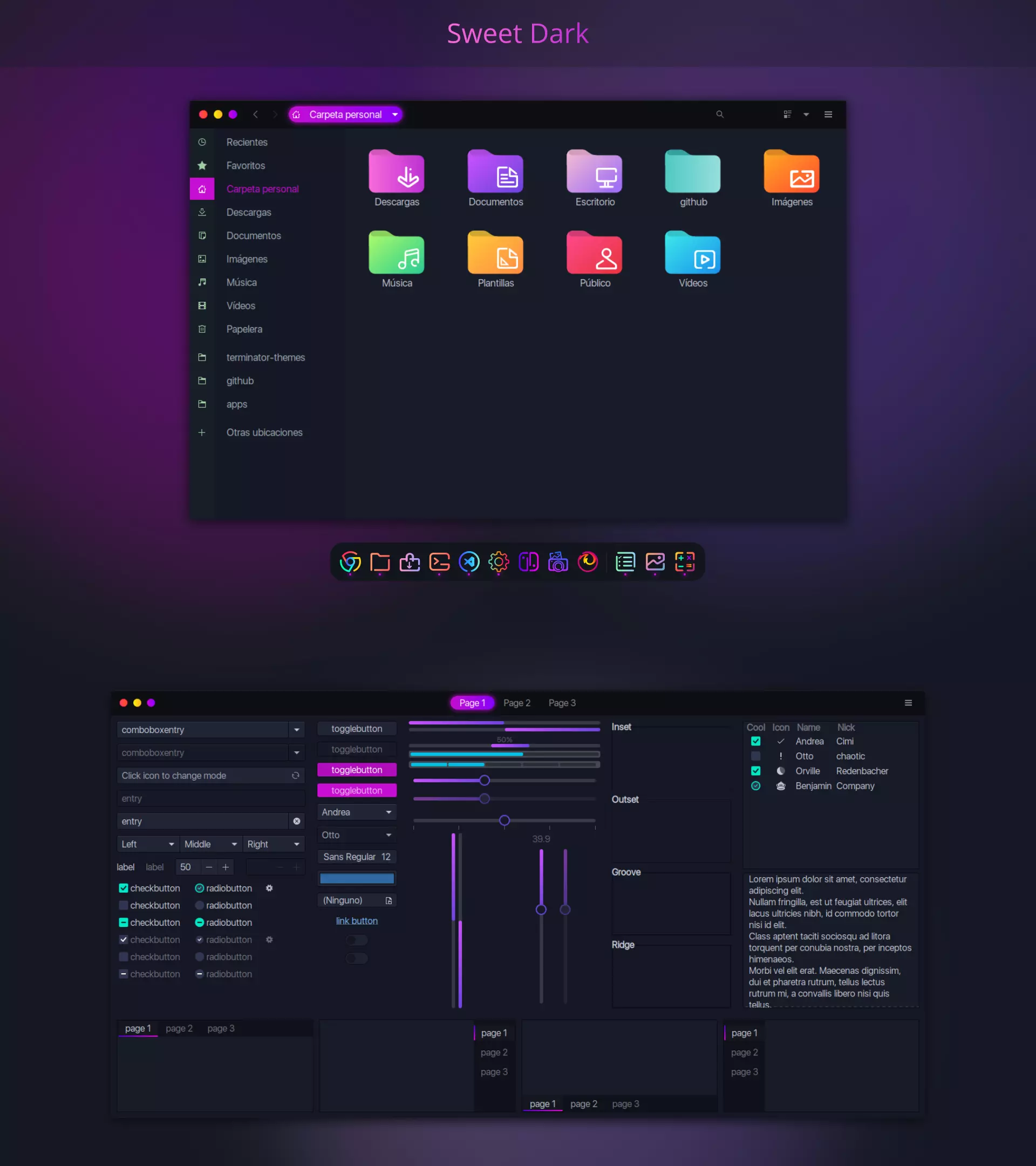 Sweet GTK theme for Ubuntu Gnome is a fun and creative way to spice up the look of your desktop. It features bright, vibrant colors and an overall sweet design aesthetic. The theme has a variety of different elements that you can customize, from the background image to the color scheme of icons, buttons, and other visuals.
There's even an option to add custom fonts and adjust their size of them. Sweet GTK theme is an excellent way to give your Ubuntu Gnome desktop a unique, personal touch that will help it stand out from the crowd.
Experienced users may want to take advantage of the advanced settings for further customization options. With the Sweet GTK theme, you'll have a desktop that looks great, performs well, and is a pleasure to use. Give it a try today!
2. Candy Icon for Ubuntu Linux
---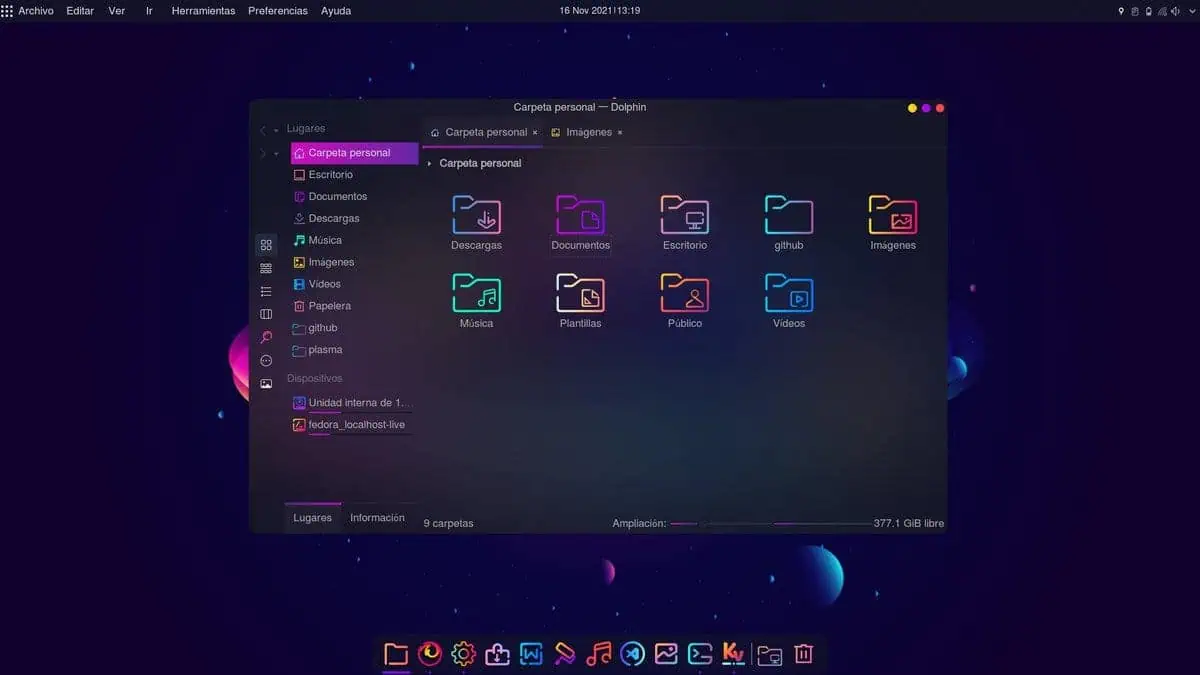 The Candy icon for Ubuntu is a vibrant, gradient-filled icon theme that was originally designed to match the Sweet theme. With its sweet colors and fun imagery, the Candy icon is perfect for anyone who wants to add a touch of playfulness to their desktop.
It features a selection of iconic and cute images and more subtle ones to fit different moods. As with other Ubuntu icon themes, Candy icons are available in dark options. It's easy to customize the look of your desktop with these simple yet effective icons that draw attention without being overpowering.
The Candy icon theme is a great way to make your computer look fresh and inviting. Plus, with its vibrant colors and fun imagery, it's sure to spark conversation and smiles!
Whether you're looking for something eye-catching or subtle, the Candy icon theme has a selection of icons that will suit you. They come in various sizes so you can find an icon that fits your needs. Plus, you can make the icons look even more unique by changing their colors and shapes. With this versatility, you can create a desktop that truly reflects your personality.
The Candy icon theme is one of the most popular themes available for Ubuntu users. Not only does it provide an aesthetic boost to your computer, but it's also easy to install and customize. So if you're looking for a way to bring some fun and color into your desktop, the Candy icon theme is sure to do the trick!
3. Arc Theme
---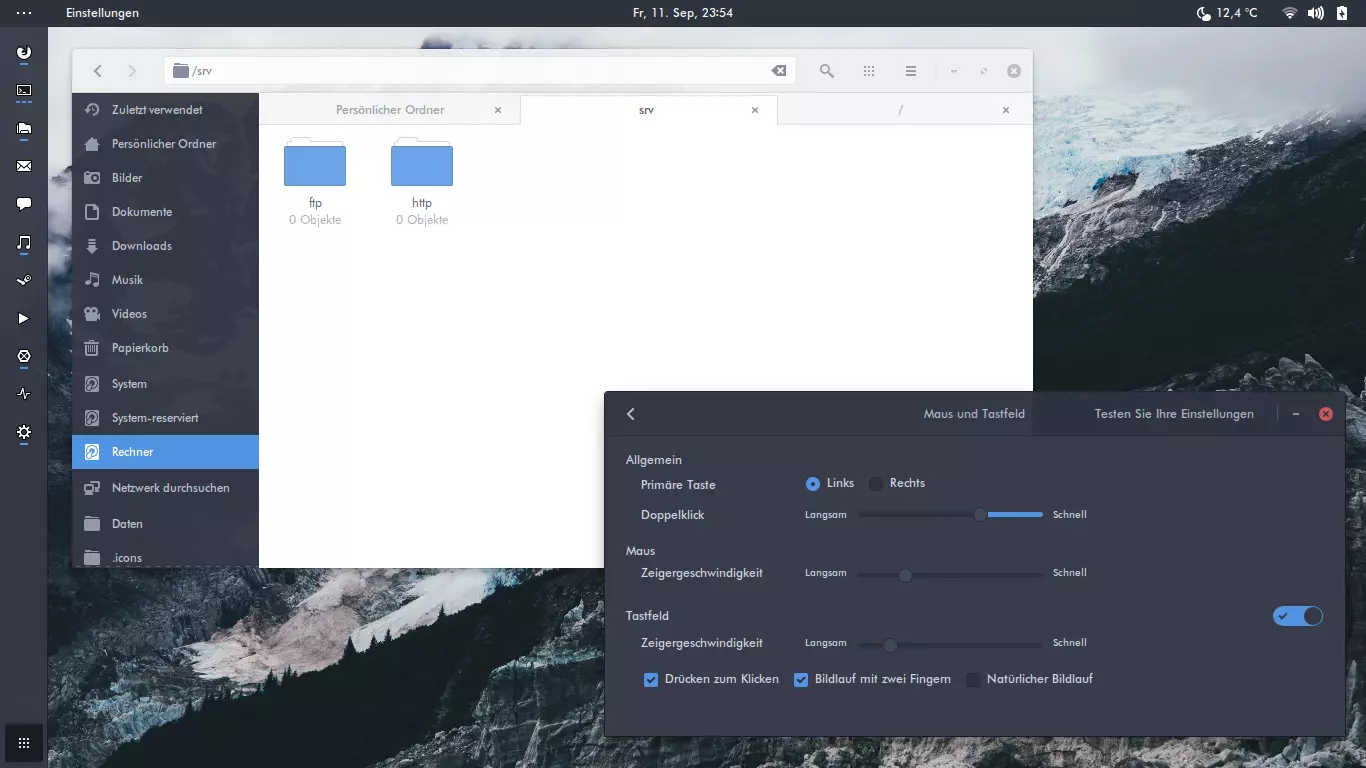 Arc Theme has been designed to look and work great on the Gnome desktop environment. It is a modern, flat theme with transparent elements, clean interfaces, and well-defined colors. Arc Theme also works perfectly with the Ubuntu Dock, Dash to Dock, and other third-party docks. The theme is available in 4 variants – light and dark, Arc-Lighter, Arc-dark, and Arc-darker.
You can choose the one that best suits your desktop style and preference. Additionally, the theme comes with a set of well-designed icons that match the theme's overall look. The Arc Theme also supports GTK+ 3, GTK+ 2, and Gnome Shell, so you can use it on most Linux distributions.
The Arc theme looks great no matter what desktop settings you choose. It comes with a variety of customization options so you can tweak the appearance to your liking. You can change the window border, fonts, transparency levels, and shadow effects. The theme also supports various GTK+ themes for further customization. It even allows you to set your own background image for the desktop.
The Arc Theme is easy to install and set up. All you need is a terminal or a package manager to get the theme on your system. Once it's installed, you just have to choose the variant from the settings menu and apply the changes. You can easily switch between different themes without any hassle.
Overall, Arc Theme is an excellent choice for those who want to customize their Ubuntu desktop environment. It is modern, lightweight, and highly customizable. It looks great with the Gnome desktop environment and comes with several customization options to suit your needs. If you're looking for a clean and modern look for your Ubuntu desktop, Arc Theme is worth trying out.
4. Equilux Theme
---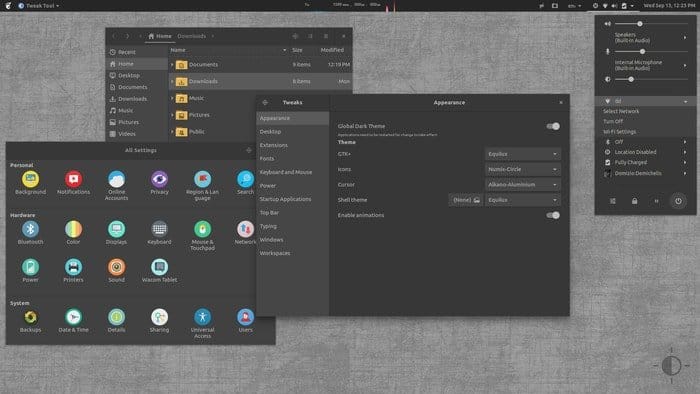 The Equilux Theme offers two full-dark, gray themes for GNOME/GTK+-based desktop environments such as Budgie, MATE, Unity, LightDM, GDM, and Chrome theme, among others.
Its design is not to be showy but rather functional for a few primary goals:
If you find yourself working long hours in front of a screen, or if bright colors and patterns hurt your eyes, consider opting for a more subdued color scheme.
A UI with a natural color prevents your circadian rhythms from being disrupted, helping you produce enough melatonin at night to sleep better. Software like f.lux, redshift, and NightLight work well with this type of UI.
Excessive darkness, contrast, or brightness introduced by the UI can ruin the professional image being edited.
Many people enjoy the clean and minimalistic UI because it looks cool and professional. This theme is based on the Materia Theme.
5. Papirus Icon Theme
---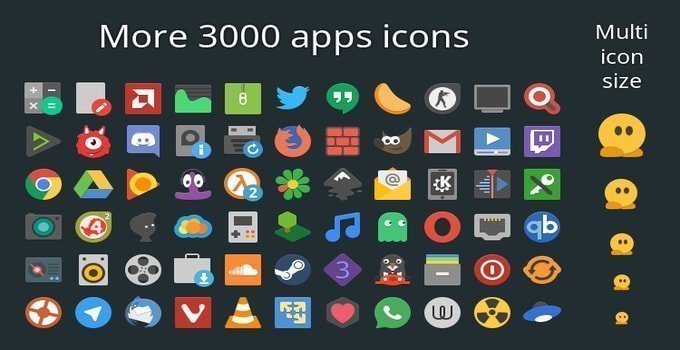 Papirus is a free and open source icon theme for Linux that is based on SVG. It has a material and flat style, with clear distinction and outlines. The main feature of Papirus is its vibrant colors.
The Papirus icon theme is available in five different presets: Papirus, Papirus Dark, and Papirus Light for general use, as well as ePapirus and ePapirus dark which are both only compatible with elementaryOS and the Pantheon Desktop.
sudo add-apt-repository ppa:papirus/papirus
sudo apt-get update
sudo apt-get install papirus-icon-theme
6. Paper Icons Theme
---
If you're a fan of paper icons, you'll love this icon theme for Linux. This icon pack includes all the popular monochrome paper-style icons from Google's Material Design library, as well as many other unique styles and designs. The theme even supports full customization to make your desktop look exactly how you want it.
Every icon can be easily sized, recolored, and rotated for the perfect look. No matter what you're looking for in an icon theme, this one has it all. Give it a try today to give your Linux desktop a fresh new look!
sudo add-apt-repository -u ppa:snwh/ppa
sudo apt update
sudo apt install paper-icon-theme
7. Numix-Circle Icon Theme
---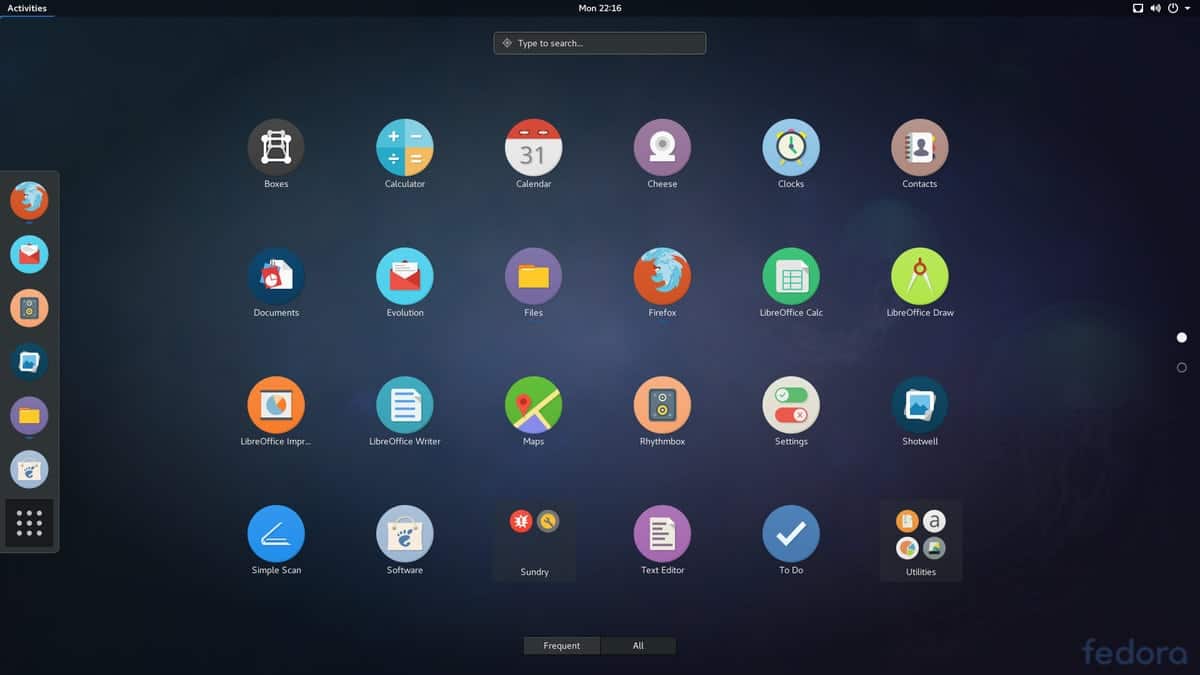 The Numix icon theme is the brainchild of the Numix project, which is popular for its creation of GTK themes for Linux Desktop Environment. Some aspects of this theme are based on other existing themes like simplicity, humanity, and gnome icon. This circle-based icon set provides an elegant desktop experience that's compatible with all major Linux distributions, including Ubuntu, Mint, Fedora, etc.
sudo apt install numix-icon-theme-circle
8. La Capitaine Icon Theme
---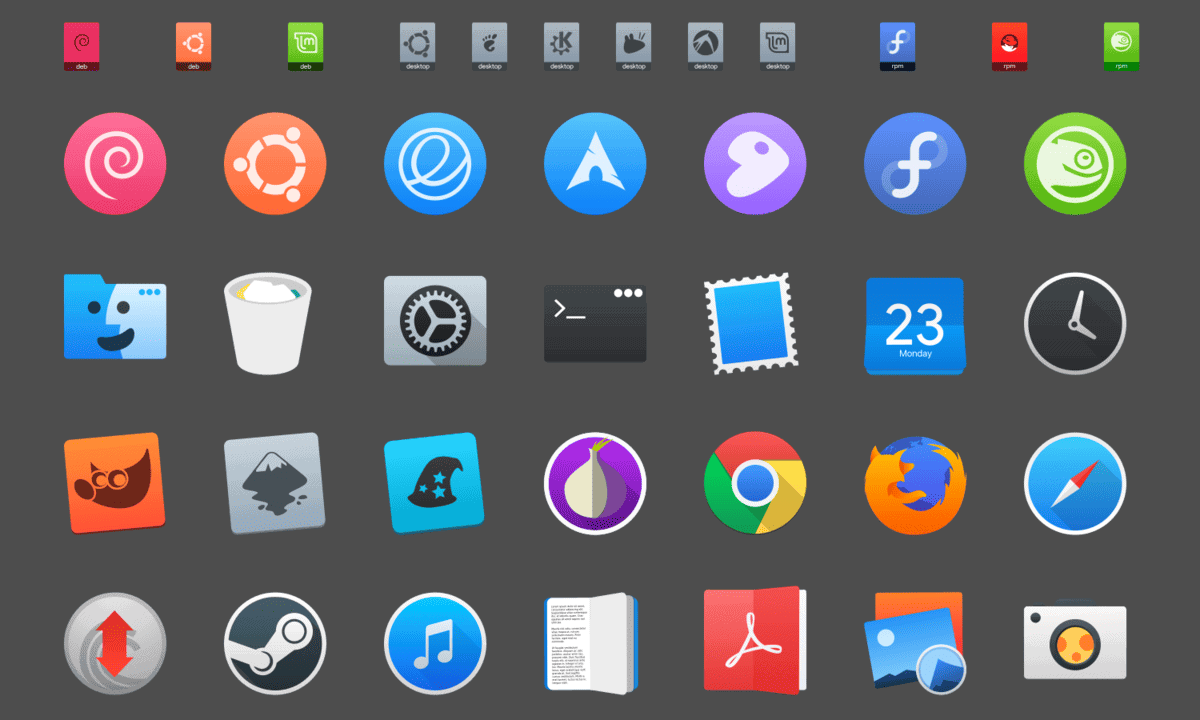 La Capitaine is a modern Icon theme for Linux desktop environments. This icon set was inspired by Mac OS X and Google's material design for their excellent pixel-perfect looks on any screen size.
The icons are Scalable Vector Graphics (SVG), which allows the icon fills to be edited without affecting the image's quality or encouraging degradation over time, as might happen with traditional bitmap formats like PNG or JPG. La Capitaine is updated regularly, and users can always recommend changes/additions to the developer via a request form.
9. Moka Icon Theme
---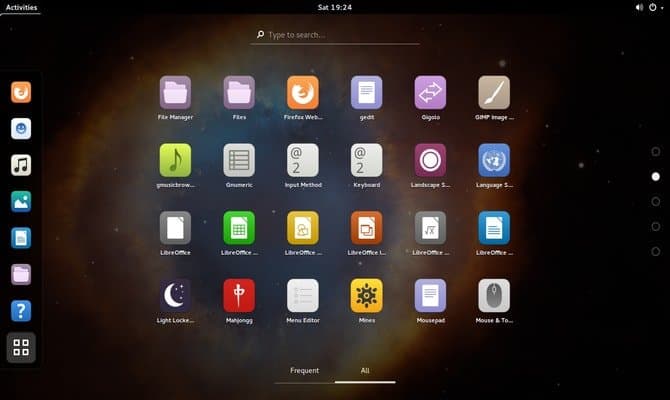 Moka Icon Theme was created to be as simple as possible. With the use of basic geometry and bright colors, each Moka icon has been designed to look great at any size. Moka also provides users with thousands of icons for various applications, one of the most comprehensive sets available. No matter your Linux desktop preference, Moka has what you need.
sudo add-apt-repository -u ppa:snwh/ppa
sudo apt update
sudo apt install moka-icon-theme faba-icon-theme faba-mono-icons
10. Masalla Icon Theme
---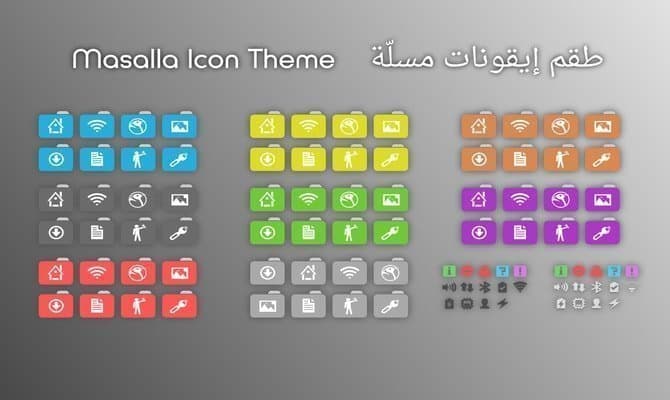 Masalla theme is ideal for vector graphics icon fans. It's compatible with many desktop environments, including Ubuntu Gnome, Unity, Cinnamon, KDE, Mate, and more. Plus, it has a whopping 15000+ icons in different categories like folders, software status, and mime types.
11. Shadow Icon Theme
---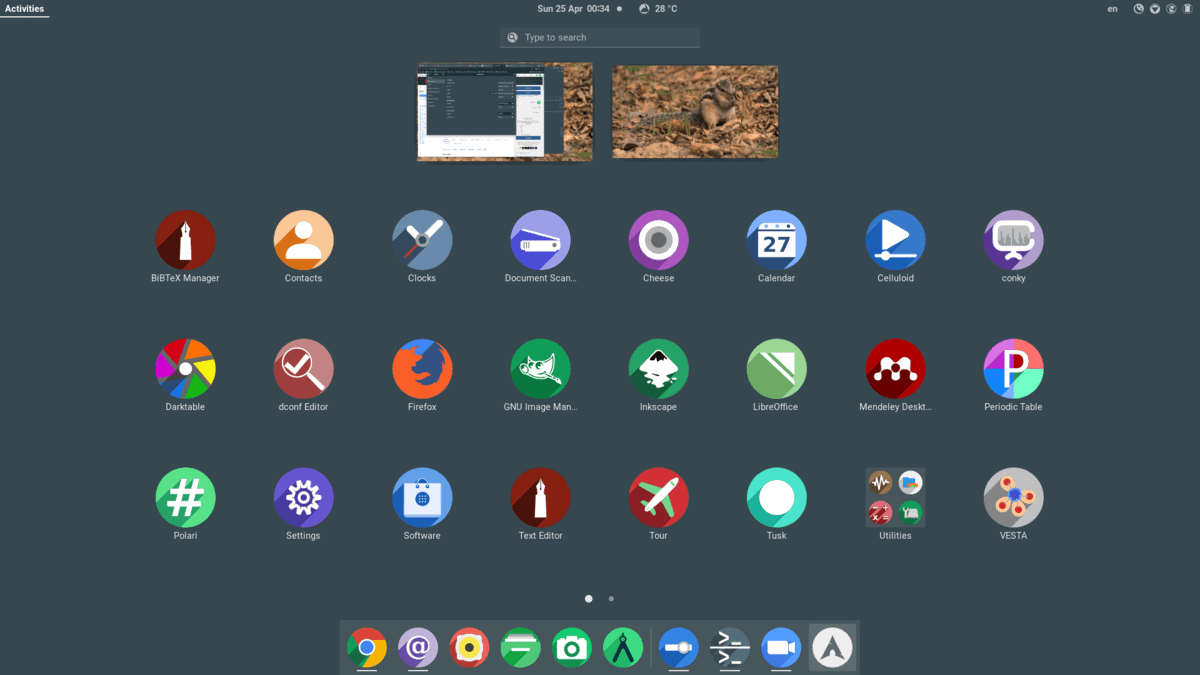 Get a professionally made, high-quality, and sleek icon theme for your Gnome Desktop. Shadow is a flat icon theme created specifically for gnome 3.10+. The icons have bases that are colorful circles with long shadows. A more interesting variation is currently being developed; it's called dual. The icons will have two different colors in the background instead of just long shadows.
12. Flat Remix Gnome Theme
---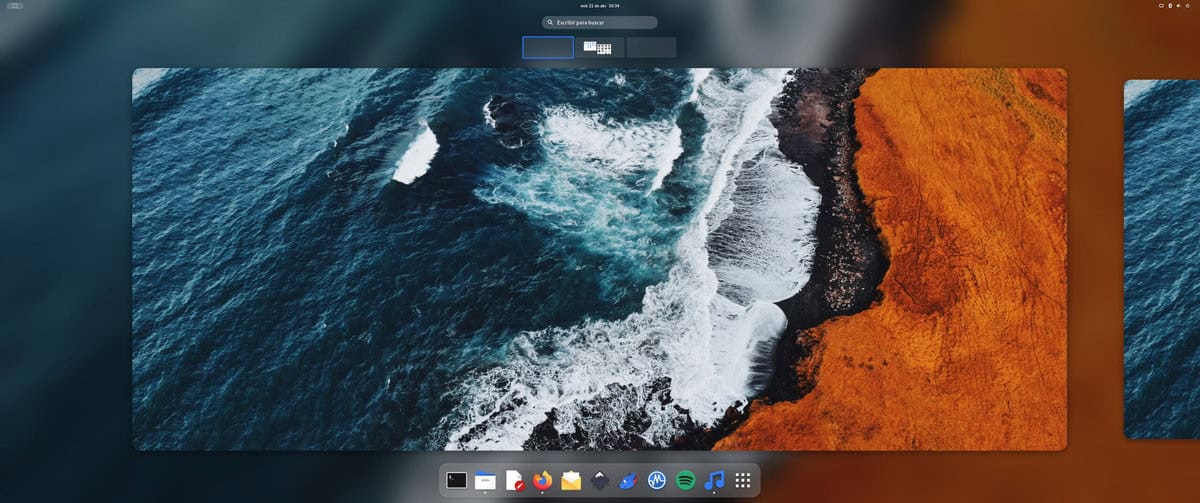 Flat Remix is a Gnome shell theme inspired by the flat, colorful design of material design. It uses shadows and highlights to create depth and interest while still remaining mostly flat. This theme has five different presets: Flat Remix GNOME, Flat Remix GNOME Dark, Flat Remix GNOME Darkest, Flat Remix GNOME Miami, and finally, Flat Remix GNOME Miami Dark.
sudo add-apt-repository ppa:daniruiz/flat-remix
sudo apt update
sudo apt install flat-remix-gnome
13. Reversal Icon Theme
---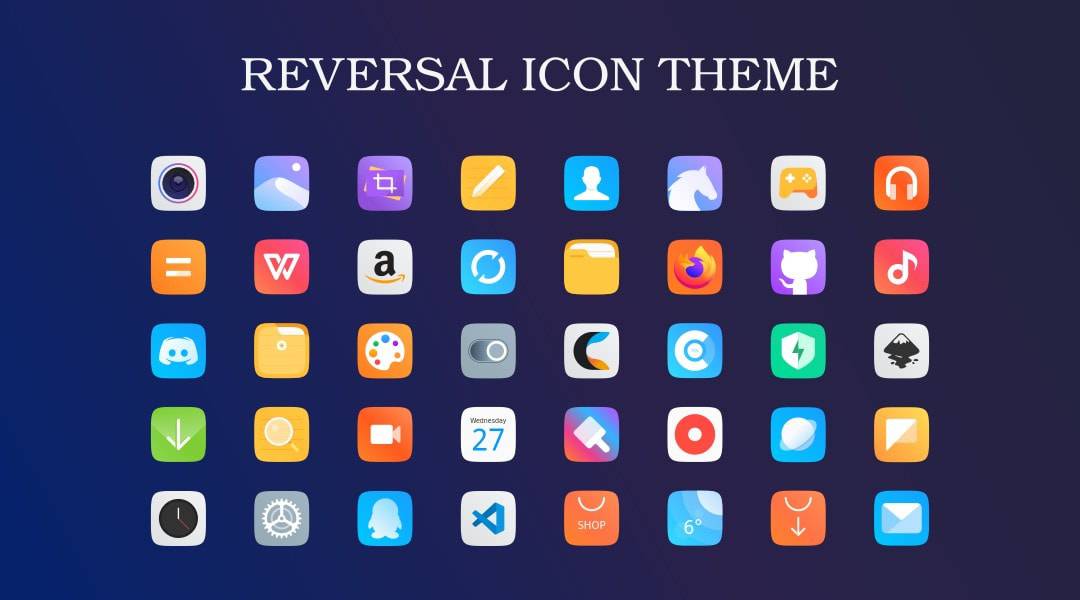 The Reversal Icon Theme is a colorful, rectangle-shaped icon set for Linux desktops. It features a variety of icons, including apps, system-related items, and symbols. It uses bright colors and minimalistic shapes to make each icon easily recognizable.
The theme also includes several pre-made wallpapers to match the overall look and feel of the theme. Reversal is both versatile and easy to customize, allowing users to mix and match icons and colors to create a unique desktop experience. It is free for personal use, so anyone can enjoy the Reversal Icon Theme on their Linux system.
It is also compatible with many popular Linux distributions, such as Ubuntu, Fedora, and Elementary OS. Its simple design, vibrant colors, and wide range of customization options make it easy to see why Reversal is one of the most popular icon sets for Linux.
14. Win11 Icon Theme
---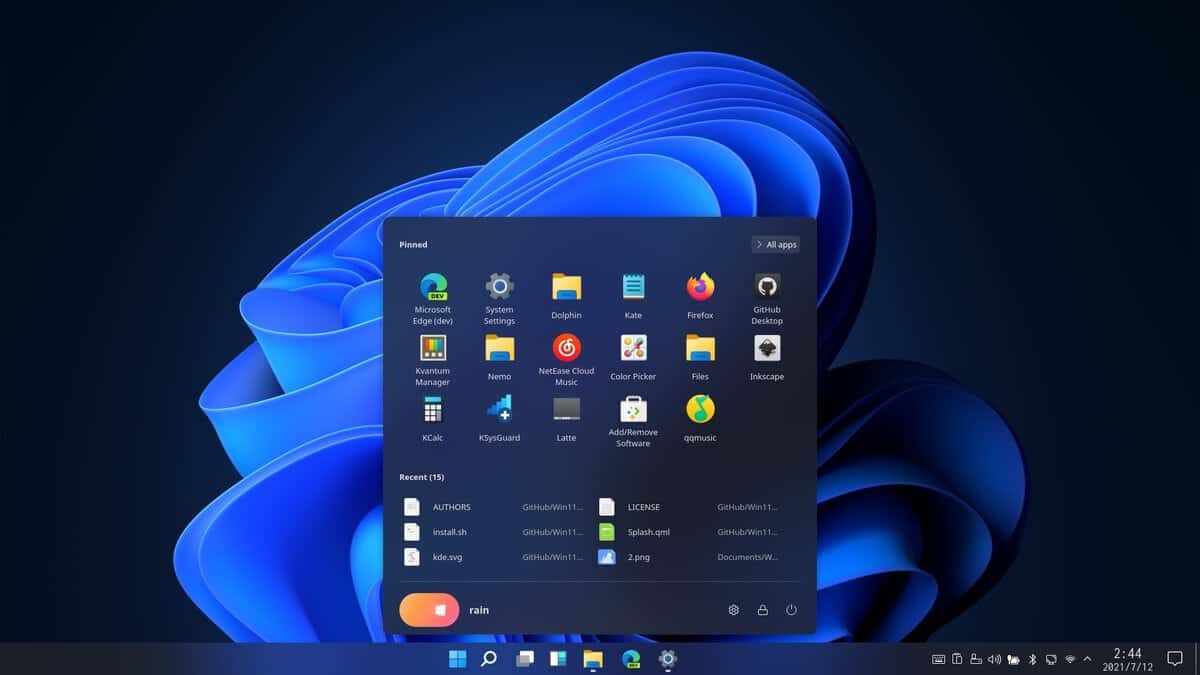 Win11 Icon Theme is a showy icon theme for Linux desktops that comes in an array of colors. The icons are based on the popular Win11 operating system and feature a smooth, modern design.
This colorful icon theme is perfect for anyone who enjoys keeping their desktop looking clean and organized. The icons come in several sizes to give you plenty of options when customizing your look.
Whether you're looking for an eye-catching centerpiece or just some cool extras to spruce up your desktop, Win11 Icon Theme has you covered. With its vibrant colors and smooth edges, this icon theme will definitely make your Linux operating system stand out from the crowd. Give it a try today!
15. Mkos Big Sur Theme for Ubuntu Linux
---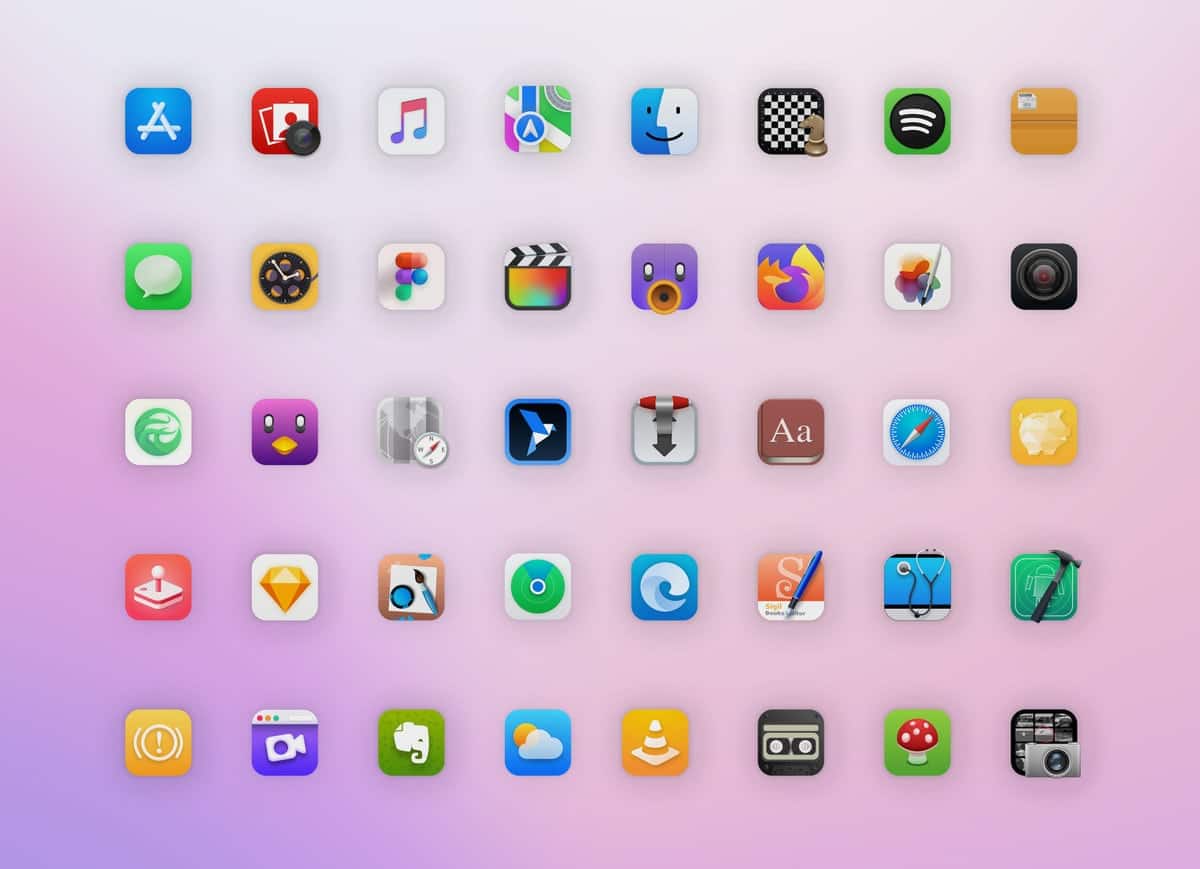 The Mkos Big Sur Icon set was created to perfectly imitate the icons of Apple's latest operating system, version 11. They were made 100% in Inkscape using the gradient tool and repeated multiple transparent images to give the same effect. This helps ensure they will look correct in all desktop environments- especially those written in qt library code. It's also incorporated png shadows where necessary for a more authentic MacOS feel.
Mkos Big Sur Theme for Ubuntu Linux is a stylish theme that adds a modern twist to the classic Ubuntu look. Its sleek design and vibrant colors give your desktop a new and improved appearance. The theme is optimized for both GTK3 and GTK 4, so it works with all versions of Ubuntu. With this theme installed, your Linux desktop will be sure to stand out from the crowd.
16. Miya Icon Theme
---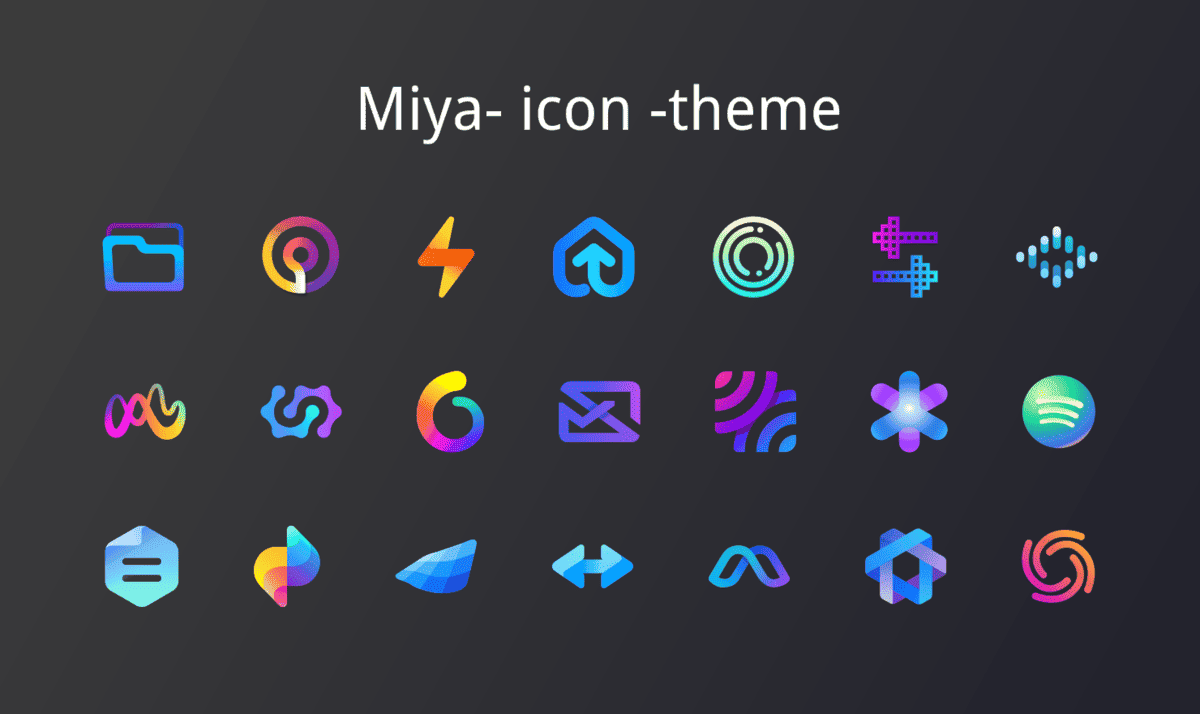 Miya Icon Theme is a beautiful, vibrant icon theme for Linux desktops. It features smooth, modern icons that are perfect for any desktop. The theme also includes a variety of sizes, so you can customize it to fit your needs.
Miya is easy to install and use, making it ideal for those new to the Linux platform. With its wide range of colors and styles, Miya is sure to make your desktop look unique and stylish. So go ahead and give it a try to make your desktop look stunning!
Instruction
---
Once you have installed the Ubuntu themes mentioned above, you can change your settings with either Ubuntu Gnome Tweak Tools or Unity Tweak Tools. If those don't work for you, follow the instructions on how to install themes on any Linux Desktop Environment.
Which One Did You Like Most?
---
If you enjoyed this list of Ubuntu themes, please let me know which other amazing modern themes and icons I missed so that I can add them as soon as possible. Your input is greatly appreciated! The Ubuntu themes discussed in this article are from trustworthy sources and have been verified. However, if you have any trouble installing or after installation, please reach out to the original developer for help.
Finally, Insights!
---
So which one is the best theme for Ubuntu Linux? It really depends on what you are looking for and what kind of visual style you prefer. Some people prefer dark themes for Ubuntu, while others may prefer something more colorful or modern.
Ultimately, it's up to you to decide which theme is the best fit for your needs. No matter which theme you choose, Ubuntu Linux offers a wide array of options that can help make your computing experience more enjoyable. From detailed icons to unique color palettes, there's something for everyone.
With so many different themes available, you are sure to find one that is perfect for you and your desktop setup. Have fun exploring the possibilities!