Do you want to make fun by modification of your voice? Using voice changer software on PC, let's tweak your voice by altering the pitch, tone, and other voice frequencies. A voice changer software is loaded with multiple voice presets like robotic, cartoon, alien, demon, etc. With the help of this voice-changing program, you can camouflage your voice to stay anonymous and change your voiceover for radio jockey, movie characters. So you can make pranks with your friends in real-time by morphing your voice through voice changer software.
This article has discussed some finest voice modification softwares that you can use for both home and professional uses. Depending on your intent, you can modify your voice in real-time or record your voice. So dive into this article to find your best-suited voice-changing software to disguise your voice for making fun.
Best Voice Changer Software for PC
---
A voice changer software makes the voice modification process is so easy. You no longer need to hire an audio editor team to tweak your voice. With a voice changer tool, you can transform your voice male/female voice, baby voice, funny voice, robotics voice, cartoon voice, and more. A voice changer software comes with many preset voice effects that you can use in gaming, chatting, streaming.
Each voice modification software offers a wide range of voice tweaking features. So before sticking to a single software, you may try several softwares to decide which one offers the best voice-changing experience. Here we have shortlisted the top 5 best voice changer softwares that covers almost all voice changer software features. So, go through the article and find the best voice changer.
1. Voxal Voice Changer
---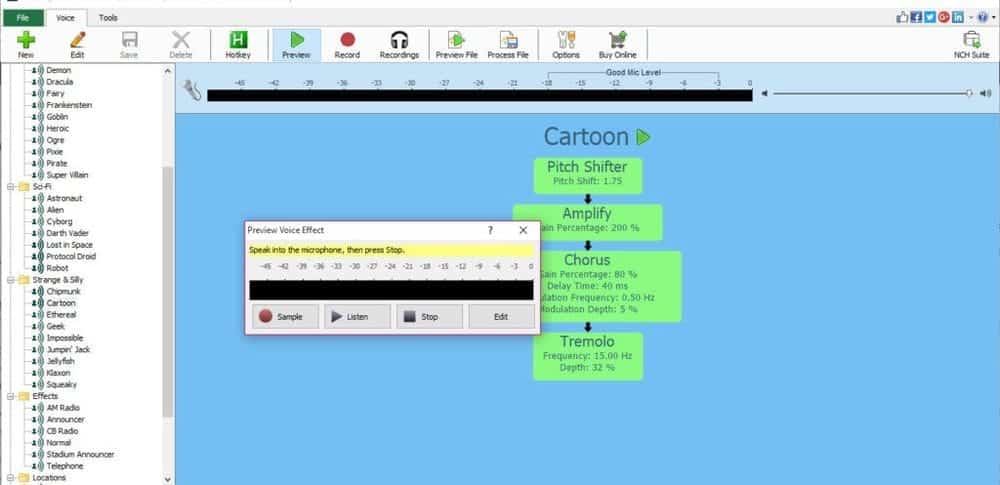 NCH Software has developed Voxal Voice Changer software. This simple yet powerful real-time voice changing application allows you to alter your voice in-game or any application. You can pick different voice effects such as a robot, girl, alien, atmosphere, echo, and more from the vocal effect library. This software also allows you to morph voice in the offline recording.
Voxal Voice Changer comes with an easy-to-use and intuitive user interface where you can easily modify and edit the voice. It is a very lightweight software that consumes low CPU space. So you can run this software smoothly without affecting the performance of your system and running applications.
Key Features:
Voxal Voice Changer offers a wide range of vocal effects, including a robot, alien, cartoon for radio, voiceover, video game, chat, etc.
This software allows you to add vocal effects to your recorded audio or real-time using a microphone or other audio input devices.
Besides, you can create unlimited voice effects and store them in the software.
Moreover, you can personalize your voice by creating a voice for an audiobook character and applying it in real-time.
You can use male or female voices while playing games online.
You can insert background noise effects, including train, rain, and more, while playing a game or chatting.
Pros: Voxal Voice Changer lets you change the voice effect immediately as you play or chat.
Cons: However, this voice changer software offers limited editing features for recorded voices.
Pricing: It offers free for only non-commercial use. For a commercial license, you have to pay $24.99.
2. VoiceMod
---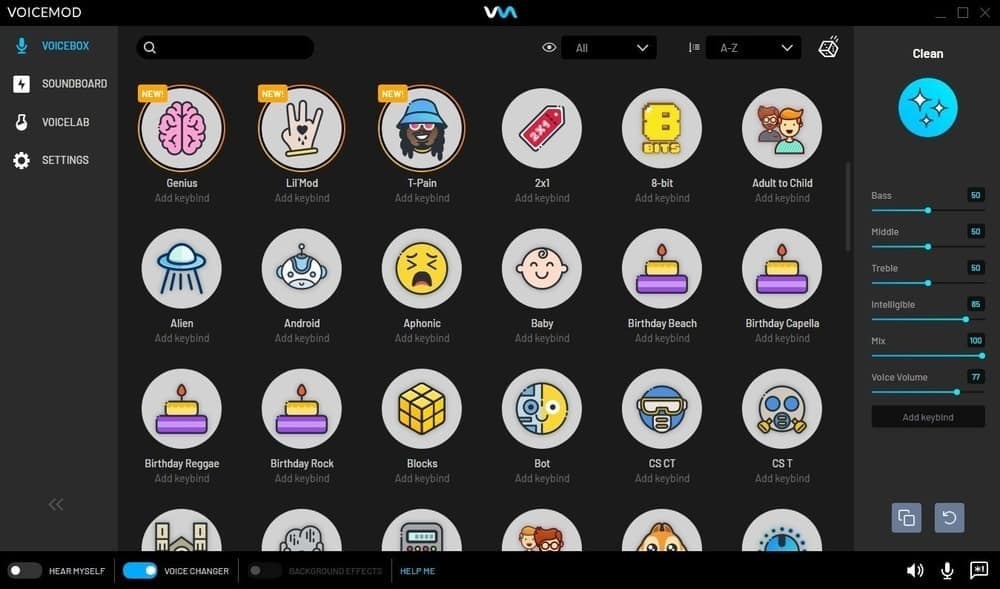 VoiceMod is a free real-time voice changer software design for Windows PC users. With this voice changer software, you can modify your voice by applying custom sound effects while playing games online.
This software supports numerous online games, including the most popular games such as PUBG, Minecraft, World of Warcraft, League of Legends, and more. Besides, this software is compatible with notable streaming and communication software like Skype, Whatsup, Twitch, Streak Deck, and more.
Besides real-time voice changing, VoiceMod lets you import audio and morph it. Moreover,  you can map the hotkey to navigate the software quickly. Additionally, this software enables you to explore your musical creativity.
In the Voicelab, you find a dozen professional audio-changing effects to create your new vocal. After completing your own vocal identity, you can share it in the VoiceMod community and become a music superstar!
Key Features:
You can change voice in real-time by adding voice modifier effects like a robot, demon, chipmunk, or anything you can imagine!
You can sync this software with online games, chatting applications, and third-party streaming applications.
VoiceMod launches themed sound every month that perfectly matches with the latest game.
This voice changer app allows you to swap genders, transform your voice into a celebrity or music superstar.
You can add funny sounds like memes or troll sounds and assign a hotkey for these sounds.
Besides, you have full customize of applying the effects in your voice. Use the slider to change the intensity of the effects and adjust your voice's volume and pitch level.
Pros: With this app, you can control the sound volume and preview the change of the sound effect.
Cons: VoiceMod free version only allows using seven sound presets.
Pricing: Free, but it allows you to use limited effects while using the free version.
3. MorphVox
---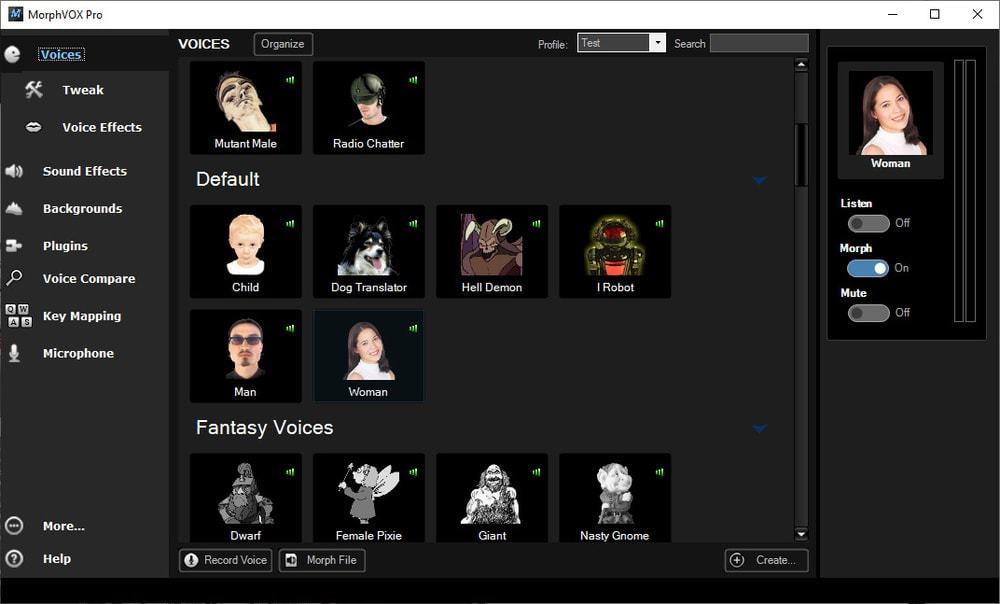 Since 2005 MorphVox has been one of the popular voice changer software. Screamingbee launched MorphVox first time in 2005, and after that, it did not change its UI much. But still, now it remarks as a high-quality voice changer software because of its many handy voice-changing features for gaming and online communication.
A non-technician audio editor can easily apply different sound effects such as man to woman, woman to man, lick lord evil laugh, robot, demon, cyborg warrior. On the other hand, advanced users can manipulate the voice by changing the slider of the voice control bar.
MorphVox is fully integrated with online games and communication programs. This software allows you to switch your voice using a single keystroke quickly. You can add environmental and background effects and tweak vocal tract filters while playing games or chatting.
Key Features:
MorphVox allows you to change voice as much as you can mix by combining different sound effects from its free voice and sound effects library.
Besides, you can also record your voice by using the stereo microphone.
Add soundboard with a hotkey that creates fart and drum roll.
You can add background sound while chatting with others to fool them that you are in a traffic jam or the middle of the shopping mall.
Moreover, it has a noise-removing tool that performs one of the superb background noise cancellation voice changer software.
Pros: MorphVox offers an advanced voice learning algorithm to produce excellent soundtracks.
Cons: MorphVox is a complex UI that might be difficult for first-time users.
Pricing: MorphVox offers two packages. MorphVox Junior is a free version with limited access, and MorphVox Pro comes with full features at $39.99.
4. Clownfish Voice Changer
---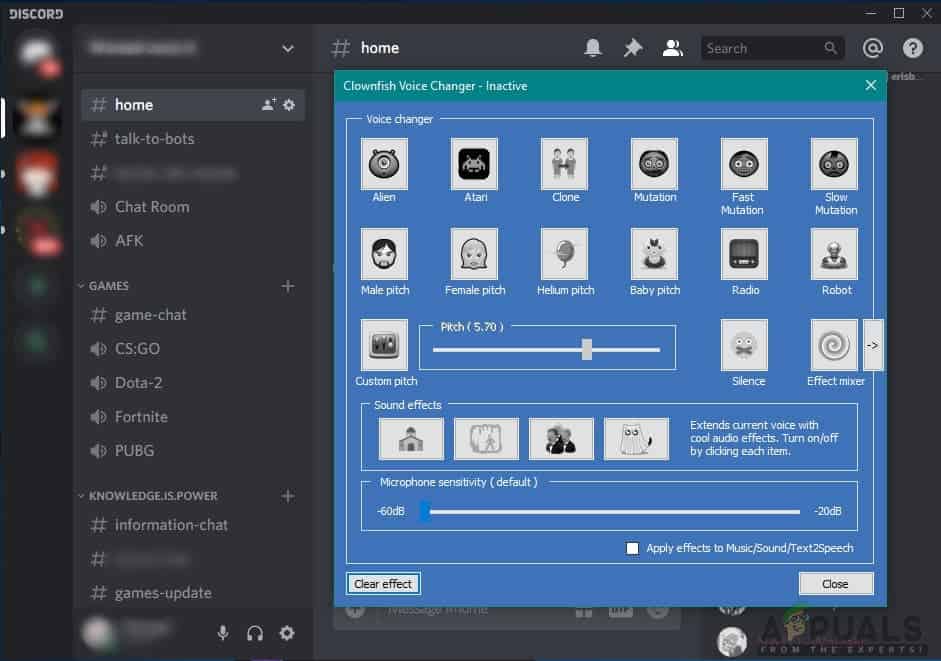 Clownfish Voice Changer is a versatile voice changer software for your PC that allows you to alter your voice in all popular apps like Discord, Skype, TeamSpeak, Viber, etc. It comes with a simple interface where you can easily find many voice changers like an alien, atari, clone, male, female, robot, radio, etc.
Click on the voice changer icon and talk to your microphone; instantly, your voice will be changed according to your selected voice changer. You can integrate this software with both communication applications and online games.
The installation process of this software is so straightforward, and it takes minimum CPU space that does not affect the computer performance. However, this software is only compatible with Windows OS. So if you are a Windows user, you will try this simple but powerful voice changer software.
Key Features:
Clownfish Voice Changer is a simple and easy-to-use application that works with all notable communication applications and online games.
Here you can add and manage background music from your computer or internet sources such as Youtube, Vimeo.
It has a voice assistant that can convert your text to speech. Additionally, it can support different language accents while converting text to speech.
Besides, you can play with different predefined sounds like cheering, duck, gong, gunshot, bicycle bell by pressing the hotkey.
Clownfish Voice Changer supports Virtual Studio Technology (VST) effects to enhance your music.
Pros: Clownfish Voice changer UI is so simple that you can easily navigate and modify your voice.
Cons: When playing a game on fullscreen, it does not work swiftly to change the sound.
Pricing: Free
5. AV Voice Changer
---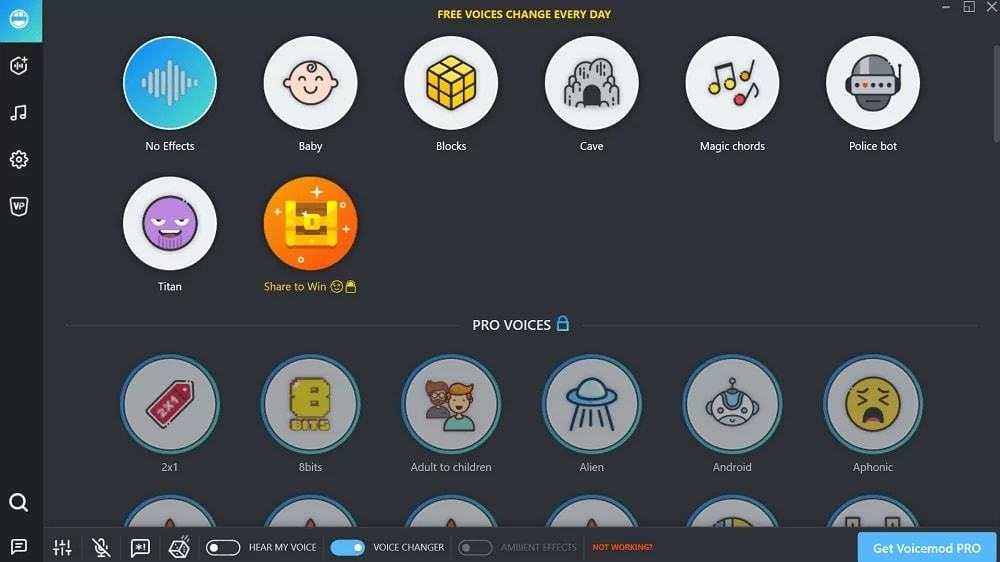 If you are looking for a professional voice changer, AV Voice Changer is one of them that allows you to do anything with your voice. This software will enable you to morph, record, cut, and mix your voice. With the advanced morph technology, you can change your voice as you like.
You can change your voice deeper, thinner, feminine, masculine, or any form you want. Moreover, you can create a unique voice by combining voice preference and voice effects tools.
Besides voice morphing, this software also supports recording, trimming, cutting, and mixing the audio. It performs as a full-featured audio editing software where you can analyze voice, make a parody of voice, and define hotkeys for more frequently used features. In addition, it offers you a significant voice and sound effects library where you can access high-quality voiceovers.
Key Features:
AV Voice Changer lets you add and edit effects to morph your voice as you need.
This software provides some ready-to-use nickvoices that allow you to alter your voice quickly by selecting preset like a baby boy, young male, 20-35 man, cool man, angry man, and more.
It has more than a hundred collections of voice effects, background effects, non-human voice effects.
This software allows you to batch processing voice morphing.
It has a built-in audio player to import audio files and preview your voice morphing.
With this voice changer, you can also analyze other voices, find the similarity between both voice tones and apply voice imitation.
Pros: AV Voice Changer has more customization options to alter your voice using multiple parameters.
Cons: However, this is relatively pricier than other voice changer software.
Pricing: AV Voice Changer has three different packages for users. The basic package starts at $29.95.
Our Recommendations
---
Make fun with your friends by converting your voice by choosing the voice changer for your PC from the above list. So whether you want to modify your voice while conversing with friends on a communication platform, undoubtedly, the best voice changer software is the right solution.
Clownfish Voice Changer would be the best pick for free users considering voice effects availability and simplicity. Voxal Voice Changers is also considered one of the best free voice changers for your PC if you use it only for non-commercial purposes.
On the other hand, if you are looking for a powerful with more tweaking tools for voice change, we recommend you pick MorphVox Pro or AV Voice changer. However, this softwares are not available for free to use.
Final Verdict
---
Typically, a voice changer is used to make fun, but it also has some beneficial uses. For example, call center employees use this software to disguise their voices; online gamers stay anonymous on the online gaming platform.
However, even if you do not need any practical use of this software, you pass a great time by changing your voice. The best part of this software is that almost all softwares are user friendly, so anyone can easily pick this software.
All softwares listed in this article are excellent, and you can comfortably pick the right voice changer by going through the key features, pros and cons, and pricing. Apart from the list, if you find a better alternative of voice changer for PC, you are requested to write in the article's comment box about the name of the software and a short review of why you chose the particular voice changer.