We spend the most significant portion of our day using our smartphones. Nowadays, the mobile phone use rate is too high. In many cases, we are dependent on our mobile devices for different purposes. But using the same device looks boring and unexciting. As a smartphone is pretty much expensive, we cannot change it from time to time. But we can easily change its outlook. Say, how? Well. We can use different Android themes. There are numerous themes for Android that will definitely help you change the entire outlook of your device.
Best Themes for Android to Change the Display Outlook
---
Here, I will discuss the 20 best themes for Android devices. These are taken after certain studies. The studies contain download volume analysis, user review analysis, analysis of ratings by the users, etc. And I tried to list themes of different types. So, you should check the brief discussion to find the most appropriate theme for you. However, none of them are paid Android apps, so you can install them without any doubt.
1. 3D Theme For Android
---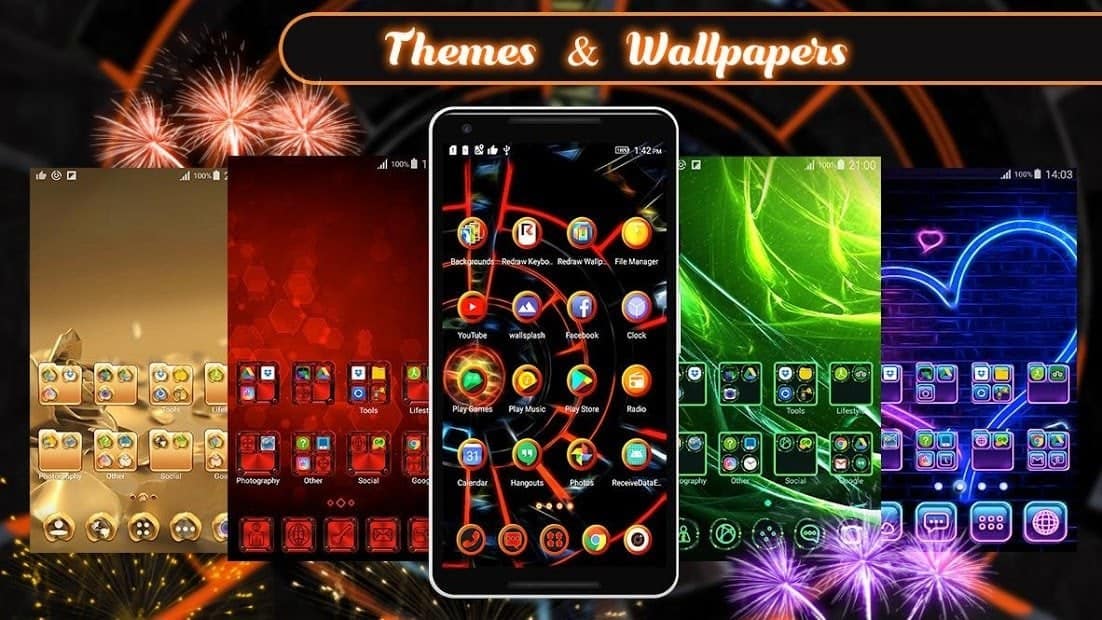 This theme is considered one of the best themes for Android, and it was designed by some talented artists to allow you to customize your device with a wonderful theme, beautiful graphics, amazing icons, and the way you want.
This free app works great on your Android device and will take your device outlook to a new level. You can download and install the app very easily, and the operation is too simple. You will surely like the app once you apply its amazing features.
Important Features
It is very easy to install, and the visual effects are great.

The combination of icons, graphics, and themes is wonderful, with a huge volume.

It allows easy customization as per your desire.

You can also change the font style and color within the theme.

The app is incorporated with an icon mask for all app icons.
2. Launcher New Versions 3D
---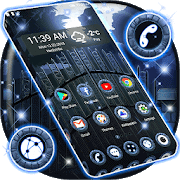 If your mobile home screen and themes are not satisfying, you should switch to the Launcher New Versions 3D app. Its cool, outstanding, amazing graphics, icons, and wallpapers will never bore you. You can quickly adopt the app and customize your phone how you want. You will like its amazing features, and this theme will take your phone to a new dimension as it is one of the best themes for Android.
Important Features
This theme is very easy to install and operate.

It gives a 3D look to your homepage.

You can very quickly change your phone theme.

The visual effects are amazing, and the graphics are very cool.

You will get a set of custom icons with free icon masks.

You can also customize the color and style of the fonts to match your icons.
3. Sharingan Theme: Cool launcher Rasengan Wallpaper
---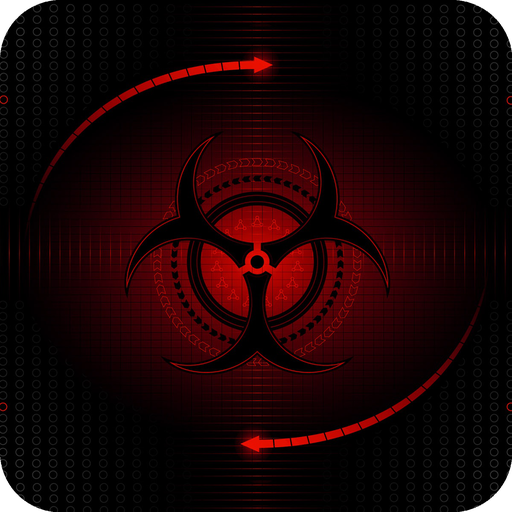 I am sure that many of you have an emotion named Naruto, isn't it? And if you are a fan of the popular animation series, you must be fascinated by the Uchiha clan's secret. You may not have a Sharingan in real life, but how about having it on your device? Well, I am talking about the Sharingan theme that will always keep you diligent, like a member of the Uchiha clan.
Important Features
You will have a wallpaper of almost all sharing, including the Itachi Uchiha one.
If your favorite character is Naruto, you can use a Rasengan theme.
There are thousands of wallpaper, and you can customize them too.
All the themes, wallpaper, and icons are regularly updated.
This theme is suitable for any device, both smartphones and tablets.
4. Galaxy Space Launcher Theme
---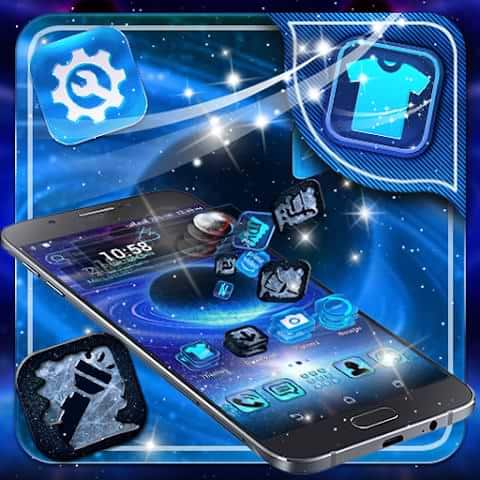 If you're looking for a sufficient HD quality theme, Tips and Games Studio has brought you a modest theme for Android smartphone users. This is a theme based on the glamorous stars and moons in space that will enchant your eyes. Besides, both lock and home screen icons can be customized by the theme with a space-based design and don't change or harm the app.
Important Features
There are a number of custom app icon collections for you in the theme settings.

This theme also includes a free icon mask to match the space-themed environment.

The wallpapers are all HD quality with visual effects.

This is a 'stand-alone' app – You don't need any other programs to apply the theme.

Lockscreen patterns and passcode interfaces are also automatically customized by the theme
5. Hearty Milk Theme +HOME
---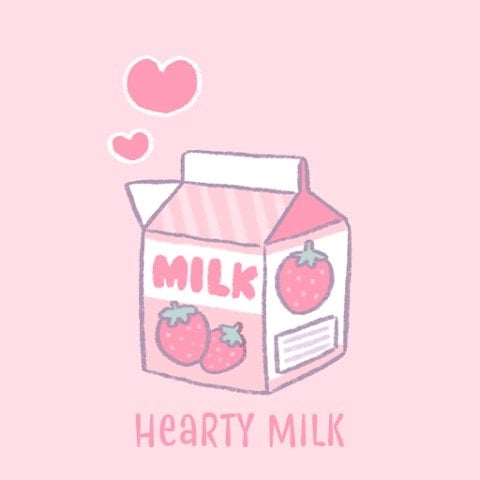 If you are a girl, maybe you are looking for something else, right? Can you please check this one? I am sure you will love this pastel the,e for Android. Ateam Entertainment brings Heart Milk Theme, and it's one of the most popular cute themes you can count on. The theme will present you with a clean, simple launcher with prominent themes along with wallpapers and fonts.
Important Features
This is not a single theme. Instead, it contains around 1,000 different themes.
You will find themes in different bright and pastel colors.
There are also thousands of cute wallpaper and icons.
The entire theme is easy to customize.
The widget and icon pack are rich, and you can choose your preferred one.
6. Simple Theme – Space Feather
---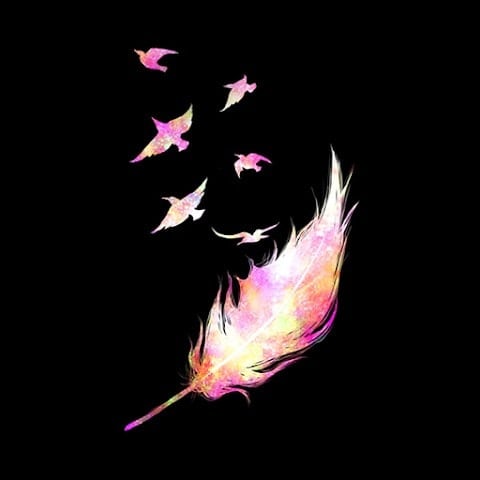 Home by Ateam Entertainment has launched a very minimalist theme for Android users. So, if you are looking for a clean and simple theme, you should try this app. The simple theme comes with a splendid wallpaper of a feather floating in space. It looks perfect on any smartphone model, and the icons and widgets are located nicely. Besides, there are so many customizing options available for you.
Important Features
You can personalize almost all aspects of the theme, including the wallpaper, icons, etc.

There are tons of wallpapers available in this app, and you can choose from the gallery.

It is quite easy to change the size and location of the icons.

Because of its black space background, it will work as a night mode style theme.

It is a safe app and doesn't cause excessive battery drainage.
7. Modern Theme For Computer Launcher
---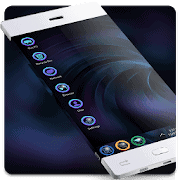 This is one of the best themes for Android, which will give you the experience of a small computer in your hand. It is best for Windows Land computer launcher style. The theme is made with a blue design. You will get a lot of wallpapers for your display. The smooth animations with great icon packs made this theme a great one. This theme will give you the experience of a new category of the theme on your device.
Important Features
The theme will give you a feeling like you are operating a computer.

Icon animations are very smooth, and t

here are icon packs for many favorite apps that are customizable.

Your phone will look like sci-fi with the dashing design of the theme.

Many HD black wallpapers are available and can be customized easily.

This theme consumes less battery power.
8. Cherry Blossom Launcher Theme
---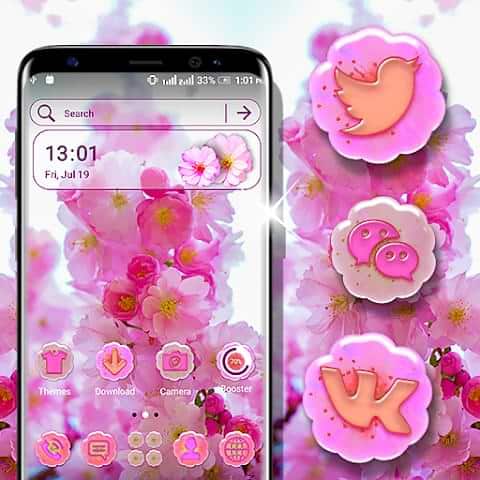 Studio Five Inc presents a brand new theme that is cute, adorable, and mostly based on the girl's choice. This theme is designed with images of beautiful cherry blossoms with minimum requirements to download. Indeed, this theme is only available for Android smartphones, and you can customize it in your own way. You can also customize icons for the apps and make a collection of your choice.
Important Features
With this app, you can customize the Lock Screen interface.

The theme has HD wallpaper which you can preview in the screenshots.

Tap once inside the app to personalize the theme with your phone without any extra work.

The theme also has its own lock screen for extra security.

The theme also includes free icon masks.
9. Themes App
---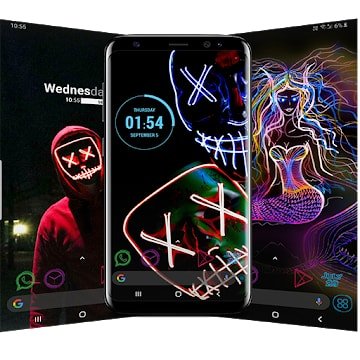 Themes App provides fantasy themes for Android devices with the latest icon pack. It is for Neox Launcher users. It works great with all updates of Android with its great HD icons and wallpapers. You can download this theme for free and decorate your phone with fresh, stylish wallpapers and icons. The features of the pack are excellent and less likely to be disliked by you. For this reason, it is one of the best themes for Android.
Important Features
Beautiful wallpapers are there to decorate your screen.

The icons with the theme are HD quality.

There is a Dashboard, which is a material design.

You can apply themes with a single click, and t

here is an excellent clock widget.

Every day you will experience a new look to the previous one.
10. Water Drops Theme
---
This is one of the best themes for Android because of its outstanding look and performance. You can change your mobile display with a new and fantastic water drops theme. All the wallpapers are designed with a water drop effect, and the icon packs are also aligned with the wallpaper. You have the freedom to customize the theme, as well. There is no doubt that you will like the theme.
Important Features
You can customize the theme according to the interface on your device.

All the icons of the theme will be in water drop shapes.

The visual effects of the theme are great.

Downloading, installing, and using is very easy.

It is designed with the Go Launcher Official theme.

The theme is smooth and functions appropriately.
11. White Flower Launcher Theme
---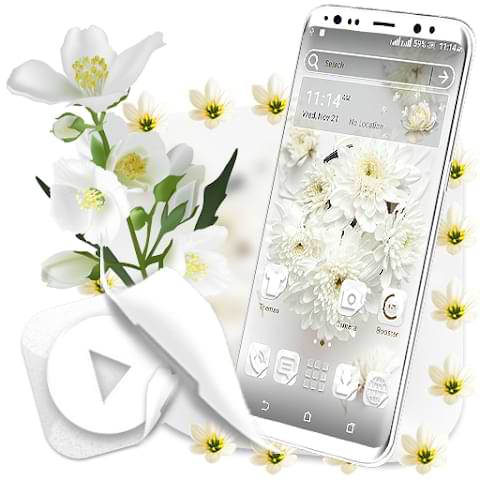 If you're looking for a decent theme that goes with the environment of whitish flowers, don't worry, Tips Games and Studio has brought you a minimalist theme that is based on white flowers. This theme includes HD wallpapers that contain white flowers like dandelions, lilies, etc.
The theme is also pretty easy to install too. Just download it for free from the play store and make sure you have a compatible launcher, and the theme will launch automatically.
Important Features
The theme includes free icon masks that match the whitish theme.

It also has a creative custom app icon set for you.

It also has its own customized lock screen for additional security.

When the theme is launched, visual effects can be seen.

The theme customizes every single app icon that is present on your device.
12. Butterfly Launcher Theme
---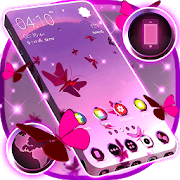 You can also try Butterfly Launcher Theme if you like to experience something colorful and sparkling. There are beautiful butterflies, and the glittering lavender color will bring a beautiful look to your Android device. This is why this theme is often considered the best theme for Android. The icons and widgets of this theme are very good to look at.
Important Features
Bring a completely new look to your phone.

The beautiful visual effect and excellent icons.

You can customize the icons and widgets very easily.

You can also change the color and fonts anytime you want.

An active lock screen and clock setup are also available.
13. Love Theme Launcher
---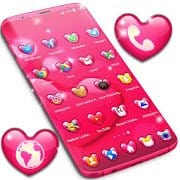 Another exciting theme is here for you. It is Love Theme Launcher. There are lots of beautiful wallpapers with a love sign on a pink background. It is a completely customizable Android theme that will let you change the wallpaper, icons, and widgets. So, with this theme, you can expose your taste exclusively. Also, the visual effects of this theme are very appreciable with the heart and love concept.
Important Features
Easy setup and installation process.

Lots of fonts and colors are available.

Let you personalize the icons and widgets.

Changing the themes and wallpapers is working in the blink of an eye.

Available instructions for use and download for beginners.
14. Cute Cat Launcher
---
Are you looking for a cute theme? If you love cute cats, then I have a surprisingly perfect one for you. Try Cute Cat Launcher on your Android device and give it a new and cute look. Thalia Graphic Image Fusion has brought this theme to cat lovers. Here, you will find a lot of bright color wallpaper, and the entire theme is easy to customize. Would you like to learn more about it?
Important features
One tap will set this theme as the default launcher of your Android device.
You can easily choose wallpaper and personalize the theme.
It is not just a single theme but a set of multiple cute themes.
You can choose your favorite icons for any folder.
This theme also lets you change all the apps' buttons.
Download
15. Themes for Android ™
---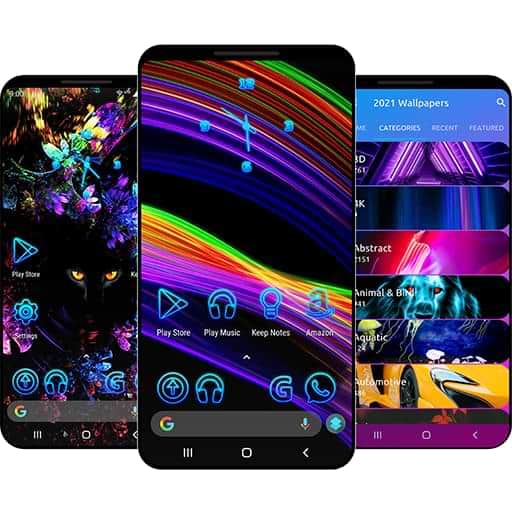 AppKnight presents a brand new free app that provides the most aesthetic themes ever. This app comprises 75+ wallpapers, each highly quality-defined to bedazzle your eyes. The wallpapers and the launcher themes are updated on a daily basis to enlighten your mood. Besides, there are also appealing neon clock widgets and live wallpaper for the home screen.
Important Features
This app has different wallpaper types – love, night, and portrait modes.

There is multiple set of options – Phone background, contract image, etc.

The themes customize your device in a way so you can share pictures on social media with one tap.

The themes also personalize both home and lock screen views to a more stylish one.

Besides, all the wallpapers are under CC0 License and can be used everywhere.
16. Green Nature Cartoon Theme
---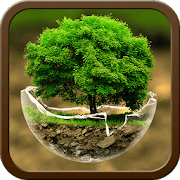 Want to see the miniature of the whole world on your Android device? Then install the Green Nature Cartoon Theme. The best part of this Android theme app is that miniature. There is broken glass with trees. But trees are not everything in this ecosystem.
This is why little creatures, eggs, and other things exist in this world. This cartoon wallpaper has become very popular among Android users because of its beautiful animation and graphics.
Important Features
This theme shows the visual effects of colorful nature while you are not even touching your phone.

There are lots of live wallpapers and 3D themes available.

Different types of icons and widgets are there to get customized.

Beautiful lock screen and time clock widgets.

It is compatible with almost 99% of all Android devices.

There are 10,000 icons with straightforward customization options.
17. Themes, Wallpapers, Icons
---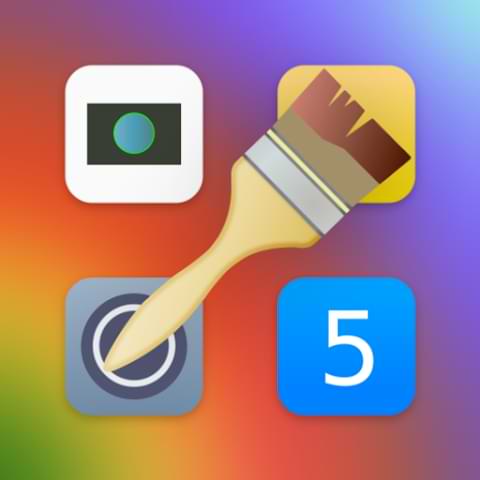 This app is brought to you by Themes and Wallpapers that support Android smartphone brands like Huawei Honor. This app consists of numerous 3D and live wallpapers, which surely will fascinate your eyes. It also includes formal and humorous fonts for your device. You can change the full theme of your phone into a more regarded yet realistic one from the app's theme collection.
Important Features
The themes are exclusively from the "Themes and Wallpapers" designer team.

You will also get an outline of what you have bought or liked inside the app.

The themes will customize the app icons and the home and lock screen view.

Wallpapers can also be set as GIF animations through the app's wallpaper collections.

Besides, this app also supports EMUI 4 shells further.
18. High Style Launcher
---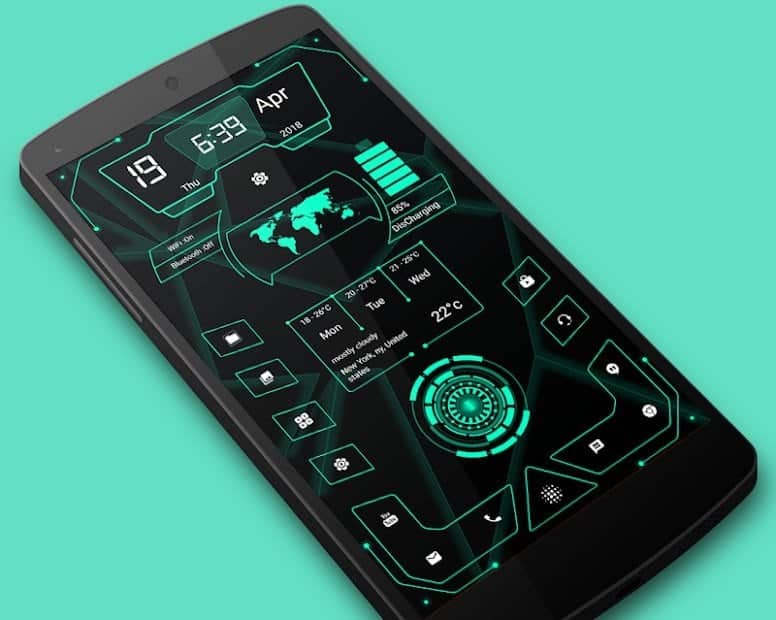 High Style Launcher is another dashing theme; you can use it to decorate your phone's screen. There are different abstract designs with led lights on a black background. The best part of this app is its smooth performance and tons of adaptive icons and widgets. The design of different 3D wallpapers is appreciable, and I do not doubt that you will love it soon.
Important Features
This theme comes with a very simple and user-friendly interface.

Smoothly run without making any Pause and doesn't get slower.

It is a customizable theme, so you can easily change the image, icons, and widgets.

Full UI color and high-definition visual effects are the bonus points of this Android theme app.

It will bring a dashing metro look to your phone.

All the themes and wallpapers will be updated regularly.
19. Pirate Ship Launcher Theme
---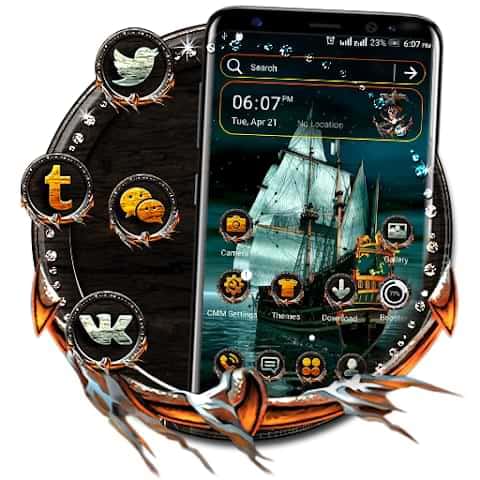 If you love the adventurous dark life of the pirates, I have an option for you. Beautiful themes present a new theme that is highly defined and is only available for Android operating systems. This theme consists of antique pirate ships renowned for veteran pirates' ownership.
Besides, this theme lets you customize the logo of any app and turn it into a superior yet historical one. You can also change the theme to a different yet related one in the settings.
Important Features
You can customize the theme directly from the app settings.

The theme only changes the background look of any app and does not interfere with the inside actions.

Also, it makes the apps' icons glow and changes the look of those icons when launched.

It also supports different types of smartphone brands like Samsung, Huawei, etc.

The theme does not ever drain the battery percentage or life of the phone.
20. 3D Balls Launcher Theme
---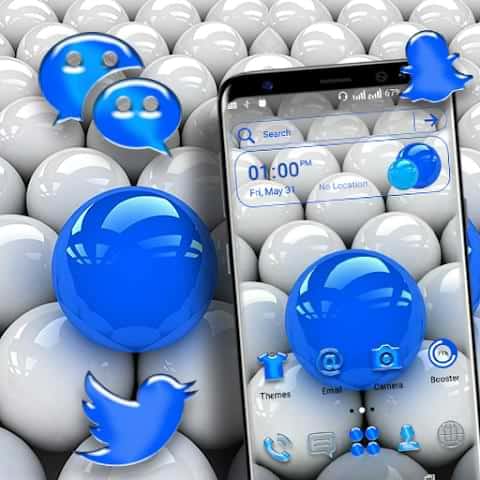 Studio Five Inc brings a brand new realistic 3D theme for Android users, and I am sure you'll love it. This theme will change the phone's boring interface of both the home and lock screen. This is a pretty much minimalist and mesmerizing theme that comes with the essence of blue and white colored balls. Also, it is easy to download, and you will get intuitive instructions to set it up on your device without any struggle.
Important Features
This theme consists of high-defined wallpapers that can also be previewed in screenshots.

You can personalize the theme as you wish and do it from the theme settings.

The theme indeed customizes the pattern and passcode interface of the phone's lock screen.

Surprisingly, this theme has its very own lock screen for an additional protection system for your device.

If you don't have any compatible apps to run the theme, it will guide you to download it trouble-freely.
Final Verdict
---
The list includes the best themes for Android of different criteria and genres. So, it will be easier for you to find out the one that suits your test. So, when you find your favorite theme here, our effort will be successful. You must find themes with dashing, cute, flower, and nature wallpapers and styles. So, just think about which one you like most and then go for it.
So, which one have you picked from the list? Please let us know by commenting. We will wait for your feedback. However, please share this content with your friends who are finding difficulties in choosing themes. Thank you for your support.