Very often a day we use our mobile phone. Nowadays, the mobile phone using rate is too high. In many cases, we are depended on our mobile devices. Besides using the device, we also like to decorate it either by different external equipment or by internal theme. We always become choosy about selecting themes. There are numerous themes available for android but all of them do not match with everyone. Thereby we will discuss the top 10 best themes for Android.
Best Themes for Android
---
In this article, I shall discuss the top 10 best themes for Android. These are taken after certain studies. The studies contain download volume analysis, users review analysis, analysis of ratings by the users, etc. I hope these apps will be liked by you and make your device look and perform better. I also hope you will be able to find out the best themes for android from the article. Before going into the details, I recommend you to check our editorial list of the most popular Android games.
1. 3D 2018 Theme For Android
---
This theme is considered as one of the best themes for android was designed by some talented artists to allow you to customize your device with a wonderful theme, beautiful graphics, amazing icons, and the way you want. This free app works great on your Android device and this will take your device outlook to a new level. You can download and install the app very easily, and the operation is too simple. You will surely like the app once you apply its amazing features.
Important Features
It is very easy to install.

The combination of icons, graphics, themes is wonderful with a huge volume.

It allows easy customization as per your desire.

The visual effects are great.

You can also change the font style and color within the theme.

The app is incorporated with an icon mask for all app icons.
2. Launcher New 2018 Versions 3D
---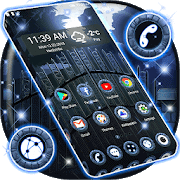 If your mobile home screen and themes are not satisfying you then you should switch to Launcher New 2018 Versions 3D app. It's cool, outstanding and amazing graphics, icons and wallpapers will not bore you ever. You can very quickly get adopted with the app and customize your phone the way you want. You will like its amazing features, and this theme will take your phone to a new dimension as it is one of the best themes for android.
Important Features
Very easy to install and operate.

It gives a 3D look to your homepage.

You can very quickly change your phone theme.

Visual effects are amazing, and the graphics are very cool.

You will get a set of custom icons with free icon masks.

You can also customize the color and style of the fonts to match with your icons.
3. 3D Space Galaxy Theme
---
This for those who are fond of space and galaxy. This app will provide themes which will make a 3D look with space and universe. The app has live wallpapers and icons are designed packs. You can very easily download and install this free theme app for decorating your phone with a lovely look. The holographic look with a blue effect made this app extraordinary. Your phone screen will be furnished with bright, vivid tech with animated holograph.
Important Features
For using the app, you do not require to root.

Protection of app from peppers is natural; you need to hide them in special folders.

There is a massive collection of themes in the app which will fulfill different categories.

Its outstanding looking lock screen will blow your mind and protect the phone from strangers.

The interface is stunning with its fresh appearance.
4. Electric Black-launcher Theme
---
This app is designed for music lovers and black lovers. It contains outstanding but straightforward black wallpapers with suitable icons. Though the design is very simple, the overall look is fresh. The combination of black color and the musical sounds will take you into a new world of themes. Though it is designed for the music lovers, anyone will like the app due to its artistic combination in design and function.
Important Features
The themes are cool and a unique design for the Hola Launcher users.

There are dozens of HD icons that are unified.

Many HD black wallpapers are available can be customized easily.

The app will present you with a clean, simple launcher with prominent themes along with wallpapers and fonts.

All the themes and wallpapers will be updated every Friday.

There are 10,000 icons with straightforward customization options.

Every day you will experience a new look than the previous one.
5. Pure White Love Heart Theme
---
This theme is a fantastic combination of white and black where the maximum portion is white, and the icons are black. The love heart wallpaper is designed to perform live on the mobile screen. It has a black, white screen lock designed with a love heart on minimalist wallpaper. More than 100 favorite apps are suitable with minimalist icon pack contained in the black and white theme. With everything, you will like the theme.
Important Features
It functions only on CM Launcher.

The black screen lock with minimalist pure white wallpaper is fantastic.

There is a black and white love lock screen that protects privacy.

There is a separate theme according to the choice of man and woman.

Besides the usual wallpaper, it provides a love theme fused with the football theme.
6. NEW Theme for Phone X
---
Amongst many themes, this theme is a new one with many beautiful icons, wallpapers with HD graphics, and numerous themes. You will get all the categories of themes like comics, photography, automobile, sci-fi, etc. This classy theme helps your device run smoother and look smarter. You will get a brilliant experience with this theme. Besides, you will get a very cool and attractive graphics which gives visual pleasure.
Important Features
For offering full protection over privacy, the theme has a Horror Black color lock screen which pops up after swiping the lock screen up.

The weather forecast comes with a stylish appearance and a stunning interface.

Fulfills to select maximum possible categories of themes for giving a luxurious look.

You will get a new look in every screen you flip.

You can customize your theme and share those with your friends and surprise them.
7. Modern Theme For Computer Launcher
---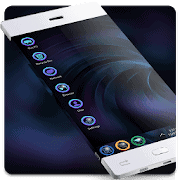 This is one of the best themes for android which will give you the experience of a small computer on your hand. It is best for windows land computer launcher style. The theme is made with blue design. You will get a lot of wallpapers for your display. The smooth animations with great icon packs made this theme a great one. This theme will give you the experience of a new category of the theme on your device.
Important Features
The theme looks like a computer.

Icon animations are very smooth.

There are icon packs for many favorite apps which are customizable.

Beautiful wallpapers are there to decorate your screen.

Your phone will look like sci-fi.

This theme consumes less battery power.
8. Pink Summer Flower Theme
---
Pink Summer Flower Theme is specially designed for those who love pink color and flowers. The theme gives the pink color a digital look through flowers and makes it an outstanding one. This stylish one of the best themes for Android will make all the icons excellent looking. Most of the phones support this theme and function properly. You will experience a smooth and faster running pink app with summer feelings.
Important Features
It contains a vast category of themes.

You can customize your wallpaper.

You can make your DIY themes.

The phone security through the theme is outstanding, and you can easily customize it.

You can make own DIY themes and share them with others.

The animation is based on summer.
9. Themes App
---
Themes App provides fantasy themes for Android devices with the latest icon pack. It is for the Neox Launcher users. It works great with all updates of Android with its great HD icons and wallpapers. You can download this theme free and decorate your phone with fresh, stylish wallpapers and icons. The features with the pack are excellent and less likely to be disliked by you. For this reason, it is one of the best themes for android.
Important Features
Neox Launcher supports this theme.

The icons with the theme are HD quality.

There is a Dashboard which is material design.

You can apply themes with a single click.

There is an excellent clock widget.
10. Water Drops Theme
---
This is one of the best themes for Android because of its outstanding look and performance. You can change your mobile display with new and fantastic water drops theme. All the wallpapers are designed with water drop effect, and the icon packs are also aligned with the wallpaper. You have the freedom of customizing the theme as well. There is no doubt that you will like the theme.
Important Features
You can customize the theme according to the interface on your device.

All the icons of the theme will be in water drop shapes.

The visual effects of the theme are great.

Downloading, installing and using is very easy.

It is designed with the Go Launcher Official theme.

The theme is smooth and functions appropriately.
Last Words
---
I hope you have found at least one of the best themes for Android from this article. If you are interested in any of them, our effort is successful. What is your choice about this list? Please let us know by commenting. I have already mentioned that these were chosen after analyzing a few factors as said earlier. People have different choices, but I hope this article has helped you to find your favorite.