Typing software isn't a must-have thing on a computer. But it can definitely help you to type more fluently. Before starting, let's reminisce a bit. There was a time when touch typing played a major role in computing. In fact, most people bought personal computers to replace their old-school typewriters. Even we had to operate the computer itself by writing commands. App packages weren't that common, and people often wrote a few hundred code lines for a customized task. Ah, feeling nostalgic!
Anyway, the situation has almost changed nowadays. Most people type while sending texts to their friends. Google came up with a voice typing tool. Therefore, we don't have to sit in front of the QWERTY keyboards for hours. However, blogging isn't dead yet.
Besides, there are a lot of official documents typed on the computer every day. So, touch typing will not vanish anytime soon. Rather, if you can type on your computer fast and fluently, it will keep you ahead of many candidates in the corporate world.
Best Typing Software for Windows
---
Indeed, you can freely practice touch typing without using any software. Even I didn't use the typing tool while learning typing for the first time. In fact, I was not aware of this kind of tool. Now that I have to test out many tools for my job, I have realized that typing tools are great to help beginners.
Every skill has a systematic way to learn. Touch typing is no exception. If you are trying to learn typing or your typing speed is too slow, you can try out a typing tool. Believe me; it will help you and boost your confidence. I have compiled a list of the 10 best typing software for windows that you can use to get started.
1. Typing Master
---
Typing master is the most popular tool for typing for your Windows PC. It has been helping the wannabe typists for more than 30 years. So, this is the most mature tool in this section. The developers carefully designed this tool for helping the people so that they can learn accurately typing without even looking at the keyboard. Of course, you have to do a lot of practice before gaining that much expertise.
This tool is currently used by more than three million users. So, you can rely on this without any doubt. It will teach you typing in a systemic process that is not boring, like all other typical typing lessons. There is both a free and paid version of this tool so that you can start learning with zero investments.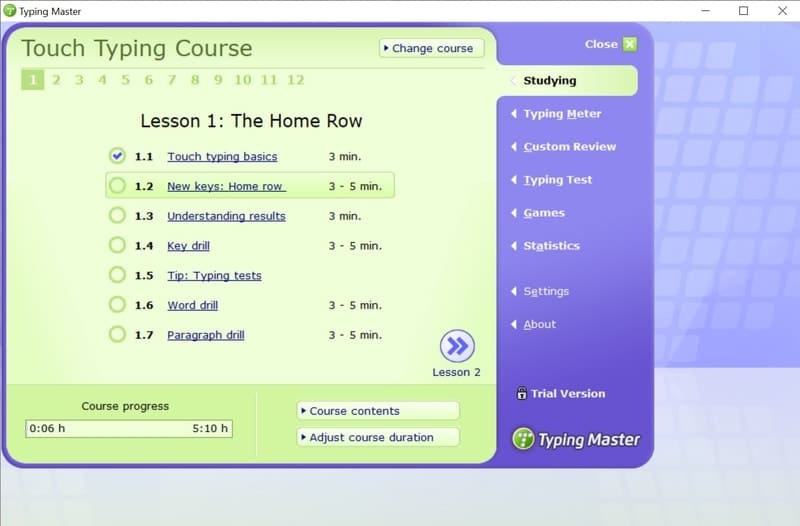 Key Features of Typing Master
This tool will graphically show you the finger positions and guide you accordingly.
The modular teaching approach is beneficial for beginners of all ages.
It features more than 10 hours of interactive lessons with fun typing games.
You will get to see your real-time analytics on the monitor through a widget.
The typing tests are accepted by many organizations throughout the world.
Pros: While the free version is adequate for most users, you can buy the pro version at an affordable price for a lifetime. This is much better than subscription-based tools.
Cons: The user-interface followed an old-school design language that might seem boring for many users. There are some tools that provide more intuitive UI than Typing Master.
2. Typesy
---
Typesy is a relatively new name in the typing tutor category. Yet it gained so much popularity that I couldn't help include it in the second position of this list. Typesy is more focused on educational institutions. I mean they have several packages suitable for use in the schools to teach all the students. However, that doesn't mean this software can't be used by adults.
In fact, the learning modules are designed in a way that people of all ages will enjoy. There are 5 different plans for buying the tool. You can go to the individual package for your personal skill development and the business plan so that you can affordably learn with your colleagues.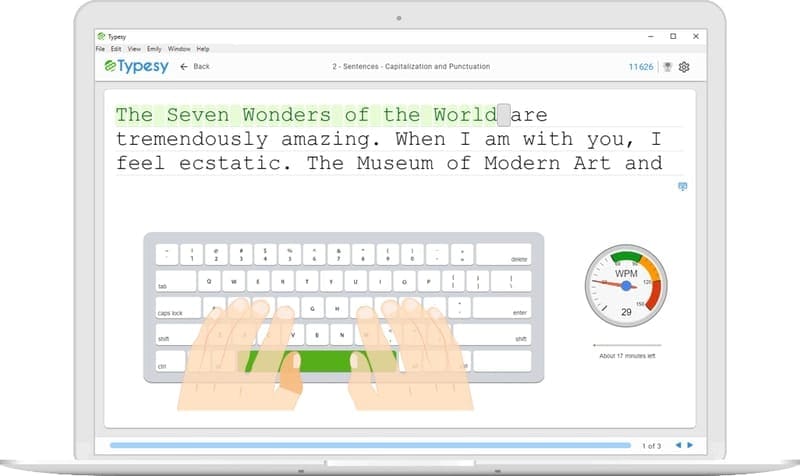 Key Features of Typesy
The lessons are equipped with videos, fun typing games, and related exercises.
An expert instructor will guide you through the full process. Although these are pre-recorded videos, they are quite interactive.
You will see your performance analytics plotted in a graph with the comparison.
This typing software is synced with the cloud so that you can resume on any device.
It has the functionality to import and edit the preinstalled exercise templates.
Pros: This tool has more than a thousand typing activities, which is very rare. On top of that, you can install this tool on any number of devices that will help you continue learning in any situation.
Cons: The tool only supports five keyboard layouts, including US English. So, most of the major languages aren't supported by this tool as of now.
3. KeyBlaze
---
KeyBlaze is yet another free typing software for Windows PC. The aesthetics and appearance seem a bit old-fashioned. But it is loaded with some useful features. On top of that, it doesn't use that many system resources. You can download it completely free of cost. There is not even a paid plan or subscription-based version for this software.
That means you will get to use all the features without any restrictions and limitations. This tool is suitable for both beginners and intermediate level typists. The lessons and exercises are split into sections that require not more than 20 minutes. So, it's effortless to finish the complete course within the gap of your office works.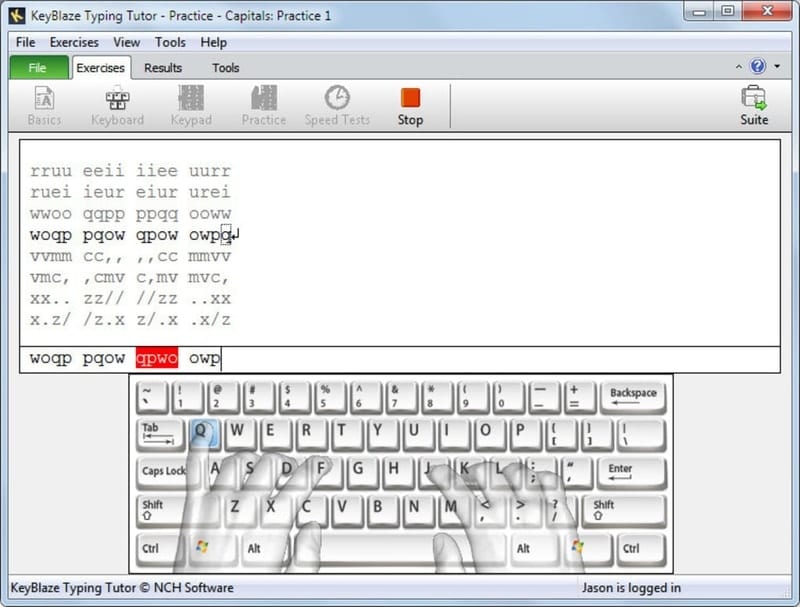 Key Features of KeyBlaze
There are several audio files built-in with this to practice if you are learning it for transcriptions.
The testing module with test your current typing skill so that you can fix your next goal and choose the type of lesson.
You can set your own goal and import a custom-designed curriculum for your students.
The typing games will remove your boredom in the free time.
It will issue you a printable certificate after completing the full course.
Pros: It's difficult to find a completely free and offline tool. It will let you learn type without investments and an internet connection, which is great.
Cons: The user-interface looks too dull and boring. Besides, the developers aren't pushing updates for a long time.
4. Rapid Typing
---
Rapid Typing is a Windows freeware that helps you in learning touch typing. The focus of this tool is to make you type at a fast pace. Not only that, but this tool will also help you to get rid of typing mistakes to a great extent. This tool is mainly designed for use under the guidance of a teacher in the classroom. This is why you will notice that the theme and appearance are colorful and suitable for the children.
However, you can use it individually for self-learning. There are three different course modules in this tool, such as Beginner, Intermediate, and Expert. There is also a test module that will judge your skills. This tool comes with support for almost all the keyboard layouts, but the support for English is the best in this tool.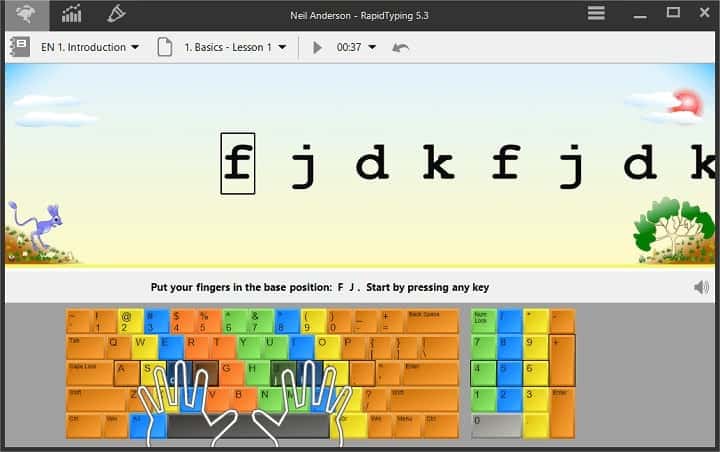 Key Features of Rapid Typing
The colorful graphics will show you different types of virtual keyboards so that you can practice finger positioning.
The tutors can change the built-in lessons and replace them with customized TXT files to better understand the students.
The analytics page is gorgeous. It shows detailed information and metrics that can be grouped based on different criteria.
You can run this tool on any number of computers within a Local Area Network without installing it on individual devices.
It features remote monitoring of the real-time performance of the students.
Pros: If you are looking for software for managing a learning institute, this is the best choice. No other free tool will give you this flexibility to teach a group of students at a time.
Cons: The features are leaned more towards institutional use. So, the individual home learners might feel discomfort using this software.
5. Klavaro Touch Typing
---
Klavaro is a simple and straightforward tool. No, it is not loaded with a lot of features. But This tool is free from all kinds of unnecessary features, and the UI is straightforward to use. This is my most-liked aspect of this tool. Klavaro is best suited for professionals who want clutter-free software that assists in typing. However, the lack of using graphical elements and videos might be a dealbreaker for some users.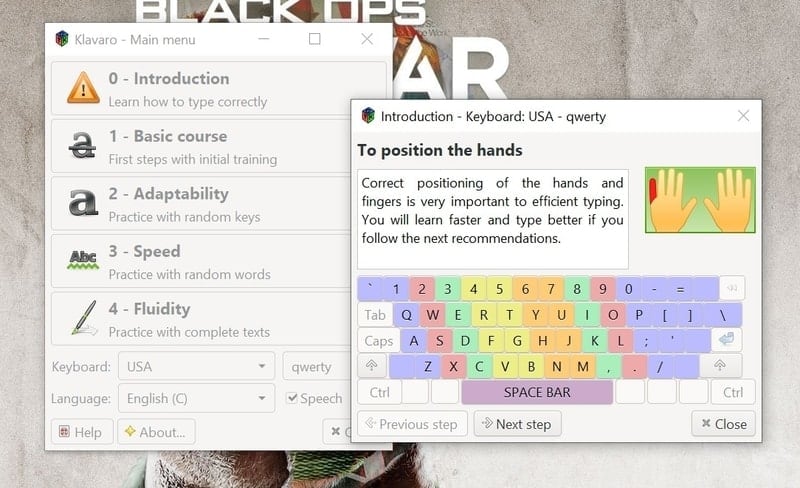 Key Features of Klavaro
It has four different learning modules based on your expertise.
You can select your preferred keyboard layout and typing language from the dropdown menu.
Your daily progress will be shown in a chart so that you can better understand your current status.
The keyboard layout can be edited using a graphical layout editor.
It comes in a small executable package for Windows that is not resource-hungry.
Pros: This tool is best for computers with the low specification. Besides, you won't have to worry about storage spaces while installing this.
Cons: It doesn't feature any videos or animations showing the positions of the fingers, which is pretty common in other tools.
6. MaxType Pro
---
The main and most unique feature of this typing tutor is its multi-user interface. That means you can use this software along with your family members on the same computer. Everyone will have his own profile saved for tracking progress and statistics. It features various typing modes and visual analytics.
Besides, there are many fun mini-games for beginners so that they don't feel bored at all. However, don't be confused with the word "PRO" in the name. It is completely free typing software, and you don't even have to pay a single penny to use this tool.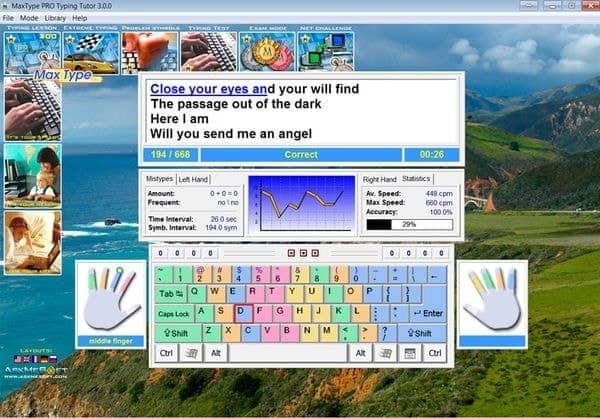 Key Features of MaxType Pro
All the individual profiles can be kept password-protected, which is a nifty feature if you use a shared computer in a school.
This tool supports several European keyboard layouts, including German, French, Russian, etc.
You can record your own keystrokes while typing and play them for future reference and performance analysis.
The Network Challenge mode will let you compete against other real-time typists from all over the world.
Daily and weekly reporting is a unique feature of this software that will let you progress faster.
Pros: The UI provides a lot of graphical elements that help to reduce the learning curve. Besides, it has more features in comparison with other free typing tutors.
Cons: MaxType Pro is a relatively older tool. Hence you may find some compatibility issues if you want to use this on any latest build of Windows 10.
7. Bruce's Unusual Typing Wizard
---
I don't know why the developers named it like this. In fact, the process of teaching is quite similar to other tools in the market. Although the user interface is not that polished. But after using it for a while, I realized that the developers put more emphasis on the lessons than aesthetics.
The most interesting feature of this tool is its advanced algorithm. It can detect by analyzing the keystrokes whether your fingers are in proper positions or not. Later it guides you accordingly so that you can excel in positioning the fingers. Overall, this tool is pretty handy for absolute beginners.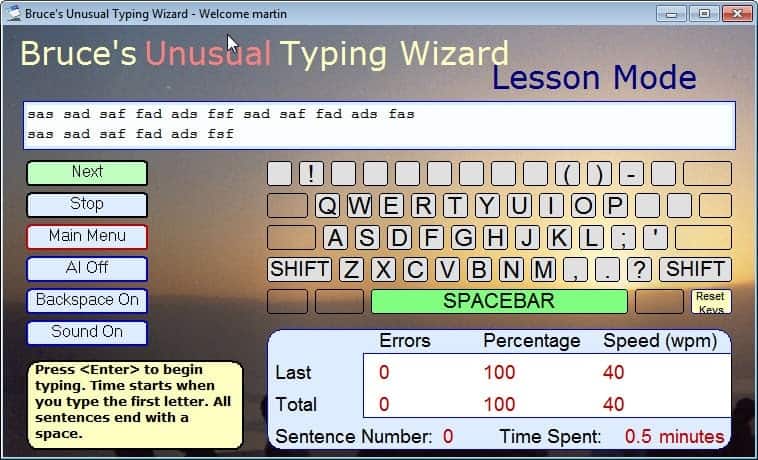 Key Features of Bruce's Unusual Typing Wizard
The lessons are suitable for people of different skill levels.
It has intuitive controls with a graphical on-screen keyboard for reference.
There are a few typing games that will help you to judge your skills along with fun.
You can customize the lessons, which is a big deal if you want to teach faster to the students.
The package size is tiny. In fact, it is just around 500KB, which is a great help for low-end computers.
Pros: Indeed, it is not a state-of-the-art tool for typing. But the developers beautifully managed to put all the necessary stuff in a tiny package, which is impressive.
Cons: It is not officially compatible with Windows 10. However, you can try the compatibility mode to run this software.
8. Type Faster
---
Type Faster is yet another dated tool for learning typing on your Windows PC. It was quite popular in the Windows 98 era. However, that doesn't mean you can't use this tool on the latest Windows 10. The installation process might not be that pleasant, but it is still useful even with modern computers. The basic principle of typing hasn't changed whatsoever.
When you open this tool, you will be greeted with a 90s interface. Don't be scared, anyway! The tool is straightforward to use with a lot of modern features. It can teach you, take exams, and even tracks your usage pattern. How cool is that for an ancient tool like this!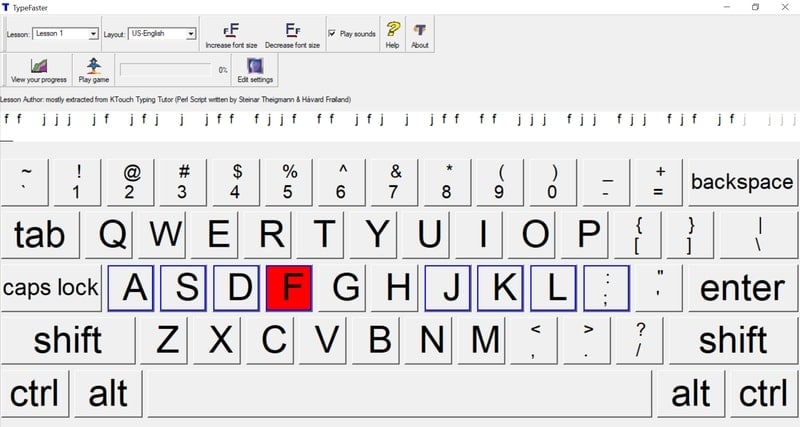 Key Features of Type Faster
It features 15 typing lessons splitter into parts for easier digestion.
You can customize the layout and increase-decrease the font size for comfort.
There is a word game combined with a retro fighting jet, which is addictive and fun.
If you are a tutor, you can keep track of the progress of your student.
There is a complete Spanish layout included with this tool.
Pros: It can detect your weakest keys based on your activity. Besides, I didn't find any difficulties installing it on the latest Windows 10.
Cons: It's not currently under development. If the developers pushed regular updates with more video lessons, it would be a great contender to be the best typing software for Windows.
9. Mavis Beacon Teaches Typing
---
This is still a popular software for typing on a PC. In fact, most of the veteran typists you will find are familiar with this software. Nowadays, with modern web apps, people prefer learning to type online without installing any app. But if you like the traditional way of learning, then this is really a great choice to start.
The publisher of this software claims that it will only need two weeks for you to learn typing. I think they are quite right. I went through all the lessons and modules and found that this tool uses the most realistic teaching approach. You will feel like you are learning from a real-life tutor at your home.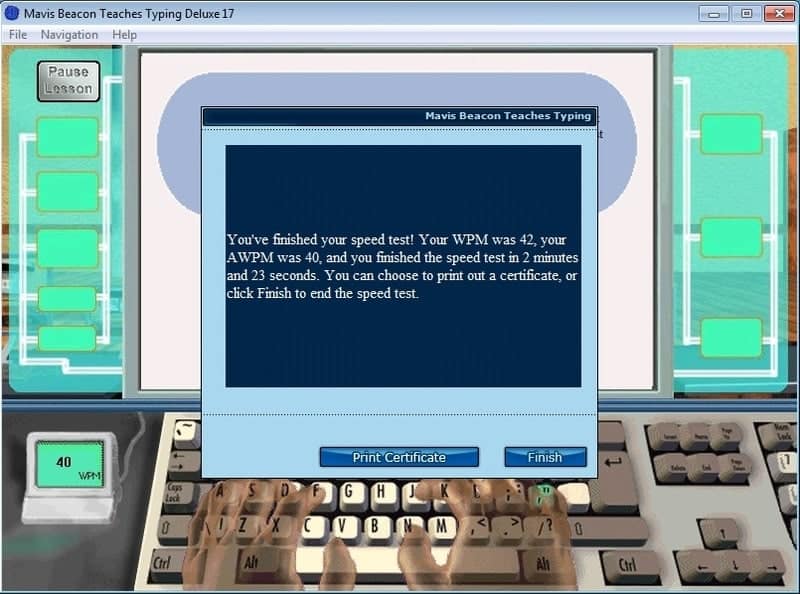 Key Features of Mavis Beacon Teaches Typing
There are more than 400 lessons and exercises that are rarely found on any software.
It features word games that help you to memorize the keystrokes in a fun manner.
You can import MP3 files into this tool for transcription practice.
This tool supports two of the most popular languages, Spanish and French, along with US English.
You will get to see the key-by-key analysis of your performance.
Pros: The software is paid. But It is loaded with an adequate number of lessons, which justifies the price. Besides, you will get a free trial, which helps you to try it out first.
Cons: It doesn't have any lesson customization feature, which can be annoying for the expert tutors who want to buy this for teaching others.
Download
10. Kiran's Typing Tutor
---
This software was developed by Kiran Reddy. He's an indie developer and loves to contribute to open-source projects. This typing software is, in fact, one of his hobby projects. But the tool is so wholesome, and it doesn't feel like it is not commercial software. On top of that, this is ad-free, and you won't have to pay any fees to download this tool.
The module features suitable lessons for primary school students to advanced computer institute students. So, you won't feel left out no matter what type of expert you are. Theming and customization features added a whole new dimension to this app. Didn't I mention the games? It features a lot of fun to play kids' games too.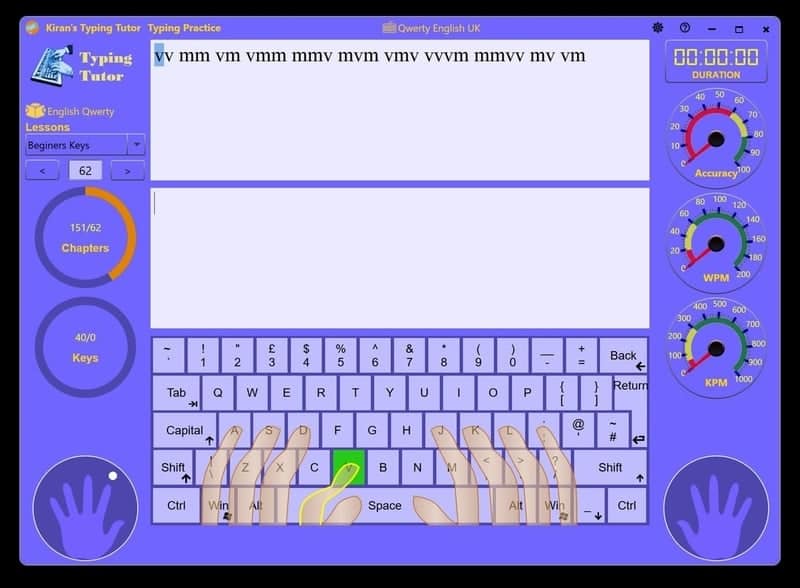 Key Features of Kiran's Typing Tutor
You will see your real-time typing speed and other analytics on the sidebar.
There is a dedicated section called Kids Typing in this tool for beginners.
It will issue you a certificate if you can complete all the modules.
There are several pre-installed themes to create your own vibe based on your mood.
The statistics page shows graphs and analysis regarding your typing speed and accuracy.
Pros: This software provides a hassle-free one-click installation from the Microsoft Store, which is a great help for the newbies.
Cons: It doesn't feature any online downloadable contents for further extension of the functionalities.
Our Recommendation
---
As you can see that most of the typing tutor tools on this list are not actively developed anymore. But they are quite useful even in these modern times. However, it's always better to go for the up-to-date tools. In that case, you can use many web apps for learning typing. But if you are out of internet connection and want a stand-alone tool, then Typing Master can be your pick. While the free trial version will be adequate for most users, I will always recommend you to buy the full license if possible.
Final Thoughts
---
All of the above-mentioned typing software for Windows PC is suitable for beginners. They work great for improving your touch typing speed and accuracy. I hope you will be able to choose the best typing software for your PC from this list. There are several other tools that I couldn't include here. They are not bad, either. So, if you have a favorite typing tool apart from this list, you can show your love by commenting below. We would love to check that and let others know. Happy typing.