Like me, all the Linux users want their machines to work and respond fast, no matter how old. Most of the Linux users end up looking for an efficient CCleaner Alternative. One of the most loved applications that help Windows users to make the devices fast is the CCleaner. This cleaner cleans all the junk files from the system, and the temporary, expired, and invalid files and registry entries. Not just this, but it also automatically deletes the uninstalled dead programs and the history of the browser. CCleaner has not yet been published for Linux. But what to do if you are a Linux user?
Best CCleaner Alternative for Linux
---
So, if you are a Linux user and looking for the same type of application then, congratulations because you have landed on the right destination; we have listed some of the top CCleaner alternatives for Linux that work just like CCleaner. If you are looking for a CCleaner alternative, then you can find the best ones that will work great on your Linux system. The alternatives of CCleaner are:
6. FSlint
---
This is a CCleaner alternative, and it finds duplicate files on your system. With the help of FSlint, you can delete unwanted programs and junk files. Not just the duplicate files, it also finds the empty directories, wrong IDs, and temporary files.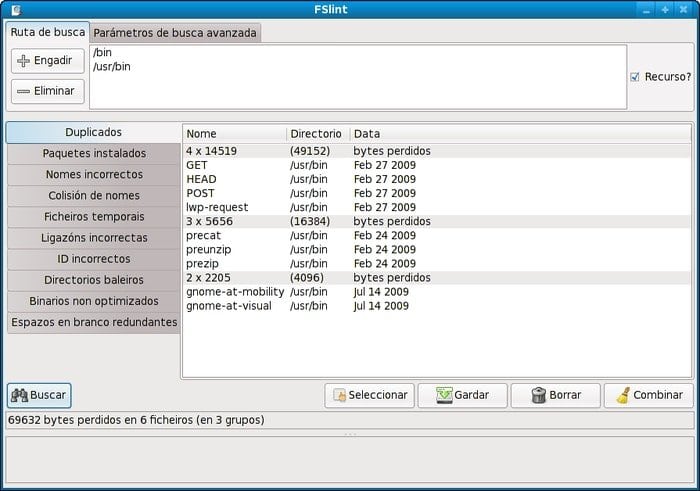 With this CCleaner alternative, you can select a particular location of your Linux system and then search for unwanted or duplicate files. Then, click and get rid of them instantly. Initially, you might feel the system is quite complex, but once you get accustomed, things get simpler.
5. Stacer
---
Are you looking for a CCleaner alternative for Linux that comes with a modern user interface? If yes, then this is the one you need. This CCleaner alternative covers four sections: app cache, apt-cache, system logs, and crash reports. The dashboard of Stacer provides a quick look at the resources of the system.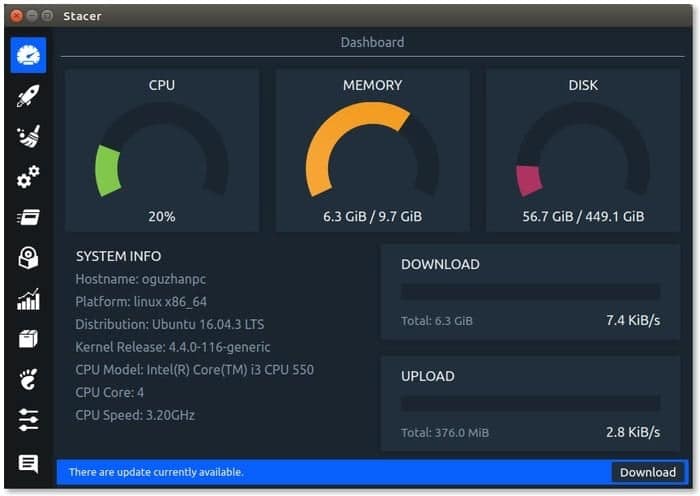 This helps you in cleaning the junk or unwanted files with a single click. You can also manage the startup application and uninstall the software to free up your system space. This is widely used among Linux users.
4. Sweeper
---
The Sweeper is the default and simple cleaner for the KDE. This is a great CCleaner alternative for Linux. It is used to clean the unwanted traces of the user's activity on the system for protecting the user's privacy. It also helps in reclaiming the space in the disk by removing/ erasing the unused temporary files.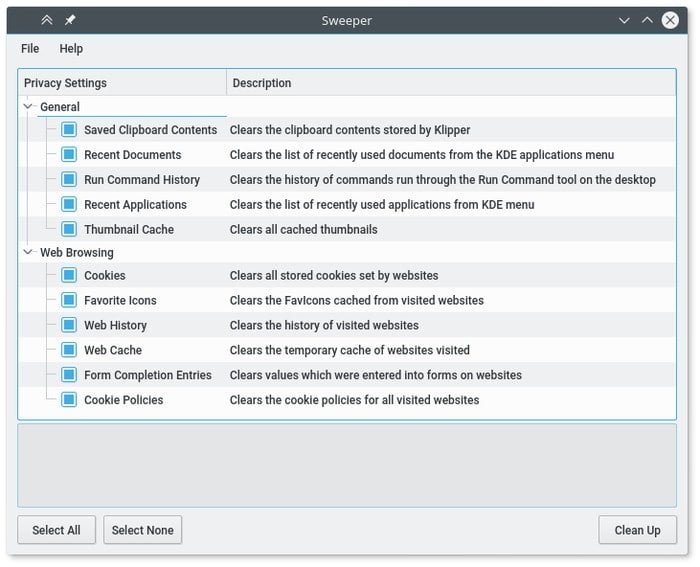 With the help of a sweeper, you can delete all the web-related traces, such as the cache, history, cookies, and image thumbnail caches. It works great in cleaning the history of the applications and documents. Like it is said before, this is a default app. You can also download it from the internet. This works great with the Linux system.
3. Ubuntu Cleaner
---
If you are looking for a great cleaner that has been designed just for Linux users then, Ubuntu cleaner is the one for you. This is very easy to use and can be installed without any trouble. You would be able to get rid of all the unwanted information from the system. It also cleans and frees up space in no time.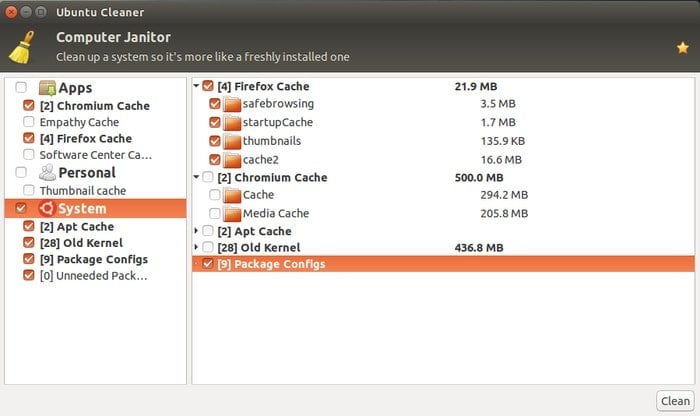 To our experts, this is one of the best to use in a Linux computer system. Along with the mentioned things, it also can remove the APT cache, unused packages, old kernels, and thumbnail cache. This is great for cleaning and speeding up the Ubuntu system. So, the next time if you require freeing some space in your desktop, use it.
2. GCleaner
---
Tired of looking for a CCleaner alternative? Well, don't worry, we have something great for you here. The GCleaner is a great CCleaner alternative, and you can download it from the internet with just a single click. This is great for freeing up space and removing the unwanted files that you no longer need.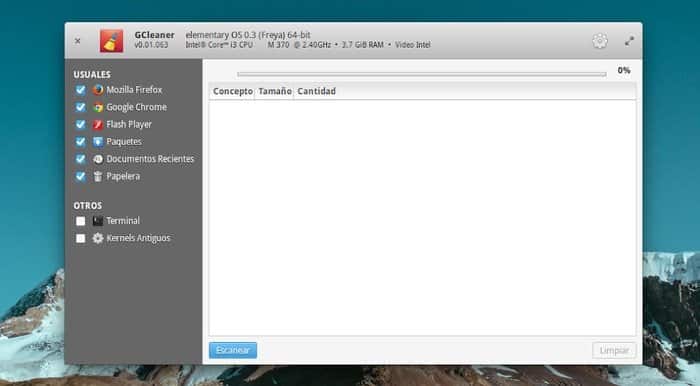 GCleaner is a simple, intuitive, open source, and fast system cleaner for Linux and its derivatives. Like all the above-mentioned cleaners, these also take part in cleaning the computer and protect your privacy. This cleaner is handy in keeping our information private. You will not have to worry about the security of the machine.
1. BleachBit
---
If you ask me which the best of all is, then without any doubt, I will say BleachBit. This is not just for Linux only; even if you are windows or MAC user, this is an excellent CCleaner alternative for you. This is a cross-platform, feature-rich, powerful and open source software that quickly and easily cleans the system, protects information privacy, and free-up disk space.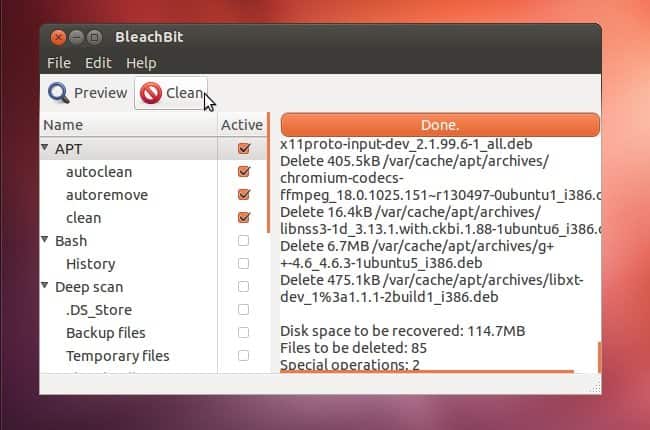 It is easy to use and supports around 65 languages. So, if you are not from an English-speaking country, then it will not be difficult for you. It assists in cleaning the system in a short time. It also helps you in maintaining the privacy and improving the performance of the system.
Most importantly, it comes with the command-line interface for those who love working from the terminal. Hence, it is scriptable and allows the user to create their own cleaners with CleanerML. It also has many other exclusive features.
Final Thought
---
CCleaner is one such application that is powerful and popular for deleting unwanted files and freeing up space. Unfortunately, as CCleaner has not been launched for Linux, you can use the above-mentioned software to clean your computer system efficiently.
That's all! We have tried and tested all these cleaners with our Linux experts to give you the list of the best 7 Linux cleaners available in the market as the best CCleaner alternative.
Your choice?
---
I have listed down the seven possibilities for you. I will now let you decide which cleaning tool you would use for cleaning your Ubuntu operating system. If you want to get my opinion, choose no one, and I can assure you that you will get the best result from it. Let us know in the comment section below about how our list helped you.