Ubuntu is a very powerful and polished Debian based Linux distro. However, Ubuntu Desktop Performance is remarkably good and fast on modern laptops and desktops. But after a few days of installing Ubuntu, you might have noticed that your system gives a sluggish performance. This might have happened due to many reasons. Your system might have unmanaged startup applications, unnecessary Compiz Effects, and much more. Here I have listed 12 must follow small tweaks and tips, which will help you speed up Ubuntu desktop performance. These tweaks will let you have a smoother and improved system performance to do your regular task. You can follow all of it or some of it, but that will incredibly give you a high performer and faster Ubuntu system.
Speed Up Ubuntu Linux: 12 Must-Follow Tips
---
You may find lots of tweaks and tips on how to speed up Ubuntu Desktop Performance on the internet. Some are safe, and some are risky. Here I will be sharing only safe and stable tweaks. Because I believe that system stability and reliability are much more precious and important than gaining speed.
1. Manage Startup Applications
---
After installing fresh Ubuntu, your system seems fast and smooth, but the users intend to install lots of applications over time. That startup applications take huge resources while the system boots up, making the system slow and poor performance. So at the Ubuntu system, it's better to manage startup applications at the best level.
There are many applications, i.e., Bluetooth manager, email client, remote client, visual assistant, etc., which might not be necessary during startup. So to reduce the startup application, follow…
Gnome Application Drawer >>

Search for Startup >>Add/Remove/Edit as you like

Unity Dash >> Search for Startup >>Add/Remove/Edit as you like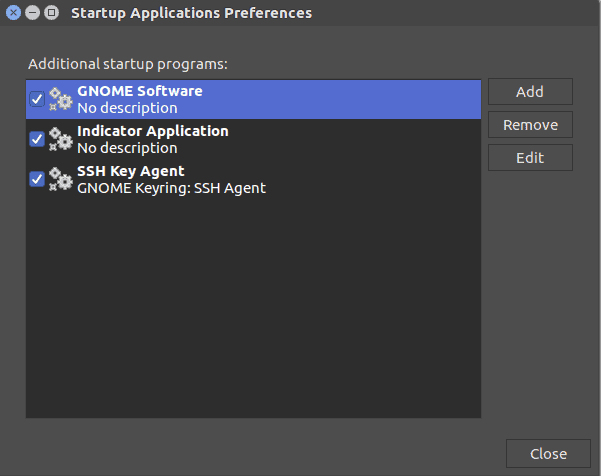 2. Install Preload
---
Preload is a handy tool that runs in the system background and having artificial intelligence to understand the behavior of the system user. This how it loads the application very fast depending on how often the user is using the application. Follow the command from the Terminal to install preload in Ubuntu.
sudo apt-get install preload
3. "Lower" The Compiz Effects (Only For Unity Version)
---
To speed up the Ubuntu system significantly, you must minimize the use of the Compiz effect. There are many Compiz effects loaded by default, which makes the Ubuntu system slow. So try to disable some of the eye-catchy Compiz effects to speed up your Unity desktop on Ubuntu.
sudo apt-get install compizconfig-settings-manager
4. Create a Swap Partition
---
If you have less RAM on your machine, you should make a swap partition during the initial Ubuntu installation. Normally Swap partition is made double in according to your actual RAM. If you have 2 GB RAM, then the Swap Partition will be 4 GB.
This partition will use your HDD as RAM to speed up application launching and background system process. Discard making this Swap partition if you have RAM of more than 4 GB.
Suppose you have forgotten to make a Swap partition during Ubuntu installation, then search online "how to make Swap partition after installing Ubuntu". Definitely, You will be getting a lot of tutorials for making a swap partition.
5. Remove Undesired Search Results (Only For Unity Version)
---
By default, Ubuntu does not include Lens, Scopes, or Amazon online search, but it displays all into unity dash on the old version. So remove it from unity dash, follow…
System Setting >> Security & Privacy

Here you will find all the information about files, applications, search, diagnostics, and security. So do the change according to your preference. Moreover, if you have installed Ubuntu Tweak Tool, you will get much more control over your privacy settings.
Unity Dash >> Ubuntu Tweak Tool >> Search
6. Reduce the Default Grub Load Time
---
While booting up a laptop, the Grub shows the options of dual-booting OS or recovery to choose from. Normally a user gets 10 seconds to choose. That means users have to wait up to 10 seconds or need to hit enter to get inside.
So it's better to reduce the Grub load time, but remember don't make it 0 seconds, then you will lose to select the OS from boot or recovery. Here how to do it.
Run the following command.
sudo gedit /etc/default/grub
Change GRUB_TIMEOUT=10 to GRUB_TIMEOUT=2. This will make the Grub load time to 2 seconds. After that, to make the change effective, run the following command.
sudo update-grub
7. Choose the Best Mirror for Software Updates
---
If you have a slow internet connection, this procedure must select the best server for updating the Ubuntu system.
Application Drawer >> Search for Software & Update >>Ubuntu Software Tab >>Select Best Server ( Download From Tab )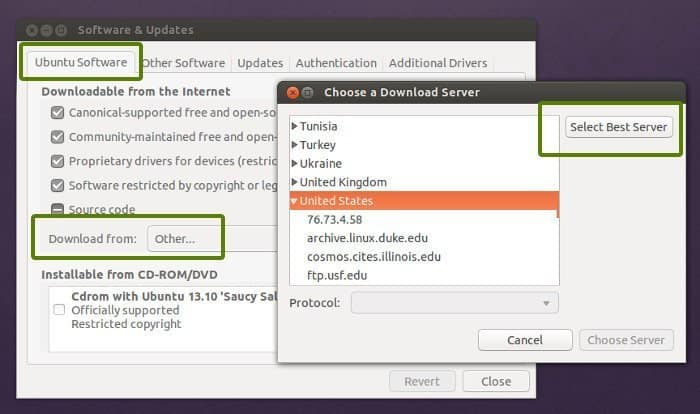 This will start a test to find out which server is near to you to get the update files faster into your system during a software update and upgrade. This will definitely speed up the Ubuntu system with all new security bug fixes and install all the required missing drivers.
8. Reduce Overheating
---
Overheating problem is very common on laptops. This makes the laptop run slow and gives poor performance. There is a very effective tool in the Ubuntu repository, which can help cool down your system, making the Ubuntu system smooth and faster. After installing TLP, you need not do any configuration; rather, just run the command.
sudo add-apt-repository ppa:linrunner/tlp
sudo apt-get update
sudo apt-get install tlp tlp-rdw
sudo tlp start
You can also Install Laptop Mode Tools, which helps reduce power consumption by slowing down Hard disk speed and kernel control. To install it, run the following command…
sudo add-apt-repository ppa:ubuntuhandbook1/apps
sudo apt-get update
sudo apt-get install laptop-mode-tools
After installing, get the GUI for further customization. Run the command…
gksu lmt-config-gui
9. Use apt-fast instead of apt-get
---
Apt-get is an obvious command while you go for any software installation or update your Ubuntu system. Here I would like to recommend using apt-fast instead of apt-get, at least have a try, for a speedy update or downloading app packages simultaneously while using multiple connections. Install apt-fast via official PPA using the following commands:
sudo add-apt-repository ppa:apt-fast/stable
sudo apt-get update
sudo apt-get install apt-fast
10. Use a Lightweight Desktop Environment
---
Ubuntu comes preinstalled Gnome desktop environment, which loads quite heavy onto the system. But you can always have a try to install another lightweight desktop environment ( like Xfce or LXDE) and see whether it can fulfill your requirements or not. I have a detailed tutorial on various desktop environments for Ubuntu. You can check it sometimes.
11. Enable Proprietary Drivers
---
This step is a must to do if you want to play the latest Ubuntu Games and do a high graphical designing task. All the modern Linux laptop and desktop comes with high processing performance and graphics card, so to get the best performances, you should enable proprietary drivers. To install and see the availability of the proprietary drivers for your hardware, Applications Overview >>> Software & Updates >>> Additional Drivers >>> Install/Apply changes
12. Clean up Ubuntu
---
First of all, I like to focus on the apt-get command. This command is the most powerful command in UNIX/Linux Terminal, which lets you do almost anything about software install, uninstall, Downloads, etc., before doing anything; it makes a cache in your HDD consisting of all downloaded data. So it gets bigger and bigger after a certain time. This makes the system slow and sluggish. To remove all those caches from your system HDD, run the following command.
sudo apt-get clean
Don't get worried. It does not delete any installed application from your system.
Now I will highlight the application "dependencies". When an application is installed, other related small applications are also installed along to have full functionality. But if you uninstall the application at that time, the dependencies or small subsidiary application will not be removed.
So it creates junk files on the HDD and slows the system. To clean up all these unnecessary packages or unwanted "Dependencies" from the system, run the command.
sudo apt-get autoremove
Final Thought
---
All these above tips and tweaks are given based on Ubuntu's latest version, but these tips also can be used in all other old versions of Ubuntu. Moreover, other Linux distros based on Ubuntu, like elementary OS, Linux Mint, etc., can similarly apply these Speed Up Ubuntu tips and tweaks.
These tips and tweaks help you to maintain and speed up your Ubuntu desktop Performance significantly.
Speak Now
---
Do you have any tweaks that helped to speed up the Ubuntu system? Did you like all the above tweaks? Do share your views, questions, and suggestion in the comment below.