News aggregator apps are those apps that assemble various contents from different news sources and display them in one section for easy and comfortable access. In the present day, people have become very busy and thus do not have ample time to collect news of their interest. Although there are certain apps that will do that job for you, spotting the right one is never easy. If you want to get the best news aggregator apps for your Android device that should have some unique traits, then you have come to the right place.
Best News Aggregator Apps for Android
---
If you are looking for a smart news aggregator that will bring the latest and relevant news for you, this article will help you a lot in this regard. Here I will discuss the 20 best news aggregator apps for Android to keep you informed and bring the world in your palms.
1. Google News
---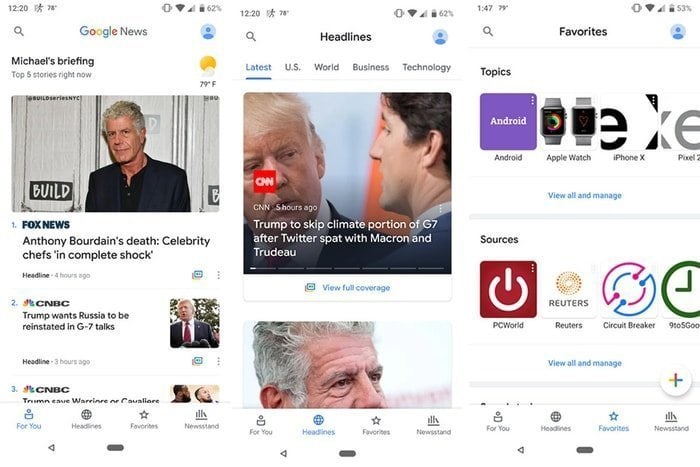 Google News is one of the best news aggregator apps for Android in the marketplace. This sophisticated app will provide you a positive experience. You will get almost all kinds of news across the world. It will ensure you get the news from trusted sources.  So, get the latest and top stories of the day in your mobile devices from now. 
Important Features:
It provides the latest news that is occurring around the world.
You can get the story to follow up and dig deeper from different sources.
Get your favorite journals and news events quickly.
You can download a few publications if you want to read those later.
Enjoy its built-in recommendation system for better exposure.
Get the local news and important events of your interest daily.
2. Flipboard
---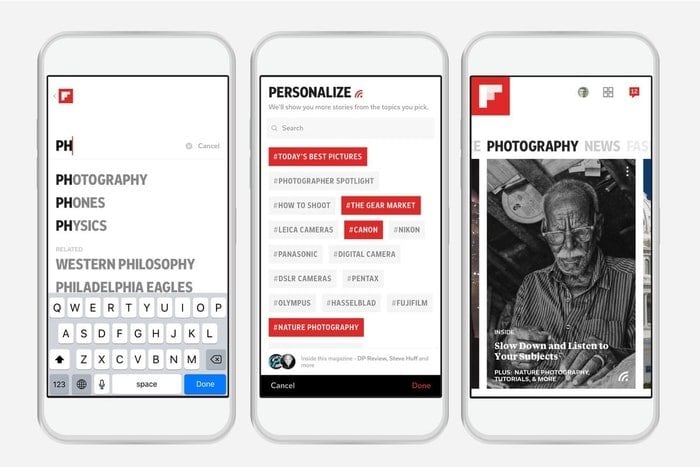 Flipboard is a fascinating news app. Its stylish presentation will mesmerize you. Its aesthetic interface provides you with various news articles, videos, and sliders. You will get the updated news from renowned newspapers and magazines here. You can customize the smart magazines and also your home feed for a sophisticated experience.
Important Features:
Get the latest and top story news feeds daily.
Enjoy the updated news from famous newspapers like National Geographic, The New York Times, Vanity, and many more.
Compare up to 9 of your favorite smart magazines and get quick access to your personalized news.
It offers numerous particular segments like business, sports, politics, news, lifestyle, entertainment, and much more.
Enjoy the daily trending events, latest headlines, and relevant stories with follow-ups.
You can collect and add few story themes and add them to your magazines for a personalized view.
3. AP News
---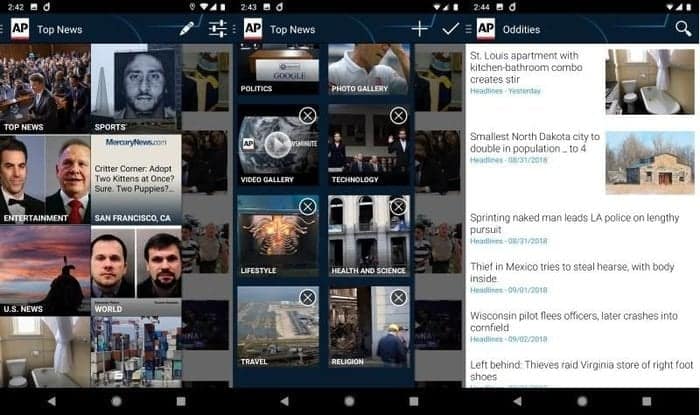 If you want the best news aggregator apps for your Android device, which will provide you the breaking news immediately, AP News is the right app for you. It accumulates and publishes all the latest stories and breaking news for you. It intuitively presents the news. You will continuously get the refreshed content, which will always keep you updated. 
Important Features:
Get the latest news and enjoy a better and faster browsing experience.

It brings you the breaking news from various associated press and local sources. 

This news app will get real-time news here.

It is available in Spanish and English language.

Enjoy its large news outlets.

It is user-friendly; it has some beautiful photo galleries too. 
4. BBC News App
---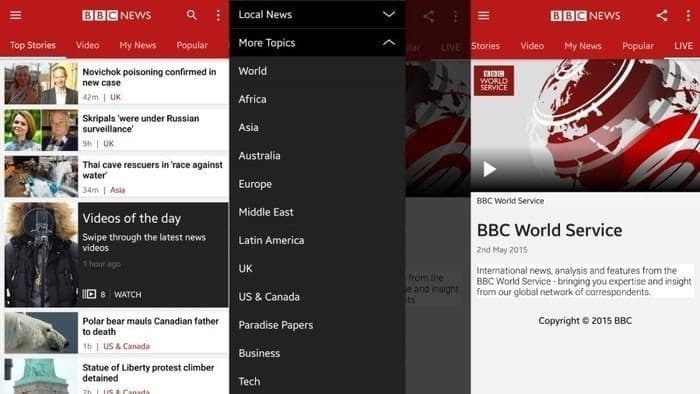 BBC is a traditional, trustworthy, and the oldest Android news aggregator app. You will get engaged with all the news articles it provides as it knows how to attract the user. Enjoy the TV-like experience as it allows for live streaming news. It will send you a notification if you want, thus get the breaking news promptly.
Important Features:
Get the top news and latest stories from its global network journalist.
You can personalize your favorite interface and news offerings.
Enjoy the live World Service BBC Radio seamlessly.
It offers you full access to its photo galleries, audios, and videos.
Get the follow-up news from the feature tab.
You can use email or social media and share stories.
5. CNN news
---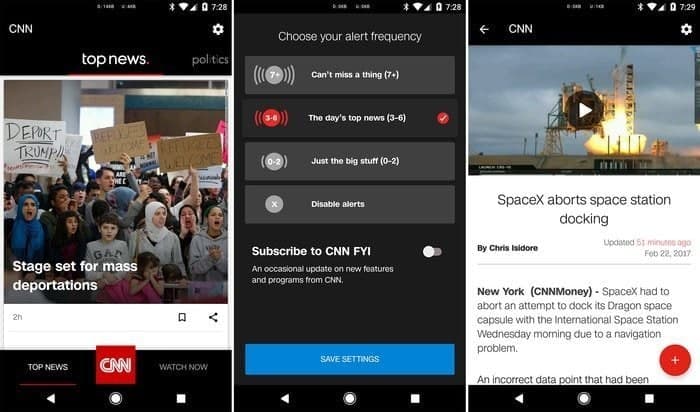 CNN news is one of the pioneer news aggregator apps in the world. You can view its content from any place across the globe. It offers a contracted version of the leading website for cell phone users. You will get a diversity of contents and some original CNN contents too. It also provides breaking stories and video streaming options for interested users.
Important Features:
Get the notification alert and find what's happening around the world immediately. 

Enjoy the breaking news and story follow-up.

Get photo galleries, news clips, and top-rated story updates.

Enjoy the original series of CNN, the regular news programs, and the award-winning films.

You will get numerous videos on demand and also can enjoy live TV.
6. Feedly
---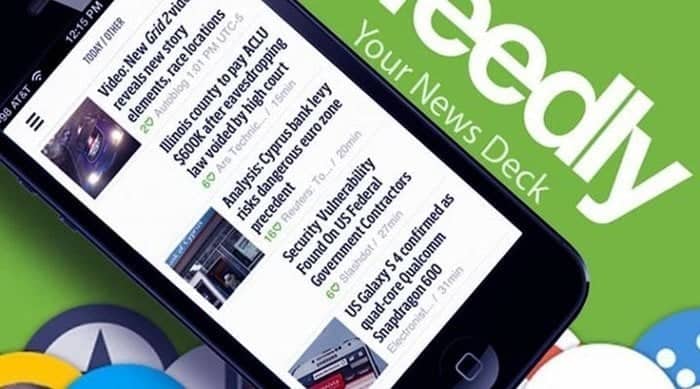 Feedly is an exciting Android news aggregator app with several discovery features and offers essential tools to the user. It covers a large number of news fields. You can get keyboard shortcuts, multiple layout options, tagging, etc. You will get the filter option so that you can deny the unwanted topics and hide them.
Important Features:
Get connected with a considerable number of feeds.
Organize your blogs, publications, articles.
You can save any topic for reading it later.
Tag any content for your future requirements.
Enjoy its smooth, clean, and user-friendly interface.
You can save the articles in the cloud and share them on social media.
7. Pocket
---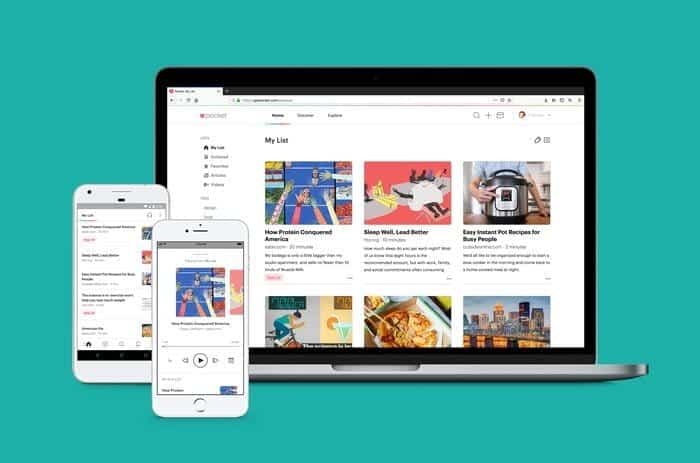 If you need to save any article for future use, Pocket is the best news aggregator app for Android. It allows you to keep the selected portion of the article and follow-up story features. You can also bookmark and look for various stories and popular articles here. It recommends articles matching your interested fields. 
Important Features:
Preserve the latest news, web pages, magazines, and articles seamlessly. 

Get automatic backup and advanced search facilities.

It is integrated with numerous applications so that you can use it spontaneously. 

It is simple to save. Moreover, you can share it with others.

Manage a list and bookmarks of the saved documents.

If you do not want to read, you can turn on the 'listen' feature and enjoy eyes and hands-free learning activities. 
8. News360
---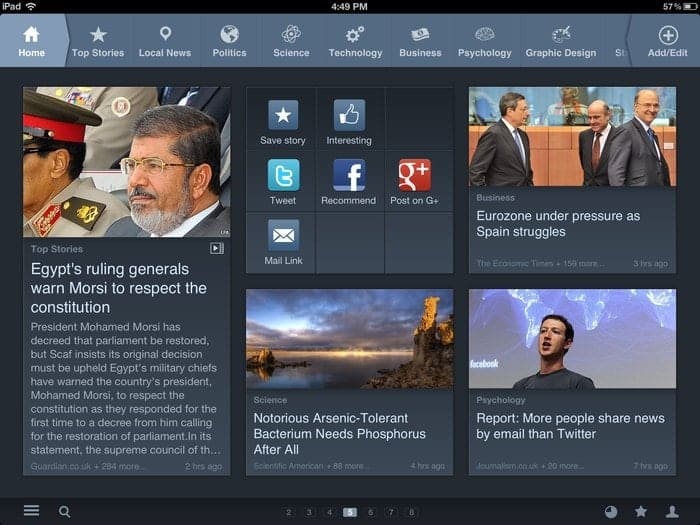 News360 is one of the best and attractive news aggregator apps for Android that offer authentic and rich content.  Here you will find ample news about your interested fields. It allows you to share the story on your social media accounts. It has the integration with iMessage and the apple watch app. You may get this Android news app for free.
Important Features:
Quickly scan the headlines, follow-up stories, and other contents.
Use the widget and read the news without even opening the app.
Get the trending news and share it if you want.
It allows you to search from your favorite news portals.
You can save the articles to your device and read them offline too.
Get unlimited news from the top mainstream and local websites and blogs.
Play Store
9. SmartNews
---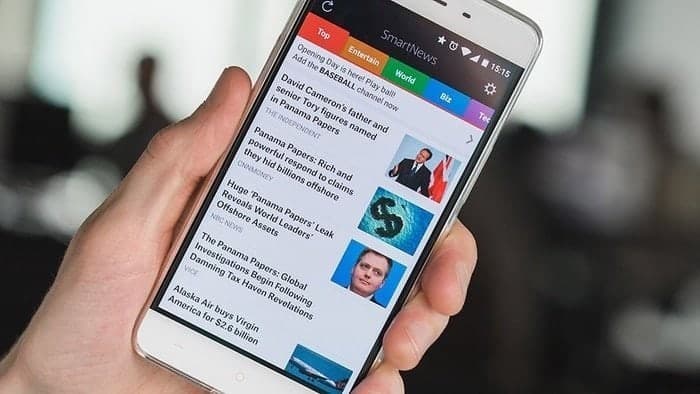 SmartNews is a widely used award-winning news app of the present time. It analyzes the recent news and places them into a distinct category for easy access. It offers you different kinds of news from various sites. You will get concrete and concise news as you want. Enjoy its straightforward and clean user interface. 
Important Features:
G

et the latest news of various segments like international, national, sports, business news, and much more. 

Enjoy adds-free seamless news reading. 

Experience quick and customize browsing.

Read news and follow-ups when you get offline. 

Get the important news automatically. 

It's super fast and very simple to use.
10. Reddit
---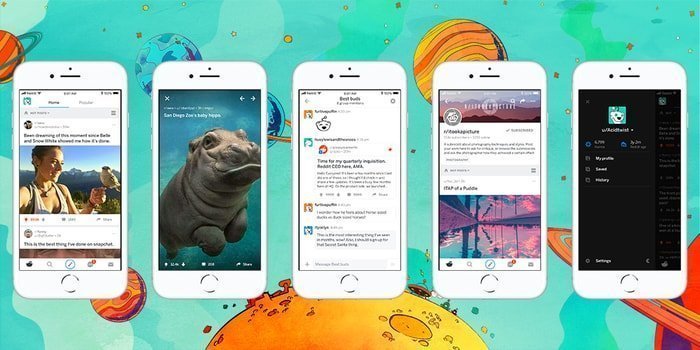 Reddit is a popular app that provides the updated global news to its users. You will get the accumulated trending news and top stories as per your desire. You can share comments on popular news stories and also can vote for any events. Get the breaking news, memes, viral video clips, and enjoy the community group.
Important Features:
Upload photos, upload stories, and chat with the community here. 

Enjoy the personalized feeds and get access to unique features.

You can join in group discussions and share your views with other users.

It ensures your privacy and respects your opinions. 

It finds appropriate topics for you and offers you relevant content streams with an infinite scroll.

Enjoy the particular features like community group chat, upvote, downvote, etc.
11. Yahoo News
---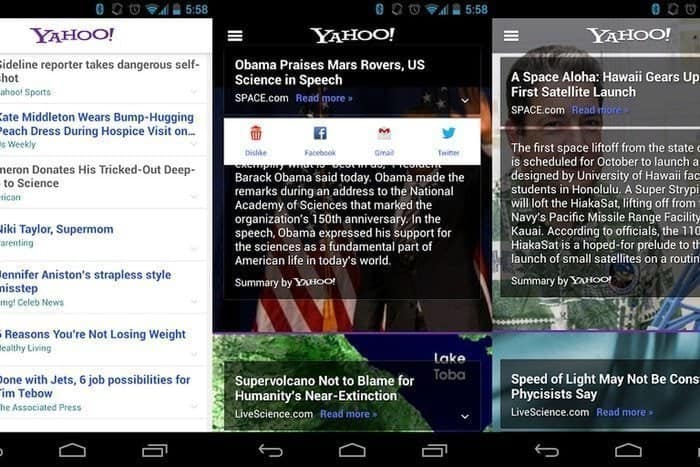 Yahoo News Digest is a traditional news aggregator that provides updated news twice a day. It accumulates the most important stories and breaking news in a brief form. It sends a notification, which means you will never miss any important news anymore. This app will provide you the live videos and trending stories.
Important Features:
It covers the latest trending news for the users.
It fights against biased news coverage, especially across the political spectrum, and gives you the complete story.
You can share your comment on any meaningful topic.
It is more informative to users as it includes podcasts.
Get top stories from a different angle so that you have a separate point of view.
12. Inoreader
---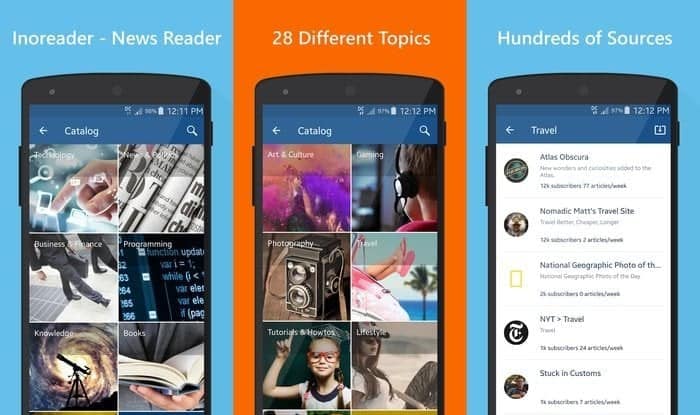 Inoreader is one of the best News aggregator apps for Android. You can subscribe to a large number of news feeds and enjoy reading articles here. It brings the latest news from around the world. You can select your interested news section and get breaking news of that kind.
Important Features:
Get the top-rated news available on the websites.
It remembers the news you have read and shows only the story you didn't notice yet.
You can use the day mode as well as the night mode for a comfortable reading experience.
Save your selected articles on cloud storage.
You can share the story on social media.
It has an active community of content keepers.
13. News Republic
---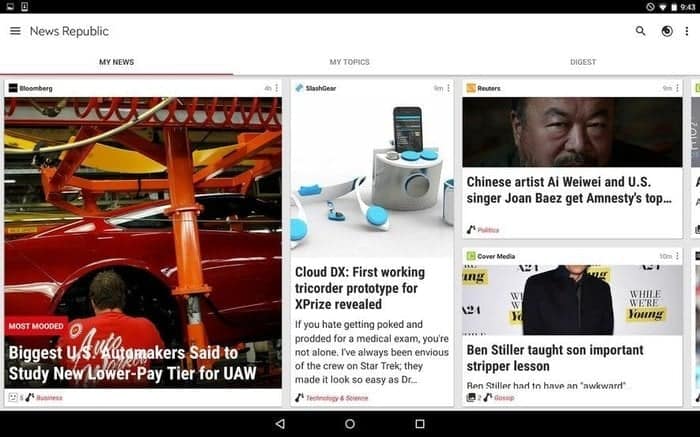 The News Republic is a free Android news app that provides all the essential news headlines in a single platform. It brings the latest and hot news across the world. Get daily trending news, national, international, and viral headlines and articles. It has over two thousand and five hundred international sources where you will get the updated stories.  
Important Features:
It provides you customized news feed basing on your interest

Get trending news updates and follow up.

It provides the most trusted news outlets around the world.

Enjoy the latest viral videos, gossip, and funniest incidents.

Experience the optimized videos with an easy setup. 

 You can share your content through social media. 
Play Store
14. AlJazeera English
---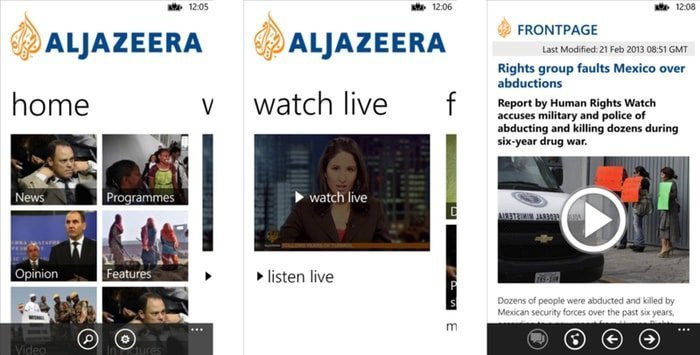 AlJazeera English is a renowned news aggregator app that covers the news of the Middle East. It covers the news around the world too. You will get 24-hour live video coverage facilities, viral video clips, and features. It also brings on-demand videos. You can share popular news stories on social media.
Important Features:
Get the alerts for any breaking news and also get the notification for the exclusive coverage.

Get a personalized news feed for quick access to the topics and exciting stories.

Enjoy the latest news programs and on-demand features.

It provides you the breaking news, opinions, and Al Jazeera English blogs.

It has an extensive archive full of contents.
Play Store
15. Dailyhunt (Newshunt) – cricket, news, Videos
---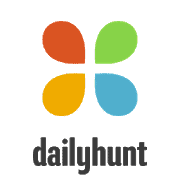 When you get news from all the multinational newsfeed channels and companies, then why you need to stay long before a news channel on your TV? Well, Dailyhunt is such a news aggregator app for your Android device. You can enjoy news from different genres of different countries, especially India, from the same app. It is also very fast and good to look over for a long time while reading the news.
Important Features
It will always provide you with every minute update.

You can select the area to get the locality-based news and videos.

You can find news and videos of your favorite issue as there are lots of categories.

Most of the TV channels in India are available to enjoy.

You can also enjoy live cricket and football with Dailyhunt.

All the languages in India and other popular languages of the world are supported by this app.
16. Fast News
---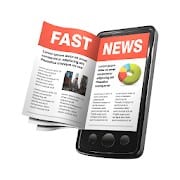 Fast News can bring news to your hand very fast. Lots of news genres are there, so you can find the news you want to read very easily. Breaking news will be shown on the front page. Also, the most read and the top news are marked to get them quickly. You must feel comfortable reading the news one after another because of its user-friendly reading mode.
Important Features
Contents of Public RSS Feeds are always available.

Major news outlets of almost all the countries like Australia, UK, USA, Canada, Korea, France, India are available.

Very lightweight app with data saving ability.

You can easily compare news from different media.

You can choose your favorite newspaper to follow and compose the 'my favorite' option.
17. Opera News
---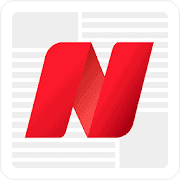 Opera News is famous for being one of the most supportive news aggregator apps for Android. The word supportive, I used to expose the user-friendly interface of this app. Finding any particular news is very easy here, and all the breaking news is arranged on the front page. You can read news from your favorite news channel or media when you are with this true news providing app.
Important Features
All-time sports, including cricket and football, updated with video.

Show the news of your taste judging your search and Interest.

Almost all the languages are supported.

You can upload and share video clips if you want.

Offline reading mode is available.

80% of data saving ability.
18. Scooper News
---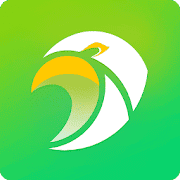 To get the fastest update of the news around the world, you can use Scooper News. It is another popular news aggregator app that you can enjoy by having access to different news outlets. Daily news, sports update, magazine, and other factors will be covered here. And so, it doesn't matter where you are, and you can enjoy them if you have an internet connection.
Important Features
It can provide the fastest sports update.

It provides breaking news alerts and notifications that you can disable when you want.

You can also read the news when you are offline.

Different videos are available in the video zones.

PGC means professionally generated content is available.
19. Readly
---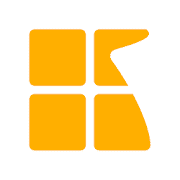 You can enjoy access to thousands of newspapers and magazines in one app with Readly. It is another famous news aggregator app for your Android device that you can use as an effective alternative to the daily newspaper and magazine. It will always remind you about what's going on in recent times, and all the updates of different issues will be available there for you.
Important Features
It will provide you access to 4000 magazines and numerous news media.

The unique and smart search system will let you find any particular news very easily.

Options like favorites, bookmark, and share are available.

Offline mode and reader mode are available.

The parental control feature is here to make it a kid-friendly app.

You can share the premium version of it with up to 5 devices.
20. Bundle Breaking News
---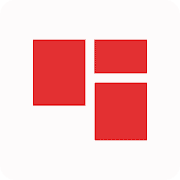 Lastly, it is an app where all the news of different media will be stored to find them very easily. It is very much like a bundle, and the app is Bundle Breaking News. This famous news aggregator app is good to show up the news you like to read before you by judging your favorites. Also, you can make your collection of news with the 'my bundle' option.
Important Features
A collection of over 10 thousand news outlets and media.

Will show news and events of your favorite issues.

I will give you a notification of the breaking news if you want.

You can use it with the offline mode in any case.

Reader mode is available.

News is categorized by genres, and so, you can find particular news very easily.
Last But Not The Least
---
Nowadays, people want to get the latest news of their interest in a single platform and save them for future use. Moreover, they want to enjoy the magazines, follow the stories, comment on the community forum, and share those on social media. I hope the top, as mentioned above, list of Android news aggregator apps will fulfill your demand. Please share your comments and put any suggestions if you have any. Thanks a lot for staying with us.