With the advancement of computers and the internet, we don't need to look at the television screen or newspaper for weather updates. Rather, we can just pick our phone and get to know the current weather. Even if we are working on our Linux desktop, we can get notified about the forecastings. Thanks to the weather tools for Linux.
Most of the modern Linux distributions come with a default weather app. Yet, some distros lack this feature by default. These weather tools can show you a plethora of weather parameters using the API keys of third-party weather info providers. You just need an internet connection, and you are good to go. Now you don't need to worry about whether you should take the umbrella with you while going out.
Best Weather Tools for Linux
---
Just like other popular computer operating systems, Linux has a great library of weather tools. Most of them are open-source and free to use. Since you don't need more than one weather tool, you have to choose one software carefully.
There are different types of weather tools with different user interfaces and features. The one I like may not be suitable for you. Hence, we have tested out the 10 best weather tools for Linux. I hope that one of these tools can be your next pick as a weather forecasting tool.
1. WeeWX
---
WeeWX is not just a desktop weather app. It is your complete home weather station. This is Python-based for fetching weather data from your weather hardware. It is very easy to use weather station devices available in the market. This software supports many types of hardware.
This is the best method of getting the most accurate weather forecasting for your backyard. No matter whether you are a geologist or not, you can use this tool to get the required weather information. This tool can connect to a server and publish the weather reports for public usage.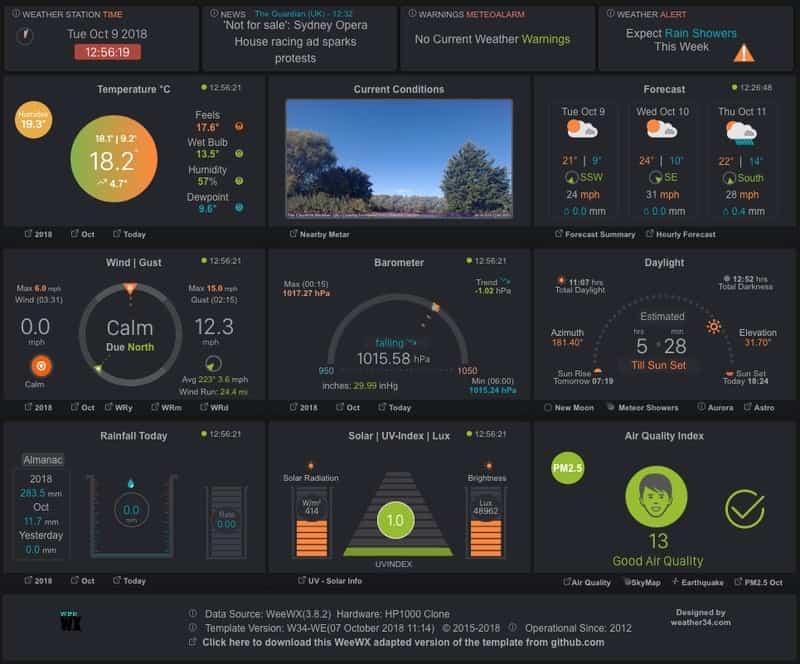 Key Features of WeeWX
It supports different types of skins for changing the look and feel.
This tool supports a wide range of models from different manufacturers including, Davis, Oregon Scientific, RainWise, etc.
WeeWX can publish data to any third-party services such as OpenWeather, WeatherBug, Weather Cloud, etc.
It can generate graphs and export them as PDF, HTML, and a variety of file formats.
The dashboard is nicely arranged, and it is completely customizable according to your needs.
2. Meteo
---
Meteo-Qt is an excellent open-source weather application for your Linux desktop. It has all the basic and necessary features built-in with this too. The graphical UI is very clean. The overall experience it provides is very smooth. It can display weather information through desktop notifications.
This tool is built with Python programming language. The developer used the Qt-5 framework for creating this beautiful user interface. This tool can integrate with third-party weather forecasting services via API access.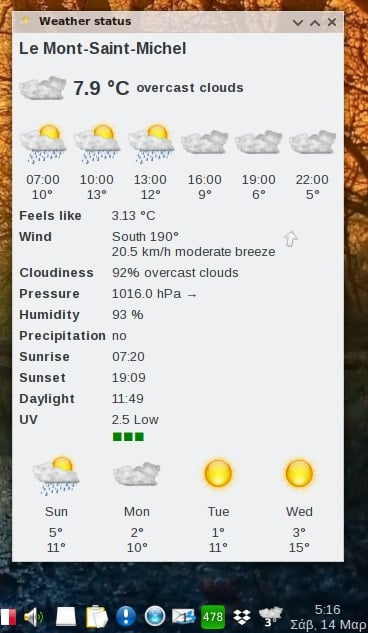 Key Features of Meteo
This tool can automatically detect your current location and set that up.
You can choose the best-suited temperature unit based on your region and preference.
Meteo can show different weather parameters, such as pressure, humidity, precipitation, wind speed, UV ray, etc.
You can customize the visual appearance, fonts, icons, and some other things.
This tool supports OpenWeather for syncing with their server.
3. Cumulus
---
Stormcloud was a very popular weather tool for Linux. Although currently, it is an abandoned project. Some very enthusiastic developers created this Cumulus based on a fork of Stormcloud. It comes with all the classic stormcloud vibes with some additional features.
This tool uses weather API for getting weather forecasts from the internet. The developers are currently trying hard to port this tool to the Qt framework. You can download the installer package as well as the source binary for compilation.
Key Features of Cumulus
Users can access the forecast using the always-on tray icon.
It depends on Yahoo Weather and OpenWeather for forecasting data.
This tool supports a variety of units for temperature and other weather parameters.
The user interface follows a flat design language, which is pretty neat.
Being simple, this tool doesn't give additional stress to the system.
4. My Weather Indicator
---
My weather indicator is a nifty little app for displaying weather information. It features a bunch of weather parameters. There is a beautiful desktop weather widget that highlights the current weather condition along with the location.
It can even show the weather conditions in different nearby cities using the map. My Weather Indicator can show a detailed weather report for the next 5 days. This is very convenient if you want to get the forecasting for an upcoming event.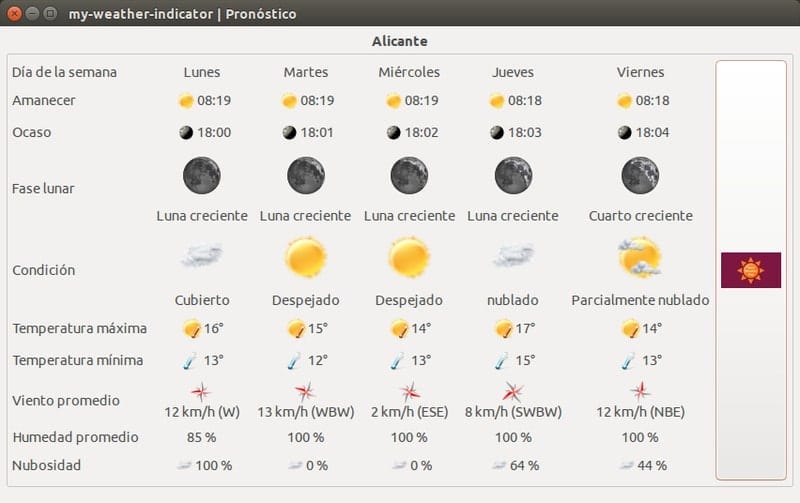 Key Features of My Weather Indicator
You can customize the desktop weather widget on your own.
Users can choose from various services, including Yahoo Weather, World Weather, Open Weather, etc.
It can show accurate data of sunrise and sundown.
You can see a detailed report with a single click on the tray icon.
It can show the weather forecast for two cities simultaneously.
5. OpenWeather Extension
---
This weather tool for Linux is distributed as an extension for the GNOME desktop environment. It integrates nicely with the GNOME shell. Although, you can have this tool only on the GNOME desktop. Most people won't miss anything because GNOME is the most preferred DE for many users.
As it is integrated with the system, you just need to click once to get the detailed weather analytics. Besides, the system tray icon is dynamic, which can show the current temperature and weather conditions. As the name suggests, this tool uses the Openweather API for getting weather info.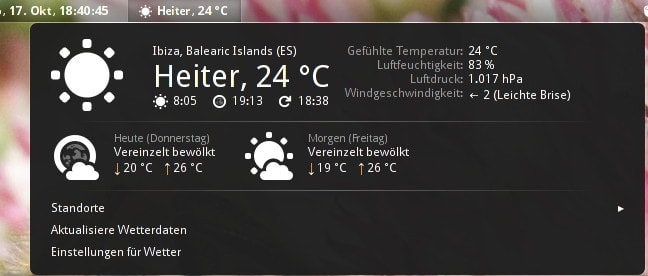 Key Features of OpenWeather Extension
This tool can automatically inherit the current co-ordinates from the system.
You can customize the formatting of the weather units.
It can show many weather parameters other than temperature, such as wind, humidity, sunrise, sunset, etc.
The recent version offers DarkSky.net as a forecasting service along with OpenWeather.
This tool can fetch future forecasts for up to 10 consecutive days.
6. Temps
---
This one is my personal favorite. Because I am that kind of guy who always craves aesthetics, this is probably the most beautiful and modern-looking weather app out there. The developer used a good sense of art while designing the user interface.
Not only that, but this tool also has some very useful features. For example, unit customization and time format customization will come in handy for many users. Besides, you can set this tool to start up with the operating system so that it stays just a click away.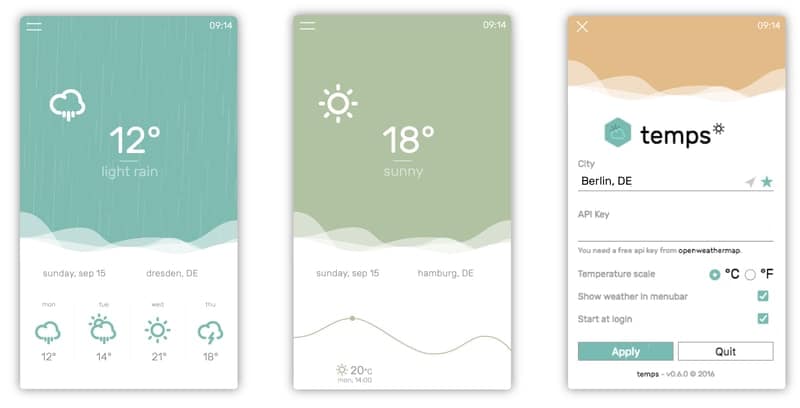 Key Features of Temps
The user interface is very neat and easy to use.
This tool can generate a line graph based on hourly temperature.
Temps show subtle animations based on the weather condition that blends nicely with the app.
You can get future forecasts for the next 4 days accurately from this tool.
Users can set up two different locations for the report.
7. Coffee
---
This is not only a weather app but also a newsfeed. Because there is a news crawler built-in with this tool, it can show the latest news from different sources right after the weather information. This feature makes it stand out from the crowd of other weather apps.
The user interface of this tool is very simple. But it provides some powerful tweaks for weather forecasts. It shows relevant icons and the large text information to get the information by taking a glance.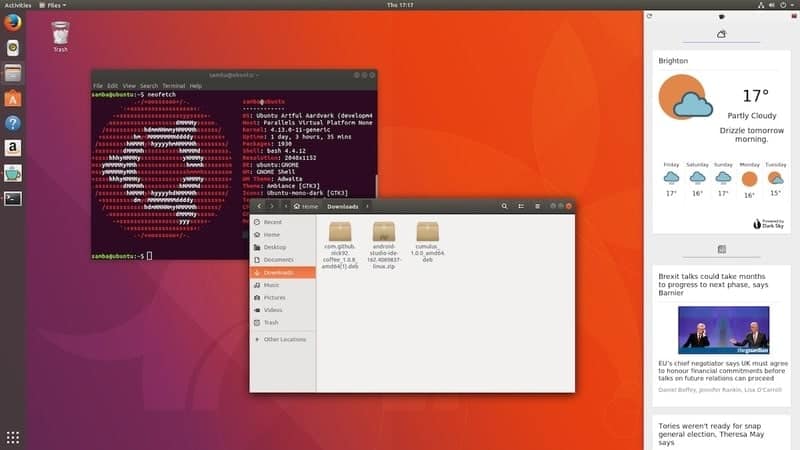 Key Features of Coffee
It uses the DarkSky weather service for fetching the forecasts.
Future forecasts are fetched by this tool for up to 5 days.
It can show the weather summary of the current day.
This tool can detect the location automatically from the system info.
The news provided in this tool is relevant to your interest.
8. WeGo
---
WeGo is not a traditional graphical user interface. It shows the weather info in a different way. This tool uses the powerful terminal window of the Linux system for sowing the current weather info. Pretty cool, right?
Since this tool runs on the terminal, it doesn't use excessive system resources. The user interface is ASCII-based. Hence, this tool formats and arranges the report in ASCII encoding along with some emojis and icons.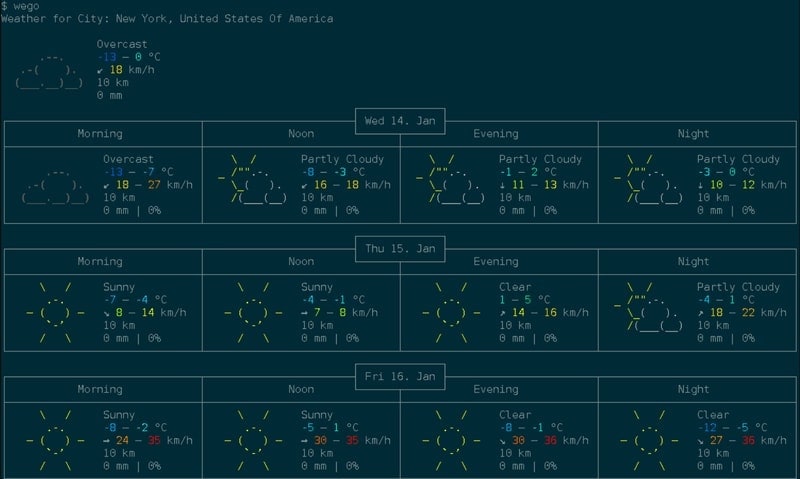 Key Features of WeGo
The icons are beautifully generated with ASCII characters.
You can edit the config file for setting up your custom location via the terminal.
It can show temperature, wind speed, precipitation, and other common parameters.
You can choose the maximum days for fetching future forecasts.
This tool is not resource-intensive.
9. GNOME Weather
---
GNOME Weather is the default weather app for the Ubuntu distro that runs the GNOME desktop environment. It comes preinstalled with Ubuntu. However, you can download this from the official repository on any Ubuntu-based distribution. It is completely compatible with any Linux distribution.
The user interface is very neatly organized. There is a subtle GNOME vibe in the design language. It can highlight the current weather condition with a  nice background photo that describes the weather.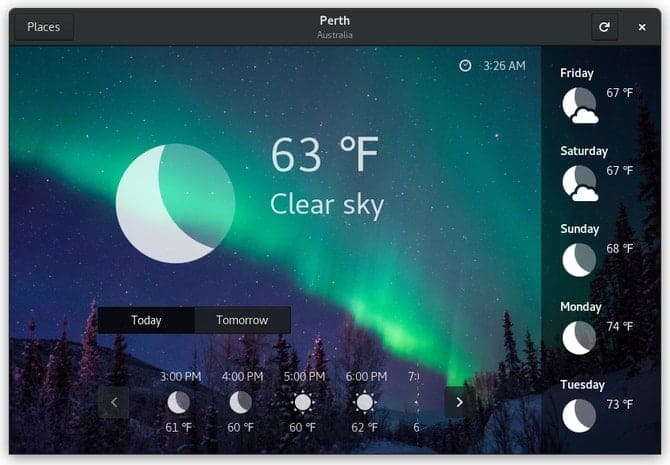 Key Features of GNOME Weather
This tool uses the libgweather as the backend framework.
It can display the weather condition through the notification panel.
By default, you will get the 5 days to forecast right onto the home screen.
You can set up custom places by clicking the designated button.
You can choose the weather data provider from a variety of options.
10. curl Wttr.in
---
This is yet another terminal-based weather tool for Linux. What I like most about the terminal-based tools is that they do not take up unnecessary computer resources. Besides, you can get distraction-free information just by typing a simple line of command.
curl Wttr.in is a feature-packed tool. It shows all the necessary information in a tabular format. The developer used some ASCII pictures to show the weather condition. You don't even need to set up a particular location. You can get the location of any city whenever you want.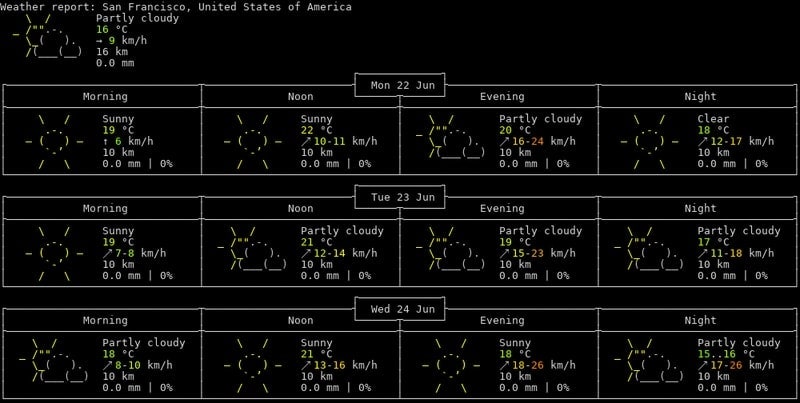 Key Features of curl Wttr.in
It shows three days forecast with the individual periodic conditions of the morning, noon, evening, and night.
It can detect your location automatically. If that is not accurate, you can use modifiers in the command line to update your city.
This tool can show wind speed, precipitation, humidity, etc.
The raw data are neatly arranged so that you get what you need by taking a glance.
It has a desktop weather widget support for keeping you up to date.
Final Thoughts
---
There are many great weather tools apart from the above list. Most of them have similar features. I think they won't provide you any exclusive value. If you want to get the most out of the forecasting service, the above tools will be plenty. But, if you still think that your favorite tool is missing in this list and want to let others know. Comment below the tool's name with some features that you like most about that tool. That will be helpful for many users in search of great weather tools for Linux.