Enterprise Performance Management software is an integral part of any organization. Especially when it comes to large-scale enterprise, you can consider EPM software one of the most important tools. To understand what Enterprise Performance Management does, you can refer to it as a process that gets support from the planning, reporting, and business intelligence software.
It also connects an organization's strategy with planning and execution to save more time for producing value-adding work and analysis. Besides, you can integrate automation to speed up cycle times and financial planning. 
If you want to achieve a constant outcome in the continuous word processes, you will find no other alternative to an ideal EPM tool. It can contribute to increasing your productivity to a great extent by eradicating errors and work-intensive processes. Also, you can take help from an EPM vendor for generating technical strategies and developing insightful reports. 
What Is Enterprise Performance Management Software?
---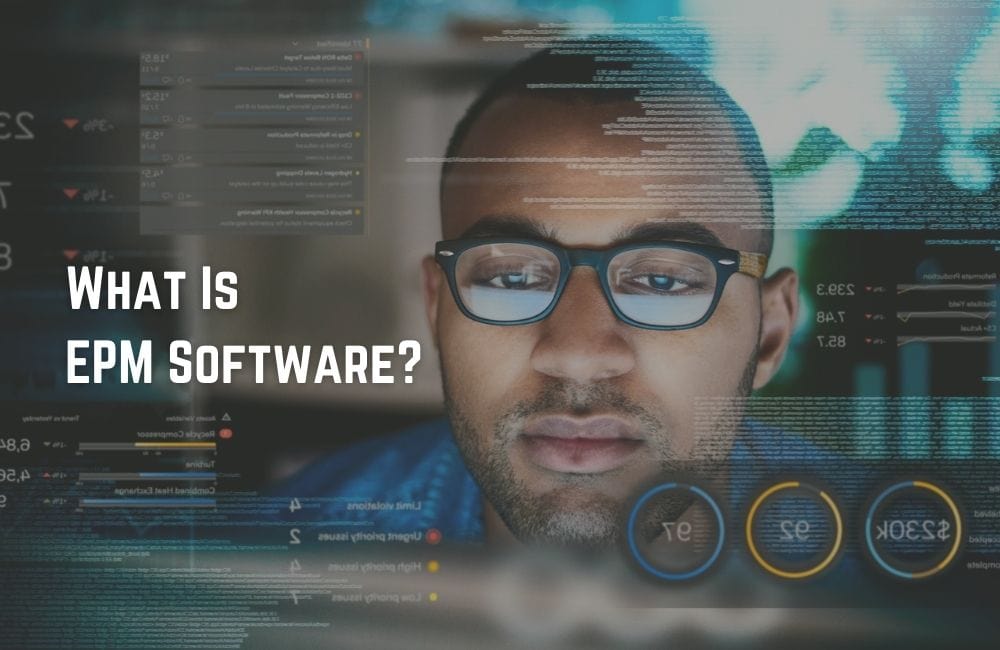 Key Performance Indicators or KPIs plan an important role in the journey of any business. It helps us to leverage business processes and take required actions to ensure progress towards the intended goals. An EPM software can make your life more comfortable by constantly monitoring the performance of your business.
It does not limit its role to the company's financials only. Rather, we can take help from an EPM tool to facilitate scorecards, forecasting, budgeting, and dashboards for many departments.
You will find many business intelligence tools in the market, but nothing can come close to EPM. Even the sales, marketing, and HR department can also enjoy the advantages of an EPM. However, every company should consider financial planning and analysis as a subset of EPM rather than a synonymous term to make the most out of this management software.
Common Features of An EPM Software
---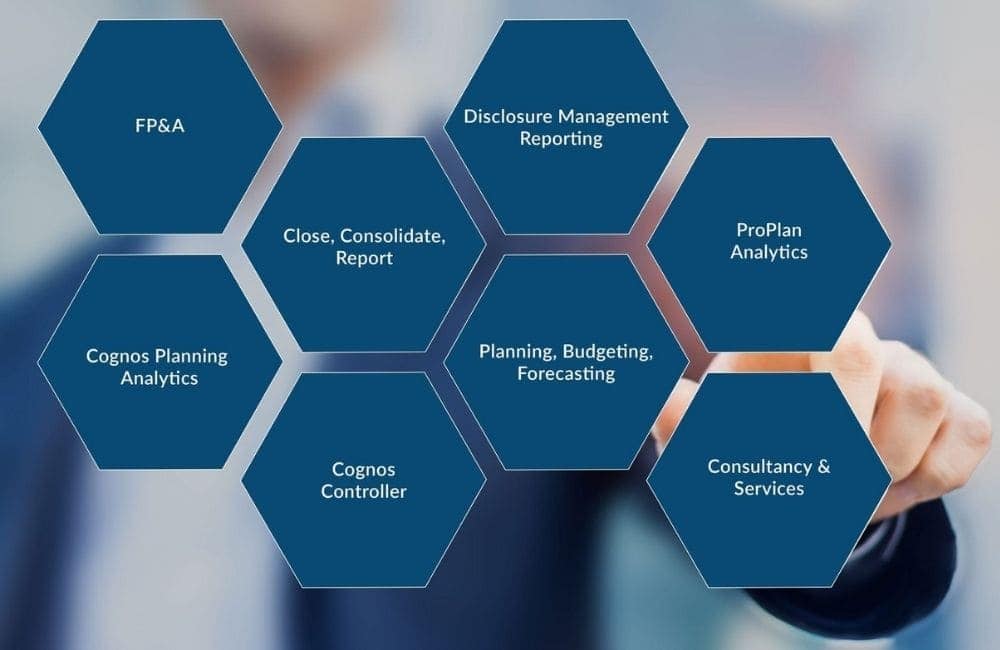 You will find many options while looking for a perfect EMP solution for your company. But it will be really difficult for you to pick the most suitable one for your company if you do not know what you can expect from an EPM. So let's talk about the features mentioned below that an EPM software should offer on your priority list. 
Budgeting & Forecasting: It is the most important feature you must look for when looking for an EPM vendor. It must come with the capability to use real-time data to make short-term and long-term approaches for financial budgeting, forecasting, and scenario modeling.
Performance Monitoring, Measurement, and Analytics: The next thing you might check is the personalized dashboards. A well-organized and powerful user dashboard can enable you to interpret crucial metrics like KPIs, OLAP Analysis, benchmarks, and profitability analysis as well. 
Strategic Planning: If you plan to start using an EPM solution, you should first check whether it can configure specific methodologies. Otherwise, you will not get adequate information on the Balanced Scorecard, Strategy Map, Six Sigma, and SWOT Analysis required to meet your goal. 
Financial Reporting and Consolidation: The quality of the enterprise management software is often judged by its ability to report. A good EPM tool must deliver daily, and monthly monitoring status alongside real-time financial statements, automation, and management reports as well. 
Risk Management: You can also check the level of automation and the integrity of reports before paying for an EPM solution. Otherwise, you will not be able to take proper actions to mitigate the risks of loss and unintended situations.
Differences Between EPM And BI Tools
---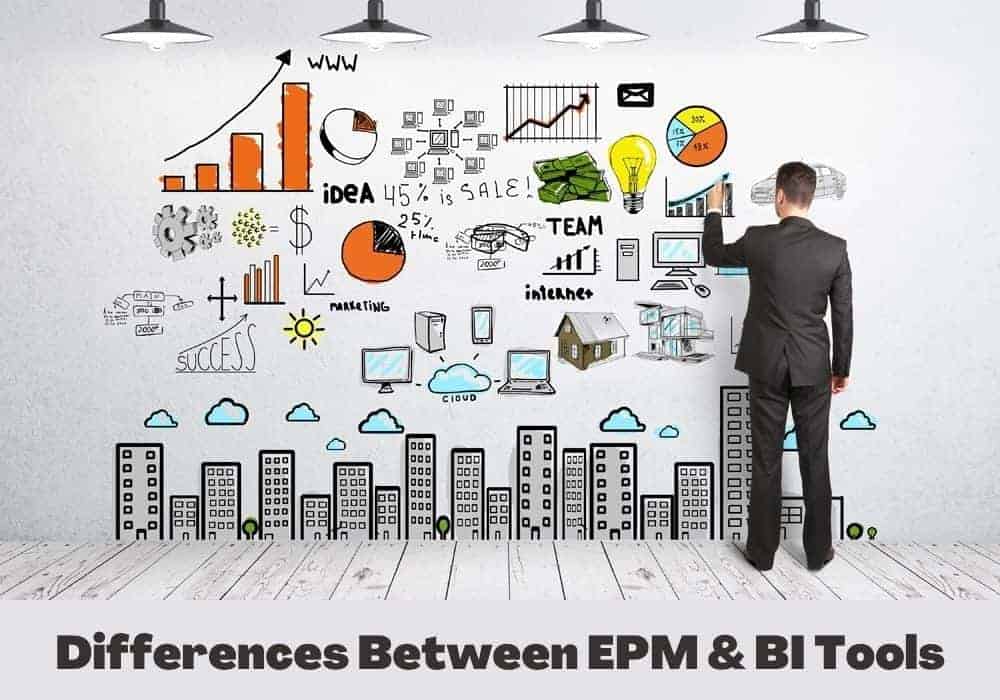 There are many people who make this common mistake of considering EPM software And BI Tools the same. However, before jumping into the differences between EPM and BI Tools, you must understand what a BI tool offers for a business organization.
You can consider any BI tool that can retrieve, analyze, transform and report data to generate business intelligence. In addition, BI tools come with a great visualization representation that helps organizations making important decisions. 
On the other hand, EPM combines the accumulated data with the business intelligence and links it with the critical metrics of your organization. So, although the BI tool has an endpoint, EPM can pick up right from where the BI has left.  
BI tools can only generate powerful reports and deliver a resourceful dashboard to help managements take critical decisions rapidly. But Enterprise Performance Management software can empower a business plan to achieve business objectives. You will also find many EPM solutions that use effective BI tools for meeting the vital goals of a business.
Top Enterprise Performance Management Tools
---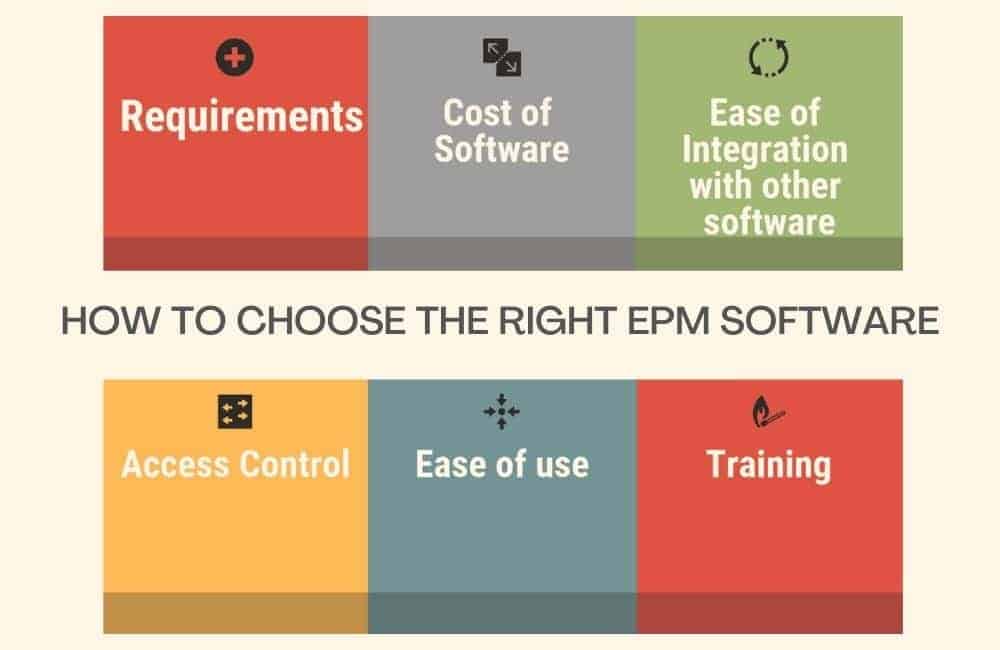 Just like any other software, so many options make a choice harder for any individual to match the requirements with the offered features. Of course, you will find some great EPM software available in the market now, but there are certain things you should keep in mind while making the last call. However, user interface, usability, integrations, and value for money are the important terms that you must focus on while picking the software that suits you best.
1. Oracle EPM Cloud
---
It is the best Enterprise Performance Management software for the financial close solution, and just like any other product from Oracle, you can expect the same great quality if you decide to start using EPM cloud. This tool can enable organizations to gain the agility and extract insights that they need to remain ahead in any market condition.
It has also claimed a place in the Leaders quadrant for Cloud Financial Planning and Analysis Solutions. You can surely rely on this software for its stable performance and advanced features.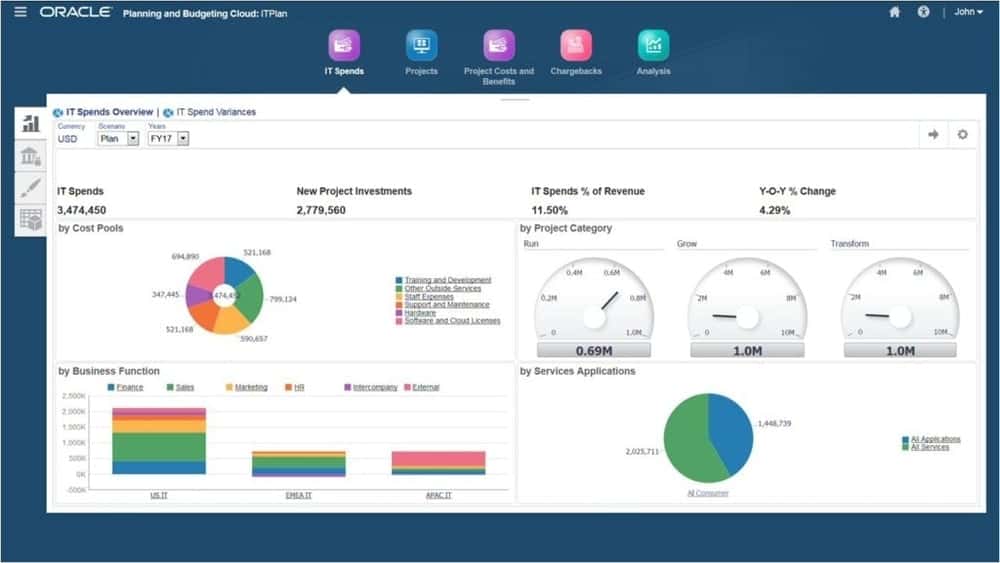 Important Insights
Starting from corporate human resources and financial targets, you can take advantage of this software even for sales departments and the supply chain.

It comes with numerous built-in features that include automatic cash flow, balance sheet calculations, and so on. 

It helps maintain the global reporting standards, and you will also discover intelligent process automation to facilitate your business processes to a great extent. 

Powered by Artificial Intelligence that will enable you to gain smart insights. This software will come up with personalized recommendations as well. 

 XBRL tagging and taxonomies can be automated along with reconciliation processes and multi-gap monitoring to eliminate labor-intense work processes. 

Besides, there are many software like Oracle Fusion apps to integrate with EPM cloud to get the highest functionalities. 
2. OneStream XF
---
It is another great addition to the list of EPM software driving corporate performance management for organizations. However, especially when it comes to the manufacturing process, there is no EPM solution currently available in the market that can beat OneStream XF.
Along with boosting the agility of enterprise planning, this software can also contribute to your organization's budgeting and forecasting processes. Besides, it comes with standard documentation to guide you step-by-step to use OneStream more effectively.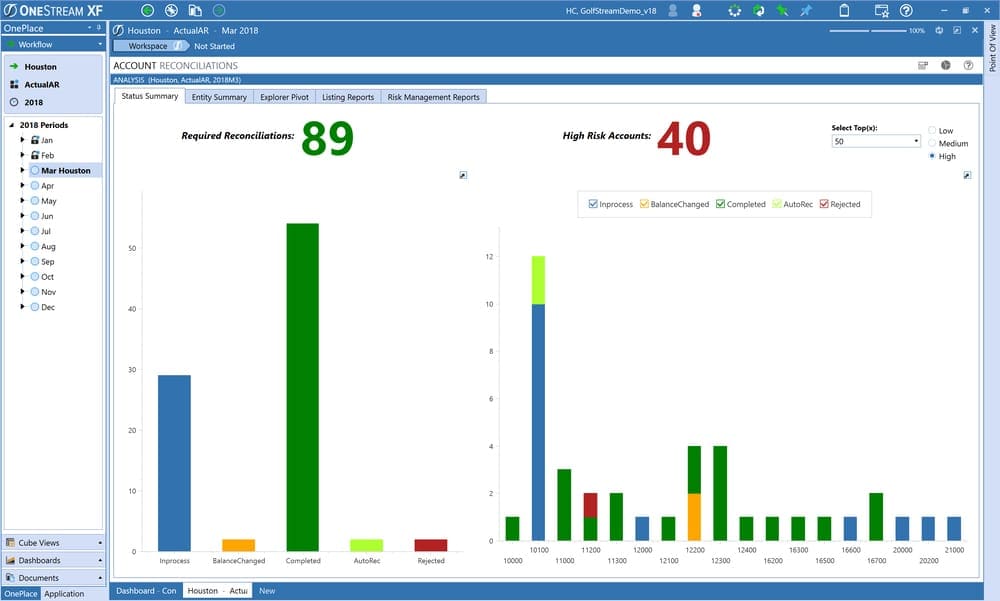 Important Insights
You can expect the highest flexibility from OneStream XF, and also it can render adaptable performance solutions for any company. 

Although the dashboard is a bit messy, you can easily integrate OneStream with your organization's underlying data sources. 

Besides, just like Oracle EPM cloud, you will find thousands of applications in the market that can extend the functionality of OneStram XF software. 

It can easily get you rid of the limitations of spreadsheets and legacy applications so that you can pay more attention to reporting, planning, and analytics. 

Offers advanced features like transaction matching, task manager, capital and people planning, and predictive analytics as well. 

However, if you are looking to gain more financial and operational insights, OneStream XF can be an excellent solution you might be interested in. 
3. Workday Adaptive Planning
---
Workday Adaptive Planning is undoubtedly the most flexible EPM solution you will find available in the current market. It comes with a powerful dashboard where you can work directly to make any sort of changes in your system.
Besides, unlike any other EPM vendors, you will get frequent updates for Workday Adaptive Planning to match all of your requirements effectively. This software also came in the first position as a Magic Quadrant Leader in Cloud FP&A, declared by Gartner 2020.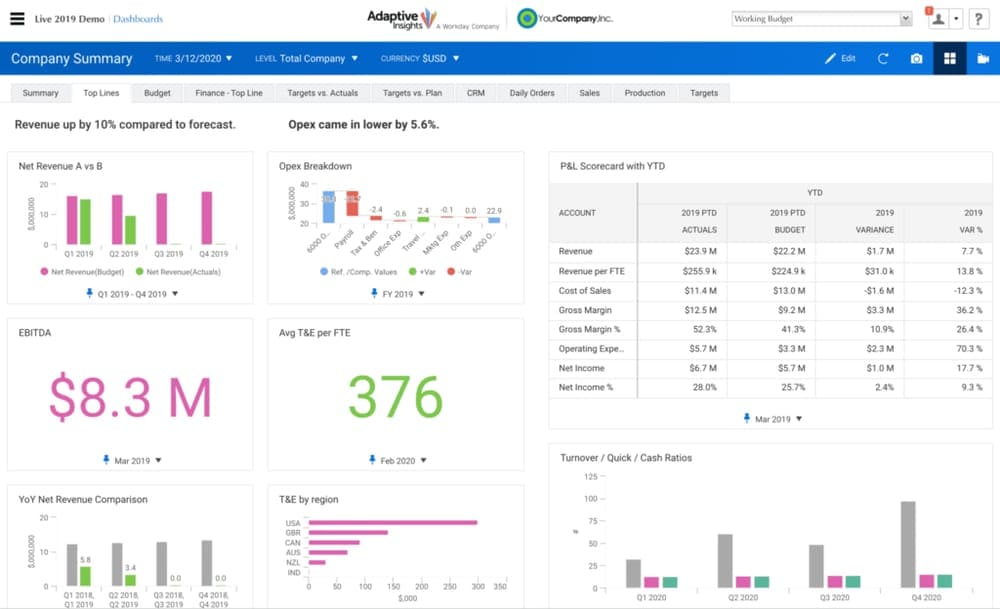 Important Insights
You can operate this software virtually from anywhere using web, mobile, and Excel and collaborate with your team members without facing any problem. 

Department managers can enjoy the advantages of dynamic headcount while the skills-based planning solutions can make their life hassle-free. 

The industry leaders such as HubSpot, Goodwill, Apptio, and Cumulus Media clearly authenticate its reliability and stable performance. 

If you start using this software, you will be amazed to see all the powerful features that allow you to create and share various reports. 

It can also support business planning with its comparison tools,  flexible dimensions, attributes, and timeframes. 

Administrators can also access the Formulae creation and focus more on scenario analysis once they start using Workday Adaptive Planning software. 
4. ARES PRISM
---
ARES PRISM can be referred to as an all-in-one solution for your enterprise management. Coming with a bunch of enterprise-oriented tools, this software tries to renovate all the processes of any business. It is an excellent software that brings light on the key aspects of an organization, such as funds allocation, budgeting, resource planning, etc. You can also take care of earned value management and analyze costs and schedules with this software.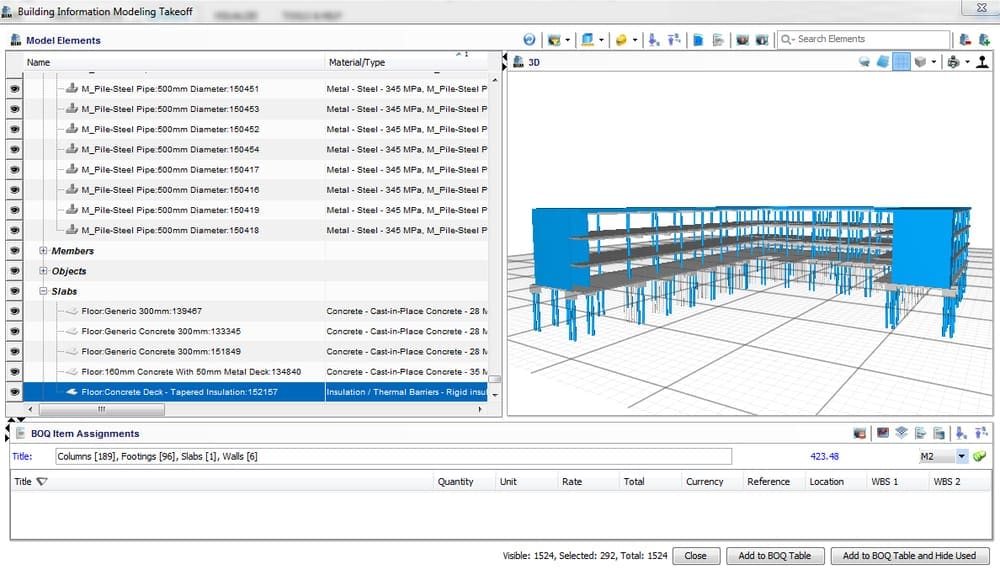 Important Insights
Enable you to track the potential risks and forecast beforehand to ensure the business growth towards intended results. 

It comes with forward-facing and outward-facing data gathering to help executives. They can also take advantage of the built-in analytics system. 

You can consider this tool as your companion while dealing with decision-making situations. 

Offers features for handling internal and external stakeholders while the comprehensive project controls capabilities take it to the next stage. 

Organizations can enjoy the benefits of its adaptability with various WBS strings and standardized reports.

 It helps to customize reports, although the graphical outer interface is outdated. On the other hand, data importing is extremely flexible and can handle the changes facing no problem. 
5. Planview
---
Planview takes a modern approach while dealing with the management for enterprises of any size. Therefore, it can be easily considered as a comprehensive PPM system that can deal with all the requirements you need as a professional. Besides, the reporting and analytics modules are quite organized and can help you dig deeper into collected data and get actionable insights. Also, you can expect smooth performance and unquestionable reliability to reach the intended goal.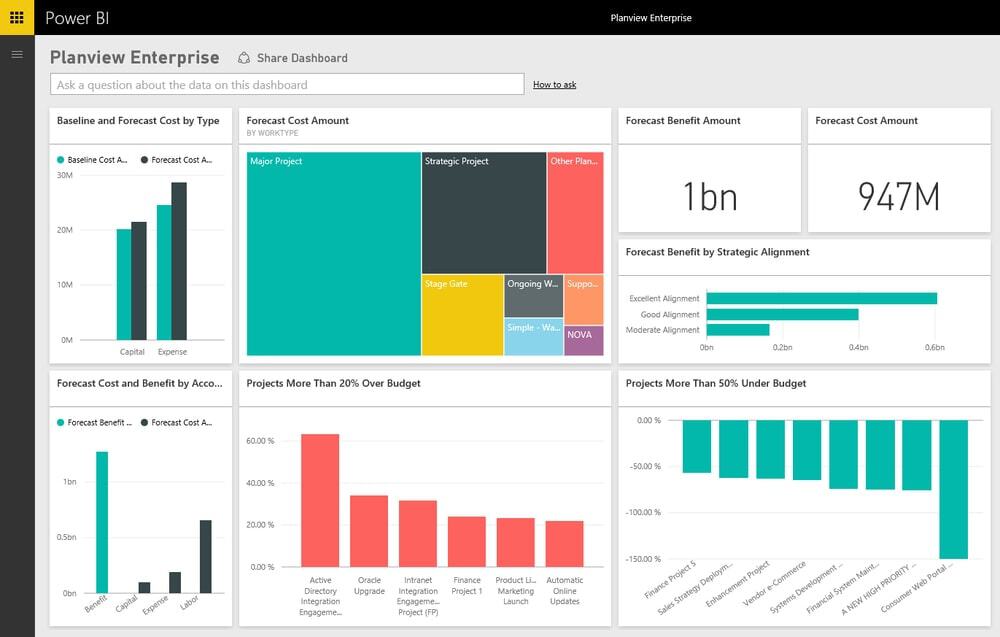 Important Insights
It can help to manage your business performance to match the key performance indicators. You will also get a free 30-day trial. 

One of the best enterprise management solutions when it comes to PPM. Features like stakeholder engagement and trade-off analysis are also there. 

Enable administrators to do strategic plannings and handle program management effectively. 

You can enjoy the flawless performance at the cost of $20/user per month. It also offers highly customizable KPI analytics tiles. 

It comes with a powerful data entry screen to easily configure and discover the hidden pattern from the collected resources. 

Timesheets could be more user-friendly, and the newly added Forecasting for teams vs. resources features are also useful. 
6. Anaplan
---
You will find a few EPM software that works so great to facilitate the supply chain and planning for any organization. The principal goal of this software is to answer every question you need to empower decision-making. This software is really useful for designing complex scenario planning effortlessly. Besides, it comes with a free demo and will send the price quotation depending on your requirements if you request. The only drawback of this software is the absence of a built-in formula syntax helper.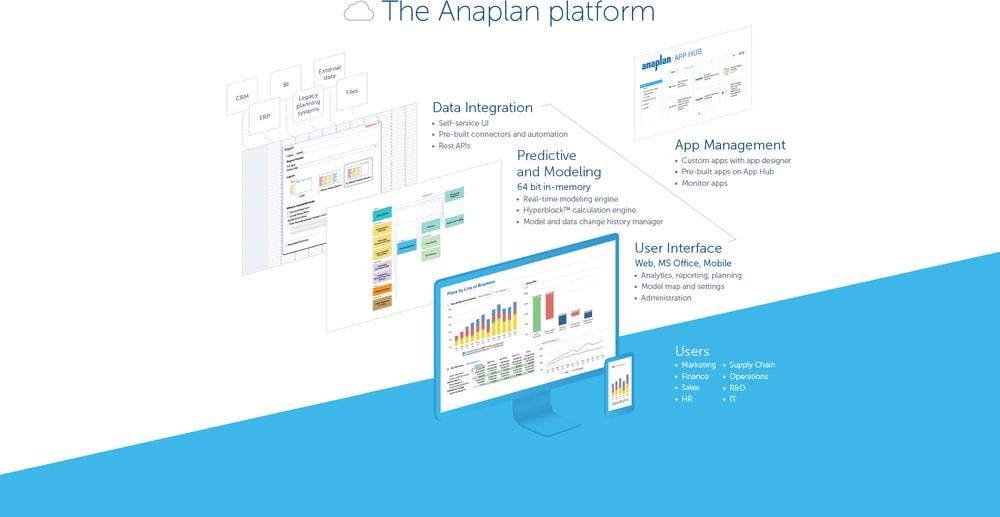 Important Insights
This software could be more user-friendly, and you will have to face challenges while integrating other third-party applications. 

The system dashboard is interactive, and you can customize the features to extend functionalities. 

Anaplan can offer flexible and accurate supply forecasts across your entire network to meet the demand of an ever-changing marketplace. 

Comes with advanced reporting features that can display much more than you can expect and help you get important insights for making decisions. 

Besides, with the built-in predictive analytics, your business will never face the problems of S&D stock-outs, excess inventory, and wasted capital again. 

Powered by a robust calculation engine to generate near-instant results. Besides, this software is suitable for handling large data sets and what-if analysis. 
7. Axiom EPM
---
If you are wondering about how you can control costs and take care of cost management, Axiom EPM is here to solve all of your difficulties. It is undoubtedly one of the most flexible enterprise management solutions out there. This software has already got attention from industry leaders. Some of their clients include Capita, UCL, Splendid Hospitality Group, and Engie, which clearly justifies its popularity. So let's talk about the features that might attract you to pick Axiom as your enterprise solution partner. 
Important Insights
You will get all the features that you can expect from a sophisticated EPM tool. Besides, we also know this software for its user-friendliness. 

While it can enable you to predict the outcomes, you will enjoy the reporting and analytics to generate sustainable developments. 

Offers profitability and cost management features so that you can handle datasets of any size and get actionable insights. 

Installation and set-up are super simple, while its strategies to secure data access make it a suitable choice for financial organizations. 

Users can customize the reporting templates easily. But, again, if you go for the premium consultation package, they will deliver unique reports for each data set. 

The database is spreadsheet-styled, which makes it convenient for anyone. However, it is an expensive choice, and you will have to bear an additional cost to expand your capabilities. 
8. Infor Dynamic Enterprise Performance Management
---
You can consider this EPM software to combine enterprise management solutions and business intelligence or BI tool. It is a unique software if you compare it with the already mentioned EPM vendors in this list. If you are looking to gain full visibility of your business in real-time, then Infor will be a splendid choice Anyday. It can deliver exquisite planning and enable us to concentrate more on budgeting to improve the performance of your business.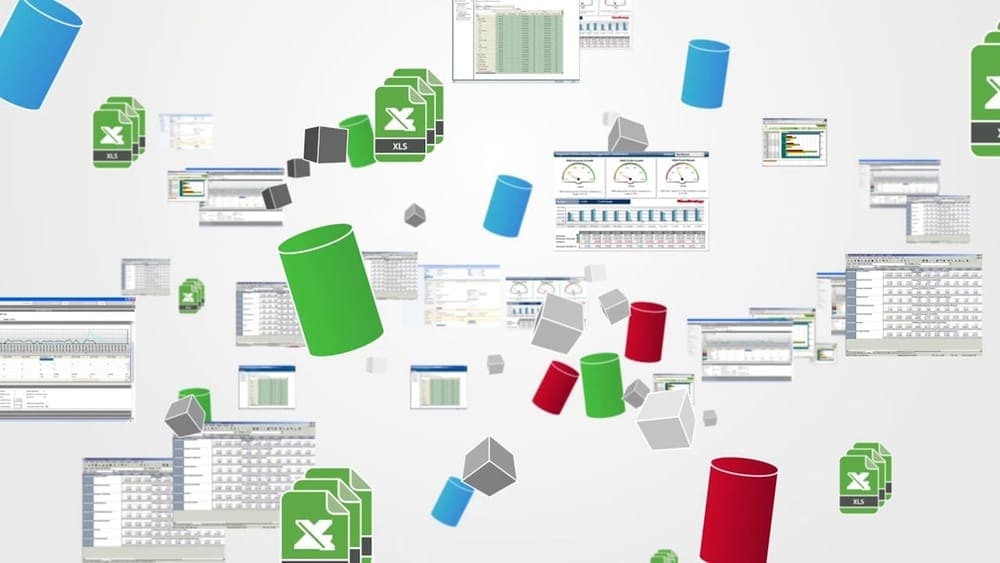 Important Insights
You will never have to worry about reporting and forecasting again if you choose Infor because of its extended financial capabilities. 

The administrators can easily take advantage of its workforce planning along with the features that facilitate sales planning. 

With this software, you can manage complex ownership structures well, while Infor also offers many currencies and inter-company transactions. 

It is an ideal choice for organizations looking for solutions to leverage capital project management and keep an eye on expense planning. 

The modeling tool is powerful and user-friendly. Besides, Infor dynamic EPM can contribute to managing P & L, balance sheet, and cash flow. 

This software could easily pay more attention to generate presentation-worthy reports. Also, the initial implementation and set-up take much more time than you can expect. 
9. Epicor
---
Nowadays, you will not find any industry where enterprise management tools are not being used by organizations. A perfect EPM suite can make your life smoother and add more value to the existing products. It can also reduce the cycle time and get you free from the hassles of managing work processes effectively. Epicor comes with all the features that a quality EPM should possess. Especially if you consider the retail industry only, Epicor does not have any competitors because of its retail-oriented analytics.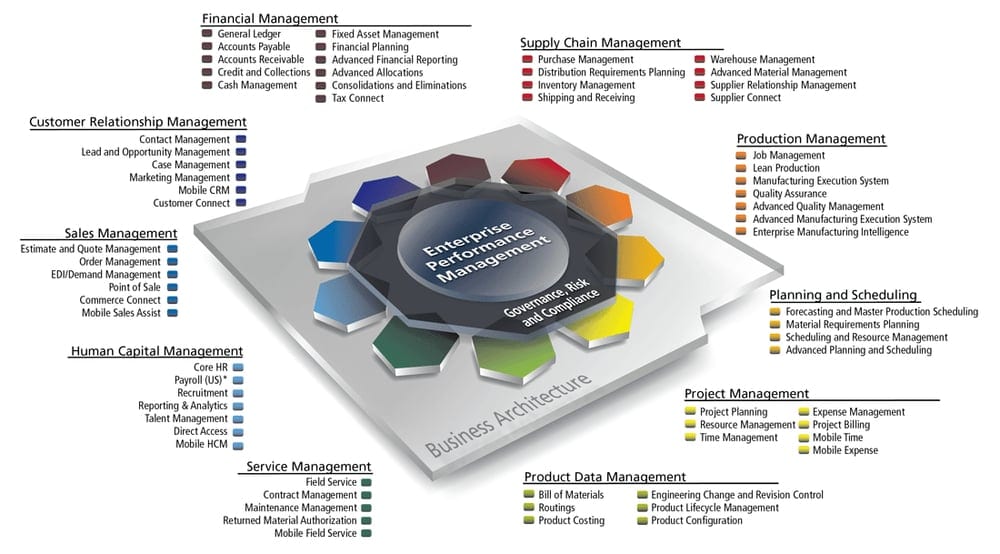 Important Insights
Combines business intelligence with the EPM functionalities to make data easily accessible to customers, vendors, and inventory managers. 

It offers a fully integrated retail management system powered by built-in best practices and data-driven customer loyalty guidance.

You can also compare with competitors' prices, and with other performance solutions, you can leverage business processes to a great extent. 

Document management tools, along with employee scheduling features, make it an ideal choice for most companies. 

Reporting capabilities are adequate, while the dashboard is equipped with all the useful features. 

On top of that, anyone can take advantage of database search features. We can customize the software as well with the new REST API. 
10. EPM Live
---
We have reached the end of this shortlist that represents the best EPM software you can find right now. EPM Live will be the last one that we are going to describe. It has proudly taken its place here because of its capability of integration with Microsoft SharePoint. This software is designed to track and enable you to manage all projects and associated costs under one umbrella. It comes with a free 30-day trial, so you can try the features before actually spending any money.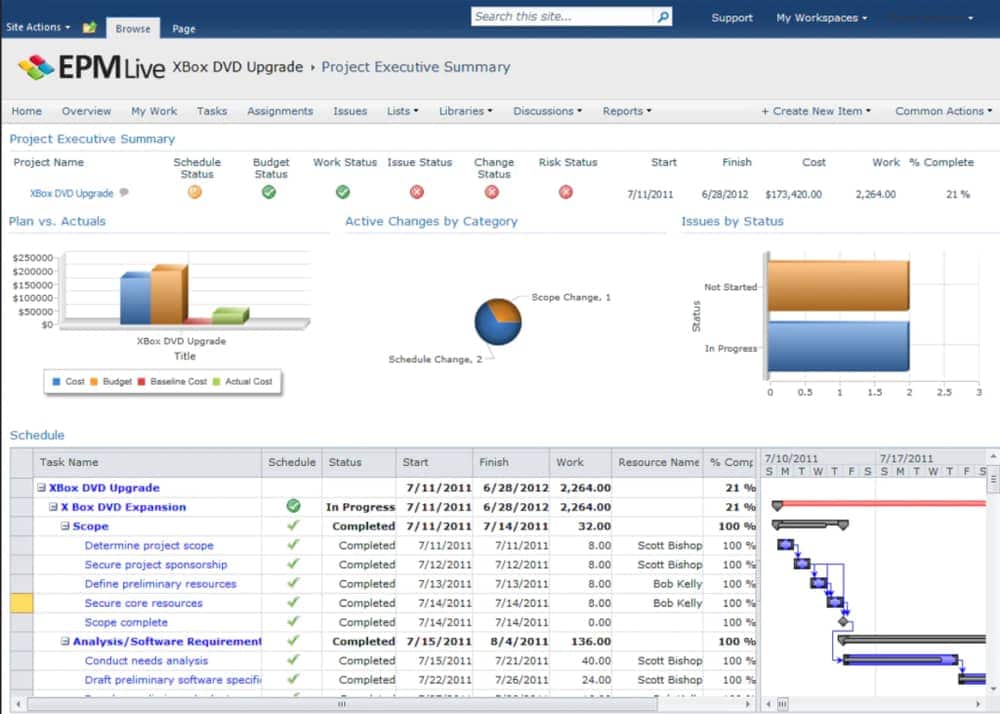 Important Insights
The unlimited plan comes with a lot of additional features. You can even get specific performance management for your solution. 

Features like digital engagement, sales and marketing, customer experience, and process automation are also available within the system. 

It is a modernistic software and offers at least 70 pre-made functional modules to make your tasks easier.  

If you are looking to improve team performance, then EPM Live's social collaboration tools will surely blow you away. 

Resource management features can help in proper allocation, while this software can contribute to cost control for efficient operation. 

Any organization using Microsoft as the base of their system can choose EPM Live as this software lets you integrate with any program offered by Microsoft. 
Our Recommendation
---
So here is the list of best EPM software that you must try at least once for your organization. Each of the mentioned software works best for a particular industry. For example, while Anaplan can make supply and demand planning simple, Axiom EPM works best for cost management. Again, if you want the best enterprise PPM, nothing can come close to Planview, and Epicor can render advantages for the retail industry. 
So it is important to identify your needs before starting looking for a suitable EPM vendor for your company. You can even look for other alternatives that we have mentioned here.  But it is up to you to find the one that suits your demand best.
Considering all the pros and cons, important features, and pricing, we are declaring Workday Adaptive Planning as the best enterprise management software currently available in the market. With the strong scenario analysis and comparison tools, it can be your official EPM any day. 
Final Thoughts
---
If you are considering implementing EPM software with the existing work processes of your organization, you must have a solid understanding of how an EPM solution works. Without gaining adequate information, you may end up setting up a solution that may become your pain point. Also, the planning for the future of a business should come into play to pick the suitable EPM.
However, sound data visualization, advanced KPI monitoring, supply chain effectiveness reports, robust budgeting and forecasting, financial consolidation, participatory and collaborative modeling should also be on your priority list when discussing an EPM application.