If you are looking for ASCII games on Linux, then you are in the right place. Who doesn't love to play games? In this modern era, you have access to the various graphics-intensive games right into your mobile phone. If you own the latest-generation console or a monster gaming PC, then you are ahead of the time. You can play abundant games of different categories that almost look like real movies.
Even some of them are free to play. Some of them will let you play with your friends. So, why on earth anyone needs to search for ASCII games? Well, as you searched for it, then I am sure you already know what I am going to say. The ASCII games bring back the nostalgia of the 80's or 90's childhood. Linux still has a great library of ASCII games that you can check out.
ASCII games are also known as terminal-based games because most of the ASCII games depend on the terminal window. Although there are some exceptions, those who don't know what's going on here, the ASCII game objects and scenes are created with the ASCII characters.  They don't have resource-heavy elements that give stress to your computer. The main fact is that they are great time killers for your potato PC.
Best ASCII Games on Linux
---
Linux is not a gaming platform. The gamers always lean towards a PlayStation, Xbox, or Windows machine. But the ASCII games library on Linux is huge. Although, these are not like those AAA titles that everyone wants to play. Rather, these games will bring you back to childhood.
And, some people have a great addition to retro games. I am that kind of person. I thought as a tribute to the retro gamers, and I should make this list. Hence, here I am presenting you the list of the 20 best ASCII games for your Linux system that you must give a try.
1. Curse of War
---
This is not a typical action game. This is not even possible for an ASCII game to implement dynamic objects in the game. This game is a war strategy game. Although there is no storyline or historical basis for this game, you can feel the vibe of WWI from the core concepts. The game might seem boring to some people, where a little bit of patience will help you get the fun out of it.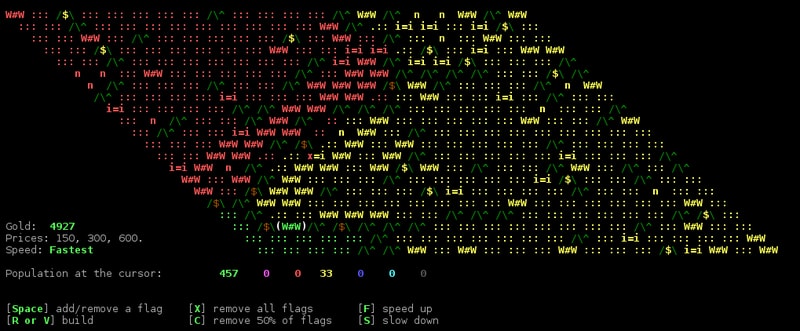 Gameplay Highlights of Curse of War
You will have to build your army and construct your base.
You have to set up your strategy and placement.
All the rules will be on the homepage of the game.
You will get different variants of this game on the internet.
2. ASCII Sector
---
This is an ASCII game on Linux that is all about space exploration. But that doesn't mean it's similar to those boring arcade games. You will thoroughly get some action and adventure in this game. All you have to do is just board on a spaceship, fight with enemies, and gather resources. You can even trade them on an in-game marketplace for upgrading your spacecraft.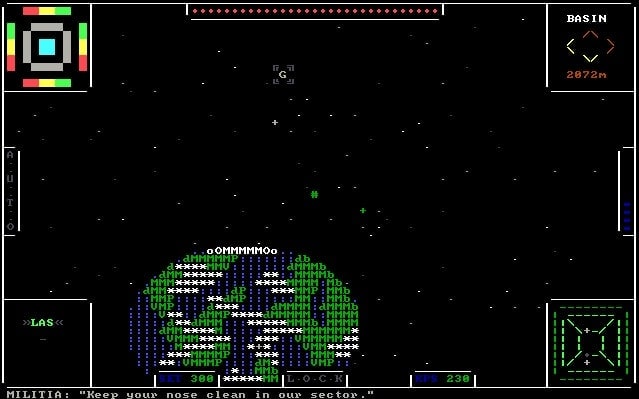 Gameplay Highlights of ASCII Sector
It has both space and ground maps for exploring.
You can buy from several spaceships from the in-game shop.
You can download quests or develop your own by the scripting language.
The players can create their storyline with amazing music for fun.
3. Cataclysm DDA
---
This is a survival strategy game. The storyline features a post-apocalyptic world where you have to fight with deadly creatures to survive. The full name of the game is Cataclysm: Dark Days Ahead. Although the game uses a small number of system resources to run, the map is huge. It can be a great timekiller for anyone who likes strategy with actions.
Gameplay Highlights of Cataclysm DDA
You are free to explore and conquest the whole map of the game.
The players can collect food, vehicles, and different survival equipment from the map.
You have to loot the dead bodies to get extra in-game stuff.
The player has to fight and kill the monstrous weird creatures.
4. Imperium
---
Imperium does not require a graphics card on your PC. It features a fairly minimal game design. You just need to have a display that supports at least 80 columns of ASCII characters. The most interesting fact about this game is the multiplying capability. Up to 253 people can play this space exploration game by communicating with each other.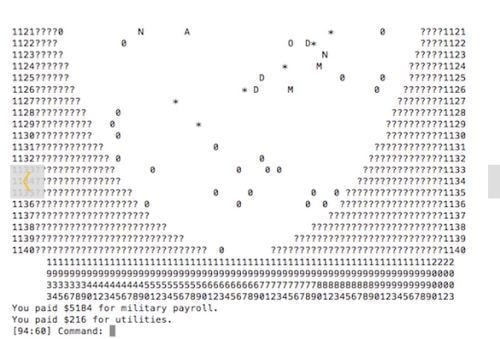 Gameplay Highlights of Imperium
You can choose the playing character from different races.
It can also be playable as a single-player offline game.
The players can communicate with each other through private messages and chat rooms.
The universe is considered a flat surface in this game, and you can destroy enemy objects by attacking.
5. Intricacy
---
Intricacy is a puzzle-based ASCII game on Linux. It runs inside the terminal window via the command-line interface. The story is to build locks for protecting your secret from others. While you also have to find the flaws of locks built by others and hack them. But the gameplay is not that simple. Rather it is much competitive and fun to play.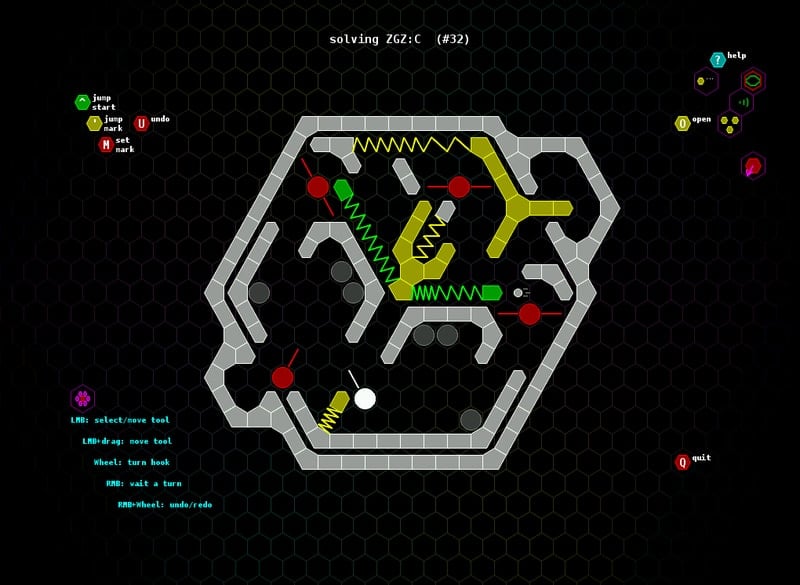 Gameplay Highlights of Intricacy
You can try out this game without installing it by using SSH.
You have to coordinate the given tools to hack or build your mechanism.
Players can play these turn-based games with other players by accessing the network.
This game runs completely on the terminal window with a line of command.
6. Doom RL
---
Doom RL is considered a Roguelike game. Roguelike is mainly a sub-genre of role-playing games. They are called Roguelike because they follow the fundamental concept of the original Rogue video game. Hence, in Doom RL, you will feel the same old vibe. The gameplay is not that vast, and it is quite a simple and easy-to-play game.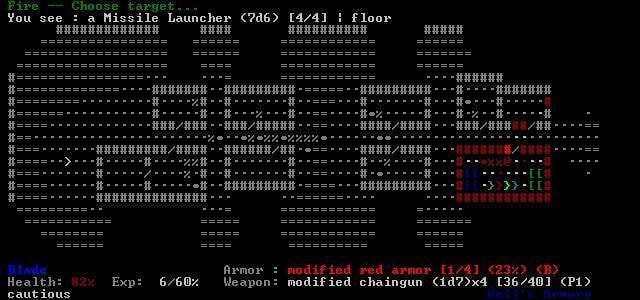 Gameplay Highlights of Doom RL
You can choose from different levels of difficulty based on your expertise.
The game is preloaded with some excellent sound effects and an original background score.
You will get to collect unique objects and artifacts for the mission's progress.
The players will be awarded medals and badges based on their advancements.
7. Dwarf Fortress
---
This is yet another Roguelike fantasy game. You have to play your character in a randomly generated ASCII world in this game. You have to play as dwarves, and you can command them to perform different tasks. The dwarves can build comfortable places for themselves, gather food and treasures, and fight for survival. The game is quite fun to play with.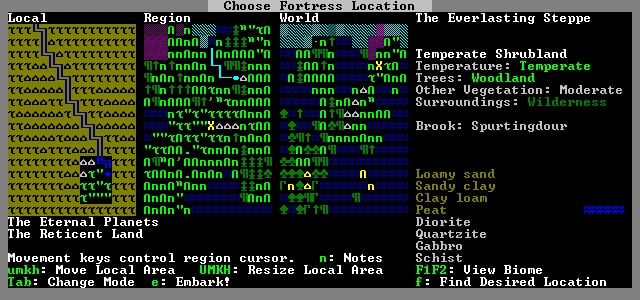 Gameplay Highlights of Dwarf Fortress
You can build as many as 200 fortresses and defend them from enemies.
The map is pretty huge in terms of ASCII games, which consists of almost 38957285376 squares.
The developers designed different materials and minerals for collecting by the game characters.
The players can choose from 8 different background colors to match the 16 colors ASCII characters.
8. XorCurses
---
XorCurses is yet another puzzle-based ASCII game on Linux. This is the reboot of the original XOR game that was published by Astral Software in 1987. the game was quite popular in those days. It uses 16 colors ASCII characters for displaying the game objects. All you have to do in this game is to run through the mazes, collect the masks, and get out of that.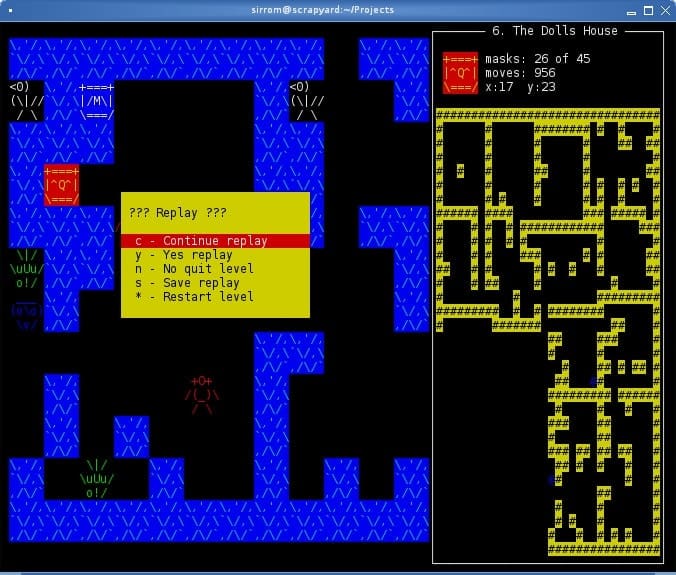 Gameplay Highlights of XorCurses
It features different types of replay modes to enhance your engagement in this game.
You can navigate through the menus easily via the keyboard.
The first 15 difficulty levels are directly derived from the original game.
This game features different objects like chickens, fish, masks, etc., for the collection.
Download
9. NetHack
---
This is quite a popular title in the world of ASCII games. This is a D&D-style role-playing game. Since role-playing games are also known as hack and slash, the developers included the "Hack" word in the name. The rules of this game are almost similar to other Dungeons and Dragons styled games. Some of you might think it is a challenging game in the first fight. But after getting used to it, you will enjoy killing time with it.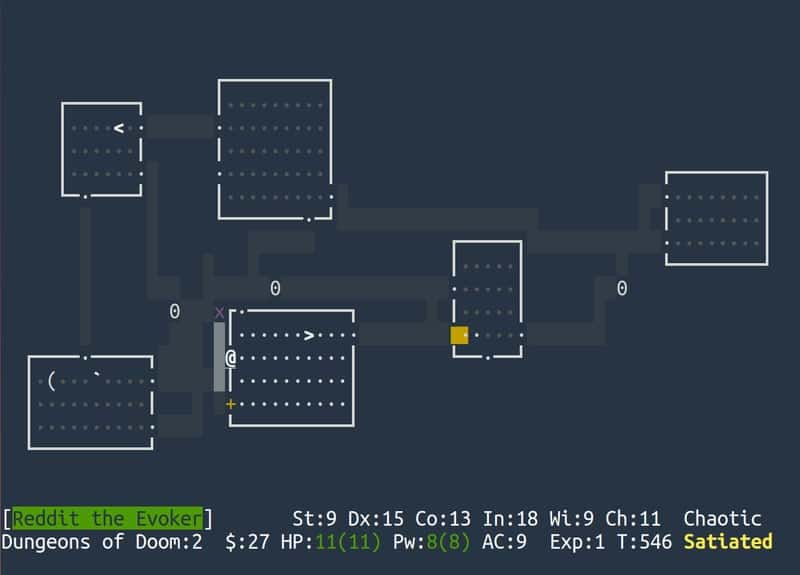 Gameplay Highlights of NetHack
This game features more than 40 randomly generated difficulty levels.
Although it is an ASCII game, the graphics are quite improved and modernized.
The players can collect from a wide range of in-game elements for using them.
The game is full of combat and action to give you the ultimate RPG vibe.
10. Overkill
---
Overkill is an ASCII-based game for Linux. The game features a deathmatch-type style in the gameplay. This is a multiplayer game where you will play with the other players through the internet. The interesting fact is that you can connect and disconnect anytime to the server without getting any penalty. The developers beautifully implemented some animations in the ASCII characters.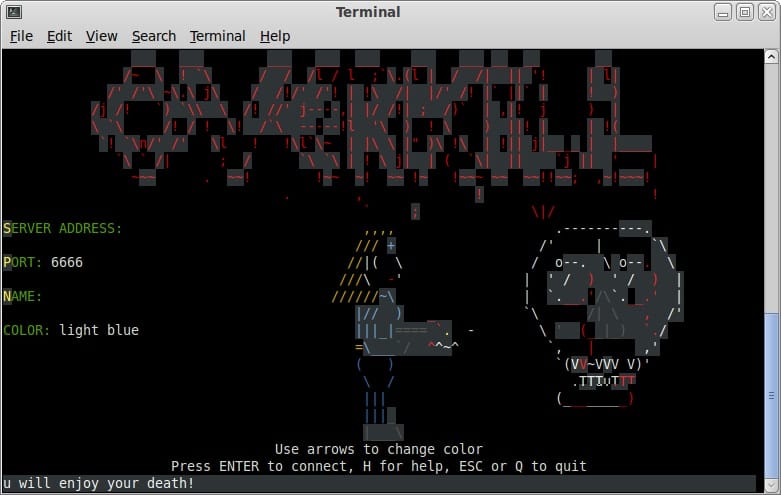 Gameplay Highlights of Overkill
You can choose from different types of weapons like grenades, invisibility, armor, etc.
You will get a graphics editor in this game with some basic functionalities.
The players can have an in-game chat with other players and get online help.
You can select from a variety of prebuilt character designs for heroes with gender choice.
11. Angband
---
This is yet another Roguelike game for the Linux distros. The gameplay fundamental is quite similar to what we saw earlier in the NetHack game. However, this is a single-player game. The game lets you explore the dungeon and fight the enemies. The ASCII interface doesn't mean it will feel boring to play. Rather I found this game quite addictive and fun.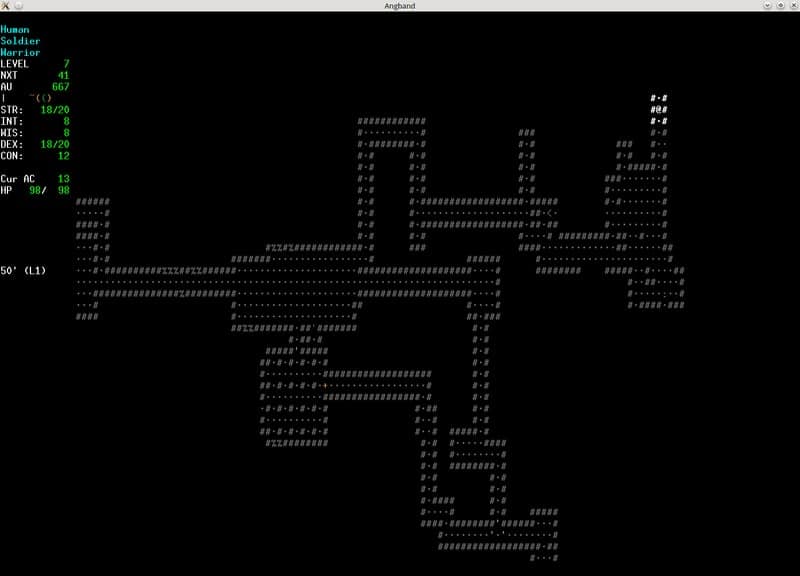 Gameplay Highlights of Angband
This ASCII game on Linux is preloaded with hundreds of dungeon difficulty levels.
New maps are randomly generated in this game for the players.
You can choose different types of creatures as your hero apart from humans.
The characters and gameplay are highly inspired by classical mythology.
12. VMS Empire
---
This is a full-fledged war simulation game for Linux. Except for the fact that it depends on the ASCII characters instead of graphics rendering. This is not a multiplayer game. Rather you will play against the computer's AI. All you have to do is to choose a city, and the computer will choose another city. This will lead to an epic battle between the empires.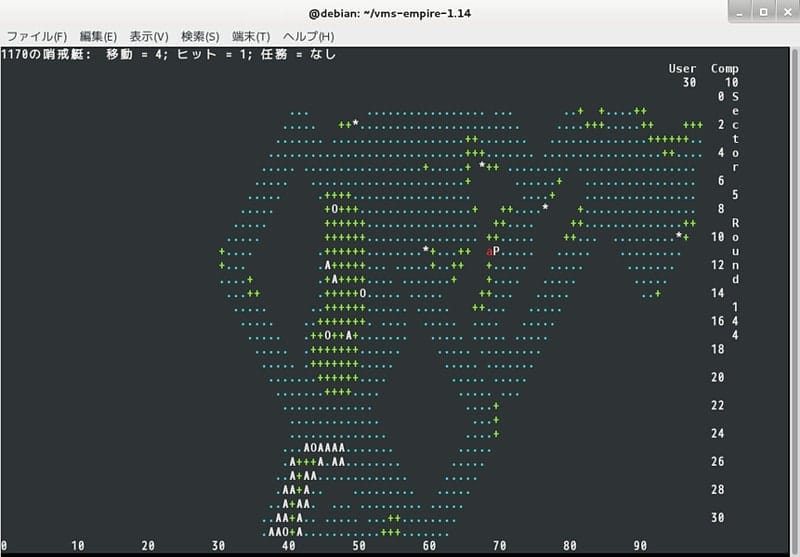 Gameplay Highlights of VMS Empire
You will have to command your forces by using the keyboard.
The player has to create and defend his empire by building in-game objects.
The auto move command is quite helpful for newbie players.
If you can kill all your enemies and gain control of the other city, then you will be the winner.
13. Empire
---
This is yet another war simulation game. But this time, it supports real-time simulation. Hence, you need a constant internet connection to play this game. At first, the game seemed a little bit difficult for me. But, after going through some tutorials, I figured everything out. The gameplay is quite similar to the VMS Empire. Except for the fact that it supports a multiplayer mode to play with other humans.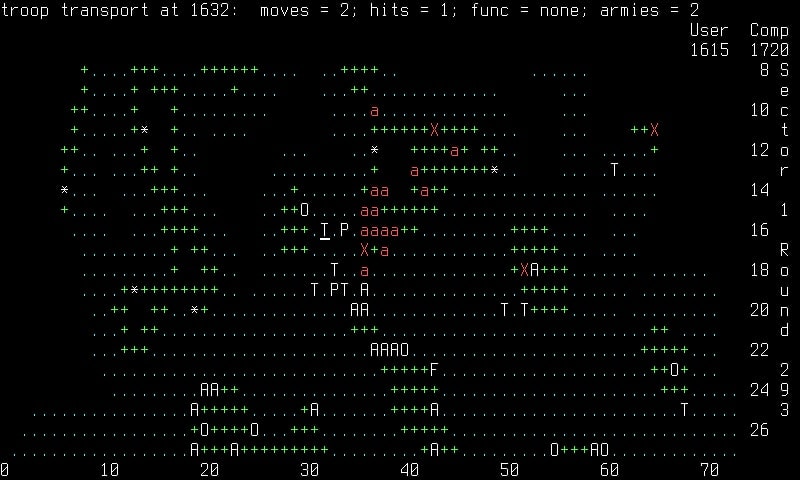 Gameplay Highlights of Empire
There is no time limit. The game may run for a few months theoretically.
There are some short versions of the game inside the menu that is called Blitzes.
The game covers almost all the aspects of a real war-like political, economic, etc.
You have to have patience and concentration if you want to do well in the game.
14. Nudoku
---
Who doesn't know about the Japanese puzzle game Sudoku? Nudoku is the exact copy of Sudoku for the Linux desktop. It uses ASCII characters for arranging the puzzle. As Sudoku deals with numbers, it looks gorgeous even with the ASCII elements. Most people are aware of the classic Sudoku rules. Hence, I don't need to present the rulebook here. Nudoku can make your terminal window into a classic game console.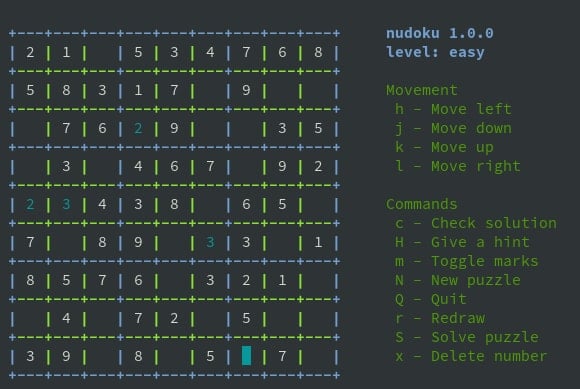 Gameplay Highlights of Nudoku
You can use the keyboard for giving commands.
The players can set the difficulty of the level.
It can generate Sudoku puzzles for offline usage in PNG and PDF forms.
The installer is just a few kilobytes that don't take up much system resources.
15. MyMan
---
Namco launched the original Pac-Man game in 1980 for the arcade machines. Later it gained much popularity over time. From personal computers to smartphones, Pac-Man is everyone's favorite. MyMan is the clone of that blockbuster game with some minor tweaks. It doesn't use modern graphic resources. Instead, ASCII characters build the whole set of the game. Hence, it is one of the most popular ASCII games on Linux.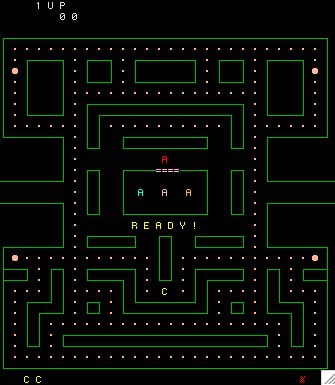 Gameplay Highlights of MyMan
It is not dependent on any external libraries for running on the terminal window.
This game has the functionality to generate screenshots in plain text and HTML file format.
You can copy and paste the puzzle anywhere to show off your game status.
It uses a classic black theme with a green accent and uses the letters A, C for the game elements.
16. Vitetris
---
A Russian developer coded Tetris in the 80s as a puzzle game. Since then, it never looked back. It is considered one of the highest-grossing gaming franchises of all time. Vitetris is an unofficial clone of the classic masterpiece. Although EA Sports brought a modern version of the game, Vitetris is quite old-school. It uses the same ASCII elements for the gameplay. But like all other Tetris ports, this thing will never fail to make you addicted.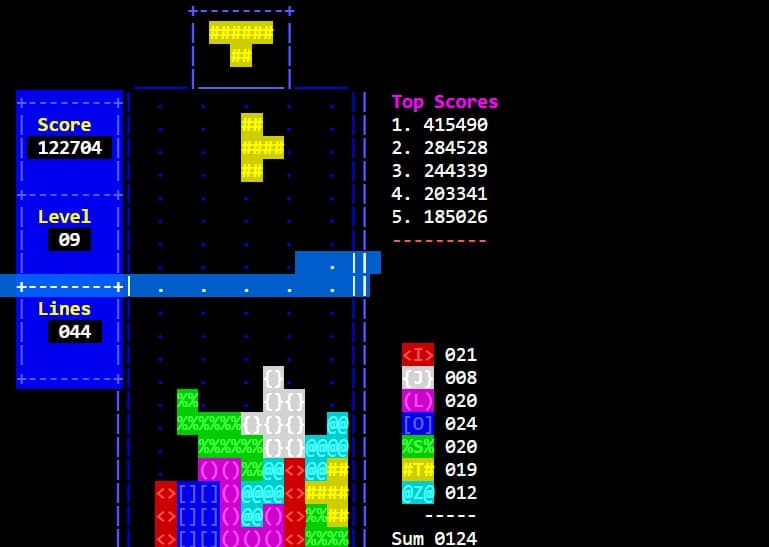 Gameplay Highlights of Vitetris
You can configure your keyboard buttons, and this game supports joysticks.
This game supports two-player mode along with online mode via the internet.
Vitetris saves the high score and displays it in a tabular format.
The game elements use 16 colors, ASCII characters that run smoothly on any system.
17. Bombardier
---
This game doesn't need any strategy like all other games on this list. Rather it is a pretty straightforward game. As the name suggests, it is a game about aircraft. You will throw bombs from it. But don't assume that it's child's play. It's harder than you think to set up a decent score. The graphics may not be liked by every person as it uses the same 80s ASCII characters.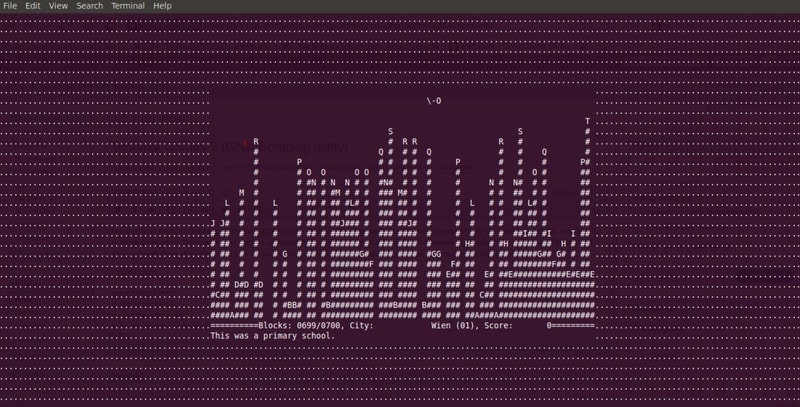 Gameplay Highlights of Bombardier
You will operate as a pilot of a bomber helicopter.
All you need to throw as many bombs as possible at the buildings on the ground.
The helicopter will lose altitude over time, and when it touches the ground, your game will be over.
It will run on a tab in the terminal window.
18. 2048
---
A 19 years old Italian developed created this puzzle game in 2014. However, the concept didn't come from his brain. The game went viral. Hence, many developers created different clones of 2048 for various platforms. This is yet another 2048 clone for Linux. The specialty of this game is that it is a perfect example of an ASCII game on Linux.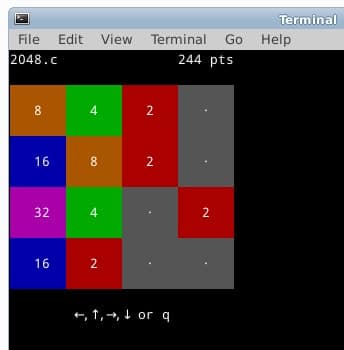 Gameplay Highlights of 2048
This is a 4X4 grid-based slide-controlled puzzle.
The goal of the player is to score 2048 anyway.
You can move the slides by using the buttons of the keyboard.
It helps to develop the calculation power of your brain.
19. GNU Chess
---
This is probably the most minimalist version of chess. It runs via the command line in the terminal window. The chess grids are created with dots, and the chess pieces are denoted by the initial of their name. The gameplay is just like typical chess except for the controls of the pieces.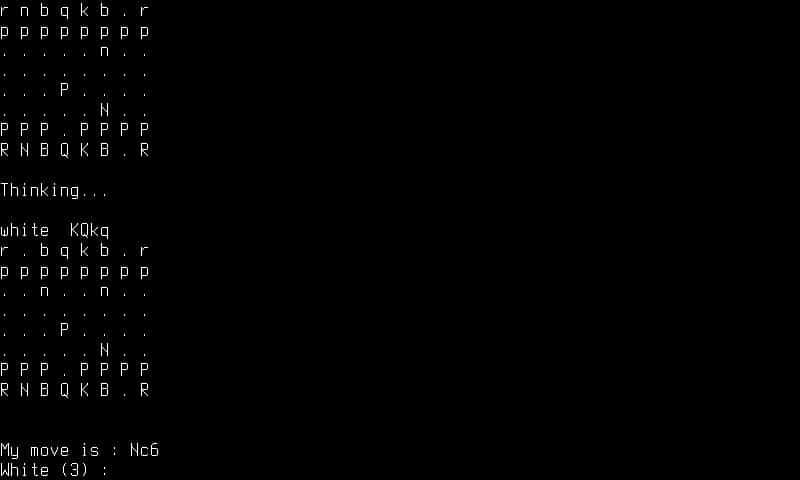 Gameplay Highlights of GNU Chess
The game uses the Fruit chess engine and UCI chess protocol.
You can either play with the computer or against a human player.
It displays the position and moves of the pieces.
You might face some difficulty if you are not used to alphanumeric move notations.
20. nSnake
---
This is a revamped version of Nokia's popular Snake Xenzia game. It has even the same gameplay, just like the original one. There is also a forked version of this game that supports different types of mazes and custom difficulty settings. You just have to roam with the snake, feed it, and make the score higher.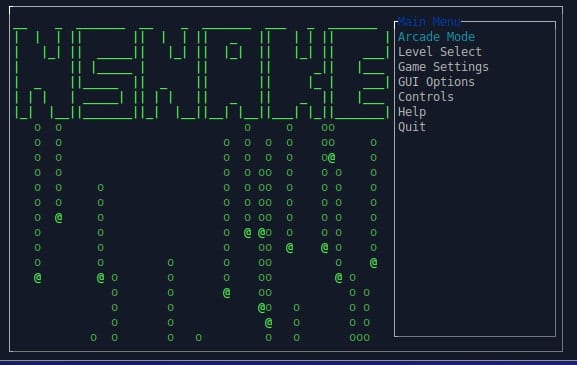 Gameplay Highlights of GNU Chess
This game keeps track of your high scores.
You can set the snake's running speed to bring more fun into the gameplay.
The player can turn the border on or off. Touching with the borders kills the snake.
You can import and install a custom maze and level layout.
Finally, Insights
---
Well, trying to play modern games on Linux is not always possible. This is because of the lack of support. Besides, most of the Linux geeks use their Linux distros for their work purpose. Hence, if you want to try some games just for driving the boredom away, these can be some great options.
ASCII games on Linux don't require that much CPU, GPU, or RAM to run. Instead, they are of just a few kilobytes of size. Moreover, some of the games mentioned above will remind you of your childhood. Lastly, if you think that we missed your favorite ASCII game to include in this list, just let us know in the comment section. Happy gaming!