While Windows has gone through many changes in recent years and made itself more efficient, Windows File Explorer hasn't changed or developed much. So, once you reach a professional level, File Explorer might seem to be a little backdated and start disturbing when saving large files. That is when you need to choose a good file manager for yourself that will work without any kind of disturbance and offer you some extra features. In this article, I have listed the 10 best file managers for Windows PC you should try in 2021.
Best File Managers for Windows PC
---
A good quality file manager will be efficient and reliable that will come up with a more convenient way of handling your files. With all those software available in the store, we know how hard it is to find the best one for yourself.
We have shortlisted the best file managers according to our experience and customer reviews to help you with the search. Stick through the end to know about what special features these file managers have to offer.
1. Total Commander
---
The total commander must be one of the oldest file managers for Windows PC, providing an excellent service for almost 25 years. Its interface is somewhat classy and comes with two different vertical panels. Due to the powerful background process manager, you can easily transfer large files while checking your overall progress and pause and resume transfers.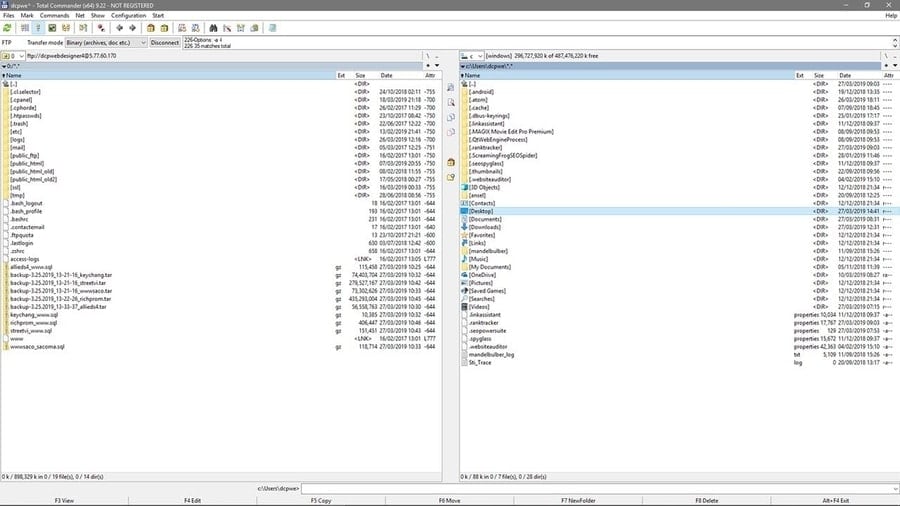 Important Features
The software comes with customizable keyboard shortcuts and a built-in file archiving tool so that you can create or extract archives in any format.
You can also extend the features and functions with plugins.
It allows you to sort out the images by size, edit the music metadata, and look for any text strings in the PDFs.
It's totally compatible with cloud storage.
You can verify file checksum to make sure a download content integrity with the software.
Pros: The layout is designed to increase productivity at a great level. Moreover, this software is capable of working even when Windows is not very stable.
Cons: It doesn't show background colors for the file names.
2. Directory Opus
---
Directory Opus is one of the premium file managers that come with a super attractive icon-led interface and allows you to control the layout with various customization options. The software uses multi-threading to offer faster processing making it run faster than most other software. With the tabbed browsing and multi-pane opening, filtering or sorting files are much easier.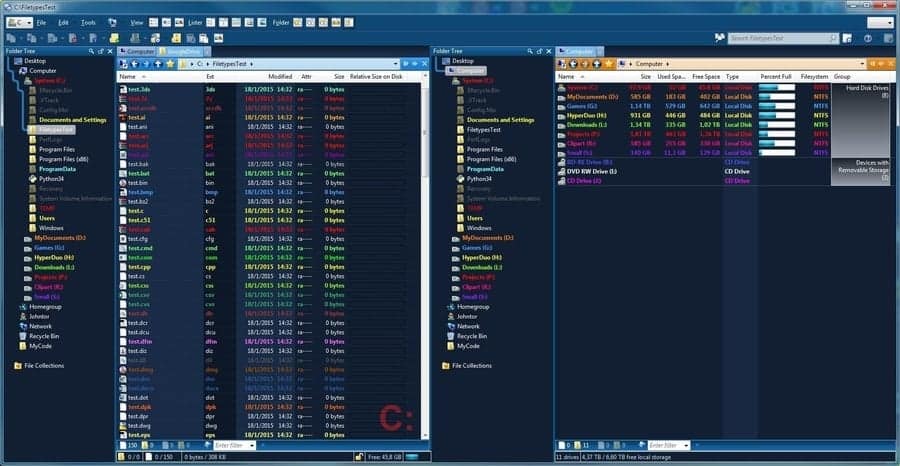 Important Features
The software can also serve as a file compression tool as well as an FTP client.
While it can save complex terms like macros easily, it also allows you integrated metadata editing.
It supports different kinds of archive formats like Zip, RAR, and 7ZIP.
Besides synchronizing the files easily, you can also find any kind of duplicates with it.
It can be a seamless launcher for other programs on your PC.
Pros: The software is extremely powerful and lets you use extended scripting API. Also, you will like the variety of downloadable and customizable themes it comes with.
Cons: The installer comes with rather large file size.
3. Xplorer²
---
Among all the file managers for Windows PC I have mentioned in this list, this one has the most modern design. You can choose one from the ribbon-style surface or the traditional menu bar. This software is especially popular due to the unusual features it comes with. You can customize the layout any way you want, from the default one that usually has a pair of horizontal panes.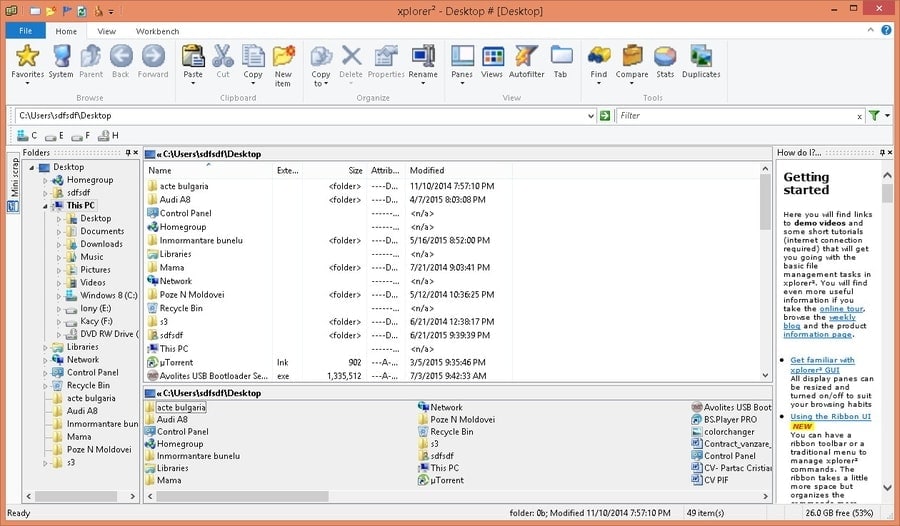 Important Features
You can select multiple files at the same time without accidentally de-selecting by clicking anywhere else, which is also known as "Sticky Selection."
There's an option to identify the duplicate files as well as color-coding quickly.
You can see the multiple subdirs contents by browsing flat.
It allows you to save the state of a program for later use.
You can create tabs with the most used subdirectories.
Pros: The software allows you to go through multiple tasks simultaneously without getting slowed down.
Cons: The free and lite version comes with a number of disturbing prompts.
4. Q-Dir
---
Q-Dir, also known as Quad Explorer, is mostly famous for allowing you to work with a maximum of four file panes at the same time. It has a clean interface without any hassle, ensures a high-resolution screen, and includes a number of navigation icons for user-friendliness. In case you are looking for a file explorer alternative, Q-Dir has proved itself to be a handy one.
Important Features
The software supports tabbed browsing and includes a bookmark function for the files you use often.
It's highly manageable when it comes to multiple Windows.
You can save folder combinations that are your favorite and open them quickly anytime.
The software is really lightweight and doesn't take much of your RAM.
It allows you to use tabs in every window.
Pros: This free file manager comes with a customizable interface and is excellently portable.
Cons: It doesn't allow you to search within the interface.
5. FreeCommander
---
The FreeCommander is one of the best file managers for Windows PC due to a lot of reasons. It has a dual-pane interface that allows you to view two separate folders at a time so that moving files from one folder to another gets easier for you. Moreover, you can also add folder tabs to each pane to have a more comfortable view.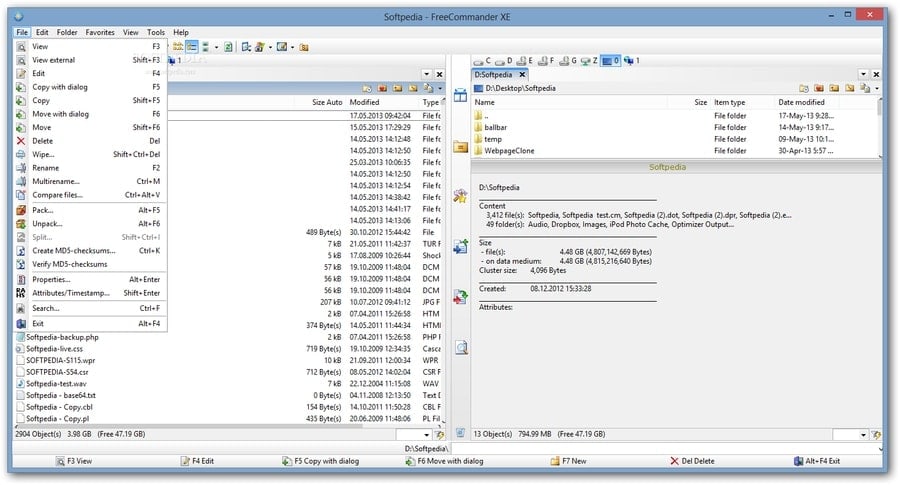 Important Features
It comes with a rather powerful search feature.
You get a quick and effective set of file copying options with the software.
The highly customizable interface has quick navigations for all the primary functions, is really stable, and can get into a dark mode.
Besides the excellent search feature, it offers an amazing multi rename tool.
It comes with a variety of hotkeys and keyboard shortcuts by default.
Pros: This a powerful and fast file manager tool that comes with a portable version.
Cons: It can't replace the default file explorer.
6. XYplorer
---
XYplorer is another dual-pane file manager for Windows PC with various excellent features to make file managing an easy task for you. This one supports tabs and allows you to assign them to a certain configuration so that it remains in the same way you are not using it. Moreover, it can highlight your current directory path and let you navigate the paths using a mini-tree function.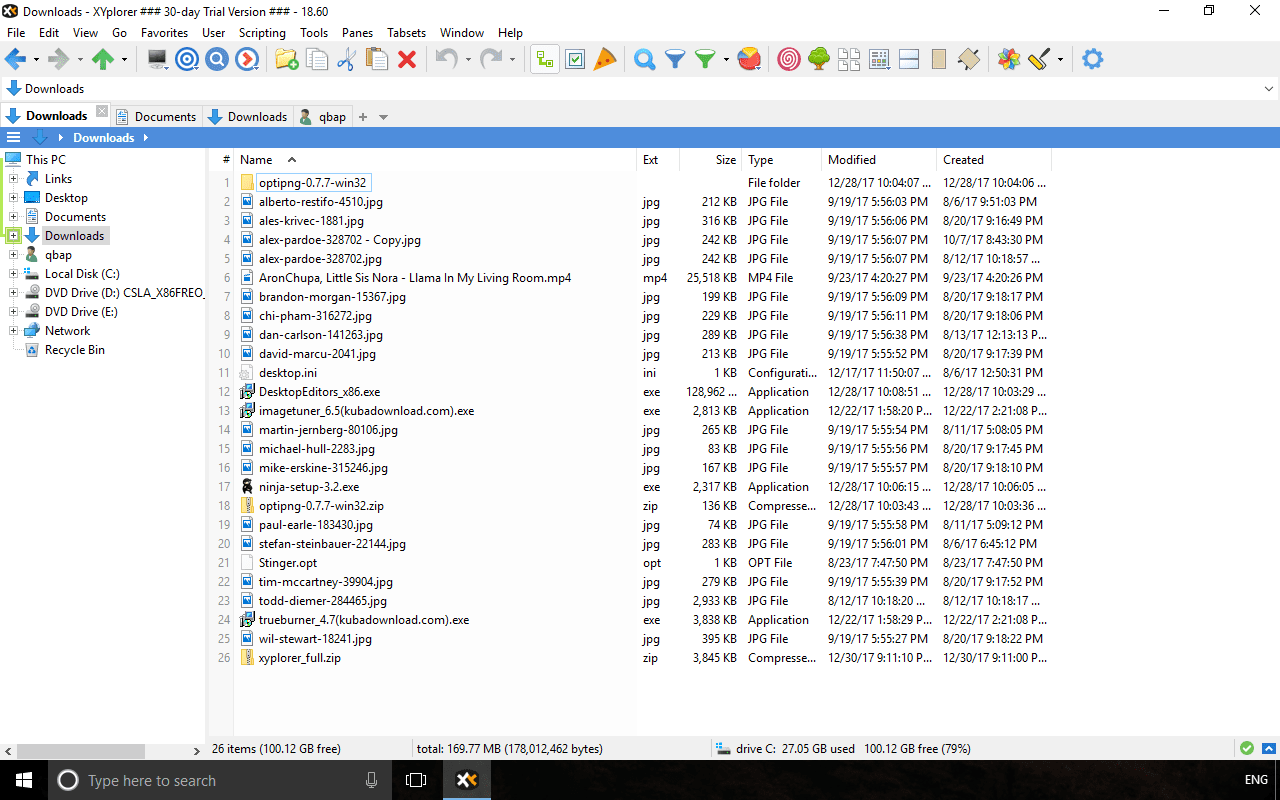 Important Features
It updates quite frequently to offer you the most advanced functions.
It's extremely configurable and offers hundreds of customization options.
The software uses a really easy and flexible scripting language, which can help you do many extra things once you learn to use it.
It offers a thumbnail view of the images for fast view and easy customization.
Besides the custom files and folder icons, it helps you with the illegal file and folder names.
Pros: It's an extremely reliable software that offers you a lifetime and license and excellent customer support. Also, it lets you select a certain file by just typing any of the words in the directory.
Cons: It has no high-dpi support.
7. Explorer++
---
This one is free, open-source software with a simple design and comes with the most basic functions you might need from a file manager. Though it looks a lot like the Windows File Explorer, there are still some differences. Explorer++ is there to take your file management to a higher level.  Amongst many wonderful features, merging and splitting files tabbed browsing, and display Windows are some of the best offers.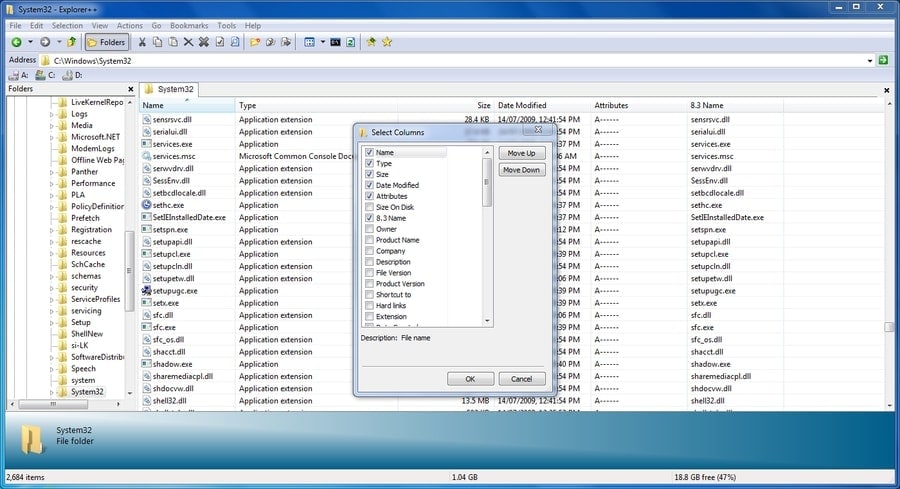 Important Features
It supports instant command lines for easy access.
You get advanced features like "drag and drop" and manual "Folder Size" setting.
The latest version came with a media protection column.
Supports multi-tab file managing.
Pros: The software is regularly updating, and since it's completely free, you can use it without any worries.
Cons: It still has a lot of bugs and needs fixing.
8. Clover
---
This is one of the simplest file managers for Windows PC that comes with a neat interface and can add browser style tabs to the explorer. Besides, it will add a bookmark to your most frequently visited files as well as folders. The quick access links are super convenient, and make sure that your directories don't mess up.
You can easily bookmark a folder by dragging it into the underneath place in the tab titles. This software has turned out to be more convenient than the Windows own Quick Access links. One of the most interesting things about this software is that the installer is in Japanese. However, it's really easy for English speakers to follow.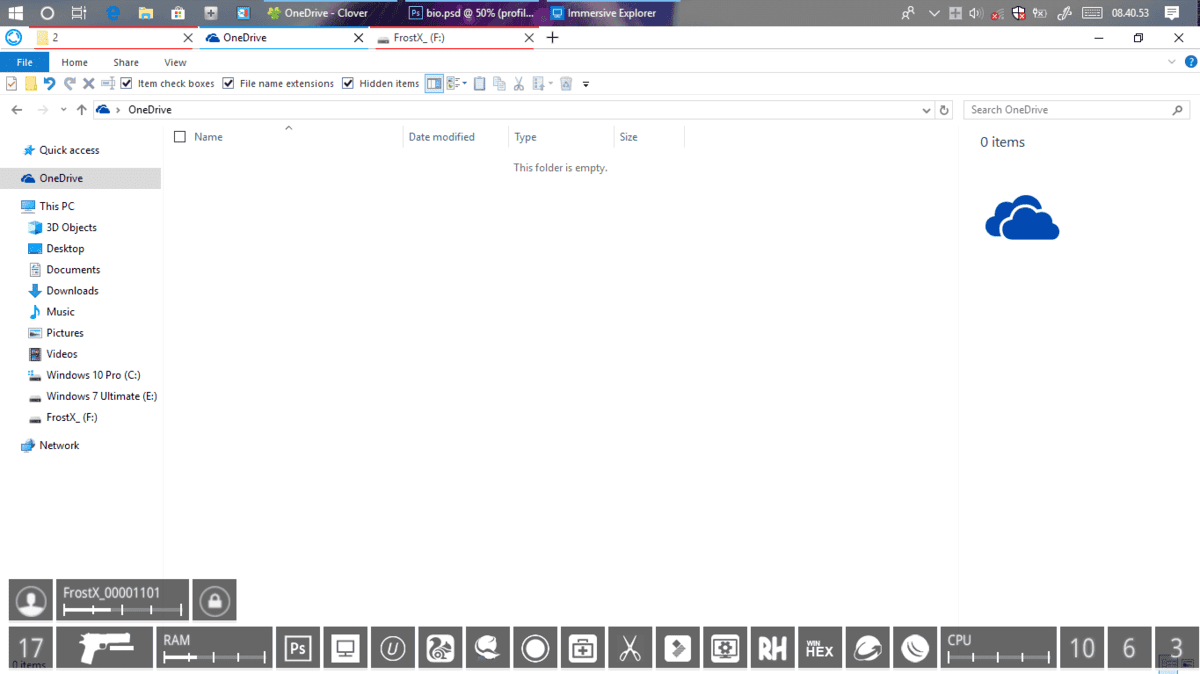 Important Features
This file manager works really effectively, smoothly as well as seamlessly.
It features an easy installation and can work without being open on the tabs.
It's expandable through themes, which you will have to download separately.
It's lightweight and makes sure your RAM isn't harmed while it's working.
Pros: This software allows you to manage the files and navigate the folders in a neat and easy way.
Cons: The Japanese instructions can be a problem sometimes.
9. Altap Salamander
---
While most other file managers are designed to help with files and folders management, Altap Salamander is the first one that comes with exclusive networking tools. The software supports every kind of Network Protocols, including FTP, SFTP, SCP, and FTPS. With this software, you can easily transfer both large and small files all over the internet. Besides, you can also use any kind of archive file.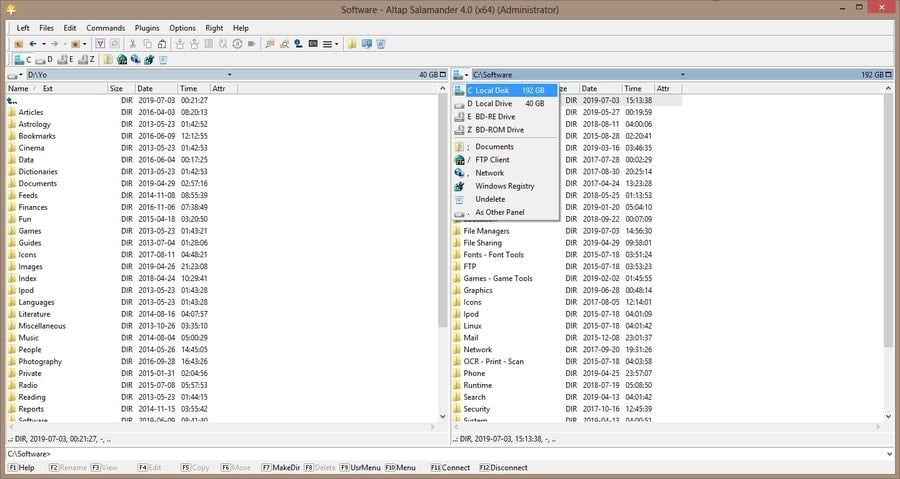 Important Features
It offers a built-in password manager so that you can protect any of your sensitive or personal files with encryption security.
It comes with a rather consistent and polished interface.
The software is not only very reliable and stable but also offers you preview versions.
You can easily use the license on multiple machines.
The bookmark support is quite powerful and lets you save all your favorite and frequently used files.
Pros: The copy and move operations can easily work in the background while doing other works.
Cons: It doesn't come with any Unicode support.
10. Fman
---
The last one in our best file managers for Windows list is Fman, which is most popular for the cross-platform support it offers. However, if you are a complete beginner, this software is not a good option for you since it was designed primarily for software developers and other tech enthusiasts. Moreover, the software can show the content of two different directories for you to copy and move.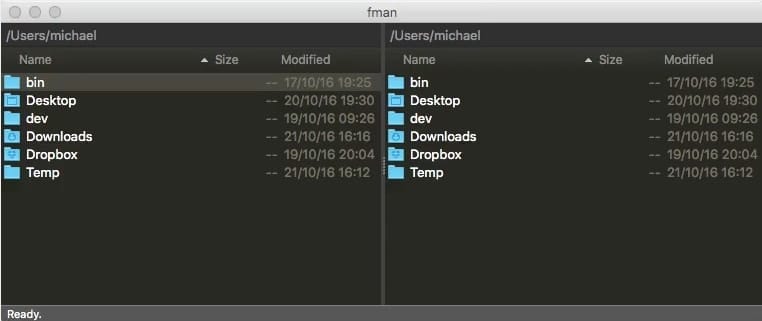 Important Features
It allows you to cancel any kind of copying or moving operations.
The software comes with a context menu for user-friendliness.
It's compatible with almost all kinds of operating systems.
The API lets the plugins use custom columns.
Pros: The software is really easy to use and lets you find specific files by names quite easily.
Cons: The software doesn't come with any text file viewer.
Our Recommendation
---
While you already get a default file manager with your Windows PC, that's not the best one available. So, it's obvious that you will start looking for the perfect one. If you ask for my advice, Total Commander is the finest one among the file managers I have listed in this article. This software comes with the most advanced tools available and works efficiently.
In case you have already tried this one, you can give a trial to any other software listed here. All of these will ensure efficient file management with an easy navigation interface.
Finally, Insights
---
So, there goes our complete list of the 10 best file managers for Windows PC that will ensure an effective service in 2021. File managers are very important for professional tech enthusiasts in the world who need to work with them frequently. Unless you choose a good quality software, you will face some problems which might even lead to your loss of files or folders.
So, if you are confused about which one to choose, just pick any from our list. I sincerely hope that this article was helpful to you and you found the best file manager that fits your work the most.