Hello, creative mind; in this article, you are going to learn about the most popular drawing apps for PC. As you already know, Windows is the most popular personal computing platform right now with the largest market share. This is not because Windows 10 is perfect but because of the plethora of devices loaded with this OS. Since digital art is becoming popular day by day, many amateur and professional artists use their PC for drawing and illustrations. Thanks to the developers who have created some awesome apps and software for Windows operating systems that help in digital drawing.
Best Drawing Apps for PC
---
There are two different types of drawing apps currently available on PC. One is legacy x86 Windows software, and another is based on the new UWP framework. The later apps are distributed by the Microsoft Store. No matter what type of tool they are, the number of paid and free drawing and painting apps for Windows is abundant.
Since it's difficult for an individual to try out all of them, we, the UbuntuPit staff, have done the homework for you. Based on our extensive research and testing here, I am presenting you with the ultimate list of the best drawing apps for Windows.
1. Adobe Illustrator
---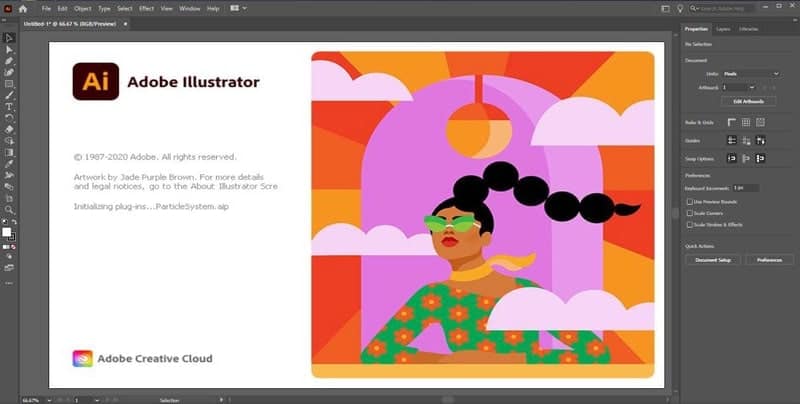 Adobe Illustrator is one of the oldest software of this type. This app was developed by Adobe Inc in the early nineties. After that, the popularity never declined. In fact, Illustrator is considered the benchmark in terms of any computer-aided drawing tool.
There are two types of computer graphics. One is a vector, and another is a raster. Adobe Illustrator is originally a vector graphics tool. This is why you are not limited to a certain resolution while working with the elements. Rather the graphical elements can be stretched to any size in this drawing app for PC.
Key Features
Integrated with Adobe Sensei artificial intelligence for better output.
Works seamlessly with other Adobe products such as Photoshop, InDesign, etc.
Available on multiple computing platforms, including mobile devices.
The latest versions are adapted to work with touch-enabled Windows PCs.
This tool is perfect for typography and icon design with advanced controls.
Pros: Support for scalable vector graphics and industry-leading toolsets and plugins are the key strengths of this drawing app.
Cons: There's no one-time purchase option, and the yearly subscription is not that affordable.
2. Adobe Photoshop
---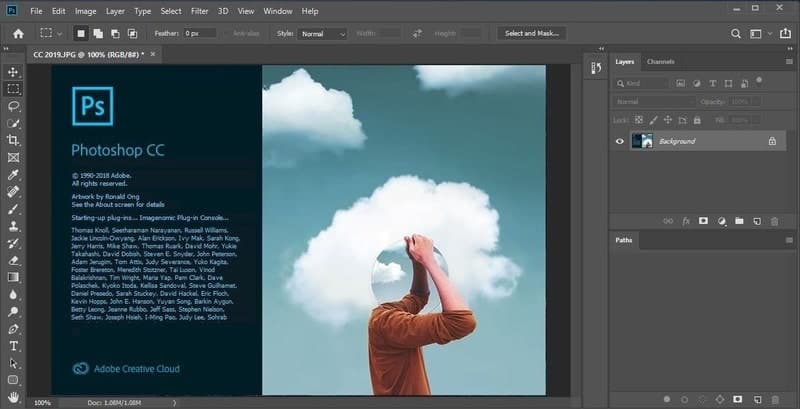 Photoshop has become a verb in this 21st century, and it means manipulating images or visual art. This is because of the extreme popularity of Adobe's raster graphics tool, Adobe Photoshop. From basic photo retouching to digital illustration, you can do whatever you want with this drawing software for PC.
The developers have included a wide range of brushes with the installation package. These brushes can be used for digital art, and this is the key selling point of Photoshop. Besides, there are numerous plugins to extend the functionalities.
Key Features
A bunch of pencils, ink, and charcoal brushes to bring your imagination into life.
There are thousands of presets that can ease up your workflow.
You can save your elements into the Adobe Creative Clouds library.
The 3D illustration is much easier with the recent version of photoshop.
Customer support from the Adobe team is a great addition to the value.
Pros: You can get Adobe Photoshop and a bunch of other Adobe tools within the same subscription plan, which is great for small agencies.
Cons: If you have a low-end computer, then the recent versions of Photoshop might struggle to run.
3. CorelDRAW
---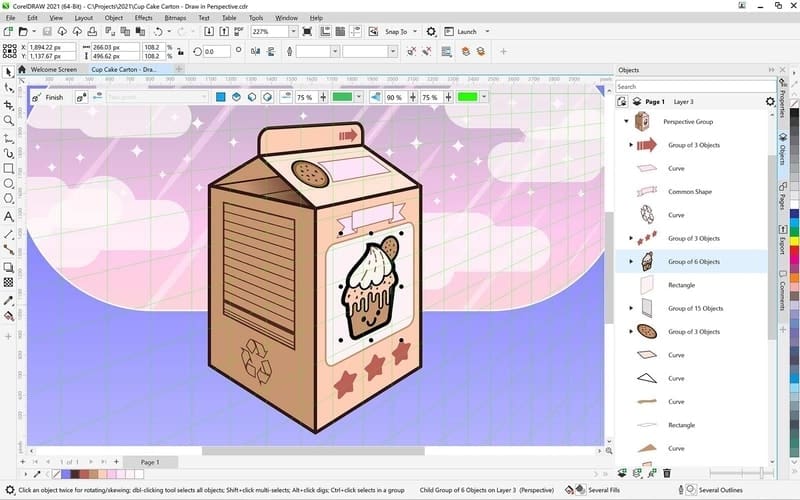 CorelDRAW is yet another enterprise-level illustration tool for Windows 10. This is a paid tool, and you have to spend a significant sum of money to buy the license. But this is worth the price, although it doesn't have a large userbase as Photoshop or Illustrator.
The latest version is CorelDRAW Graphics Suite, and it is an all-rounder. From photo manipulation to illustration, there's nothing in the graphics sector that can't be done by this amazing tool. Especially, educational and research organizations tend to use this more often.
Key Features
You can collaborate with other team members and even with your clients.
This drawing tool comes with several illustration tools and brushes.
The UI is a bit old-school, but it is easy to use for beginners.
You can draw 2D and 3D arts for both web and print mediums.
Photo retouching feature and iPad app is a bonus feature of this software.
Pros: You can go for a one-time purchase, a big plus point for those who run agencies and don't want to take the hassle of renewals.
Cons: Sometimes, Adobe tools are considered the industry standard, and you might face some cross-app compatibility issues.
4. GIMP
---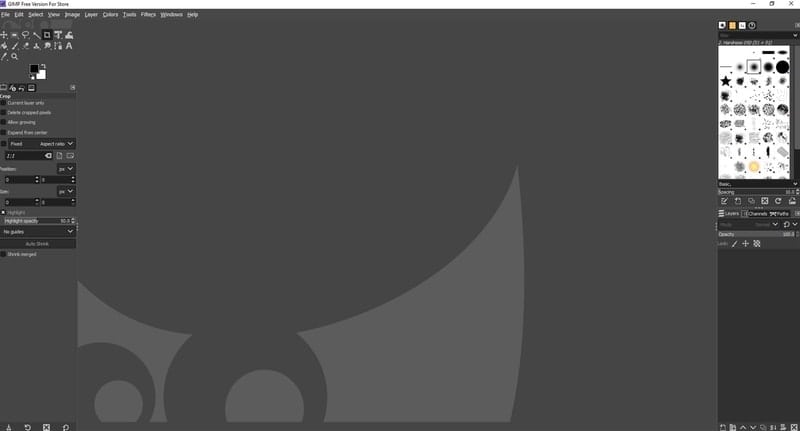 The Linux users are well aware of this software because the above-mentioned tools don't have Linux support. But that doesn't mean GIMP is capable enough. Rather GIMP is a pretty decent open-source tool that is also considered an alternative to Photoshop.
It comes totally free of cost, and there's nothing to complain about actually. Most of the features of GIMP are designed for image editing and manipulation. But you can also use GIMP for digital drawing and raster illustration.
Key Features
Visual artists can turn images into creative art with this powerful tool.
Apart from professional staff, this is a great tool for amateur designers.
It integrates nicely with another open-source tool such as Inkscape.
The users can extend the functionalities by using various programming languages.
Being the source code open, the companies can modify it according to their needs.
Pros: This professional-grade software comes at no cost, which is the biggest benefit of this tool.
Cons: The user interface is designed more traditionally, and it doesn't look modern and touch-device friendly.
5. Inkscape
---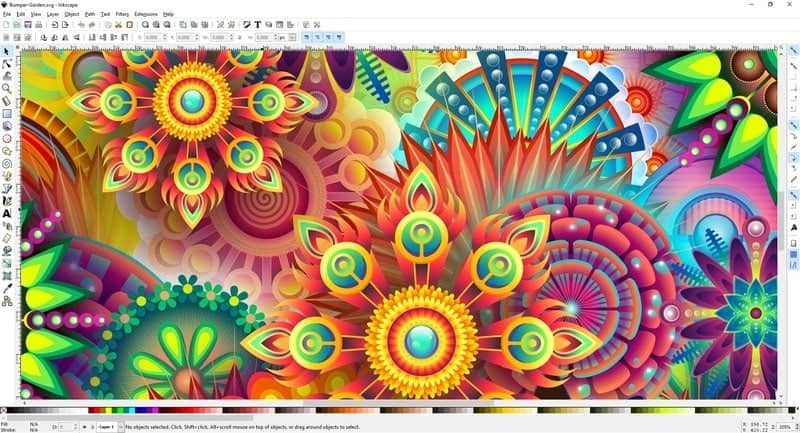 Inkscape does exactly what Adobe Illustrator does. The only difference is that it is a free and open-source drawing software for PC. Another interesting thing about Inkscape is that it can run smoothly on computers with low specifications.
Since it is a community-backed tool, you will get many learning resources, and sometimes your feedback also helps the community bring new features to this tool. This drawing app works with vector elements, and the wide range of file formats ensures compatibility.
Key Features
This tool has several object creation tools, including a powerful text tool.
You can rearrange the layers in various forms to make your workflow easier.
A bunch of color tools helps the users to pick the exact color palette.
The files created with Inkscape are widely accepted and compatible with other tools.
Advanced typography is a great feature indeed that comes in handy at times.
Pros: If you are using a notebook or tablet computer with a less powerful configuration, this thing will perform better than any other tool.
Cons: You will not get enterprise-level support that we normally get from paid graphical tools.
6. AutoDesk SketchBook
---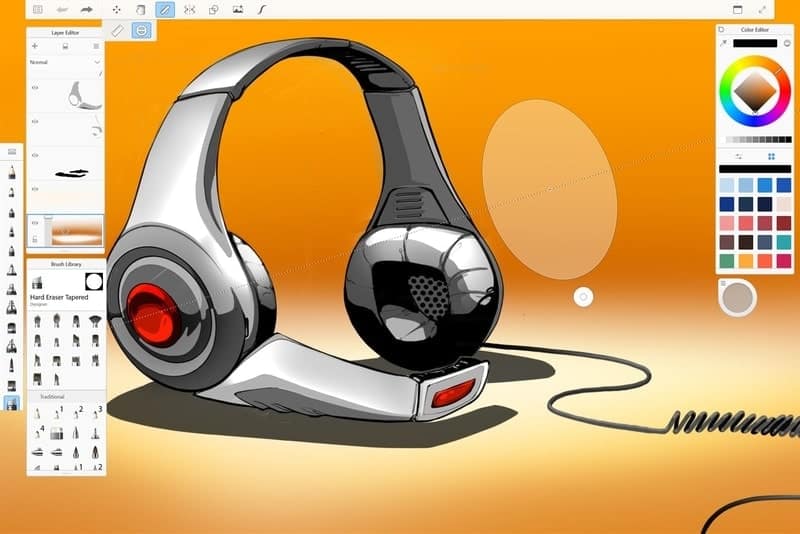 This is a modern drawing app for Windows 10. AutoDesk is popular for its wide range of engineering drawing tools. However, those are mainly for niche consumers, and the mass people are not aware of them. But SketchBook is different.
They have developed this app beautifully with beginners in mind. SketchBook is already quite popular on mobile devices. However, with the support for Windows, it has taken the PC platform a step ahead in terms of illustration and digital art.
Key Features
It has a collection of 140 handcrafted brushes. Besides, you can import brushes.
You can scan objects using the camera of your Windows 10 device to get references.
Copic Color Library is a great addition to the features, which really helps.
There is an interesting feature called predictive strokes, which helps beginners.
It gives full support to the payer-by-layer editing that boosts the professional workflow.
Pros: The touch-friendly interface and installation from the Microsoft Store make things easier for the people who are just getting started.
Cons: This tool is not meant for professional gigs, and thus the experts might find it a bit limiting for their work.
7. Affinity Designer
---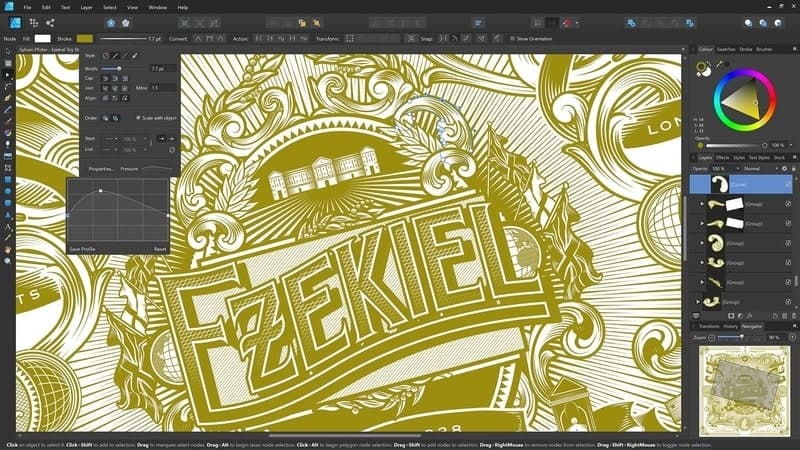 Affinity Designer is yet another paid drawing app for PC. But this one is quite affordable with a smaller price tag. Yet you are getting many features, which will be more than enough for the casual artists. This app is not that popular as other tools on this list. However, it has several awards for its innovative and easy-to-use user interface. On top of that, the single click switching between vector and raster workspace works like a charm.
Key Features
This tool will provide you unlimited artboards to work with.
You can customize keyboard shortcuts on your own for faster workflow.
It supports creating files in PSD and AI format that is supported by Adobe tools.
Abstract illustrations are much easier with various transformation tools.
It supports almost all the major color spaces for different applications.
Pros: It enables the users to work on multiple devices with the same file to save both time and resources.
Cons: The UI elements are not yet totally optimized for touch-enabled devices.
8. Krita
---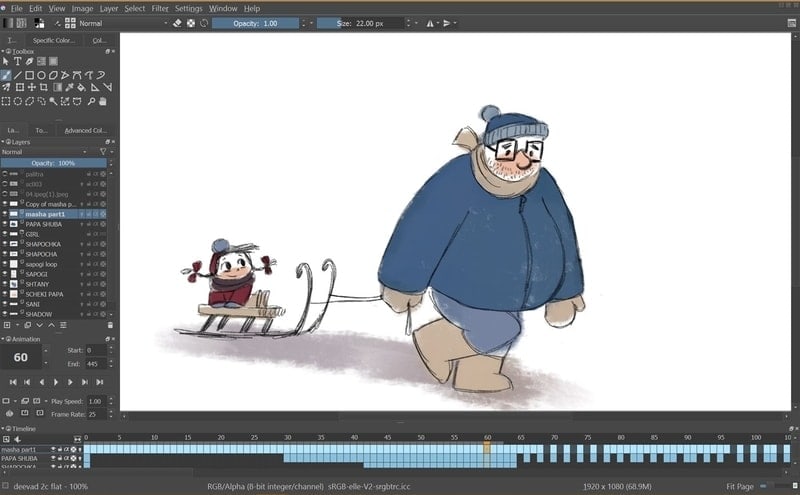 Krita is also very popular among Windows device users. However, you can use this on Mac and Linux platforms too. Moreover, just Like Inkscape and GIMP, this is a free and open-source tool. Thus you don't have to spend even a penny to use this incredible tool.
But the features of this tool will never let you realize that this is a freebie. Rather all the toolsets are professional, and many artists use this software for their paid gigs. It is equally favorable to concept artists and comic book designers.
Key Features
The interface is similar to traditional Windows drawing tools and very intuitive.
It has more than a hundred brushes to create beautiful artworks.
The brush stabilizer is a great feature that smoothens the strokes.
It has support for vector elements that comes in handy while illustrating for comic books.
You can import brushes and elements using the resources manager option.
Pros: Support for PSD format and a bunch of other drawing assistants are the killer features of this tool.
Cons: In terms of support from the community, it lags because of the popularity of other proprietary tools.
9. Rebelle
---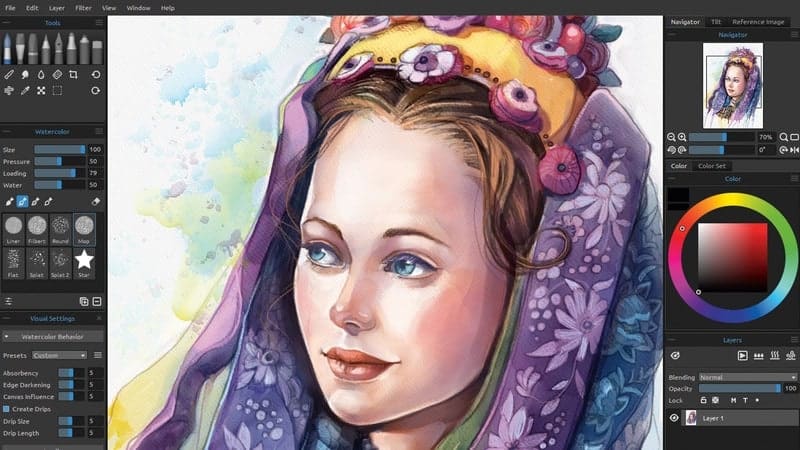 Rebelle is a digital art software for professional artists. Escape Motions is the company that is behind the development and distribution of this powerful tool. The latest major release of this software is Rebelle 4, which has brought several improvements over the previous version.
This is the true painting app currently available for the Windows platform. If you work with oil and watercolors, this software will provide you the most realistic experience. On top of that, the collection of brushes and transform tools are abundant in this drawing app for PC.
Key Features
This tool can recreate most of the real-life drawing elements on the digital canvas.
You can mix up watercolors to create a new one just like you do on a physical canvas.
There is a feature to stabilize the strokes, which is pretty useful for newbies.
The user interface is very intuitive with customizable panels.
The brush library with more than 170 brushes is quite appreciable.
Pros: Some people tend to stay away from digital art because of the learning curve and difference in principle. Since it gives realistic drawing experience, I think it will attract those professionals.
Cons: The one-time purchase fee is not that affordable for amateur artists.
10. Clip Studio Paint
---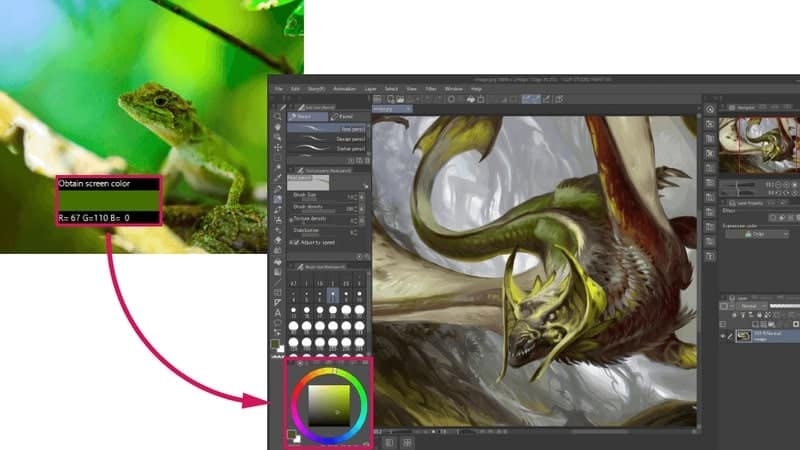 Clip Studio Paint is a cross-platform tool for amateur and professional artists. Although this is a paid tool, you get get a free trial to check this software out. Unlike Photoshop and Illustrator, this software is designed to give you the most true-to-life experience.
Obviously, it has some limitations, and the userbase is quite small comparing other software in this list. But Clip Studio Paint is quite capable when you consider the price it comes with. Most freelance concept artists use this paid drawing app for Windows regularly.
Key Features
It works great with Wacom graphics tablets for precise drawing.
Clip Studio assets library will let you use graphical elements.
You can customize drawing brushes just as you want.
The natural paper-like experience is a key feature of this tool.
It includes 3D models and characters so that you can work on 3D illustrations.
Pros: This tool is so intelligent that it can detect pen pressure and provide output like that, which is really an amazing feature.
Cons: The user interface looks old, and it may be a dealbreaker for some amateur artists.
11. Artweaver
---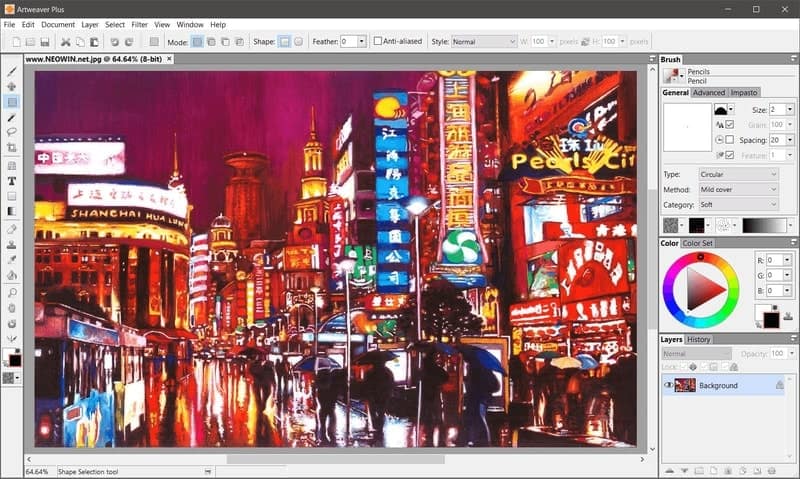 Artweaver is yet another powerful drawing app for PC users. The most interesting fact is that the basic version of this software is free to download. But you can get the pro version by spending some bucks, which is worth the money.
This software is designed for beginners. But what's appreciable is that the developers didn't compromise any features for that. If you are a professional, you will get all your necessary features in this app.
Key Features
This software can simulate real-life brushes and materials.
The interface is clutter-free, and you will find the tools neatly arranged.
It allows the users to collaborate with the team over the internet.
Artweaver Pro gives you free technical support, which is very helpful.
16 Bit channel support and advanced brush customization are some of the great features indeed.
Pros: It comes with both a free and premium plan. On top of that, the premium plan has a discount if you buy a volume license for your organization.
Cons: Windows tablets and hybrid devices struggle with the mouse-friendly user interface of this tool.
12. TwistedBrush Pro Studio
---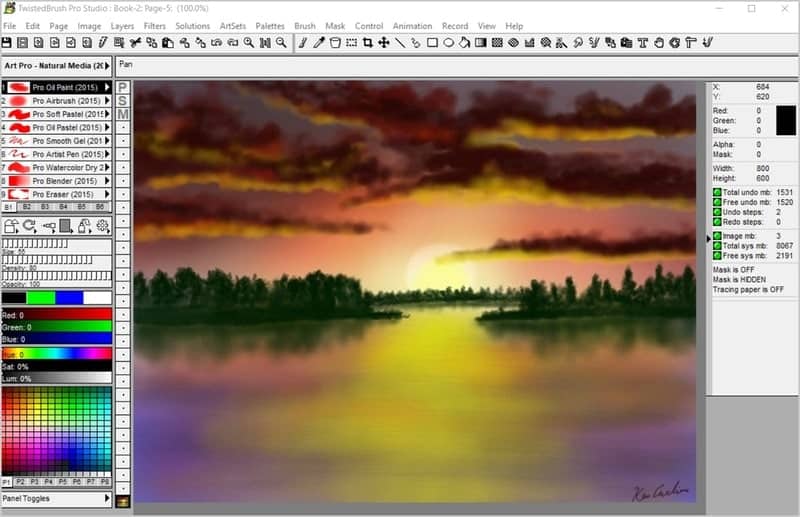 Pixarra is the developer and distributor of this drawing software for Windows. The developer company has a large portfolio of design and drawing tools for PC users. The TwistedBrush Pro Studio is one of the most popular among them.
It has 9000 brushes for digital artists, which is an insane feature! Also, you are getting a lot of image processing filters and transformation tools for digital illustration. There are version licensing and perpetual licensing options to buy this tool at an affordable price.
Key Features
Sketchbook feature for amateur and professional artists.
You can select from several paper types.
The users can modify the core brushes to create new brushes.
Their masking and layering feature is quite advanced to assist pro artists.
It supports almost all the Adobe Photoshop-standard drawing plugins.
Pros: Other programs can hardly match the overall versatility and user-friendliness of this tool.
Cons: Although the basic license fee is affordable, the costly perpetual licensing system might be the dealbreaker for some people.
13. MediBang Paint Pro
---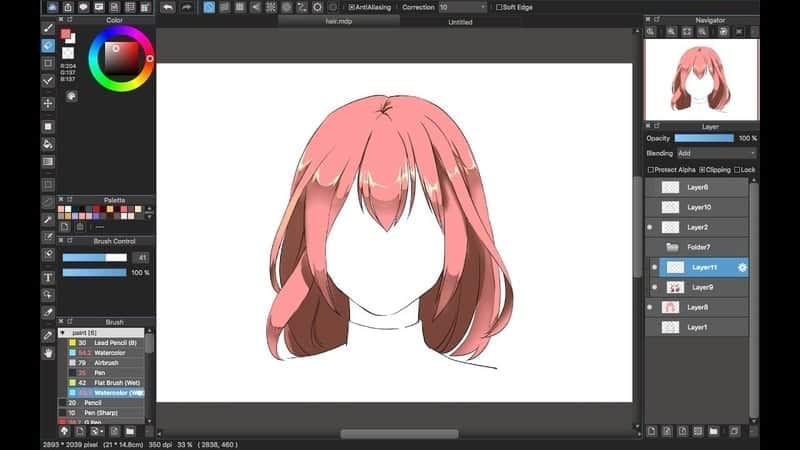 This is yet another powerful and professional-grade drawing software for the Windows platform. The most surprising thing about this software is that you can download this tool without costing even a penny. Normally free tools have some limitations, but this one is totally different.
The dark UI of this drawing app looks almost similar to the latest version of Illustrator and Photoshop. However, I think this one is more suitable for the new users. Comic page management and collaborating with other creators made this tool unique also.
Key Features
It has standard layering and snaps guide functions to make drawing easier.
The tool includes a variety of features specially developed for comic artists.
You can sync your progress and resources to cloud storage.
The premade scenes for the comic books are a great addition to the features.
You don't need to worry about fonts since it comes with a ton of custom fonts.
Pros: I didn't see any other free tools offering this much flexibility in terms of creation and cloud syncing across devices.
Cons: General artists might find the comic-related features a bit annoying.
14. Paintstorm Studio
---
Paintstorm Studio is a cross-platform tool with a bunch of cool features for digital artists. Normally, we see that even good artists are not good with digital painting tools. In fact, most of them don't find the drawing tools comfortable.
The developers addressed this issue pretty well and made this one a solution. The UI is quite intuitive and fun. So, if you are a new artist or a professional artist who wants to get started with digital drawing, then this should be the pick.
Key Features
You will get full control over the brushes and their characteristics.
The users can change the interface dynamically according to their taste.
It supports Photoshop-standard file formats such as PSD.
You can set up individual hotkeys for all of the brushes.
The free trial option lets you try out this tool before buying.
Pros: It provides cool features at an affordable price without compromising the easy-to-use interface. This is the main strength of this tool.
Cons: If you are using a tablet or hybrid Windows device, then it won't be suitable for that touch screen.
15. Adobe Fresco
---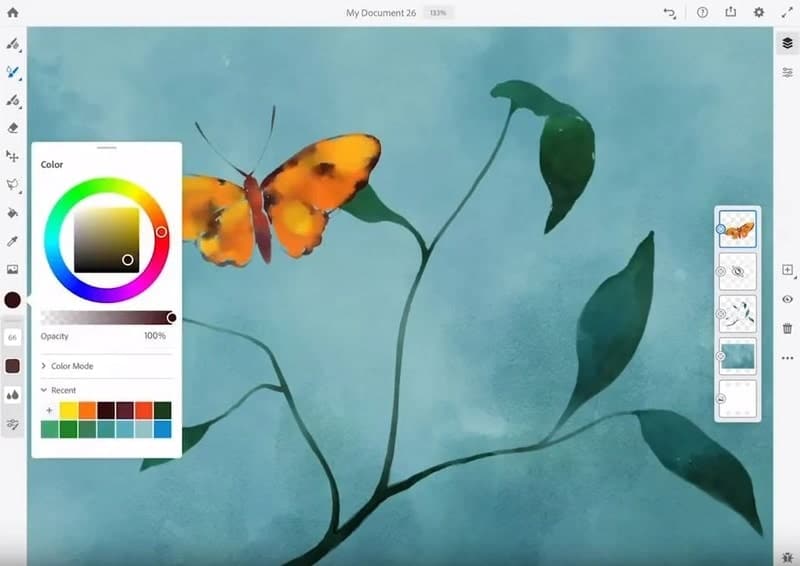 This is a relatively new app with some great features derived from its parents, such as Photoshop and Illustrator. So, you can say that this is the trimmed-down version of Adobe's classic drawing tools with support for modern tablet devices with touch screens.
This tool is specially optimized for the Microsoft Surface Pro devices. However, you can definitely install this on all kinds of computers running Windows 10. This drawing app for PC is a paid tool with a free trial option. But the cost is lower than other Adobe tools, which are totally worth it.
Key Features
It supports brushes with Adobe Sensei artificial intelligence.
It suits great on touch-enabled devices such as Surface tablets.
The minimal user interface lets you draw without any distraction.
There is no layer limit which is often seen on these types of mobile apps.
It is fully integrated with the Adobe Creative Cloud system.
Pros: Drawing on the go is the main benefit of this tool. Besides, the mobile-like UI seems familiar to new users.
Cons: You won't get all the classic Photoshop or Illustrator features, which is a bummer indeed.
16. ArtRage
---
ArtRage is called the natural drawing app. This is because the output created by this tool looks like real-life paintings. You can select from several canvas materials to draw on. Besides, the colors and inks follow real physics simulation to feel like you are drawing on a real canvas.
This tool is mainly designed for professional artists who draw landscape and abstract oil paintings. However, if you are an amateur, you can also use this tool for learning purposes. It comes with some powerful drawing tools and brushes that can make your experience better than other tools.
Key Features
You can create beautiful color gradients by using thick layers of ink.
There is a pencil sketching option to draft your initial concept.
It supports painting with both oil and watercolors.
The workspace is highly customizable according to your need.
You can record your drawing process and strokes, which is a great feature.
Pros: If you care about quality and want a drawing tool that will give you a classic look, then ArtRage is a no-brainer.
Cons: The price tag seems a bit high considering the features it provides.
17. Concepts
---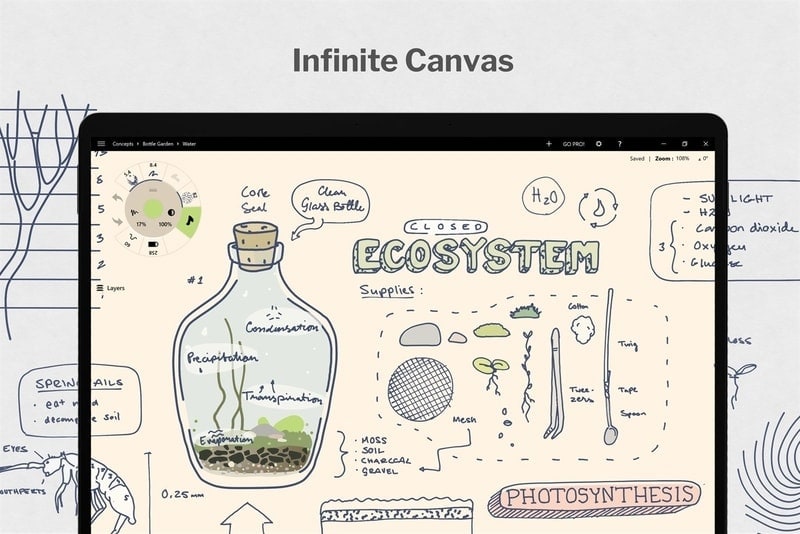 Concepts is a sketchbook-themed drawing app for PC with some cool features. Although this is not a full-fledged drawing app like other tools mentioned in this list, this one has some unique features. From taking classroom notes to create amazing illustrations and artworks, Concepts will get you covered. For example, there is an infinity canvas in this app that is resolution-independent. Besides, you can import other artworks here to annotate that with this tool.
Key Features
A powerful hybrid Fluid engine is which renders the output swiftly.
This tool is highly optimized for devices with high refresh rate displays.
The user interface is clutter-free and minimal without distractions.
You can export your artwork into a variety of file formats.
It integrates seamlessly with popular project management services.
Pros: If you are a corporate or business person and need a drawing app to sketch your ideas, this is the one to go for.
Cons: It doesn't have object transformation tools and layering options which might be a dealbreaker for some users.
18. Marmoset Hexels
---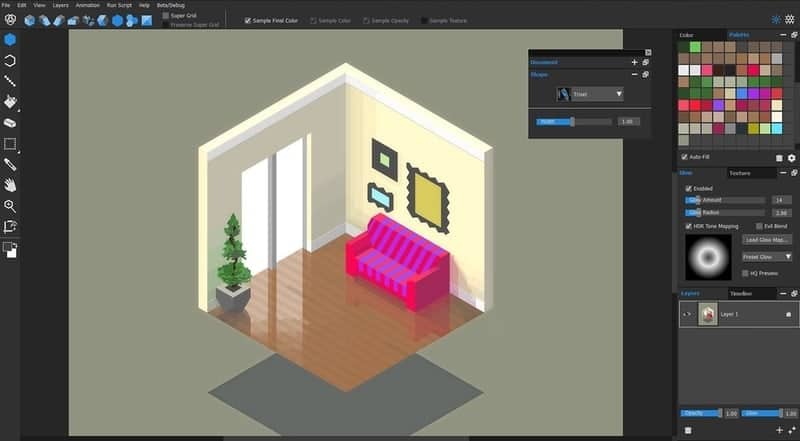 Marmoset Hexels is a different type of drawing software for Windows. Most of the drawing apps are natural drawing apps close to real-life drawing experiences. But this one is not. This will give you pixelated drawing output.
The app uses the grids technique for this. So you will have to use square grids and other geometrical shapes to create pixelated drawings. This retro-looking art style has become popular nowadays, and this is a great tool for that purpose.
Key Features
It provides a lot of guides for perspective drawing inside this app.
You can combine raster and vector elements in the same canvas.
The one-click rasterize option is great to convert vector elements.
You can animate your drawings to create movie sequences.
Exporting as PSD is a great feature to work further using Adobe's tool.
Pros: In fact, there are no better alternatives in this niche category of pixel drawing.
Cons: If you are more into natural drawing, this tool might not be suitable.
19. Black Ink
---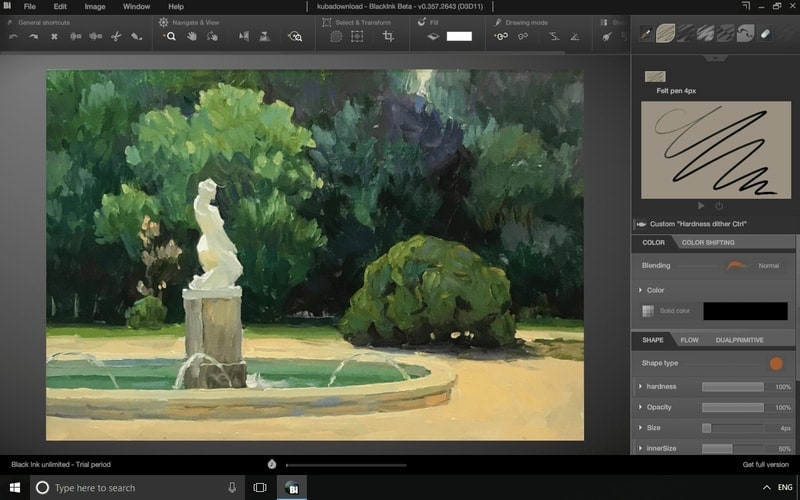 Black Ink is a powerful digital drawing and painting platform. This is not the best of the best drawing app for PC out there. But it has some distinctive features that I really love. Customizing the brushes is one of them. You can change every aspect of the brushes based on your taste.
On top of that, the GPU-based rendering system utilizes the dedicated GPU of your PC to render the elements faster. This really helps to speed up your workflow, and hence you can use this tool on your creative agency to save time.
Key Features
The feature named Controllers can control the parameters of the brushes.
You can import, export, and share your unique brush with the community.
You can work with high-resolution documents with faster rendering speed.
This tool shows the most accurate colors comparing other tools in this list.
The dark user interface is neatly designed and completely clutter-free.
Pros: It doesn't mimic traditional painting philosophy rather gives you a unique look to your abstract art.
Cons: The professional artists might miss some essential features such as typography and transformation tools.
20. Paint 3D
---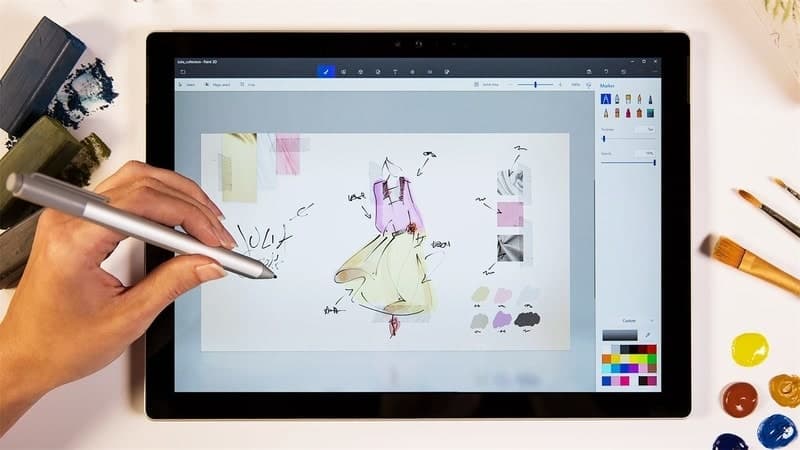 The last one on our list is the Paint 3D. This is the successor of legendary MS Paint. Microsft has revamped this iconic tool and gave it a modern and unique look. Also, it has got some additional features like using 3D objects in the painting.
It comes preinstalled with most Windows computers. However, you can uninstall it and install it again anytime from Microsoft Store. For some reason, It doesn't have an advanced layer-based drawing system. But for the kids and amateur artists, it will be more than enough.
Key Features
You can add images, stickers, typography into your painting.
It has different types of pencils and brushes with it.
You can export videos of your drawing process to share them with others.
3D doodling is a fun feature indeed to unleash your creativity.
You can choose from various realistic textures for the 3D objects.
Pros: Being a Microsoft product, it integrates nicely with the Windows system. Besides, the UI is intuitive and easy.
Cons: This is the most basic drawing tool in this list which is frankly not for professional artists.
Our Recommendation
---
It is difficult to recommend the best drawing apps for PC to professional artists because every person's choice is different. Moreover, I am not a professional artist. But for those who are just starting with digital drawing, I can give you a guideline.
If you are looking for the ultimate drawing tool, then nothing can beat Photoshop or Illustrator. But if you are on a budget and don't wanna spend on software, then Inkscape is a great alternative. Besides, Autodesk Sketchbook can help you on the go if you are using a tablet device.
Final Thoughts
---
There are many drawing tools available for the PC platform. But unfortunately, not all of them are worth mentioning. I think this list will cover the need of most artists, no matter whether you are an amateur or a professional one. I hope this article will help you compare and choose the best one for your painting and drawing works. Also, if you have liked this list of the best painting and drawing apps, then don't forget to share this with your friends. Happy drawing.