Defrag software is a tool that keeps your hard disk healthy by optimizing your PC performance. Basically, it organizes the files of a computer and reduces the degree of fragmentation among files. As a result, computers can quickly access files. This software reduces computer programs' load time and the number of crashes. So, disk defragmentation increases computer performance by managing files efficiently.
The most computer has built-in defragmentation program that runs regularly rearrange your computer data. However, when the Windows built-in defragmentation program is not good enough for properly optimizing your PC performance, you need to install an additional defrag program.
In this article, we have reviewed many defrag programs and shortlisted the best defrag program for you. So we hope this article helps you to find out the best defrag tool for you.
How to Pick Best Defrag Software
---
To pick the best defrag tool, you have to check whether some features are included within the program, such as defragmentation technique, security, scheduling, Windows lock files defragmentation capability, etc. Some defrag tools try to install additional files while installing the process. So you need to be careful about all those forceful installations.
There are lots of programs in the web to run disk defragmentation. You don't need to install all defrag tools to check the performance. We have tested and picked the top 10 best defrag software that speeds up your computer performance. Let's check the list.
1. Defraggler
---
Defraggler is a useful defrag tool that contains all defragmentation features. Besides, Defraggler has a portable version that you can use anytime on any computer without installing the program. But we recommend you install Defraggler to get the full benefits of defragmentation. Defraggler layout is simple, and the setting is quite easy. So anyone can run this program for disk defragmentation.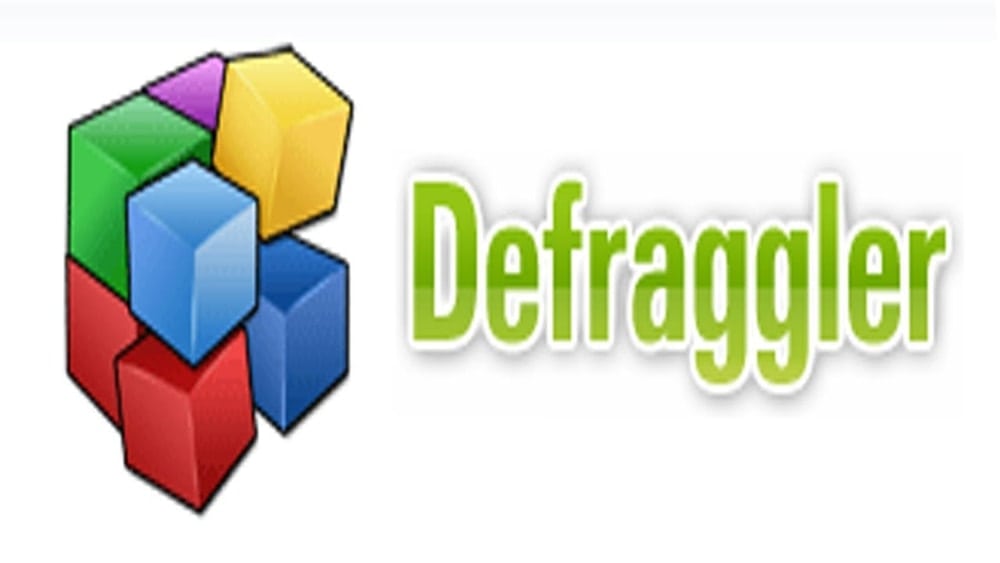 Key Features:
You can set a schedule to run Defraggler.
While your computer system is a reboot, you can defrag your computer HDD.
Before defragging, you can check any disk error and empty recycle bin.
Either you can defrag specific files, or you can exclude files, folders from defragmentation.
You can priorities files or disks for defragmentation or run the defragmentation process simultaneously.
Pros: Defragger gives your files new life.
Cons: There is no update after 2018. So it does not perform perfectly while you are using a new system.
2. Puran Defrag
---
Puran Defrag optimizes your computer's hard disk performance. It introduces PIOZR means Puran Intelligent Optimizer automatically moves common files to the faster part of the hard disk so that these files can be accessed quickly. Besides, it automatically defrags when your system is idle. Moreover, you can optimize your system by setting a specific schedule for defragmentation.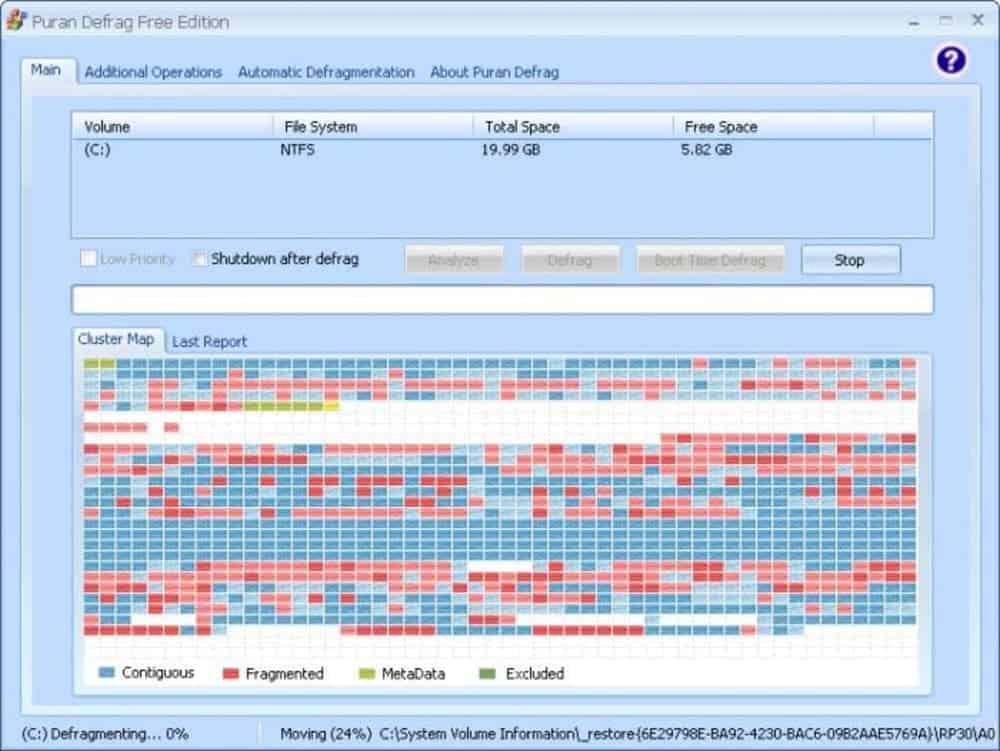 Key Features: 
Puran Defrag moves frequent usage files to all directories so that system quickly accesses these files.
It supports specific schedule defragmentation so many times.
Puran Defrag has an option to defrag at the time of boot the system.
It starts defragmentation from individual files and folders. Besides, you can select which files and folders are defragged or not.
When your system becomes idle or running screensaver, Puran Defrag automatically starts defragmentation to optimize hard disk speed.
Pros: Puran Defrag introduces PIZOR that optimizes your system and increases the hard disk life span.
Cons: However, Puran Defrag does not have a portable option. Besides, while you set up Puran Defrag, it tries to install some other programs along with this program.
3. Smart Defrag
---
Smart Defrag is another best free defrag software to optimize hardware and PC performance. After installing Smart Defrag, it automatically defrags your computer files without notifying you. Moreover, it can clean up your system's idle file. So you get both defragment and disk cleanup features in a single software that prevents you from installing extra clean-up software.
However, Smart Defrag does not clean up automatically; it notifies you if it finds any junk files to clean up while preparing for disk defragmentation. When you provides clean-up permission, it completes your order. Besides, Smart Defrag supports boot-time scan.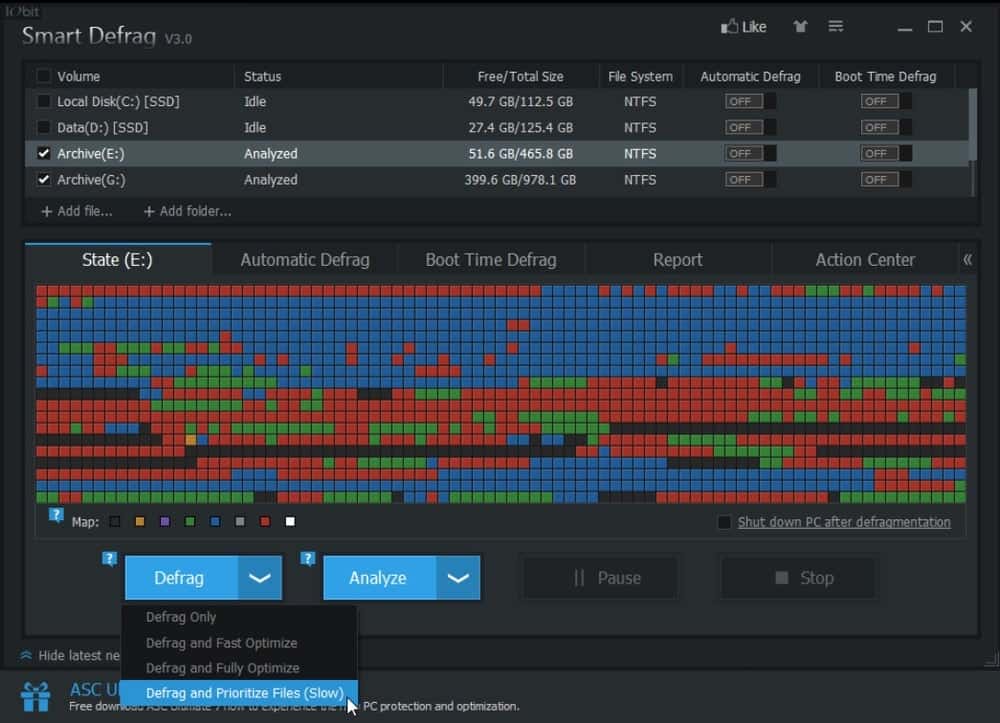 Key Features:
When Smart Defrag finds any defragmentation is needed, it performs automaticity in the background of your system. Besides, you can set a schedule to run defragmentation automatically.
When your computer system is running, particular files are locked and cannot defrag. Smart Defrag scans at the time of boot to defrags these locked files, But it can defrag at boot time.
Before defragmentation, it notifies you to clean up junk files.
If you wish, you can select the include or exclude files for defragmentation.
Smart Defrag has a portable version.
Pros: Smart Defrags is one of the free defrags programs that support boot defragmentation.
Cons: Smart Defrag try to install the toolbar while you are installing this program. So you need to be conscious to avoid extra toolbar.
4. Disk Speedup
---
Disk Speedup is one of the best free defragmentation programs that can defrag the individual files and folders as well as the whole hard drives. This defragmentation software can run for a particular time when the system becomes idle.
Besides, you can specify the criteria of defragmentation files. For example, you can exclude defragmentation of these files less than 50MB size. Therefore, you can configure the file location about large files, unused and commonly used files.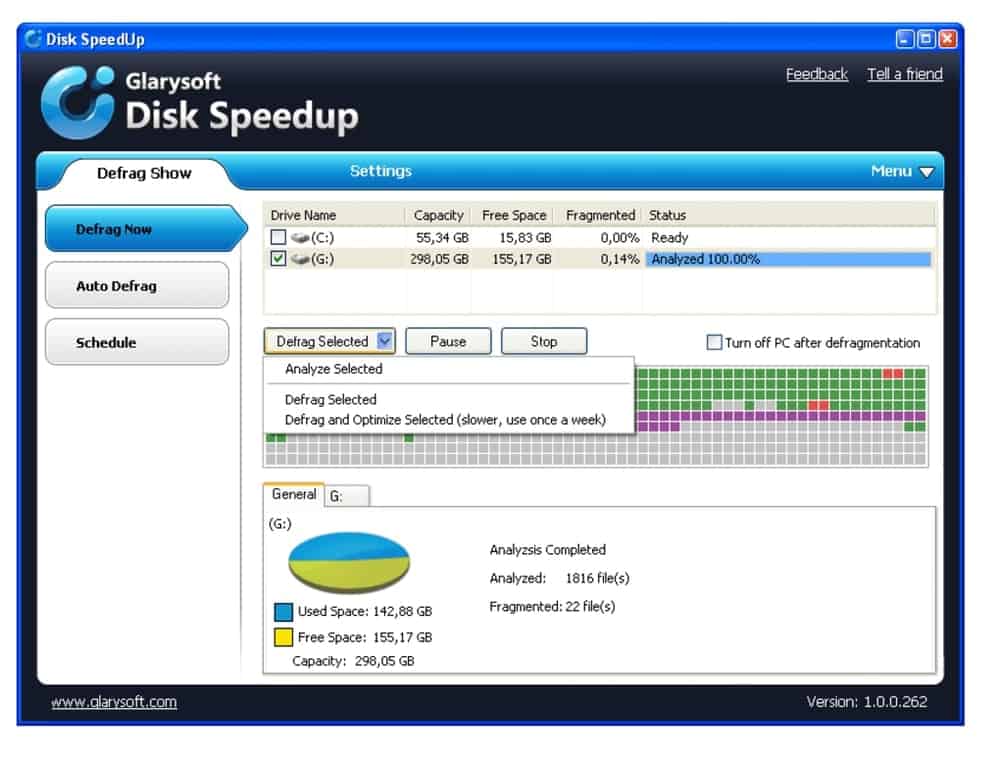 Key Features:
Disk SpeedUp provides many customization options to defrag computer hard drives.
Besides, you can set up which files are excluded from defragmentation.
Moreover, you can set the command of the defragmentation at the time system is turned on.
In addition, you can set a command to turn off your computer while the defragmentation process is completed.
Therefore, you can move unused files to the slower part of your hard drives and moves commonly used files to the faster part of hard drives.
Pros: Disk SpeedUp can optimize your hard drives daily, weekly, and monthly based on your scheduling.
Cons: However, Disk SpeedUp does not integrate with Windows Explorer to easily clean up your hard drives. So you have to run this program manually.
5. O&O Defrag
---
O&O Defrag regularly defrags your hard drives and SSD to optimize your PC performance. It offers both free and paid versions. But free version contains common defragmentation features. And, the Paid version comes with some advanced features like optimizing heavy defragmentation, defrag multiple drives, and organizing files based on priority zone, dynamic cluster view, and more.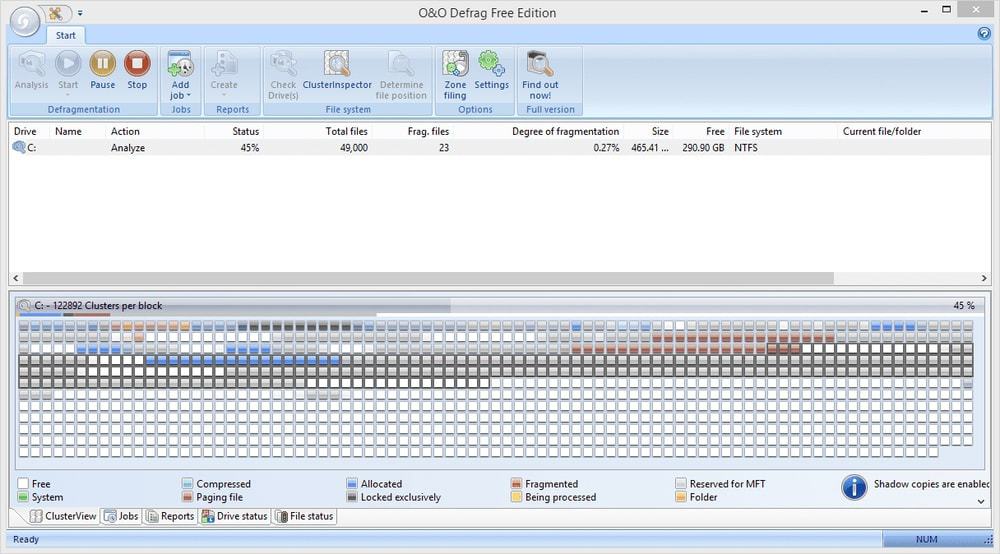 Key Features:
O&O defrag run on computer idle time and screensaver.
It supports defragmentation scheduling. You can set the minimum volume of defragmentation to run the scheduled defragmentation. So if it finds low defragmentation, it does not run scheduled defragmentation.
Besides, it moves large restore files to the slower part of your hard drives and moves commonly used files to the faster part of your hard drives.
It can provides details defragmentation reports.
Moreover, it supports boot time defragmentation.
Pros: O&O Defrag uses Windows API so it can securely rearrange data without losing any data.
Cons: O&O Defrag does not provide an option to select excluding files from defragmentation.
6. Auslogics Disk Defrag
---
If you are looking for the fastest defragmentation solution, you may pick Auslogics Disk Defrag. This defrag software takes less than only 10 minutes to defrag a mid-sized hard drive. You use this defrag tool for free. However, it has a pro version for professional disk optimization. But free Auslogics Disk defrag contains all features for personal defragmentation solution.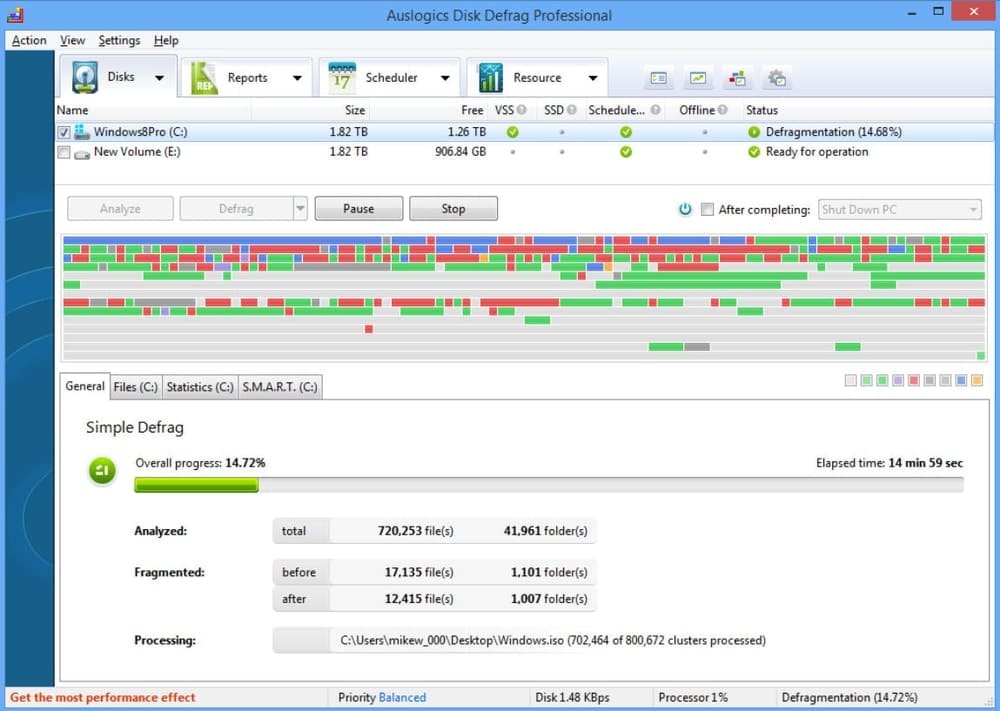 Key Features:
Auslogics Disk Defrag has ultra-fast technology to defrag quickly.
Besides, it accumulates scatter pieces of bits of each file into a contiguous block. And it prohibits newly create files from fragmentation.
You can see a disk map of fragmented files. So you can save your time specifying files for defragmentation instead of defragmenting whole files.
This software can move regularly used files to the fastest disk area to optimize your PC performance.
Moreover, you can check errors in your files arranged using the chkdsk command in Auslogics Disk Defrag.
Pros: Auslogics Disk Defrag frequently updates its features. So when the computer system is updated, it updates features compatible with innovations.
Cons: Although Auslogics Disk Defrag has boot defrag and scheduling features, it does not offer these features free for free users.
7. UltraDefrag
---
UltraDefrag is the best defragmentation solution for the defrag Windows essential locked file. With UltraDefrag, these locked files are defragged during boot processing. It comes with an intuitive graphical interface to use any defragment features easily compared to other defrag programs. Besides, it increases computer speed at the time of defragmentation.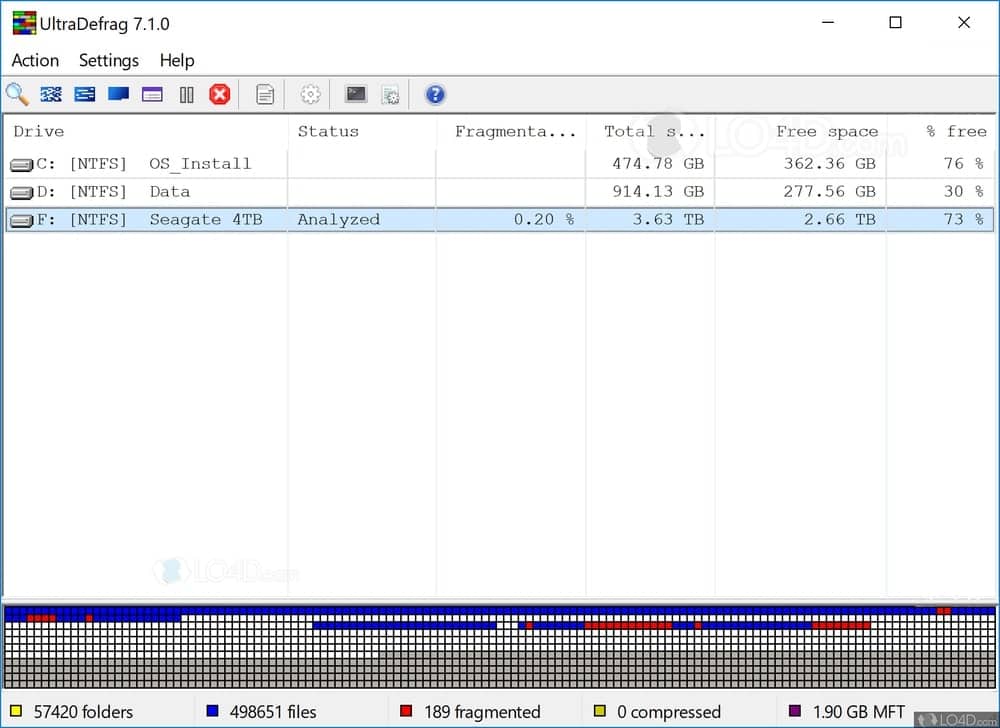 Key Features:
You can defrag locked Windows files with just a few clicks by using UltraDefrag.
You can set automatic defragmentation command, so when it needs defragmentation to optimize PC, it automatically runs the background of your system.
Therefore, it has a command-line interface to write commands for easily defrag complex tasks.
You can select individual files or folders for defragmentation instead of defragging the whole hard drive.
Besides, UltraDefrag can sort and rearrange the files based on this importance.
Pros: With UltraDefrag, you can defrag both internal and external hard drives.
Cons: UltraDefrag's scheduling feature is complex to manage.
8. PassMark Fragger
---
PassMark Fragger is a small but powerful tool for fragment or defragments files. It is a free defrag software for personal use. It uses standard APIs that provides fast defragmentation services. This file is usually used to integrate with third-party defragmentation software to ensure the best defragmentation service.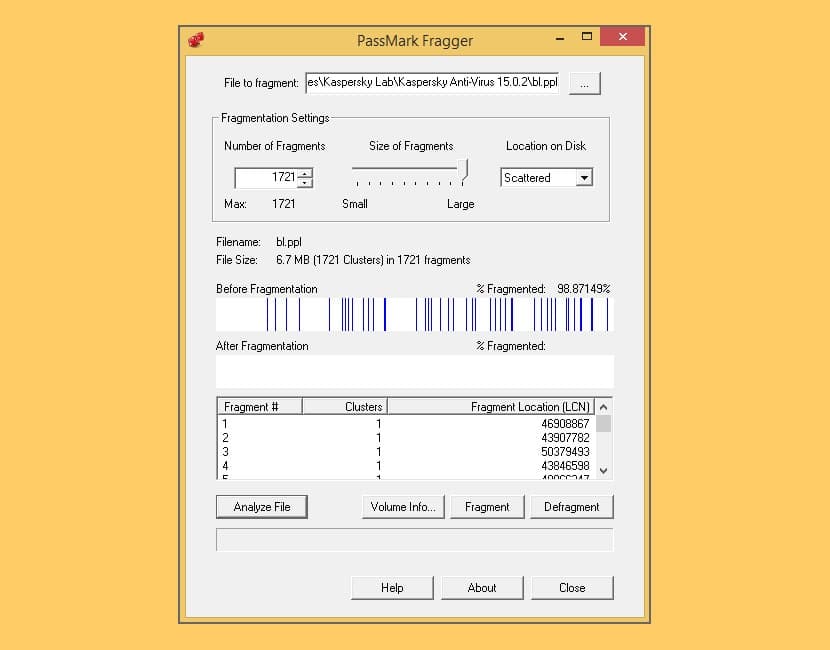 Key Features:
PassMark Fragger can defrag individual files and folders and also whole hard drives.
Besides, you can customize file sizes and the number of files for defragmentation.
It provides a graphically presented report about fragmented files. So you can easily get details information about files fragmentation.
Moreover, it can fragment existing files without using additional free spaces.
You can view cluster allocation information by using PassMark Fragger.
Pros: PassMark Fragger is the first fragmentation program that offers both fragments and defragments services.
Cons: However, PassMark Fragger does not provides scheduling, real-time defragmentation services.
9. Wise Care 365
---
Wise Care 365 is a utility tool that has a collection of utilities, including defrag tool. You can use defrag tool to tune up your system. Select the defragmentation from the utility list and run this tool for rearranging your hard drive's files. Besides, Wise Care 365 has a portable option. So you can use this program without installing it.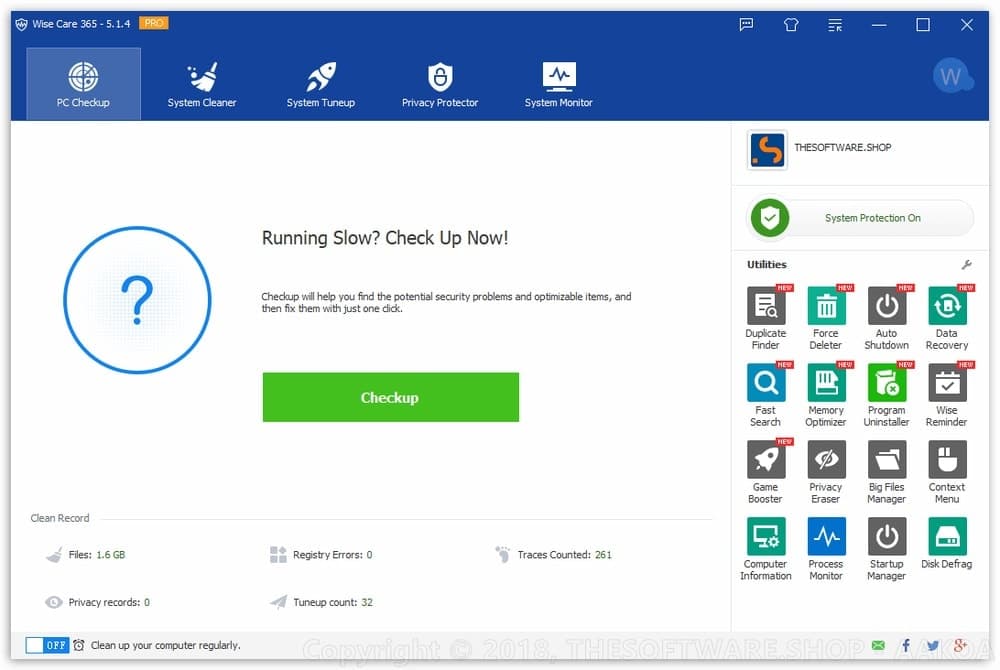 Key Features: 
Wise Care 365 organizes clutter files' fragments.
Besides, it can clean both registry and junk files. If it finds any invalid registry, it deletes invalid files easily.
It deletes all private history to prohibit phishing activities.
This utility tool can defrag files and Windows registries.
When defragment process is completed, you set a command to turn off your computer automatically.
Pros: Wise Care 365 provides full features for speeding up your computer.
Cons: Wise Care 365 provides ads when running this program. Moreover, it does not provides schedule defragment and locked file defragment.
Download
10. Disk Defragmenter
---
Disk Defragmenter is the Windows default defrag software. If you do not want to install an additional defrag program, you can use this Windows default defrag program, disk defragmenter, or Disk optimizer, which name you have found in your computer.
This provides pretty well for basic defragmentation solutions. The basic defragmentation features are included with Disk Defragmenter. However, some advanced features like boot defragmentation are missing with this program.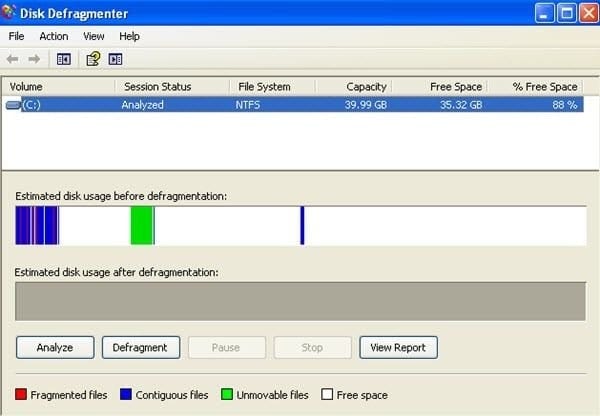 Key Features:
Disk Defragmenter's user interface is simple. So you can use this defrag tool.
You can run schedule defragmentation with this program.
Disk Defragmenter is wisely used to defrag both internal and external hard drives.
It analyzes fragmentation files and provides you an analytical report.
When your hard drives have less than 15% free spaces, Disk Defragmenter forces to run defragmentation to optimize your hard drives' space.
Pros: Disk Defragmenter is the Windows built-in defragment program, so you do not need to install it. And, you do not worry about software safety and compatibility.
Cons: Disk Defragmenter features vary for the Windows version. However, no version has a boot processing defragmentation feature.
Our Recommendations
---
While you pick a defrag program, you need to find a reliable, safe, easy-to-use defragmentation program. You may pick any defrag tool from our above list. But we recommend you first run the Windows default defrag tool Disk Defragmenter. If you are not satisfied with this software performance, use portable defrag tools like Defraggler, Smart Defrag, and Puran Defrag.
Though the portable option has some limitations, it is quite good for personal usage. Some free defrag tools from the list are Smart SpeedUp, Auslogics Disk Defrag, and Disk Speedup. Besides, Wise Care 365 is a complete package for you looking for a complete optimization service.
Final Thought
---
Defrag software speeds up your computer performance and ensures a healthy life span of your computer hard drives. So our suggestion is for you is to use at least one defrag tool regularly. Most of them offer free services for basic defragmentation services. So you can pick any defrag software for our expert list above.
Besides, you can recommend any alternative defrag program that is more powerful from the list. Moreover, you can share these articles with your friends and family to help them keep their hard drives longer life span.