Email is the primary communication source of any business and company available in the modern world. But when it comes to an email client, it's not about the email anymore. It's about the features a software offers to make email handling easier and more interactive and other functions such as scheduling and video calls. So, it's obvious that it will be hard to choose the best email client for Windows PC from so many choices in the store. Yet, we have tried and came up with the following list, which we think are the finest options available.
Best Email Clients for Windows PC
---
Besides managing emails and offer additional features, a good email client will ensure the optimal security of your emails and other important files. Some of the software we listed below comes with protocols to identify and stop any phishing from breaking into your inbox, keeping your information confidential. Most of them are totally free of cost.
However, you will also find some paid ones that will provide you with some additional features. So, let's find out the best ones you can find and the notable features they come with.
1. Thunderbird
---
If you are looking for the best free email client for Windows PC, Thunderbird is your finest choice. This software is considered one of the best alternatives for all the paid email clients out there. It's mostly famous because of the addon's installation that offers a huge collection of additional features and options. However, Thunderbird is not a good option when you are looking for something cloud-based.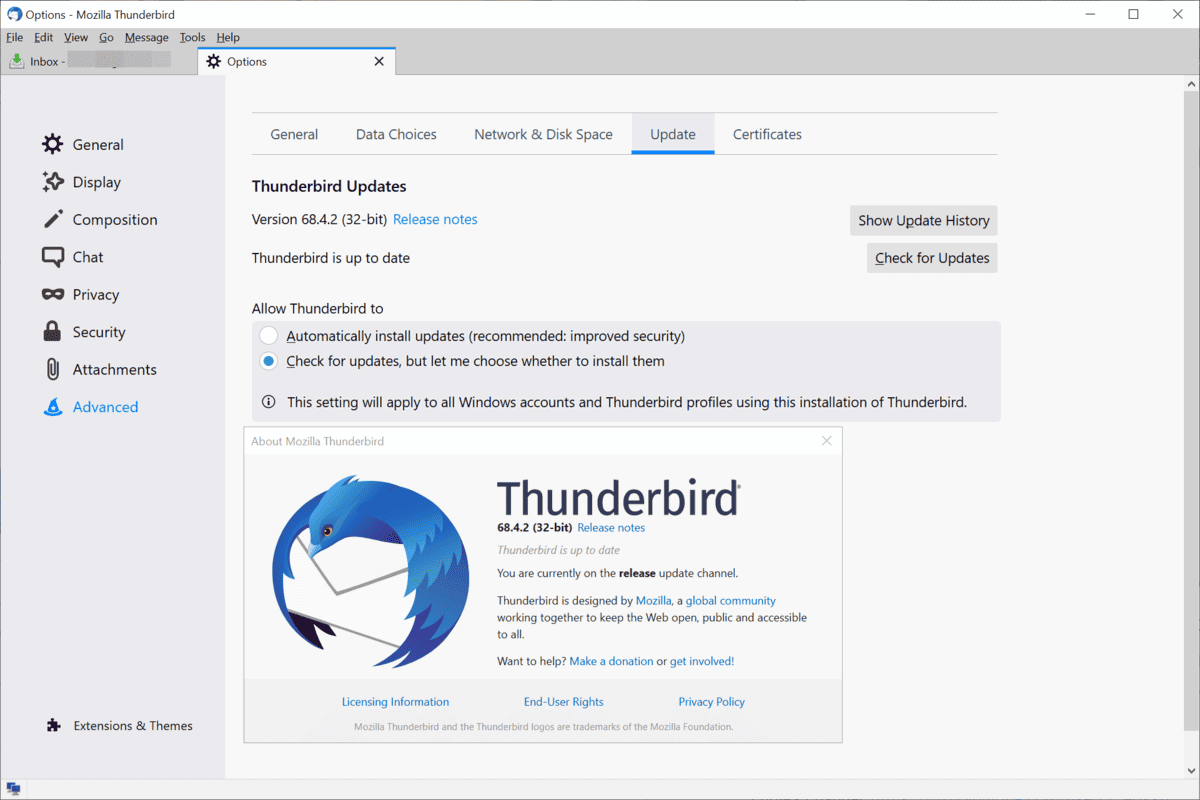 Important Features
It comes with a one-click address book that lets you add people to your list quite easily.
In case you forget to attach the file in the mail even though you were supposed to, the attachment reminder will help you remember.
Just like the Tab feature of the Firefox browser, it comes with tabbed email options.
You can filter your emails easily with the quick filter toolbar.
The software offers the ultimate protection as well as remote image protection.
Pros: The security and privacy plugins of the software are something worth mentioning.
Cons: It's not cloud-based.
2. Hiri
---
The Hiri is one of the best Windows email clients, which was created for businesses, and you will have to pay a reasonable price to get the premium services it offers. The smart dashboard is really interactive and saves your time by organizing the emails.  The subject line in the compose window is found at the bottom so that you won't have to choose the receiver before you are done writing the message.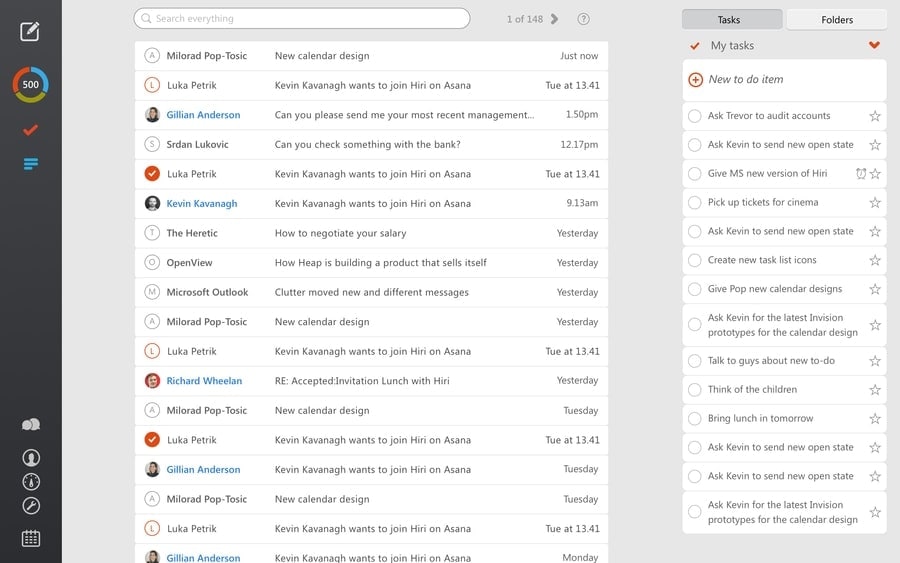 Important Features
It offers a 7-day free trial for the new users so that you can experience the services it offers.
The productivity tools are really smart and can save a lot of your time.
The calendar allows the software to remind you of the necessary meetings and tasks.
The interface is not only user-friendly but also really interactive.
Pros: The software shows a to-do list for you according to your schedule.
Cons: It can only support Microsoft base Email.
3. Microsoft Outlook
---
Microsoft Outlook must be the oldest email client available for both enterprises and businesses, originating from MS-DOS. Since it's connected to most other Microsoft services, this software offers you many other things than just email exchange offers. It's fully integrated with Outlook calendar and contact, making your meetings and other schedules easy to manage with the mail.
Important Features
You get a unified inbox with sufficient filters as well as reminders.
The software is coordinated with Calendar and contacts.
It comes as a part of the Microsoft Office Suite, which you can get at a reasonable price.
It's capable of scheduling meetings, appointments, and other tasks using your information.
It offers great service when you have to send quick responses to several people at a time.
Pros: This software is the most trusted by world-famous businesses in the current world.
Cons: Some people complained about it being bloat.
4. eM Client
---
Since its launch, this email app for Windows PC has gained a lot of popularity due to the huge collection of features it comes with. While its service is compatible with most of the major email services available, you also get a calendar, chat, and contact options with it. The latest version of the software offers PGP encryption with live backup and auto-reply options for Gmail.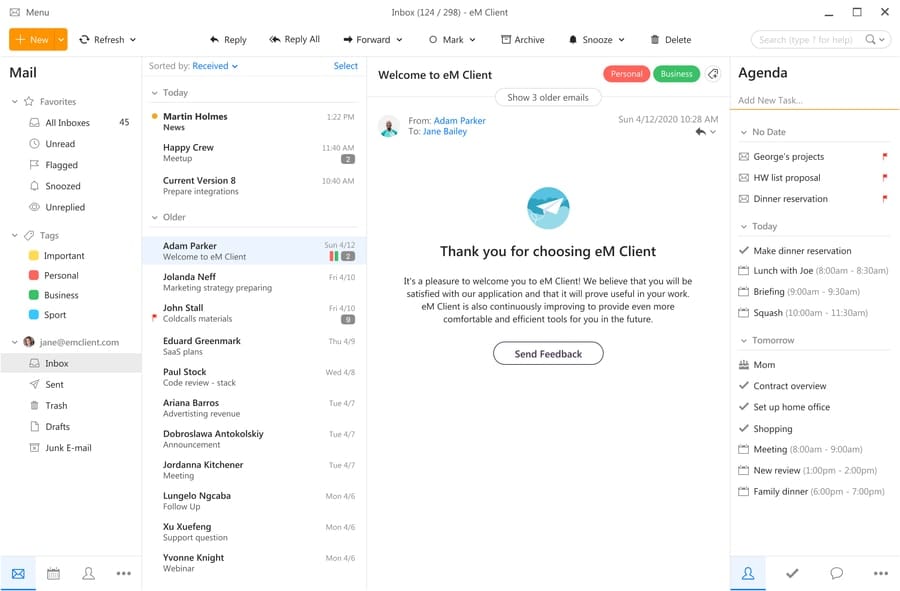 Important Features
It comes with totally basic image editing features.
You can easily migrate the messages from almost all email services, and the software will automatically adjust the settings.
The software has a built-in translation option using Bing.
The integrated chat app is amazing and offers support for most platforms like Google, chat, or Jabber.
It offers a really simple and easy import from other services.
Pros: The software comes with an extremely quick setup for the most famous email providers.
Cons: You can only use two different accounts with the free version.
5. Mailbird
---
Mailbird is a free email client for Windows PC that will allow you to save time with multiple accounts and make mailing an easy process. The free themes and customizable options make it more interactive and fun to use this software. It supports a wide range of apps, including WhatsApp, Facebook, Google Docs, Twitter, Dropbox, and many more, to make the streamlined workflow easier.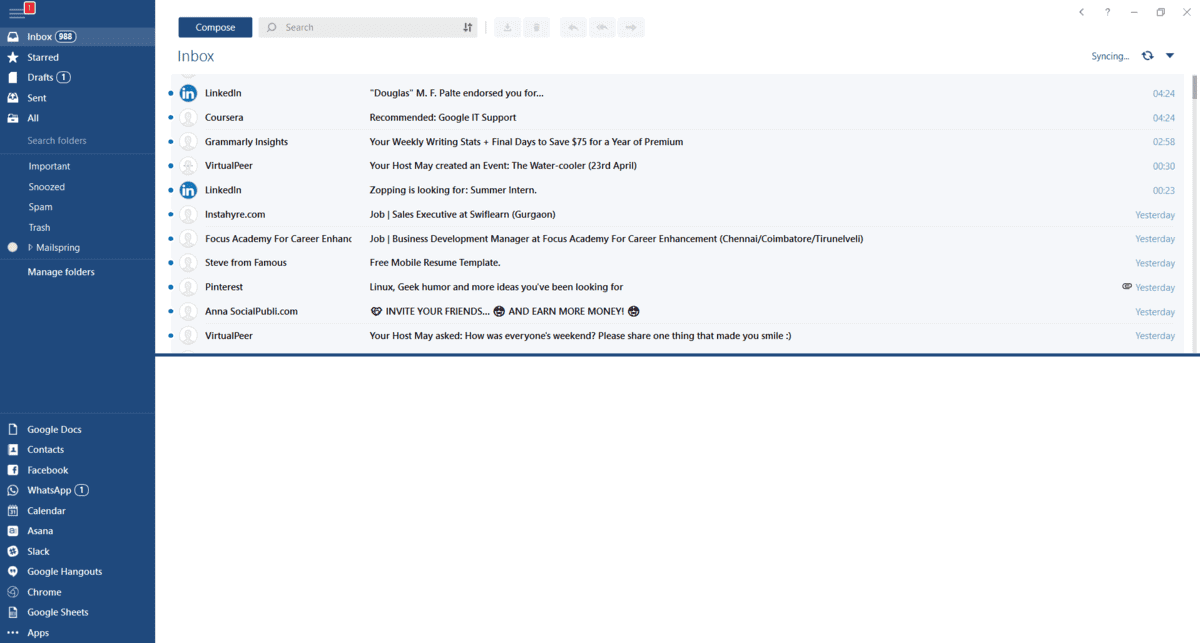 Important Features
The unified inbox allows you to manage all your emails from multiple accounts in just one place.
You get millions of themes and colors to customize the layout as you like.
The speed reader feature allows you to go through all your emails in a few moments.
It supports a wide range of keyboard shortcuts for doing many activities.
You can snooze the less important emails for later to focus on the more important ones.
Pros: Besides the excellent customizable interface, you get a lot of built-in apps with it.
Cons: The software doesn't come with any filter support.
6. Inky
---
Inky is a high technology email client that creates security with advanced machine learning and sophisticated AI with a mix up of computer vision algorithm to block any hackers or phishing attacks. The Inky Phish Fence feature of the software scans both external and internal emails to identify phishing attempts. You will also get an analytics board that will show you attack patterns.
Important Features
It offers end-to-end encryption on each of your emails for higher security.
The software comes with really rare sorting abilities that allow you to sort your emails easily.
You can share a note with yourself using the "Notes" feature.
It supports most of the major webmail services available.
Pros: it's easier to use multiple accounts with this email.
Cons: This software is not the best suited for Windows PC.
7. Spike
---
This free email client for Windows PC is multipurpose software that works on almost every device available in the market. The real-time message options are regarded as the first "Conversational" email client of the decade. It's great for small emails that you often send out to your friends and family. Moreover, it supports an unlimited number of email accounts for a unified inbox.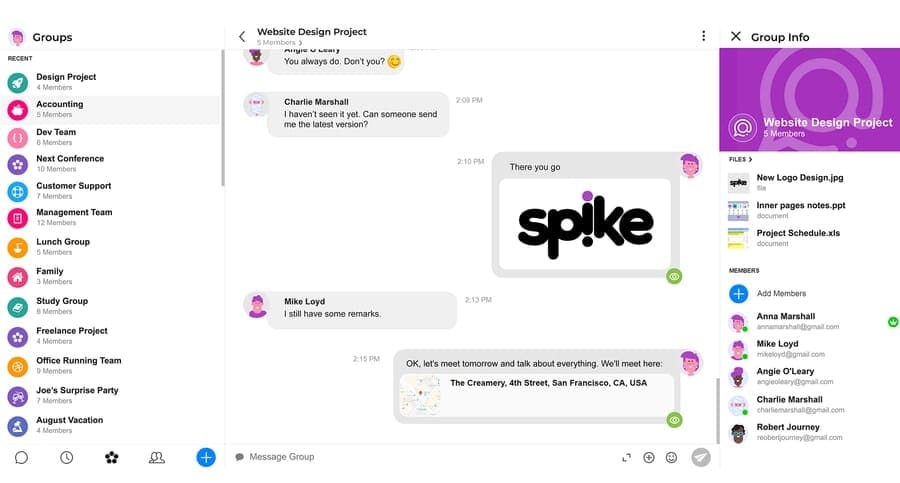 Important Features
You can create up to 10 group chat rooms with the software.
The interface was designed in chat-style and is really user-friendly.
It offers optimal security to your email account with an encryption policy.
The ultra-fast search feature lets you find any of your messages easily without wasting your time.
The in-line RSVP's allow you to register yourself for any program immediately.
Pros: The cloud integration allows you to send and save large files without any problem.
8. Hexamail Flow
---
Hexamail Flow is a completely free email client for Windows that goes best with Windows 7 and above. Though it comes with a huge collection of advanced email options, calendars, reminders, contacts, and email history, it's really easy to use and comes with user-friendly navigation. Besides, it's compatible with almost all kinds of email service providers and software so that you can get every service on it.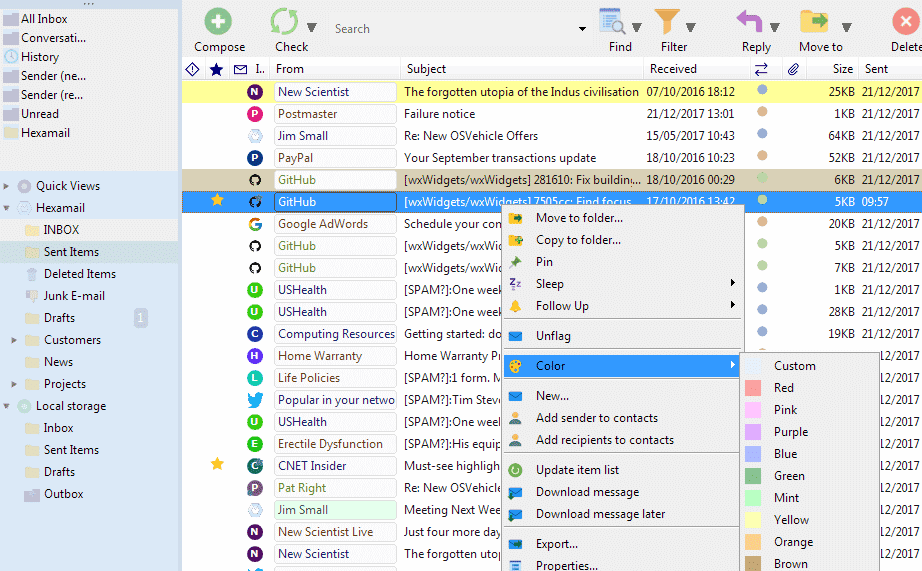 Important Features
It uses end to end SMIME to offer optimal security. 

It helps you with sending large files to Google Drive. 

The software is capable of resizing large photos automatically. 

You can create as well as assign works to others via email. 

It is compatible with Outlook Express so that you can import your mail account from there. 

It allows you to preview the attached image and PDF files.
Pros: If you don't want to see a certain email for a time, it allows you to hide it elsewhere. You can also group the emails into separate email clusters by domain or sender. 
9. Postbox
---
When it comes to the responsiveness of the email clients available, it's hard to beat what Postbox has to offer. The intuitive editor uses a placeholders system to assign and organize the files and emails into different categories. All you have to do is pick your preferred template from the menu, and the software will take care of the rest. Hence, it's regarded as the best email app for Windows PC.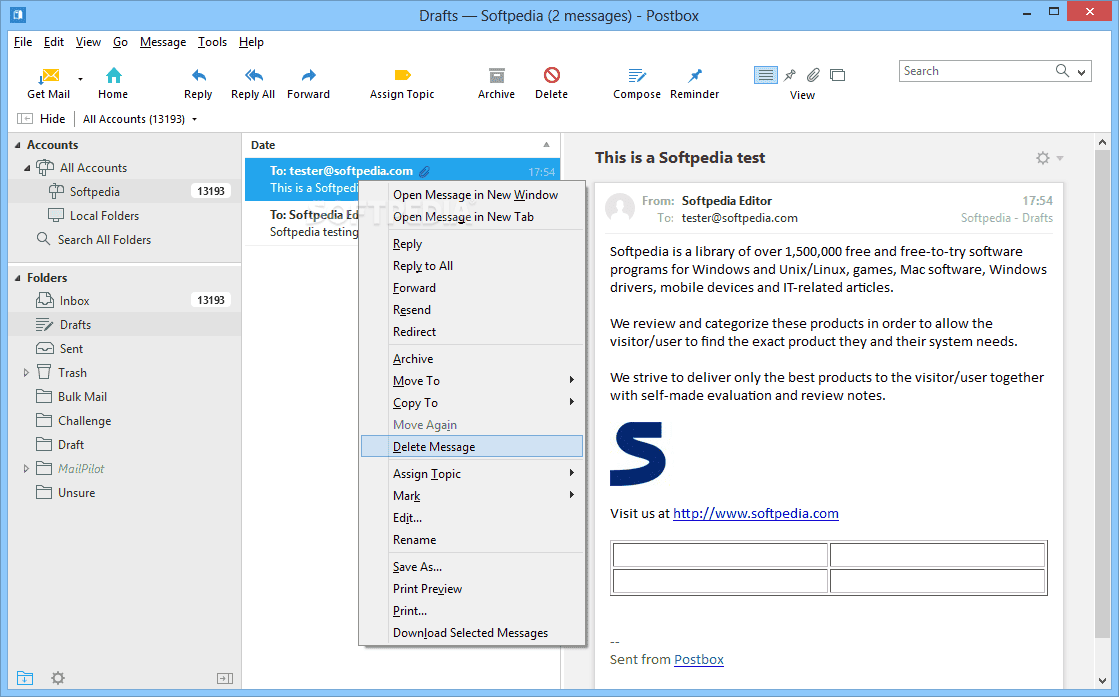 Important Features
It comes with an HTML editor so that you can compose the design you like.
The software is totally integrated with famous file management software like Dropbox and OneDrive.
The Quick bar is created to make the common mail actions faster than usual.
The "Focused Pane" option allows you to keep your attention on important emails only.
The tagging feature allows you to put tags on an email as much as you like to make the management easier.
Pros: Besides many amazing features, the time-tracker is worth mentioning, letting you know the time since you started writing an email.
Cons: The software comes with no support forum.
10. Mail and Calendar
---
While Microsoft Outlook is undoubtedly one of the best email clients available, it's not really great for personal use. So, to come up with something lightweight for home users, this email client is built-in to the Windows 10 PC. No matter what email service you have been using, this software is compatible with everything.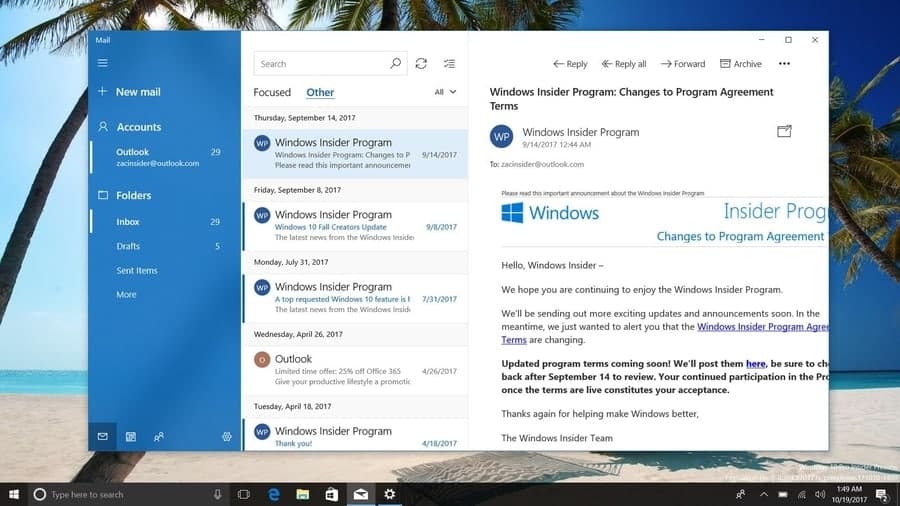 Important Features
The software is integrated with the Windows calendar app for user interactivity.
The quick actions feature in the software allows you to easily and quickly separate the emails and flag or archive them.
The navigation bar comes with a quick switch that allows you to get to your options faster.
You can download and save all the attachments at once.
Pros: It's built-in in Windows 10 and supports almost all kinds of email service providers.
Cons: The software doesn't include features like others.
Our Recommendation
---
When you are looking for the best email client for Windows PC to use for your business purposes, nothing can be better than Microsoft Outlook. This software is designed while keeping business in mind and offers everything you need to handle your emails and meetings professionally.
If you are looking for software for personal use, Spike is the better option since it's great for small messages. However, you can choose any other software from our list to use for your personal and professional emails. Whichever you choose, make sure it does everything you needed in an email client.
Finally, Insights
---
Here goes the best 10 email client for Windows PC that everyone can use to organize and manage their emails and schedules. In this busy era, the software that can offer the most user-friendly interface and easy features to manage the emails gets the most users. Hence, most of the software I listed above offers excellent options to save your time as much as possible. Also, these software makes sure that your CPU is not getting too much pressure from it.
I hope you found this article helpful and could select the best one for yourself from one of these. Don't forget to mention your thoughts in the comment section!