Due to the Corona-19 outbreak, companies have already shifted their workforce recruiting strategy. Companies are now recruiting freelancers to cope with work demands. Many websites provides outsourcing services in a wide range of job categories. But all websites are not trustworthy as well as can not maintain the service quality. So if you are a freelancer or employer, you need to link with the best freelance websites because they have a strict policy to cover the interest of both freelancers and employers.
Of course, many different factors protect both freelancers' and employers' interests. So this article would be helpful for both freelancers and employers to move forward to the next milestone! In this article, we narrow down the freelancing sites. We have listed the top 15 freelancing sites that offer the opportunity for freelances and ensure a range of top skills and specialties for employers.
How to Choose Best Freelance Websites
---
When looking for the best freelancing sites, you need to consider three basic criteria: terms and conditions, payment and withdrawal methods, and customer support. Before signing up for a freelancing site, you must ensure the above criteria. And, you need to confirm that it has been well documented to gain reliability and trustworthiness. We have shortlisted the 15 best freelance websites considering the thumbs rules. So let's check out the list below.
01. Fiverr
---
Fiverr is a popular freelancing site with a streamlined method to gather freelancers and employers in a single platform. In this platform, freelancers are called sellers; they sell gigs, and business owners who purchase gigs are called buyers. Fiverr services are the opposite of others freelancing sites.
Here, sellers publish gigs with service features, and buyers purchase a gig. When a buyer purchases a gig, the system automatically charges his accounts and transfers the money to the buyer's account when the job is finished.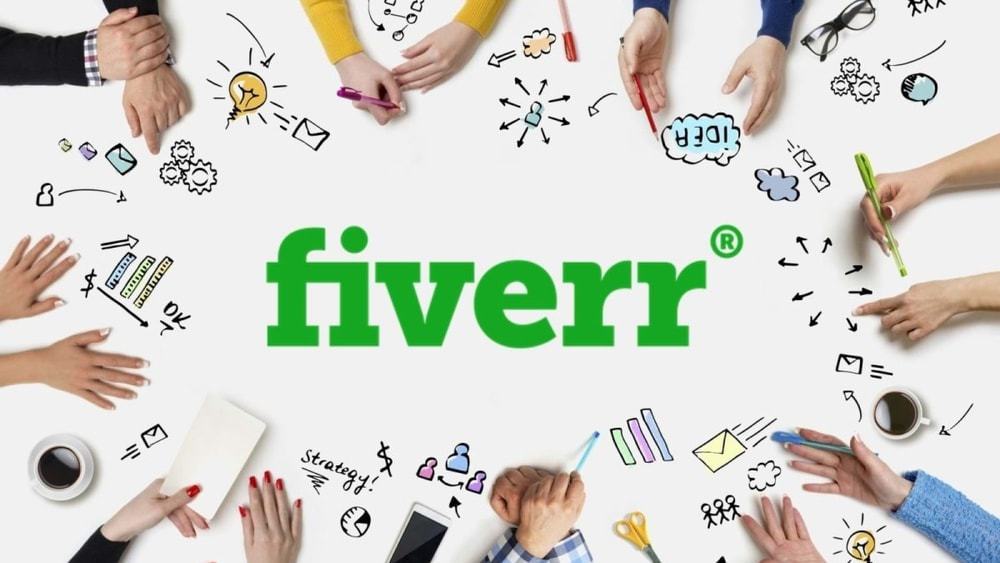 Key Features:
Fiverr protect the personal information of buyers. Moreover, it ensures the security of buyers' financial data. Thus, the sellers only know the basic information of buyers.
Fiverr keeps a reasonable price for the service. All sellers' skills, levels, and service features are displayed. So it ensures a competitive price rate. None can demand a high price. The buyers can compare the market rate and hire the best sellers based on budget.
The gig rate starts from $5. So if the buyer is looking for a budget-friendly service, Fiverr is the best place. On the other hand, new sellers can easily sell their service. They don't need to compete with top-level sellers.
 Fiverr build long-term collaborations. When the buyers satisfy the sellers' service, they willing to buy more service and create a good bonding between buyers and sellers.
Fiverr provides fast service. If any buyer is looking for fast delivery, he can purchase "Extra fast delivery" and get service within a limited time.
Pros: Fiverr allows the sellers to focus on their service. They do not need to waste time looking for a job.
Cons: Fiverr only promotes pro sellers so that newbie faces challenges to get the first job.
02. Upwork
---
If you are looking for the best freelancing websites, Upwork is one of the best among the list that connects freelancers and clients across the world. It provides a wide range of in-demand jobs and skills, from simple data entry jobs to machine language jobs. Here clients and freelancers connect in multiple ways.
For example, clients hire freelancers to buy predefined services from the project catalog or recruit from bidder's offer letters. The clients can hire freelancing at a fixed price or hourly rate. Moreover, Fiverr offers several withdrawal methods, including direct transfer, wire transfer, or PayPal.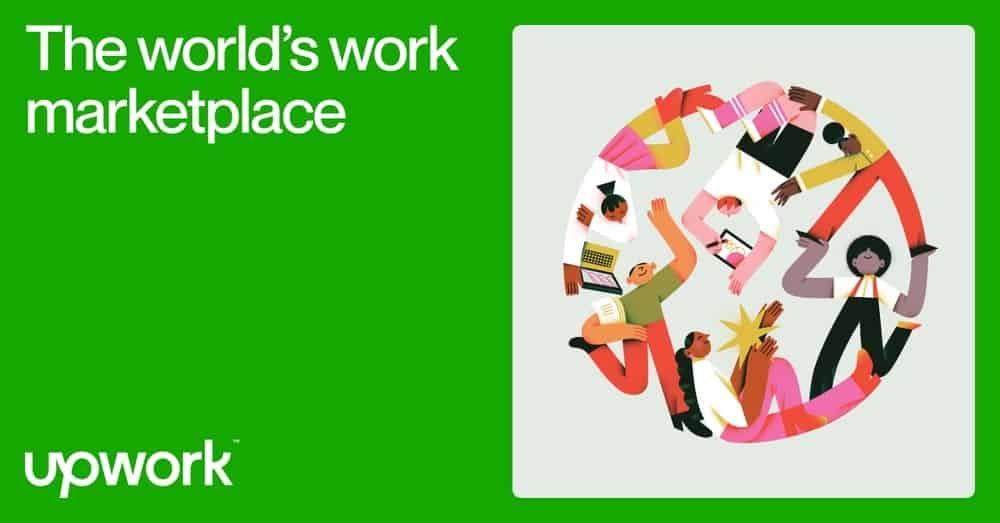 Key Features:
The clients don't need to go through all freelancers' profiles. It has an excellent search feature to narrow down the freelancers.
The platform both text and video communication. So the clients can easily communicate with the freelancer and make clear about the job task before hiring a freelancer.
Upwork offers more work, the more pay theory. So that when freelancer completes more jobs, the upwork decreases its own service charge percentage.
Upwork tracks the freelancer's total job hour and rate. It ensures accurate billing. So there is no chance of generating a false bill.
When the job deadline is met, the fund is automatically transferred to the freelancer account. So there is the chance of miss the payment.
Pros: Upwork takes every 10 minutes screenshot. So it ensures quality service from freelancers. Moreover, its messaging feature is highly effective.
Cons: Due to high completion in the outsourcing marketplace, the freelancer force to lower the price.
03. Freelancer
---
Freelancer.com is one of the oldest and top freelancing sites that collaborate between freelancers and employers worldwide. It covers almost all job categories, but it mostly enriches Websites, IT & Software related jobs. Both professionals and companies can join here. The clients can easily find an expert from the job posting. Moreover, they can create a contest to find out the best service at a competitive price. This site is the best freelance website for beginners.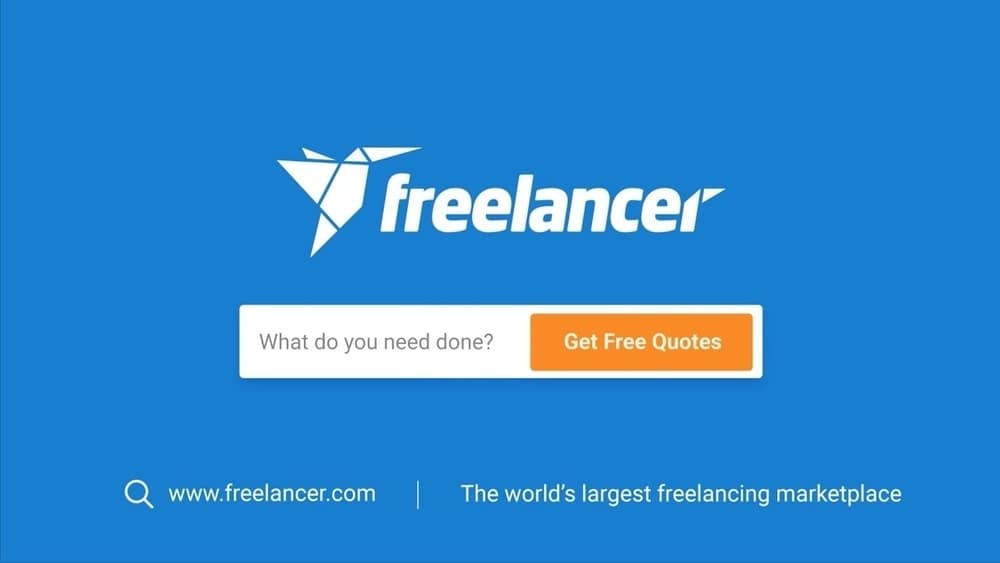 Key Features:
Employers can hire a freelancer partially for a project. So Freelancer.com provides flexibility to hire expertise.
Employers can narrow down the freelancers' search using Freelancer.com robust search features.
Moreover, employers can enjoy the flexibility of project payment. They do not pay for the full project. Instead, they set a milestone for each and pay only for completed milestones.
Furthermore, the site protects secure fund transfers and payments.
Employers can constantly monitor job progress. In addition, it allows contact communication between employers and freelancers via the web portal or mobile app.
Pros: It is a possible best freelancing site for starting freelancing. The interface is simple. And many companies post jobs every day.
Cons: It offers only 6 bids for newbies that is less for newbies for continuing its working progress. Moreover, the job post rate except the IT category is limited.
04. Toptal
---
Toptal is another best freelance website that connects top-class freelancers with top companies. It claims that only the top 3% of freelancers can provides quality service in this platform. So it has five screening processes to join this platform. World-class clients and companies outsource staffing for their most important projects. So this is an excellent outsourcing marketplace to hire top-class freelancers within a short time.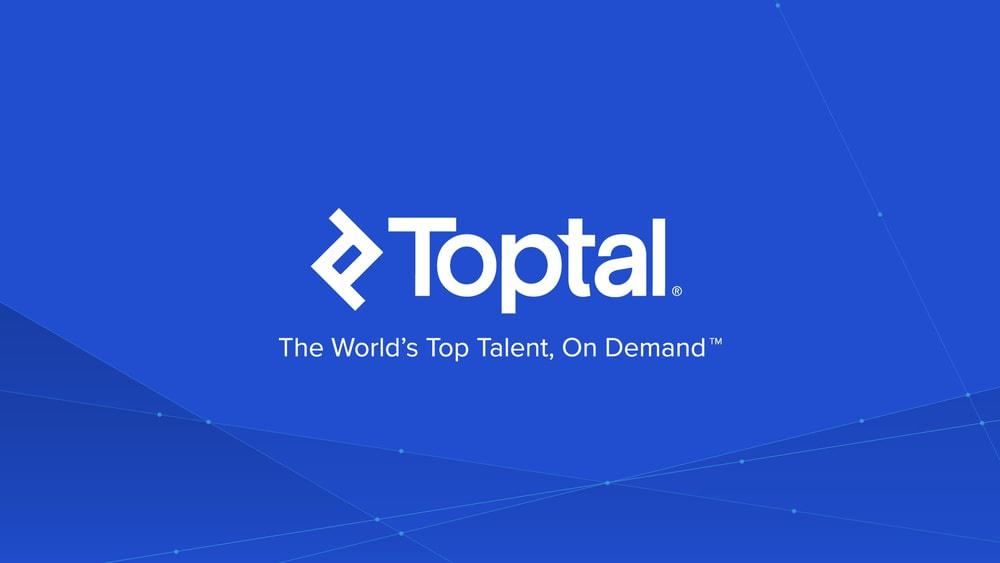 Key Features:
Toptal strictly maintains top-quality freelancers' profiles. So the screening process is hard to pass.
This is a great source of hiring employees who are the best fit for the company. So it saves time to find employees.
Toptal ensures the hiring freelancer is capable of adapting to the employer's existing project quickly. So the company does not worry about integrating new employees with the project.
Though the freelancer comes from different areas of the world and different time zones, the clients and freelancers face problems communicating with each other from different time zones. But Toptal allows relocating the freelancers so that the existing workflow does not disrupt.
The platform offers two weeks trial. After that, if the employers are not satisfied with the freelancers' tasks, Toptal does not charge any bill. So there is no risk for paying under quality job.
Pros: Though every freelancer needs to pass five screening processes, the recruiters enjoy an easy hiring process.
Cons: The job rate is higher, so only a few companies afford this platform. Moreover, only limited freelancers can access this premium services.
05. Guru
---
Guru is another top freelancing site that connects worldwide freelancers and employers. It offers 9 categories of jobs, including programming, designing, writing, and marketing jobs. The total job number is not so more compared to other freelancing sites listed above. However, it is one of the best freelance websites for beginners to explore skills. Furthermore, it provides an enterprise solution for big companies. Small businesses and startups are the main clients of Guru.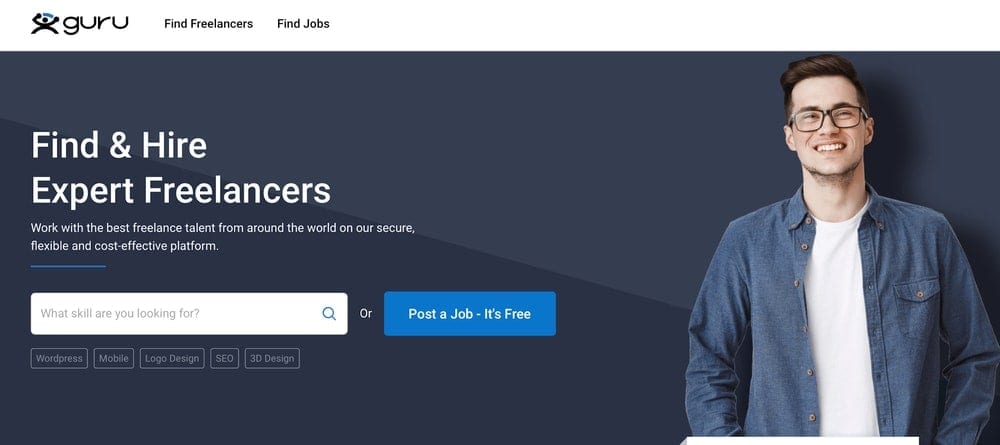 Key Features:
Guru charges a low processing fee for using the platform compared to other freelancing sites. In addition, it claims the lowest fee maximum value to users.
The user interface is intuitive design. So the hirer can easily communicate with Guru's, view profile, and project status.
Freelancers can bid short-term and long-term jobs at an hourly rate or fixed rate, or task-based rate.
Guru offers a simple hiring process. It saves recruiting time and make hassle-free to outsource skill.
Guru secure payment process. In addition, it offers multiple payment methods.
Pros: Guru designs a simple and easy-to-use interface so that information can access easily.
Cons: When it loads a lot of data, its search performs slow.
06. PeoplePerHour
---
PeoplePerHour is a rising freelancing website that connects businesses with international freelancers. It spans various service categories but most popular in providing programming, designing, digital marketing, writing categories.
Over 1 million businesses and entrepreneurs trusted on PeoplePerHour to find the best freelancers to deliver projects. PeoplePerHour's nifty project writing tool helps the business to find out the best-matched freelancer for its project within a short time.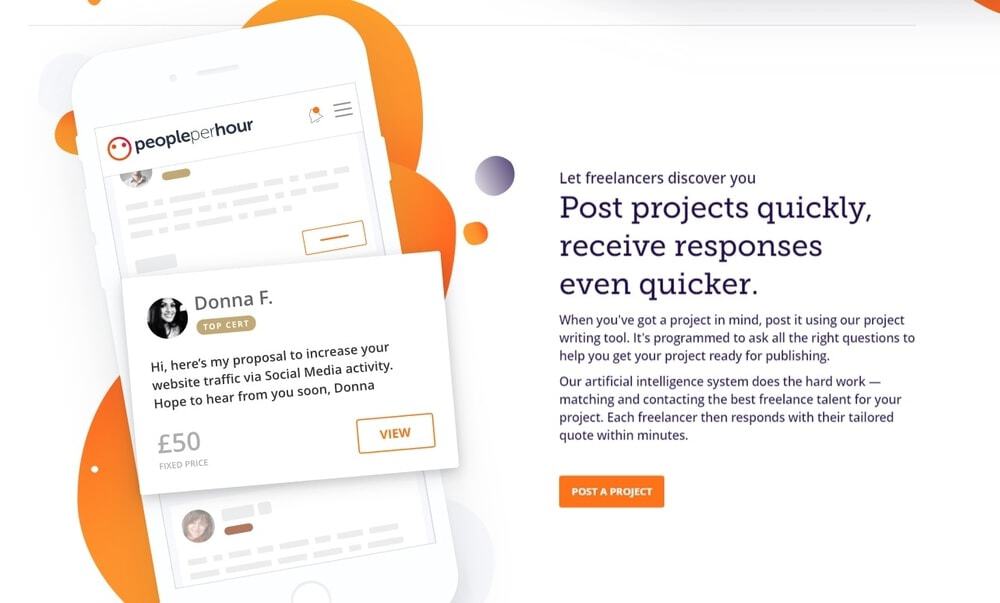 Key Features:
Though you find here, global freelancers meet up, and you can narrow down the freelancer in your region or anywhere else.
PeoplePerHour advanced search tool helps to find the right talent for a particular project.
Moreover, PeoplePerHour assures that the talent pool is accessed and shortlisted. So the company conducts the hiring process fast.
It provides an opportunity to hire seasonal or project-based talent. So the business can reduce overall operating costs.
Moreover, it protects escrow to confirm that the hired freelancers complete the task.
Pros: Freelancers can ask higher rate in PeoplePerHour compared to other freelancing sites.
Cons: After a free trial period, users need to pay monthly fees for working in PeoplePerHour.
07. SimplyHired
---
SimplyHired is a job board to find out jobs around the world. It allows the company to post a new job for free. Besides, it collects jobs from the internet. Moreover, the job seekers can narrow down the job search by filling out a city, zip code.
The basic difference from other freelancing site is that job seeker doesn't need to create a profile a job. It has a clean dashboard that makes it easier to find out jobs. However, its free signup gives various job tools and powerful HR tools to make business easy.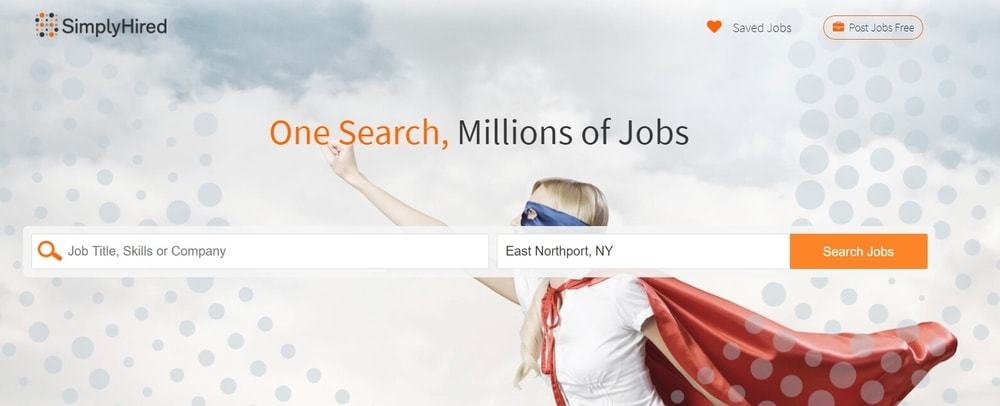 Key Features:
SimplyHired is structured well and organize talent pool in a common platform.
It has powerful HR tools to hire, manage employees and candidates easily.
The employees can narrow down the search filter by using many filtering options.
The recruiting process is faster than any other similar site.
Its HR tool can track employees working hours and attendance effortlessly.
Pros: The easy navigator to search the job in the next doorstop or around the world.
Cons: Somehow, there should be a provision to flag scam jobs.
08. 99designs
---
99designs is the best freelance website for creative professionals. It provides graphics services by creative experts from around the world. Clients get unique and custom design in two ways. One is directly hiring the graphics designer, and the other is inviting the whole creative community to participate in a contest. Then designers submit their world-class creative work and pick your favorite one among these. There are more than 90 designing categories to explore the skills.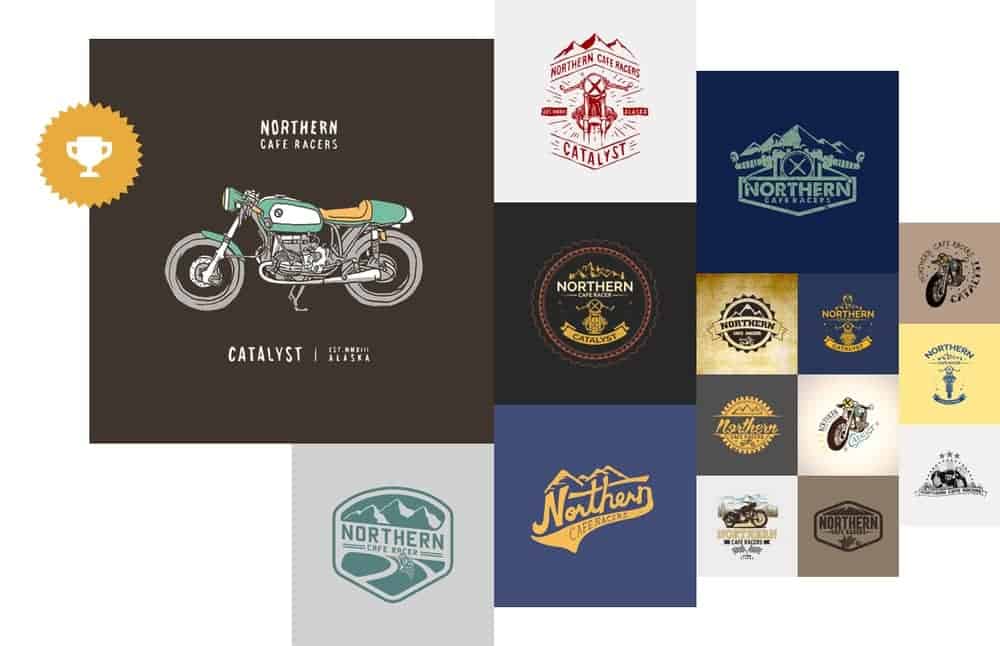 Key Features:
99desings allows design contests to invite the creative community to submit designs based on specifications.
Another great thing in the platform is that it allows working with different professional graphics designers at once. As a result, clients enjoy the freedom to pick their favorite design content. On the other hand, the winner designer gets a handsome amount. So it is a WIN-WIN situation for both parties.
Clients see the draft of the design copy before purchase the design resource. So they confirm the design quality—no chance of losing money for the worst thing.
Clients do not need to waste time to review the design, unlike hiring in house designer. Instead, they pick the best design after a contest.
The top class can create a creative team to ensure better service packages to the clients.
Pros: No other platform can gather a large number of creative professionals like 99designers. So clients never deprive of quality services. But, on the other hand, creative professionals can grow their skills here.
Cons: Sometimes, when a tight deadline offers to participate in a contest, it hards to find quality design. Moreover, the contest price is higher to a design compared to other freelancing platforms.
09. Behance
---
Behance is different than other freelancing sites. Basically, it is social media site for creative professionals. But it also provides job lists for creative professionals around the world. So, either you are a graphics designer or animator, you should signup with a Behance account to establish your profile. In this platform, the more follow your creative work, the more chance of improving your feed and the more chance of increase freelancing opportunity.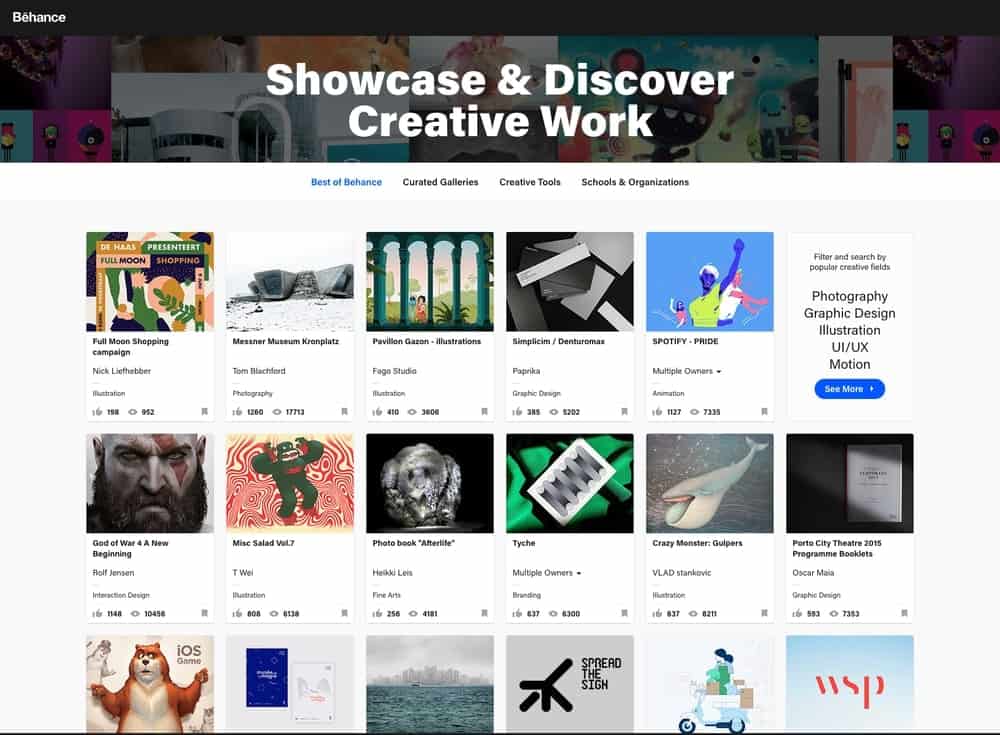 Key Features:
It allows the designers to decorate their design showcase so that employers are impressed and hire you.
When designers upload their designs in Behance, it does not compress the design quality.
Both web-based and mobile app service of Behance is same. Therefore, it does not compromise on providing quality services.
There has a large collection of stunning mockup files to present your creative works nicely.
The layout is simple and easy to use. So designers can easily showcase their creative output.
Pros: This is a must sign-up website for creative professionals. It helps designers to build a profile and promote their portfolio. Moreover, it is a great source of getting innovative design ideas.
Cons: There is no option to customize the design showcase. Everything is vertically lineup. If it would be better to have the option of the horizontal line up
10. Dribbble
---
Dribbble is the creative marketplace where designers connect, meet, and interact with each other. This is a nice platform to build a creative portfolio and promote brands. Millions of designers and artists get inspiration and get the job from Dribbble. It only covers the design to animation categories. The dribble premium users can access the freelancing job here. However, its premium member price range is $5-$15 per month.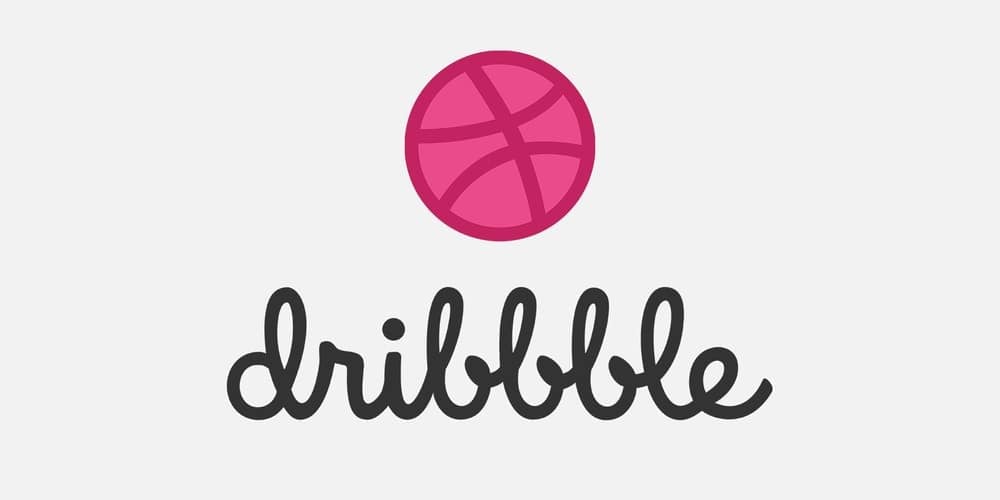 Key Features:
Dribbble is the meetup place for creative professionals where designers get free advice about their creative works from top-class designers.
When creative freelancers are looking for a design idea, Dribbble is the platform for inspiring ideas.
Clients can hire top-class designers after viewing their creative portfolio. Moreover, it has an advanced search filter to find the best designer quickly.
On the other hand, the designers can find project-based jobs or full-time job opportunities from the Dribbble job boards.
Clients can also create a design contest to collects the best design from world-class designers and enjoy the freedom to pick their favorite one from the designs.
Pros: Dribbble is the combined concept of Fiverr, 99designs, and Behance. In a single platform, designers can test all types of freelancing sites features.
Cons: The only con of this site is that it offers limited access for free users.
Our Recommendations
---
So, there is the list of best freelance websites that helps to grow business and make freedom work around the world at a convenient schedule. Working in a freelance site is not complicated. Just sign up and create a profile.
If you want to start your freelance career or start a new business, you can connect with this freelance sites to start your new journey. But before joining a freelance site, you should consider the site's payment systems, withdrawal methods, and service fees.
However, you can sign up either for Fiverr or Upwork to find any job and freelancer. For newbie freelancers, PeoplePerHour and Guru is the best option because these sites have a huge crowd but less competition.
In addition, top-class and unique service, there is no alternative to Toptal. On the other hand, if you are looking best designer or creative marketplace, you should sign up with 99desings, Behance, and Dribbble.
Finally, Insights
---
We wish you would find the best freelance websites list in this article. If you are a freelancer, you can earn extra money to sign up with these websites. Moreover, you don't need to follow the company's everyday office time. You decide your working category, time, and job rate. On the other hand, the company can find the best suitable worker at a cost-effective way from freelancing sites worldwide.
However, you think this article is helpful; you can share it with your friends and family. Moreover, if you have any suggestions or advice about freelancing sites, feel free to write your thinking in the comment box below.