Google Photos has closed an unlimited storages facility in June 1, 2021, which means all photos are counting towards 15GB free Google storage. So if you upload more photos and 15GB is not enough for you, then it is high time for you to upgrade the package or find the best alternative to Google Photos. The good news for you is that you can find many similar types of cloud photos storage services, but the bad news is that all services are not convenient for all. So you need to deeply analyze the other photos cloud storage services and find out the best pick for you.
This article reviews the 10 best Google Photos alternative that can meet your requirement to store photos in the cloud. Besides, every photos cloud storage has some advanced features. Hopefully, this article helps you to find the best solution for you.
Should you switch from Google Photos?
---
Before switching from Google Photos, you have to consider which service providers offer a better payoff for you. Google Photos became popular because of providing unlimited storage free. Besides, it has useful search functionality so that you can quickly search from your photos library by date, location, keywords, or even face recognition.
After June 1, 2021, unfortunately, Google Photos stop the free unlimited storage service. Now you have to pay $2/month for 100GB. What do you think? Yearly $24 is too much for 100GB cloud storage? Of course, there is a better option in this budget. Let's explore this article and find out better options from Google Photos.
Best Alternative to Google Photos
---
When looking for the best cloud storage facility to backup photos, we have considered the storage budget. Many cloud-based storage companies offer free cloud storage for a limited space. After that, they charge for backup photos.
In addition, every cloud-based storage for backup photos service provides offers photo-centric features which provides you better photo storage experience. This article has covered the top 10 best cloud-based photo storage except for Google Photos that lets you better cloud storage experience in a minimum budget.
1. Amazon Photos
---
If you are accustomed to Google Photos, Amazon Photos is the best replacement for you. Amazon Photos interface and usability are similar to Google Photos. Moreover, it provides 5GB of free cloud storage for non-prime users and unlimited storage for prime users where Google Photos does not have any free cloud storage facility right now.
Besides, it offers 100 GB storage at $20 for non-prime users, comparatively less than the Google Photos storage package ($24/yearly for 100GB space). Some striking features of Amazon Photos are described below: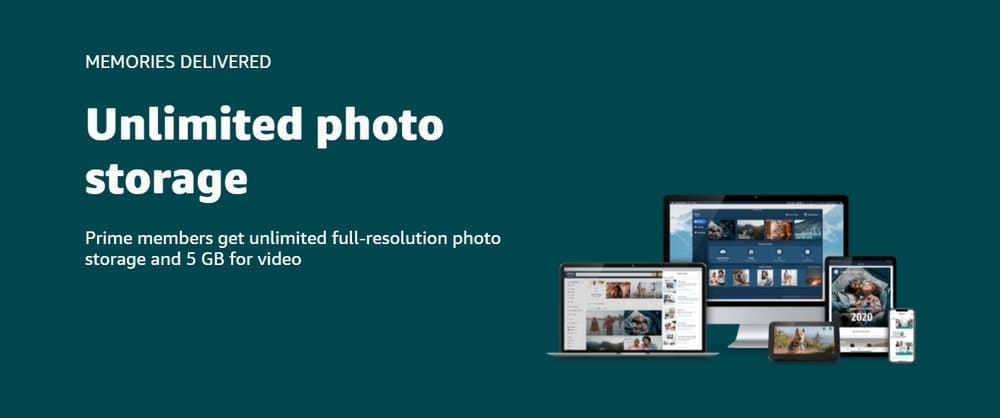 Key Features:
If you download the Amazon app, you can upload photos and videos from your devices easily. Somehow you have lost your mobile device; your photos and videos are not lost.
Besides, those with limited mobile storage capacity can use Amazon Photos to back up their photos and videos. Because Amazon Photos encrypts all photos and videos as well as ensures complete security of storage photos and videos.
You can share your photos and videos with your five family members through the Family Vault.
It offers quickly find a particular photo or video by searching name, location, or keywords.
You can reorder your stored photos and videos easily.
Pros: Amazon ecosystem provides super fast delivery of your photos prints in different printing formats like cards, calendars, or albums.
Cons: It only offers 5GB free cloud storage for photos and videos for non-prime users, which is not much more for professionals. Besides, its search function does not perform smoothly like Google Photos.
Try Amazon Photos
2. Flickr
---
Flickr is the most popular social photos sharing site where amateur and professional photographers can host and share the best quality photos. It has no storage space limit to host photos, but you can maximum host 1000 photos in an account free of cost. If you need to host over 1000 photos, you buy Flickr Pro at $6.99/month for accessing unlimited photos and more advanced features.
Besides, it offers to upload RAW format photos. It can store full details of your photoshoot like photo shooting device, resolution, photo settings, date, and more. Flickr is the best Google Photos alternative for photographers. Some notable features of Flickr are given below:
Key Features:
Photographers can create a social profile in Flickr. It lets you create a bio, photo showcase, collect testimonials from your followers. Overall, it lets you create a photography portfolio.
You can set your photos either public or private. So you enjoy full control of your photo gallery.
The distinguishing feature of Flickr is that it allows followers to make comments and tags on your photo. Besides, it shows the stats of the number of views of a photo.
You can create Album and organize your photos on this Album nicely. Moreover, you can create a Photo Gallery where you can publicly showcase other Flickr user's photos. Flickr allows you to make a Photo Gallery of up to 50 photos.
When you like a photo, you can click on the Flickr Faves tab to bookmark the photo to use in the future.
Pros: Flickr is the best platform to create a photography portfolio and meet up with professional photographers.
Cons: However, Flickr is not designed to host your entire photo library. Its emphasis hosting the best quality photographs.
3. Dropbox
---
Dropbox is the most popular cloud storage platform where you can host all types of files. It is just like a hard drive in the cloud. You can host all your hard drive files on Dropbox by using drag and drop features or directly uploading. Besides, you can sync all files from your computer or mobile if you use the Dropbox app.
Dropbox makes your uploading process so easy. You install the Dropbox app on your device, and your files are put in the dropbox folder. Then, it automatically syncs all files on your Dropbox, which can be accessed from anywhere on any device by login on to your Dropbox account. It would be one of the better options who want to host photos and videos on the cloud.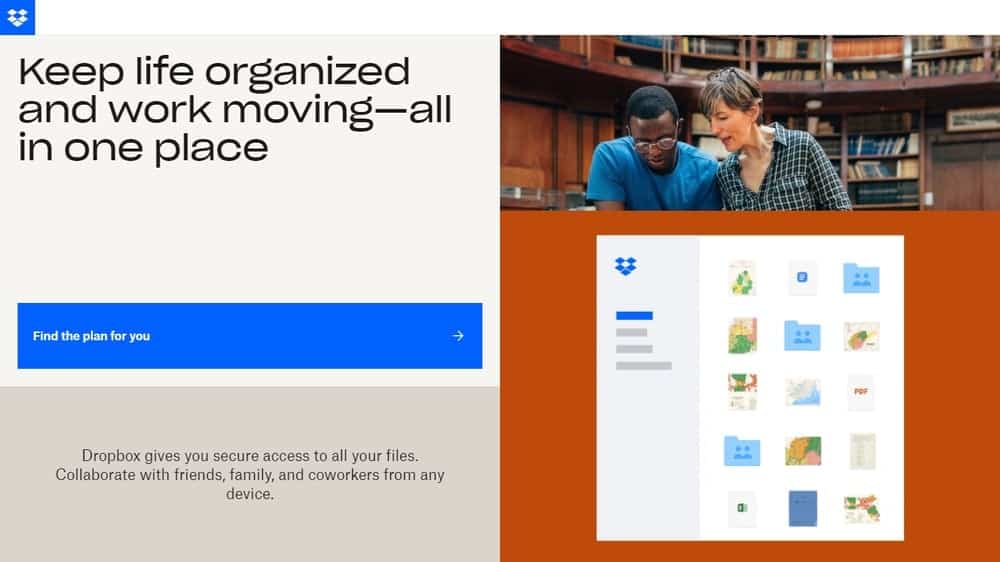 Key Features:
The Dropbox interface is simple and quite easy to handle to organize all your files easily.
It increases teamwork efficiency because you can easily edit and share cloud-hosted files with your team member.
Dropbox introduces password-protected sharing, download permission of the particular file. So you can assure that the right people can access the right file.
You don't need to upload your file manually. Dropbox syncs all files even if it updates the latest updates of the files.
It has integrated with popular third-party office management tools like Slack, Zoom, HelloSign, and more. So you can coordinate all your office works from Dropbox.
Pros: Dropbox allows the storage of all types of files, including RAW. So you are never conscious about your file formats.
Cons: Dropbox only offer 2GB of free cloud storage that is too minimal. Besides, its paid package is too expensive compared to other cloud storage service providers for photos.
4. Microsoft OneDrive
---
If you are looking for a secure, reliable Google Photos alternative, Microsoft OneDrive is one of the best solutions for you. Windows-based users get full-featured Microsoft OneDrive. It offers 5GB free cloud storage and 100GB at the rate of $24/year.
But if you need 1TB of cloud storage, you have to pay only $60/year for Microsoft OneDrive, where Google Photos users have to pay $120/year. Moreover, Microsoft 365 users get Microsoft OneDrive at no extra cost. The top five key features of Microsoft OneDrive are given below: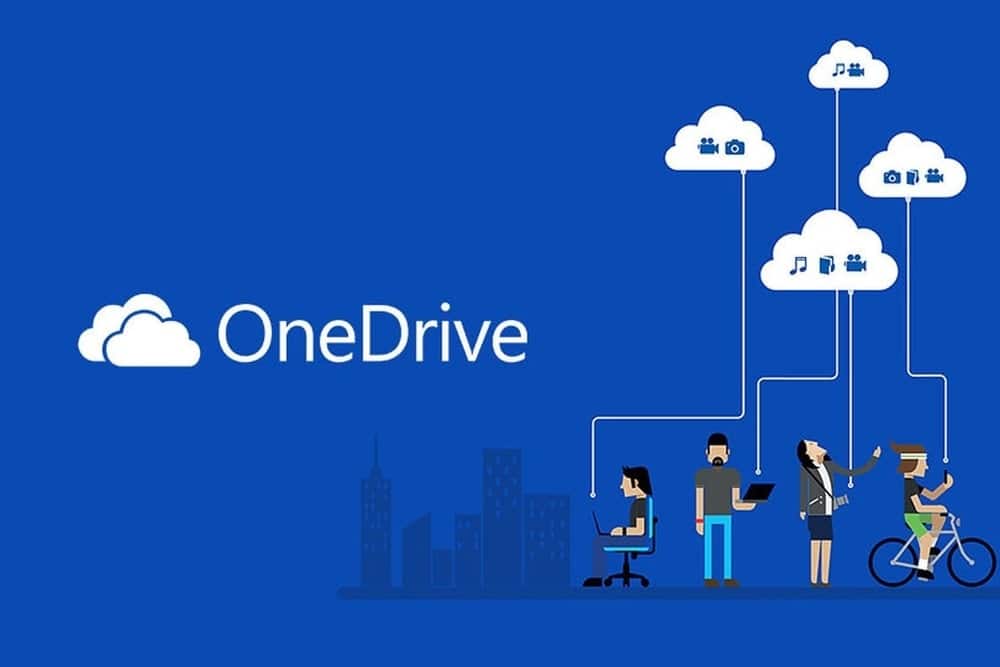 Key Features:
Microsoft OneDrive allows hosting almost all types of files. So you can store here your preferred file format without losing the photo's resolution.
You can access your host from anywhere, anytime on any device, by login on your Microsoft OneDrive account.
Suppose the OneDrive app is installed on your computer. It shows the list of all data on your PC, and you can select the files you want to upload on your OneDrive to free up PC space.
OneDrive lets you share data with others by email, fax, zip, or burn CD. Moreover, the sharing tool lets you create a share link that you can forward to others or post a website to access by visitors.
Your files are protected by several security features, such as you can create a link that is expired after a predefined time, create multiple authentications keys, and more.
Pros: Microsoft OneDrive is a multiplatform solution that enables you to access your data from different types of devices. Besides, it lets you use a personal security vault to ensure high-grade security of stored files.
Cons: Microsoft OneDrive is most suitable for Windows users. Non-Windows users do not enjoy the full features of Microsoft OneDrive.
5. Piwigo
---
If you have to manage photos for your website, you pick open source photo management software Piwigo. It provides cloud-based storage for photos which offers unlimited cloud storage at only €38/year ($48 approx), which is less than Flickr Pro unlimited cloud storage ($84/year).
If you need to upload many photos, you can purchase Piwigo's unlimited cloud storage package. Besides, it provides privacy, search functionality, geotagging, and more advanced photos cloud storage features similar to other services.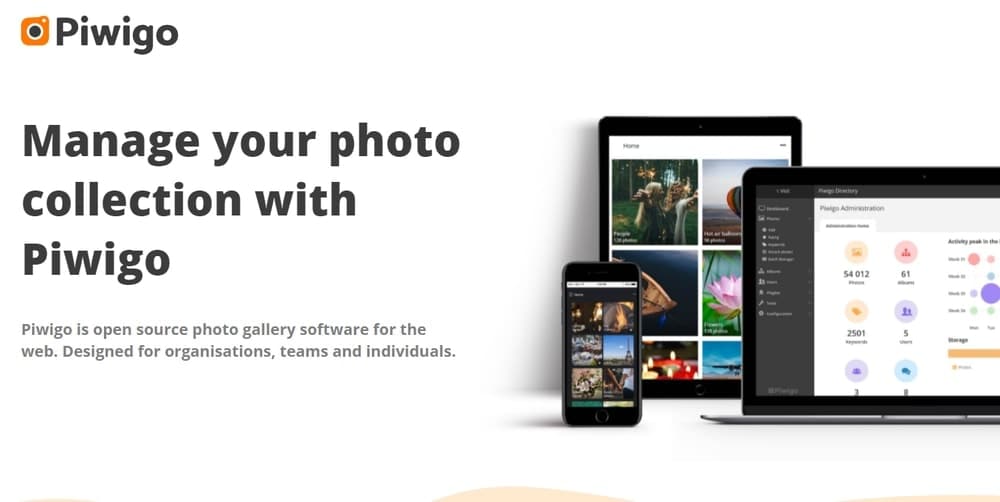 Key Features:
Piwigo has multiple options to upload photos on the cloud. You can upload photos to Piwigo cloud storage through the web form, FTP client, desktop applications such as digiKam, Shotwell, Lightroom, or mobile apps.
You can batch processing your uploaded photos. First of all, select the photos, then change the author, add tags and location of all your selected photos at once.
You can create albums and distribute your photos of multiple albums. It offers you to distribute a single photo in multiple albums.
If you want to browse your by date, it is possible in Piwigo. Though each digital photo saves the creation date, so easily browse based on the photo creation date.
Piwigo can read the GPS latitude and longitude of each photo metadata and automatically track the location of each photo.
Pros: Piwigo is an open source software, and developers always add new features based on community feedback. So it comes with surprising and most demandable features which like its users much more.
Cons: The Piwigo user interface is backdated and primitive.
6. 500px
---
500px is another photographer's social media platform where photographers create their photography portfolio. The main advantage of this platform is that it can license the photos to sell others for a small fee.
So you not only host your photo but also can earn money from 500px. Besides, 500px arranges photo quest competitions where photographers can compete and test their photography skills.
500px offers three different packages. The free users can upload a maximum of 2,000 images (3GB). The paid subscription users, called the Awesome user package, can access unlimited cloud storage for photos, including a photo editing tool, at $60/years.
In addition, those who are subscribed as Pro users can access all features of Awesome and profile customization, license images, and professional profile at $120/year. Overall, it would be one of the best alternatives to Google Photos.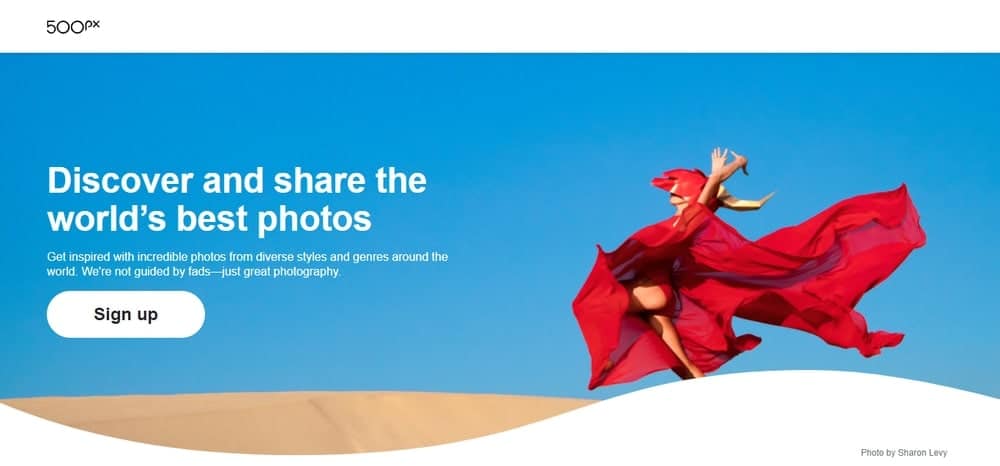 Key Features:
500px is an awesome photo hub to showcase your inspiring photos, display a professional photography portfolio, and sell licensed photos.
You can personalize your photography portfolio to describe yourself, add your website and social media site, and organize your photos.
As it is a social media website, you can join the group and ask other photographers to share and feedback on your photographs.
You can improve your photography skill by joining in a photography quest competition, a unique feature of this platform.
500px introduces two-factor authentication, so your profile becomes more secure, and none can breach your profile.
Pros: 500px is the most recommended platform for amateur and professional photographers to create a professional photography portfolio.
Cons: All photos are displayed publicly, so it is not recommended platform for you if you want to upload personal photos and make them private.
7. Adobe Creative Cloud
---
Truly, Adobe Creative Cloud is a pricey package, but the package is worthful for professional photographers. Adobe Creative Cloud package integrates with Adobe Lightroom and Adobe Photoshop.
This two software is the industry's best software for creative design and emphasis on your photographs. Besides, you can showcase your photographs by using Adobe Behance's social media platform.
Adobe Creative Cloud has no free cloud storage access. The initial package starts at $9.99/month for 20GB of cloud storage include Adobe Lightroom and Adobe Photoshop. Besides, it offers access to all Adobe creative apps and 100 GB cloud storage at $52.99/month. Despite high price package, there is 5 cool reason to choose Adobe Creative Cloud: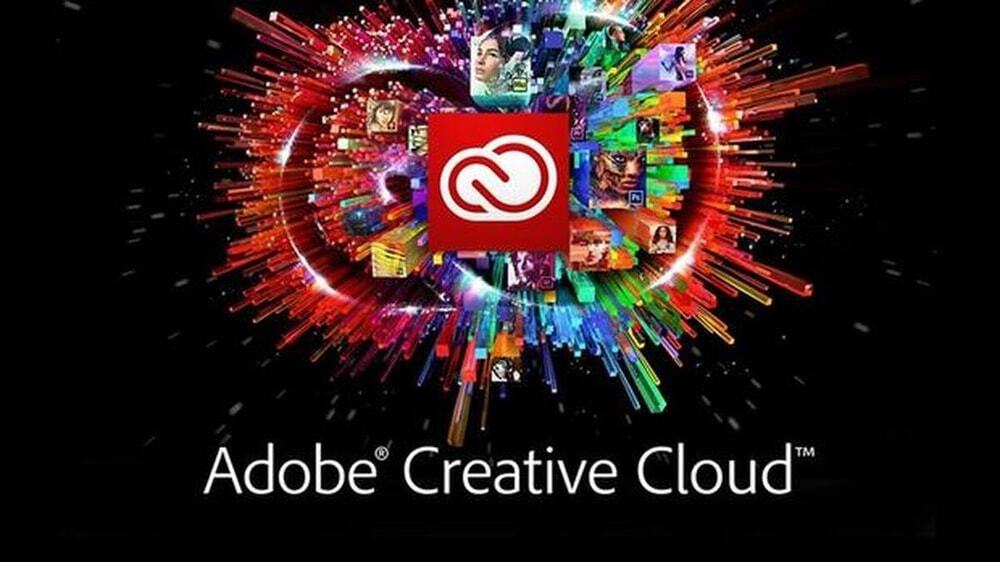 Key Features:
If you are a serious photographer, you must use Adobe Lightroom and Adobe Photoshop to enhance your photos, almost $30/month. But when you subscribe to the Photography package, and you get the same feature only at $9.99/month.
Adobe Behance is a popular platform for creating professional photographers' profiles. When you use Adobe Creative Cloud, you can create a world-class photography portfolio on Behance.
This platform supports a wide range of image formats, including RAW.
The platform provides adequate encryption to secure your photos on the cloud.
It regularly updates the features so you can access the latest creative technology with this platform.
Pros: Adobe Creative Cloud integrates with Lightroom and Photoshop that helps you to enhances your photos.
Cons: It is too expensive a package which is not affordable for all.
8. pCloud
---
pCloud is the most secure cloud storage for photos platform in our list. It provides multilayer encryption, and users can use a password to make invisible data to others. Besides, it provides a wide range of file management tools like file versioning, automatic synchronization, data recovery, and RAW image thumbnail.
The best part of pCloud is that it offers the cheapest lifetime access of cloud storage for photos. You have to pay $175 for lifetime access to 500GB of cloud storage. If you need more spaces, you can buy 2TB cloud storage at $350/lifetime. So regular Google Photos users can use pCloud as an alternative source of cloud storage.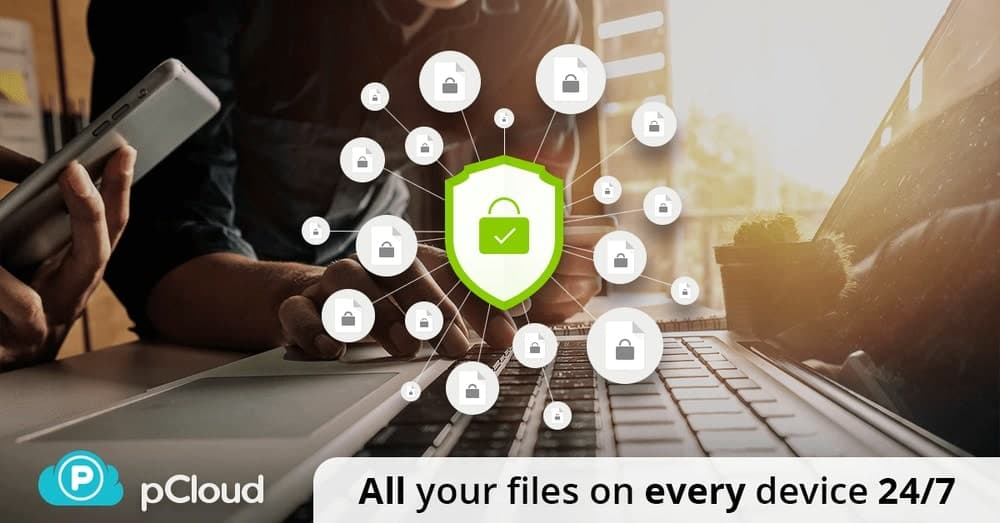 Key Features:
You can share your hosted image by customizing descriptions and links.
All files are TLS/SSL protected and 256-bit AES encryption that assures high security of your hosted photos. Moreover, it makes 5 copies of all your files, so you never lose your file.
Your files are syncs automatically from multiple devices, or you can remotely upload your photos. Besides, you can access your file offline.
You can backup files from Dropbox, Facebook, OneDrive, Google Drive, and Google Photos.
pCloud has the ability to rewind the account up to 30 days in the past.
Pros: pCloud provides full end-to-end encryption that makes your file more top secure.
Cons: However, if you are looking for an annual subscription, the pCloud package is too expensive compared to other same services.
9. Mega
---
Mega is another cloud storage service provides which mainly focuses on end-to-end data encryption. While you sign up in Mega, you get 25GB free space, including a 5GB sign-up bonus. Besides, if you need more spaces, you pick any package from Mega's four different pricing plans.
The lowest pricing plan is 49.99 €/yearly for 400GB and 99.99 €/yearly for 2TB, which is less expensive than Google Photos. So it would be a great alternative to Google Photos. Let's check out some striking features of Mega that make it standalone:

Key Features:
Mega's encryption feature is outstanding. All data is encrypted when uploaded on the server so that none can decrypt the data except the defined user. Besides, it provides two-factor authentication to make more secure cloud storage.
While you share file to other, you can send the file with password protection so that only recipient can download the photo files or folders.
If you install the Mega Desktop app, you can enjoy fast synchronization from your computer to the Mega cloud.
It has a mobile app so you can access your hosted data from anywhere, anytime on any device.
Mega upload and download speed are fast compared to the same service.
Pros: The best thing is that you enjoy a big amount of data for free in Mega. Besides, it provides zero-knowledge encryption of all hosted files.
Cons: The great security feature bad thing is that you always have to remember your security code; you lost or forgot your security code, and you lose all your data forever.
10. TeraBox
---
Terabox is an innovative cloud storage platform that provides 1TB free cloud storage for host your files. If you are looking for free cloud storage for hosting photos and videos,  Terabox is another best alternative to Google Photos. This is massive spaces to store huge files and folder on the cloud. To access more spaces, you have to pay $3.99/month for 2TB.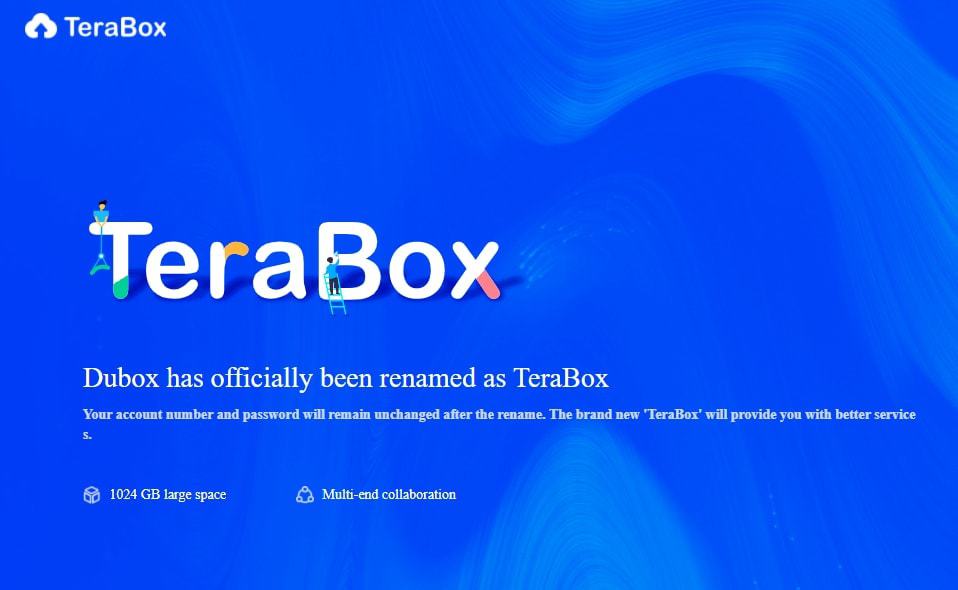 Key Features:
Files are stored automatically by synchronizing across different devices like mobiles, computers.
You can create an album based on category or tag.
While data is uploaded, it is encrypted, so no chance of data being stolen.
Besides, you can share file to other by password protection to ensure the receipt can only access the file.
You can access your file offline.
Pros: If you need a large volume of free cloud storage, Terabox is recommended site for you.
Cons: The upload speed is fine, but the download speed is too low.
Our Recommendations
---
Google Photos was all about the best solution for cloud storage for photos while it has provided unlimited photos storage. But this offer is not valid right now. So you need to find out the best Google Photos alternative based on your requirement and choice. When looking for cloud storage for photos, you need to consider a few factors like price, storage capacity, security, synchronization, image format, and sharing capabilities.
If you are a serious photographer, Adobe Creative Cloud is the only choice for you. Though it demands a high price, its editing tools are fantastic for photographers. There is no competitor of Adobe Creative Cloud considering photo editing tools.
If you are a professional photographer and want to create a photography profile, Flickr and 500px are great platforms to explore your photography talents, album collation, and commercial purposes. On the other hand, Amazon Photos are Piwigo are the best option to access unlimited photo storage at a minimum rate.
If you do not have any budget for cloud storage for photos, you can pick one among the lists: Dropbox, Mega, or Terabox. All of these have a synchronization feature, so your photos are automatically uploaded to the cloud. The last one for more security concerns is pCloud. It ensures multilayer security and encrypts data while it is transferred.
Finally Insights
---
Understandably, Google Photos' unlimited storage free access stop is the sad news for us. We can store up to 15GB of all types of files in Google Drive. But still, you can get host our photos for free in Google cloud storage by using Google Drive. So our suggestion is to access both Google Drive and another cloud storage for a photos solution. While you use both platforms, you can leverage your cloud storage cost.
Hopefully, this article helps you to find out the best Google Photos replacement. We try to point out different cloud storage for photos platforms for different purposes so that you can easily pick the best-suited solution for you.
So lets us know which cloud storage for photos platform you choose and what performance of this platform. We also request you to share this article with your acquaintances to benefit and find a suitable Google Photos alternative for them.