Painting tools have been a must and an essential part of our daily life. From personal to professional purposes, it has an immense area to employ. Whether you wish to retouch your family photos or finalize the product photos for your business, painting software has become an extraordinary source in all platforms. Today I am going to discuss some vital Linux painting tools for professionals and digital artists.
Like the other operating systems, Linux has all the facilities with a great working environment. It is a stable and secure platform where you can use excellent painting tools for professional and personal purposes. You can get natural paint on a digital canvas with the help of different artistic tools.
Finding The Best Linux Painting Tools
---
From the list of different painting tools in Google, it's fishy to choose the best one. I researched some sources to make it easier for you. Let's see which are listed as the best painting software for Linux users.
1. GIMP
---
GIMP is a great painting tool for image retouching and editing programs. The full form of this application is the GNU Image Manipulation Program. You can use it in painting, photo retouching, online batch processing system, image format converting, and more to make your task easier. This can be used in Linux, OS X, Windows, and other operating systems.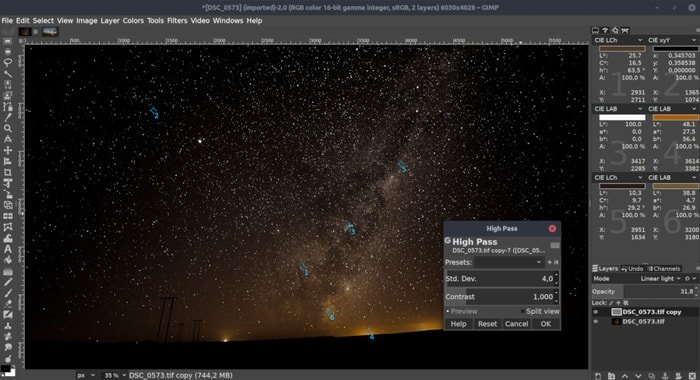 Peter Mattis and Spencer Kimball wrote the first version of this free open source drawing software. Since then, thousands of contributors have enriched its features. It has advanced scripting capabilities that can use scalable brushes. It supports different file formats like GIF, JPEG, PNG, MPEG, PS, PDF, and others.
2. KRITA
---
Krita is a modern and fully professional online painting tool for professionals. It supports almost all the image formats like PNG, JPEG, TIFF, XCF, PSD, GIF, BMP, and more. The scripts of Krita are written in Python and Ruby. It is an open source platform and free to use. Krita was declared the best free painting software by TechRadar in 2019.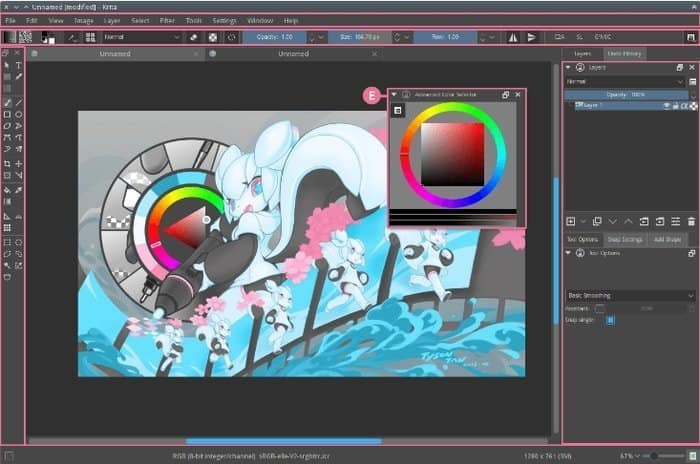 This software allows you to use it without configuring anything also. Technically it has some similarities with 'Gimp,' but it has some extra benefits with many features. Krita has more than nine types of brush engines, mirroring tools, drawing assistants, HDR support, Color Palette, Transform Tools, and valuable training resources. You can use it on both Linux and Windows platforms.
3. SKENCIL
---
Skencil is an interactive and powerful vector drawing program for Linux users. This Linux sketching software is free for illustrations, diagrams, and painting programs. It is built on the high-level and object-oriented language Python. Skencil was developed by four painting talents, Bernhard Reiter, Bernhard Herzog, Mark Rose, and Andrew Grimberg.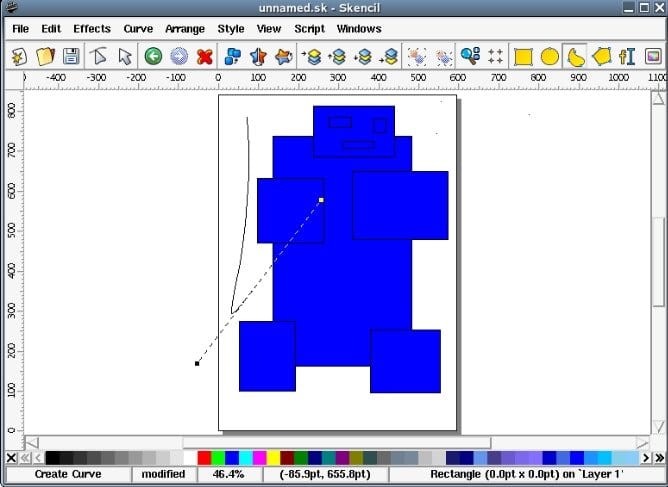 Besides lacking some features like good text support, it has most of the usable functionalities to use for production. Skencil supports the most used drawing primitives like Rectangles, Ellipses, Bezier Curves, EPS images, and more to enhance the betterment of your art.
4. PINTA
---
Pinta is an open source Linux painting software that provides a simple but powerful way for photo editing and retouching tasks. You will get some awesome drawing tools to draw lines, rectangles, and ellipses. Various formats are supported in the Pinta painting tool, including OpenRaster. You will also get an extension manager with internationalization support.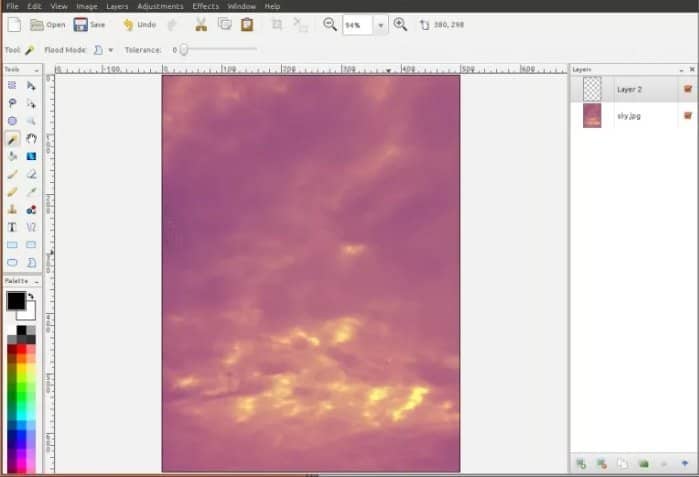 Pinta Software is easily customizable for your professional need. For those who are familiar with paint.net, this tool will be more flexible. Most of the features are similar comparing these two. It can be used on Windows, Linux, or Mac platforms.
5. TuxPaint
---
TuxPaint is a modern and smart Linux drawing software specially developed for children. Besides Linux, it also runs on Windows, macOS, and Android platforms. This free tool is developed by Bill Kendrick and other contributors. It provides basic to advanced features of a drawing tool like selection, layers, filters, fonts, alternate color palettes, fading, blurring, and more. This free and friendly tool is written in the C programming language.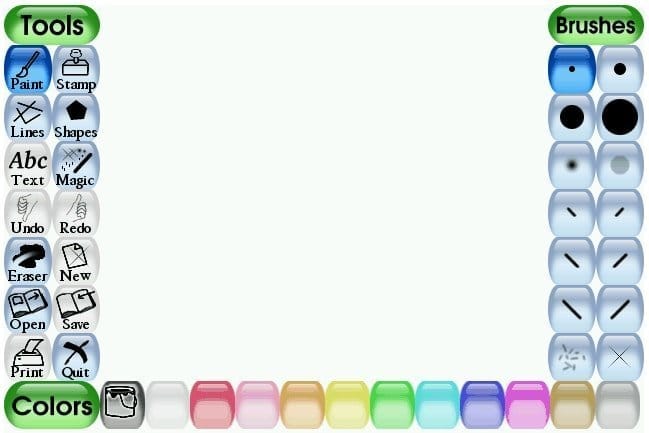 TuxPaint has an interactive user interface that is liked by the kids. They use this software to enhance their knowledge of computer drawing with various simple and dynamic tools. Kids use to create blocks, bricks, cartoons, distortion, flowers, glass tiles, and many forms of designs using the 'Magic' tool. TuxPaint supports most image formats, including PSD, JPG, PNG, PDF, GIF, and others.
6. Karbon
---
Karbon is an open source painting software that deals with vector drawings. It was previously known as Karbon14, Kontour, and KIllustrator. It is suitable for both beginners and experts. It can be used as an alternative to Inkscape as most features are similar. It is recognized as a user-friendly application because of its simplicity. This tool is written in C and C++ programming languages.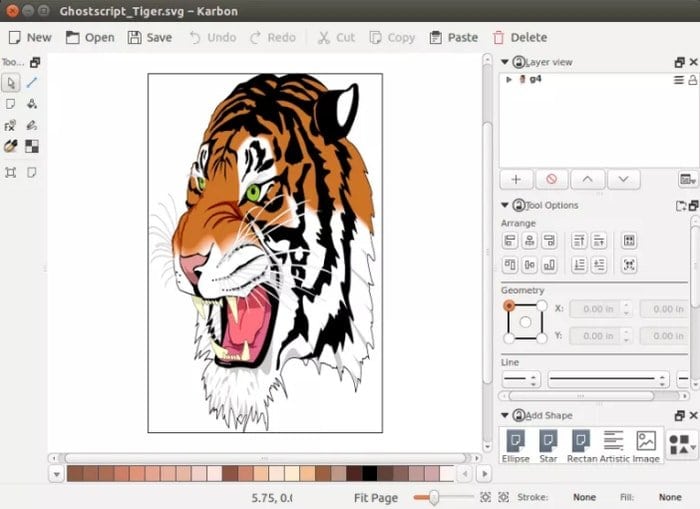 Karbon is one of the most suitable tools for digital artists for its support for shapes and texts. It can create shapes like circles, stars, rectangles, and more. It covers writing support for PDF, WMV, JPEG, and PNG documents. You can decide to use Karbon whether you wish to create a logo and vector images or edit your existing photos.
7. VIPS
---
VIPS is one of the open source Linux drawing tools that deal with professional image processing tasks. This drawing tool is developed by John Cupitt, Kirk Martinez, and Joe Padfield. Compared to most photo editing software, VIPS runs its application smoothly, even with a little RAM. This program is developed in the GTK+ platform and C programming language.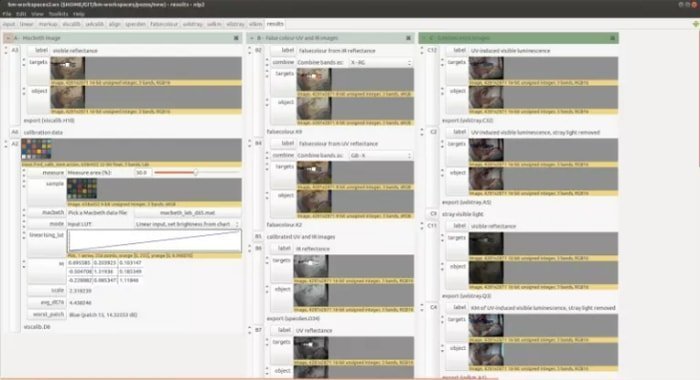 This software works in two different phases. It has an image processing library named lipvips, and the graphical user interface is known as nip2. VIPS has an active feature of doing arithmetic operations and color processing.
It can perform various advanced operations like histograms, convolution, resampling, statistics, and others. Like the other professional color tools, it supports most image formats like JPEG, TIFF, PNG, PDF, PPM, CSV, GIF, OpenEXR, and more.
8. Blender
---
Blender is a modern and free 3D animation software tool that is used in creating 3-dimensional artistic projects. It is one of the highly professional Linux painting tools used in the visual effect and game design industries. It is developed by Blender Foundation and scripted in Python language.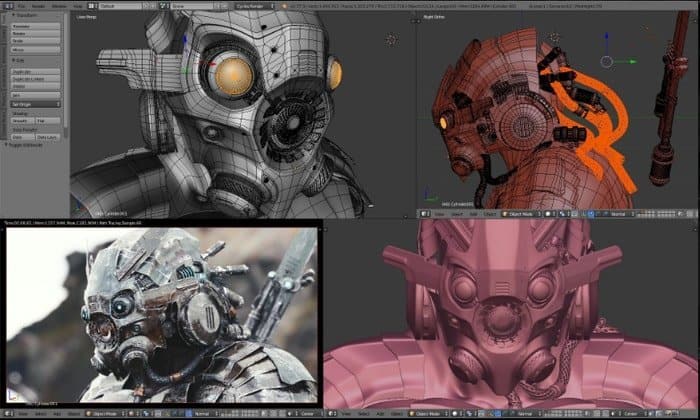 This program has advanced sculpting tools and brushes with the graphical logic editor. It also supports all the OpenGL lighting modes that help to enhance the perfectness of your art. It comes in different shapes box, sphere, cone, cylinder, Convex polyhedron, etc. You can easily use it for scripting, animating, rendering, compositing, etc.
9. Digikam
---
Digikam is a professional photo management tool that provides the facility of organizing your photos in albums and sub-alums. It is an open source digital platform developed by Gilles Caulier, Marcel Wiesweg, and some other contributors. Digikam is written in the C++ programming language. This program provides full support in importing, managing, downloading, and editing photos, including the raw files.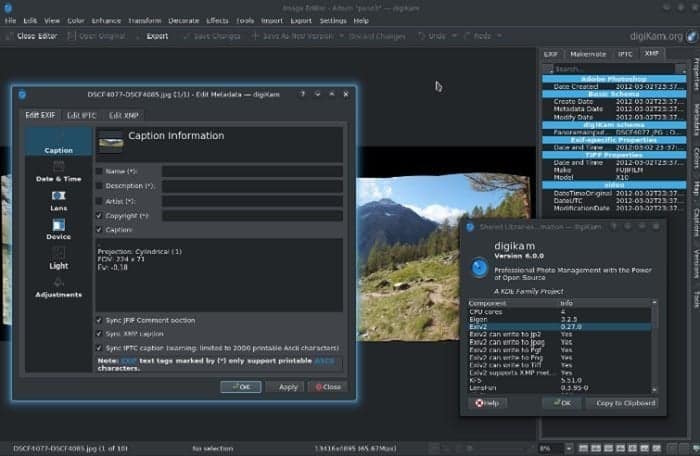 You will also get a calendar creation wizard, Print Wizard, Raw Image Converter, DNG Converter, and other amazing features from the core file. This advanced photo painting tool provides the advantage of searching for photos from the library. You can easily handle the contents by yourself with this software.
Digikam supports all the file formats of images like JPEG, PNG, TIFF, BMP, and many more. Its user-friendly environment and technology have been awarded TUX Readers' Choice Award as the Favorite Digital Photo Management Tool.
10. MyPaint
---
MyPaint is another drawing software specially developed for pressure-sensitive graphics tablets. This one is also an open source program developed by Martin Renold. It comes with a simple and minimalist interface for the users. You will get the options of extensive brush creation and configuration with MyPaint. It will let you work with unlimited canvas.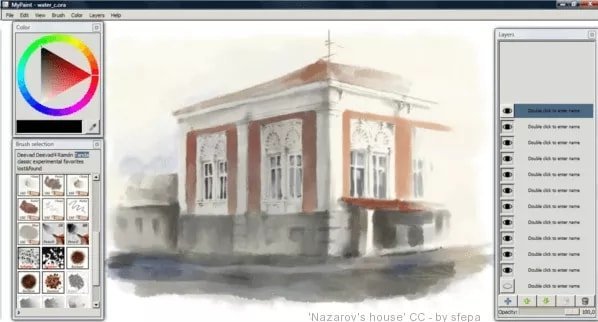 MyPaint is awesome for its simplicity and the nature of the distraction-free platform. This specialty lets you focus on your painting rather than the tools. That's a great experience indeed. Thus it has been a great and productive tool for digital painters.
11. KolourPaint
---
KolorPaint is a painting software tool that is liked by most beginners on the Linux platform. I marked this as a beginner tool as it has less complexity than Krita. The script of KolorPaint is written in C++. It has freehand resizable painting tools that help you to make rectangular, elliptical, and free-form shapes. It can be used as a Photoshop alternative for Linux users.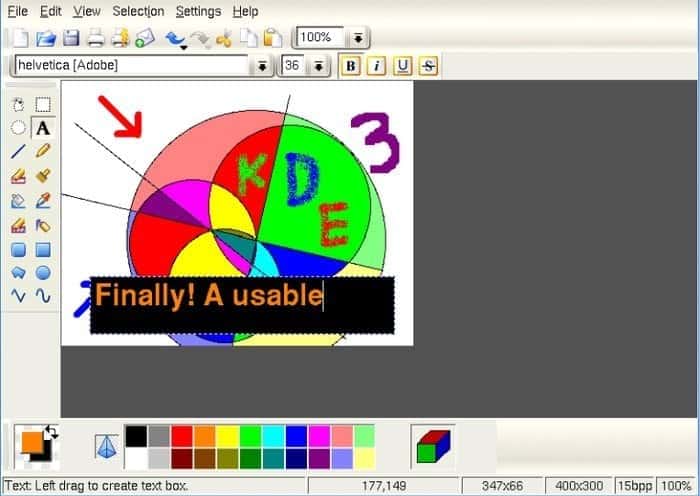 The balancing is cool so far of KolorPaint. You can easily control the brightness and contrast of your drawing with this tool. Zoom can be applied from 0.01x to 16x. Finally, you can open and save the file in all your chosen formats. The common formats are PNG, JPEG, BMP, TIFF, ICO, and PCX. Another notable part is having the undo/redo support that varies from 10 to 500.
12. Inkscape
---
Inkscape is a professional vector graphics editor for Linux users. It has almost the same characteristics as Adobe Illustrator and CorelDraw. Inkscape is one of the best painting tools for Linux users for its available features. Though it has lacked in exporting the most raster formats, it can do other professional projects perfectly. You can easily use it in creating your web graphics, technical diagrams, logos, maps, and other projects.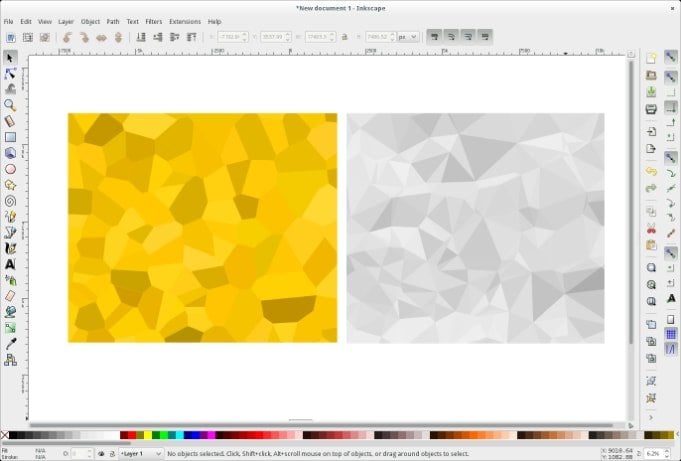 It can import JPG, PNG, GIF, and other important formats as bitmap images. Inkscape can translate into languages like Catalan, Chinese, Danish, Dutch, English, French, Swedish, Thai, Spanish, and many more. Another reason for its growth is using Scalable Vector Graphics (SVG) as its native format. It also includes a strong command-line interface that can be used in exporting and format conversions.
13. GPaint
---
GPaint is a simple Linux-based drawing and painting tool for beginners. This program is developed by Andy Tai and written in the C programming language. It is a free and open source raster graphics editor and a part of the GNU project. This software covers the basics of a little bit of advanced technology in photo editing tasks.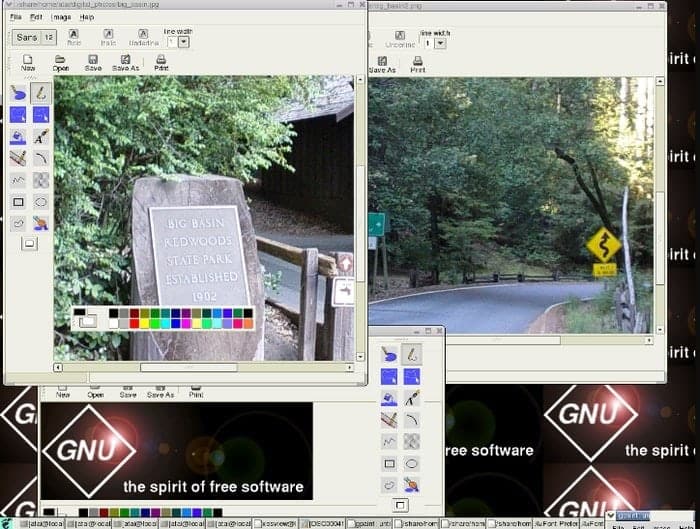 You will get a modern and user-friendly interface with multiple color palettes. Though some shapes can be formed, they cannot design rectangular designs. GPaint can perform the basic parts of image editing to start your journey to becoming a professional.
14. CinePaint
---
CinePaint is an online painting tool that covers most of the functionalities of the widely used photo-manipulating software, Adobe Photoshop. This is an open source program developed by Robin Rowe and ten other developers. This software is mostly used for motion picture retouching, background plates, render repair, dirt removal, and more.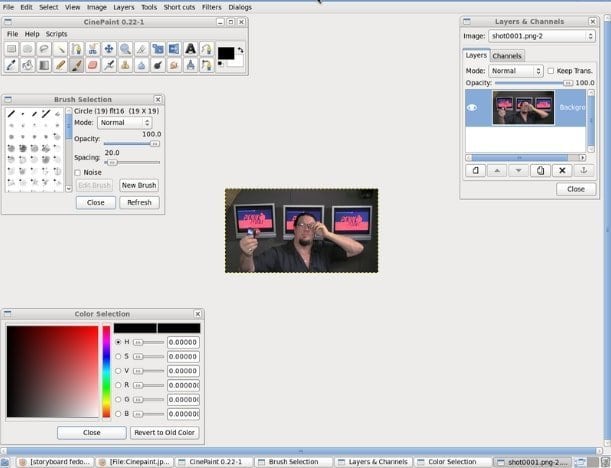 The best and most unique part of CinePaint is the power to handle high-fidelity image formats like SMPTE DPX and Kodak Cineon. Compared with the Gimp painting tool, you can choose CinePaint, especially for high-quality photographic tasks.
15. LazPaint
---
LazPaint is another open source photo editor that provides advanced and eye-catchy functions. The script of this painting software is written in Lazarus programming language with the help of the BGRABitmap library. It runs on both Linux and Windows platforms.
There are different tools to colorize images. It covers the materials for a perfect image and color manipulation program. It has filters like Radial Blur, Motion Blur, Sharpen, Smooth, Median, Contour, Sphere, Cylinder, and Clouds. You can easily select any portion of a photo to modify by applying the tools it has.
Final Thoughts
---
Linux has several painting tools for both personal and professional purposes. Some are very rich with advanced functionalities, and some are with a few. I picked these to assist you in choosing the best and most suitable one from a hundred Linux painting tools to start your professional artwork. Many professionals do their job this way.
Well, I think you will agree with my favorites. Still, do you have different options besides these? If yes, feel free to share it with me by mail or write a comment below. I always appreciate gathering knowledge from my audiences. It helps me to be inspired to provide more informative content.
Have a Charming Day. Thanks!