Adobe Photoshop has widely used enterprise-level Photo management and editing software. A large number of industry professionals totally depend on Photoshop for their daily designing, photo editing, and digital drawing/painting activities. If you are a Linux user or want to move from Windows or Mac, then searching for Photoshop for Linux will make you dissatisfied. Linux is a hub of free and open source software, so there are lots of options available for Linux photoshop alternative photo management software in the market. And surprisingly, all come with a handful of features and tools to fulfill your image editing or painting, or designing task.
Best Linux Photoshop Alternative
---
I've included the 10 best Linux Photoshop Alternative software in this list, which will help you perform all the photo editing tasks and save your money.
Note: The features mentioned here are not all-inclusive. The features mentioned are compiled either from their respective official websites or from my personal experience using them.
1. GIMP – High-Quality Photo Manipulation
---
GIMP is an insanely popular open source Free Photo Editing Software Like Photoshop. It's a multi-platform supported software which supports various system like Windows, Linux, Mac OS X, and so forth. Users can easily complete the job with this free software.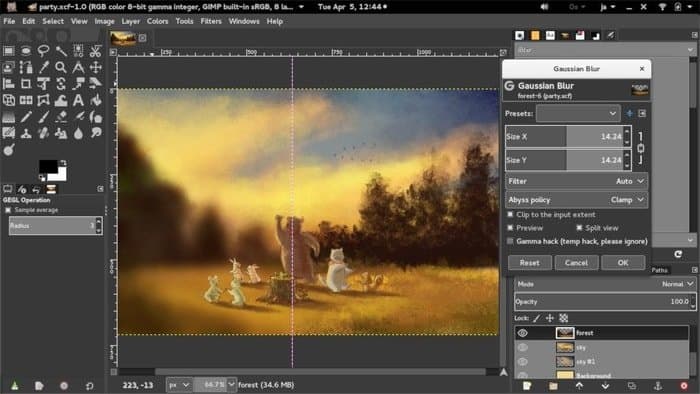 It provides advanced tools so that the scientists, photographers, and designers can accomplish the jobs smoothly. Without any doubt, this is one of the best Linux photoshop alternative free picture editor. Check out my previous tutorial on how to install GIMP on Linux.
2. Inkscape – Professional Vector Graphics Editor
---
Inkscape is an amazing open source and free vector design tool for Linux. It's very powerful with lots of tools and features for digital vector work and poster creations. This tool is very similar and alternative to Adobe Illustrator, but there are many features available in photoshop also; thus, it can be considered a Linux photoshop and Illustrator alternative.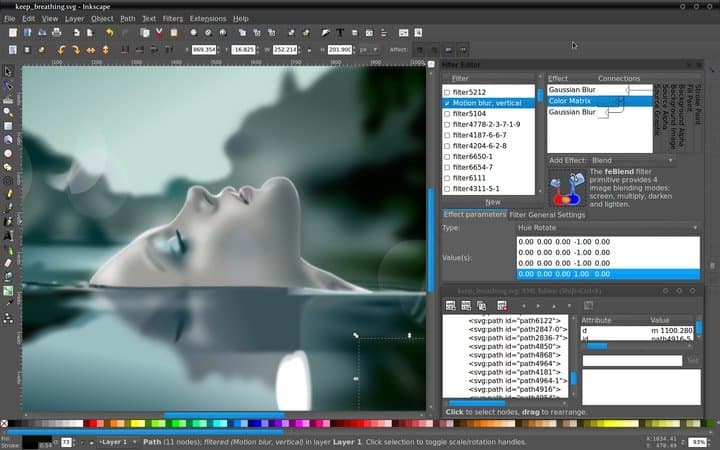 Inkscape is a compact software package including vector editor, text tools, drawing tools, support for Bezier and spiro curves, etc. Check Out my tutorial on how to install Inkscape on Linux.
3. RawTherapee
---
RawTherapee is more like an alternative to Adobe Lightroom than Programs Like Photoshop. But still, as it's related to raw image editing and the output files can be imported and used in Photoshop, that's why it has been included in this list.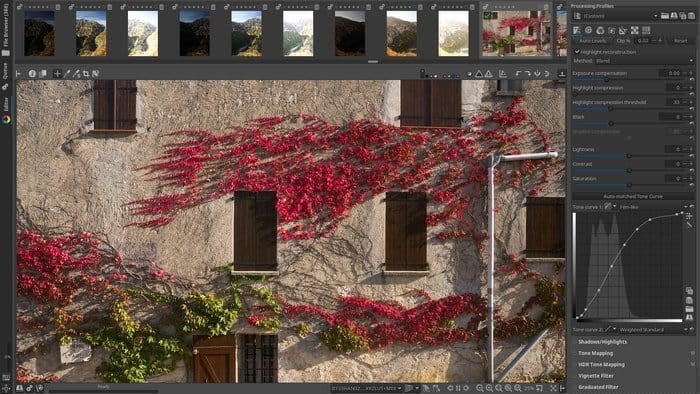 This application offers vast and featured full tools for processing raw images as non-destructive picture editing. Check out my detailed tutorial on how to install RawTherapee in Ubuntu Linux.
4. Krita – Open Source Painting Program
---
Krita is an open source photo management and digital painting application for all the major OS platforms, including Linux, Windows, and Mac OS. Basically, this tool has become a blessing for an online artist. The main aim of this painting app is to provide affordable art tools for everyone.
It's designed for illustrators, concept artists, the VFX industry, and matte and texture artists. See the tutorial on how to install Krita on Linux.
5. digiKam – Professional Photo Management
---
digiKam is yet another best photo management software for the Linux community. It's fully free, open source, and comes with easy to use GUI. Besides photo management and metadata editing, it has the capability to do some basic image editing like Photoshop.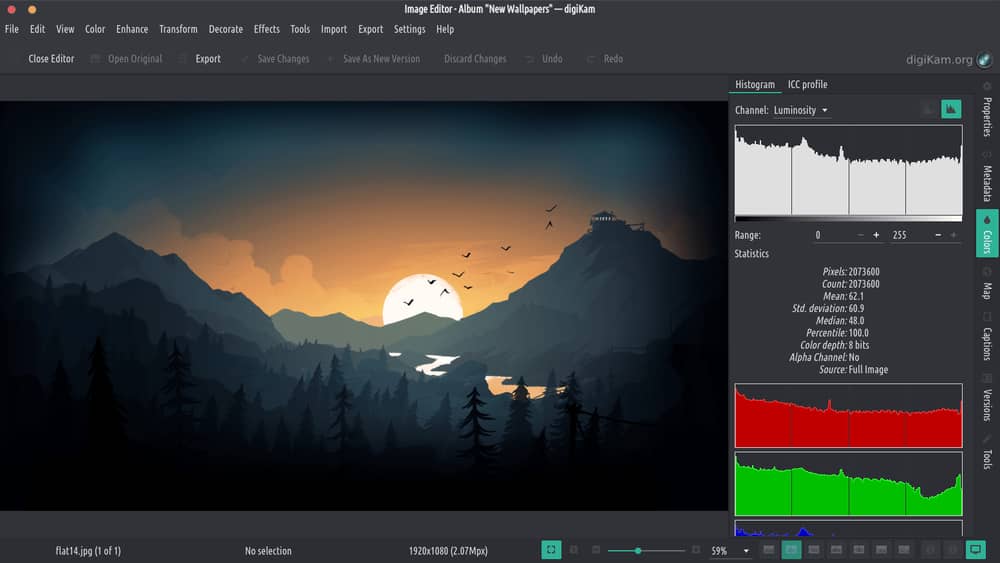 digiKam is best for editing photos, bulk organizing images, processing RAW image files, etc. The interface also looks like Adobe Photoshop. See the tutorial on how to install digiKam on Ubuntu Linux.
6. Darktable – Photography Workflow Application
---
Darktable is a completely free and open source photo management photography software for all the major OS, including various Linux distros, Windows, macOS, and FreeBSD.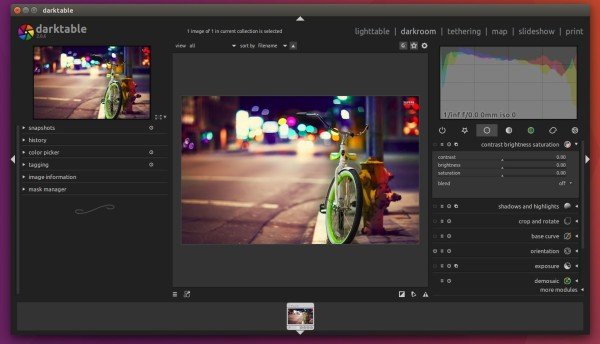 It lets you store all the precious digital negatives in a database that you can later develop raw images. It's a powerful image editing application created by photographers for photographers. Check out my tutorial on how to install Darktable on Linux.
7. Pinta – Drawing and Image Editing Program
---
Pinta is one of the best Linux Photoshop alternative free picture editors available out there. On Windows, you might have used Paint.NET, which is lightweight than Photoshop. In Linux, Pinta is equivalent to Paint.NET.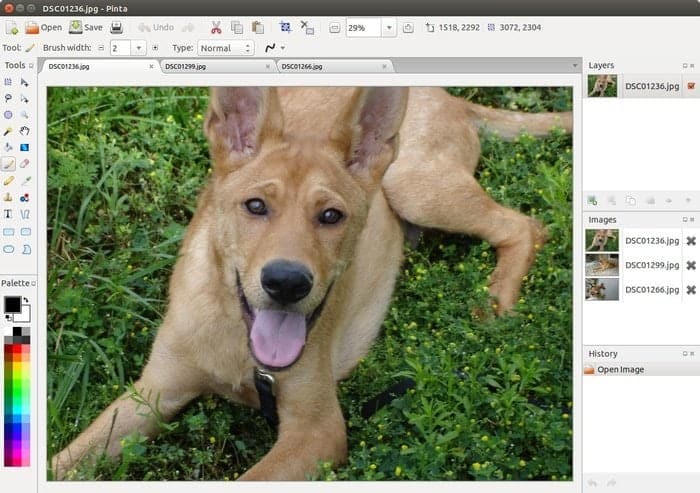 Pinta provides some basic editing tools and core functions, including full edit history, unlimited layers, effect tools, etc., for quick image retouching and simple edit. It's a free, open source, and cross-platform free photo management software for drawing and image editing.
Install Pinta in Ubuntu Linux
You can install Pinta via the Ubuntu software center or using the command-line tool. Run the below command to install Pinta:
sudo add-apt-repository ppa:pinta-maintainers/pinta-stable


sudo apt-get update




sudo apt-get install pinta
8. Vectr – Free Vector Graphics Software
---
Vectr is a relatively new and great program like Photoshop for creating vector graphics. It's very easy to use and comes with a beautiful GUI. Vectr is free forever and cross-platform runs on Linux, Windows, and Chrome OS.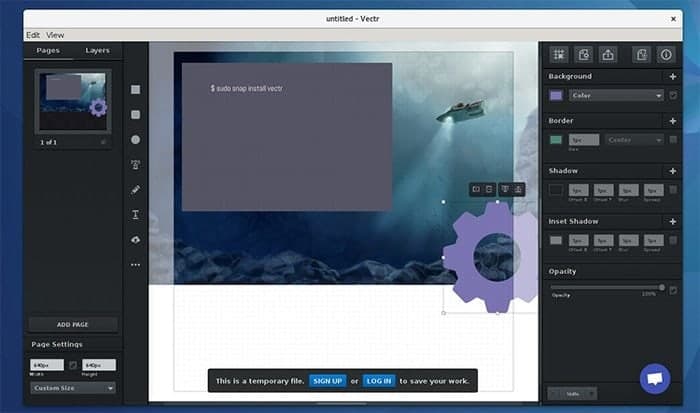 It provides a set of intuitive tools for making logotypes, marketing, website UI designs, icons, brochures or vector art, etc. Vectr provides both standalone software for desktop and online editing tools for everyone.
9. Fotoxx – Linux Photo Editor
---
Fotoxx is a free open source Linux imaging software for picture editing and photo management. This free Photoshop alternative software is blazing fast to meet the demands of professional photographers.
It can import Raw images and perform deep color modification. You can save the edited images into various file formats like JPEG, TIFF, PNG, etc. The interface is interactive and easy to use but yet powerful.
10. Pixelitor – Raster Graphics Editor
---
If you are searching for some free photo editing software like Photoshop, then you are in luck. Here Pixelitor is for you. It's a free and open source free picture editor with tools like layers, layer masks, text layers, filters, multiple undo, etc.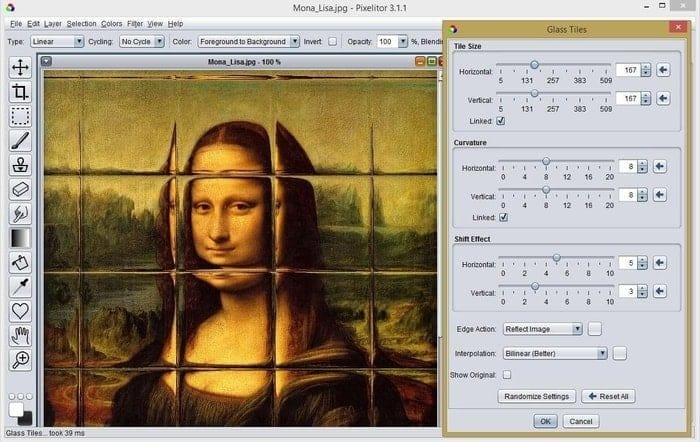 Final Thought
---
In this content, I've tried to provide a list of Linux Photoshop alternative photo management software. All those above mentioned Linux imaging software are powerful, free, and open source and offer different tools to fulfill various individual needs.
If I get a question about which one is the best? The answer will not be one rather more depending on the different and relative demands of photographers.
But in a straight line, Krita is resourceful and suitable for doing any digital drawing, digital painting, webcomics, etc. But if you need just like Photoshop-like program, then GIMP and Pinta will be a good choice which combines all in one Photo editing toolsets.
But this list includes more than one choice that definitely helps you get the best Linux Photoshop Alternative as per requirement.
Is this list of Best Free Photoshop Alternative tutorial helpful? Do share this content on social media and let us know if we missed any good choices here in the comment section.