We store many personal and confidential files in our computer and don't want to disclose these files to others. But data are being threatened for hacking through the internet or malware. So nowadays, protecting confidential information has become another important issue for every computer. And, that's why the importance of encryption software is growing day by day. In the last article, we have discussed the best disk and file encryption software for Linux Desktop. This article, we have a focus on finding out the best encryption software for Windows PC only.
There are several options for digital security and privacy solution that protect your confidential data. If you use Windows 10 Professional, Enterprise, or Education edition, you get Windows default encryption called BitLocker. But Windows 10 Home edition users need to find a BitLocker alternative because BitLocker is not available in Windows 10 Home edition. If you are serious about protecting your data from being stolen for your Windows PC, you need to know about the Best encryption solution for you.
Best Encryption Software for Windows PC
---
While your data is encrypted with a long string of numbers, it cannot be read until it has been decrypted by the same device. So encryption program protects your data from unauthorized access or stolen. You may find many free encryption programs that ensure excellent security. This article has discussed the top 10 encryption software for Windows to keep your data secure.
1. VeraCrypt
---
If you are a Windows 10 Home user and want a free encryption solution, VeraCrypt is the best encryption program you should consider installing in your system. This is an open source encryption program that provides you all tools to secure your data.
You can encrypt your drive and cloud storage with this encryption program. Besides, it supports all types of encryption algorithms, including 256-bit AES encryption. The basic version is completely free to use. If you have a tight budget, you can install VeraCrypt to secure your data.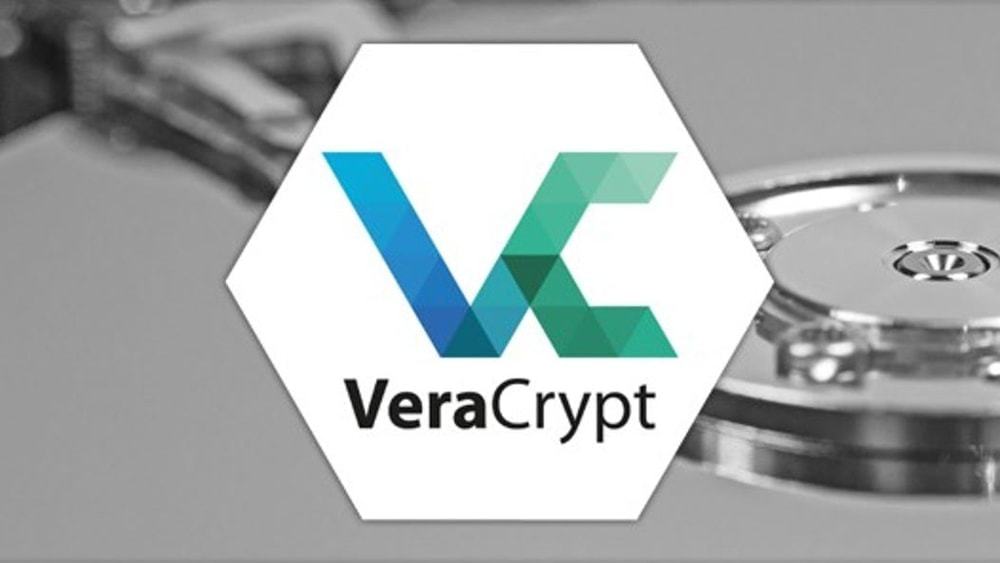 Key Features:
VeraCrypt creates a virtual drive in your drive and represents it as a real drive.
With this encryption tool, you can encrypt the entire drive, partition the drive, or portable drive such as a USB drive.
Your data become encrypted right before you save it and decrypted after load it, so it is difficult for hackers to decrypt data at the time of copying or transferring.
It can encrypt your data when booting, so while someone bypasses data when the system boots, it prohibits data from stealing.
Besides, it ensures top security by using 256-bit keys, 128-bit blocks,s and 14 rounds (AES-256).
Pros: VeraCrypt lets you create a hidden volume to keep your data private, even in case of coercion.
Cons: The initial download system is not user-friendly.
2. AxCrypt
---
AxCrypt is specially designed for individuals and small enterprises to secure and protect files. It protects your files from unauthorized access with 128-bit or 256-bit encryption and secures your files in cloud storage such as Google Drive and Dropbox. Besides, it serves in multilingual and works already in dozen of languages.
If you are using the free account, you get access to limited features. The free account functionality limits AES-128 Encryption, Backup personal account key pairs, and community support. But the premium user gets additional features like password management, mobile apps, safe removal of files, hide file names, and more.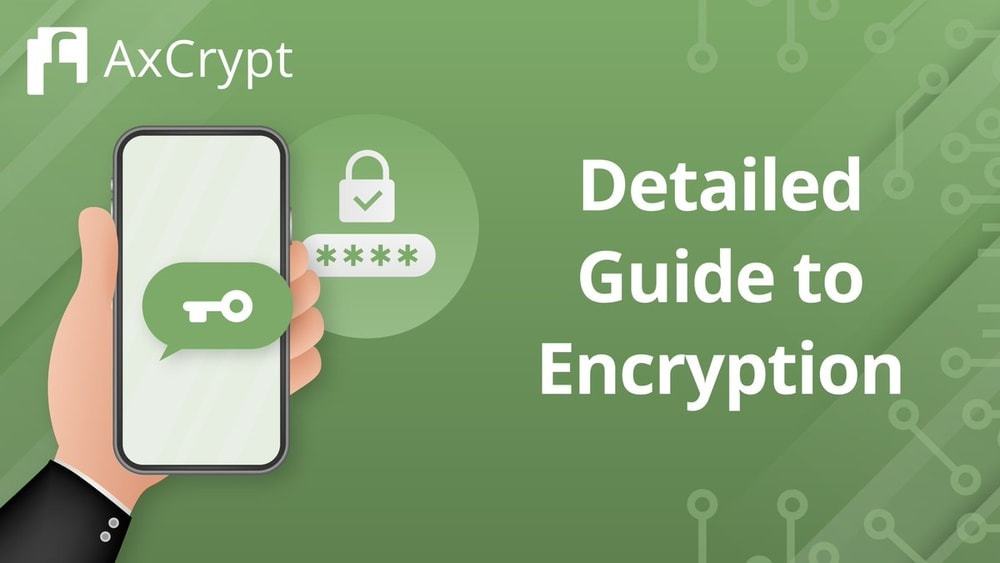 Key Features:
AxCrypt uses highly advanced security protocols such as128-bit or 256-bit encryption to secure your data.
It automatically secures drives and an AxCrypt folder in cloud storage like Dropbox, Google Drive, etc.
You can use AxCrypt cloud to keep your password and other files to save in safe. Besides, you can generate strong but easy to memorize by using the AxCrypt password generator tool.
It allows other users of AxCrypt to open secured files with their own password.
Moreover, it has its own mobile app that allows you to access your encryption file through a mobile app.
Pros: AxCrypt provides secured sharing by other team members using public-key cryptography.
Cons: The 256-bit encryption is only available for AxCrypt premium users.
3. CryptoExpert
---
CryptoExpert is the Windows encryption software that protects your data from unauthorized access. The best part of this software is that it supports all Windows versions as well as compatible with 32 and 64 bit. So it is the best suitable encryption tool for all Windows users.
It can secure a wide range of Windows files like Word, Excel, PowerPoint, Email databases, and more. There is no limit to file size to encrypt. It can encrypt any size file and supports Blowfish, Cast, 3DES, and AES-256 encryption algorithms.

Key Features:
CryptoExpert lets you create a vault and move all your files in the vault. After that, you can set a random size in your vault.
With CryptoExpert, you can secure unlimited vault size files.
You have multiple options to choose your encryption algorithms. It provides a highly secure encryption algorithm like BLOWFISH, CAST, or 3DES, or AES-256 encryption.
Besides, you can read and write your encrypted files and folders on the fly. You do not need to wait for the decryption of encryption files and folders.
Moreover, you can share your vault data with your network users while your vault is unlocked.
Pros: The whole vault is secured by a single encryption password. So you can easily share or upload your entire vault to online storage or another portable disk easily.
Cons: However, CryptoExpert displays some fault error messages.
4. Folder Lock
---
Folder Lock will be an excellent choice for you if you want to ensure bulletproof security for your Desktop and Mobile. With this software, you can protect your personal data both in your mobile and computer. It allows you to keep secure your photos, videos, wallet cards, email, contact address, notes, and audio recording stored in your mobile handset.
Besides, it not only provides encryption services but also provides some hidden security services. The basic feature is free to use, but you have to pay a one-time fee for accessing advanced features of Folder Locker.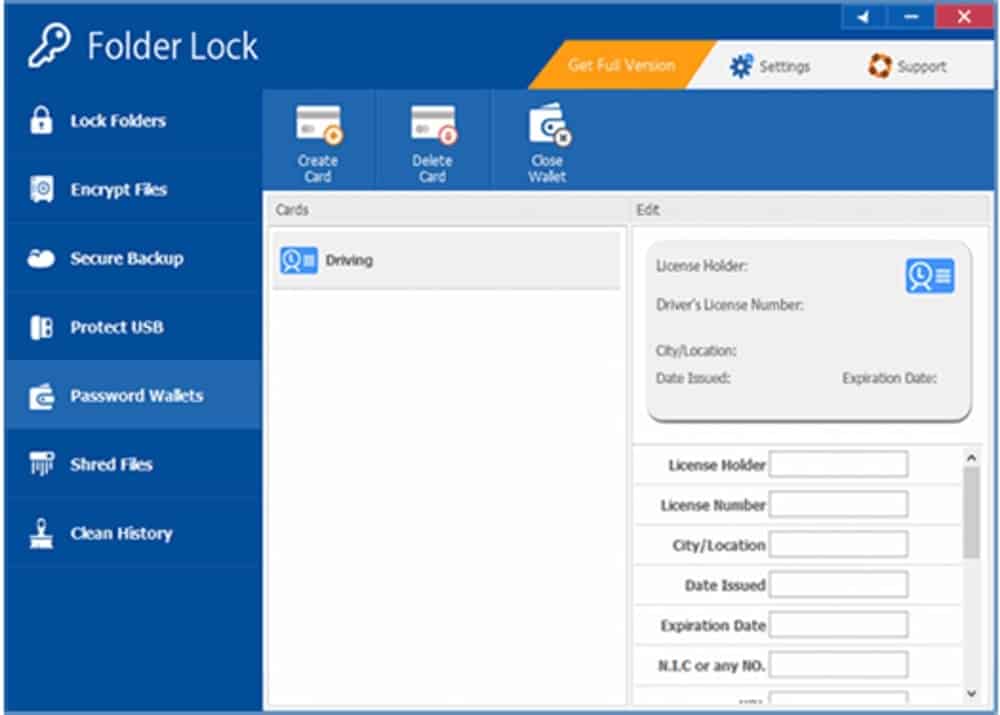 Key Features:
Folder Lock provides military-grade high-security AES-256 on-the-fly encryption.
You can securely back up your encrypted data in Folder Locker's cloud. The backup process is conducted in real-time.
Private mail can be sent with this encryption software. Besides, you can securely share your data with others in any portable drive. To protect your portable drive data, you can burn the disk by existing locker to executable.
While you are sharing your data in a drive, it deletes all personal information so that none can trace any personal identity.
With Folder Locker, you can clear Windows temp files, media player history, and all online activities so that none can trace your computer activities.
Pros: Folder Locker makes your important data invisible as well as notify you while brute-force attacks.
Cons: The only negative feature of Folder Locker is that while you are going to Windows system restore, you need to unlock all encryption.
5. Boxcryptor
---
Boxcryptor is specially providing cloud-based end-to-end encryption services for individuals and businesses. More than 30 cloud services like Google Drive, Dropbox, OneNote, as well as file servers and local drive, are encrypted by Boxcryptor. It provides security by combining AES-256 and RSA encryption algorithm. You encrypt your data across desktop and mobile. Besides, you store your passwords and keys on the Boxcryptor server.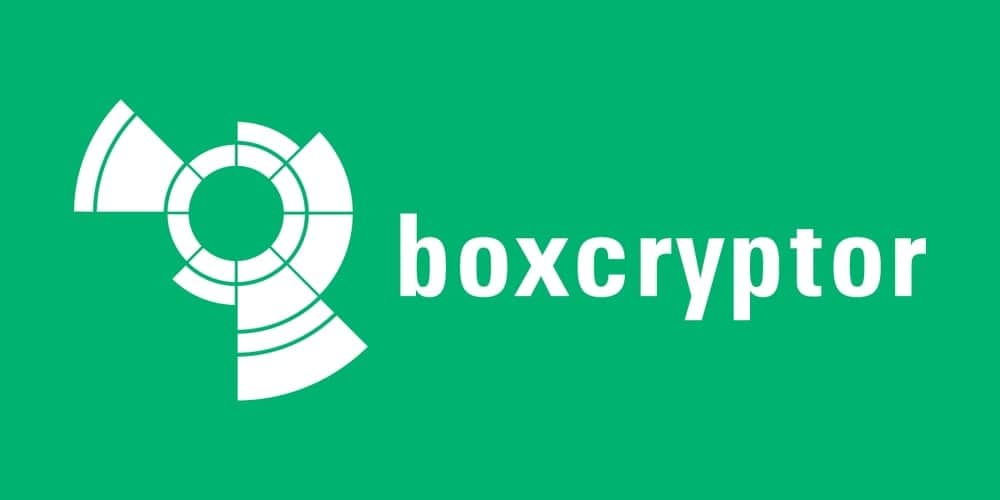 Key Features:
Boxcryptor mainly focuses on cloud storage encryption.
It covers over 30 most popular cloud storages to encrypt your files here securely.
Though it provides AES-256 and RSA encryption combines security. Your data become more secure, and it never is possible to break the security code.
Besides, it provides two-factor authentication security that makes your data highly safe.
In addition, it has a mobile app that provides fingerprint and face recognition features to unlock the app and save your files in an encrypted cloud.
Pros: Boxcryptor is excellent encryption software for Windows that can access across either desktop or smartphone.
Cons: Boxcryptor has no password reset option, so if you forget your password, it will lose all encrypted data in Boxcryptor.
6. CryptoForge
---
CryptoForge offers a professional encryption service to secure your personal and organizational data. It protects your file while it saves on your computer or uploads on the cloud, or shares your files with your team. You can encrypt up to 16 TB (NTFS volumes) size files with this encryption software. Besides, it offers a simple interface so that you can easily access your encryption through right-clicking on the context menu.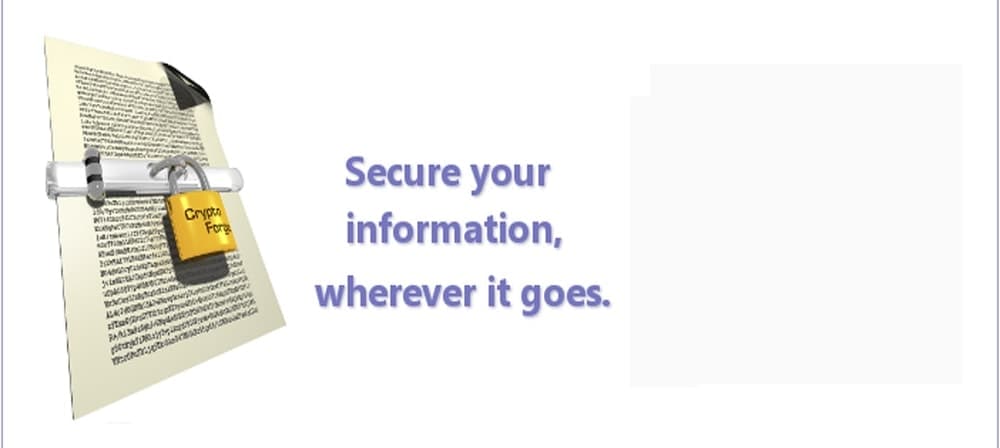 Key Features:
CryptoForge offers encryption on the files by using multiple security layers. You have the option to set 1 to 4 types of encryption algorithms.
It designs a simple interface so that easily access all menus by click on the mouse right button.
The encryption files are easily transferred, and the recipient does not need to install encryption software. The encrypted files can be decrypted by using the free app.
CryptoForge has a file shredder, so you do not need to worry about accessing your old data. It can completely delete all old data from your hard drive that can not be recovered.
Moreover, it has a built-in compressor that saves your file storage cost and secures your file from unlocking.
Pros: CryptoForge can encrypt file content and replace it with random file names so that none can trace the actual file.
Cons: Compared to other encryption software, CryptoForge offers limited encryption services.
7. Kruptos 2
---
Kruptos 2 is one of the best encryption tools that provides encryption services in multiple platforms, including Windows, Mac, Andriod, iOS, Cloud storage. It offers helpful features to keep your data secure like password generator, file shredder, filename encryption, Common password analyzer, etc. Kruptos 2 offers one-time purchases single license instead of a subscription. The price is varied based on the platform.
Key Features:
To ensure your sensitive files and folders are secure, Kruptos 2 provides military-grade strong AES-256 encryption.
Though it supports cross-platform so you can encrypt one platform and read it another platform.
It has a built-in secure note editor to write down and save in safe all-important messages, notes, and passwords.
Its file shredder permanently removes your old files and folders.
Besides, it has a Windows explorer plugin that helps you encrypt all files from your Windows browser.
Pros: You need to worry about passwords; Kruptos 2 randomly generated a strong password that heard to break.
Cons: While a file is encrypted, it increases the file size.
8. Steganos Safe 22
---
Steganos Safe 22 is the most affordable premium encryption software for Windows PC users. From our review result, Steganos Safe 22 provides the most strong encryption service with AES-XEX encryption (IEEE P1619). The maximum encryption coverage is up to 2 TB, which is good enough for the individual to secure all sensitive data. Moreover, you can also integrate with the cloud, such as Google Drive, Dropbox, Box, to encrypt the cloud files.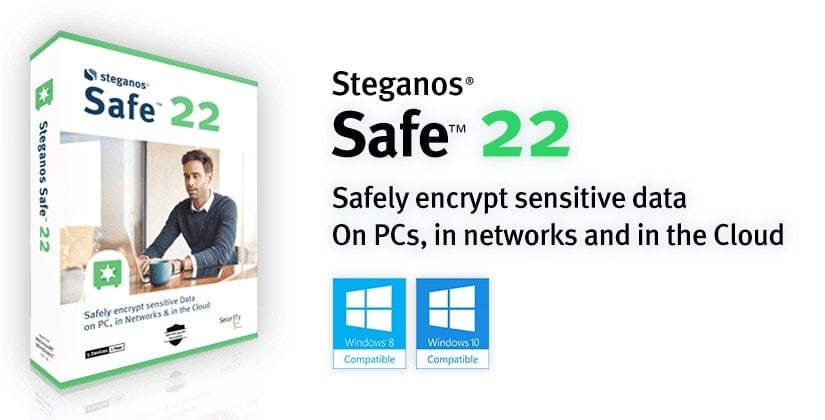 Key Features:
Steganos Safe 22 protects sensitive files against thieves by applying AES-XEX encryption with 384 bits (IEEE P1619).
You can keep safe up to 2 TB in size data.
It offers two factors of authentication, which support Authy, Microsoft Authenticator, Google Authenticator, and more.
Besides, you can generate an emergency password for serving your team or others.
Like other encryption software, Steganos Safe 22's file shredder can delete the old data from the drive permanently.
Pros: Steganos Safe 22 lets you hide the file size and appear a false file size so that none can identify the actual file.
Cons: Though it provides portable encryption, it needs to install encryption software to decrypt the file.
9. SensiGuard
---
SensiGuard covers all features that actually have in encryption software. This software is encrypted with an AES 256-bit encryption algorithm that ensures strong encryption for us. When it encrypts any files, the files are automatically compressed, saving spaces in our drive storage.
Besides, SensiGuard comes with several useful features such as removable storage encryption, file shredder, password manager, etc. SensiGuard offers a lifetime license, so you don't worry about a regular subscription.

Key Features:
SensiGuard provides advanced AES 256-bit military-grade encryption that means your data is completely protected, and only you can access your data.
SensiGurad is easy to use, and you can select the file for encryption and decrypt the file in the same way. You can do the same thing by using right-click context menu.
If you want to delete files from your drive permanently, you can use the SensiGuard file shredder.
When you send any encryption file to another, you can assure that none but only recipients can open the file.
While you encrypt any file, the file becomes compressed. So it reduces space utilization.
Pros: SensiGuard is the best pick for the individual to protect their computer and laptop. Even if you lost your computer or laptop, your data could not be decrypted by others.
Cons: However, SensiGuard provides password management features, but it is barely usable.
10. Renee File Protector
---
Renee File Protector is the best for hiding files so that extortionists can not find your encrypted file. With this software, you can also encrypt a single file. Renee File Protector helps you to generate a strong but memorable password.
Besides, it helps you to recover your password by your email. Drag and drop to select the files for encryption. In addition, it provides some advanced encryption features such as file shredder, shared data protection, lock data in local drive, monitor activities, etc.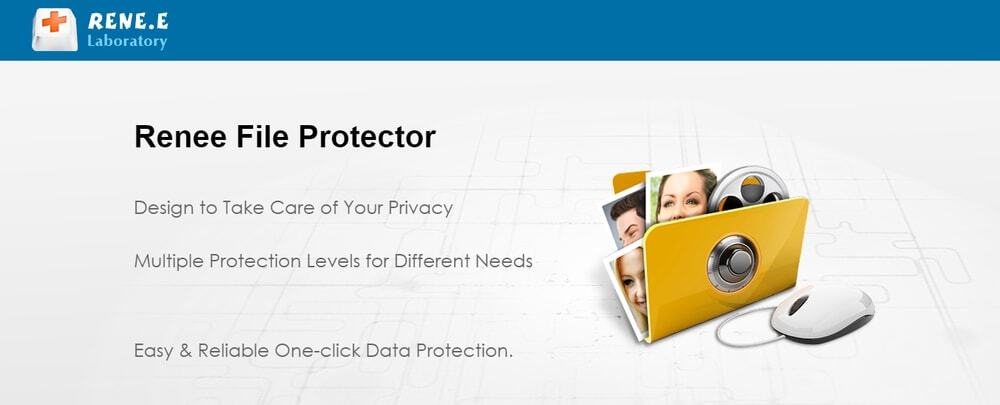 Key Features:
With Renee File Protector, you can hide files or the entire drive so that extortionists can not trace your data.
When you share any file, Renee File Protector ensures that only receipts can access this file.
You can password protect the external drive.
A military-grade AES-256 bit encryption algorithm protects sensitive files.
You can safely remove old data permanently that is beyond recoverable.
Pros: The most relaxing thing is that you can recover your forgotten password that is not available in other encryption software. So you never have the possibility to lose your data completely for the forgetting password.
Cons: Renee File Protector does not compress your encrypted file, so it does not save space.
Our Recommendations
---
If you are worried about encrypting files and what encryption software is the best for Windows, this article helps you. We hope our encryption software reviews help you to choose the right one for you. Read our software review part thoroughly and pick the best one. Undoubtedly it is a life-changing solution for you.
However, you are still confused about picking the right one from the above list, and our recommendation is for you to pick VeraCrypt. It is the best free encryption software for Windows PC. You can start with a free solution. But if you need to send encrypted files to the cloud, then Boxcryptor is the best solution for you.
On the other hand, Folder Locker is the right choice for multi-device users. While you are continuously sharing encrypted files and messages to others, you must pick AxCrypt. SensiGuard is recommended for those who want encryption service along with compression to save spaces.
Warp Up
---
Choosing encryption software is not a tough job who goes through this article. We have discussed key features, pros, and cons for every software to sort out the best encryption solution for you. In our recommendations section, we point out some specific encryption software for specific purposes. Overall, you get a nice guideline to choose the right encryption solution for you.
Let's share your encryption solution journey about how choosing encryption software and what performance you have received. If you find any drawback of your encryption software, let's share it in our comment box. Your comment helps others to find out the best encryption software solution for their Windows OS. So you are most welcome to contribute to our comment section.