Krita is an open source digital painting application for all the major OS platforms, including Linux, Windows, and Mac OS. Basically, this tool has become a blessing for an online artist. The main aim of this painting app is to provide affordable art tools for everyone. It's designed for illustrators, concept artists, the VFX industry, and matte and texture artists. This software developer continuously pushes many common and innovative features for helping both amateurs and professionals.
Highlighted Common Features
---
An intuitive and customizable user interface.
3 different ways to smooth and stabilize your brush strokes.
A dedicated Dynamic Brush tool.
Pop-up Palette for quickly picking up color and brush.
Provides 9 unique brush engines.
Press the 'W' key while painting to toggle wrap-around mode.
The resource manager helps to import brush and texture packs.
Drawing Assistants offers 9 unique assistants for vanishing points and straight lines.
Provides advanced mirroring and multi-brush tool.
Layer management helps manage a project with vector, filter, group, and file layers.
Offers various selection features.
Layer masks help to add a layer mask for transparency, filters, or transformations.
Supports full-color management through LCMS for ICC and OpenColor IO for EXR.
Takes advantage of OpenGL technology.
PSD Support.
It lets you open, save, edit and author HDR and scene-deferred images.
Transform Tools – Bend, distort, move, or liquefy your selections.
Provides lots of training materials for learning all the tools fast.
sometimes copying and pasting between images opened in Krita would cause crashes
Krita can open .rw2 RAW files.
The splash screen is updated to work better on HiDPI or Retina displays.
Fix a crash in KisColorizeMask and more.
How to Install Krita in Ubuntu Linux
---
Method 1: Install Krita in Ubuntu via PPA
Open the Terminal and run the following command one by one to install Krita:
sudo add-apt-repository ppa:kritalime/ppa
sudo apt-get update
sudo apt-get install krita krita-l10n
Here Krita-l10n installs the translation package.
How to Remove Installation
Run the below command to remove Krita:
sudo apt-get remove --autoremove krita
Remove the PPA repository, launch Software & Updates, and navigate to Other Software tab.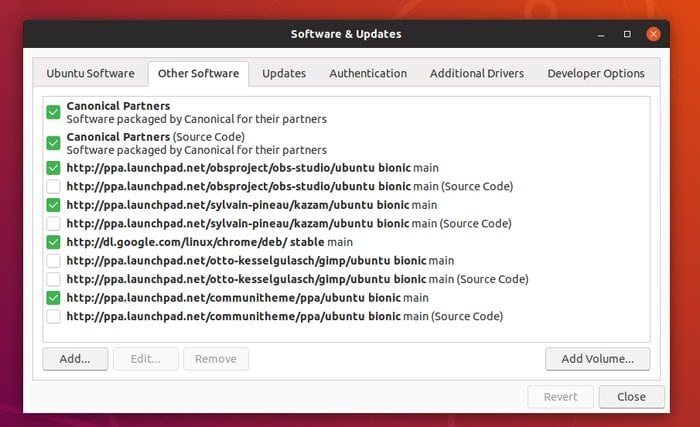 Method 2: Install it on Ubuntu via AppImage
In this method, you can install this design tool through AppImage for your 64-bit system.
Grab the appimage, and run the file to launch it after making it executable (Properties -> Permissions).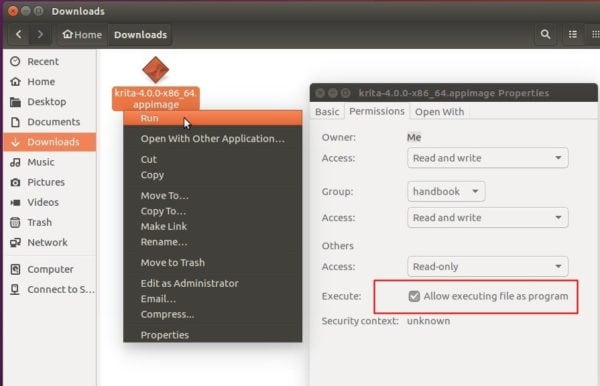 Thank you guys for the valuable time you have spent here. I hope you have liked this tutorial, and don't forget to share it on social media. Leave a comment below regarding your suggestion and experiences.
Note: The features mentioned here are not all-inclusive. The features mentioned are compiled either from their respective official websites or from my personal experience using them.