QOwnNotes is one of the best multi-platform supported note taking and To-Do list-making apps for Linux, Windows, and macOS. It's open-source software that comes with an "Owncloud" system or "Nextcloud" integration. Users can store all the notes on the desktop as simple plain text files. As I have said earlier, it supports both the desktop and mobile sync through the ownCloud or Nextcloud sync client. So what does it mean to it as a cloud client? Users can write and edit all sorts of notes and to-do lists with QOwnNotes and have access or search on mobile devices or through the browser as web services.
Important Features
Users can choose multiple note folders freely.
Sub-string Search is possible, and the search result is highlighted on the notes.
QOwnNotes supports multiple useful keyboard shortcuts, and that's also customizable as well.
Script installation possible inside the app through the Online script repository.
Older version Notes can be restored from the cloud system.
Deleted or trashed version notes can also be restored from the app cloud system.
Support Markdown preview mode and markdown highlight on the notes.
Offers a beautiful dark theme.
The App panel can be customizable and placed wherever the user wants.
All the notes are encrypted throughout the devices.
Systemwide icon theme also can be used for this QOwnNotes.
The user can also import notes from the Evernote.
Multilanguage support is available.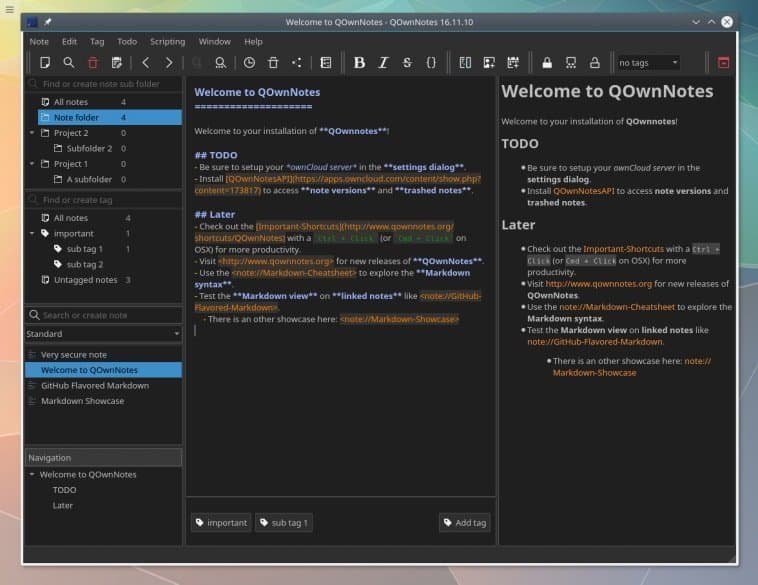 How to Install QOwnNotes via PPA on Ubuntu and Linux Mint
Open the Terminal and run the command to add the official PPA.
sudo add-apt-repository ppa:pbek/qownnotes
Now install it by running the below command into the Terminal.
sudo apt-get update
sudo apt-get install qownnotes
Install as Snap-on Ubuntu, Fedora, Debian, and other systems
As Snap is working on many Linux systems like Ubuntu, Fedora, Debian, Arch Linux, and much more, you can install it by running the following command into the Terminal.
snap install qownnotes
And now run QOwnNotes with the command qownnotes
Install on Solus OS
Run the following command to install it on Solus OS.
sudo eopkg install qownnotes
Uninstall Process
To remove the software from the system, run the following command.
sudo apt-get remove --autoremove qownnotes
To remove the PPA, go to Software & Updates utility and navigate to Other Software tab.
Here I have tried to share a short guide on Installing QOwnNotes on Ubuntu, Linux Mint, Solus OS, Debian, and other Linux systems. I hope now you will be able to install it on your system. But if you face any difficulties, please feel free to contact me through the comment section below.
All the information and images are collected from the QOwnNotes official page.