If you were looking for mailing list managers for Linux, then you are in the right place. Email list managers are handy tools in the world of business and marketing. Not only that, but these tools are also great for email discussions and knowledge sharing. Email marketing is always considered one of the most effective ways to communicate with customers.
If you are an internet user, then you might have subscribed to many services for their regular newsletter. This thing is done by using mailing list managers. When there were no convenient services like Facebook groups or Quora, people used to have email discussions on certain topics. Nowadays, these are not very common. But you should know that the mailing list management tools are keeping that services running.
Most of the email list managers are subscription-based, and you can use those services by using their web dashboard. But if you are someone who wants to have your personalized email listings for your enterprise right onto your Linux desktop or dedicated server, then you can consider using the Linux mailing list managers. These tools will provide you more flexibility than other web-based email listing services. Besides, most of them are free to use, and the source code is open.
Best Mailing List Managers for Linux
---
For running user or data management services, Linux is a great choice. Hence no exception with the email marketing and mail listings. In any Linux distro, you are getting a good number of mailing list managers to work with. Each of these tools has some pros and cons of its own.
But the confusing part is that you can't say which is the best one. You have to choose one based on your requirements. We can just guide you through it. So, in this article, we have enlisted the best 10 Linux mailing list managers with their key features. Go through all of these, and we hope that you will be able to find one that meets your company's sweet spot.
1. Mailman
---
Mailman is a mailing list manager for Linux. This software is written in the Python programming language. Mailman is released under GNU public license. Developers from all over the world are constantly contributing to improving the project.
The source code of the project is available to download on their website. The developers have provided detailed documentation on this software. Hence the non-technical persons of a company won't find any difficulties using this email listing tool.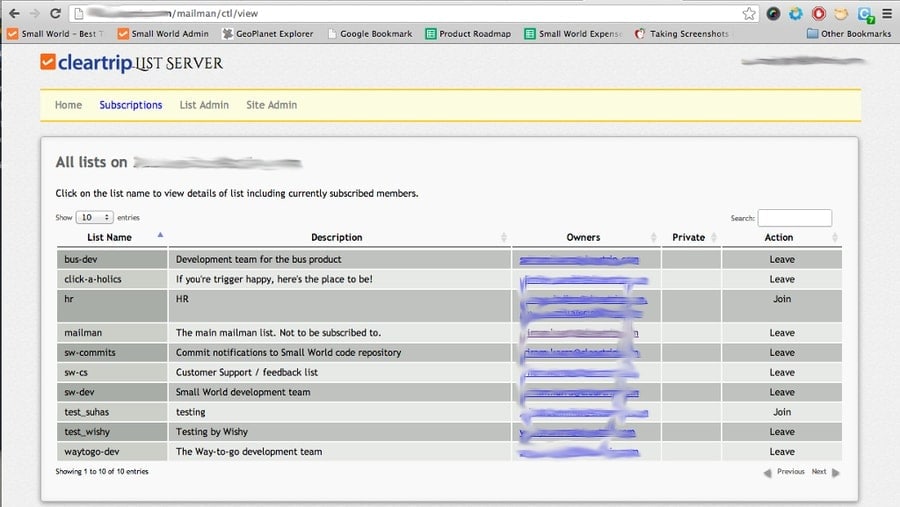 Key Features of Mailman
The language support for this tool is great. You can create email notices with more than twenty popular languages from all over the world.
All the tasks and properties can be managed by using the web-based dashboard.
You can integrate this tool with any of your business or marketing sites at ease.
This tool has integrated features like spam filtering and bounce detection.
The newer version supports the virtual hosting feature with no restrictions in naming the email listings.
2. Sympa
---
Sympa is a mailing list manager for Linux that is completely free and open source. The main aspect of this tool is the secure web environment it provides. Sympa stands for Systeme de Multi-Postage Automatique. As the name suggests, it is a  completely automated system for sending multiple electronic messages at a time.
Sympa is meant for professional use. This scalable system is capable of handling a large number of email subscribers. This software features an intuitive dashboard that is capable of managing all administrative powers and moderation of listings. It supports many relational database management systems for creating mailing lists.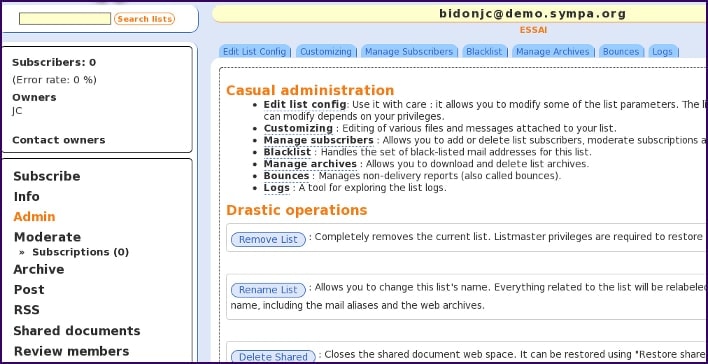 Key Features of Sympa
The advanced mail composer can create a beautifully formatted email message from an external HTML-based webpage.
It has a bounce analysis algorithm that can create detailed reports based on the bounce rate. Even this intelligent algorithm makes it optimize the delivery time.
This tool has the scalability to adapt to large systems. It can manage almost a million subscribers without any hassle.
You can even integrate it with third-party antivirus tools like McAfee to get extra protection against attacks.
The system admin can customize this tool to a great extent by editing the CSS and other components.
3. Discourse
---
Well, Discourse is a forum or discussion platform. But it has a great additional capability of managing mailing lists. The project is completely free and open-source. So you can clone the project sources from their Github repository and install them on your very own Linux server.
They have even detailed documentation on their Github page about setting up the development environment on your Linux desktop. If you don't want to mess up with all these, then you can try out their managed and hosted Discourse service for your organization.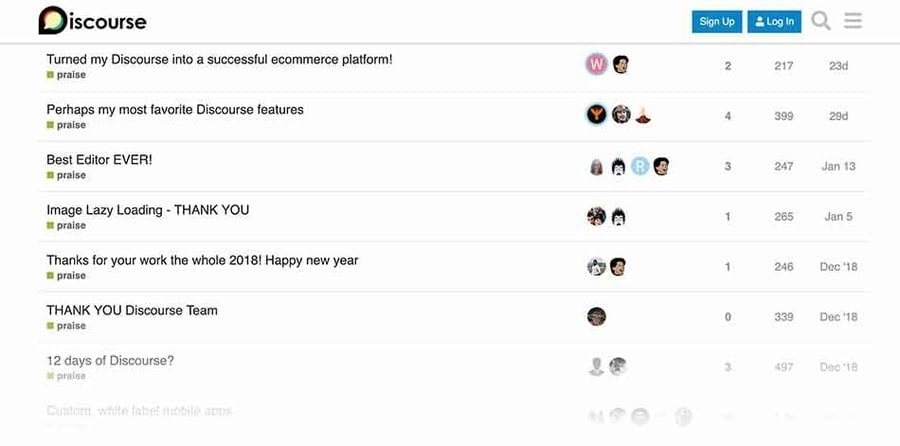 Key Features of Discourse
It has theming capabilities to add up your very own look and feel to the overall system.
Though this is mainly a forum space, your mail subscribers can be added to a separate forum for their discussions.
It has advanced spam blocking feature for making it more secure against attacks.
This tool supports additional plugins to extend functionalities.
The intuitive admin dashboard has a very beautiful layout for high-resolution devices.
4. Dada Mail
---
Dada Mail is yet another mailing list manager for Linux. Just like most other mailing list managers, you can install it on your Linux-based servers or website. It has a web-based control panel for the administrators. The basic version of Dada Mail is completely free though it has some limitations with the number of mailing lists and subscribers.
On the other hand, you can go for the Dada Pro plan by paying money. You can either get a one-year subscription or a lifetime subscription. With the pro plan, you don't have to mess with your Linux server system. Instead, the developers will install it for you. Besides, you will get constant developer support if needed.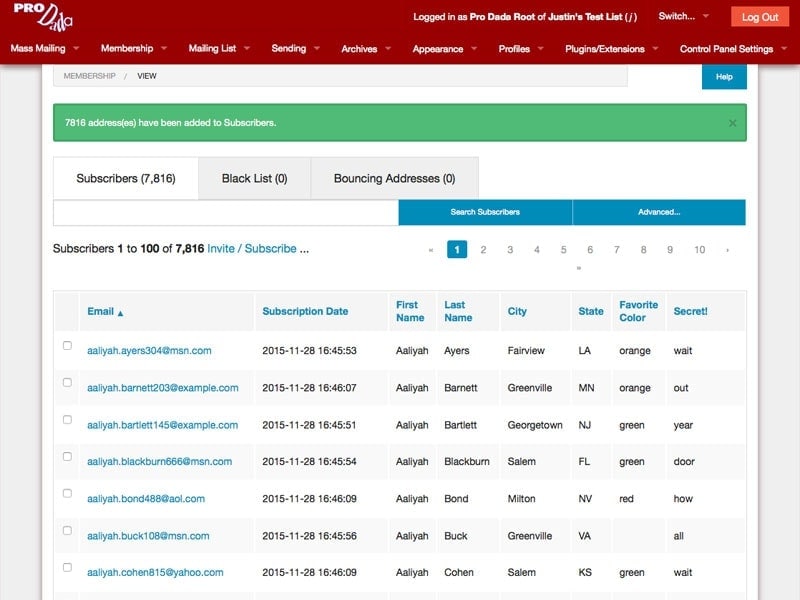 Key Features of Dada Mail
The web-based control panel will provide you an individual dashboard for each of the mailing lists.
You can create customized emails based on the interests of your subscribers by using the custom mail template.
This tool will provide you additional analytics like click rate, bounce rate, etc., for speeding up your marketing game.
Dada Mail has complete documentation for all of its versions. Besides, you will get access to their support forum.
You will get complete control over managing your subscriber profiles with custom properties.
5. Schleuder
---
Schleuder is a simple yet powerful list manager for emails. It runs on Linux-based server setups for managing email listings. This tool is completely free to install. There is detailed documentation on the website for subscribers, email list administrators, and server administrators.
End-to-end encryption is an iconic feature of this tool. This tool uses OpenPGP for highly secure encryption. It even supports mail resending. There are several plugins and modules like a command-line console for managing lists and a web interface for graphical UI.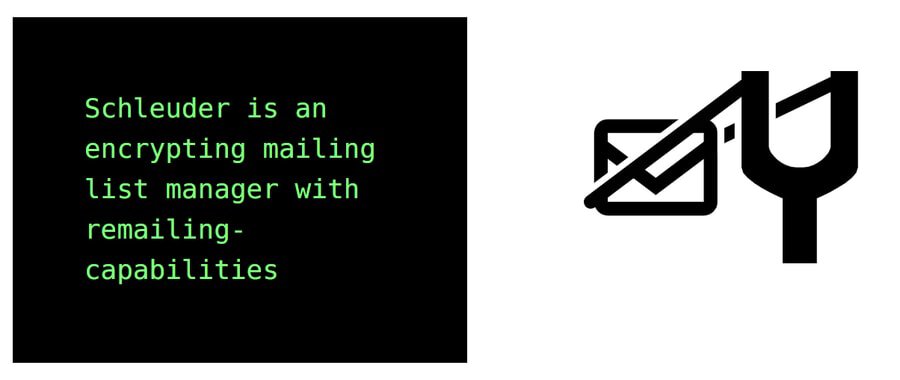 Key Features of Schleuder
It can be used as an email hub. That means you can use Schleuder to send and receive messages from non-subscribed persons.
It theoretically works as a mailing bot. You can give administrative commands through email messages.
Schleuder Web, the optional web interface, can run independently using the APIs from the original Schleuder system.
The command-line tool named Schleuder CLI is based on Ruby programming language, and this is why you can manage mail listings with this in any Ruby installed system.
If you are a developer, then you can improve this system by reporting issues and contributing to Git.
6. ezmlm-idx
---
ezmlm-idx is a Linux mailing list manager. This tool can efficiently and quickly send numerous electronic messages to a large number of subscribers. This tool is highly automated. It can automatically add or subtract subscribers from a specific list based on the criteria you set up earlier.
It has a great role management system that can apply restrictions on messages and subscribers. The subscribing and unsubscribing option is very fast and responsive. Users don't need to wait to process the request.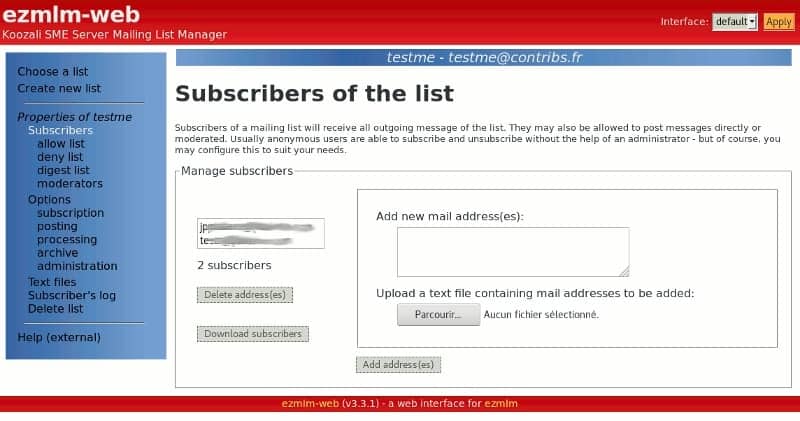 Key Features of ezmlm-idx
It has a message archiving feature that can save the old messages in the database without using high system resources.
This tool has an integrated bounce management algorithm to give you detailed analytics on effective subscribers.
ezmlm-idx, which is an addon to the original software, has more features than ezmlm.
You can add the remote administration functionality to this tool by typing a simple command and manage the listings remotely.
Additionally, it has multiple language support that is very helpful for the Unicode encoded languages.
7. Majordomo
---
Majordomo is an automated Linux mailing list manager for handling a large audience. This tool was written in the Perl programming language. Now it is maintained by a large volunteer community, and it is free to use.
This tool is built with a modular design that is easily scalable and efficient. The system administrator can control the dashboard and mail listings by sending commands through email. It supports many types of email listings, and thus it gained much popularity over time.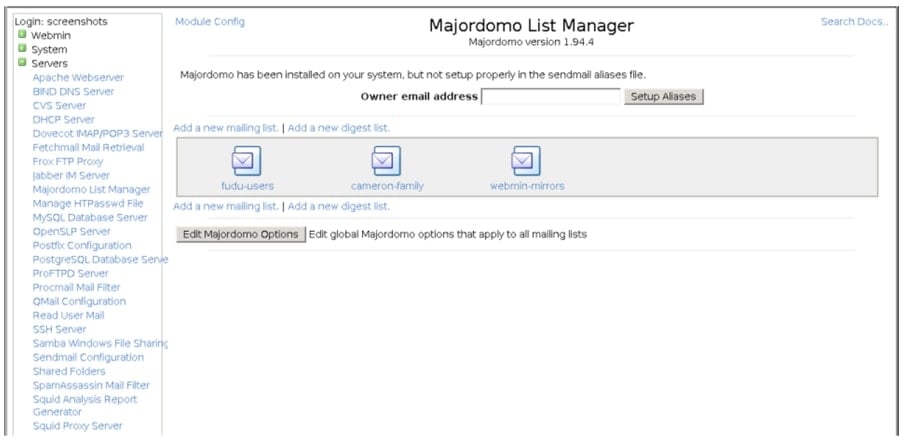 Key Features of Majordomo
Remote list management allows the admin to manage it without accessing the server, which reduces vulnerability.
It supports FTPmail that enables the users to connect to an FTP server for getting their desired files as email attachments.
This tool has built-in protection against most spam attacks and fake subscription requests.
Majordomo can send mail digests in bulk form, and it can automatically filter out lists based on expressions.
8. phpList
---
phpList is one of the most popular mailing list managers for Linux. It is completely free and open source software. You can either host it on the developer's managed hosting platform or deploy it directly on your Linux-based SMTP server.
It can send bulk emails, newsletters and even handle your company's email marketing campaign at ease. This tool is almost two decades old, and you can fully rely on their service. This tool is used in almost a hundred countries all over the world. It is available in all the major languages.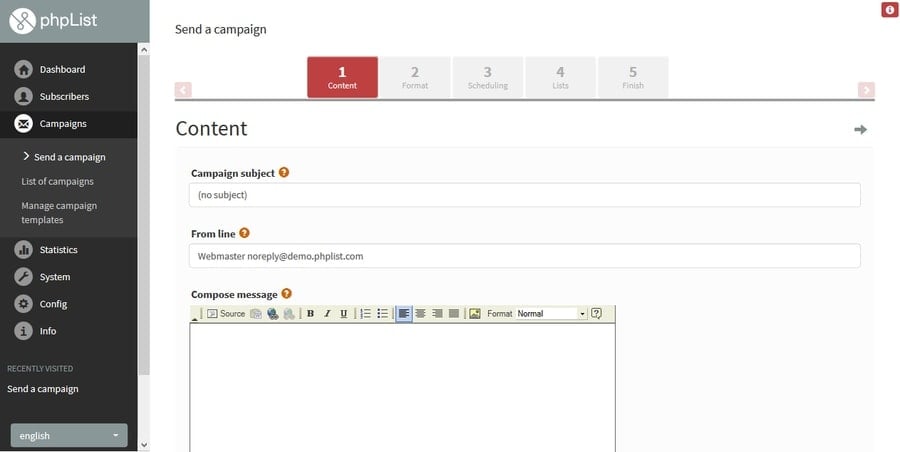 Key Features of phpList
The package includes a web-based user interface for amateur system admins to manage their email campaigns.
The duplicate resistant system wouldn't let a subscriber get duplicate messages even if he subscribed to the listing twice.
The analytics feature will give you details about the bounce rate and click-through rate.
Importing and exporting subscribers list in CSV format is a great feature to back up your data to external storage securely.
phpList supports scanning RSS feed and sends the extracted information through emails.
9. OpenEMM
---
OpenEMM is a great mailing list manager for Linux that is used as an email marketing tool for small and large enterprises. You can install it on Linux server distros like Redhat or CentOS. You can even install this on other Linux distros as well as Windows and Mac through VirtualBox.
You have to have installed Java JDK, Apache Tomcat, MariaDB, etc., to run this software. It has a web-based front end that manages this tool, displaying dynamic graphical analytics. You can even use a scripting feature to trigger your customized actions.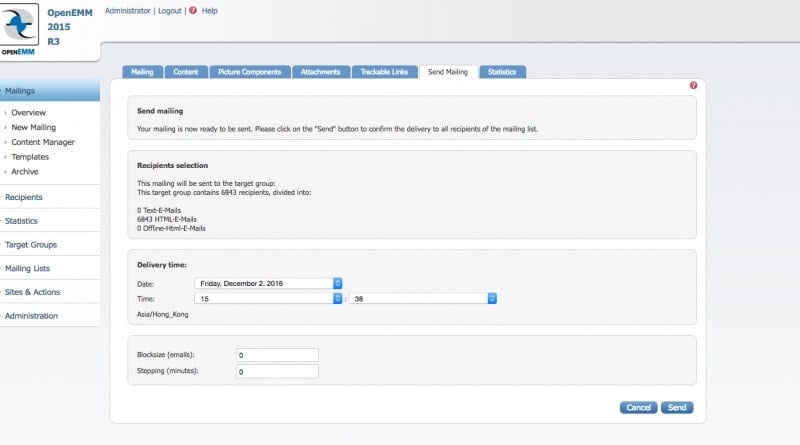 Key Features of OpenEMM
It has an HTML-based template feature to compose emails and newsletters conveniently.
You can build your variant of OpenEMM from the sources on Github.
It features automatic bounce management with email open rate analysis.
You will see several real-time statistics displayed with beautiful infographics.
System administrators can extend the functionalities of this tool by using the in-built plugin interface.
10. tellmatic
---
tellmatic is not a very popular tool. It is a simple open source project used in email marketing that is archived in SourceForge. It is a PHP and MySQL-based system that is used with email listing tools for running marketing campaigns.
Though this is a very simple and straightforward script, the features are abundant. You will find all the common features that a mailing manager should provide with. Additionally, it can perform some quality checks to reduce spam and duplicates.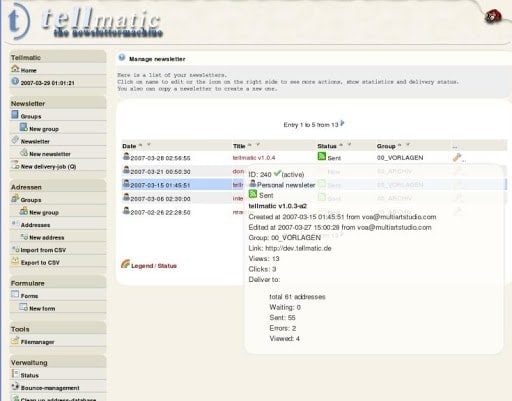 Key Features of tellmatic
This tool supports importing and exporting email listings in various file formats.
You will get detailed analytics on location, bounce rate, click rate, and open rate to boost your marketing campaign.
It features an integrated form editor that can create subscription forms for different userbase.
The blacklist and email address verifications are two great additions in the feature list to prevent forged subscriptions.
Final Thoughts
---
Mailing list managers for Linux won't run on your stand-alone desktop. Rather they are installed on Linux-based server computers because they are intended to serve other client computers. Most of the above software is open source, and you can build and deploy a customized version on the SMTP server of your organization.
All of the above tools have similar functionalities. They all provide a good value, just what a mailing list manager should provide. If you are running an email marketing campaign for your company or have a news digest service, these tools can handle that job. Yet, most people prefer hosted third-party email listing services over these self-installation methods. What do you prefer most? You can comment below to let others know.