Among all the popular Android gaming genres, building the kingdom and protecting your own kingdom from the opponent becomes popular overnight. And the genre is overly popular as the empire building games for Android. Basically, the young generation loves to play this game because they can play it in multiplayer mode and fight together. The basic rule is to build a kingdom, empire, or even a clan with your friends and fight together to protect it. However, if you didn't ever try this game, you are welcome to check out the best ones in the list below.
Best Empire Building Games for Android to be the Hero of Your Clan
---
As this genre has become overly popular, game developers brought games of different kingdom-building twists and processes on PlayStore. And we are very happy that most of the games are quite compatible with the best ones among them. And we selected the collection of the best kingdom building games for Android by checking some features, including multiplayer mode, graphics, sound effects, online gaming facility, empire details, and so on. You can check the features of all these games here below.
1. Last Empire – War Z: Strategy
---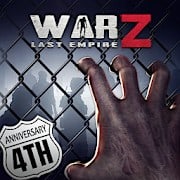 The first one we selected is the Last Empire, and it is one of the best strategy games where your only mission is to protect your empire. But, guess who the enemy is! Not another human but the undead zombie. To be true, it is quite a different type of empire-building and protecting game as you have to fight with the zombie to save your people. And you know that the fight won't be easy as they are already dead.
Important Features
The Zombie troops of this game are apparently powerful and come with a very horrific appearance.

Base building strategy is the best part of this game.

In multiplayer mode, you have to fight against the zombie troops right beside your friends.

Here, you have to create a zombie defense strategy to avoid their attack.

You also have to build the destroyed castles and army troops to make your empire the strongest one.
Pros: You can initially control some zombies and then make your own troops with zombies and armies.
Cons: As it is a horror game with horrific zombie enemies, it's not suitable for kids.
2. Clash of Clans
---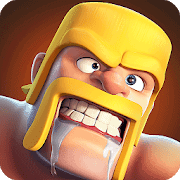 Who doesn't know the name of Clash of Clans by Supercell? It is one of the most popular online battle royal and city-building games for Android. You can easily play it on any Android phone or tablet without any issues. You can join warrior clans and fight with grand alliances in war events. Moreover, this game holds regular events and campaigns. These events provide lots of in-game rewards and experiences that you can acquire to level up your Town Hall.
Important Features
This game does not require any flagship-grade hardware to run smoothly.

You can arrange your army with different types of troops and epic heroes.

Level up your town hall to unlock new troops and new levels for individual troops.

You have to upgrade mines and barracks to have adequate resources and troops for deployment.

Your city's defense is completely in your hands, so fortify your town with cannon, archers, towers, bombs, traps, etc.

It offers numerous hero skins for epic heroes, such as Barbarian King, Grand Warden, etc.
Pros: This game gets regular updates and improvements from the developers. It has a huge community of players from all over the world.
Cons: This game requires an uninterrupted internet connection and does not have any offline mode.
3. Forge of Empires: Build your City
---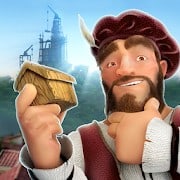 InnoGames GmbH offers Forge of Empire, a highly recommended strategy game for Android-based gamers. This game is free to play, and you might encounter some ads within the game interface. Moreover, you might want to buy some in-game items or premium features, and for that in-app purchases facility is being integrated. This game will make you feel like a true emperor building and arranging cities as you like. Check out more of its features in the following section.
Important Features
You will have to build cities and advance the time as you level up.

It allows resource exchange and trade with other players who are neighboring your empire.

You can become a star businessman and a fierce conqueror in the game world.

Choose and improve your city decisively to gain a prosperous future.

You can join in PvP battles in multiplayer mode and interact with other players in real-time.

It offers high-quality graphics and beautiful in-game environments which are always evolving.
Pros: This game offers regular events and campaigns on almost all real-life occasions. You can win lots of in-game rewards and perks by completing different achievements and joining numerous events.
Cons: Some players did not like the overall gameplay.
4. Empire: Four Kingdoms | Medieval Strategy MMO
---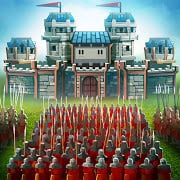 Empire is by far one of the best empire-building games for Android, developed by Goodgame Studios. You will play as a warrior king and master businessman within the game world. All the choices are yours, and you have to follow the best strategy to dominate over other empires and kingdoms. So, grow from a novice to a great king with epic gears, powerful fortresses, and battle weapons. Moreover, it is played by a huge community of players, making it one of the largest MMORPG-type strategy games.
Important Features
This game offers a lot of missions and quests that you can join to get more in-game experience points.

You can collect taxes from the dwellers and make positive trades to improve the growth of your empire.

It features interactive PvP battles with real players from all over the world.

You have to train your knights and upgrade them with powerful gears as you level up.

This game is about building your kingdom with fortresses, industries, armies, agricultural structures, and a lot more.

You will need an uninterrupted internet connection to access this game.
Pros: It is free to play and includes an optional in-app purchases facility. You can team up with other players and make powerful alliances.
Cons: This game might encourage you to buy in-game items and premium features with real money.
5. Townsmen
---
How about you get the city to build your imagination from a humble backwater to a medieval metropolis? Of course, you will have a thriving economy and happy villagers to make your village cheerful and delighted in Townsmen. Initially, your task will be to find the spots of mining, harvest the crops and collect your taxes. Although, you will face many foes lurking close to your peaceful village. And as the founder, you have to prepare barracks and recruit brave soldiers to defend the citizens.
Important Features
You will beautify your city by building joust fields, market places, monuments, statues, lush gardens, and much more.

The whole city-building journey is apparently in the medieval period.

The deep production chains and the complex economy will make the game even more challenging.

Thoroughly, you will get a meaningful season and diverse weather effects along with disasters like fire, drought, diseases, etc.

There are plenty of different towns and production buildings to make the game an addictive one.
Pros: The game eventually comes with a military feature along with soldiers and bandits. Furthermore, you will get free sandbox play mode with other challenging tasks.
6. Rise of Empires: Ice and Fire
---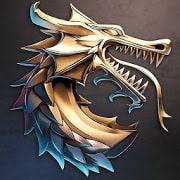 Rise of Empires is not only about ruling the city but also building staff to earn points. The game approaches with a real-time Nation and medieval strategy war where you have to take the lead. The game starts with a small town that is ruined by the attack of the Eastern Dynasty and the mythical death of Harbingers. Apparently, they will control the ancient power of dragons. And here, you have to build your empire and recruit the heroes in this never-ending war.
Important Features
You have to fight real-time combat, unlike other players around the world.

There will be powerful dragons with incredible shouts that are in your control. Thus you can use the power to suppress your enemies.

Initially, It is hard to take control of Cavalries, Footman, and Archers. So, you need to know them to win the rest of the journey.

The game indeed offers tons of heroes who will help you constantly in close combat or enemies at a distance or build the home base.

You will also get an alliance as your backup whether you're fighting for the President's title or It's against multiple servers.
Pros: The game is eventually so realistic that you'll feel the heroes, the maps, the city, the world are all real. Additionally, you can upgrade the facilities, research technologies and train the troops to strengthen the empire.
Cons: After reaching level 20, the resources are wholly out of control.
7. Clash of Empire: Awakened Civilization
---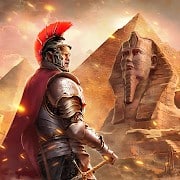 Clash of Empire is a game for people who love both building and fighting together. It's because this game is going to give you the taste of both where you have to build your own empire and then protect it from the enemies. The game story takes place in a medieval period where your task is to build your own empire and defend it from enemies. Similarly, you are going to attack other players worldwide to loot resources.
Important Features
This game apparently comes with more decent graphics than most other empire building games for Android.

The in-game guiding is well specified and indeed quite helpful.

You can indeed rearrange every structure as you want to defend against enemies.

Additionally, this game stores your data on cloud storage.

Your target is reaching the highest Throne by defeating enemies, which makes it more motivating.

This game initially comes with a simple tap and drag functionality.
Pros: Clash of Empire is a perfect game for making boring times enjoyable. Additionally, this game can run fluently with a weak internet connection.
Cons: The graphics of this game are not satisfactory to many people.
8. March of Empires: War of Lords
---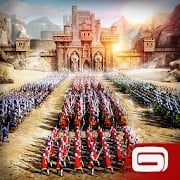 And the next suggestion will apparently take you to the world of Kingdom and war. March of Empires is an MMO that means Massively Multiplayer Online RPG game where millions of online players combat each other. Besides, the game task is simple: build your own empire, grow it and make it enemy-proof. You can eventually attack others as well as they can attack you. This game will also challenge your planning skills, and you have to show your best strategic skill as well.
Important Features
This is a real-time battle game where you are interacting with others.

This war strategy game initially boosts your intelligence.

The clan vs. clan combat is indeed the best part of this exciting war strategy game.

You will also enjoy a realistic gaming experience in this game.

Moreover, the in-game battles are pretty well-detailed.

You can eventually log in to your account and continue playing from any device.
Pros: Your Android device won't face any issues running this game. Besides, this game won't consume too much juice from the device's battery.
Cons: The free-playing of the game has quite limited experiences.
9. Stormfall: Rise of Balur
---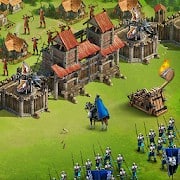 Stormfall is one of the best empire building games for Android that comes with exceptional yet decent and detailed graphics. In the game, your main duty is to defend and protect the lands of Darkshine. For that reason, you have to attack your enemies to get resources and make a clan of friendly players to help each other. Also, this game will challenge your intelligence and power of planning. First, however, let's see what more this game will offer.
Important Features
In this game, you will experience the fun of a role-playing and adventure game.

You will initially enjoy this game year after year since the MMO property makes this game almost endless.

This game also helps you to sharpen your intelligence as you have to show your strategic intelligence of protecting your castles.

You can initially enjoy this game without spending a single cent.

Additionally, there are millions of online players whom you can attack or build a clan.
Pros: You can play this game in more than seven languages. Besides, this game stores your activity on cloud storage.
Cons: Some users don't like the sound quality of this game.
10. Lords & Knights – Medieval Building Strategy MMO
---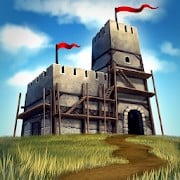 And last recommendation is Lords & Knights, a medieval building strategy game you will regret not playing. This incredible strategy game gives you a superior experience of being a leader in medieval times. You will get an amusing experience of building a whole empire of yours. However, you have to take the responsibility to protect the empire since other players will always try to attack your territory to loot your resources. Additionally, you have to attack others to get their resources as well.
Important Features
The game is initially about becoming the most powerful ruler, which makes it an interesting game.

It comes with a very decent sound quality that will boost your gaming experience.

Additionally, the detailing on the graphics gives it a realistic look.

You can eventually make alliances with other players and expand the territories.

The better your strategy will be, the easiest it will be for you to protect your empire.
Pros: The best part of this game is its plot and medieval features. Also, you don't need a very highly configured Android device to run this game.
Cons: Users often lose connection while still having a durable internet connection.
Our Recommendations
---
No doubt that these are the best kingdom building games for Android, and I am sure none of them will disappoint you. However, Clash of Clan is the most popular one, and I am sure you have already experienced this game. If you love horrific zombie games, then you can try Last Empire, War Z. Besides, for MMO experience, you can try Empire and Lords & Knights. To be honest, all these games are amazingly amazing from their own place, and I suggest trying multiple games from the list if you have a deep interest in Empire building games.
Finally, Insights
---
Did you ever play another super exciting empire building games for Android that we have missed here? If yes, please share the name of the game here to try it by ourselves. You know, we are always interested to learn about new games and apps. Also, share this content with your friends who also love this genre a lot. Your small support is our inspiration to work hard and come back with more information about new apps and games. We appreciate your interest in our site and for your time; thank you a lot.