What is Spam Message, and why SMS called Spam needs to be removed or blocked from your Android device? Spam messages are being considered a threat to your device because the messages can access the personal and confidential information of your Android device. So, you need to find and delete spam messages on your Android to keep your device safe from any kind of threats.
Normally, spam messages are unsolicited messages. Most of the time, it comes to your device as commercial messages with various offers or something. Usually, people tend to get attracted to these kinds of spam messages. These messages are sent to a huge number of recipients at the same time. And it vanished within a short time as well.
If you entered into any provided links in these messages, then there'll definitely be a chance of getting unusual activity on your Android device. So, if you're a person who is very confidential about your Android device, then don't respond to any of these kinds of spam messages. Just find and delete those spam messages from your Android.
Find & Delete Spam Messages on Your Android Device
---
For transmitting spam messages, there are several systems available. You can receive spam messages through blogs, newspapers, and social networking sites as well. Not only these but also your smartphones are being also targeted. As a result, you've got to be aware of these messages. Try to find and delete spam messages on your Android as early as possible and protect yourself from any kind of virtual threats.
Sending spam messages nonetheless is quite easy and cost-effective. That's the reason this is very popular for commercial marketing. Spamming is virtually free of cost, so the method has been accepted as a popular marketing tool all over the world. Because of the freeness of spamming, there is a threat of forgery on the internet through this.
So, you've got to be cautious about spam messages and need to find and delete spam messages regularly. In the entire post, you'll be carried through the process of doing that; so, if you're a person who is always aware of getting the Spam on your Android, then you're in the right post. Let's make your full concentration on this because you should not skip a word here.
Step 1: Open Message App on Your Android
---
Here's the first step, find your built-in Message app on your Android and click to open. We all know why messaging apps are for you on your phone, right? The incoming messages can be found in the messaging app, but did you know that spam messages can also be found here? If not, then let's find & delete spam messages from your phone.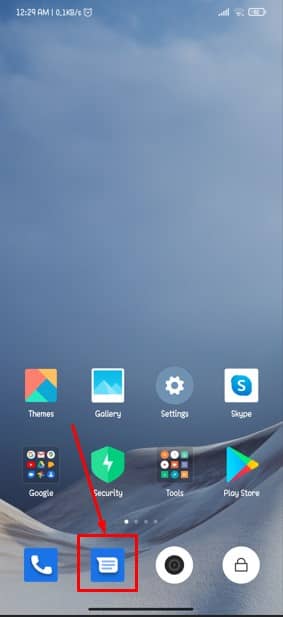 Step 2: Spam & Blocked Messages Option on Your Android
---
Okay, you should be on a resulting page right now that looks like the below one. All your phone messages will be here, but spam messages can't be found here, though. Then what to do?
Well, you'll find a three-dot horizontal line at the top of the right corner on this page; just tap on there. By doing so, the options will pop up that you are looking for exactly. Among many options, find the Spam & blocked option to proceed further with the process.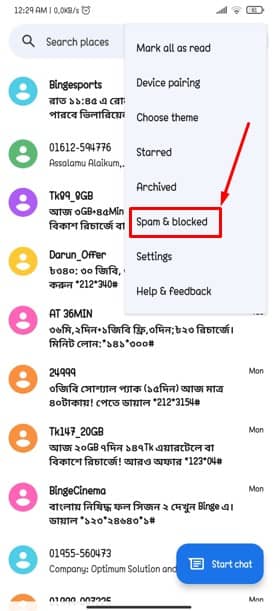 Step 3: Select Spam Messages Individually and Hit Trash Bin Icon
---
In this step, you'll be able to see all the spam messages that you've got on your Android so far. And now you've to select each and every text individually to delete because there's no bulk option doing this task- Hey Google, are you listening? If so, then please update this manual feature to Select-All so that selecting all the spam messages could be more easy and convenient.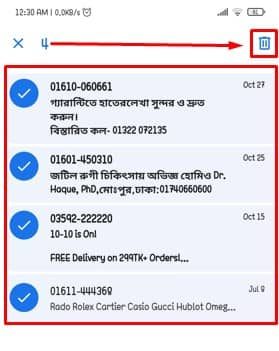 Since the select-all option is not available yet, there is an easy process to do. However, let's make it clear how to select these spam messages easily and delete them just by a click of confirmation. Press and hold for a bit on any spam message, and then the option will come up to select the remaining ones easily.
To select the rest of the messages, just tap on and forward to the next one. In addition, if you've selected all the spam messages, it will look like the above-attached image. Lastly, hit the trash bin icon at the top right corner to delete all the spam messages.
Step 4: Confirm Your Spam Messages & Delete
---
Up to this step, you might have selected all the spam messages you would like to delete. There's nothing to do tricks in this step except just a simple click on the below-marked Delete option on your resulting page. And you'll be done & dusted with finding and deleting all your spam messages on your Android device.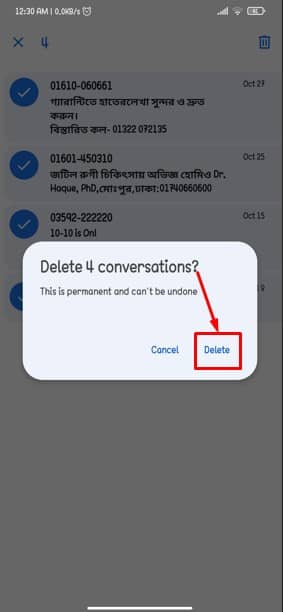 Final Words
---
If you didn't miss any above instructions, then you're now able to find & delete your spam messages on your Android. Wasn't it easy and convenient? From now on, there's no chance of worrying about finding the spam messages and deleting them.
So, keep yourself awake all the time to avoid any kind of risks or threats. Find your spam messages by following the above steps and then delete them accordingly. So, it's time to feel relaxed as there are no longer any threats to your confidential information.
Well, that's it, and it is time to take leave. I hope this helped! Wasn't it pretty easy to do? I think it was! Let's hear about your experiences in the comments section below. I hope you will find this article helpful and easy to understand.
Please feel free to share this with your colleagues, friends, and family. Thanks for taking the time to read it. Take good care of yourself, and always stay tuned to the latest tricks and tips.