Are you looking for a markup system that supports reStructuredText and Markdown? If so, ReText is for you. It is actually a markup language editor that will help you to create formatted, standard and plain texts that contain readability. Also, it will let you convert those text into the valid HTML and XHTML coding. It is an open source, efficient and thin text editor, specially developed for Linux.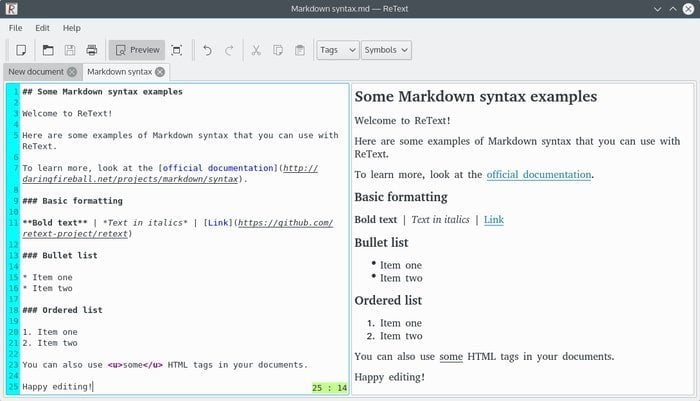 Features of ReText
---
ReText has Written in Python and so, it works very well on Linux and other POSIX compatible platforms. So, as a Linux text editor, it has acquired a great name. It is responsive and presented with the user-friendly and memory-friendly approach. It is packed with the simplified UI with all necessary panels. However, it has come with a handful of very useful and stunning features. Let's check them out.

• It is totally free to download, install and use.
• Markdown editing and extension approach is available here.
• It includes Syntax highlighting which will make it easy to deal with errors, tags, links, selections etc.
• You will also get it very easy to move and copy-paste image directly into the editor.
• Live preview is available and it will make the Synchronized Scrolling possible.
• Uploading formatted documents from the editor to the Google Docs is also very easy for ReText.
• It also includes tags and symbols drop-down lists along with the spell checking.
• Undo and redo options are also activated. So, mistakes can be checked out.

The only disappointing facts of ReText are only two in number. Firstly, it doesn't contain the word count approach. But I think it is not a big issue. Because tons of mini-sized and free applications are available that can count the words in your files. However, the second fault of ReText is it has no line numbering feature. I think it is also a silly issue and alternatives are also available.

Install ReText on Ubuntu Linux
---
Run the below command to install it on Debian or Ubuntu Linux:
sudo apt install retext
Final Thoughts
---
ReText is a very simple text editor but it is quite configurable and powerful. It also supports auto saving option, PDF, Open Document text and HTML highlighting. Besides, it has its source code accessible on GitHub. For all these outstanding features, I think it is worth to have a recommendation. Please inform us if you have any confusion, left on it and to keep in touch, please provide us with your feedback.