Watching videos has become the primary source of entertainment. Previously we had to convert a video to low-quality formats to view them in our mobile devices, where nowadays every modern smart device comes with its video player. However, if you want to find the best one for you, this article will help you better In this regard. I have compiled a shortlist of the renowned video player apps for Android that will surely enhance your video viewing experience.
Best Video Player Apps for Android
---
Here I've handpicked 10+ best video player apps for your Android device that support almost all formats, various kinds of subtitles provide network streaming facility and give you excellent playback control. Here you will get the salient features and needful information so that you can select the best one for you and enjoy the most out of it.
1. MX Player
---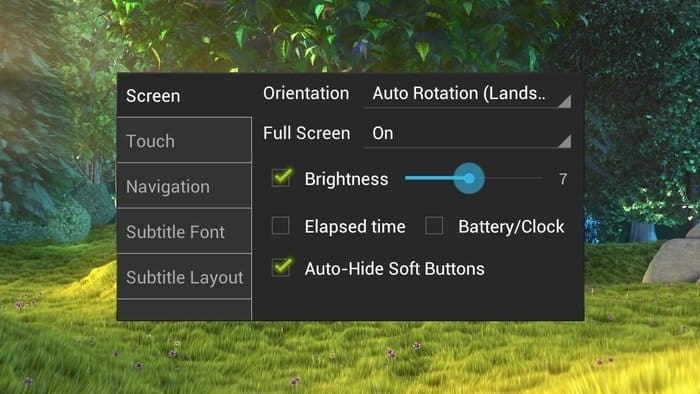 The MX player is a renowned video player apps for the Android device with a smooth and user-friendly interface. It can play almost all kinds of videos without any problem. It has some beautiful features and also has multi-code decoding capability. It offers a few plugin options with extra functions. MX player supports subtitles; you can scroll both forward and backward as you want, sweep across the video screen, zooming function and many more. The most interestingly you can enjoy the one screen lock for the kids here.
Important Features:
Get amazing and enjoyable Playback Features.
Enjoy the audio Boost.
Play Network Streams.
Get a variable aspect ratio.
You can lock the app and watch movies without any disturbance of the kids.
Use various swipe gestures and pinch options to zoom the video.
Features like scroll forward/backward, change text size, zoom in/out, gesture controls are available.
2. VLC
---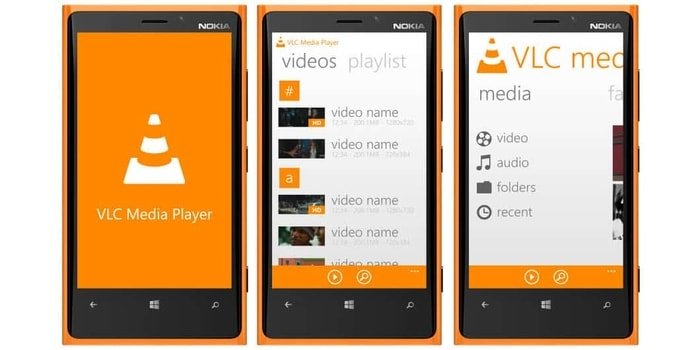 VLC is a free video player apps for Android where you don't have to pay money for it, neither have to tolerate any ads. You can enjoy both audio and video files here. It manages several types of formats for smooth service. Adaptive streaming, network streaming, media library organization it supports almost everything. Its' Multiple features and design will mesmerize you. You can play multi-track audios and control the volume basing on gestures. You can call it a complete package which is for all levels of consumer.
Important Features:
You will get a beautiful set of five-band built-in equalizer.
It's completely ads free.
No in-app purchase will ever bother you.
It provides subtitle support, scrolls forward and backward, changes text size, and many more essential features for you.
Get a gesture control facility like zoom in or zoom out.
Swipe and pinch across the screen to control zoom in or out.
It works with network shares, network streams,  and drives.
VLC supports almost everything from 360-degree video to 8K formats.
3. PlayerExtreme
---
PlayerExtreme is a video player who has a built-in subtitle downloader. It can stream audio, sync the subtitles,  and video directly from the PC, or websites. This highly rated video player keeps the videos in a private folder for extra safety. It can play videos of almost all formats. Control the playing progress, brightness, and volume easily. Store the videos sorted by name, date, and size.
Important Features:
The app supports almost all file types of video formats.
The player can stream all of your media to all your devices.
You can organize photos, videos, and music.
Share music, Photo, Video among friends by using social platforms.
Use TED Talks, NPR, sources, and get online content using the browser feature.
You can add songs and the lyrics here.
The player can play SMI, SRT, TXT SSA formats.
4. KMPlayer
---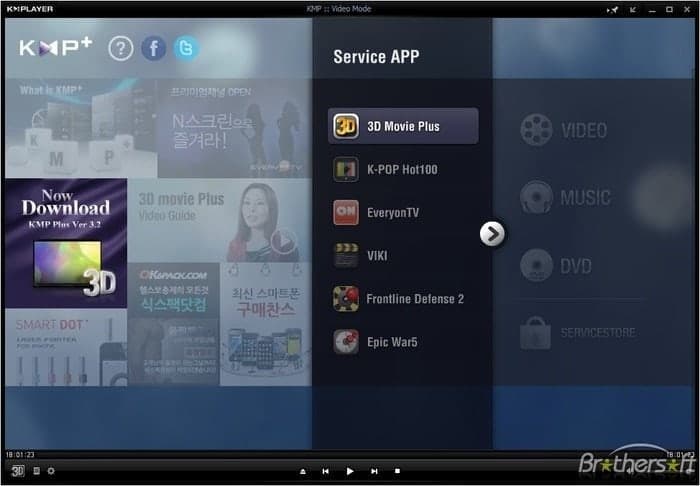 KMPlayer is one of the best video player apps for Android in the market. It supports a wide range of codecs and file formats. Its library viewer can automatically detect files and ready to provide you the cloud storage support. It supports subtitles, one-finger gesture volume control, brightness, and has playback speed controls. You can view your contents stored on Google drive. This video player also supports HD videos; you can use it and watch any movie on the laptop or PC from your cell phone.
Important Features:
It supports Slow Motion Playback.
Access easily using the Gesture Support.
Share media easily using KMP Connect, moreover; bookmarks your favorite videos, movies, and music.
Get subtitles suitable for Mobile Viewing.
Play local & online 3D videos as it has 3D support.
Customize and control the subtitle if required.
Enjoy split and multiple videos with seamless playback.
Get advance audio processing features for audio files.
5. XPlayer
---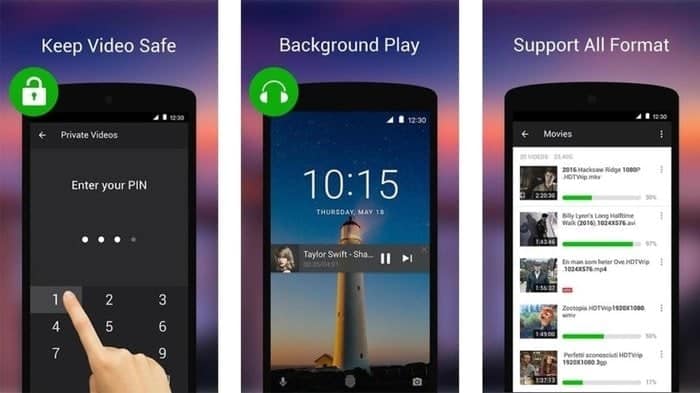 Xplayer is the best master video playback tool. The app supports all video formats, including 4K, ultra video files. It also supports Chrome and most video codecs. It is an HD video player for both tab and cell phones. It relieves you from the tension of losing files. You will get the night mode, a privacy folder, and does not boast any banner ads.
Important Features:
● The player runs with AVI, MP4, M4V, MKV, MOV, 3GP, RMVB, WMV, FLV, and many more formats.
● You can play 4K in this video player.
● It accelerates your Hardware.
● Use Chromecast and enjoy videos on TV.
● It helps subtitle downloader.
● You can play any video in a pop-up window, background, and split-screen.
● Get essential features like Quick Mute, Night Mode, Playback Speed.
● You can easily share and manage your videos.
6. FX Player
---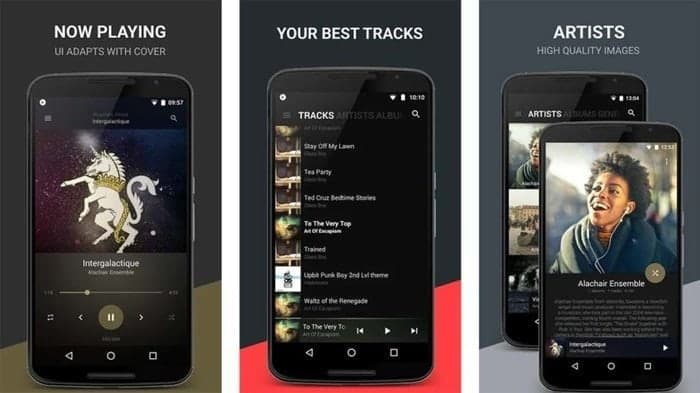 FX Player is a famous video player which emphasize more on mobile UX than the classic media player. It has lucrative features like supporting all video formats, subtitles, screen mirroring, navigating, and enlarging. Enjoy the uninterrupted full HD and 4k videos here. Get a fascinating, continuous, and smooth interface. You can simultaneously use other apps while watching any video. You can resize the video playing screen and access or control the playback while using it as the floating window.
Important Features:
Almost all video formats like MP4,  AVI, ASF, MPG, FLV, are supported by this video player.
It also supports various audio formats like WAV, MP3, APE, AC3, WMA, and many more.
Enjoy blue-ray ripping video, HD, 1080p, DVD, 4K in it.
You can control the gesture, fast forward, fast backward with a double-tap.
Control speed, brightness, volume, playback, and resize the screen.
Get multi playback functions like Repeat, Shuffle, Background, Auto, and, Mirror Mode.
Scan all of your video files and the SD Card automatically.
Get multilingual audio support.
7. OPlayer HD
---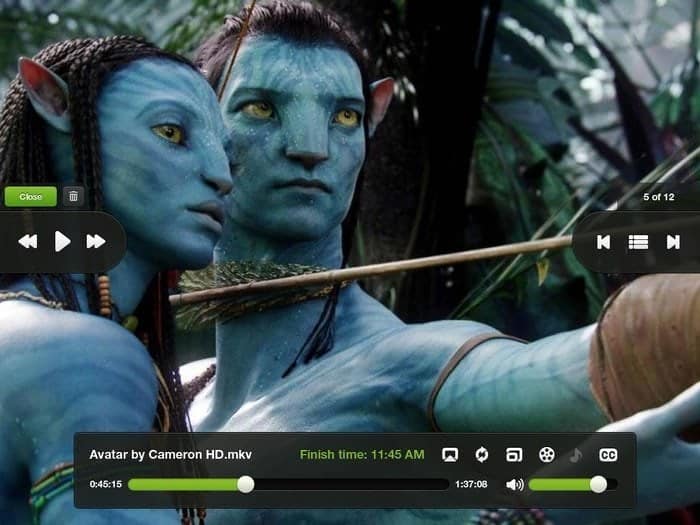 OPlayer HD is a renowned video player which supports most of the file format for audio or video playback. You will get versatile features in here. You can download or browse your file and share it over the network. You can have subtitles while watching movies in it. Enjoy the excellent and user-friendly interface of Oplayer HD. You can play streaming video in this video player. Adjust the playback speed, get the Repeat, and also the Background Play option. You can protect your app and folders, can hide password-protected folders.
Important Features
Remotely play files on your PC without downloading; moreover, get the single-hand mode to control video playback with one hand.
Enjoy its multiple file transfer ways, like USB and Wi-Fi.
It consumes less battery, decodes mp4, mp3 by default; moreover, you can enjoy the games in the built-in browser.
Get auto boost and 1080P HD video performance on Android devices.
Get a built-in file manager and AirPlay, Mirroring and, HDMI wire support.
It remembers the exact playback time and resumes from the last position.
You can render it on your TV as it supports the mirror, AirPlay, and HDMI wire.
Here you can enjoy all 3D movies in 2D mode; moreover, you can control your playback using the headphone.
8. nPlayer
---
nPlayer is one of the best video player apps for Android in the market place. It supports all formats and plays videos seamlessly, which makes it unique as you don't need to convert the video files. You can stream videos from your remote devices. Enjoy simple functions like volume, brightness, and interestingly you can adjust the tasks with simple swipes on the screen. The videos of your device get synced automatically in the app.
Important Features:
Import videos from cloud services, including Box, Dropbox, Google Drive, OneDrive, Yandex, and Amazon Cloud Drive.
Experience its section repetition function from point A to B.
Get 3D video mode support including H.264/MPEG4 hardware acceleration facility.
Get a built-in browser and file manager.
Get your files and videos nicely arranged.
Enjoy the upgraded service and feel the difference.
It supports multi-track audio, audio boost, embedded subtitles, external subtitle fonts.
It supports official DTS audio codec, DTS HD.
It supports pop-up play, videocast for smart TV, and also support HDMI output.
9. CnX Player
---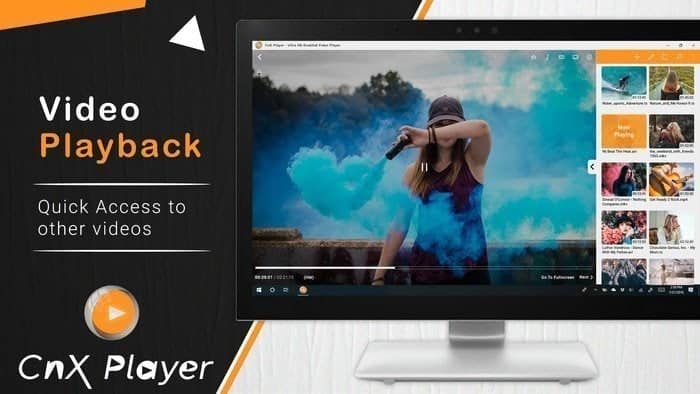 CnX Player is a popular media player app that can prevent the excessive battery drainage of your device. This app can seamlessly play HD, Ultra HD, and 4K videos and support the maximum file format. You will get exclusive features like wifi transferring, speed control, quick switch video decoder, excellent visuals of movies and other videos, and many more. Enjoy its smooth playback and hardware acceleration capability. Get parallel access to the exclusive video library while playing any video.
Important Features:
Enjoy high-performance playback facility including HD, UHD, and 4K.
Increase battery life by hardware acceleration and software video codec.
Upload and download your video files from another device using wifi.
Transfer multiple videos from another app to this player storage and vice versa.
You can delete, copy and move the videos and thus manage the library.
Control playback speed if required.
You can adjust saturation, video brightness, and contrast by yourself.
Manage the history of played videos, enjoy video calling, and experience colorful themes.
10. GPlayer-All Format
---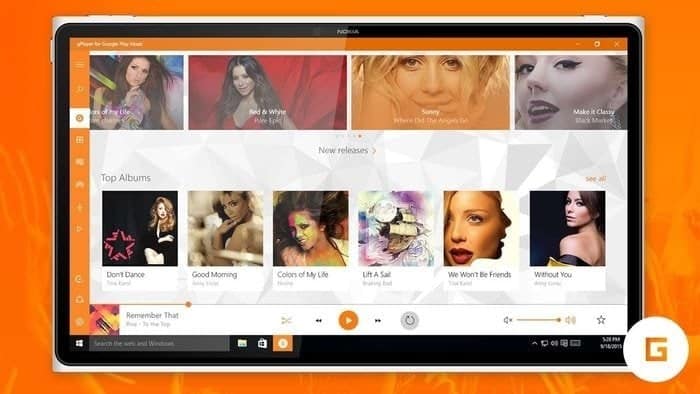 GPlayer is one of the uncommon video player apps for Android that takes video mode and receptiveness to a new platform. It offers you to easily share and transfer files between the PC and your cell phone and tab via wifi. It supports various file formats. You will get several smart built-in features. This app will broaden your area of the viewing experience, which will be merely smooth and perfect. It supports Google Chromecast; moreover, you can play the video for multiple windows and also in the player anywhere.
Important Features:
You can assign your theme in it. Moreover, you can mark the preferred media with favorites or privacy, which only shown in the mirror list.
Enjoy the 3D gallery mode with the simple grid or list view.
Watch a maximum of six video files at the same time using the multi-window simultaneous video playback.
Supports the videos from YouTube and other URLs as it decodes almost all video formats.
Share the preferred media content with others via wireless channels without any configuration.
It has a super-fast loading capability, and it remains the same for the HD and large size videos.
Use the unique feature to rearrange the size of the video screen.
Enjoy fully ad-free and constant video playback and accessibility in it.
11. Media Player Classic
---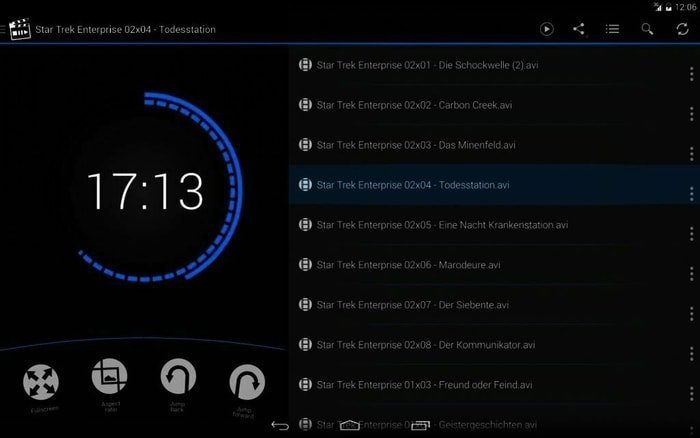 If you tell me to name a classic video player surely media  Player Classic will be one of them. This unfettered multimedia player can be utilized on your old PC without any trouble. Media Player Classic highlights a DVD player software, Skype integration, and subtitle download option.
Important Features: 
This video player supports more formats than VLC.

Better audio performance.

More understanding than others.

It seconds Windows, Vista, and many more.

It supports DVD PCD is BCD playback without installing any additional software or codecs.

It has a simple interface.

You can run it on comparatively slower devices.

Enjoy the player as a classic home theater.
12. Kodi
---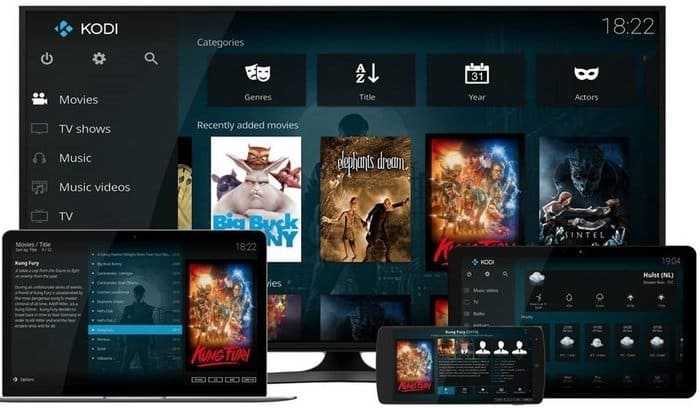 Kodi is an open source and a high-quality video player. It supports almost all kinds of video formats and also supports other operating systems. This award-winning open source, Kodi, is used to known as XBMC. You can play music and videos from local network storage.
Important Features:
It can play all types of music, like mp3, FLAC, wav, and WMA formats.
Enjoy movies in Kodi.
The player library fosters episode and season views with posters and actors.
Upgrade your live TV performance with new back-ends.
Kodi download and setup procedure is effortless.
It supports Retro Gaming Emulators.
You can get digital rights management decryption support.
You will get a new music library here.
Get a voice control facility.
 Last But Not the Least
---
There are numerous video player apps in the digital market place. Each one contains with decent features and improved facilities. You will find a few free and also paid versions in the market place, where the paid version provides you with little extra facilities.
Options are open, but It's you to decide which one you need. I hope this content will help you find the best video player app for you. Please inform your choice, share your opinion, feedback, and suggestions.