Cloud has become an integral part of today's technology. Due to the scalability, flexibility, and efficiency nowadays, every company is looking to transform into cloud infrastructure. When you are rendering services, it is important to keep both low-level performance metrics and business KPIs under control to experience the rapid growth of your business. You should keep an eye on the server-side logs and stack traces to handle the parameters that ensure the success of your organization. That's where you will need cloud monitoring tools that can enable you to manage and analyze cloud environments, services, and applications. Through continuous monitoring, your cloud infrastructure will be in safe hands. Hence, your customers will be able to take full advantage of your platform, and your business will be established in this highly competitive market.
Why Is Cloud Monitoring Important?
---
Maintaining a cloud-based infrastructure, services, or applications can often become challenging. Especially when it comes to maintaining the quality user experience, you will have no alternative but to drill deep into each piece of cloud infrastructure to enhance observability.
Cloud monitoring tools and services collect data from the whole system and represent them through detailed reports more understandable to humans. You will generate charts, graphs, notifications, or even alerts that help predict better and make decisions accordingly. 
Top Cloud Monitoring Tools
---
There are many kinds of cloud monitoring solutions available currently that can enable you to have full control over the cloud infrastructure, website performance, business insights, and IT systems. While some are easily handleable, you will find tools that require significant knowledge to operate effectively.
Some tools can only monitor, while some can render insights about logs, KPIs, traces, and metrics. Each tool has its own pros and cons, so your priority will play the most crucial role in choosing the solution for your business.
1. AppDynamics
---
It is one of the most comprehensive cloud monitoring services that come as a SaaS and an on-premise model. You will find all the advanced monitoring features here as it is specially designed for large entrepreneurs. AppDynamics can go beyond your expectation by going through the stacks important to evaluate your business performance.
It will allow you to connect application data with business-level metrics. As a result, while your business executives can measure the top-level transactions, DevOps and developers can get code-level information as well.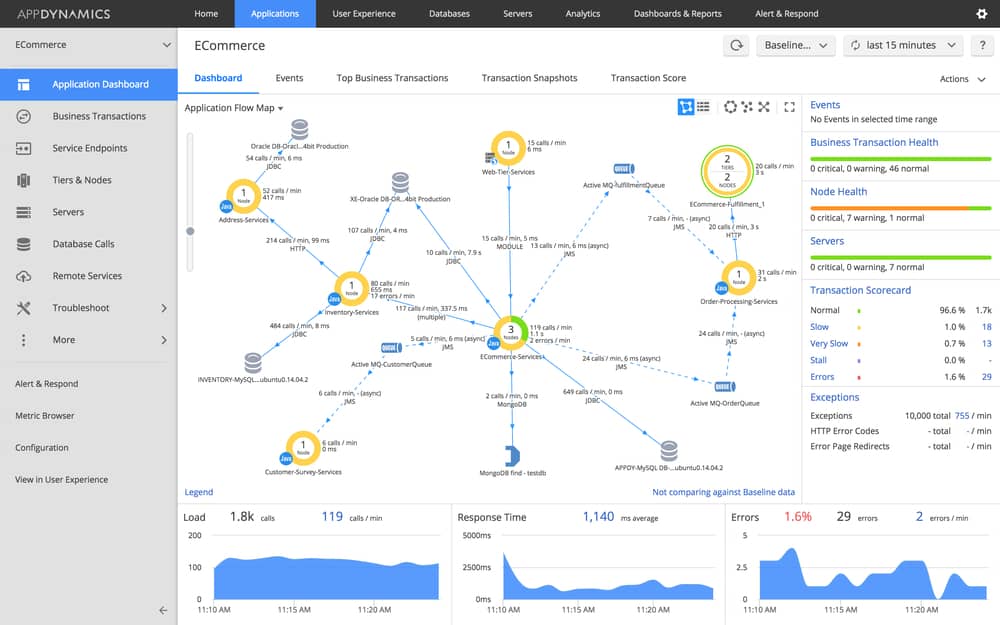 Important Features
You can monitor your cloud network from your smartphone or browser to track the real users. 

Infrastructure monitoring is powered by network components, databases, utilization, and flow between one content to another. 

Comes with a well-designed dashboard that can showcase the business insights transparently. 

Besides, business-centric visualization can change the game as you will establish a connection between performance and important metrics.

Uses machine learning algorithms to detect anomalies from huge datasets. 

AppDynamics is backed by period digest capabilities. You will get detailed information about versions and environments, such as JVM startup parameters.
Pros: A wide range of features like automatic leak detection and tracking object instances are included. Besides, you can automate the diagnostics of server and application metrics.
Cons: Although it is hugely expensive, some basic features like CPU or memory performance monitoring are not present. Also, slicing and dicing datasets are not as simple as the other options.
2. Amazon Cloudwatch
---
Amazon AWS is one of the prominent cloud service providers all around the world. There are many companies that have built their cloud environment around AWS services. You will find managed IT services as well as a handful of useful features.
Great flexibility and affordability are other reasons behind its popularity. And that's what makes Amazon Cloudwatch one of the most used cloud monitoring services available out there. If you are working as a DevOps engineer, site reliability engineer, or IT manager, then you can make the most out of this tool.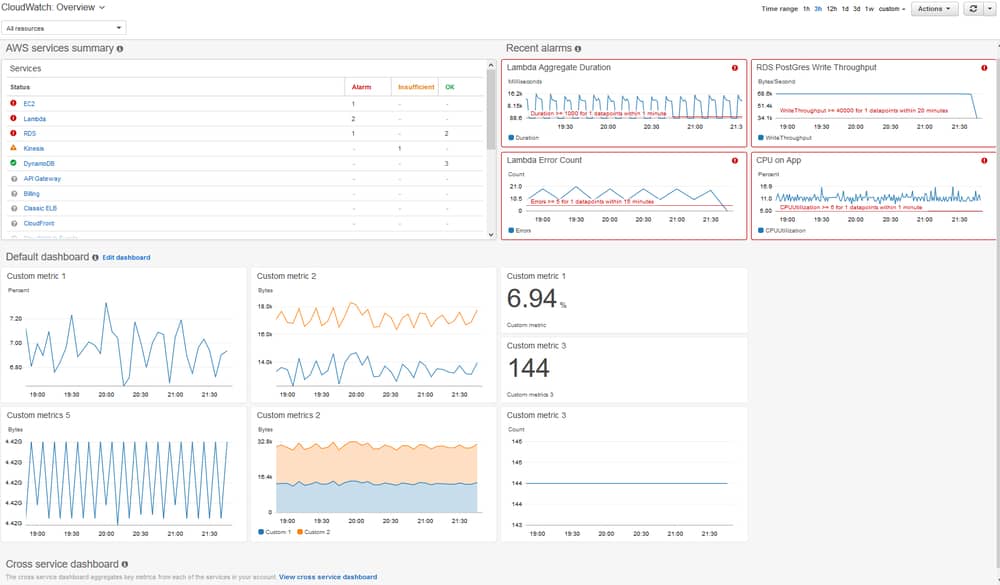 Important Features
You can expect to get all the necessary data and crucial insights required to improve the performance of your organization. 

Renders a view for analyzing the operation health of your cloud system. 

Enables users to achieve optimized resource allocation as well as take action according to the system-wide changes. 

Get data in the form of logs, metrics, and events to gain full control over the resources, applications, and services running in AWS servers.

Besides, this tool can send an alert whenever it detects anomalous behavior in your environment. 

On top of that, you will be able to predict better through visualized reports and data analytics.
Pros:  Amazon Cloudwatch can enhance the observability of your cloud system and improve organizational operations by integrating sustainable developments.
Cons: You will find Cloudwatch takes at least 10-60 seconds to render the updated logs. Also, users cannot change the alert messages or customize them according to their requirements.
3. Datadog
---
As a Software as a Service solution, Datalog started its journey back in 2010. They are in the market for more than ten years now and easily come into the list of best cloud monitoring tools. It can monitor the applications, containers, network, logs, or even serverless features starting from cloud infrastructure.
It comes with an extended set of features that help to extract necessary metrics, security, real users, and synthetics from your cloud. Hence, you will not have to worry about the KPIs needed to meet your business goal.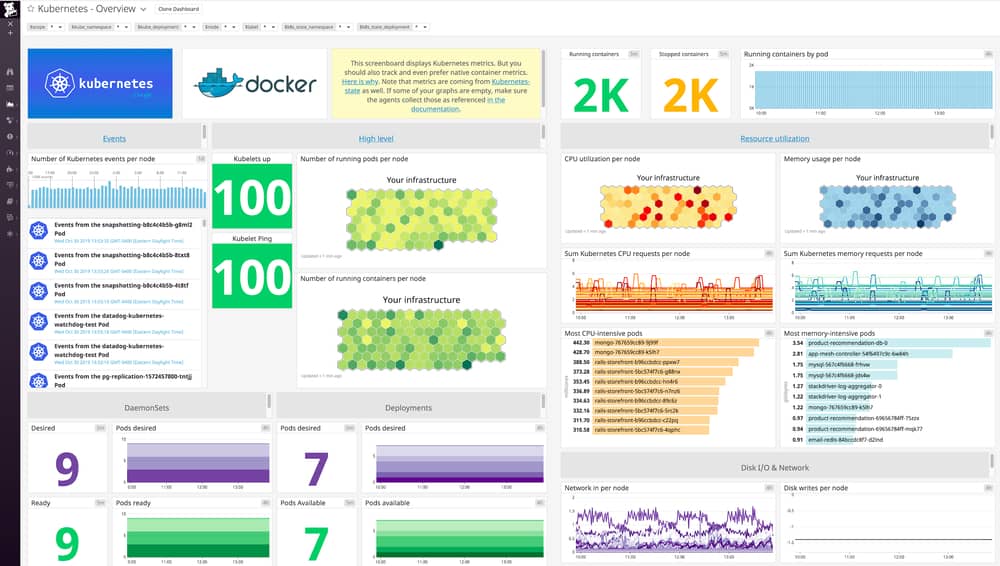 Important Features
With a wide array of third-party integration availability and tracing support, this tool stands alone in the competition. 

Users can get centralized logs to analyze the system performance and increase observability. 

Be able to monitor your entire network while host monitoring is also available. 

The best part of this cloud system is the dashboard framework which allows building anything virtually from the received data. 

Suitable for small or large entrepreneurs. Employees can collaborate and share their views through this monitoring tool. 

Again, through the help of different application programming interfaces, you can extend the capabilities of this software.
Pros: Datadog takes the help of machine learning to send alerts to the admins. It also features an enriched data analytics dashboard to ensure a flexible user experience.
Cons: It is not suitable for beginners due to the overwhelming installation steps required to run this software smoothly. Datadog does not come with a prebuilt dashboard either, which takes quite a long time to get used to the environment. 
4. BMC TrueSight Pulse
---
This tool is a great addition to the number of options available to boost the performance of your cloud services. Instead of only focusing on the cloud monitor, it has been designed to improve its IT infrastructure and gain full control over the environment. BMC TrueSight Pulse can help to build an agile enterprise and receive the maximum value. With a 99.99% uptime, it can take your application services to the next stage and attract more customers as well.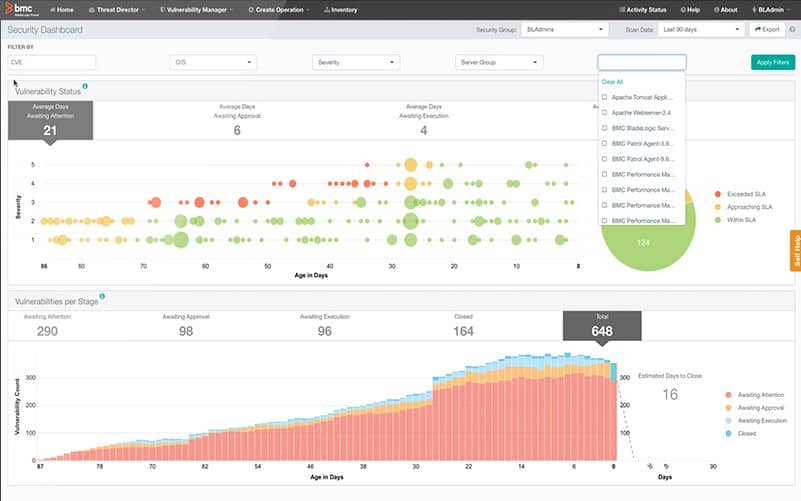 Important Features
Noise and anomalies are common in huge datasets. This tool can reduce up to 90% noise, and when it comes to MTTR, the number can go up to 50%. 

Unlike other cloud monitoring solutions, BMC TrueSight Pulse can correct the vulnerabilities within a few hours. 

Besides, BMC TrueSight Pulse can save 1000 hours each month and save you from complex compliance works. 

Enhances the server density up to five times more than the existing system. It is enriched with the best-in-class dashboard as well. 

Can identify the causes responsible for the low-performance. Hence, you can act accordingly to solve the probable issues. 

However, TrueSight can carefully monitor the events and notify you about any abnormal behaviors within your cloud infrastructure.
Pros: From service level to application component tiers, you can drill down to every step of your business process. Besides, using synthetic user monitoring, you can test the user experience before going for production.
Cons: Although BMC TrueSight Pulse comes with all the features, depending on the competitors, its reporting could be much improved to generate better actionable reports.
5. Sematext Cloud
---
Sematext cloud is one of the most common names in the domain of cloud computing solutions. It joined the race of cloud monitoring services with the unified full-stack monitoring solution. Sematext is so easy to set up that even the newcomers will not have to face any difficulties to set up the environment.
This cloud also offers flexible pricing plans to match the requirement of small to large enterprises. Besides, Sematext Cloud can certainly increase the visibility of your IT infrastructure and enable you to extract more insights from the existing solution.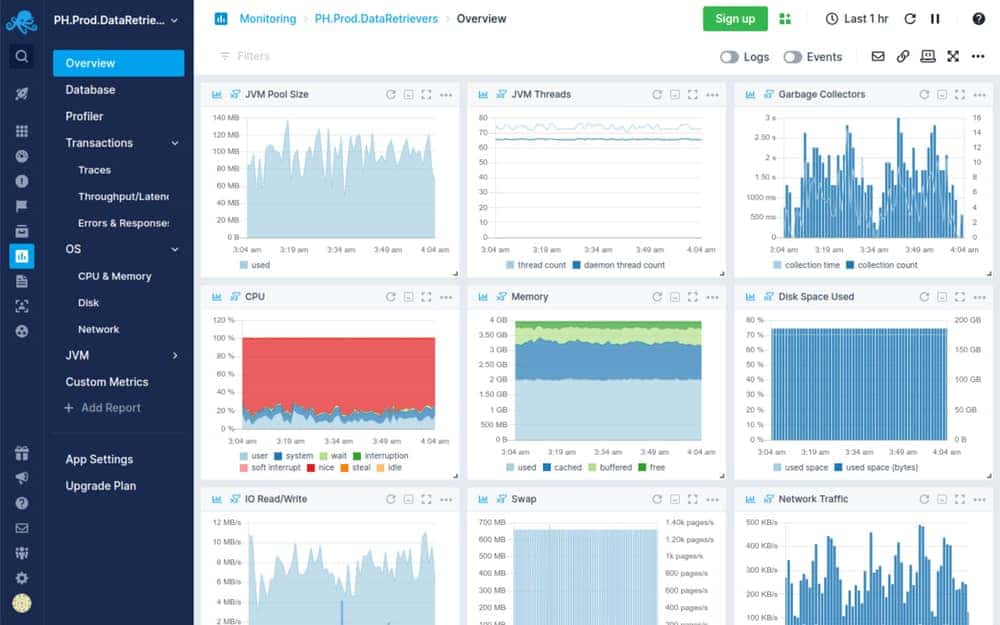 Important Features
Features auto-discovery of the services, and you can start monitoring all of your services through the user interface. 

Comes with a beautifully designed dashboard capable of integrating key cloud apps and infrastructure metrics. 

Sematext can detect anomalies and send or schedule notifications immediately.

Powered by both reactive and predictive monitoring can enable you to deliver a better experience for your customers. 

Log manager is supported by all the major cloud providers such as IBM Cloud or AWS S3. 

Enable users to measure the health of APIs and track real user activities to know how they experience the front end of your system.
Pros: It has dedicated support for microservices and containerized environments like Kubernetes, Docker, Docker Swarm, etc. On top of that, it can send notifications to external platforms like PagerDuty, OpsGenie, VictorOps, WebHooks, and so on. 
Cons: Although it comes with everything you need to monitor a cloud environment, the absence of adequate features in the profiler is the major drawback of this software.
6. Microsoft Cloud Monitoring
---
Just like Amazon AWS, Microsoft Azure is another big player in the cloud industry. Azure has already got a solid start with the top-notch cloud services, and you can always expect the same quality as you have got from Microsoft products to date.
On top of that, Microsoft Cloud Monitoring does not ask for any payment like other cloud monitoring solutions, making it unique and easily accessible to everyone. Azure DevOps, Cloud Infrastructure Engineers, and Solutions Architects can take significant advantage and boost the performance of their respective organization.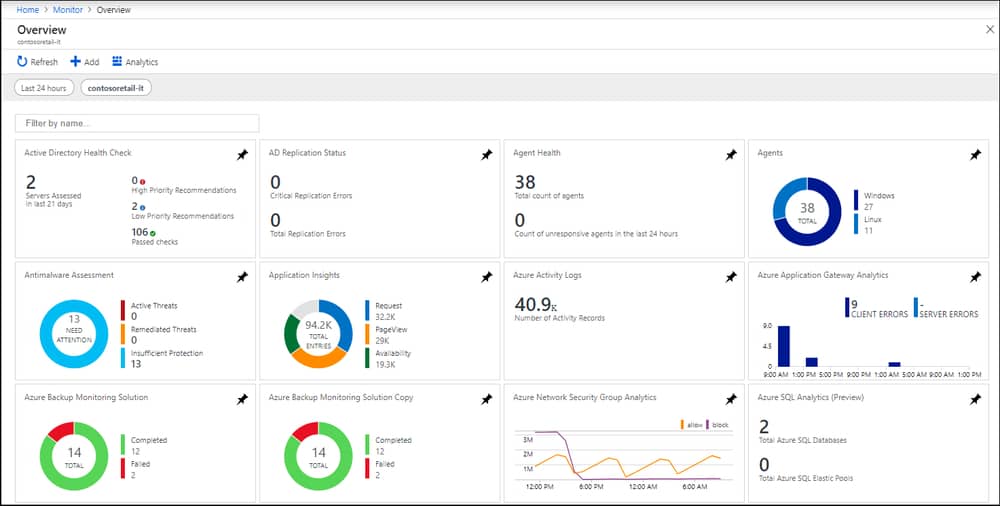 Important Features
You can start using this software for free and keep using it for up to 12 months without spending even a penny. 

It can be considered the best solution for Azure Platform as this tool can also help measure the workload and evaluate the performance. 

Besides, if you work with huge datasets, start using this monitoring tool to transform 500 megabytes of operational data into actionable insights every month. 

While you will be able to use 14 virtual machines, 8 terabytes of storage will also be coming with the free account. 

Allows customers to build a private virtual network in the cloud for simplified management. 

You will be able to avoid the issues that can disrupt the business operations. Besides, log analytics and application insights are also there.
Pros: Comes with a lot of additional services offered by Microsoft Azure. Such as, you can easily integrate on-premise security with Azure Site Recovery and Azure Automation.
Cons: It is not suitable for beginners as you will need a significant amount of expertise to establish connections between micro parts and make the most out of it.
7. New Relic
---
When it comes to working with cloud computing, the life of any developer can become much more comfortable with the availability of cloud monitoring solutions, testing frameworks, and a wide range of useful services.
New Relic comes as a software as a service model and can monitor mobile, web, or even server-based applications of modern days. With the rich dashboard and a handful of exciting features, it can be your go-to cloud monitoring tool any day. Besides, the support for distributed tracing, logs, synthetics monitoring can also be mentioned.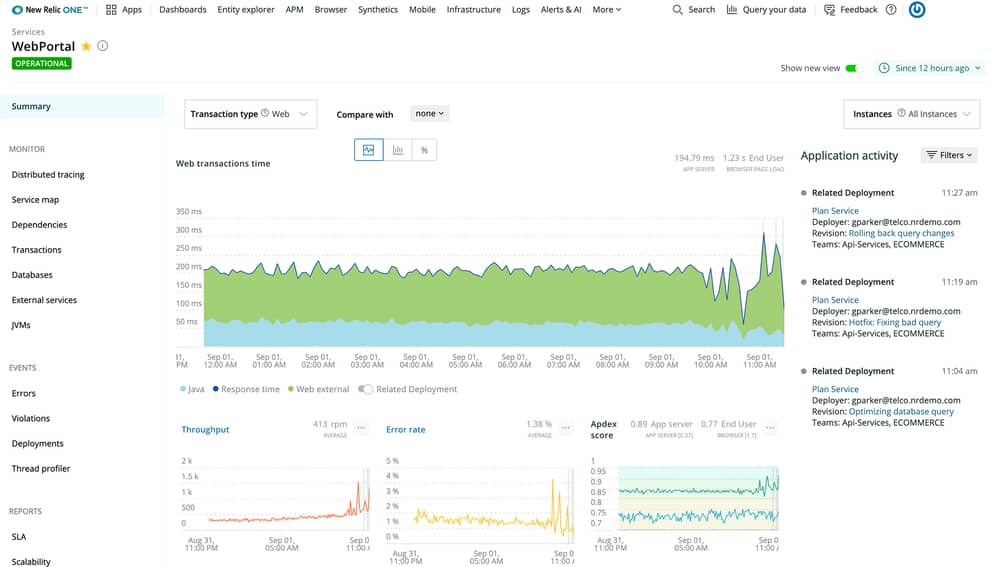 Important Features
You will get support for all the popular programming languages like C++ or JAVA.

Features a centralized log that represents the activities from top to bottom to enhance visibility. 

It can send an automated alert to the admins or the system users whenever it detects some unusual behaviors or anomalies. 

Supported by a powerful query language known as NRQL. 

Starting from AWS, Azure to Google Cloud Platform, you can integrate all the major cloud providers with New Relic. 

You can also connect business-level metrics to gain more insights from the collected data.
Pros: Users can take advantage of the error-analytics tool and help analyze critical issues like site errors or downtime.
Cons: The absence of agent management functionality is the major drawback of this cloud monitoring app, along with its inconsistent user-interface. 
8. CA Unified Infrastructure Monitoring
---
It is another comprehensive cloud monitoring solution that allows you to connect all the major platforms like AWS, Microsoft Azure with your cloud infrastructure. Besides, you will also get support for packaged solutions like Office 365 to enhance the capabilities of your platform.
With all the important and useful monitoring features, you will also get dedicated services available for tools like Salesforce Service Cloud. The main target group of this application is the large enterprises, while you will find this software in both SaaS and on-premise models.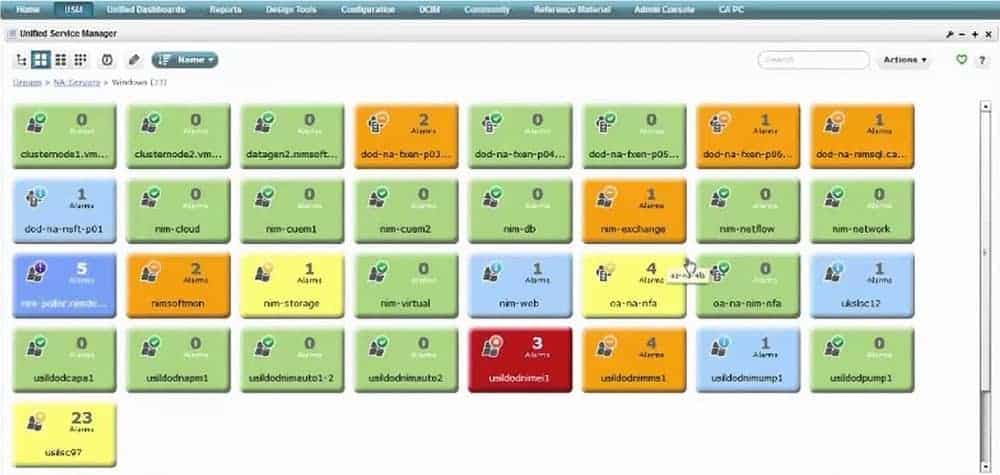 Important Features
The best part of the tool includes monitoring support for common infrastructure providers, keeping everything under the same umbrella.

The dashboard comes with all the modern features and features actionable log analytics. 

Equipped with the automated alerting system, which will trigger notifications whenever detects anomalies. 

Visualization is so powerful that you can generate great reports and get more insights from your datasets or the system. 

This application is designed to produce reports with business-level metrics and capable of scheduling tasks for better performance. 

Besides, it comes with a wide array of templates that support various environments and devices as well.
Pros: The process of deployment and configuration is simple and straightforward. You will also find advanced features for hybrid infrastructures.
Cons: If you are a novice, then this tool might not be suitable for you. Besides, the pricing is not transparent, while the user interface is outdated.
9. Zabbix
---
We have discussed some great cloud monitoring tools already in this list. But most of them come for high prices. You will have to have a tough time maintaining the payment plan, especially if you are an entrepreneur.
Zabbix can be a great solution for small enterprises and can save you from the burden of maintaining a monitoring tool at a high cost. It is not only open-source and free, and you can take advantage of a featureful dashboard to enhance the visibility of your cloud infrastructure.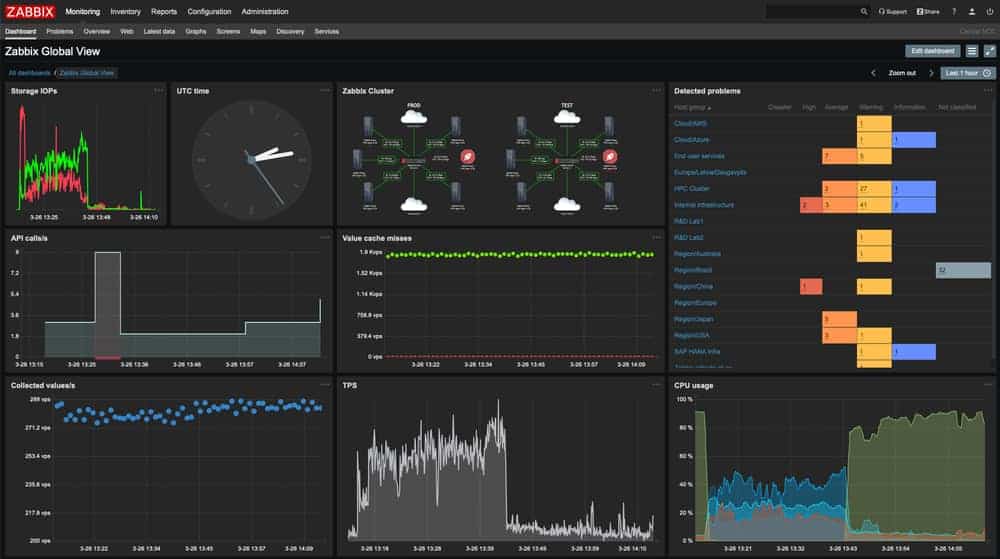 Important Features
Zabbix enables enterprises to gather crucial information from servers, VMs, networks, and IoT devices.

Although you will have to install and configure the system yourself, you will find prebuilt templates to facilitate the process.

You will get support for SNMP and IPMI. Besides, this system can predict the probable vulnerabilities and take action accordingly. 

On top of that, for large enterprises, it comes with geolocation support to support data centers distributed all over the world. 

Comes with a multilingual and multi-tenant dashboard which makes it flexible to monitor cloud systems from anywhere anytime. 

You can customize notifications for a wide range of platforms like email, SMS, Slack, Hipchat, XMPP, and other workflow management.
Pros: It is great software, and most importantly, you can use this tool completely free. Besides, to gain more insights, you can integrate Zabbix with any visualization tools like Grafana as well.
Cons: Although it is free and you will have everything under control, it requires a significant amount of knowledge to set up and start running the tool. 
10. Netdata.cloud
---
Netdata.cloud is the most modernistic cloud monitoring software available right now. The user interface of this application is so beautiful that you are going to love this tool as soon as you start using it. You can consider this a collaborative observability platform that can help gain real-time insights into your system.
Besides, it can detect critical issues and diagnose anomalies to prevent any unwanted slowdowns of your cloud system. On top of that, just like Zabbix, it is open-source, and you can use it completely free.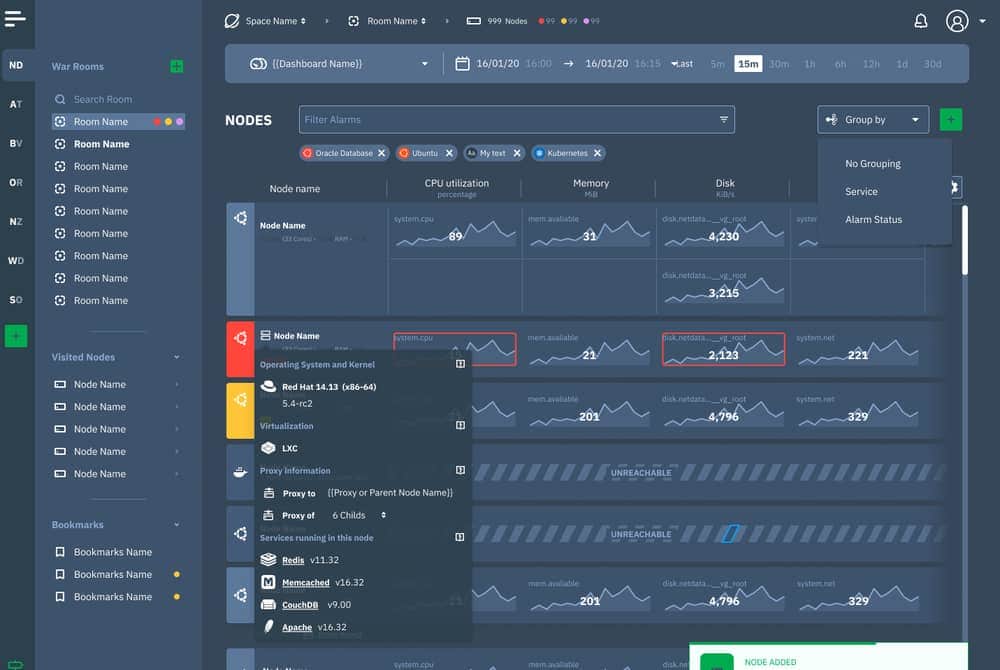 Important Features
With more than thousands of metrics and interactive visualizations, you can instantly grow the performance of your business KPIs. 

Netdata.cloud will detect issues and can send automated health alarms to all the admins. 

Besides, cross-platform compatibility makes this tool one of the top choices, and You can configure Netdata on physical systems, VMs, containers, and edge devices. 

While the system needs zero dedication resources, the installation is simple and rapid as well. 

Can monitor data coming from all endpoints and powered by high-resolution metrics. 

Also, this tool can enable you to detect anomalies visually with a powerful visual presentation.
Pros: Netdata comes with a custom database engine that stores data metrics in RAM and spills historical metrics, making it easier to keep stored for a long time.
Cons: The unavailability of mobile applications in the major drawback of Netdata, alongside the inadequate documentation, make it more challenging for the initial configuration and system setup.
11. eG Innovations
---
I have already covered the first half of this list, where some of the excellent cloud monitoring tools have been covered already. To start the second half, I am going to focus on more advanced solutions that can increase the performance of your cloud environment, achieve more visibility, and gain more insights from business metrics.
eG Innovations is certainly one of them that comes as a SaaS model and works as a performance management system for the cloud, hybrid-cloud, and on-premise infrastructures as well.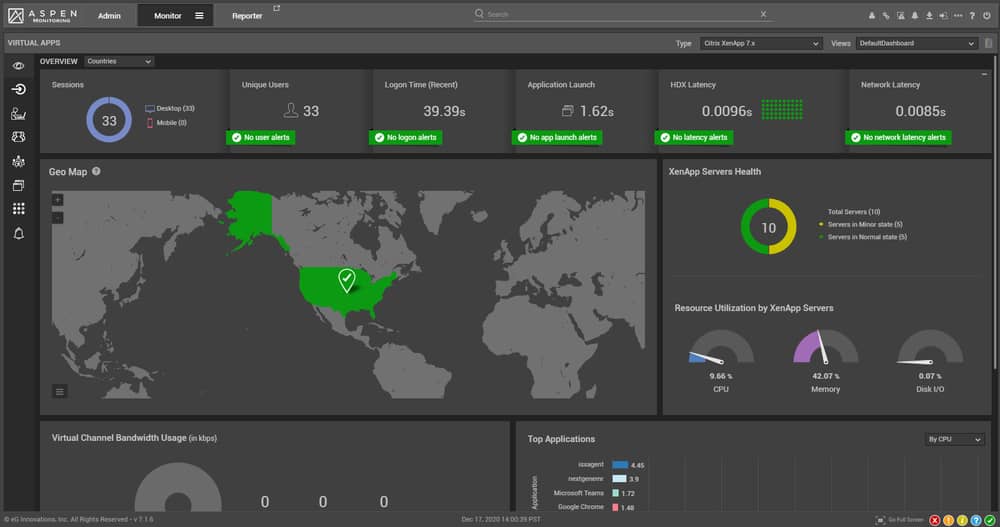 Important Features
Designed to deliver great user experience with the end-to-end solution across applications, database, virtualization, storage, and network. 

Users will also get support for all major cloud workspaces such as Citrix Cloud, Amazon WorkSpaces, and Microsoft Windows Virtual Desktop. 

Gain full control over the interdependencies between tiers and manage to save costs to a great extent. 

Besides, the working professionals will be able to correlate between heterogeneous components and identify critical issues rapidly. 

Developers can generate faster responses to solve any major problems to decrease maintenance downtime.

Suitable for monitoring public, private, and hybrid clouds. If you are looking to transform into cloud solutions, this tool can be your great companion.
Pros: eG Innovations also focuses on security and maintains high-performing security protocols to protect you from any kind of malware or miscellaneous activities.
Cons: There is no major drawback mentioned here, But the number of features is less compared to its competitors.
12. Paessler PRTG
---
Cloud computing has made our life better by reducing the cost of IT infrastructure and data validation. It has also helped organizations to increase the quality of their service. It is important to constantly deliver better products at a lower cost to hold a position in the competitive market.
Especially if you are an entrepreneur, an ideal cloud solution can give you a head start and shape how to become successful. Paessler PRTG is one of this kind and helps to monitor cloud infrastructure in a convenient and cost-effective manner.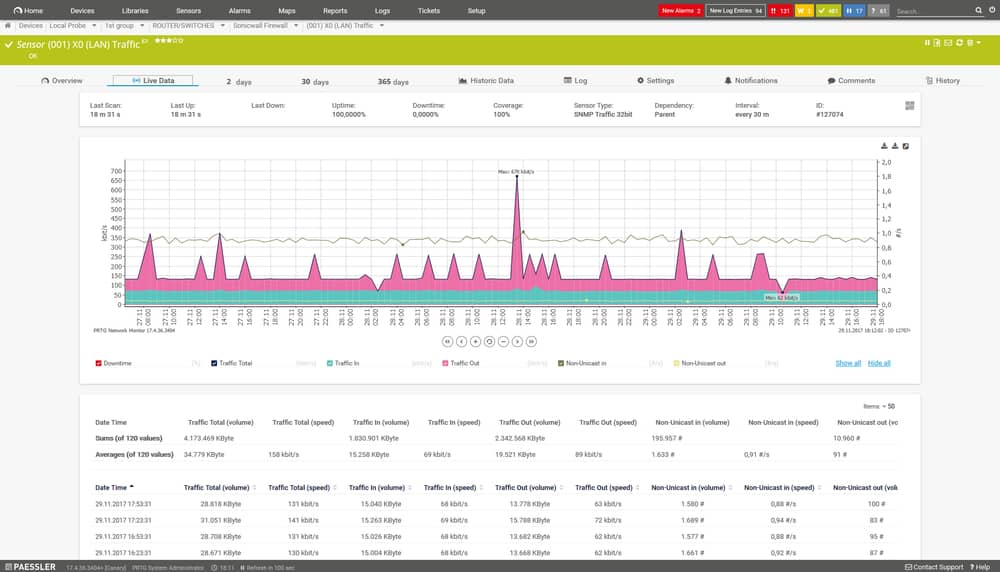 Important Features
Installation and initial configuration are simple and straightforward. Besides, there is no additional plugin or add ons required to download. 

Unlike other cloud monitoring solutions, it is super easy for everyone to use. Businesses of all sizes can take advantage of Paessler PRTG. 

Can be the best alternative for Amazon CloudWatch Monitoring. Hence, you can use this tool to monitor AWS services. 

With the in-built Google Analytics Monitoring feature, you can get influential data from the Google Analytics Sensor.

Get to know about the service accessibility and evaluate system performance anytime from anywhere. 

Equipped with a handful of sensors for virtual machines like SOAP and WBEM.
Pros: Paessler PRTG is a well-designed tool for managing all of your cloud strategies. On top of that, it has the capability of rendering an overview of your whole IT system and services.
Cons: Although it offers a free version, it is not well maintained and lacks the most important features.
13. CloudMonix
---
Microsoft Azure has become one of the major players in the field of cloud computing. Flexibility and scalability are two major reasons behind its popularity. Besides, the availability of storage services for efficient performance has also played an important role in making its position stronger in the market.
There are many companies that have been designing analytics and monitoring tools to support Azure services, and CloudMonix is one of the prominent tools you can start using for maintaining Azure cloud.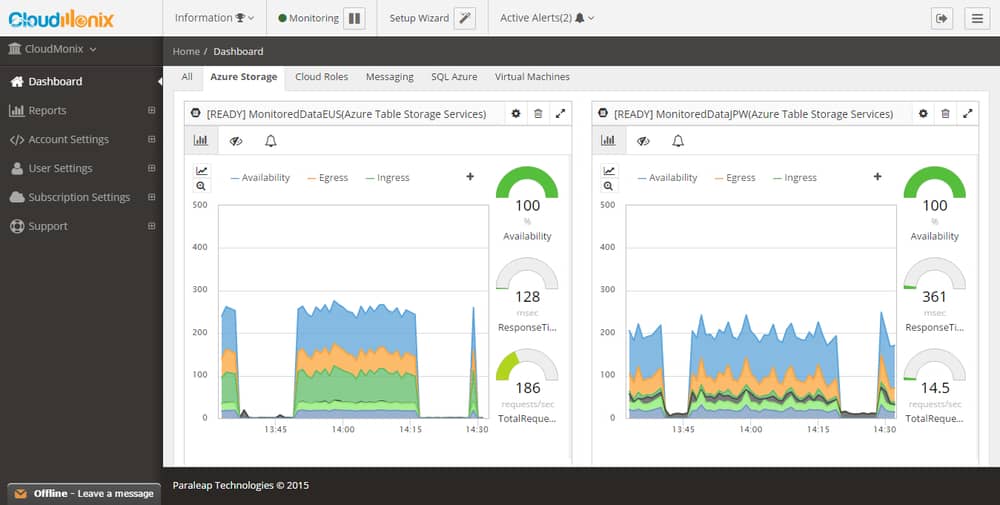 Important Features
Well designed for managing Azure cloud services, and you can automate the solutions using CloudMonix. 

It can be considered as the best tool for Azure Cloud administrators to understand cloud resources better. 

Developers can get the signal for cautious activities and take actions to restore rapidly. 

With live dashboards and detailed pictures, you can extract more insights from the cloud infrastructure. 

Get the benefit of automated problem resolution and keep the cloud costs under control. 

Besides, it is powered by white-label structures, and so you can incorporate this application with all the ITSM tools.
Pros: CloudMonix is simple and super easy to use. But the best part of this application is auto scalability which helps to use available resources to the fullest and increase sustainable development efficiency.
Cons:  The user interface could be much improved, and you will need to use more than one account for several Azure subscriptions. Besides, the free trial ends within 14days, and you will need to upgrade to pro to keep using this tool.
14. Dynatrace
---
Dynatrace started its journey back in 2005, and since then, it has been maintaining the reputation of being a reliable cloud monitoring platform for businesses of any size. It is an American company, and you can start using this application any day.
You can proceed with the free demo first before spending any money on it. The company also provides customized pricing plans for companies according to the requirement. Besides, the features are great and can serve to fulfill any requirement.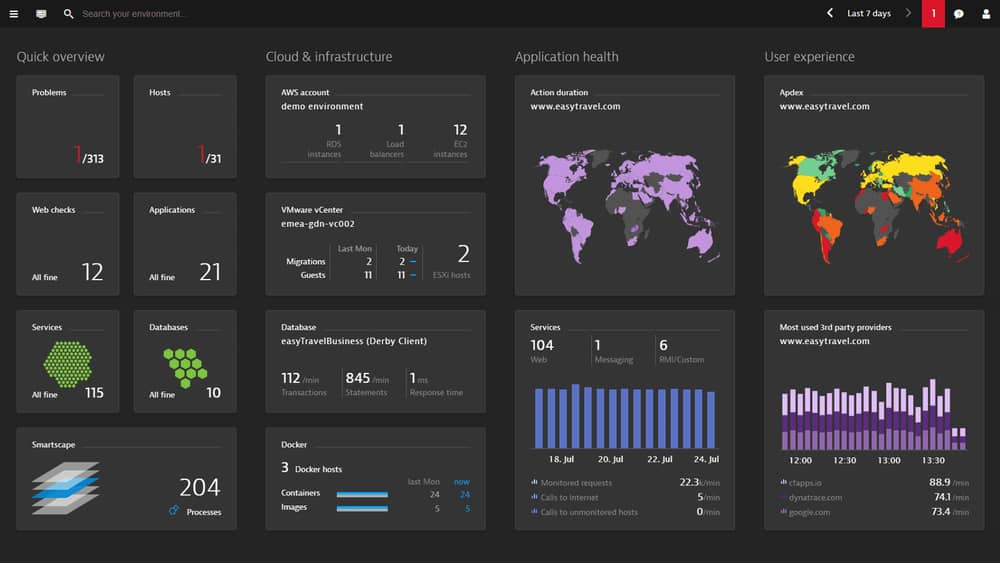 Important Features
It follows software as a service-based model for maintaining cloud infrastructures. 

Offers full-stack monitoring solutions for the cloud as well as infrastructure solutions for the whole system. 

Powered by an unparalleled AI engine can render metrics, logs, and traces to enhance observability. 

You will be able to map your apps and their dependencies, such as containers, microservices, end-user points, and so on. 

Users will understand the correlation between services, processes, hosts, networks and can make better decisions. 

Besides, features like cross-platform collaboration, continuous automation, actionable analytics, and intelligent dashboard are also there.
Pros: The performance and stability you can expect from this app are constant. It is an outstanding application, very well maintained, and helps to monitor your services with the full-stack topological model.
Cons: The reporting feature is outdated and should be improved to match the modern day's demand. Besides, it is really too expensive considering the available options in the market.
15. SolarWinds
---
It is another American company that is operating in the market for quite a long time. It is one of the pioneers in this domain and has contributed a lot to develop the networks, systems, and information technology infrastructure for many companies.
You can consider this as a perfect opponent of the Dynatrace mentioned above in this list. But unlike Dynatrace, it comes with an affordable Saas solution which makes it flexible and convenient for most enterprises.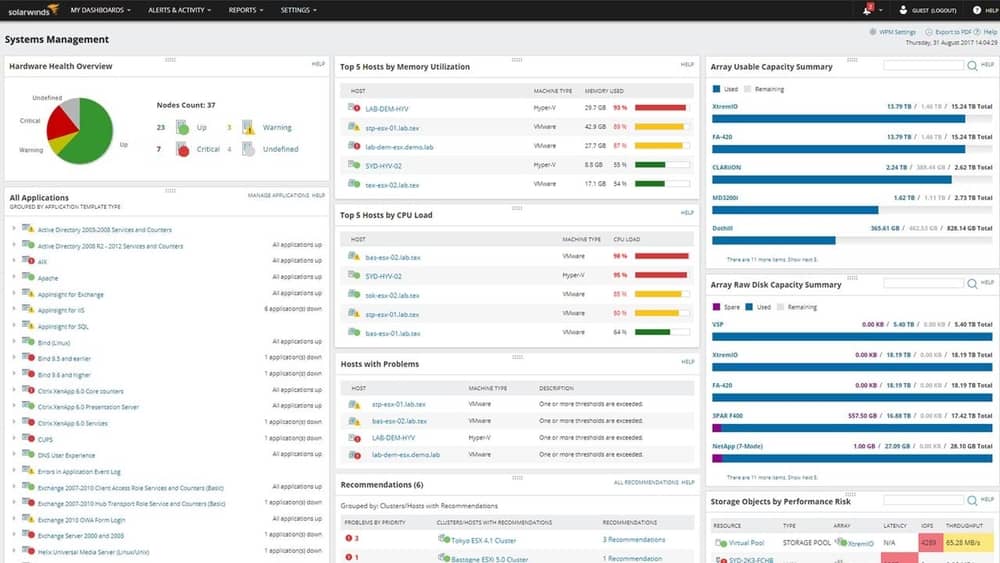 Important Features
Comes with a multi-vendor network monitoring mechanism for preventing faults and identifying errors. 

It has the ability to forecast the possible disruptions and send alerts or reports to the administrators. 

Can help to achieve deep performance visibility important for commercial applications. 

Features a database performance analyzer which can find issues and analyze database story. 

You will have access to get support from the industry leaders and get scalable solutions upon discussion. 

You can also explore the storage resource monitor, network bandwidth analyzer, and security event manager.
Pros: It comes with an all-in-one solution for cloud infrastructure. You can also use the free version before going for the customized solution for your organization.
Cons: You will not feel comfortable if you are a beginner while using this tool for monitoring clouds. Even the installation and configuration are not as simple as most of its alternatives.
16. Rackspace Cloud Monitoring
---
When it comes to large-grade enterprises, visibility of the important metrics can play an important role in becoming successful. If you are not using any of the enterprise-grade cloud monitoring tools, the challenge of maintaining the KPIs can become more extreme.
But choosing an ideal tool out of the thousands of options is not going to be easy. So Rackspace is here to solve this problem for you as it is designed to serve businesses coming from any industry. Besides, it can make your life comfortable with features like event processing and flexible notifications.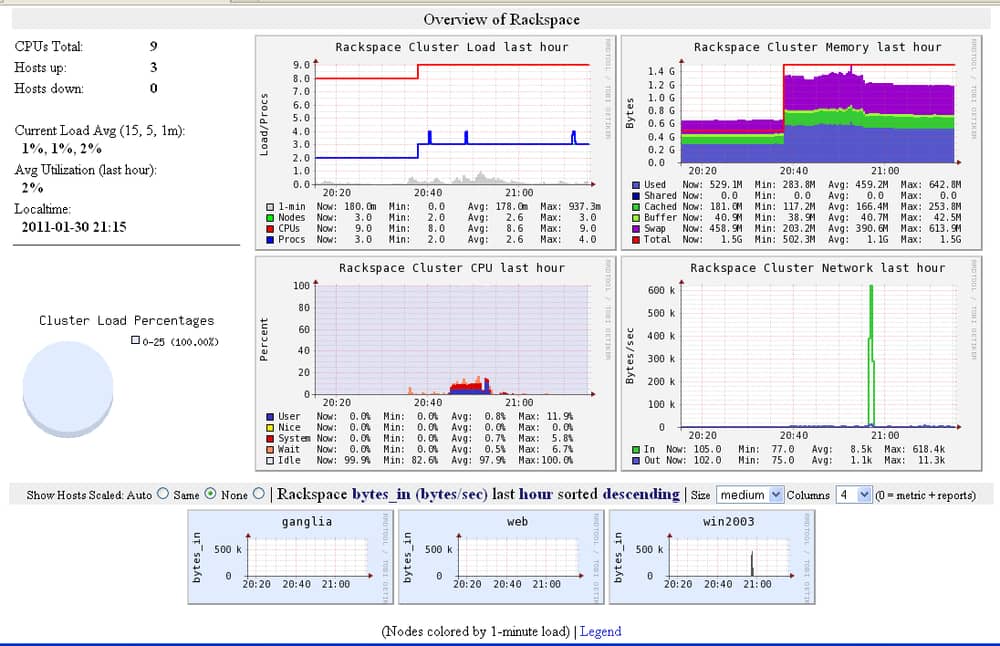 Important Features
You will be able to gain comprehensive visibility of system traces, logs, and events. 

With the real-time alerts, you will be the first to know whenever your environment needs some action. 

Capable of calculating thousands of events within a minute can trigger scripted alarms to prevent failure. 

You can mention the role of your organizations to execute role-based actions or allow certain people to complete crucial tasks. 

If you employ Rackspace with your cloud environment, it will be accessible externally, and the local agents will be able to report within the system.

When you sign up for their cloud monitoring solutions, the system will be configured automatically.
Pros: Rackspace can produce resource enrich reports, and you will get as many insights as possible. It can continuously monitor your infrastructure and take automated actions rapidly.
Cons: The user interface is awesome, but it lacks some core features like batch configuration.
17. Redgate
---
This software is produced by a UK company that has a great reputation in the software industry. They are well known for their quality cloud solutions. If you are working as a developer, operational manager, or IT leader, you can keep an eye on this cloud monitoring solution. This tool can facilitate your team, processes, and databases with fast delivery and low downtime. Organizations can also benefit from secure data storage and avoid the risk factors by making crucial decisions.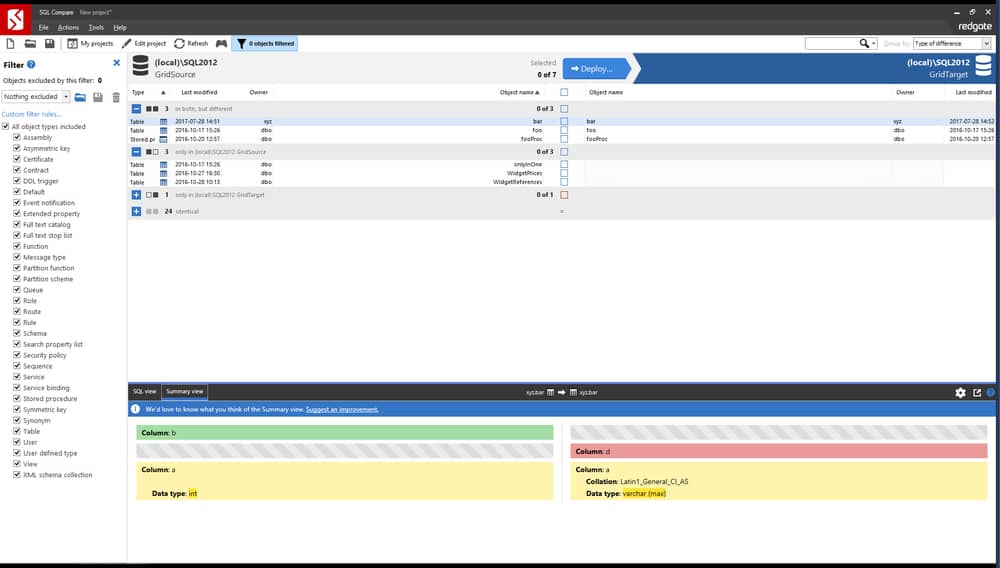 Important Features
Redgate is specially designed for database monitoring to detect issues and resolve problems required for stable performance. 

It can ensure the 100% uptime of your database servers to double the speed of production. 

Redgate comes with a scalable monitoring solution that can operate across applications and servers. 

Can save a lot of wasted time caused by compliance breaches and ensure the right processes. 

Comes with proactive estate monitoring which can eventually enable the system to generate accurate reporting. 

On top of that, Redgate claims to save at least two hours a day monitoring the cloud systems and adding value to your services.
Pros: You can maximize the availability of cloud servers and maintain the requirements of ever-growing legislation with the help of Redgate.
Cons: The unavailability of documentation on how to complete the configuration and initial setup can give you a tough time. Although you can contact them to get assistance, a step-by-step guide could be more effective.
18. Stackdriver
---
Although we are describing Stackdriver at the later stage of this list, it is one of the great cloud monitoring tools for working with Google Cloud and AWS applications. It is developed by Google, and you can expect the same quality as other Google services. It is designed to empower IT teams with performance-based data on their apps running on Google Cloud servers or other public cloud servers like AWS.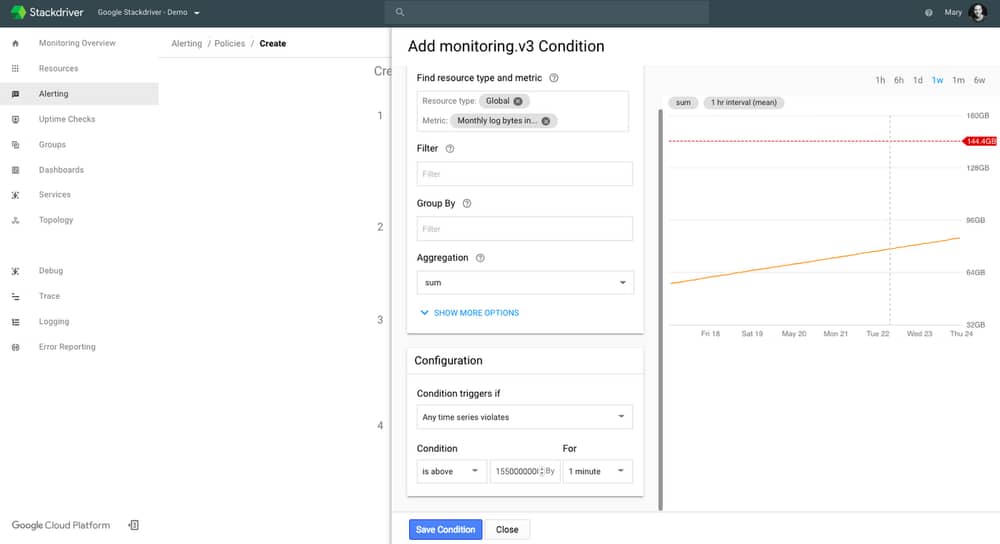 Important Features
To collect metrics, logs, and traces across Google cloud, Stackdriver is definitely the best cloud monitoring solution. 

The dashboard is powerful, and you will get all the important information in the main window. 

With the power of query management, it can analyze and trigger signals to take required actions. 

Help DevOps engineers to set up the key performance indicators to achieve appropriate performance. 

Comes with Real-time log management and analysis for GKE environments, VMs, and Google Cloud services.

This tool combines monitoring and troubleshooting with features like Cloud Trace, Cloud Debugger, and Cloud Profiler.
Pros: Stackdriver is powered by Google, which will allow you to use any Google service, and also, with the help of API, you can enhance the capabilities to a great extent.
Cons: It is a flawless application, and we have found nothing to mention here. But the inadequate amount of operational documents can make your life miserable to integrate Stackdriver with your applications properly.
19. OpsGenie
---
This tool is here on this list due to a specific reason. You can consider this tool as alert management that helps administrators to keep services running in cloud environments. This application is built by two of the most prominent players in the cloud domain JIRA and Confluence.
So you can definitely rely on the service and the constant monitoring performance throughout the entire cloud infrastructure.  It acts as a central server for your alerts and notifications so you can take proper actions on time.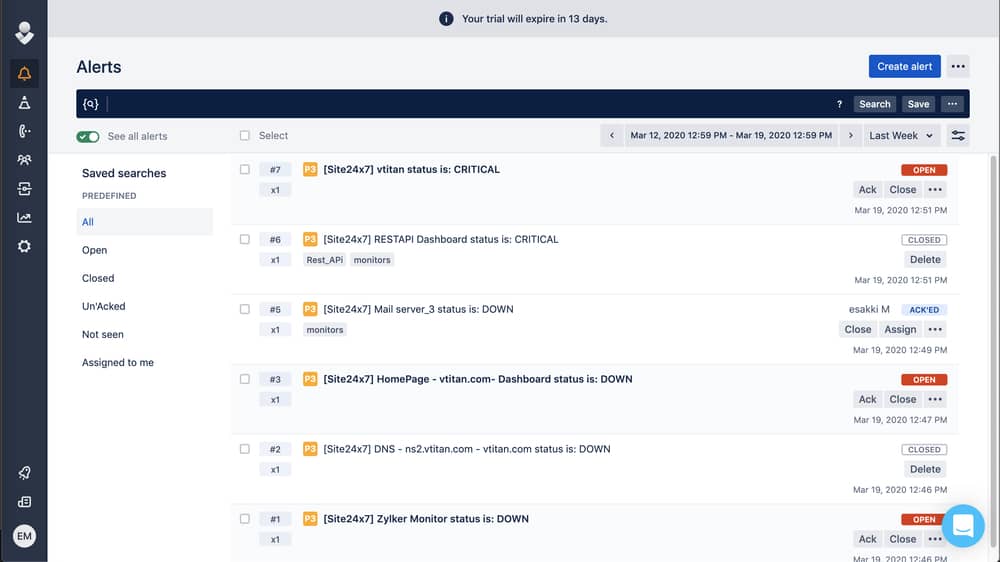 Important Features
Alert management is highly emphasized with modern features like role-based interactions or on-call scheduling. 

Use this tool to manage data coming from a wide array of channels under one umbrella and improve the performance of metrics. 

Can be integrated with almost any third-party cloud solution as well as sensors like heartbeat monitoring. 

To conduct post-incident analysis, this tool will allow you to generate advanced reports from the dashboard. 

Besides, the dashboard is enriched with amazing features and designed to render a smooth user experience. 

Features a bridge for conferences that allows ChatOps and stakeholders to connect and share thoughts.
Pros: You can integrate multiple teams with the perfectly designed tools, and alerts can be duplicated as well.
Cons: Free tier is available only for a limited time, and the number of advanced monitoring features is also less compared to the alternatives.
20. Stackify Retrace
---
We are going to conclude this list with Stackify Retrace. When most of the cloud monitoring tools are focusing on enterprise-level services, Stackify Retrace tries to help developers with the increased visibility into their applications and infrastructure elements.
With all the advanced features like application performance monitoring, centralized logging, error reporting, or transaction tracing, a developer can make the most out of it when it comes to troubleshooting.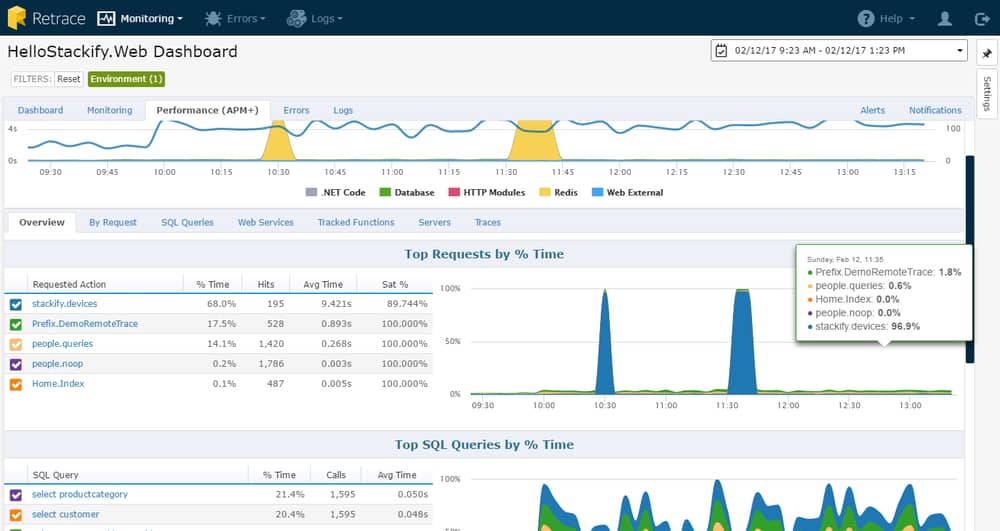 Important Features
This is a must-use tool for the developers to connect elements easily and fix the issues to improve the quality of their app. 

Organizations can take the help and collect insight from top to bottom of their business topology. 

You will get support for MySQL, PostgreSQL, Oracle, SQL Server, and common NoSQL solutions like MongoDB and Elasticsearch.

Get support with automatic instrumentalization for databases which can save a lot of time for you. 

Monitor the key business metrics with the high-performing dashboard and get quality data like never before.

Besides, you will find other useful features, like alert management, notification routing, or role-based actions.
Pros: Stackify Retrace can troubleshoot flawlessly by connecting in-line log and error data inclusion within the tracing information.
Cons: You will find no native support for Google Cloud, and real-time monitoring is not yet available.
Our Recommendation
---
When we are at the age of cloud computing, the importance of cloud monitoring tools has reached the peak. For a cloud-based infrastructure, service, or even application, continuous monitoring is really important to predict performance and take required actions in advance to avoid possible failures.
While some apps are focusing more on monitoring features, some emphasize security a lot. Again, you will find tools that can generate powerful reports and actionable insights. According to our research and testing, we are going to declare Stackdriver as the best cloud monitoring tool you can use right now.
You will also enjoy the capabilities like logging, error reporting, inspection or debugging,  distributed tracing system, and low-overhead profiling starting from monitoring. Besides, it can be used free while you can integrate Google Cloud Services and AWS applications as well.
Finally, Insights
---
Cloud computing has played an important role in the growth of internet-based activities and scalable solutions. Due to the cost-effective services and fast production ability, most companies have already transformed into cloud-based operations and introduced services for their customers.
Here's why cloud monitoring tools are important to set the benchmark of an organization's performance, reduce manual efforts, and set cost expectations. These tools can also enable you to predict the possible reasons for a failure and make better decisions to achieve the goal.
We have made this list to help you pick the most suitable tool for monitoring your cloud environment. Also, we have tried to focus on the features you should be considering when making the final call. If you have no experience with cloud monitoring applications, start your journey with a free one or demo version to understand better before upgrading to premium plans.