Do you Remember Songbird? It was one of the most loving music players among Linux users. After the death of this beautiful music player in 2010, Nightingale was born from the ashes of Songbird. Nightingale is another open source music player developed by the fan of the Songbird community. So, it's a free open source music player built on Songbird's source code. Nightingale is really adored by the Linux community because of its beautiful UI and cross-platform feature.
Nightingale is widely used among all OS because of its functionality and UI.  It supports all the audio format files available in the digital sea since nightingale is developed on the core of Mozilla's  XULRunner with few other libraries like the GStreamer media framework and libtag.
So you have add-ons supports, which provides different functionality, like media tagging, playback support, etc. This is one of the most notable parts of this music app. Nightingale's cross-platform with 32 and 64-bit architecture supports the different audio file formats.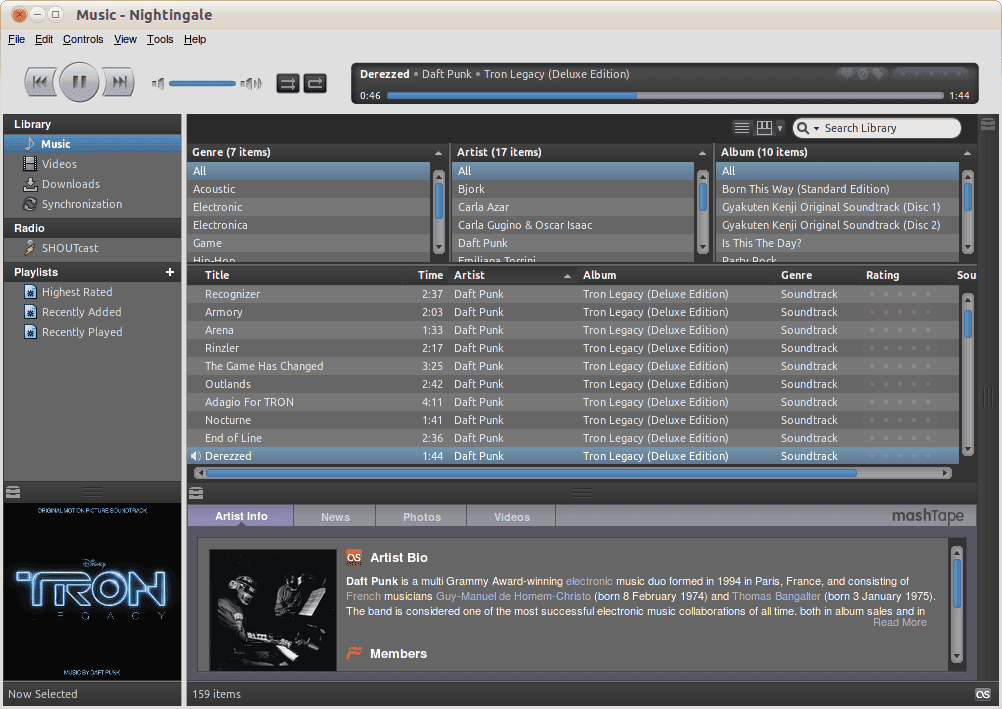 Nightingale's UI is really customizable, and that is why they call it "feathers". The user can change its skin by CSS and image manipulation programs like GIMP or Photoshop.
Features in Nightingale
This software is free and opensource.
Supports all the audio file formats like mp3, FLAC, AAC, Apple Lossless, WMA, etc.
Nightingale audio app supports music customization.
It has cross-platform support with Windows XP, Vista, win 7, Linux, Mac OS with 32-64 its architecture.
Supports Last.fm including scrobbling.
Offers metadata editor.
EQ presets.
Can run apple's FairPlay encoded audio files.
Users can control the playback via the command line.
UI is beautiful and customizable.
Supports mp3 download and subscribing mp3 blog and even you can make a playlist like a proper music player.
How to Install in Ubuntu, Linux Mint, or other Ubuntu-based distros
Install it by using PPA. Run the following command into the Terminal
sudo add-apt-repository ppa:nightingaleteam/nightingale-release
sudo apt update
sudo apt-get install nightingale
Or else you can always download your preferred versions from the official site.
As an extensive listener, I have tried hundreds of music players, tried to be easy with it, but I can not. After reborn as Nightingale, I am stuck with it, and I love it.