A logo is always crucial to represent your business or identity. When you introduce your personal blog, online business, or website, your logo is the first appearance for visitors. In addition, your logo represents your initiative. However, creating a logo is not an easy job. This is not a simple task like photo editing or illustrating. Basically, a logo is a symbol that provides a clear message to the audience about the brand. So if you are going to sketch your brand, you need to make a logo. Either you can hire a logo designer, or you can create it by yourself with the assistance of online logo makers. Yes, you may find many logo makers applications that make your job easier. In this article, I will guide you on finding the best online logo maker tools in the web.
Best Online Logo Makers
---
So, in this article, I introduce you to many logo makers' websites. These sites have many prebuilt templates, shapes, icons, which help you create a quality logo. Furthermore, I have listed the 10 best online logo makers. I hope these 10 sites are good enough for you to create a stunning logo with a few clicks.
1. Shopify
---
Shopify is basically an e-commerce software tool that helps business owners transform their business in the online platform. But it has a great free logo maker tool also named Logo Makers – Hatchful. This logo maker application is specially designed for mobile users. Moreover, the web-based tool has a drag and drop option that makes it easy and fun to create a stunning logo.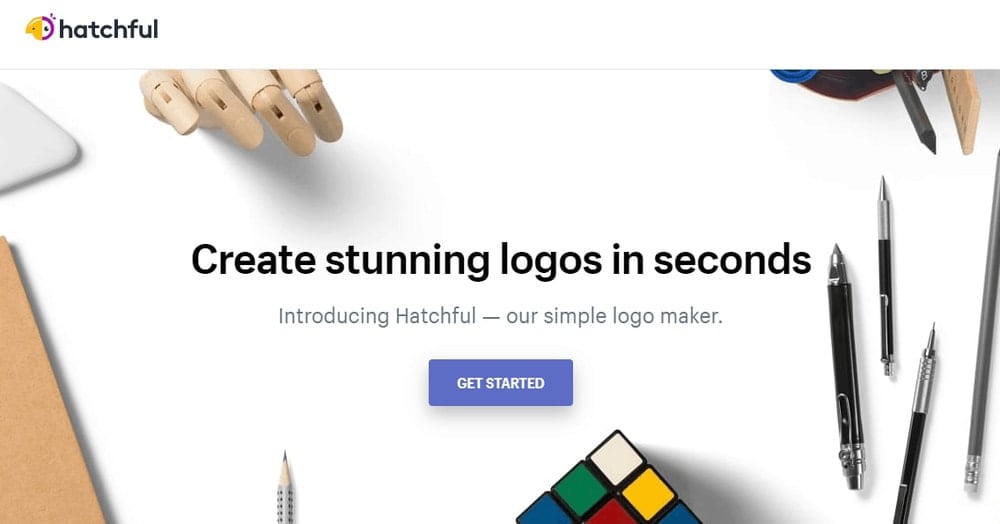 Key Features:
With Shopify Hatchful, you can create unlimited logos by using its prebuilt hundred unique templates, icons, frames, and color combination.
Many sites restrict resolution for free logo makes, but this application allows you to download high-quality logo images.
The design studio interface is easy to use. So you can changes icons, colors, fonts easily.
There is no industry limitation. You can create your industry niche logo simply here.
This logo maker tool helps you to create your social media assets just in a few minutes.
Pros: If you have no budget but create a high-resolution logo, Shopify is the best pick for you.
Cons: The template numbers need to be increased. Furthermore, you can download the logo without signup.
2. Ucraft Logo Maker
---
Ucraft Logo Maker is another logo maker like Shopify. But this application is only web-based. No mobile application is released. Nevertheless, you can create a professional logo drag and drop of icons and other logo contents. Here you find varieties of icons and font styles for logo making. However, to download a high-quality logo design, you need to subscribe to be a premium user.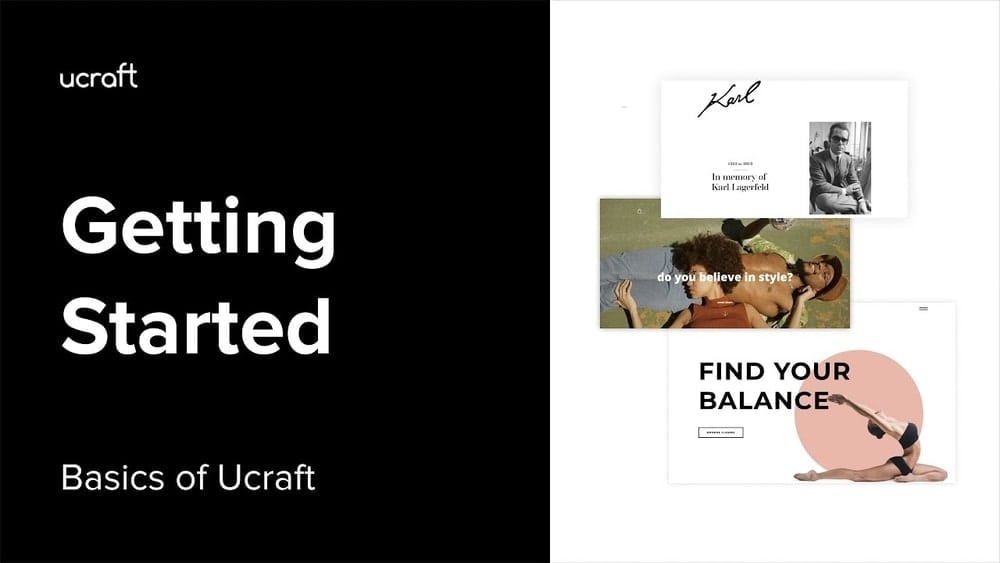 Key Features:
With Ucraft Logo Maker, You can create a logo and a responsive website using templates.
Moreover, this logo maker web tool has many pre-designed templates, and you can create a landing page for free using one of these templates.
Furthermore, this tool helps you create online store templates, payment options, shipping details without knowing to code.
In addition, this website helps you to create an eye-catching website using pre-designed templates easily.
In Ucraft Logo Maker, you can get expert advice from Uncreaft designer.
Pros: Basically, Ucraft Logo Maker is more than a logo maker. You can get all supports for creating an online store from here.
Cons: The pre-designed templates are minimal to use.
3. Canva Logo Maker
---
If you are a graphics designer, you may hear the name Canva. It is a great application for design anything! You can create a professional logo just in a minute using Canva. It provides all ingredients for making a logo. You don't need to be a designer for logo design. Just drag and drop of logo contents and make an amazing logo. It has both free and paid tools for logo making. But free tools are good enough for making a stunning logo.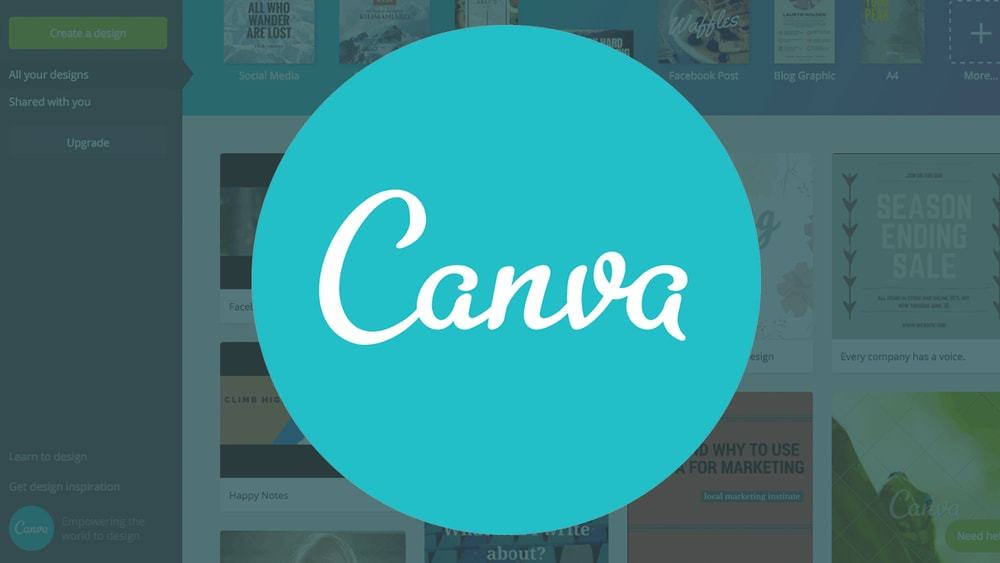 Key Features:
Canva has thousands of logo templates. So you can explore these templates and chose the best-suited templates for you.
Canva introduces real-time collaboration with your partner by giving access to make comments, edit to design a stunning logo.
In addition, Canva has millions of icons, vectors for logo design. So you can find the perfect symbol of your imagination.
Moreover, it has a modern font collection that makes your logo look so attractive.
Furthermore, it has rich color palettes and creative tools that help you to build a professional logo.
Pros: Canva is not just a logo maker. It comes with a complete design suite for creating a brand. With Canva, you can design your business card, flyers, posters, thumbnails, and many more.
Cons: Undoublty Canva is the full package for design a brand, but maximum quality templates are only available for premium users.
4. Flamingtext
---
Flamingtext is a great logo-making website among the best online logo makers tool for creating a fancy-looking text-based logo. If you want to design only a text-based logo, Flamingtext might be the best pick for you. Here you find an endless font collection. Flamingtext has many fonts compared to other logo-making websites. Flamingtext is committed to providing the easiest way to create a professional logo.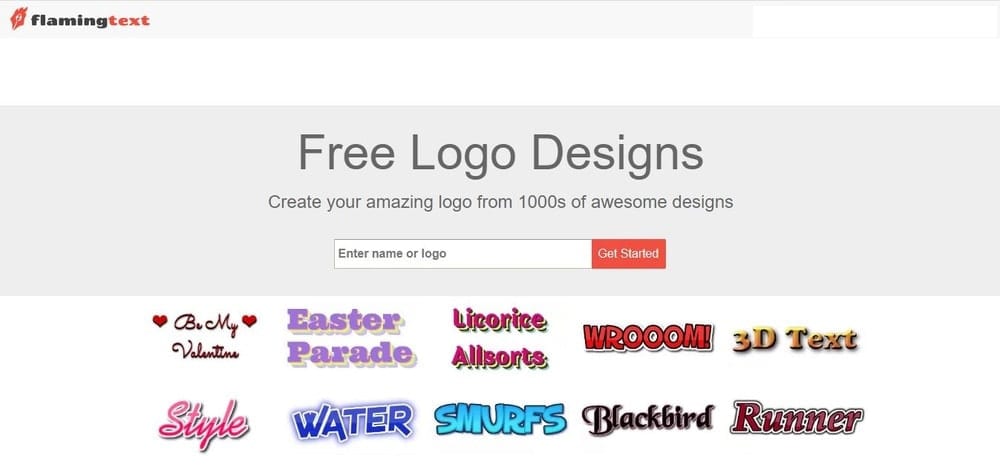 Key Features:
Flamingtext provides Imagebot, a powerful svg-based graphics editor. With Imagebot, you can create professional-looking banners, stickers, logos, and much more.
This logo-making application allows translating logo text into other languages.
Moreover, this site allows adding shadow and background to the font logo.
It offers the quickest way to create a professional logo. So, you can create an amazing logo within a short time. You do not need to be a graphics expert.
Moreover, you can make larger your logo size so that you can print it. Most of the time, when designers create a logo online, they face this printable size because of less resolution. Flamingtext overcomes this issue.
Pros: Flamingtext allows add text effects into GIMP.
Cons: Only limited for a text-based logo design.
5. DesignEvo
---
DesignEvo is another top-rated online logo makers application. Anyone can create an amazing logo just in a few minutes using DesignEvo 10,000+ templates. However, it has both free and premium plans. But, its free plan is useless because it produces a watermark on your design. But if you choose a premium plan and have no idea about your brand logo, then the DesignEvo templates library helps create a stunning logo in a minute.
Key Features:
The templates are arranged in different categories. Moreover, you can search your particular templates using keywords.
There are no limits to icons. You find millions of icons for your logo design.
In addition, it has 100+ stylish fonts that make your logo more professional.
Moreover, there are many high-quality svg, and pdf logo templates that you can customize and scale without pixelating.
Though it is cloud-based, so you can save and edit your design in your account unlimited times.
Pros: DesignEvo makes it simple to design a professional logo. In addition, you can design signs, letterheads, and business cards here.
Cons: Freebie is not usable. If you are interested in purchasing the premium version then, you choose it.
6. Placeit
---
Placeit is the product of Envato. Basically, Envato is a great marketplace for web content tools. You find here everything that you need for a business virtual presentation. From the Placeit marketplace, you can download unique design template for your any types of business. And, Plaecit comes with an unlimited design pack to create a stunning logo for your business identity.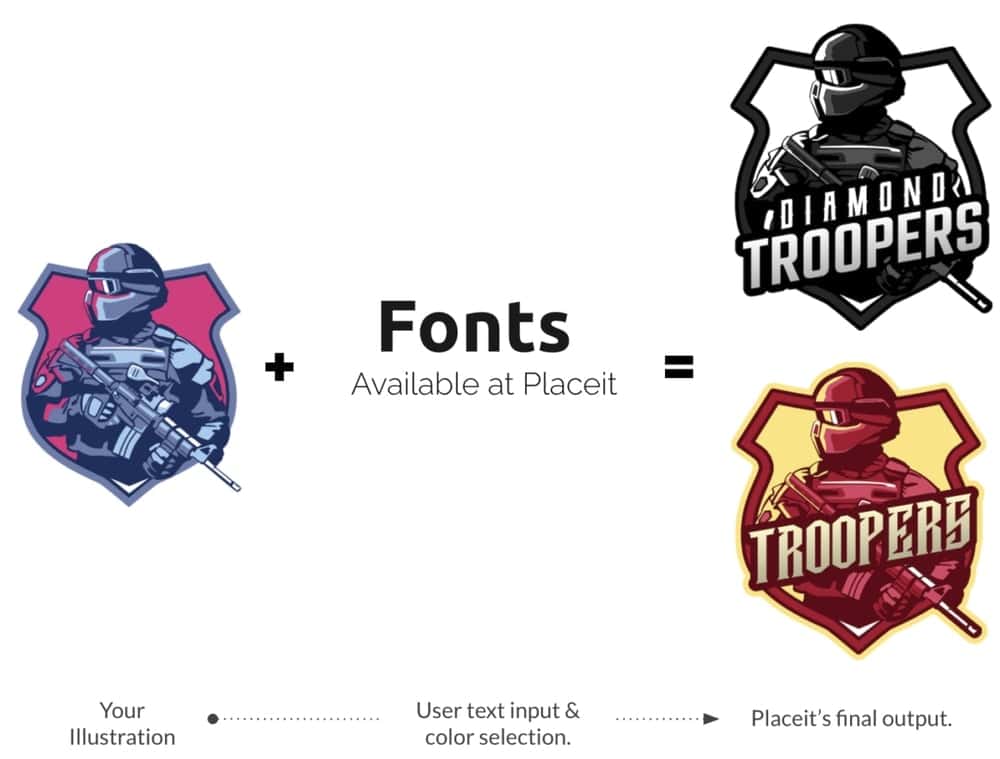 Key Features:
Placeit only accepts the best quality and unique design templates. So you always get exclusive content here.
Each category has many graphics elements for logo design. So get lots of options to design your brand new logo.
There are 100+ stylish and modern fonts. You can easily change font style and color here.
It is a great place for both professional and novice designers if you need to present your logo in a mockup. No problem. Many more mockups are displayed here to reuse.
You can draft your design and edit as many times as you want.
Pros: Placeit is the place of professional logo designers. But its interface is so simple that anyone can professionally create a logo.
Cons: If you want to download your design assets, you need to purchase its premium membership.
7. DesignMatic
---
DesignMatic is another logo design tool that you can use for free. It is the fastest DIY logo design process compared to other logo design tools. It offers a wide range of fonts style, font types, vectors, and many more logo design elements. Though you can design and download your logo for free. But if you want to download a high-resolution logo, then you need to purchase its premium packages.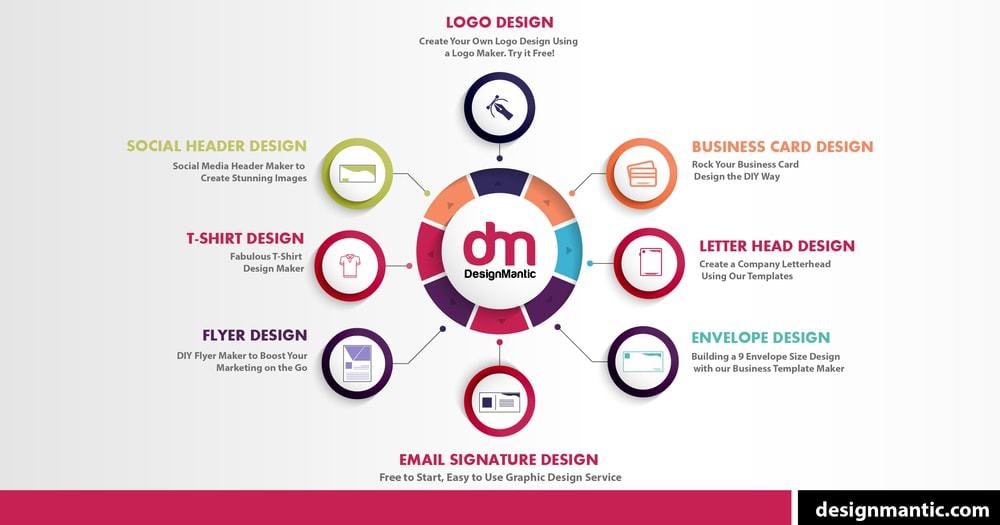 Key Features:
You can add two icons and five lines without your company name in your logo design. Many logo companies limit this option. So it makes freedom to your design.
There are more than 30 industry design options to create branding elements. You can search different categories and sort logo templates.
Moreover, if you want to design hospitals, schools, and non-governmental organizations, you can get all free services. Just submit a predefined form. Then, someone contacts you and guides you.
DesignMatic offers printing services that mean you can receive your business card and other promotional materials. Moreover, it provides a complete design solution from designing to printing output of the products.
It provides a complete brand creative solution. So you can design business cards, letterheads, envelopes, flyers, email signatures, clothes and accessories, and many more.
Pros: DesignMatic becomes more popular because of its simplicity. You can create a logo quickly using this design tool.
Cons: It only supports PDF, PNG, and JPG files. So when you are going for printing, you don't get perfect output.
8. Logaster 
---
Create a professional logo in just a few clicks using Logaster free online logo makers. If you are a start-up company and you want to create a professional logo, you pick Logaster. It has several tools to create a logo. Moreover, you scaled your design using svg or PDF format and download your design in JPG or PNG format. You can use unlimited free trails to create a logo.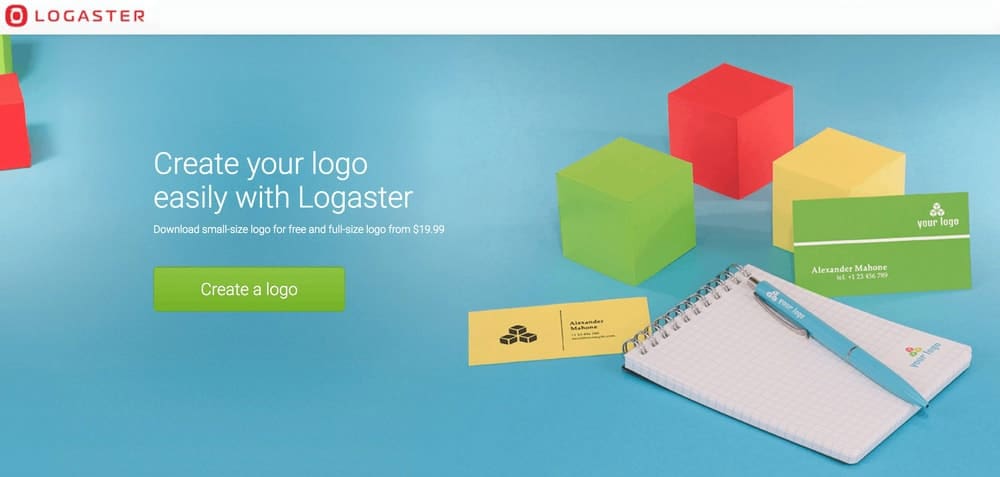 Key Features:
Logaster uses artificial intelligence (AI) technology to create a unique logo. So you can create an exclusive logo.
The logo design process is simple and quick. So you can create a logo within a few minutes.
The font library is rich and interesting. Here you find varieties stylish category fonts to use.
It uses a simple drag and drops technology. So you don't need any design knowledge. You can easily toggle down between six logo layouts and find the best suit for you.
Moreover, this platform helps you to create business cards, envelopes, favicon, letterheads, and many more.
Pros: You can download watermark-free logotype in PNG format for free. It allows unlimited edit even after downloading the file.
Cons: The template number is limited. It suggests repetitive templates when works in the designing board.
9. LogoMaker
---
LogoMaker is an intuitive free logo maker tool that helps you make a professional logo by choosing 10K+ logo templates. The logo-making process is simple. First, enter your business name. Second, choose templates from the templates library. Third, customize font, icon styles. And finally, save it for download or edit next. The entire designing process is free. However, you need to pay when you are going to download a high-resolution image.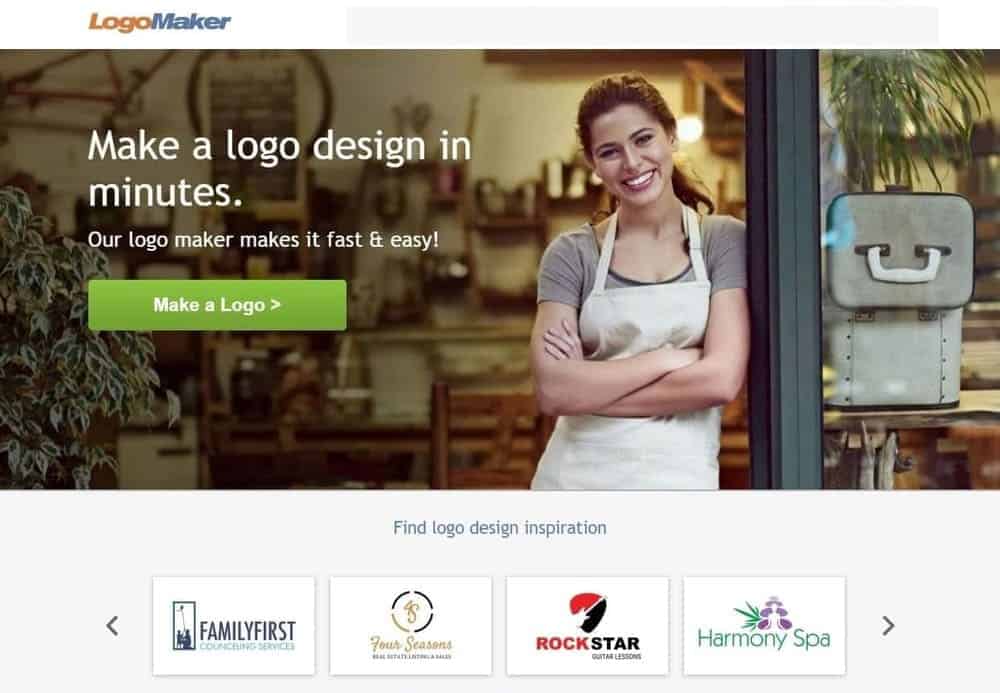 Key Features:
You can create any category logo. There is more than 10,000 logo templates library with unique design.
You can select four logo design styles and four font styles to make your logo exclusive.
There is a color palette. So you can choose any color you wish. No color limits here.
The customer service is excellent. They help you with any problem-solving while you are working in their platform.
Moreover, this company also offers online and offline marketing services for its customers.
Pros: This is very useful for the start-up company to create a professional logo in a few minutes.
Cons: The entire design is free, but you need to pay for download your design.
10. DesignHill
---
DesignHill is basically a graphic design platform for professional graphic designers. This platform serves more than twelve design categories. Logo design is one of them. It has an artificial intelligence tool that helps you create a dozen unique logos in a few minutes. If you are worried about logo ideas, you find here lots of logo templates. However, the entire design process is free, and you have to pay when you save your design.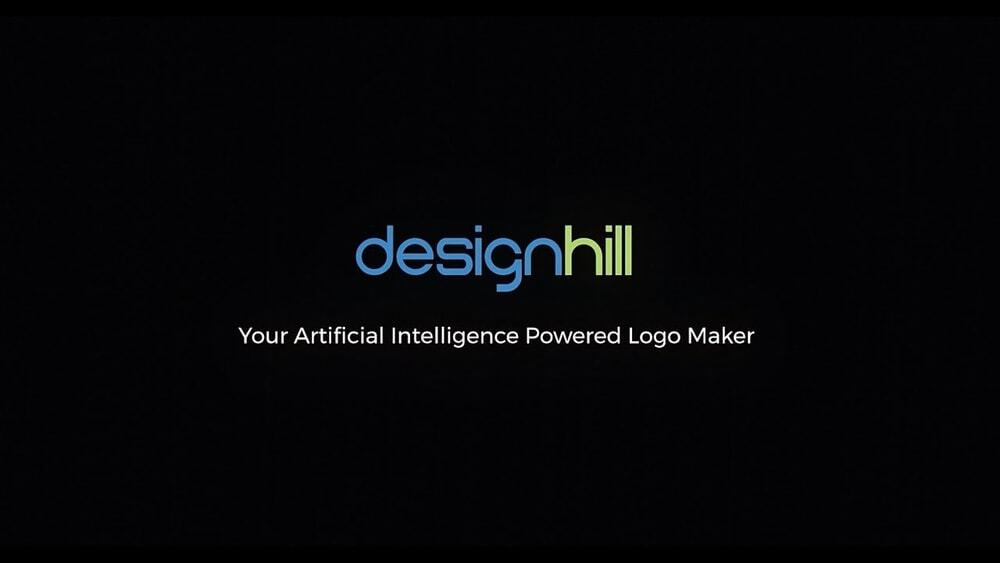 Key Features:
Its AI tool creates an automatics logo according to your business name and category. If you are running out of logo ideas, DesignHill makes a solution to provide unique logo templates.
The DesignHill color palettes are pretty good. In addition, you may find here varieties of color for your logo.
It has many stylish font collections. So you can create a dynamic logo using perfect-looking fonts.
When you need a unique logo design, you create a logo contest by providing your requirement. You will get shortly lots of unique logos designed by top-class designers at affordable prices.
If you are a professional graphic designer, you can share your design in social media to get noticed by top clients, international recognition.
Pros: The easy and quick solution to find the amazing logo for your company. Either you design your own logo, or you hire a top-class designer at an affordable price.
Cons: The setup process is old-fashioned. Sometimes it is very laggy and takes time. So it needs to update the layout.
Design with DesignHill
Our Recommendation
---
Logo design is always an intimidating task, but the online logo maker application makes it easy. There are so many logo maker software tools that help you to sketch your brand. Especially if you are a shorter budget, these logo makers are a great alternative for you.
Because designing an aesthetical logo is very costly. Here the discussed 10 best online logo makers applications that can provide you best output. So don't wait for someone. Hire yourself and makes your dream true.
However, these top 10 applications are top-notch. You can pick anyone from the list. I personally like Shopify Hatchful and Canva. Because of its having unlimited templates library and easy processing tools. Here you can design without having graphic knowledge.
But if you want to create an exclusive logo and hire a world-class designer at an affordable price, you get the service from Placeit or DesignHill. Moreover, for complete brand improvement solutions from logo making to printing promotional materials, you can get services from Designmatic and Flamingtext.
Finally, Insight
---
So these 10 best online logo makers applications you can use right now. Apart from this, if you have an any better alternative, you can share your application name in our comment box. I think your comment helps others to select the best-suited logo makers. Besides, if you think this article is helpful, you can share it with your friends, family, and social media sites.