When we are at a conference and want to present our projects in front of colleagues, a whiteboard is a mandatory tool we need for the presentation. But when it is a virtual conference, we cannot just use a manual whiteboard as people on another side of the device may not properly observe what's on the board. However, there are many virtual whiteboards for Linux available to help in your virtual conference. These apps are also very essential for virtual classes too.
Generally, the virtual whiteboard apps let the users share the board with others. So, what the users will write or draw on the board, all will be visible to the shared people. So, it is quite like a digital canvas where you can just write or draw in real-time using the mouse or other touch-based input.
Best Whiteboard Apps for Linux Users
---
It is primarily not a difficult task to find a whiteboard app for Linux. But you may not find one with all the features you need. Indeed, we have no idea about your requirements. So, we choose apps that provide unique features with excellent UI. We aim to introduce you to the universal whiteboard apps that will help you in different ways. So, check out our brief review of the eight best apps.
1. Rnote
---
Let's first get introduced to one of the most flexible freehand whiteboard apps, Rnote. It is basically an open-source app that many people use as a drawing tool as it comes with the vector-based drawing function.
But it was actually designed for annotating, freehand drawing, and marking upon images and documents. Also, the app comes with a customizable interface. You can get the package to install the app from Flathub or use other forms from its GitHub page.
Important Features
This app comes with different marking tools like pens, brushes, markers, etc.

You will get regular updates of all the new widgets and UL elements.

There is a graph option where you can make geometric figures.

You can also select the drawn object and writing part to move on the board.

This GTK4 app lets you change the size of the page, use dark mode, and change the color of a figure on the board.
2. Rainbow Board
---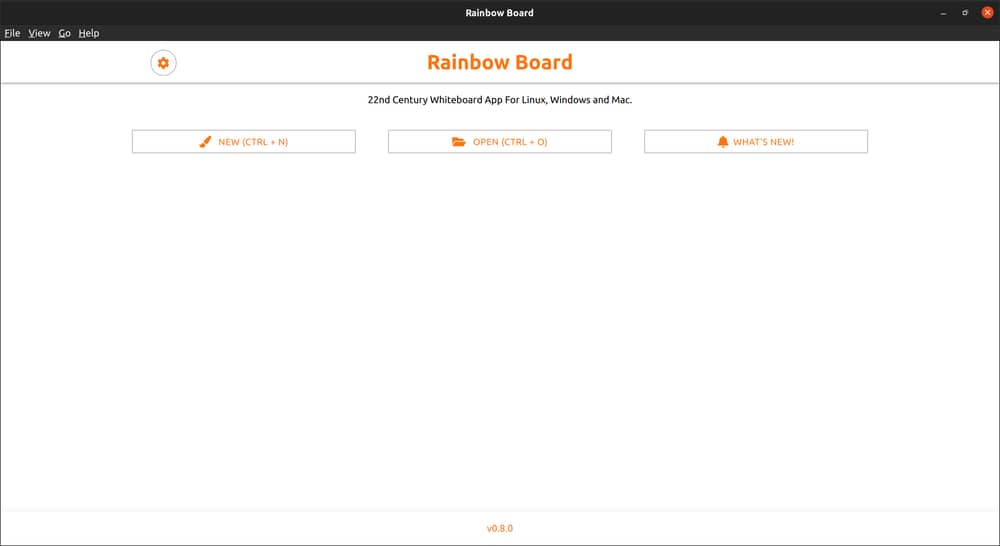 If you are looking for a cross-platform supported smart whiteboard, Rainbow board is another option for you. This whiteboard app comes with a very minimalist interface, and there are enough functions to use.
It is initially designed with technologies like Electron, SVG Real Render, etc. It is quite like the real-life whiteboard, but here, you have to use the mouse and keyboard except for the pen. You can install it from the Snapcraft page or get the packages from Github.
Important Features
Rainbow board is designed with a lot of modern and high-end web technologies.

This open-source whiteboard app is specifically suggested to use for virtual classes.

Because of the aforementioned stylus support, this board looks pretty much elegant.

You can simply save all the pages as PNG files.

There are indeed lots of GUI themes, and you can change the accent color as well.
3. Excalidraw
---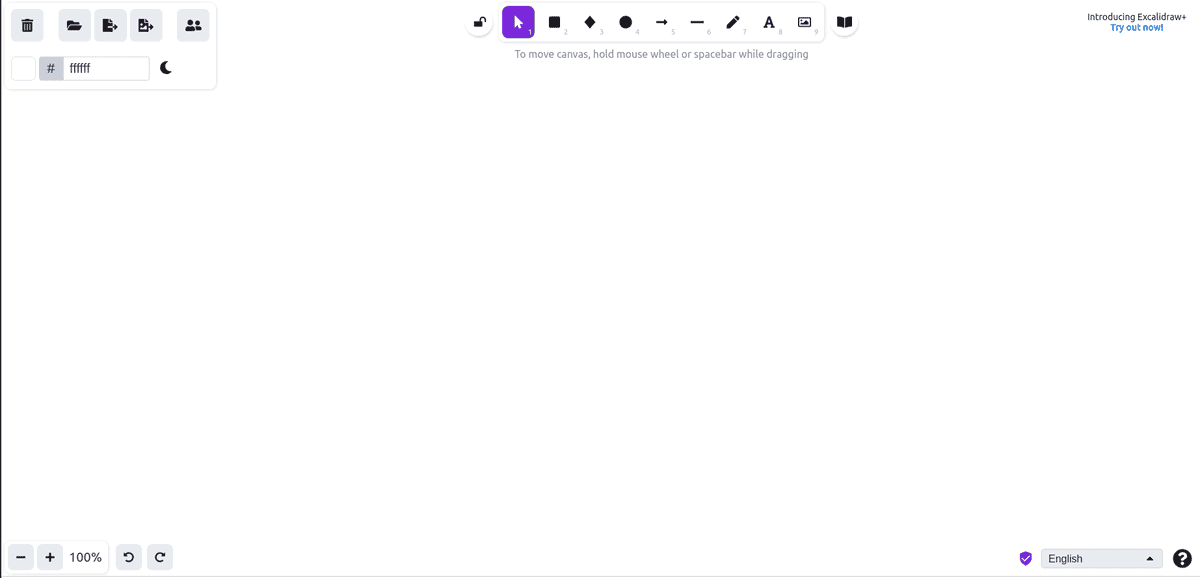 We will suggest you try Excalidraw if you want to use the most minimalist whiteboard app. This amazingly simple app contains no extra options to make you confused. On the official site, you will get the board directly. On the top panel, you will get all the pens and brushes. The side panel contains options to delete, share, and many more. There are unlimited undo and redo options as well. So, making mistakes won't be a problem when you are using Excalidraw.
Important Features
You can use dark them and customize the page size.

There are options to save a page and insert images on the board.

You can simply make all the geometric features and use the pen and brush tools on the board.

There is a lock option that saves your edit when you will press it.

Excalidraw also lets you make live collaboration and share the page with others.
4. Lorien
---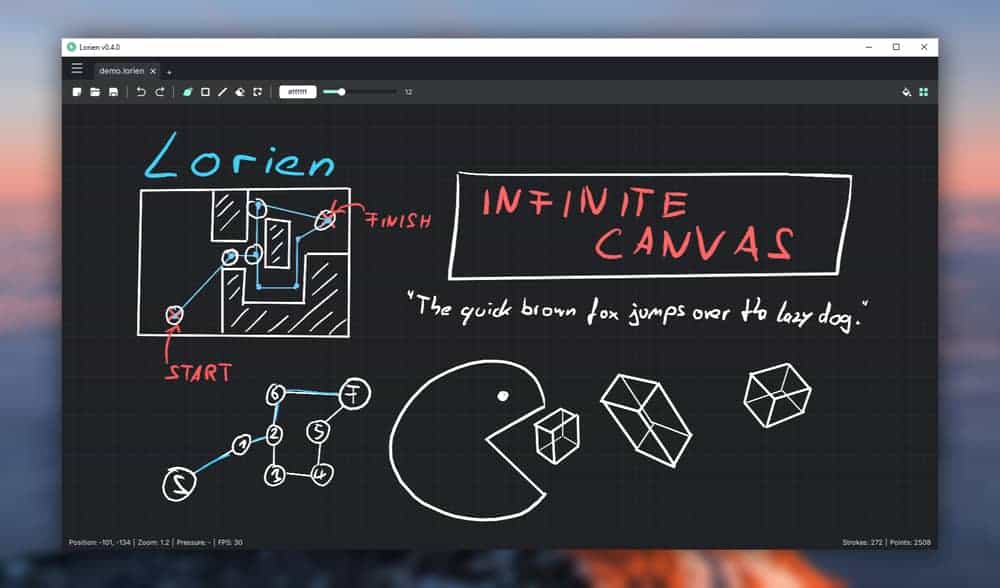 Let's get introduced to a multifunctional whiteboard app for Linux. Lorien is not just a mere virtual whiteboard but your dedicated note and drawing app. Primarily, this app was developed as a digital notebook app. But later on, it was developed as multiple platforms supported the whiteboard app. The interface is clean, and you will love its marking and drawing tools. Besides, you can also use either a single page or multiple pages at the same time.
Important Features
This infinite canvas lets you make unlimited undo and redo.

You can use a grid page, zoom the board, and customize the page size.

This whiteboard app lets you share it with others and make a live collaboration.

It comes with a built-in color plate so that users can make figures with different colors.

You can save all the pages as files with very small sizes.

This useful app indeed supports multiple languages.
5. Xournal++
---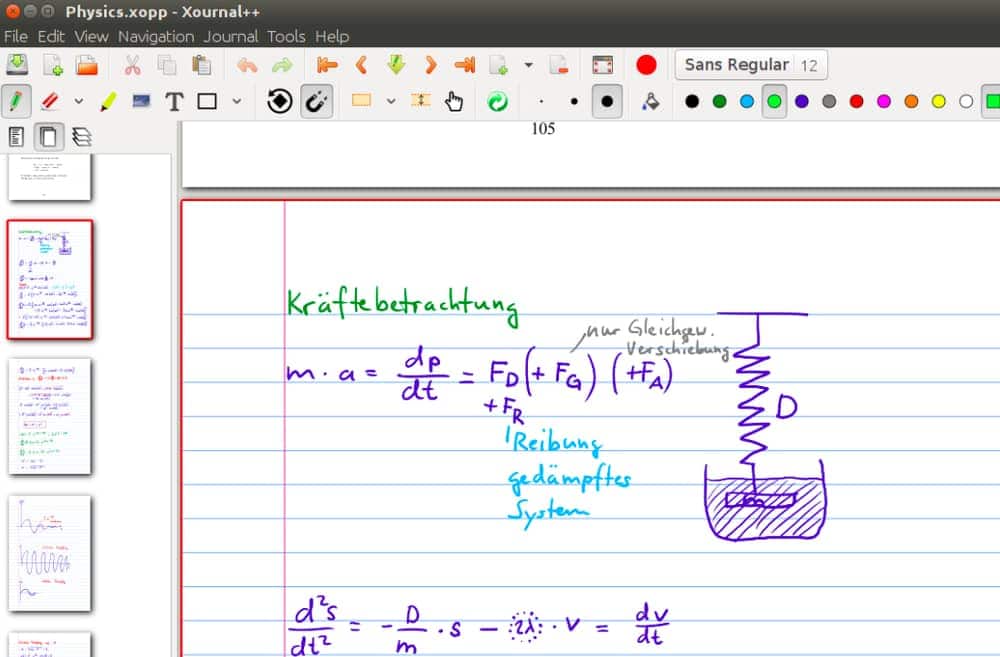 Basically, xournal++ is the updated version of the old-style whiteboard app for Linux, Xournal. And the old app comes with a new form with many modern functions. This flexible note-taking app also comes with a clean UI and provides you with all the essential features of a virtual whiteboard. Besides, this app lets you save the pages as SVG, PNG, and PDF files. You can use this app on your smartphone and tablets too.
Important Features
On the board, you can resize, rotate, copy, paste, erase, and change the color of any figure.

You can also add text insert images on the pages.

Indeed, you can also change the text size, font, and colors.

You can additionally customize the toolbar and change the page size.

It requires only a few clicks to make a live collaboration and share the board with others.

It apparently supports more than 20 different languages.
6. OpenBoard
---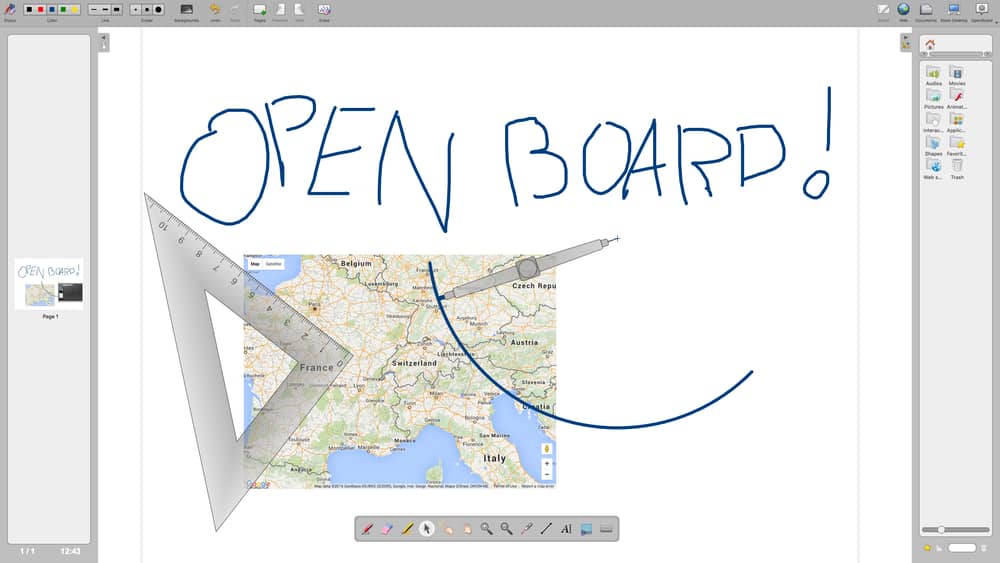 Let's meet the most popular and universal whiteboard app, OpenBoard. This app is primarily designed to use virtual classes for the school. As the developers developed it for kindergarten and higher-level students, it comes with a very clean interface. There is nothing extra in this app to make the users confused. It will automatically save all the changes you make. Indeed, it is free to use and compatible with almost all platforms.
Important Features
OpenBoard is currently available for 14 different languages.

On the upper panel, you will get all the pen and brush tools to make a figure.

You can also use different geometric shapes and tools to make a realistic presentation.

It apparently lets you save the pages and export them in regular formats.

You can simply click on the share option to add people and make a live collaboration.
7. NoteLab
---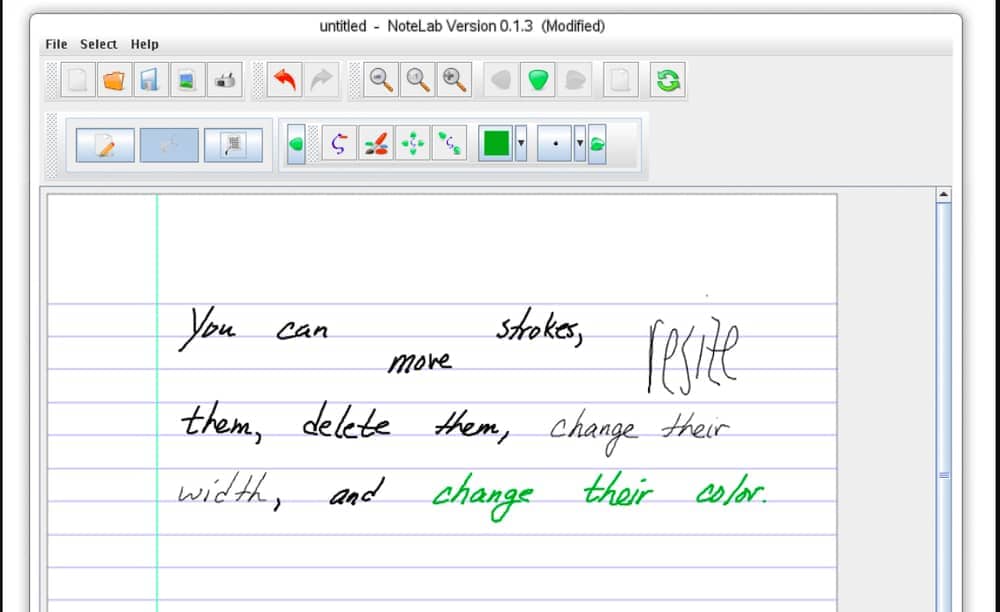 The next suggestion is Notelab, one of the most popular whiteboard apps for Linux with a bunch of flexible features. All the functions of this app are organized in a beautiful way, and so you will feel it like a real-time whiteboard. Besides, it will save all the changes instantly and automatically. There is indeed no way to lose any page from this app. You can also save the pages in regular formats.
Important Features
NoteLab lets you modify the text on the board seamlessly. You can indeed change the color, font, and size of the text.

You can use different brush tools and customize the tools as well.

It lets you save files and export them as PNG, JPEG, SVG, SVGZ, and BMP formats.

Eventually, you can print notes directly from this app.

This app comes with an abstracted rendering system and complete screen rendering optimization.
8. MakeStoryBoard
---

Finally, it is MakeStoryBoard, a bonus option for you. Basically, this is an animation-making app. But you can use it as a whiteboard app seamlessly. So, it is especially suggested for project planners like architects. You can make animation figures on the board and easily collaborate with others. So, presenting your project via Storyboard will be effective, fun, and flexible. This app offers both free and paid plans, and it is available for all platforms, including Linux.
Important Features
You can add images, stickers, and sketches on the board to modify your project.

On the live collaboration, you can let others edit the page.

Double access permission will help you keep your project private and check twice before you share it with others.

You can also save and report PDF files of all the pages.

There is a bunch of animation-making tools that you may not get on other whiteboard apps.
Finally, Insights
---
If you are a teacher or project planner, a whiteboard app is mandatory for you, especially in a pandemic situation. The mentioned whiteboard apps for Linux are well developed, minimalist, and free to use. You just have to choose the appropriate one to use. However, if you prefer a simple app, try Excalidraw. OpenBoard is good if you are looking for the most popular one. But for extra features like animation, you should try MakeStoryBoard.
Hopefully, you can now select the best app easily. So, don't forget to inform us how the virtual whiteboard is working. Here, we take our leave for today. Thank you for your time.