In this digital era, e-books have superseded paper books, as they are easy to carry, convenient to handle, and occupy very little space. If you want to read more than one book at a time or avoid the hassle of carrying heavy books, you would love to use some best reading apps for your Android device for this purpose. You can scroll down and have thousand of e-books in your smartphone or tab and can read using this e-book reader apps discussed below.
Best Reading Apps for Android
---
There are lots of reading apps for Android in the marketplace, but finding the right one may become difficult. To help you in this regard, I will review the top 20 best reading apps for Android, focusing on salient features.
1. Kindle
---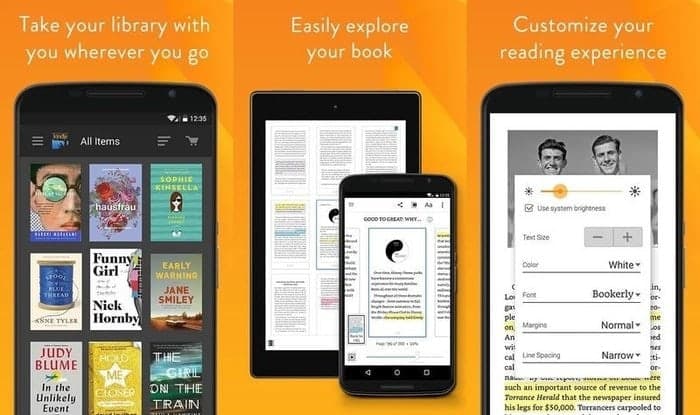 Kindle app is one of the best reading apps for Android in the Marketplace. It has the most extensive library on the internet. It has numerous amazing features. It can synchronize with your other devices. You can also read newspapers and magazines here without using the Kindle device.
Important Features:
Kindle includes a built-in dictionary.

While reading, You can search any word in Wikipedia.
It allows linking your account with Facebook and Twitter.

You can customize your Kindle settings and highlight and margin, note, and search keywords for a better reading experience. 

You can read and also can shop here without any difficulty.

Enjoy its user-friendly interface.
2. Aldiko Book Reader
---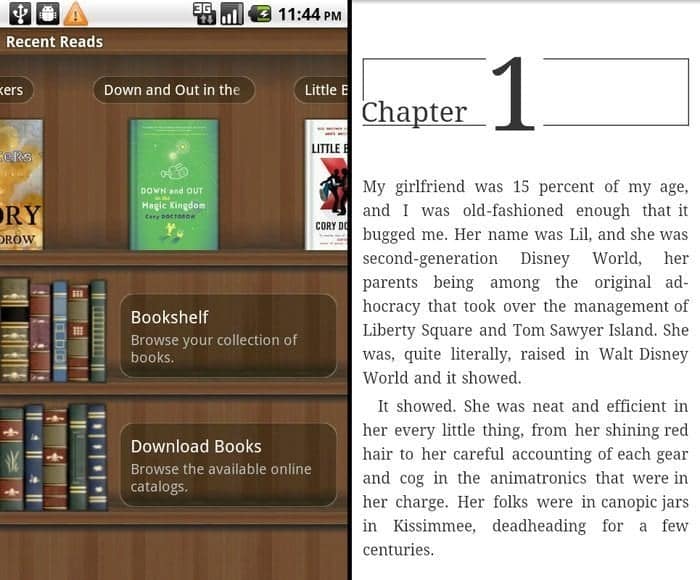 Aldiko Book Reader app is one of the older Android ebook reader apps. You do not need to use memory cards to run this app. You can customize the font size, background settings, font face, and so on here. Sort your stuff effortlessly and customize Page layouts brightness, margins, and colors.
Important Features:
It has an export and import footnote feature, numerous audiobooks, a quicker update facility, most importantly, it does not carry commercials.
It supports PDF, EPUB, and Adobe DRM encrypted e-books.
You can read e-books from public libraries without any difficulty.
You can rapidly shift to a separate section through the table of contents.
Up to which part you have read, it remembers that too.
Enjoy its user-friendly interface.
3. FBReader
---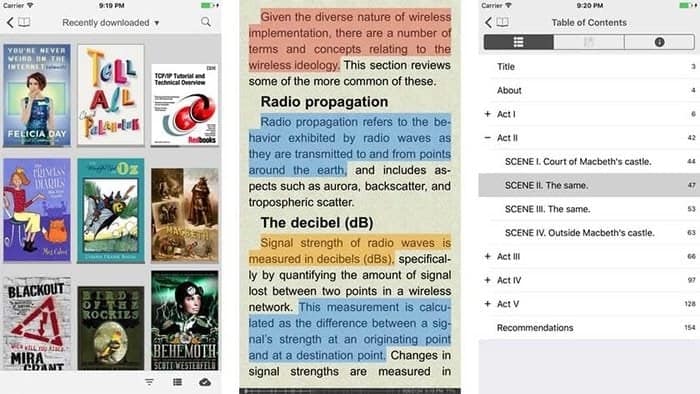 FBReader is a User-friendly pdf reading app. it supports EPUB, RTF, DOC, HTML, MOBI, and other formats. You can change the font size, colors, bookmarks, and animations. It's a recommended reading app for Android, which blends with multiple conventional dictionaries. You can locate your reads within its library. Create and enjoy your unique reading environment through FBReader.
Important Features:
Manually you can select and download your favorite books on the device or SD card.

Adjust the screen brightness, select color schemes for daytime and night, and change the backgrounds as you like. 

FDReader is very fast, user-friendly, and customizable.

Get 24 languages hyphenation and 34 localized languages.

You can synchronize the library through FB readers.

You can access e-book catalogs and stores in different networks. 
4. Moon+ Reader
---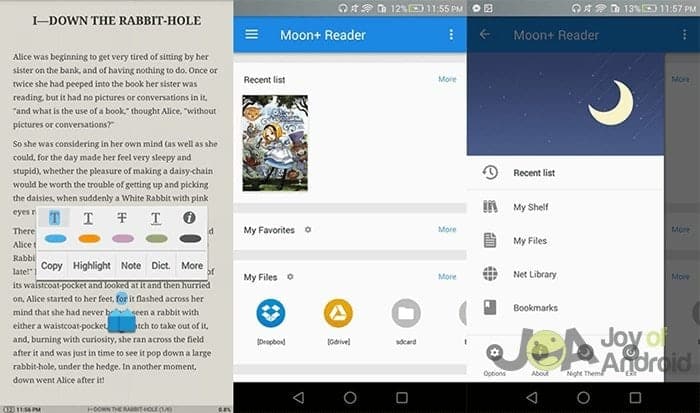 If you want to enjoy reading books in a reading app, you should try 'Moon+Reader. It has an easy control interface. A status bar will show your reading progress. It is a free reading app, but it also has a pro version with extra features. You can set various modes, like multiple view mode, auto-scroll, paging, spacing, dual page mode for landscape screen, etc.         
 Important Features:
Compatible with online e-book libraries.

Enjoy embayed themes and day-night mode switcher with 'Smooth scroll.'   

Active 'keep your eyes healthy' option if you need to read for long.

It supports text alignment, multimedia content, and email from customers.  

Get backup facility to your cloud, also sync your reading positions.     

Get page flit animations with the real page turning effect.
5. NOOK
---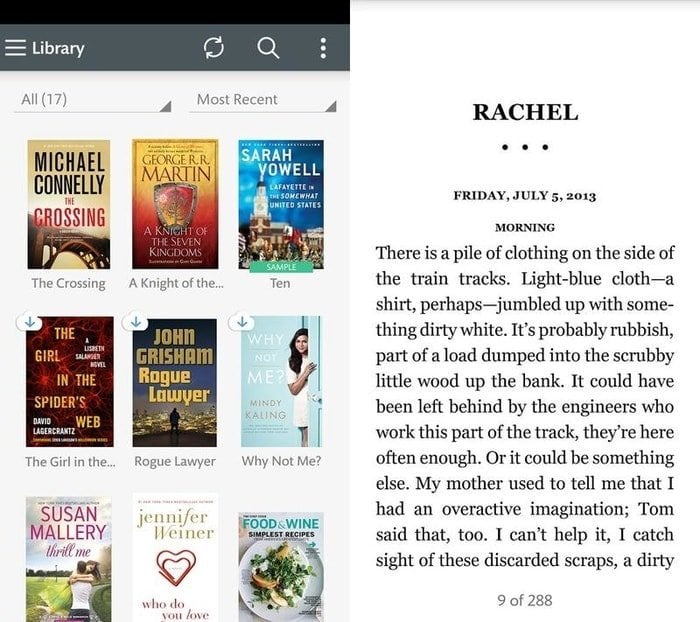 NOOK is one of the best book reading apps for Android devices. It has some exclusive features that will make your reading easy and comfortable. It synchronizes the last page automatically, which will give you the most simplistic reading experience. It is also known as the best reading apps for kids, as you will find numerous books, newspapers, and magazines for them. 
Important Features:
You can adjust the brightness so that you can read comfortably. 

It offers more than two million books, including newly released best sellers, comics, magazines, kid's books, and newspapers.

Get customized reading options for an easy and smooth reading experience.

Relish the opportunity of reading the downloaded books instantly.

Enjoy the amenity of browsing chapters and articles from famous books and magazines for free. 

It offers assistive technology, including screen magnification and talkback options for blind or low vision users. 
6.

Kobo 
---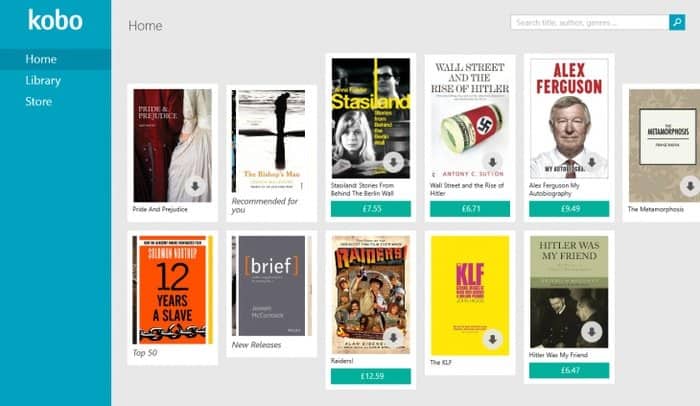 Kobo is an essential reading app for Android that offers more than 5 million ebooks and publications. It supports multiple formats like PDF, CBZ, and CBR. It provides the best e-Books, novels, and children's books altogether. Moreover, you will get the audiobooks here.
Important Features:
It makes reading more enjoyable and convenient. 

Kobo offers you a new system of social reading, where you can consult the books on social media and share your quotes and notes.

As it works as an online book store, you can read anywhere, anytime from its catalog.  

You can customize your text, access it online, and also put your content quickly. 

Its design is lovely; it's easy to use and also has a vast database.

Enjoy hundreds of free e-book, read their previews, listen to the audiobooks, and rate or review the books you have read.
7. CoolReader
---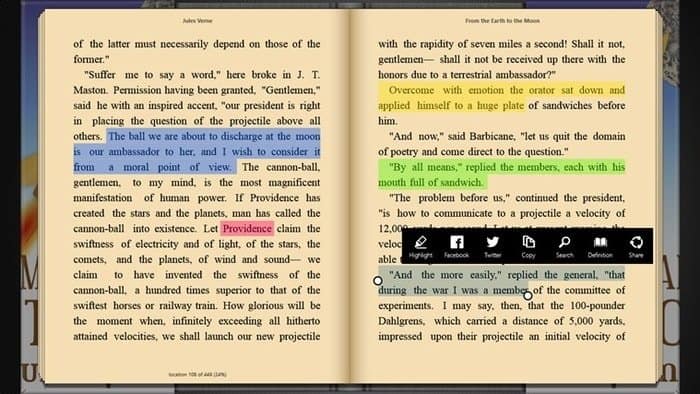 CoolReader is an ideal open source program which is widely known as CoolReader Engine. It offers you stunning performance while reading the e-Pub and FictionBook format. It also supports several renowned formats like DOC, TCR, FB2, RTF, PDB, MOBI. Enjoy its page flipping animation, built-in browser, background texture. It supports online catalogs, book stores, and the Text to Speech option.
Important Features
You can add bookmarks for easy access in the future.

Select your desired topic or writeups from the table of contents and access the data directly.

No more botheration with the zip files. You can read the e-books directly from a zip file. 

Get a simple and user-friendly interface.

Get impressive features like an auto-scroll, tap zone, dictionary, and stylesheet support.

It can reformat .txt files automatically.
8. Serial Box
---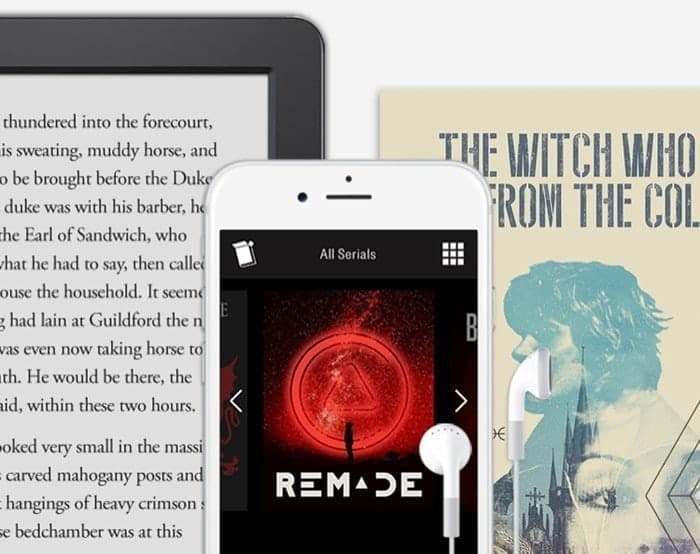 'Serial Box' is a unique reading app that offers you both audiobooks and e-book at a time. You will get an excellent compilation of different genres like novels, drama, fantasy, science fiction, and mystery stories in an audiobook or ebook format. You can save your reading progress, as it synchronizes automatically. 
Importance Features:
Enjoy the original sound effect and theme music while listening to the highest quality audiobook.

Switch between the audiobook and e-book seamlessly.

You can download both audiobooks and e-books and enjoy them even when you are offline.

Customize the background color and narration speed.

You can choose your comfortable scrolling style.
9. Google Play Books
---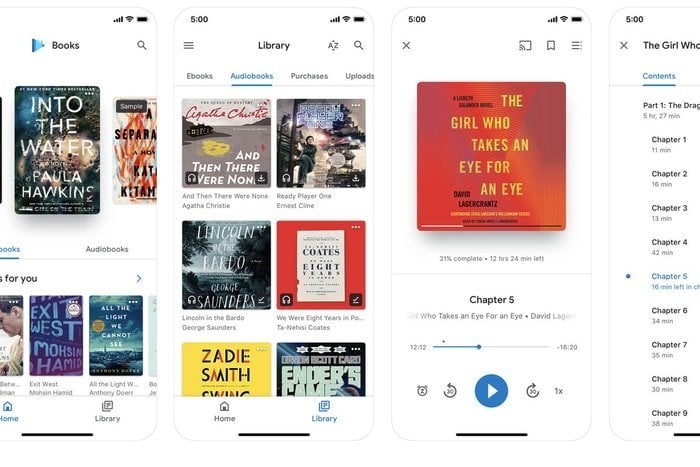 Google Play Books ís one of the best reading apps for Android. You will find it as your virtual book shop and find numerous comic books, magazines, and other texts. You can read almost all types of formats on it. It provides a cloud facility. You will find lots of user-friendly features embedded in it.
Important Features:
Sync with your Google Drive, and you can share them when you need them.

Get exciting features like a quick bookmark, rapid skim mode, book rentals, etc.

You can easily shop for various books online.

Enjoy customizing font size, text highlighting, and line space.

Get a built-in dictionary and map search. Moreover, it remembers your reading progress.

You can upload your documents and import them from the existing stock of the app. 
10. PocketBook
---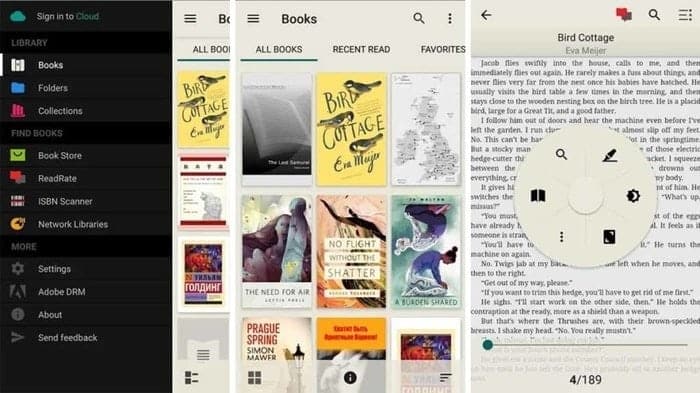 PocketBook is a free reading app for Android. You will feel comfortable and enjoy reading books and other texts on it. It supports PDF, RPUB, and other formats. Enjoy a good number of configuration options. You can make notes, highlight, set night mode, adjust text size, brightness, colors, etc.
Important Features:
Get various page scroll options, like tapping, sweeping, by volume keys, etc.
It offers various viewing modes, such as a single page, dual page, and scroll viewing.
You can quickly access the table of contents and highlighted notes.
Zoom in and zoom out the text fragments and pages if necessary.
It embeds with dictionary support and text to speech facility.
You can resize the screen as per your requirement and lock the screen if needed.
11. Goodreads
---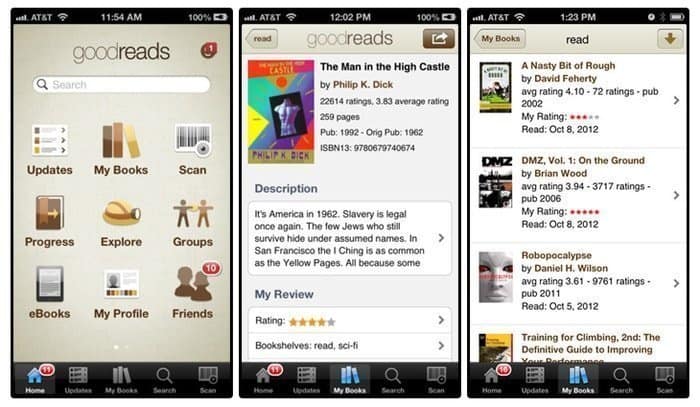 It is the world's largest site for book lovers! Here you can share and discover various books of your choice. Find your favorite genres and browse as per the recommendations. It has an active community and an extensive archive of books and reviews. You can use the enclosed barcode scanner while buying books to get reviews before buying.  
Important Features:
Maintain an 'I want to read' list for reading any book in the future.

Explore the list of most popular books and best sellers.

You can share notes and progress updates to the forum as you read.

Borrow books and buy those with the available links.

Make 'shelves' to save your favorite books.

You can take part in the reading challenge.
12. Starfall Learn to Read
---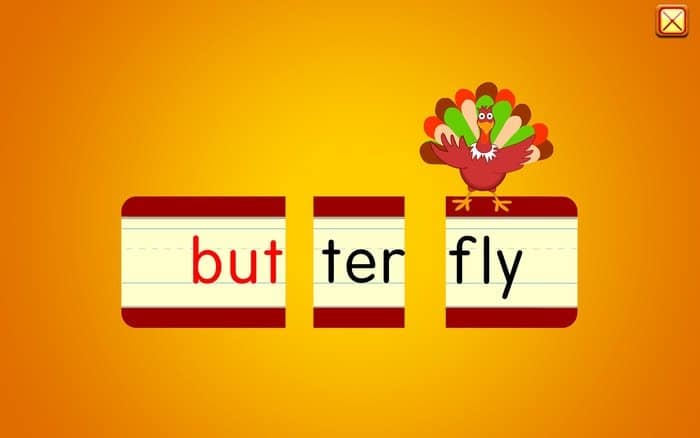 Starfall Learn to Read is a popular reading app for kids. It helps the kids to learn basic reading skills with the help of necessary videos and additional activities. It's suitable for kindergarten, 1st grade, 2nd grade, and 3rd-grade students. It focuses on phonemic perception, sequential phonics,  and common sight words. It qualifies kids through exploration, positive support, and play.
Important Features: 
It's a publicly supported charitable reading app for children.

It focuses on vowel harmony and the associated spelling. 

Kids will master the sound-spelling through different suggestive activities, songs, and movies.

Kids will learn to explore in the mode of playing.

This app will remove the difficulty of learning. 

It contains mathematics, animated songs, and reading activities.
13. Homer
---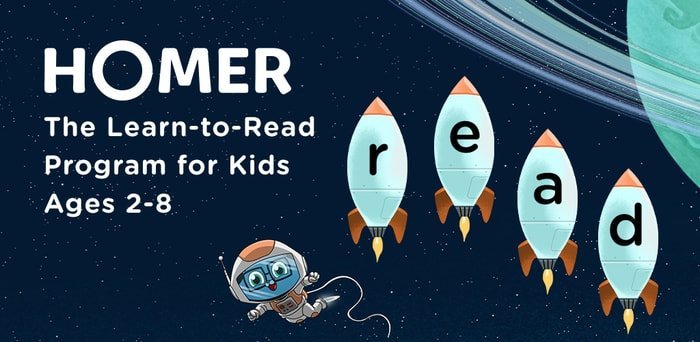 Homer is Widely known as the comprehensive app for teaching reading. It is a research-based educational app for reading where kids learn through motivation. The kids will get points for reading, listening to books, playing educational games, etc. It is one of the highest-rated best reading apps for kids. It helps your child fall in love with learning. It combines the current reading level and passion of your kid.  
Important Features:
Get proved the result of a 74% rise in early reading.

It offers a personalized plan, called the 'learn to read plan' as per their age and ability. 

This memorandum is set so that kids learn step by step.

There are hundreds of stories for your child and the typical fairy tales the kids love most.

You can trace the result or achievement of your kid.

It is one of the best research-based reading apps for the kid; your child can select the books he/she loves most. 
14. Rivet
---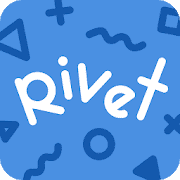 If you want an app that will keep your children busy and at the same time make them wise and intelligent, use Rivet. It is a kid-friendly reading app for your Android device. Thousands of free books for your children are stored there to help them grow intellectually and be knowledgeable. Because books are the best medium for using your time effectively, so, for your kids, there will be no best app rather than such an excellent one.
Important Features
Over 3500 free books to read.

Kids-friendly interface with lots of easy-to-understand audiobooks.

You can understand the meaning of the tricky words by tapping on them for help.

You can read books from your favorite authors and YouTubers.

8 types of reading levels are available.

You can rate, review, and share books and also make your library with your favorite books.
Download
15. eReader Prestigio: Book Reader
---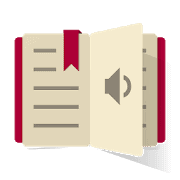 Textbooks, ebooks, audiobooks, and books of all other reading formats are gathered in one place. It is an eReader Prestigio. It is a unique and efficient reading app that will always help you find the books you like the most. Eye supportive reader mode is attached to this app which will let you read a book on your Mobile phone or tab for a long time. So, why are you making it late to install this app?
Important Features
Books are categorized based on their genres.

You can ask for help from the in-built dictionary directly to learn the new words.

You can customize the background color, brightness, fonts, and other factors.

You can make a list of your favorite books to find them easily.

You can also buy access to different books with a little amount of money.
16. ReadEra
---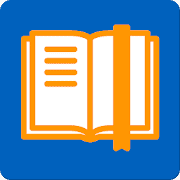 You can read your favorite books without spending money in the library. ReadEra has stored almost all the books available for internet users. It will always let you read flawlessly and won't disturb you with any annoying advertisements. Reading books of different formats is also pleasant because it has an effective reading mode and battery saver.
Important Features
It contains no advertisement to disturb you.

It lets you read books of all kinds of formats.

There is an advanced search engine that will help you to find your favorite books very easily.

You can use the bookmarking option to save the page you were reading in a while.

My favorite option will help you list your favorite books in one place.

You can review and give a rating to the books you just finished reading.
17. Wattpad
---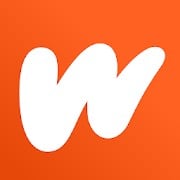 There is an app I can suggest not just for the readers but also for the writers and the people who want to connect with others. It is Wattpad. It is a reading app for an Android device that is full of supportive features. Finding the books you love is very easy here. Also, it lets you watch over the pages of the book for a long time without creating pressure on your eyes.
Important Features
You can find your favorite books from advanced search technology.

Let you make your free library with the books you love to read.

The advanced bookmarking system will let you save the page and line you did read last time.

You can search for books on their authors, time of publishing, names, and genres.

Let you find the quick meaning of the difficult words.
18. Media365: free eBooks
---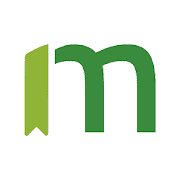 Media363 has made all the ebooks free. So, you don't have to spend a lot of money just buying your favorite books. In one place you can easily find the books you love. There are no hidden charges, and it has quite data and battery-saving ability. So, reading for a long time won't be a problem for you. Moreover, there are different genres and categories that will help you find more books about your favorite subject.
Important Features
Support almost all languages.

You can easily find books of your own choice.

You can publish your ebooks through the app.

Let you customize the color, font, size, brightness, and other facts.

You can also share books with your friends and review them to share your experiences with them.
19. Librera
---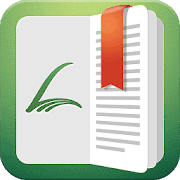 No, Librera is not for those who need an app with a variety of services. The only service it provides is regarding your reading habit. I mean, what you need to make your reading habit efficient is only available in Librera. Dictionaries, ebooks, auto bookmarking options, personalized library, etc., all you get in one place. And it is Librera.
Important Features
The reading system is very advanced and modern.

You can customize the theme, color, and brightness of the reading background.

You can search for books on their names, genres, and authors.

Easy and quick option to add and remove folders.

It lets you keep notes easily and bookmark pages for further read.
20. Scribd: Audiobook & eBooks
---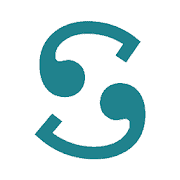 You can now enjoy thousands of books, Audiobook, eBooks, and sheet music in only one place. It is Scribd. To the point, it is one of the most famous reading apps for Android, which includes something more than a regular reading app. So, you can join the Scribd community for free to exchange thoughts and suggested books with millions of its users. So, why are you still thinking about it?
Important Features
Let you read any books that you want when you are a member.

There is no additional and spams to disturb you.

Lots of Audiobooks besides the ebooks are ready for you.

An unlimited number of articles, journals, and writings are there also.

Free access to the largest online library that contains over 60 million members.
Last But Not the Least
---
There are numerous reading apps in the marketplace, but which one is the best reading app and suits your demand is the prime concern. I hope this discussion will help you find the best one. Please put your thoughts and inform us of your choice. Put a comment or suggestion; if I have missed out on anything important, please do tell. We welcome your valuable advice. Stay with us.