Customer satisfaction is arguably among the most critical tasks for emerging businesses. It's hard for companies to find success without providing excellent customer support. Thankfully, a plethora of modern CRM (Customer Relationship Management) solution is available to make this job easy for enterprises. And, companies need to choose the perfect CRM for their business if they want to be successful. If you're a new business, we suggest you go with an Open Source CRM. Moreover, they can also be useful for established enterprises due to their extendibility. Continue reading to find out the 20 best free CRM for your business.
Open Source CRM Software and Solutions
---
We often see people using the terms CRM and ERP interchangeably. They're actually quite the opposite. ERP suites work for reducing a product's cost, whereas CRM concentrates on increasing sales. Anyhow, you'll learn a lot about various CRM software from this guide. Continue reading to find out the top 20 best free CRM.
1. openCRX
---
openCRX is one of the best open source CRM alternative to tools like Salesforce and Zoho. Our editors really like this software due to its simple but useful feature list. openCRX comes equipped with all the features needed by starting businesses, including a compelling sales pipeline, issue tracker, and robust activity manager. Moreover, you can hire third-party developers to extend its functionality anytime you want. So, if you're after the best free CRM, take a look at openCRX.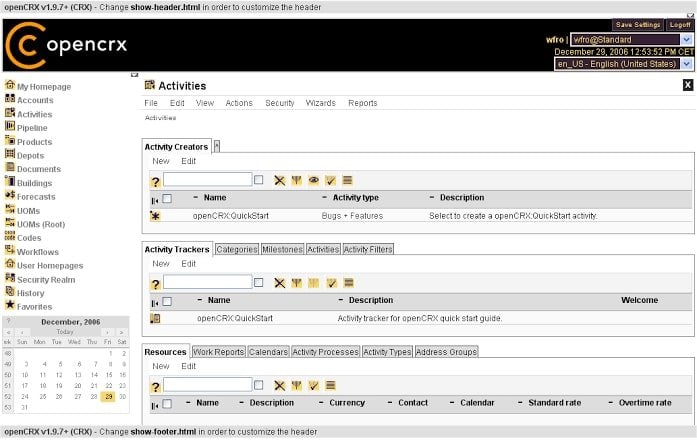 Features of openCRX
openCRX offers exceptional sales forecasting, reports, management, and ticketing capabilities required for successful customer relationships.
It features a BSD license, so companies can easily add newer functionality or change existing features.
openCRX is OSI-certified and supports sales automation, collaborative support, monitoring, and third-party integration.
Its intuitive, user-friendly dashboard makes administration much more comfortable than most free CRM software.
2. Odoo
---
Odoo is a robust customer relationship management software used by emerging businesses due to its compelling and rich feature list. The core framework is open source, so you can easily extend or modify the software to meet specific demands. Additionally, they also offer premium subscriptions for enterprises that have special requirements. This CRM suite can help companies track leads, manage forecasts, close deals, and so on. So, if you're after a free CRM software that enables your business to go pro, Odoo is worth a look.
Features of Odoo
Odoo sports a modern user interface that is easy to navigate and makes administration easier for sales representatives.
It offers extensive support for the integration of external business tools like Linux finance and accounting solutions.
This multi-platform CRM offers a flexible address book for customers that can be easily shared among sales teams.
Odoo makes communication much easier between teams with efficient communication utilities, including VoIP tools and custom alerts.
3. SuiteCRM
---
SuiteCRM is another powerful open source CRM for new business owners. It offers a massive list of features that will help you in increasing sales and turning more profits. SuiteCRM is a lucrative alternative to proprietary CRMs like Salesforce and is used by over 4 million businesses worldwide. Since its a SaaS (Software as a Service), sales teams can quickly adapt it. Moreover, the company offers many professional services like training, consultancy, and support. So you can quickly get pro help in times of trouble.
Features of SuiteCRM
SuiteCRM is extremely easy to adapt thanks to resources like extensive documentation, demos, and its massive community.
It implements a centralized view that enables support teams to monitor all customer-related data from a single dashboard.
The open source nature of SuiteCRM allows third-party devs to modify or extend this Linux CRM software easily.
SuiteCRM offers powerful APIs for the integration of third-party business tools and mobile frontends.
4. Vtiger
---
Vtiger is a unique customer relationship management software that offers both a cloud version and an open source edition. The cloud models are suitable for new businesses that want professional support for their CRM. However, the open source edition offers all the same core functionality, and you could efficiently utilize it for skyrocketing your sales. Additionally, the ability to modify the features based on company-specific requirements makes Vtiger very lucrative to startups.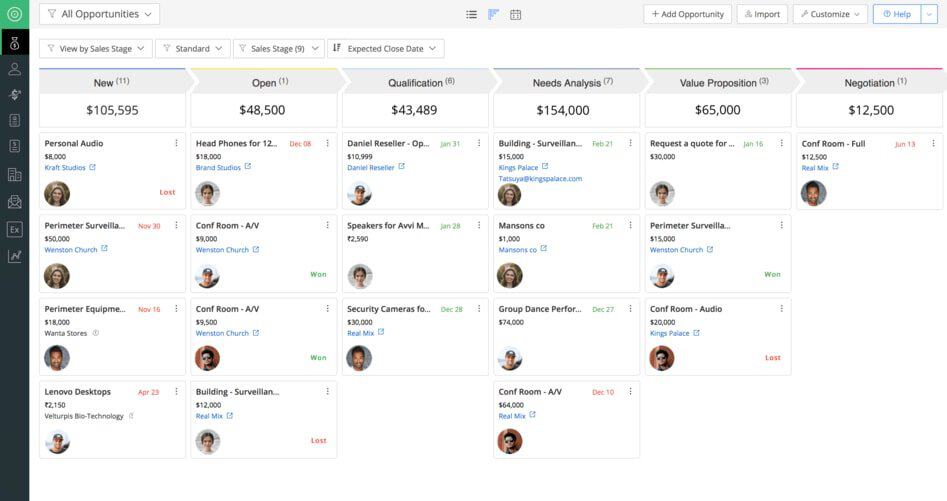 Features of Vtiger
Enterprises can select from several pricing plans for things like sales, help-desk, marketing, or all in one package.
The help desk service provided by this Linux CRM Software is among the best you can get without paying.
Vtiger is developed using a collection of popular open-source tools like Apache, PHP, MySQL, and SugarCRM.
It comes with in-built support for workflow automation, inventory management, mobile frontends, and robust project management.
5. Freshsales
---
Freshsales is a modern-day CRM software with an elegant interface and robust feature set. It is a full-fledged software, so you won't have to worry about missing key sales features. Although not open source, Freshsales offers multiple pricing plans for new corporations, including a free model. So, if you want to switch plans in the future, you can easily do so. Another thing we liked very much about Freshsales is its transparent design, which increases the productivity of sales teams significantly.
Features of Freshsales
Freshsales is suitable for expanding enterprises requiring greater scalability and enables effortless growth for new businesses.
The robust dashboard of this free open source CRM provides a 360-degree view of business leads, forecasts, conversions, and support issues.
Freshsales allows teams to easily send a bulk amount of emails and export essential data as separate files.
It's a great starter pack for people who are looking for tracking leads and initiating conversations with customers.
6. ConcourseSuite
---
ConcourseSuite is another enterprise-ready CRM solution that offers a free plan for starting businesses. It is implemented using a modular architecture based on the Java programming language. This modular design also enables companies to extend this CRM via third-party devs. Additionally, ConcourseSuite offers excellent scalability, a feature required for most modern businesses. Moreover, you can buy the professional variant with maintenance support if you want. Overall, it's an excellent solution for small corporations and startups.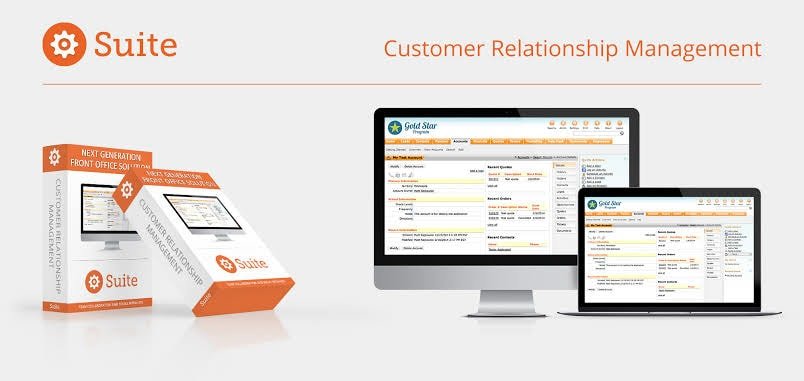 Features of ConcourseSuite
ConcourseSuite offers excellent task management and automation features for improving customer support.
The cloud-based nature of this CRM makes sure business teams can access and use it from anywhere they want.
It comes with outstanding mobile app companions for both the Android and iOS platforms.
ConcourseSuite ships with an integrated chat application that makes communication effortless among team members.
7. EspoCRM
---
EspoCRM is an excellent free open source CRM aimed at increasing revenue via providing top-notch customer support. It has witnessed rising stardom since its release and is used by top companies around the world. One of the best things about EspoCRM is its ability to handle any business at ease. It can be used for E-commerce, banking, retail trade, healthcare, insurance, and the list seems to go on. If you're an emerging business in need of a useful but free CRM, EspoCRM certainly demands a try.
Features of EspoCRM
EspoCRM can be either self-hosted on company hardware or deployed in cloud platforms for greater accessibility.
It offers effortless modification of the codebase so you can easily modify EspoCRM for solving specific needs.
EspoCRM allows enterprises to automate business processes and tasks using its robust workflow management tools.
It comes with in-built support for convenient monitoring tools that provide essential analytics about your business.
8. Yetiforce
---
Yetiforce is an exceptional all-around CRM solution for small to medium-sized businesses. It comes with some astounding features, including an open source codebase, email management, sales leads, and so on. It's one of those few free CRM software that has active developments going on. So, you can easily count on fellow devs to get support for maintenance and customization. Overall, Yetiforce is the perfect alternative to enterprise business software for newly established businesses.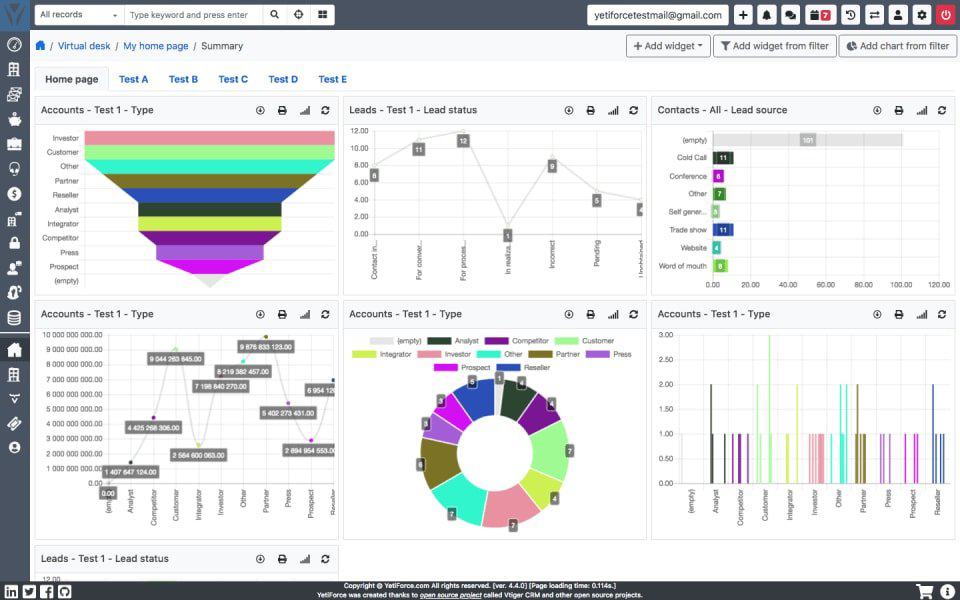 Features of Yetiforce
Yetiforce offers a user-friendly interface that is easy to use and helps to maintain automated workflows.
Since it's GDPR-compliant, Yetiforce is exceptionally suitable for enterprises that have operations in Europe.
Yetiforce comes with robust features for email marketing, territory management, lead conversion, task automation, etc.
It provides excellent help desk services, including interaction tracking, IT asset management, and real-time communication.
9. Really Simple Systems CRM
---
Really Simple Systems CRM is an excellent free customer relationship management software for small businesses. Although simple looking at first glance, it features some astounding features, including robust contact management, email integration, service level agreement, and so on. Moreover, the company also offers several pricing plans if you want to go premium in the future. Another thing we liked about this CRM is its robust user interface. So, don't forget to check it out if you're a starting business looking for future proof CRMs.
Features of Really Simple Systems CRM
This CRM solution is extremely customizable and allows companies to modify or extend features as they want.
There's plenty of available documentation to get companies started and help in future troubleshooting.
Really Simple Systems CRM allows integration with numerous business tools, including Azure, Zapier, Sage, and KashFlow.
It provides easy to use yet productive customer service features to help businesses maintain their growth.
10. Axelor CRM
---
Axelor CRM is a feature-rich yet straightforward open source CRM that can be useful for small business teams. It offers some advanced functionalities such as a robust dashboard, integrated BPM platform, and companion mobile apps. Although completely free for small enterprises, Axelor also offers excellent subscription plans for expanding businesses. So if you use Axelor, it'll be quite easy to switch to pro versions when your business experiences rapid growth.
Features of Axelor CRM
Axelor CRM provides multiple ways to install the CRM, including a cross-platform installer, platform-specific executables, and docker images.
The open source codebase is readily available via its GitHub repo and allows developers to modify the features based on requirements.
The integrated BPM platform allows sales teams to create customized work processes and automate customer support issues.
Getting up and running business operations with Axelor is easy and comfortable due to its excellent documentation.
11. Crust CRM
---
Crust CRM (Corteza) is a compelling alternative to enterprise solution slike Salesforce. It offers some notable features alongside traditional CRM functionalities. For instance, Crust CRM is a fully open source. So, you can easily fork the existing codebase and tweak it to add desired features. Additionally, it also allows companies to switch to the pro version of this CRM once their business starts expanding. So, if you're after a free open source CRM for long-term usage, Crust CRM is a feasible choice.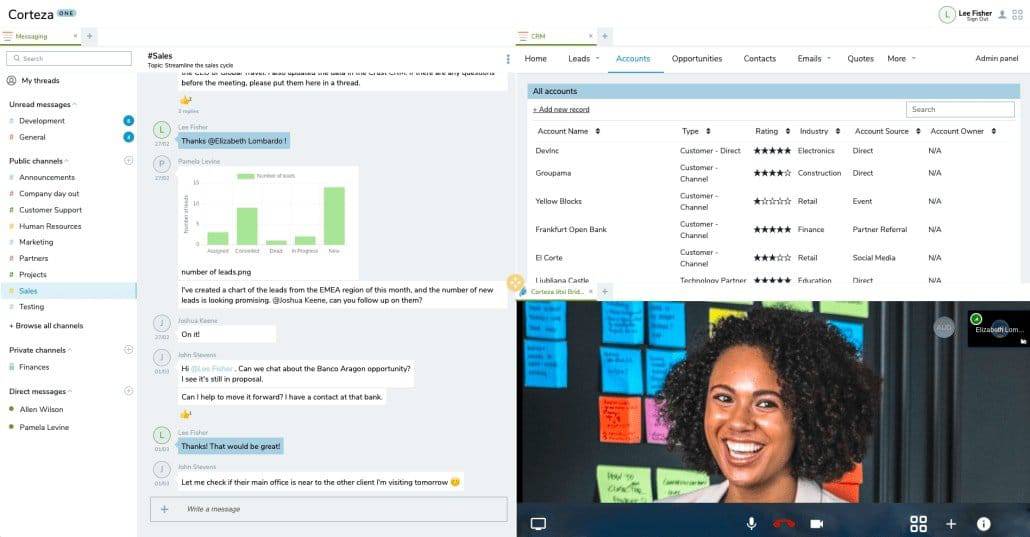 Features of Crust CRM
Crust CRM solution is highly customizable and offers seamless integration with standard enterprise applications.
It is designed using a microservice-based architecture, which allows the software to be robust yet resource-efficient.
Corteza offers effective monitoring and analytics tools to study the effectiveness of your sales/support teams.
Although relatively new, Corteza provides full-fledged functionalities found only in proprietary solutions.
12. OroCRM
---
OroCRM is one of the most productive free CRM software reviewed by our editors. It's an excellent tool that can be used for increasing sales and lead management. OroCRM is a fully open source, meaning you can easily get the source code and customize it to fit your business requirements. Moreover, enterprise support is also available for businesses that want to go pro. Overall, if you're in the market for a free customer relationship management software with solid future-proofing, OroCRM is an ideal option.
Features of OroCRM
The flexible workflow provided by OroCRM makes it easily adaptable by single/multi-channel B2B and B2C organizations.
OroCRM comes with excellent contact management features aimed at increasing sales and effortless communication.
The default dashboard of this Linux CRM software is quite powerful and provides a 360-degree view of business resources.
Its robust monitoring features make performance analysis easier for companies and increase closing rates.
13. X2CRM
---
X2CRM is another compelling CRM solution that comes with an open source codebase. It offers an elegant GUI interface that is easy to use and intuitive for new users. Although the open source codebase is no longer developed actively, it's still there for developers to grab. This helps enterprises in curating new solutions on top of X2CRM. However, the developers still put their effort behind its enterprise edition. So, you can easily switch to the pro version if you want.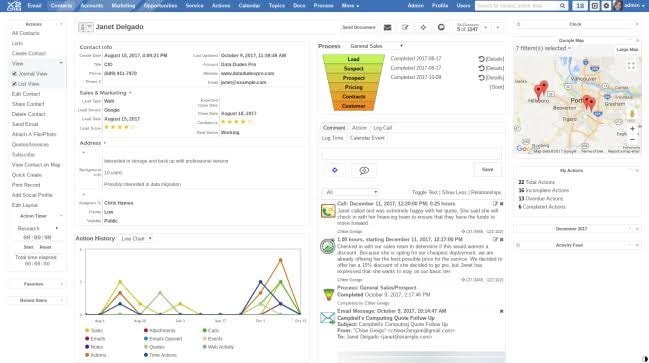 Features of X2CRM
X2CRM is developed using a PHP stack consisting of the Yii framework and the MySQL database management system.
The open source application can be easily deployed on personal webservers or cloud platforms like Azure and AWS.
The ability to run this CRM software from Linux virtual machines and hypervisors helps this tool stand out.
X2CRM also offers excellent support for monitoring and analytics tools alongside mobile frontends.
14. CiviCRM
---
CiviCRM is arguably among the most simple but effective CRM for small businesses. It's mainly aimed at very small companies and has a limited feature set compared to many others. CiviCRM, however, provides all the barebones functionality a starting business usually requires. So, if you're after something simpler, consider CiviCRM a good fit. One major drawback of this free CRM software is the unavailability of subscription plans. So, you'll need to choose an entirely different platform if your business starts to expand exponentially.
Features of CiviCRM
CiviCRM can be either hosted on a company server or partner hostings of this free customer relationship software.
The feature set of CiviCRM includes email marketing, membership management, contact management, and many more.
CiviCRM is extremely customizable and allows companies to add external features or modify existing ones.
It comes with integrated support for many CMS platforms, including WordPress, Drupal, Backdrop, and Joomla.
15. Apache OFBiz
---
The Apache OFBiz is another excellent open source business application suite that offers a flexible CRM solution for small businesses. It's a pretty decent application considering its thriving codebase and standard Java-based runtime. However, since Apache OFBiz doesn't provide dedicated hosting support, you'll need to take care of this on your own. It shouldn't pose an issue for companies with committed tech support. Apart from such simple issues, Apache OFBiz seems to a perfect CRM solution for emerging businesses.
Features of Apache OFBiz
The flexible ERP and CRM features provided by Apache OFBiz make it an excellent business solution for new businesses.
Apache OFBiz has been a top-level Apache program for over ten years and thus has a very mature, robust codebase.
It's very easy to get tech support due to its massive community and top-notch documentation.
Apache OFBiz's flexible architecture makes it easily customizable and friendly to new developers.
16. HubSpot
---
HubSpot is undoubtedly one of the best CRM for small businesses in 2019. Although not an open source software, HubSpot offers a free plan aimed at starting entrepreneurs. This cloud-based CRM enjoys increasing popularity among small to medium-sized businesses due to its robust feature set and easy to use interface. Moreover, the ability to switch to a pro version is attractive to new customers. So if you're looking for the best free CRM with future upgradability, HubSpot is a suitable option for you.
Features of HubSpot
The core CRM functionalities are completely free of charge, but you'll need to buy extensions for effective marketing and automation.
It is suitable for mass email marketing due to its flexible integration with services like Gmail and Outlook.
HubSpot offers companion mobile applications for both the Android and iOS operating systems.
Some of its free CRM features include deal tracking, pipeline management, analytics dashboard, trade insights, and live chat.
17. Perfex CRM
---
Perfex CRM is another compelling open source CRM chosen by our editors. It's a highly feature-rich software with functionalities that are often sought by starting business owners. The source code of this free software is easily accessible by companies, and they can extend on them if they want. Moreover, the simple user interface of Perfex offers a number of versatile features such as project and lead management, invoice creation, issue tracking, and so on.
Features of Perfex CRM
Perfex CRM allows sales teams to create high-converting proposals using its robust visual proposal generation feature.
The one-click invoice creation tool provided by this free open source CRM helps to automate workflows easily.
Perfex CRM comes equipped with multiple payment system support and can auto-generate payment reports as PDF.
It comes with pre-built analytics and monitoring utilities for generating sales reports and performance graphs.
18. Anteil CRM
---
Anteil CRM is a simple but effective CRM solution available freely for small to medium enterprises. It's a pretty decent business solution with features like campaign manager, event manager, and effective sales forecasting. Anteil CRM is available as Linux rpm packages and can be easily deployed on different types of business servers. Moreover, Anteil provides top-notch customer support for their free customer relationship management software. So you can always count on getting the necessary solutions during technical problems.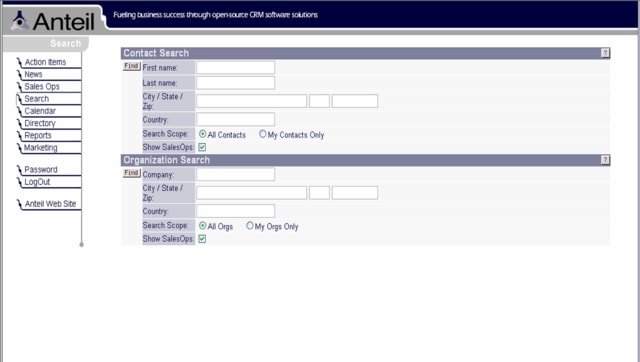 Features of Anteil CRM
Anteil CRM comes with robust contact management features for tracking sales leads more effectively.
This free CRM consolidates account information perfectly and implements industry-standard security mechanisms.
The robust web dashboard of Anteil CRM allows instant data replication for professional data backups.
Anteil CRM is highly scalable and allows companies to extend or modify its functionality as they want.
Get Anteil CRM
19. Zurmo
---
Zurmo is, without any doubt, among the best CRM for small businesses in 2019. It offers a fully open source codebase with numerous useful features such as a 360-degree dashboard, global search, sales tracking, and so on. Zurmo is developed using a test-driven development style, which makes it very stable when it comes to efficiency. Additionally, it also offers a paid version. So it's very easy to go pro once your business starts growing.
Features of Zurmo
Zurmo provides extensive documentation and community support to developers looking for adding new features.
This free open source CRM provides excellent integration with external applications by means of REST APIs and GEOcode.
Zurmo allows companies to create fast and effective email marketing campaigns and schedule automatic responders very easily.
The compelling drag and drop wizard of this free CRM allows teams to create customized workflows very quickly.
20. Bitrix24 CRM
---
Bitrix24 is a free cloud-based CRM solution for small enterprises. It offers almost all the features you'd look for in free business software. You can also choose from three different pricing plans if you want to go pro in the future. However, the free plan should be enough for businesses with less than five people. Bitrix24 CRM offers excellent documentation, web APIs, and companion mobile apps. Moreover, the ability to choose a solution based on several criteria is also very useful.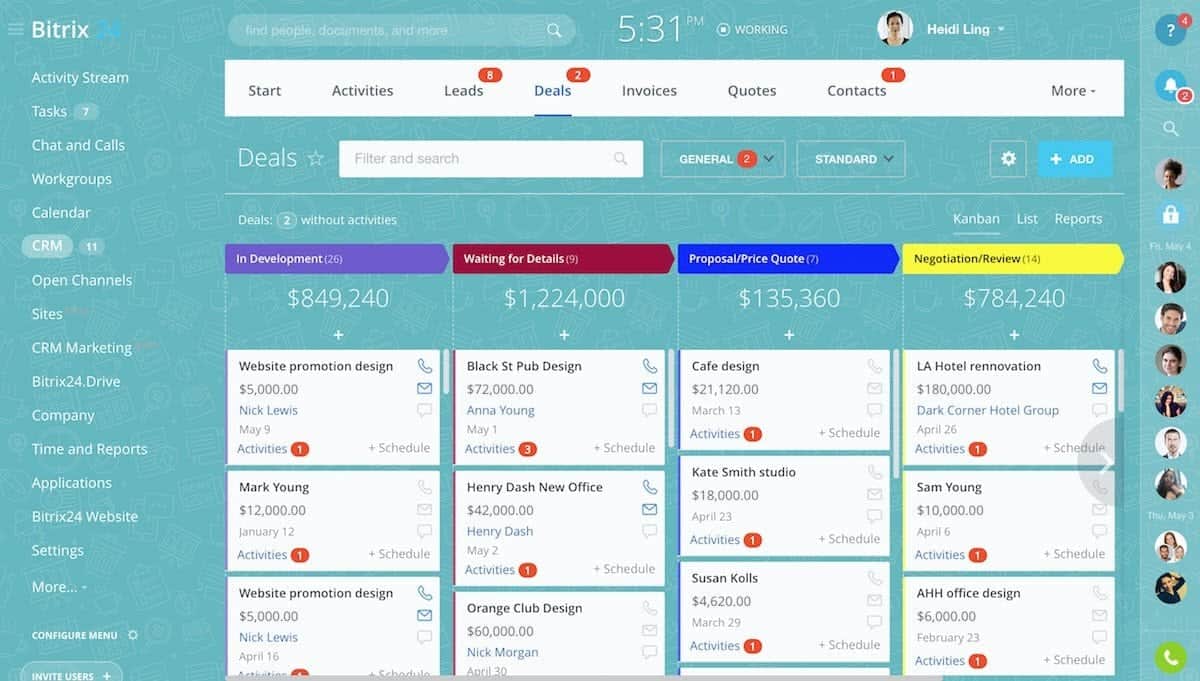 Features of Bitrix24
The free version of Bitrix24 allows businesses to have unlimited leads, contacts, companies, and deals.
Bitrix24 offers an excellent KanBan view with support for integrated chat, trash bin, invoices, quotes, etc.
Teams can easily import existing business data using either CSV files or migrating from other CRMs.
The support features provided by this free CRM software include built-in telephony, SIP connectors, and social network integration.
Ending Thoughts
---
Choosing the right customer relationship management software is hard due to a number of factors. It's even tougher when you're looking for an open source CRM. That's why our editors have pointed out these 20 free and open source CRM solutions for you. If you're a starting business owner looking for a full-fledged CRM without being bankrupt, you can easily use one of them for your enterprise. However, we suggest you be cautious and pick CRMs that are future proof. In that way, you won't need to migrate to an entirely different platform once your business starts expanding.