The Internet has become an integral part of our life over the decades. Even right now, you're reading this post using this awe-inspiring technological uprising. Voice chats and Video calls consist of a large part of our time spent on the internet. It's quite a large market, and no surprise Linux is a significant player in this field. There's quite a selection of high-quality Voice chat Software for Linux that people often find it challenging to find the best choice for them. If, however, you're looking for Linux VoIP software, you won't be disappointed too. Our experts have chosen the best options for both of them.
VoIP vs. Voice Chat Programs: Simplest Difference
---
We often see users scratching their heads when it comes to differentiating between Linux VoIP software and voice chat programs. To uncover this mystery, we'll try to summarize the primary difference in concepts between these two.
A VoIP software is a program that lets users use the VoIP (Voice Over Internet Protocol) communication mechanism to make calls over the internet. This is a quite powerful technology as users can now make calls worldwide without paying a hefty amount to their mobile carriers.
On the other hand, voice chat software is used to send and receive voice messages across users in almost real-time. It's quite similar to regular chat programs. But instead of sending text messages, you will send voice messages only. It's particularly suitable for hardcore online gamers. They find them extremely useful when playing top-rated multiplayer games such as DOTA or PUBG.
20 Best VoIP and Voice Chat Software
---
Below, we have outlined the best VoIP and voice chat software you can find for different Linux distros. Our experts have invested extra efforts to make this list as informative as possible. Hopefully, you'll gain the insights you were looking for from this guide. Since the number of top-notch voice chat programs is relatively short due to their usage by only gamers, they're less frequent than VoIP programs.
1. Ekiga
---
Ekiga is arguably one of the best Linux Voice Over IP Software. It was formerly known as GnomeMeeting in the Linux community. It's a modern-day VoIP and video conferencing solution for GNOME users that has been gaining momentum since its inception into the open-source community. The software utilizes both the SIP and H.323 protocols to ensure the communication is as stable as possible. The developers also took necessary measures to decrease latency.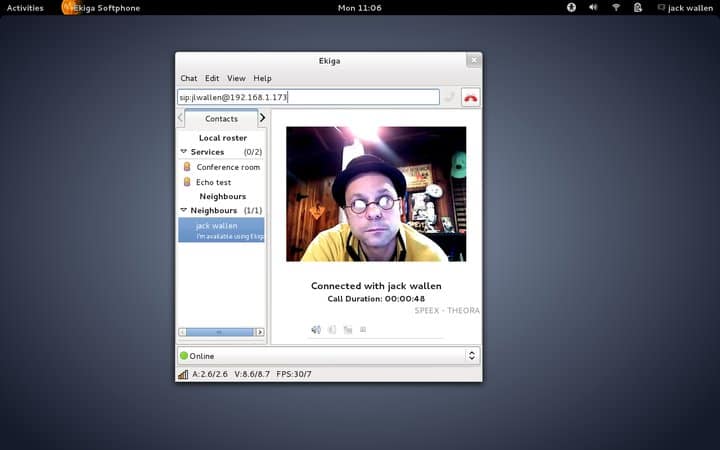 Features of Ekiga
Ekiga comes with a fast and intuitive GUI, making it easy to navigate and operate for new users.
Users can make free audio and video calls anywhere in the world over the internet.
Ekiga provides a powerful SMS to Cellphone service by using which you can send SMS globally over internet networks.
This SIP-compliant open source VoIP software provides users with proxy, call forwarding, instant messaging, and NAT support, among others.
Get Ekiga
2. Jitsi
---
Jitsi is a powerful and innovative set of cross-platform open-source projects that aim to make voice and video conferencing accessible to the general people. The project has evolved since its emergence to a whole new level and is currently hailed as one of the best.
You can very quickly develop and deploy personalized video conferencing solutions that are secure and focused on privacy. Jitsi also facilitates advanced routing concepts, including simulcast, bandwidth estimations, and scalable video coding.
Features of Jitsi
Jitsi is compatible with WebRTC and supports advanced protocols like SIP, XMPP/Jabber, AIM/ICQ, and IRC out of the box.
It features built-in desktop streaming support accompanied by a direct media connection establishment feature.
Jitsi Videobridge allows users to build high-quality video conferencing infrastructures that are easily scalable.
Jitsi Meet API can be leveraged to build a custom GUI for video conferencing solutions.
3. Mumble
---
Mumble is a very compelling voice chat software for Linux that allows users to chat with each other conveniently. It utilizes a client-server architecture that allows users to communicate easily using dedicated servers.
This open-source voice chat software is suited to gamers who want flexible yet straightforward voice chat programs to carry on real-time communication during gaming sessions. Although the program only supports its own protocols, Mumble offers an overall satisfactory performance from a gamer's perspective.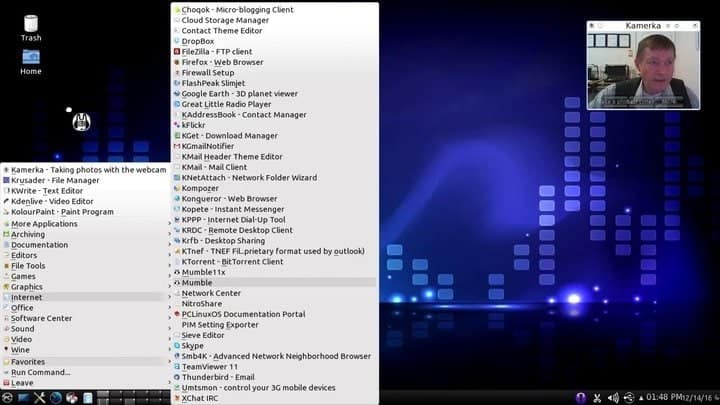 Features of Mumble
The overlay displays status information directly from the rendered application and provides a heads-up of who's listening and talking while in-game.
Mumble has one of the lowest latency rates, making it a perfect voice chat solution for competitive gamers.
It incorporates powerful encryption techniques for ensuring the voice messages are safe and won't fall in the hand of malicious users.
It users certificates for authentication and can recognize your friends across different servers.
4. Linphone
---
Linphone is, without any doubt, among the best open source VoIP software available for Linux. This internet telephony software allows users to make free voice and video calls directly over traditional IP networks.
Linphone also supports instant text messaging and comes with an awe-striking GTK+ GUI for more straightforward navigation. Seasoned users can run the program as a console-mode application (linphonec) also. It is compatible with the popular SIP protocol and is cross-platform.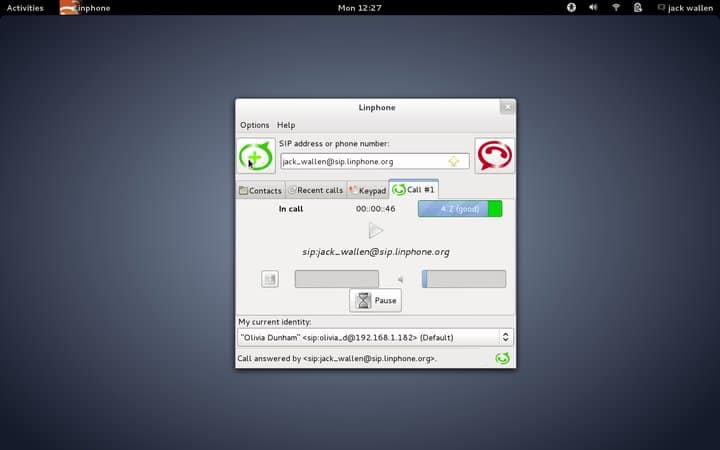 Features of Linphone
Linphone offers a convenient GUI interface which is pretty attractive and makes navigation a breeze.
It comes without box support for audio conferencing and calls transferring.
Linphone lets users share pictures and files very quickly and supports HD video.
Incorporating the GNU GPL license makes it possible to personalize and extend this Linux voice-over IP software easily.
5. Discord
---
If you're an extreme gamer and are looking for the best all-in-one voice and text chat software, then you might consider Discord a safe bet. This freeware voice-over IP application was designed to keep users like you in mind and does an entirely satisfactory job overall. Most gamers use Discord as a voice chat client for connecting with their companions and organize multiplayer gaming sessions on Linux conveniently.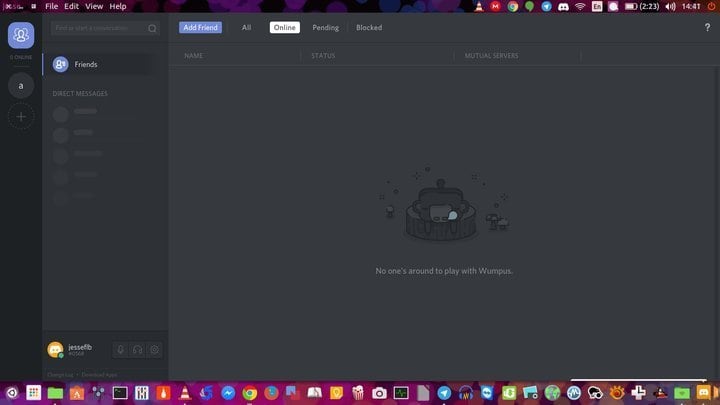 Features of Discord
Discord allows an unlimited number of servers with no slot restrictions for connecting with your friends more easily.
The user interface is attractive and intuitive, making Discord really easy to use and extra productive.
Discord utilizes the Opus codec to make sure noise and echoes are suppressed as much as possible.
It is one of the most resource-friendly Linux VoIP Software and has very low latency.
Users can customize the hotkeys as they dim fit and easily connect with Twitch, Steam, Google, Facebook, Microsoft Live, and others.
6. Empathy
---
Empathy is a powerful instant messaging (IM) program and Linux Voice Over IP Software that features text messaging, voice and video calling, file sharing, and inter-application communication support over computer networks.
It comes with a feature-rich set of reusable instant messaging widgets and is compatible with any client that implements Jingle and supports ICE. Empathy is arguably the best VoIP software for people running the GNOME environment and offers impressive features for convenient communication.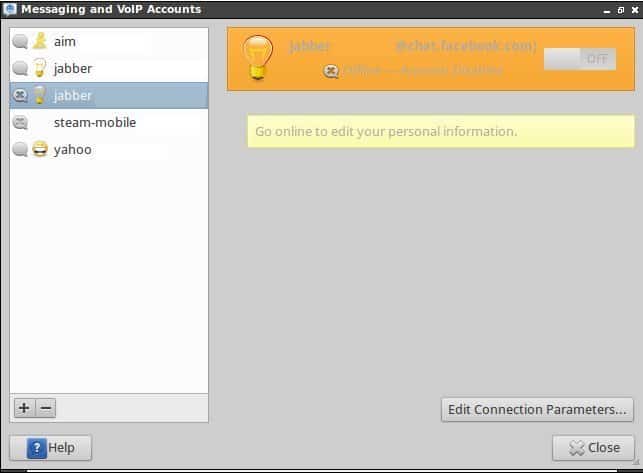 Features of Empathy
Empathy ships with built-in support for a wide range of different protocols, including but not limited to Google Talk (Jabber/XMPP), IRC, AIM, Facebook, and Yahoo.
Users can easily transfer files using Empathy over local networks.
Empathy allows users to share and view the location information of their contacts.
It offers out-of-the-box support for Wayland and desktop sharing.
The enigmatic theme engine allows users to select vibrant themes for their clients.
Get Empathy
7. qTox
---
qTox is a compelling tox client for Linux users that supports free chat, voice, video, and file transfer features using the peer-to-peer Tox protocol. Tox is one of the de-facto protocols for peer-to-peer instant messaging and video-calling with support for end-to-end encryption. So, qTox is a powerful Linux VoIP software and a solid choice for users who emphasize more security than features.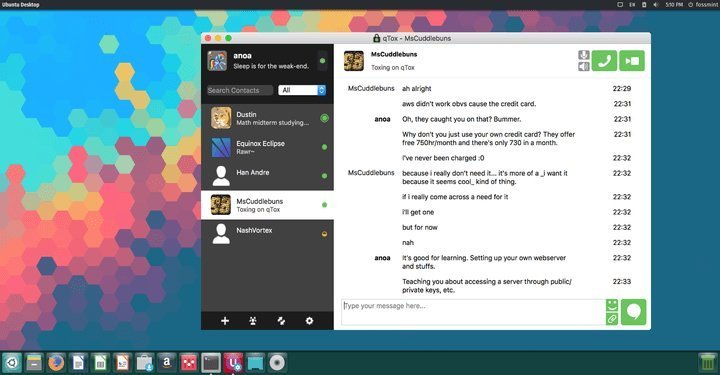 Features of qTox
qTox is written in C++ and thus offers a performance matched by only a few open source VoIP software.
The file transfer feature of qTox lets users preview files directly from the client.
It features beautiful avatars and supports ToxMe and Tox URI.
Users can blacklist people to block messages from a specific user across all their groups.
qTox has language support for more than 30 different languages.
8. Asterisk
---
Asterisk is a robust framework for building compelling communications applications. It is a popular open-source Private Branch eXchange (PBX) and telephony toolkit that supports a hybrid TDM and IVR platform with ACD functionality. Apart from internet telephony, Asterisk also supports traditional PSTN telephony.
This protocol-agnostic open source VoIP software has become one of the most popular VoIP PBX around the globe in recent times and enjoys immense popularity among developers of internet telephony projects.
Features of Asterisk
Asterisk supports an extensive set of powerful video and VoIP protocols, including SIP, MGCP, and H.323.
It serves as a gateway between regular IP phones and PSTN(Public Switched Telephone Networks).
Users can send and receive voice mails to contacts across the internet.
Developers can easily extend the programs with scripting languages like AGI.
Asterisk supports almost every SIP compliant telephones and acts as both the registrar and user agent.
9. TeamSpeak
---
TeamSpeak is arguably one of the best Voice Chat Software for Linux gamers. It leverages various internet protocols to allow users to communicate on a chat channel while gaming. Many gaming communities around the world use TeamSpeak to organize and coordinate teams playing online games, thanks to its powerful and innovative features. The application allows fast and secure voice chat communication for gamers without worrying about losing focus while in-game.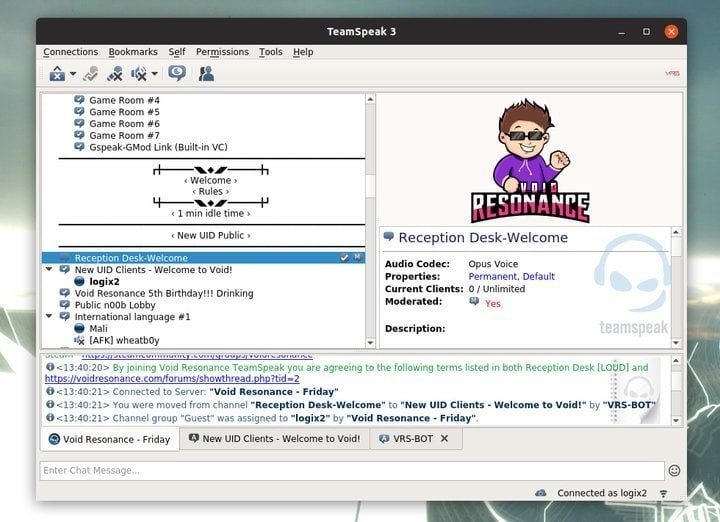 Features of TeamSpeak
The application is highly customizable and offers high-quality voice chats with integrated support for automatic microphone volume adjustment.
The latency rate is very negligible and offers an almost real-time voice chat experience.
The public key authentication feature of TeamSpeak makes it extremely secure than regular voice chat programs.
TeamSpeak comes with in-built support for audio positioning that enables placing your teammates around you.
10. FreeSWITCH
---
FreeSWITCH is a feature-rich telephony platform that facilitates the creation of scalable voice and chat-driven products. You can use FreeSWITCH as a switching engine, media gateway, or a media server to host IVR applications. FreeSWITCH is straightforward to integrate with other PBX systems like Asterisk due to its support for SIP, H.323, IAX2 and, GoogleTalk. It can also act as a bridge to connect legacy systems with futuristic Linux Voice Over IP Software.
Features of FreeSWITCH
FreeSWITCH utilizes a centralized user/domain directory and features nanosecond CDR granularity.
The high-performing core engine is multi-threaded and supports call recording, software-based conference, and wideband conferencing.
It has built-in support for an extensive set of codecs with custom ringback tones.
FreeSWITCH comes with a multi-lingual speech phrase interface with support for standard IP/PBX features.
11. KPhone
---
KPhone is a lightweight yet flexible Linux VoIP Software that enables both audio and video communications over the internet. It is a SIP user agent built specifically for us Linux geeks. KPhone combines a select set of user-convenient features from many of the best VoIP software and aims at enhancing the experience of internet telephony to a whole new dimension. Although the last stable release came a long time ago, the software is still a significant player.
Features of KPhone
KPhone supports multiple sessions parallelly, thus making communication much more productive for users.
The GNU GPL license of this compelling open source VoIP software makes it possible to modify and extend the functionality.
KPhone offers built-in support for NAT traversal, STUN, and SRTP encryption.
Users can hold, forward, or transfer their calls very quickly with KPhone and activate auto answer.
KPhone allows users to share and view the location information of their contacts.
12. Skype
---
When it comes to discussing the best VoIP software regardless of platform, Skype is the definitive answer for many. Since it entered into the Linux ecosystem, Skype has also gained massive popularity among open source enthusiasts all over the world.
It is a compelling VoIP application that allows users to make peer-to-peer phone and video calls around the globe freely. The Linux variant of this popular VoIP application has been tested on many platforms and should run okay in most distros.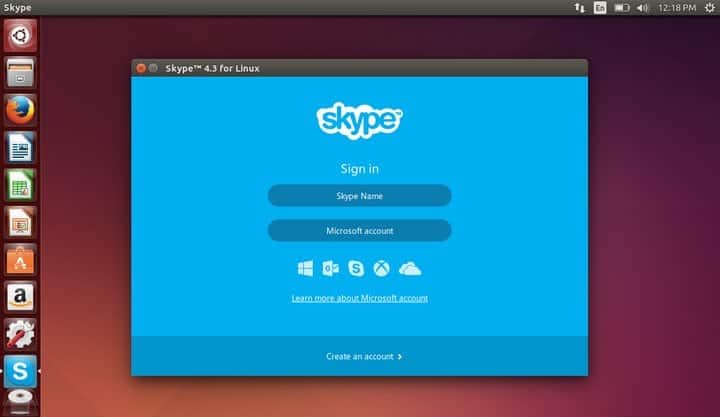 Features of Skype
Users can share real-time video calls with up to ten people at the same time.
Skype lets users share photos, emoticons, stickers, messages, or even their screen with another user.
Users can send money to their friends or Skype contacts by using PayPal.
The number of people allowed to join in an audio call is unlimited.
Skype allows users to adjust their profiles and appear to the world as they like.
13. QuteCom
---
QuteCom is a powerful, cross-platform, and SIP-compliant VoIP software that allows users to connect and communicate with other such applications freely. Known previously as WengoPhone, the app was first launched in 2005. QuteCom enables users to make calls to landlines or cell phones and can also make video calls or texting. One of the best features of this open source VoIP software is that it isn't tied to any specific provider, so users can choose any SIP provider they like.
Features of QuteCom
QuteCom is among the fastest Linux VoIP Software, thanks to its C++/QT base.
The open source license of this powerful VoIP application allows developers to customize it as they like.
The GUI is quite similar to that of Skype and feels very comfortable to play with.
QuteCom incorporates standard session initiation protocols to make sure users from other VoIP can connect to it easily.
14. Google Hangouts
---
Google Hangouts is a multi-functional and diverse communication platform that features some of the best messaging, video chat, and VOIP features you can find. Whether you're looking for the best Voice Chat Software for Linux or complete VoIP solutions, you can count on Google Hangouts to save the day. Although not available as a standalone Linux Voice Over IP Software, you can use it easily from inside the Chrome browser or through its web interface.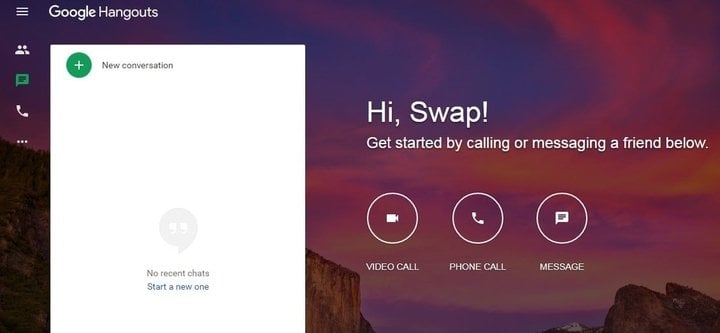 Features of Google Hangouts
Google Hangouts enables users to sync their chat histories across their personal devices very easily.
Users can share files or computer screens directly to their contacts with Google Hangouts.
Messages are encrypted with powerful encryption mechanisms to ensure data integrity remains intact.
Google Hangouts is compatible with multiple devices and allows customizing controls by admins.
Users can integrate Google Hangouts to other Google applications or services without any problem.
15. Steam Chat
---
Steam is arguably the most popular platform for playing live games. The Steam Chat is a free voice and text chat service built- right into Steam. If you're an avid gamer who plays regular Steam games on their Linux machines, then Steam Chat might be the best option for your voice chats. You can use this excellent service to communicate with your friends quickly and coordinate your gameplay without needing to install a whole new binary altogether.
Features of Steam Chat
Users can pin people they interact with frequently in the favorite bar for a better communication experience.
You can utilize the categories options to categorize friends based on criteria, suitable for keeping track of who plays with you in each game.
The latest redesign allows users to send and receive inline content such as GIFs, images, and videos to and from friends.
Steam Chat allows users to create group chats for better coordination during games that require constant focus.
16. Twinkle
---
Twinkle is a thoughtfully built open source VoIP software that aims to make VoIP communication easier for Linux lovers. It leverages Qt to provide a vibrant user interface that is both easy to use and intuitive at the same time. This Linux VoIP Software also comes with support for direct IP calls across the world. The source is freely available to download and make modifications, thus attracting a large crowd of open source developers.
Features of Twinkle
The GUI interface of Twinkle is minimalistic in view yet astounding in terms of navigational flexibility.
Like many of its peers, Twinkle also utilizes the SIP protocol for call signaling.
Users can stream media using the Real-time Transport Protocol (RTP) and secure them with protocols like SRTP and ZRTP.
Twinkle provides users the ability to make direct IP to IP calls over the internet.
17. Viber
---
Viber is a full-fledged voice chat software for Linux that provides VoIP services like video calls, voice calls, and text messaging across the globe. It offers some innovative functionalities, including sound positioning and instant voice messages. The user interface is intuitive and feels easy to play with. Users can explore the application quickly and communicate with friends effectively.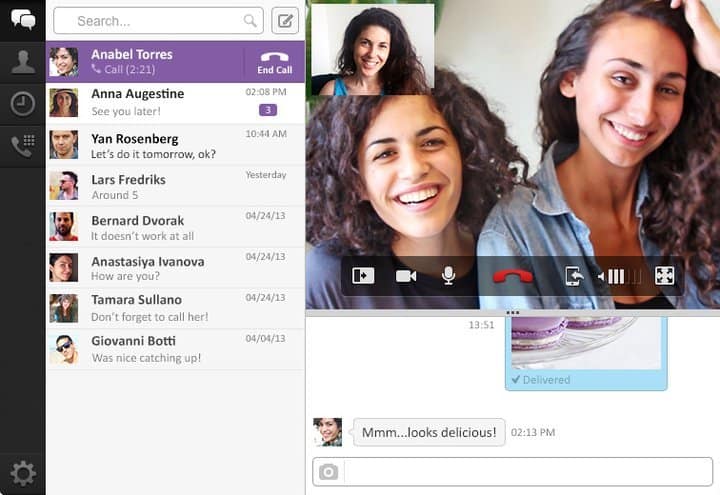 Features of Viber
Viber incorporates a client-server architecture where the connection is always encrypted and secure.
Don't worry if you own multiple devices; Viber will sync them without you feeling a thing.
It's among the best VoIP software when it comes to resource consumptions, all thanks to its lightweight design approaches.
The sound quality of Viber is excellent, and it provides genuinely real-time communication.
18. IBM Sametime
---
IBM Sametime is the brainchild of computer giant IBM and was formerly known as IBM Lotus Sametime. This powerful Linux VoIP Software provides an extensive set of built-in features to enhance your VoIP communications. It aims at providing real-time, unified, and collaborative communication for users, and we're glad to say it is successful. The only drawback for many when it comes to utilizing this compelling VoIP program is its paid license.
Features of IBM Sametime
The presence awareness functionality of Sametime is exceptionally precise, and it excels at perceiving users' location.
Users can make reliable and fast video calls, voice calls, and instant messaging with this eclectic VoIP software.
The IBM Sametime supports group chat, multi-way chat, and professional video conferencing.
It can be integrated easily with other IBM applications using powerful open APIs.
19. Blink
---
Blink is a simple to use yet feature-rich SIP client that makes VoIP communications very easy for regular users. It comes with a gorgeous user interface that is minimalistic in view but boasts very powerful features. This cross-platform SIP client is arguably among the best VoIP software and provides almost every feature you'd want in everyday Linux VoIP Software. If you're looking for an intuitive and easy-looking VoIP program, we suggest you give Blink a try.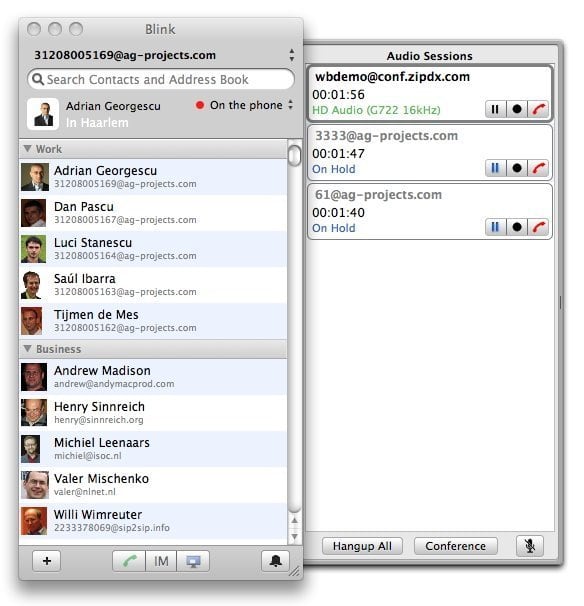 Features of Blink
Users can make stable video and voice calls using Blink, thanks to its acoustic echo cancellation technology.
Communication data is encrypted in an end-to-end manner using the ZRTP cryptographic protocol.
Users can use instant messaging services much faster with Blink than many other such applications.
Blink lets users share files across the internet and provides progress and delivery information.
Users can make video conferencing using Blink and share screen with integrated audio support.
20. Jami
---
Jami is a SIP-compatible VoIP application for Linux that provides a robust set of useful functionalities needed for real-time VoIP communications. This is one of the best VoIP software in terms of opensource traction and is updated very fast. It offers a multi-functional VoIP package that has thwarted the dominance of VoIP giants like Skype in the Linux community. Known earlier as Ring, this Linux voice-over IP software offers separate builds for both GNOME and KDE.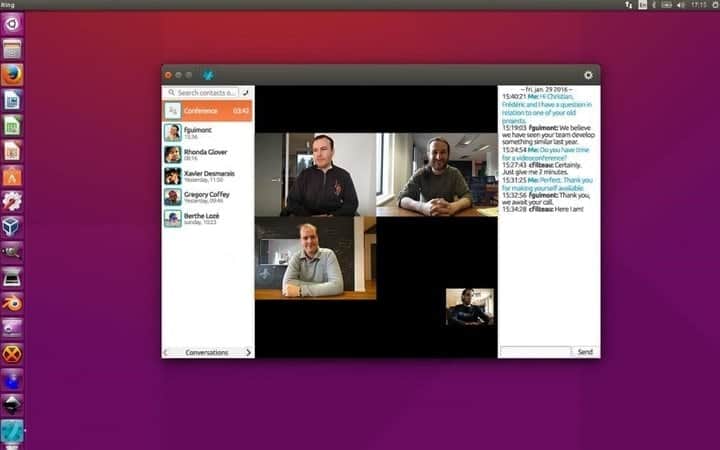 Features of Jami
Users can make any number of voice, video, or conference calls while having the same limit for text messaging.
All user data and message data are encrypted with powerful encryption algorithms to maintain data integrity.
Our experts found the account assistant wizard of this open source VoIP software much helpful than others.
It comes with built-in support for Jack Audio Connection Kit and PulseAudio.
Ending Thoughts
---
Due to its massive community, a large number of high-quality voice chat software for Linux exists. So, choosing the right one often becomes a tedious task for users. That's why our experts invested a lot of time behind making this carefully curated list of Linux voice-over IP software. Hopefully, we will provide you with the necessary information required to find the best Linux VoIP software per your requirement. Let us know your pick from our list in the comment section, and stay tuned for more new Linux top lists.