Mint is the most popular financial management tool that helps manage your income and outgoing money in one place. Though it is free, its dashboard is full of advertisements. Moreover, the app is a little bit clunky. As a result, Mint is now lost its dominant position as a financial management tool. You may find many amazing alternatives to Mint. Many apps significantly improve the features of their app compared to Mint.
So if you are looking for a similar or better app to Mint, you may many options are available. Our top pick financial management apps perform better than Mint.
What is Mint?
---
Before going to review the substitute of Mint, let's know why Mint is so popular as a financial management app. First of all, it is a free app. You can also add all accounts like a bank account, debit card, credit card, digital wallet, and Paypal.
Mint lets you know from where incoming money, where your money is outgoing. Moreover, you know about the saving and investing sectors. Furthermore, you get notification of every bill payment date. So you never miss your bill payment deadline.
Mint dashboard provides updates of incoming and outgoing money as well as a portfolio of your investment, budget, and bill. As a result, you can change your financial planning for any circumstance. However, Mint has lost its popularity because of showing many annoying ads, subpar customer service, and lack of reconciliation features.
Top Mint Alternative
---
We have discussed both the advantages and disadvantages of Mint so far. You may switch from Mint for having some noticeable Mint's disadvantages. If you want to look for a top alternative, you may find many options are available. But before the switch to another financial management tool from Mint, you need to compare wisely the features of other apps.
In this article, we have reviewed the top 10 best financial management apps that are the best substitute for Mint. So let's check out our top pick financial management tools.
1. Personal Capital
---
Personal Capital is a free financial budget app like Mint. But the main difference between Personal Capital and Mint is that Personal Capital does not show ads in its app. This app is mainly focused on user investment portfolios rather than regular expenses.
You can track your investment goal and retirement saving plan using this app. It brings all financial aspects on a single page. So you can quickly keep track overview of financial management scenarios. Like Mint, Personal Capital regularly updates its features, so you can enjoy this app bug-free.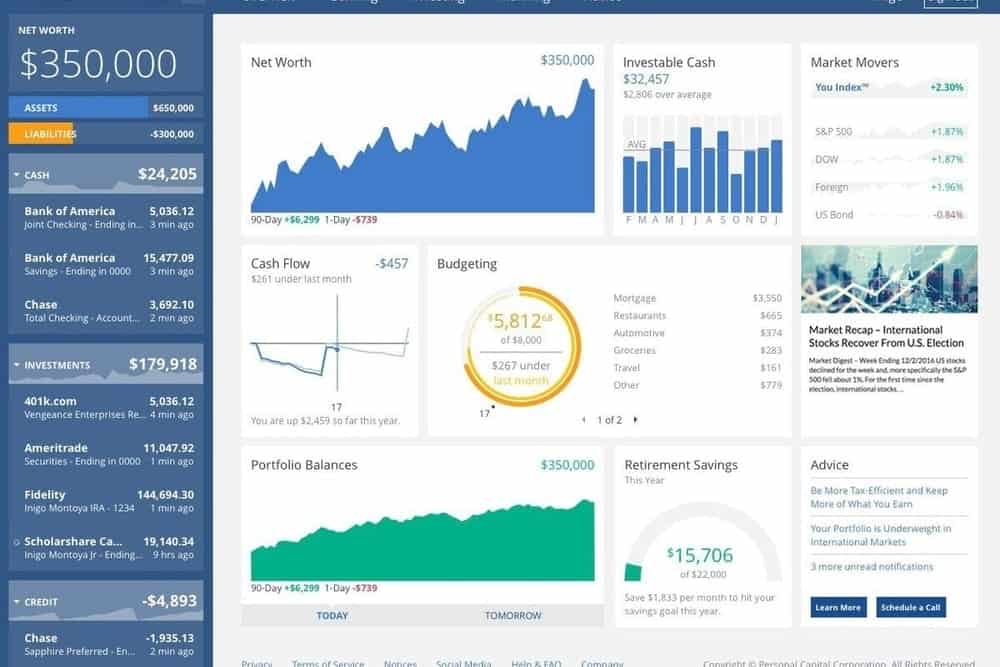 Key Features:
Personal Capital is a single platform to track your financial budget and investment.
You can get insights into all assets and liabilities in a single dashboard.
Its investment tracker lets you help to invest the right amount at the right time to secure your future.
With Personal Capital, you can make a retirement plan. It provides a graphical presentation of the success of your retirement plan accomplishment.
Personal Capital is more concerned about customers' security. So it provides 256-bit encryption as well as fingerprint scanning.
Pros: Personal Capital's customer service is outstanding. The customer support team is available 24/7 to hear your problem seriously and point out a best-suited solution for you. Moreover, it has a dedicated financial advisor to provide wealth management consultancy.
Cons: Though it offers free service for financial management services free, it asks for higher management fees for investment and wealth management services.
2. Quicken
---
Quicken is a simple but powerful financial budget tool that provides a complete financial picture of your money in a single dashboard. If you are looking for a complete financial management package alternative to Mint, you may pick Quicken. Many companies use Quicken as a reliable and supportive financial management tool. You can easily manage your bill and track investing by using Quicken.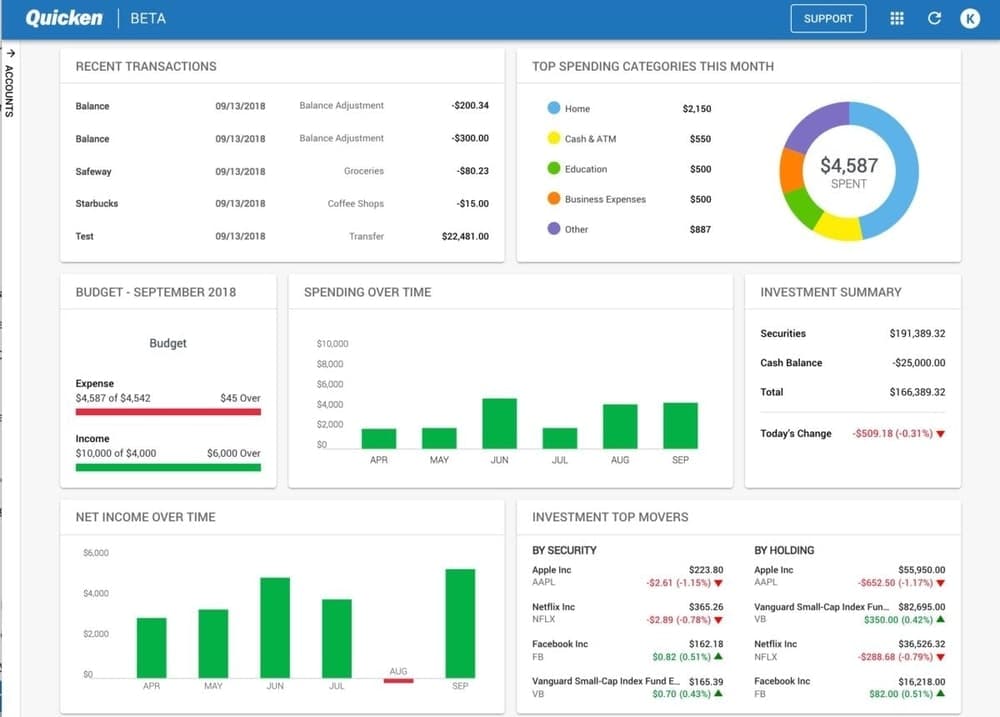 Key Features:
Quicken provides a complete financial portfolio in one place.
You can create your own budget, categorize your all expense and manage your expense to track the top expenses.
You can view the incoming and outgoing bill status. Besides, it alerts you when any bill due date has arrived. Moreover, you can make a projected balance for the meetup on upcoming bill payments.
It provides beautiful investment graphs that show your investment portfolio and market trends. So you can easily compare your investment progress and let's take the next financial decision.
Moreover, you can make a retirement plan by using Quicken.
Pros: Quicken has a wealth management track that you can use to track your wealth in real-time.
Cons: Quicken user interface is clumsy to use. It is packed with many features but you have to learn enough how to utilize the tools.
3. YNAB (You Need A Budget)
---
YNAB acronym says all you need is a budget, you should pick YNAB. With YNAB, you can confirm full control of your money. This tool helps you to get out of debt and it teach you how to save money from your income.
The user interface is quite simple and easy to use. It categorized all expenses so you can easily track where your money is going out. Once you use this app, you can figure out that how revolutionary you can manage your money efficiently.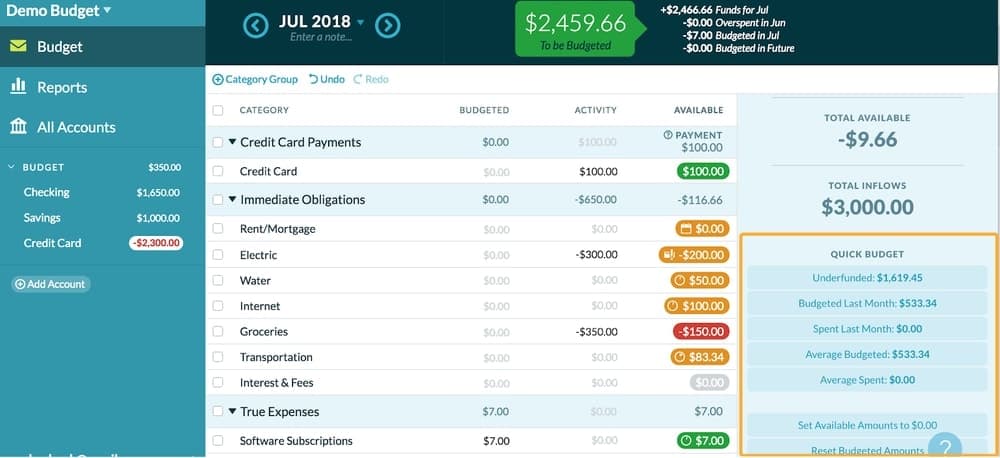 Key Features:
YNAB provides real-time updates on your budget. So you can keep track of your budget with your partners instantly.
YNAB syncs with over 12,000 banks. So we hope your bank is on the list of YNAB synchronization.
It provides real-time reports on a user-friendly dashboard by presenting graphical charts, graphics to easily catch the overall financial budget summary.
It has an excellent goal tracker that lets you know the status of your budget.
YNAB users' passwords and data are encrypted by a high-security tool called Bcrypt hashing.
Pros: You can create multiple budgets and keep track of all budget status easily.
Cons: However, YNAB does not have investment and bill tracking features.
4. Tiller
---
Tiller is a completely different app compared to other financial management apps. It updates all financial data in spreadsheets such as Google Sheet or Microsoft Excel. Every day it imports your daily transaction and account balance into your spreadsheet from over 21,000 financial sources.
After that, you set your customized financial management rule to categories all expenses and incomes. Besides, it has many financial analytical templates. You can use these templates or create your template.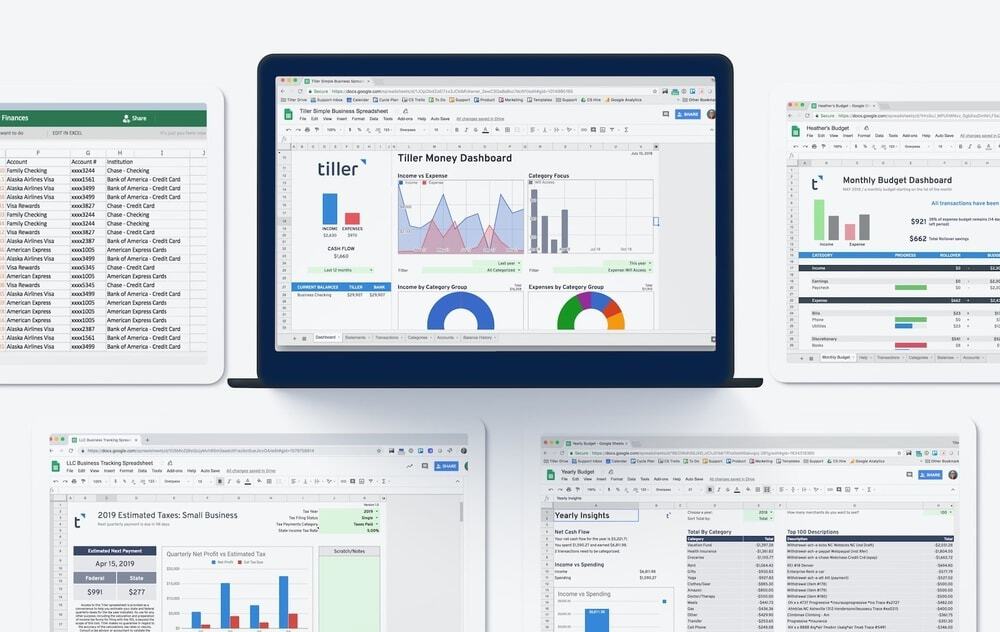 Key Features:
Tiller automatically updates from different sources. So you don't need to input boring data entry stuff. So you can provide more focus on your business instead of boring data entry stuff.
The spreadsheet workflow makes it easier for you to manage your well-known graphs, charts, formula to analyze your financial status.
You can customize everything. It is automatically or manually categorized your data based on your guidance and rule.
Though Tiller assembles all debt in one place. So you can easily track your debt status and formulate a plan to debt off.
Tiller highly secures your data by 256-bit AES encryption as well as Two-factor authentication security services.
Pros: Tiller automatically updates your financial data every day and provides a visual presentation of the financial projection.
Cons: Tiller is most Google Sheet centric though you can use it in Excel by using the plugins. If you are not an expert in spreadsheets, it is difficult for you to get the actual financial picture. Moreover, it does not provide an investment tracking tool.
5. Banktivity
---
Banktivity is another Mint alternative financial management app. You can sync all your bank accounts, credit card, mortgage, and investment in one place. Banktivity is not free software. Though it provides premium service, you don't need to deal with annoying ads.
The company claims that you can save at least $500 per year by using Banktivity. You can track your income and expense, break down your expense into categories, and pay bills. As a result, you can make a balance between your income and expense.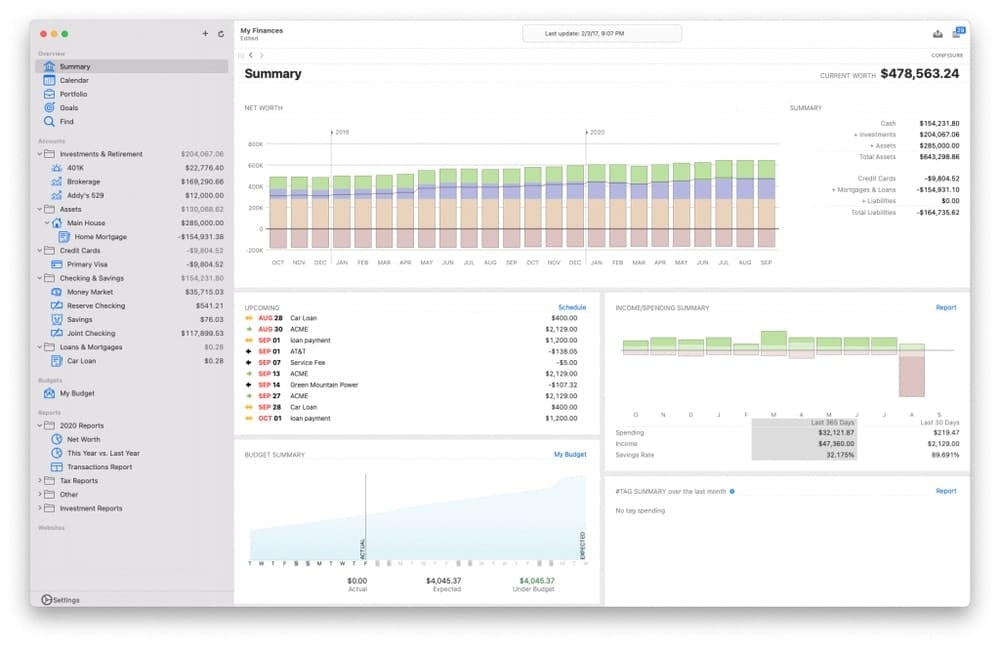 Key Features:
With Banktivity, you can easily track every transaction. Moreover, you can tag and category of all transactions. As a result, you can easily point out your income and expense trend.
Banktivity imports transactions from over 14,000 supporting banks and automatically clean up the bank statement.
Banktivity supports multi-currency. So you can transfer from one currency to another currency.
You can create a perfect budget based on your income. It not only save money but also helps you to take the right decision for spending.
You can set your goal for a retirement plan, pay off debt and credit card bills, and more.
Pros: Banktivity provides incredible investment reporting where you find all your financial goal answers like ROI, IRR, Returns & Gains. Moreover, you also get a common report of regular transactions like income and spending, net worth, payee, etc.
Cons: However, Banktivity can not categorize investment based on assets and equity.
6. Moneydance
---
Moneydance comes with a clean user interface but more upgrade features compared to Mint, Quicken. It contains all personal financial management tools like online banking, investing, budgeting, and more. Besides, it can automatically download transactions and pay bills from different financial institutions. Moreover, it can automatically clean up transactions and categorize them.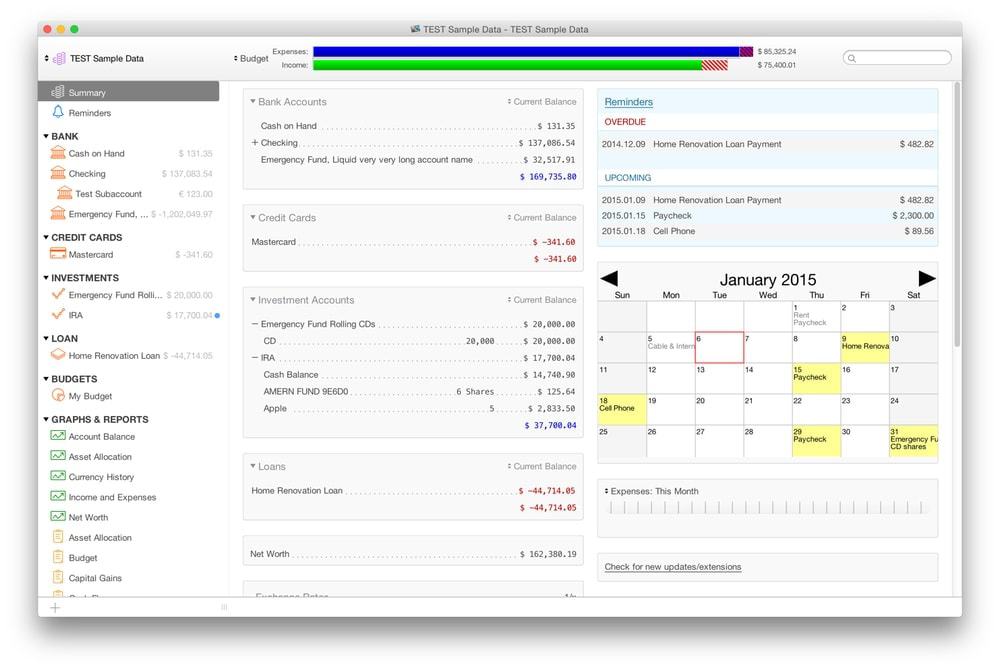 Key Features: 
The intuitive interface provides a clear picture of your overall financial conditions. The clean dashboard lets you know about your net balance, investment, overdue and upcoming spending list.
You get a quick idea from its visual graphical presentation. When you mouse hover different points of the graphs, then the detailed information is displayed. Besides, you can print this graph or save it to your device.
You can set a reminder for a particular payment or recurring payment. So you never miss the payment due date.
With Moneydance, you can handle multiple currencies including cryptocurrency. You can pay foreign bills easily with this tool.
You can modify your account register. Moneydance automatically calculates your transaction and sorts these.
Besides, you can create an investment portfolio for stocks, bonds, mutual funds, and more. Moreover, you can analysis of your stock's investment by downloading the current market price.
Pros: Moneydance makes it easy to full control of your budget.
Cons: However, Moneydance still has to develop to easily import data from other financial apps.
7. PocketSmith
---
PocketSmith is a powerful budgeting tool, you can pick as an alternative to Mint. The specialty of this app is its financial forecasting feature. With PocketSmith, you can forecast your financial position for the next 30 years by using current financial data.
Besides, you can set your daily, weekly, and monthly budget with this app. It comes with a free version with limited access, you need to purchase the paid version to get all features.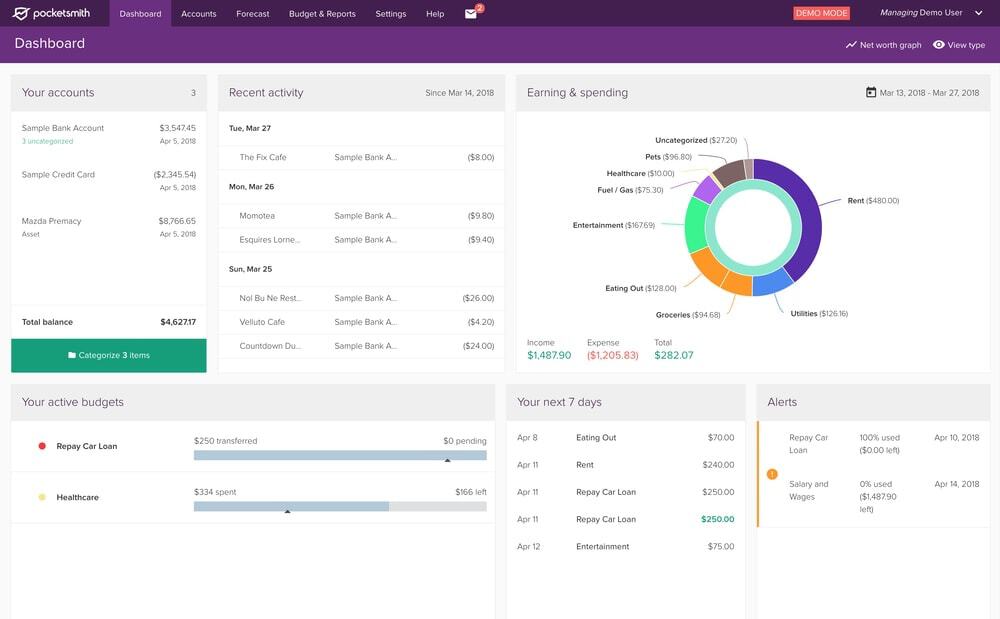 Key Features:
PocketSmith can import bank feeds from over 40 countries' banks. It automatically categorizes and organized your bank transaction data.
You can find transactions by using a smart search engine.
It can handle multiple currencies and automatically convert foreign currency at a daily market rate.
Besides, it has a budget calendar that marks your daily balance, upcoming bill payment issue, and spot problem of any financial crisis.
You can predict your cash projection for up to 30 years simply. Its visual graph shows how much you have to finance for future cash benefits.
Pros: PocketSmith provides you expense report to find out where your money is going out.
Cons: However, its operation is quite difficult. You spend time being a master of this app.
8. CountAbout
---
CountAbout is a personal financial tool that helps you to manage your money from anywhere. Because it is a web-based tool along with a support mobile app. This software is standalone for tracking features. You can import data from Mint or Quicken.
Moreover, you can sync with over a thousand financial institutions to automatically import financial data. In addition, small entrepreneur can send their invoice to customers by using this financial management tool.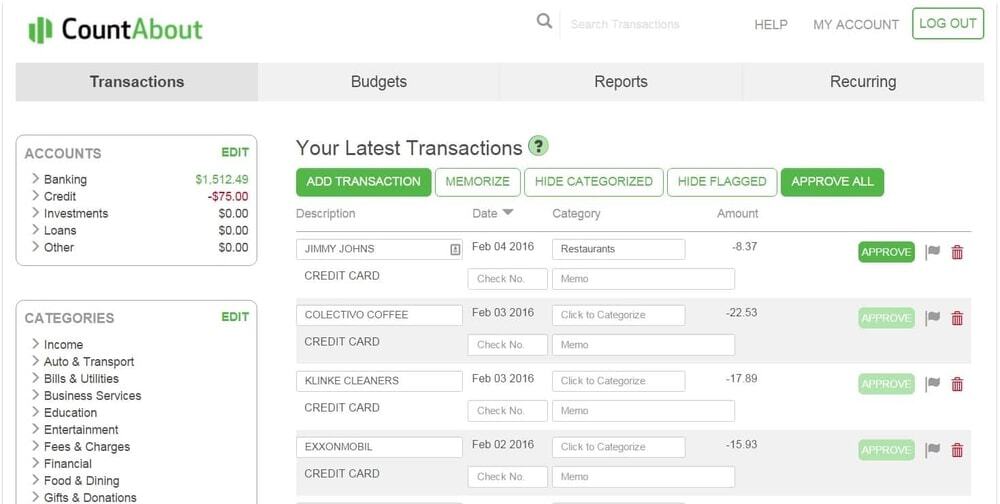 Key Features:
You can customize your financial transaction by categorizing and tags.
With CountAbout, you can attach an invoice or image, send it to your customers.
If you have to pay a particular bill frequently then you set a schedule to process the payment automatically.
It provides vast reporting options like account balance, category-based or tag-based reports,s and more.
CountAbout offers a retirement planning widget to track your retirement goals and timeline.
Pros: It provides a clean and intuitive dashboard. So you can easily set up your budget here.
Cons: If you are looking saving plan or investment tracking tool, you do not find this tool in CountAbout.
9. Every Dollar
---
If you are looking for a monthly budget tool, Every dollar is another Mint alternative for you. Like Mint, it is a free financial management app. With Every Dollar, you can track all your income, expense, debt.
You can also sync your bank account with Every Dollar but this synchronization is only available for paid users. Besides, it offers a 15-day free trial option of using the paid version. So you can try it before upgrading to paid version package.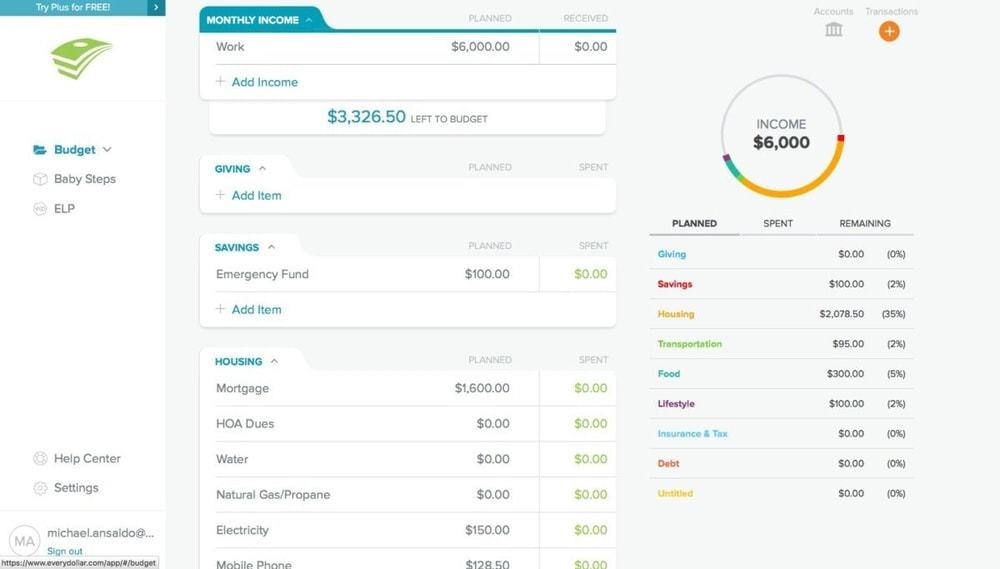 Key Features: 
Every Dollar theory is very simple. Just add your account, set a budget, and plan for expenses, that's all. The rest of the doing by Every Dollar for you.
You can set up everything just in ten minutes. Every Dollar can easily set up your full budget plan quickly.
Besides, it has many customizable templates that you can use to make a budget plan.
With Every Dollar, you can easily track the sector where your money goes out.
Moreover, its debt reduction tool lets help you to make debt off.
Pros: Every Dollar is perfect for those who are looking for a simple but powerful budgeting app. Besides, you can get local expert consultancy about your financial projection by using this app.
Cons: If you are looking for a basic budgeting app, Every Dollar's performance is great. But if you want more than a budget like an investment track, retirement plan, Every Dollar does not offer these features.
10. Money Patrol
---
Money Patrol is similar to Mint syncs all bank account in one place. From the Money Patrol dashboard, you can easily get updates about your recent transaction, spending area, and net account balance.
While you set your budget, this app keeps eye on your expense. when you cross your expense boundary, it immediately notifies you and makes adjustments to your expense. Unlike Mint, it is not a free app but it offers a 15-day free trial to make a decision to buy this app.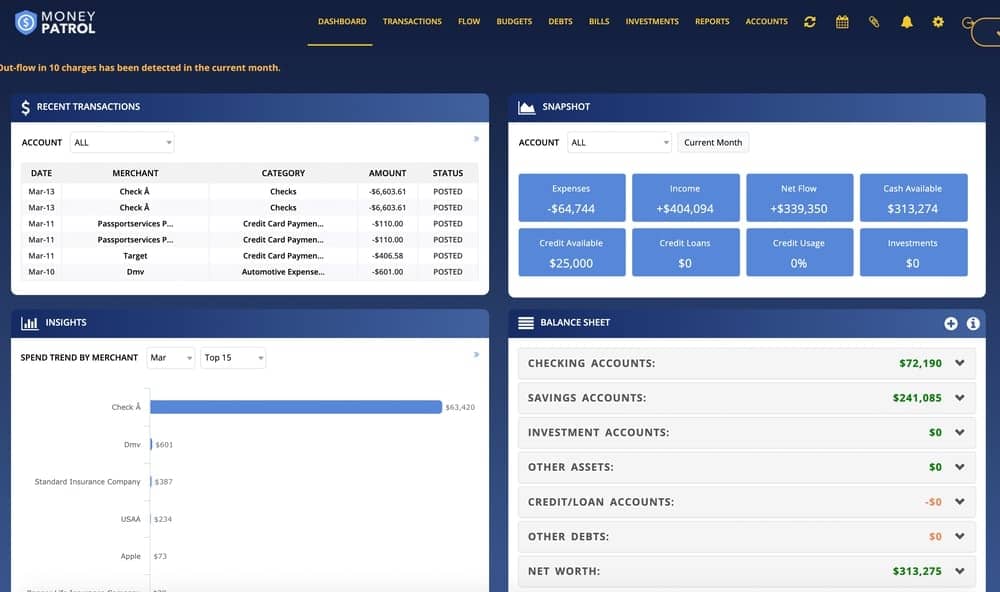 Key Features:
Its intuitive dashboard provides a clear picture of your all financial indicator. The dashboard is a combination of charts, graphs, and lists. So it makes it so easy to monitor your financial indicator performance.
By using AI, Money Patrol continuously monitors your spending trend and alerts you if in different cases like suspicious transactions, repeat transactions, large transactions, overdraft & fees, and more.
Money Patrol has a splendid budget calendar that lets you know your everyday expenses and find out the best way to cut off over-exceed expenses.
You can set bill reminders to pay in due time to avoid extra charges for overdue payments.
Besides, you can generate a financial report to get an idea of where your money goes out.
Pros: Money Patrol closely monitors your finance and find a way to cut off your expense to help you to save money as a savvy spender.
Cons: Money Patrol only supports the monthly and weekly budget plan, If you want more extra financial management features, you do not find them here.
Our Recommendation
---
So the following Mint alternative provides all features of Mint. Some of the apps provide extra features that are not available in Mint. You can easily keep track of your financial goal by using the above list of financial management apps. If you want to better experience, we suggest buying a premium package.
Though you have to pay money for accessing the premium version in long your money provides more value compared to free apps. However, your basic budgeting goal can be met up by using PocketSmith and CountAbout for free. And, the personal investors may pick Personal Capita, or Quicken, or Bantivity for tracking their investment portfolio.
Final Words
---
You may find numerous financial management app in the market. All are not the best substitutes for Mint. So you need to be careful to choose the best suitable app for you. Our top 10 best financial management tool is most recommended. You can pick anyone from the list and accomplish your financial goal success simply.
Besides, you may suggest any Mint alternative that is compact with all financial management features. Moreover, you let us know how to manage your budget and investment portfolio. Your expert advice helps other investors to make a balanced investment portfolio and secure future financial stability.