Google Docs is a compelling and versatile online cloud-based app used to create and share word documents. Many of us already know about this web application but might fear using it because of losing core functionality by going into cloud-based. But believe me, google docs is a robust app with lots of fantastic features that many do not know about. Google docs are equally suitable for professionals and students as well as fitted for personal use. So you must have the courage to leap, leaving offline-based word processing software, toward using cloud-based google docs and be amazed to see tons of powerful tools to do the productivity task.
Best Google Docs Tips
---
I am here to help you by giving a list of the best google docs tips and tricks to be a power user.
1. Enjoy Your Conversation While Writing – Voice Typing
---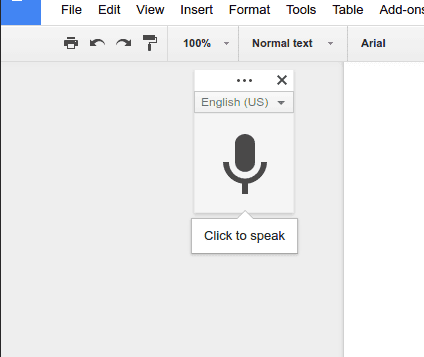 It's easier to talk about a subject than it's to write about it. Now every big tech company gives lots of emphasis on artificial intelligence and voice command functionality. Here in google docs, you can find voice typing, which can help you write quickly.
Read More: How to Convert MS Office Files into Google Docs Format
You can only use this feature if you have a microphone built into your laptop or Android smartphone. So to use this feature, you need to go to Tools >> Voice typing. One voice typing box will appear with a big microphone. Now you can start typing by voice, mostly in any language. You can use a keyboard shortcut, Cmd + Shift + S (on a Mac) or Ctrl + Shift + S (on a PC) to start recording.
2. Clear Formatting of the Copied Document
---
If you copy some docs from the web or other places and paste them into google docs, then it may not merge with the other part of your google apps documents unless you do the formatting. Follow any of these to format the copied documents.
Highlight The Text >> Right Click >> Clear Format

Highlight The Text >> Go to Format Option at the top Menu >> Clear Format.
3. Explore Huge & Beautiful Google Fonts List
---
Google docs offer a huge list of beautiful fonts, which can suit both professional and personal. Go to the fonts from the drop-down menu at the top of the document, and select more fonts. From here, you can choose any one that suits you. But check out the Google Fonts directory, where you can see the practical use of any fonts, which can help you get the best one.
4. Image Editing Inside the Documents
---
Google docs provide basic image editing options inside the documents. You can crop, reset, use a border to the image, and make brightness, transparency, and contrast adjustment.
5. Do Search and Insert Links Inside Documents
---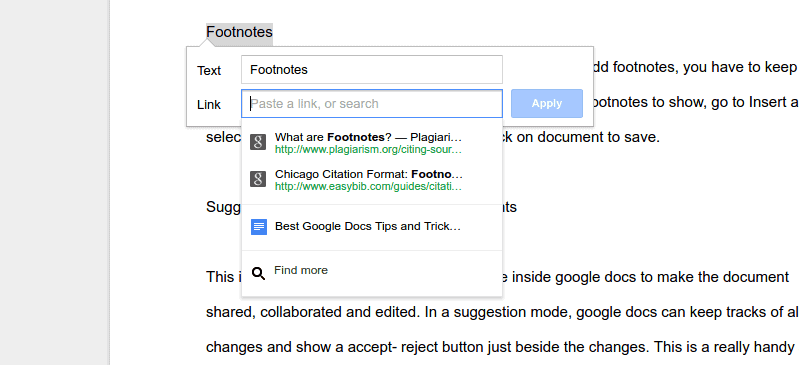 You can link any word or sentence using the insert link button from the top menu bar, but google docs has one unique feature to search content inline and insert a link. To put the link in the document, you need not go anywhere else; rather, select the word and press Ctrl+K to get the desired link and insert it.
6. Bookmark Your Documents for Less Scrolling
---
This bookmarking feature is good and helpful while making any long documents. To enable bookmarking into documents, go to the Insert menu, and select Bookmark. This will show a blue bookmark icon on the left side of your document. You can add a link to a specific paragraph that will enable a table of contents at the top of your document. This table of content might seem useful while navigating long documents.
7. Footnote
---
Footnote is easy and simple to put into google docs. To add footnotes, you have to keep the cursor in the text of the document where you like to have footnotes to show; go to Insert and select Footnotes. Write the footnotes and click on the document to save.
8. Suggestion Mode for Making Better Documents
---
This is one of the power tools that can be used inside google docs to make the document shared, collaborated, and edited. In a suggestion mode, google docs can keep track of all the changes and show an accept-reject button just beside the changes.
This is a convenient and useful tool for making any shared documents, where everyone can contribute to making perfect papers. To enable the suggestion mode, go to the right upper corner, click on the pencil-like editing tools, and select suggestion mode.
9. Collaboration in Real-Time – Google Docs
---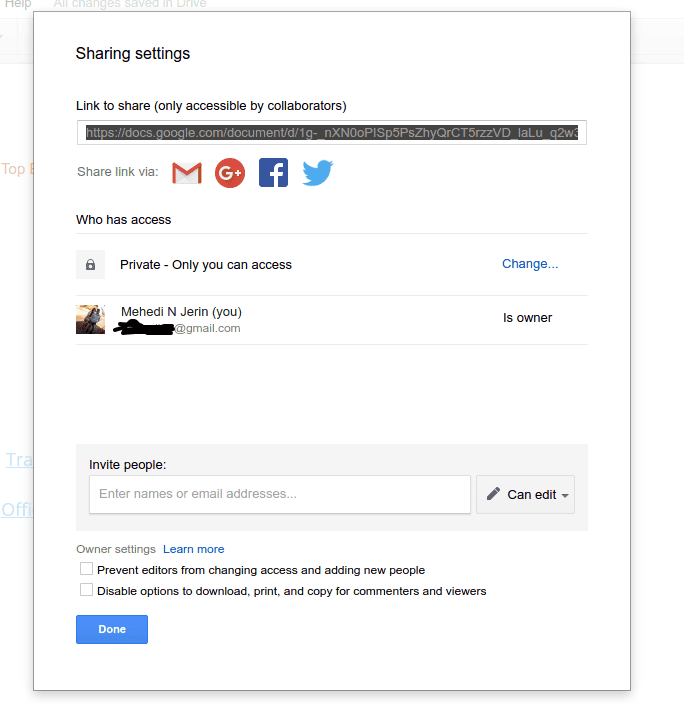 Google docs offer the ability to share the document with other users. All the users can simultaneously edit the document in real-time. If any two people write the same text, google docs will keenly see the time stamp for keeping the latest corrected version. And another old version will remain on the revision panel.
Moreover, users can interact with each other regarding document editing and creation. All those things happen in real-time, and all the users, who have got access permission, can see the changes instantly.
10. Tag Someone in a Comment to Get the attention
---

You can draw any specific person's attention using "@ or + sign" and email address in the comment box. The email ID holder will get an alert email about the comment or question, which is asked inside google docs.
11. Publish a Document Online
---
In google docs, you can create or edit documents and access others to edit the documents. Here you must remember, the document can only be seen by you and others, who have access authority, but it can't be seen in public. So to make it viewable, you have to publish your document online. To do so, go to File from the top bar and select "Publish to the web…."
12. Keyboard Shortcuts
---
There are tons of useful keyboard shortcuts in google docs. Many of them are very common as the other application. Like you can use Cmd + C (Mac) or Ctrl + C (PC) to paste, or Cmd + B (Mac) or Ctrl + B (PC) to bold, but it has some unique shortcut that helps to do the task very quickly. Some of them are :
Shift + T = Create a new document.
Ctrl + Alt + M = Insert a comment.
While writing on google docs, you can also get the keyboard shortcut list by holding Cmd + / on a Mac and Shift + / or Ctrl + / Chrome OS or Windows. See the full list of google docs keyboard shortcut keys.
13. Awesome Smart Spell Checker
---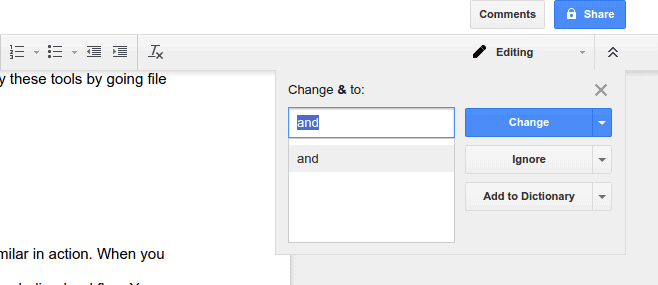 Google search has included its smart spell checker into google docs, and it's incredible. This tool does not rely on the traditional dictionary; instead, it's based on Google's search engine algorithm, which helps the user find the spell mistakes intelligently.
Google docs spell check database is regularly updated. Every day its database improves by learning the new word from google's artificial intelligent "What Do You Mean?" database and offering suggestions based on context rather than just similarity. You can check all the mistakes by going "Spelling…" from the Tools menu at the top bar.
14. Adjust Page Setup
---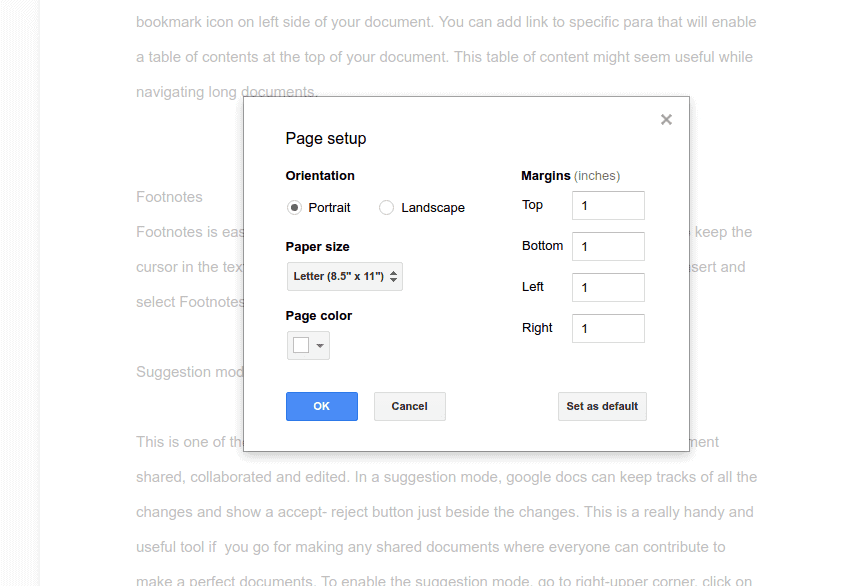 Adjusting page setup is simple and easy to google docs. By the page setup configuration, you can change the page color, margin, and orientation. You can apply these tools by going file under the top menu bar and selecting page setup.
15. Manage Personal Dictionary
---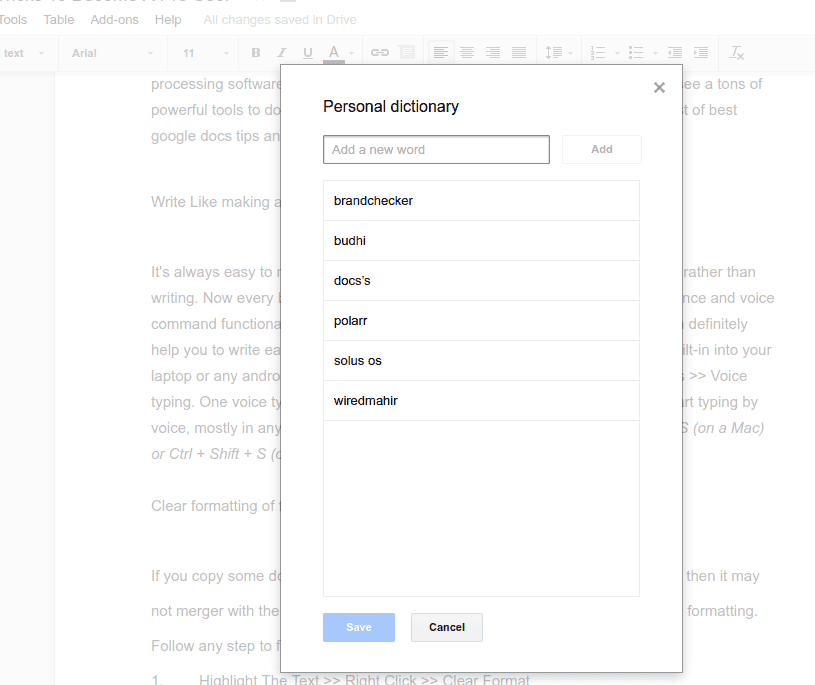 The personal dictionary and automatic substitution are quite similar in action. When you write any names or uncommon words, google docs marks it with an underlined red flag. You can include these words by right-clicking on the words and select " add to personal dictionary" or manually; you can put them all into the personal dictionary by going to tools at the top menu bar and select "Personal Dictionary."
16. Use Google Docs as Offline Mode
---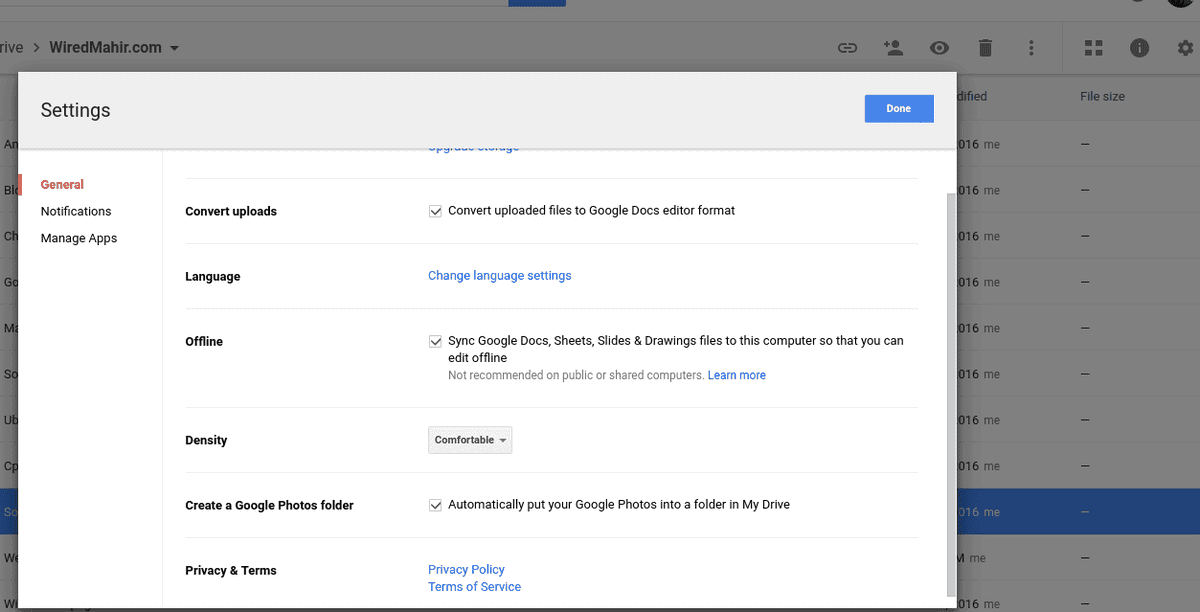 For using google docs, an internet connection is not required. But at the initial setup, changing the setting for using google docs as offline mode required the data connection. So to enable offline mode, do the following process.
Google Drive >> click Gear Icon on upper-right corner >> Check the box in the Offline section for "Sync Google Docs, Sheets, Slides and Drawings files to this computer so that you can edit offline.
You can create and edit all the google docs, sheets, drawing offline, and all the documents will be synchronized into google drive cloud while getting an internet data connection.
17. Make Your Substitutions
---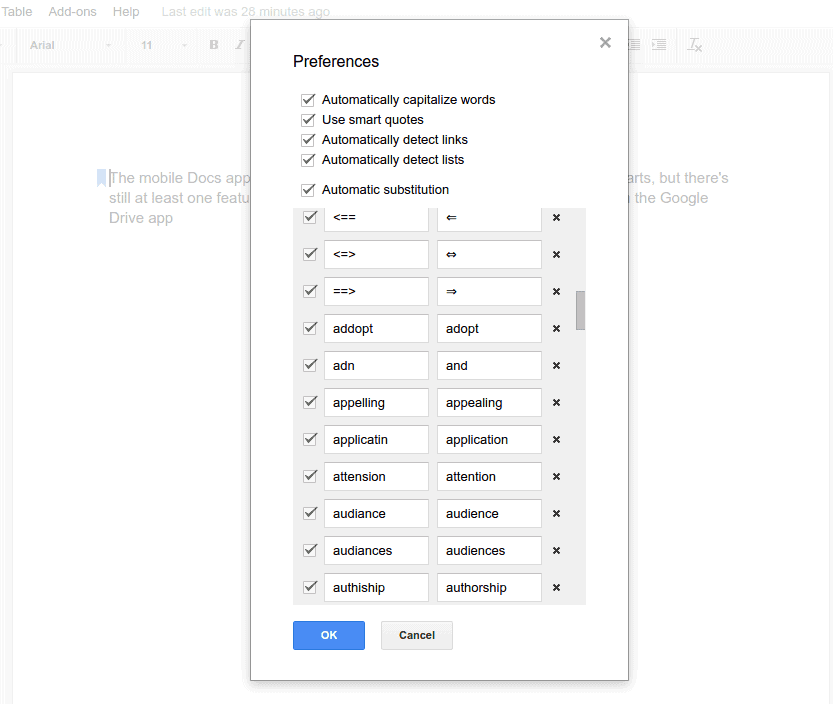 You can make your substitutions, which will help a lot during writing. Google docs make a list of auto substitutions, but you can also customize as per requirement. Go to Tools and Preference to make a change in your requirement.
18. Right-click on Definition and Research
---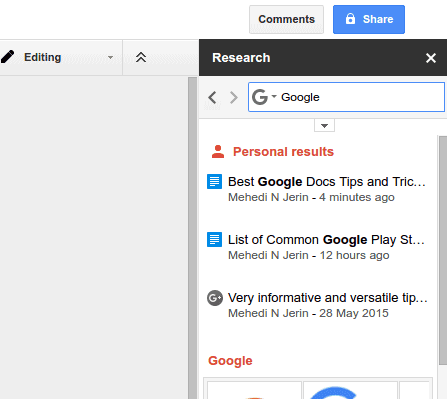 To get the definition or do any research on any word, right-click and select definition or research; it will open a box on the right side with all the information about that specific word. This definition and research tools let us stay on the documents while searching for more information.
It can offer us a search on images, tables, quotes, scholars, and literally everything from the search giant Google. Moreover, we can drag-drop images from this research box into our google docs.
19. Email a Document to Another User for Better Feedback
---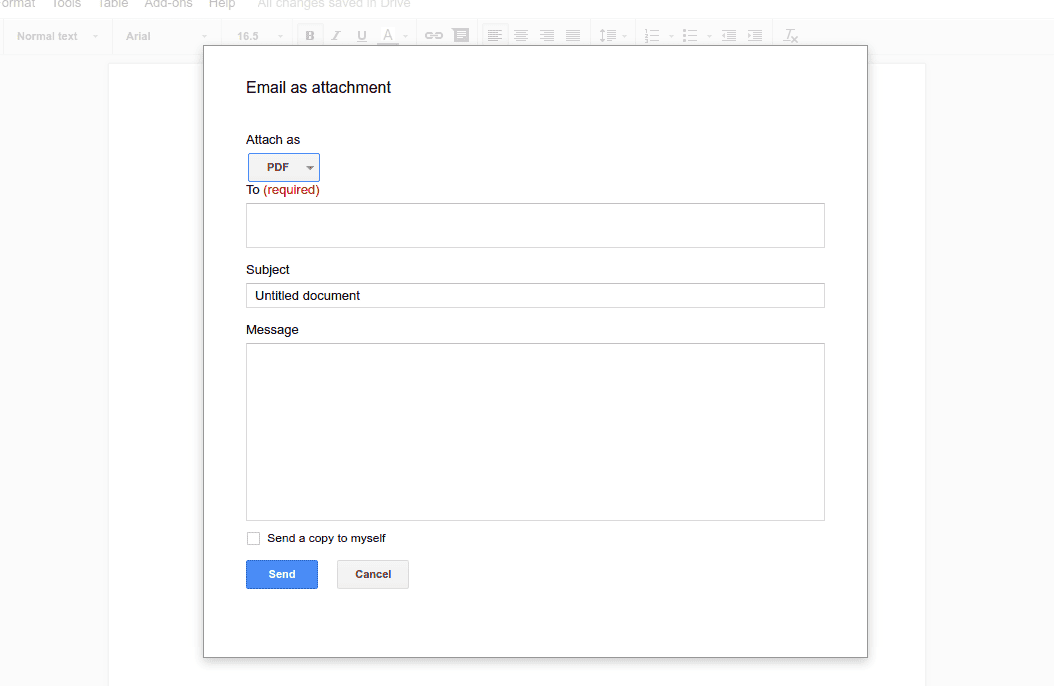 All the users might not have the google id or Gmail, so how can you share the document to get good feedback. Yes, there is an option to send the complete file through email as an attachment. You can send the file as Docx, pdf, plain text file, etc. These tools can be found under the File drop-down menu at the top of the document.
20. Download a Document as a PDF, Word Doc, and More
---
After finishing your document, you need to send it to somewhere or someone as a PDF copy or Docx file, rather than an editable document. You will have a lot of options to export your final copy into as many as seven format : Microsoft Word (.docx), OpenDocument Format (.odt), Rich Text Format (.rtf), Plain Text (.txt), Web Page (.html, zipped), PDF document (.pdf) and EPUB publication (.epub). Get the option from the file menu bar and select "Download as"
21. How to Use Apps Script in Google Docs
---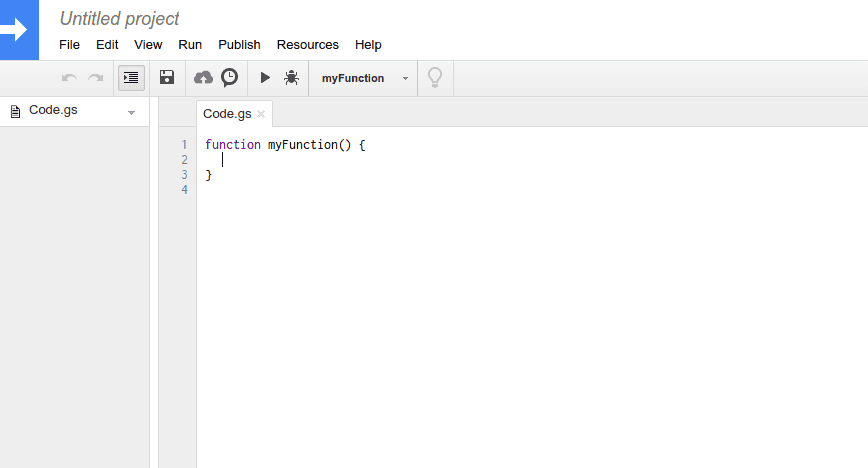 Google Apps Script helps to improve the overall workflow of the google docs documents. It helps create or change the documents, change the google docs user interface, and place the important tools for easy access. But before doing anything on app script, it's better to have a piece of quality knowledge on java, and google suggests you learn some free courses and follow a guideline for getting the best out of the google docs app script.
22. Do Write the Documents in Any Language
---
Creating documents in google docs is limited to the English language; rather, you can make the documents in any language. To change the default language into something else, go to the File menu at the top drop-down bar and select your desired language. All the languages are given in English alphabetical order.
23. Translate the Whole Document into Any Language
---
You can translate the document into any language literally. There are many languages to apply, but google translate is not perfect in doing the translation job. So don't rely on it solely, but it can definitely help read any document written in another language.
24. Revision History
---
Don't get worried about losing any information while editing. If you want to get an earlier version of your documents, you can easily get it by going to File >> See Revision History. Here you will find all the earlier versions of the required document. If you chose any earlier version, then the selected version is just coming to the top of the list without losing any information. Always have the opportunity to get any version and see the changes made in the highlighted text.
25. A lot of Impressive Templates
---
Google Docs comes with lots of impressive templates, which can be used to write a résumé, draft a business proposal, formalize meeting notes, or design a brochure for any company. Literally, you can find all sorts of templates to complete any task for both business and personal purposes. You will get all templates from the google docs home page. So do explore these and find one that suits you.
26. Use of Add-ons to Expand Google Docs's Functionality
---
There are lots of useful add-ons in the google docs repository or store. You can find the add-ons by adding add-ons from the google doc top drop-down menu and selecting Get Add-ons. All these add-ons are used to expand google docs' functionality and productivity. It just like apps on android mobile, which are used to make our android system more functional and effective. Likewise, google docs' add-ons perform many outstanding jobs, which can not be completed by the default core features.
Final Thought
---
Here I have listed all possible top best google docs tips and tricks to become a power user. Did you like any of them? Or do you want to add any other tips? Please feel free to share your thoughts and suggestion in the comment section. 
Sharing your thought will help us to expand our best google docs tips and tricks list. If you like this list, please bookmark it for future reference, and click the social share button for social engagement with your friends and family.