Linux users have plenty of options when it is about cloud services. Most people use only a few popular storages like Dropbox, pCloud, etc. But there are some newly invented cloud services available that don't compromise with privacy and security issues anyway. Internxt is one of them, and it has already placed a mark on the list of the best-encrypted cloud services for its best-in-class security and encryption system.
After learning about the top-notch features of this open source cloud service, I planned to give it a try on my Ubuntu system. And finally, I am here to share my experience of using this app. So, let me introduce you to Internxt first.
What is Internxt?
---
Internxt is a zero-knowledge encrypted could service that comes with a native Linux client. This application will encrypt all your data even before you upload them. Security, privacy, and encryption are the core of this open source application. As it is a zero-knowledge encrypted app, and so, no one can possibly access your data without your permission.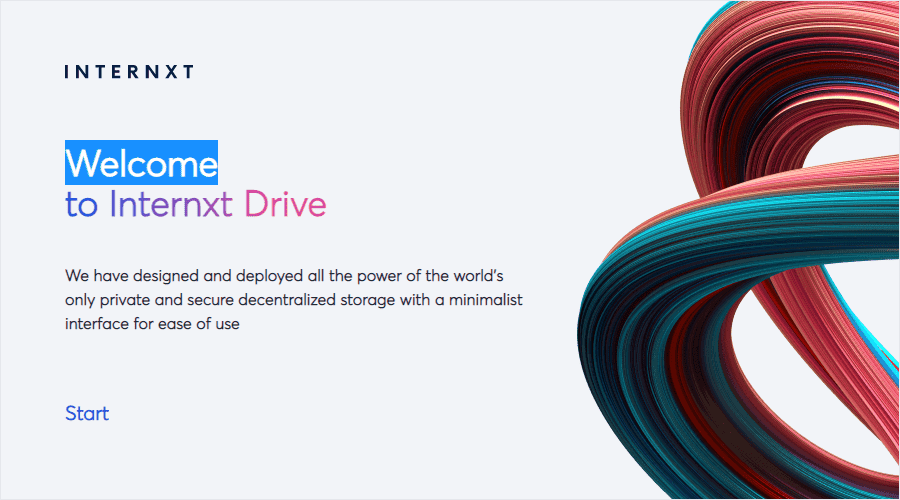 This secure encryption system will never decrypt your data without the password you set for it. Even the server itself cannot decrypt the data without the password. That's how strong, Internxt ensures the security of your data.
Aside from the encryption part, Internxt offers more to ensure your privacy. This application basically focused on web3 to get a powerful security approach.
You must be familiar with the decentralized approach that automatically makes all the uploaded files fragmented and encrypted. This approach also distributes the file all over the web so that not a single server can hold the complete file alone. And that's the approach Internxt executes to ensure top-notch security for the users.
Features of Internxt
Internxt comes with a well-designed and minimalist interface.

Three different pricing plans are available alongside a free version.

It comes with Military-grade encryption with Zero-knowledge technology.

This powerful cloud service is built with AES 256-bit encryption protocol with 2-factor authentication.

It offers 24/7 customer support with a live chat option.

Internxt lets users read PDF documents from the web interface.

This multiple platforms supported app lets users easily sync files and folders. It indeed supports GDPR-compliant synchronization.
How to Install Internxt on Linux?
---
You can follow several options to install Internxt on the Linux system. This application offers AppImage and DEB files for the users. You can get the AppImage files directly from GitHub.
You can also install the DEB file from the official website of Internxt. For that, just log in with your email address and name. And then, on the left side panel, find the Download option and then click on it.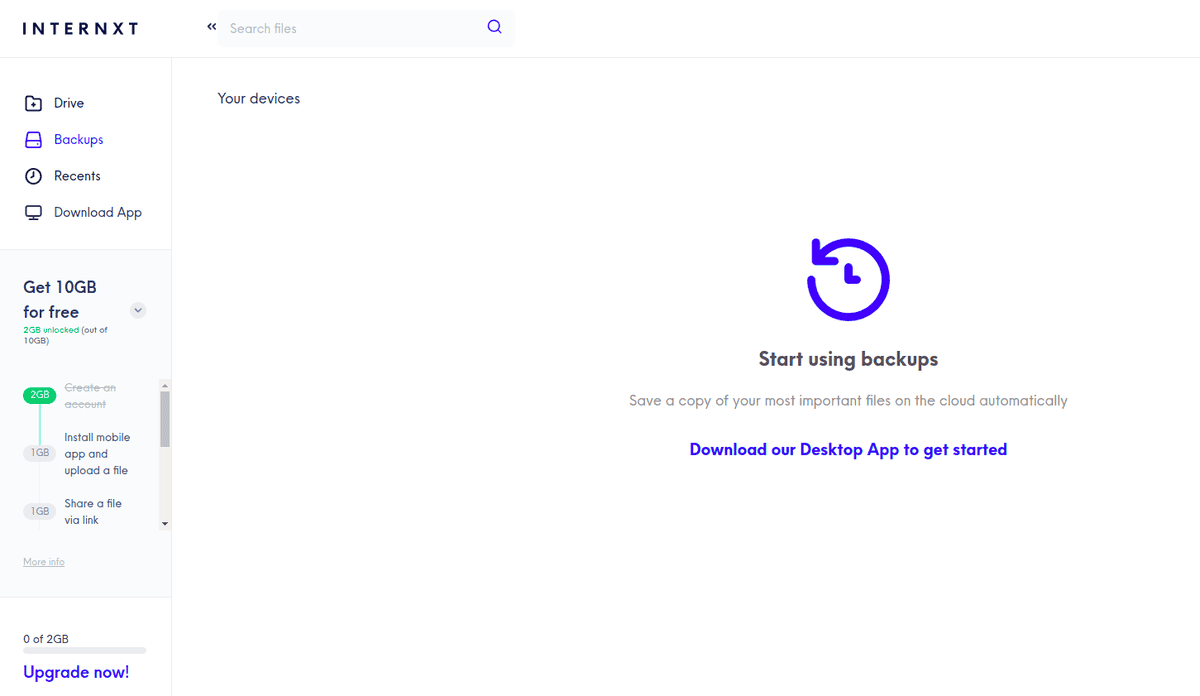 The installation process is easy, and it takes not more than a few minutes.
How To Use Internxt?
---
Once you are done installing Internxt, you will get its acquaintance with the Drive. There will be a few screens for that. In the beginning, you will find a folder in the home directory. It is the folder to synchronize files to the Cloud. So, if you store some files in the folder, you can access them from other devices under the same web browser account.
Also, when you add a file on the Drive, Internxt will automatically add them to the same folder. You can also change the sync folder or just use the default one. Internxt doesn't support active synchronization automatically. That's why you have to do it manually by hitting the sync button.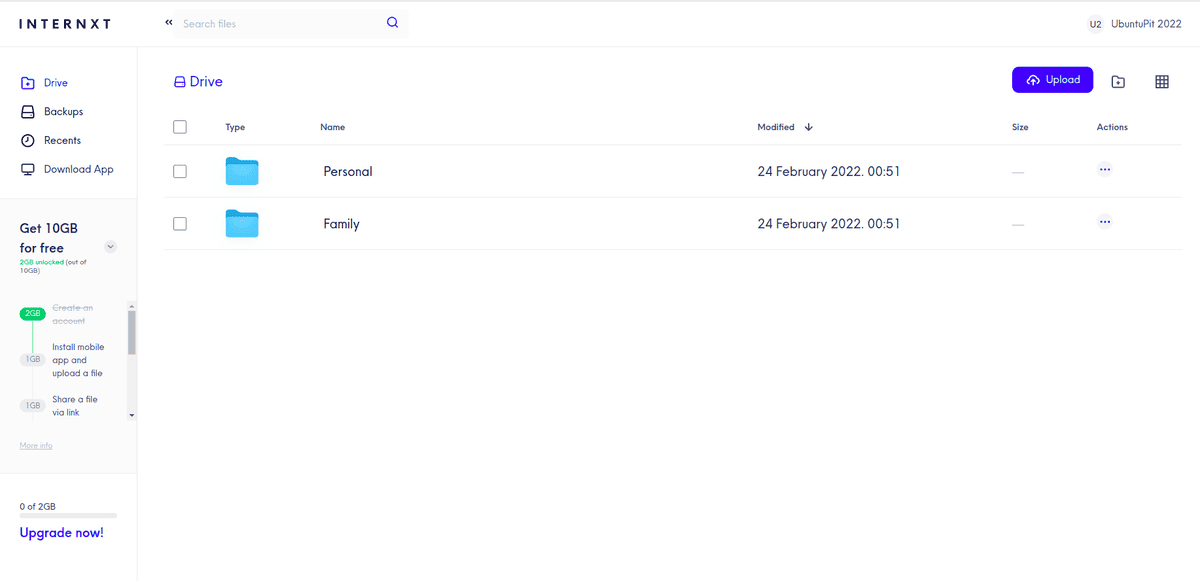 You will get the sync button in the applet indicator. You will find the indicator on the top panel. It generally helps users get access to the settings. And this applet indicator works perfectly on Ubuntu Linux.
Drive and Files in Internxt
---
To store files, photos, and documents in this cloud service, you will need sufficient space. If you run the free version, you may not get enough space. Generally, you will have 2 GB of available free space. But I think that's not enough. However, there are ways you can follow to get more space.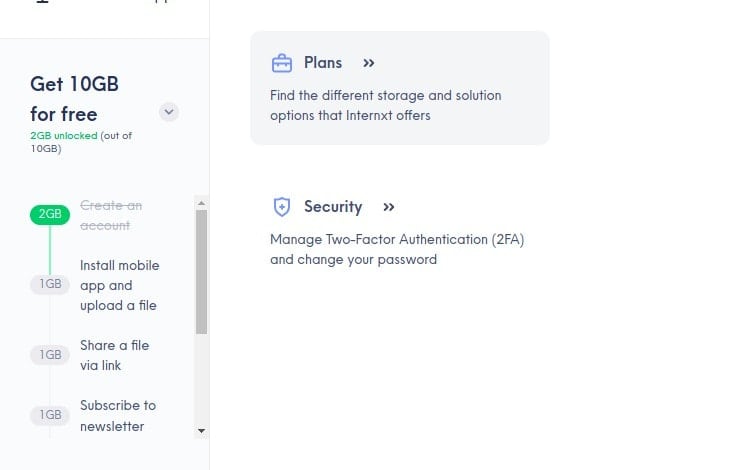 Internxt offers some tasks that let you have more space. You can indeed invite your friends to use Internxt, and it will present you with some spaces for the invitation. Also, you can install the mobile app and share this app via different social media to get space. In the end, you can manage to have up to 10 GB of space for free.
Sync and Backup
---
Among all the prominent features of Internxt, the backup and sync functions grabbed my attention first. You can either store the file through backup or just use the sync function. This cloud service lets you back up and synchronize the files across multiple devices.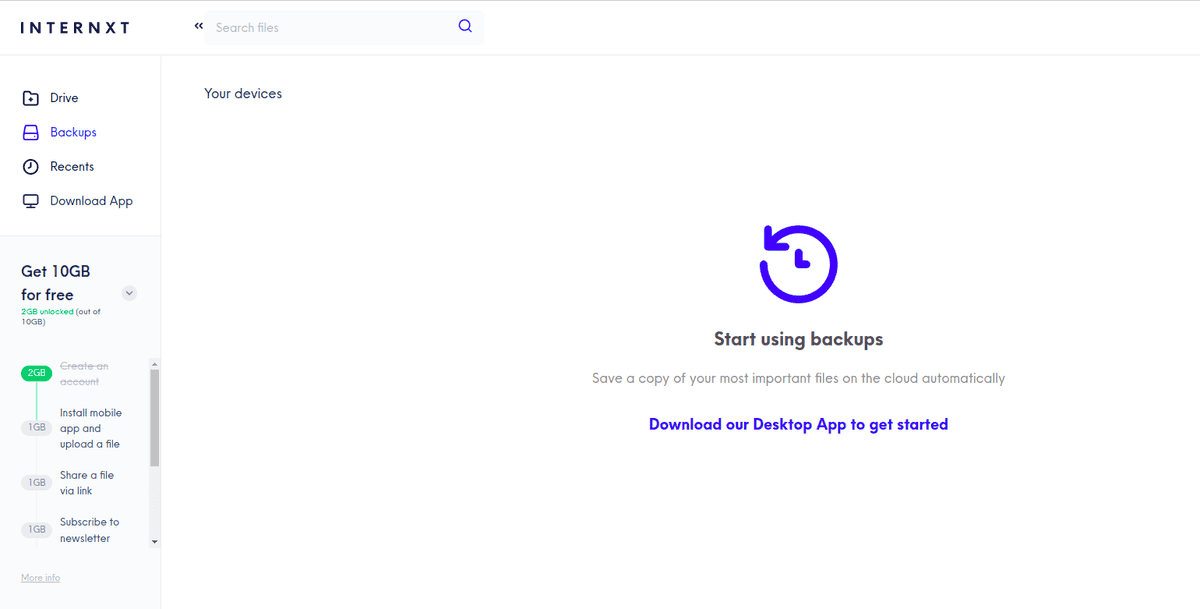 With the backup system, you can easily synch the folder from the cloud on your Linux PC. And all the changes you make on your PC will be saved in the cloud automatically. It doesn't even require copy-paste the file, and indeed, it will save it automatically.
Limitations of Internxt
---
While using Internxt, I managed to find out a few drawbacks it contains. I am sure that the Internxt team will fix them in future updates, and that's why I cannot wholly announce them as the disadvantages of Internxt. Instead, I can concise them as the temporary limitations of this application.
Internxt works comparatively slower than most other cloud services.

If you lose your password anyway, you cannot recover your files with it.
There is also a limitation of files that you can upload on this application.

Options for selective synchronization are still missing here. But the Internxt team already announced to add this feature in the future.

It doesn't let the users read the text files or the Markdown files from the web interface.

This app still cannot open and run video files.
Wrapping Up
---
Internxt was released in 2020 and is still under heavy development. Still, it manages to leave a remark in the world of cloud services. And the mentioned limitations are not permanent. This app has been updated regularly, so we can anticipate being better than before on the next updates.
However, if you are concerned about security and privacy issues, Internxt is your must-try. I don't have a single issue with its privacy and security functions. Besides, the free plan can provide up to 10 GB of storage. So, I think giving it a try won't be a bad idea. So, share with us what you think about Internxt. We will wait for your response. Thank you for your time.