MuseScore is a free open source music notation and composition application that supports all the major platforms, including Windows, Linux, macOS, etc. It provides a virtual note sheet for easy and fast note entry. You can immediately playback the newly noted score with the help of an integrated sequencer. It can also export and import MusicXML and Midi files.
Recommended Post: Top 10 Best Linux Video Players: Enjoy Ultimate Movie and Music
MuseScore, now, is supported in more than 40 languages and increasing in popularity day by day. It's considered as best cost-effective alternative free music notation software for expensive software. Furthermore, it offers a direct connection with the sheet music sharing site MuseScore.com through MuseScore connect panel. Thus it gives access to community-driven thousands of pieces of sheet music store.
Features of MuseScore
---
Completely Free and Open Source

A best free alternative to expensive software in this sector

Create, play, and print beautiful sheet music

Powerful and easy to use with a modern interface

Supports MIDI keyboard

Users can transfer to and from other programs through MusicXML and Midi files format.

Supports multi-language

Well documented and maintained by dedicated developers
MuseScore 2.3 comes with new features and tons of bug fixes. See the release notes.
How to Install MuseScore in Ubuntu
---
Here all the possible ways of installing MuseScore in Ubuntu Linux will be described.
Method 1: Download App Image
---
Download the below app image files for installing it on all the versions of Linux distros.
Old computers (32-bit)  New computers (64-bit)  ARM-architectures
After downloading the app image files, make it executable by changing the permission setting in the properties menu option. App Image >> Right Click >> Properties >> Allow executing file as program (select checkbox)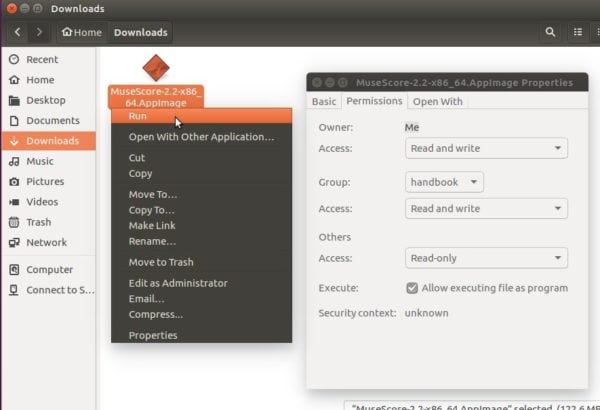 Download Distro Specific Packages
Method 2: Install MuseScore as Snap app
---
Besides using app image files, you can also install it on Ubuntu as a Snap image. Follow the below steps:
sudo snap install musescore
Some interfaces need to be connected manually via commands:
sudo snap connect musescore:cups-control
sudo snap connect musescore:network-manager
sudo snap connect musescore:alsa
Once installed, launch MuseScore from the application launcher.
Remove Snap version
Run the following command to remove this app as Snap version:
sudo snap remove musescore
Method 3: Install it on Ubuntu via PPA
---
You can update your system with unsupported packages from this untrusted PPA by adding ppa:mscore-ubuntu/mscore-stable to your system's Software Sources. Run the below command one by one:
sudo add-apt-repository ppa:mscore-ubuntu/mscore-stable
sudo apt-get update
sudo apt-get install musescore
Remove PPA Version
To uninstall the software, open Terminal and run the command:
sudo apt-get remove --autoremove musescore
You can remove PPA repositories by following Software & Updates and navigating to "Other Software" tab.
Is this tutorial helpful? Share it with your friends on social media. Moreover, the comment section is there for any problem you faced during installation or discussion.