Music is a big part of the entertainment. Naturally, we are always ready to get entertained, especially when we are in jolly mode and have sad moments. But, the best quality music player can greatly increase the quality of music. And obviously able to give you the best flavor. Are you fully satisfied with the music player that you are using now? We have a small collection of some best Linux Music players for you. These are specially created to give you the real feeling of the music. Are you ready to taste them?
Best Linux Music Players
---
It is a really little bit difficult to find out the best music player. After a couple of weeks of research, we reach the level to find them. Here, we gather some best quality Linux Music players. Select your favorite one as you like.
1. Clementine
---
Clementine is an example of the best quality music app. And, it is more suitable for Linux OS. On the other hand, this player also works on Windows and Mac OS. Benefit? The player offers you a great variety of additional features such as a customizable interface, creating a playlist, a sidebar for observing playlists, a search option, and so on. Every user like the features and mark it as the best Linux Music Player.
2. Banshee
---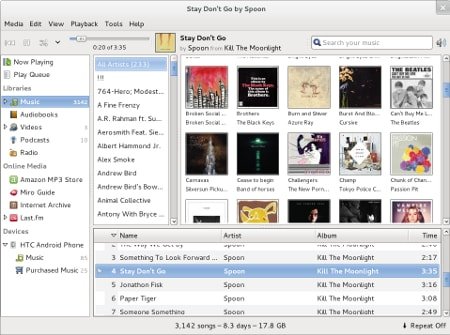 Banshee is our second pick, and this is the player that runs on most of the Linux distros, Mac OS, and Windows platforms. The player also works on many portable devices like iPhone, Android devices, etc. The player is suitable for playing both audio and video, and you can also use it for playing the online multimedia file.
3. VLC
---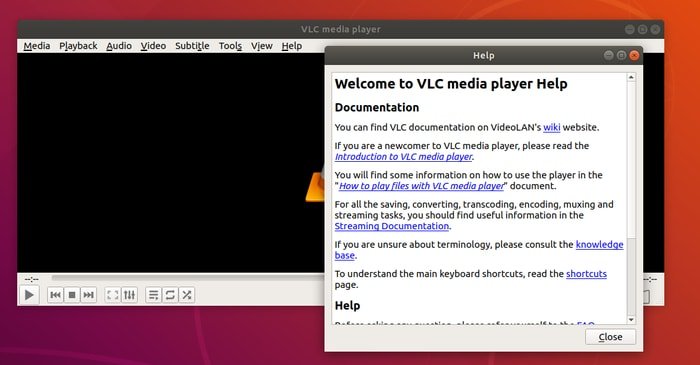 VLC is one of the best well-known devices in this world. For its exciting features and quality, people like to use it. A wide variety of multimedia codes are installed to play almost all audio and video file formats. On the other hand, it gives you the option to enhance its quality by downloading more plugins. Is there any Linux Audio Player which gives you this facility?
4. Amarok
---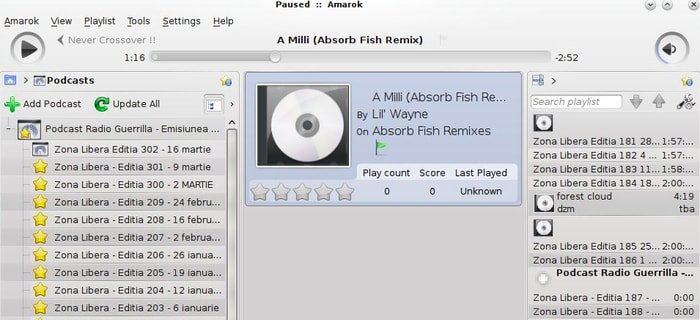 Amarok is the default music player of KDE, and it is the most favorite music player of Ubuntu. It has some exceptional features which make it the top Linux Music Player. Some of the features are notable such as compatibility for a different format, built-in equalizer, lyric and artist search option, etc.
5. Rhythmbox
---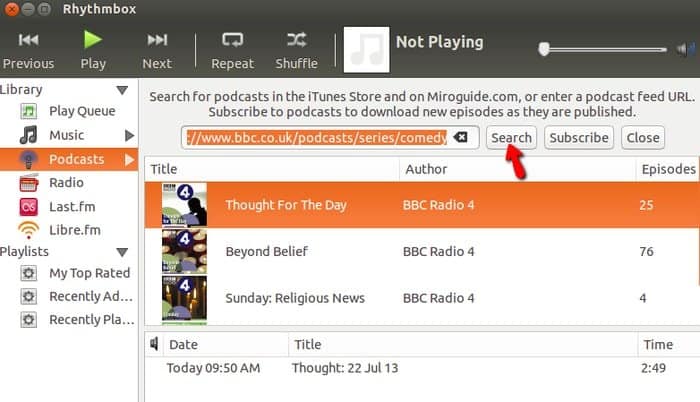 Rhythmbox is another popular music player for Ubuntu. It gives you to customize the interface entirely. You can add a lot of plugins for a better experience. Built-in internet radio and podcast support is the exceptional feature of this Linux Music Player. It really allows you to do more than just playing music.
6. Gnome Music
---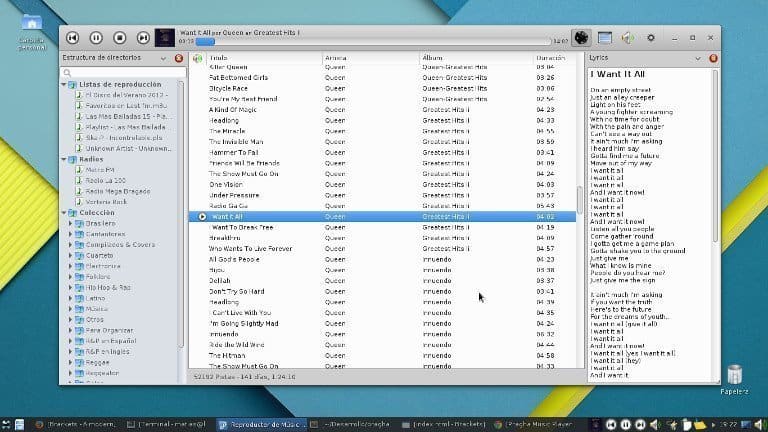 Gnome Music is the music player that is specially built for the environment of the gnome desktop. It provides you with limited features, but it is really a unique music player at all. This music player is quite perfect for you when you need a lightweight application which built-in unique features.
7. Audacious
---
Audacious is the software that is considered the best Linux Audio Player. This is a small software, but it gives you a lot of options. Pause, skip song, repeat, shuffle everything you can do naturally with Audacious. On the side, it allows you to customize it as you need. Add plugins and change the themes as you like. Interestingly, you can set the alarm on it, which is an exceptional feature as an audio player. Right?
8. DeaDBeeF
---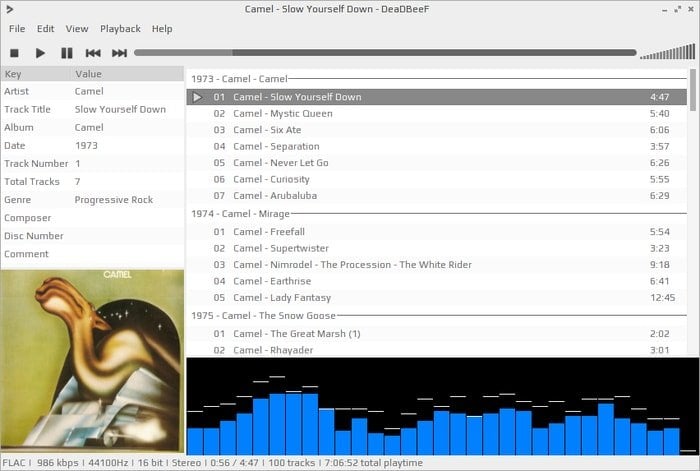 Is it seems a new name to you? The DeaBBeeF music player is not widely known; that is true. But, this is a very good music player that is big true, and everybody doesn't know this true. It allows you to do everything you need, such as creating a regular and fixed playlist, adding plugins, metadata editing, and so on.
9. QMMP
---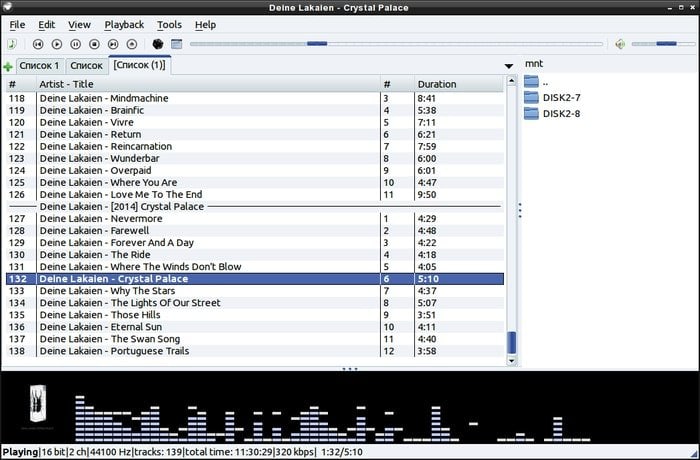 QMMP is a very simple music player. On the side, this is like Winamp. This is really a perfect Linux Audio Player when you want a small and lightweight music app. Though it is simple, it can play almost all audio format files. The music app works on Debian, Arch, Fedora, OpenSUSE, Slackware, RedHat, etc. Just search by typing Linux Music Player; you will find it on many platforms.
10. Spotify
---
Spotify, the music player, comes to you with a beautiful and easy interface. You just don't need to find any option on it. You feel everything is in your hand. The player always helps you to find the latest music, and you can purchase. It definitely gives you the best feeling of the music, and after using it, you just love it.
11. Cmus
---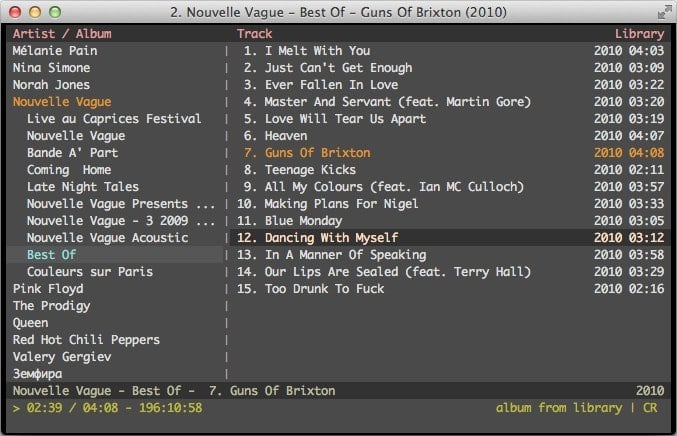 Cmus music player is easily compatible with old and low-configured computers. The software uses the minimum amount of RAM, but it runs smoothly. Though it is lightweight, it is enough fast and powerful. Almost all types of audio formats play here, and you can change the themes as you like. And you can customize it easily. After all, it is really a good quality Linux Music Player.
12. Lollypop
---
Lollypop is another music player by the genome. This maybe seems a little bit new to you, but the player is very promising. The player can play almost all types of audio files. You can locate all songs and make a playlist by adding them using the app. It also allows the Android device to synchronize music by using the app.
13. Cantata
---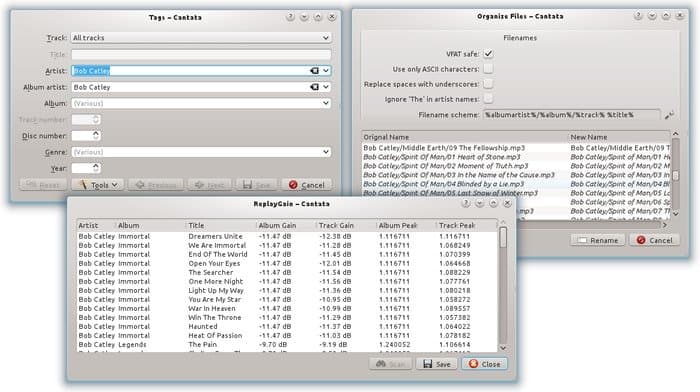 How many features and options need for software to be the best Linux music player? You will find it all in Cantata. The player comes with a lot of features to give you the best experience. Cantata works on different platforms such as Windows and Mac OS, but the full features support Linux OS. This is why it is considered the superior Linux Music Player.
14. Babe Music Player
---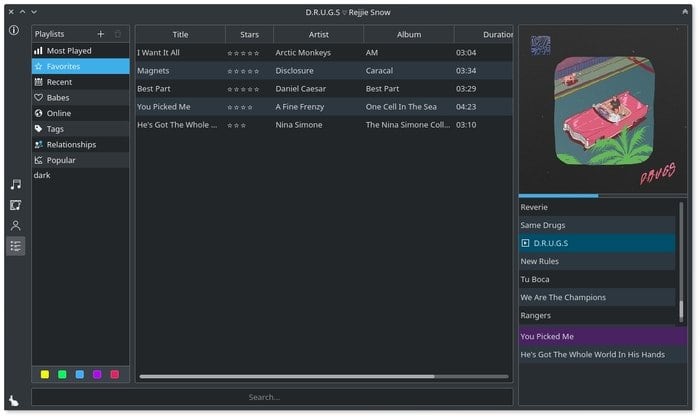 Babe Music Player is not long-aged software in this music playlist. It has a simple design, a clear and easy interface, and at the same time, it is a lightweight app. But, it is enough to power. It doesn't have so many features, but it has those which exactly you need.
15. Elisa Music Player
---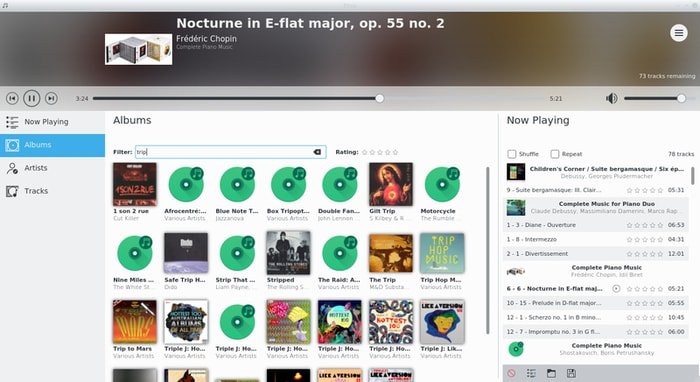 Elisa Music Player is a lightweight music app that is made for the KDE desktop environment. Using this player, you can search by song, artist, or album. This is built specially to make it highly compatible with the KDE community. And this is why it works great on the KDE desktop environment.
The engineers are working to make it compatible with other platforms such as Windows, Mac OS, and obviously for other Linux distros.
Why do You Use These Music Players?
---
There are so many music players in the online platform, but why should you use these players? Are there any advantages of using this Linux Music Player? Here, we mention some points clearing you the reason for using this software.
So, what will be the scenario? The first reason is we mention every player on where it runs. Suppose you use Linux, but you are using a music player that is best for Windows. You never get the best experience from it.
Secondly, when you have an old desktop or laptop, then it's better to use a lightweight app. If you use a heavy player, it does not run smoothly on your device. We also mention which music player is compatible with which laptop or desktop.
Then, some of the music players come with different features, and others add plugins, change themes, etc. On the other hand, some come with limited features. We also told the fact to every player.
The summary is a different music player is suitable for different types of users. And here, we clear it finely so that every reader can easily understand which is exactly perfect for them.
Summary Line
---
All the music players enlisted above are definitely up to the mark with the performance. We believe these Linux Music Players will introduce you to the new experience of listening to music. We always inspire you to share your experience with us. I hope you will never forget to share your experience using these music players on this platform or other online media.