Are you looking for a clean and snappy Linux-based desktop experience? Then take a look at MX Linux, which is known for its light yet powerful package for all types of hardware specifications. This distribution is great for old PC, and low-end laptops yet offers the latest software support. Additionally, the advertisement-free user interface makes it even more appealing to many PC enthusiasts.
If you are new to Linux, then skip this all over and settle down with Ubuntu or distros like Linux Mint. This is for pre-exposed users from intermediate level to experts. There are some tips and tricks to cope with it, even if you are new and coming from a Windows environment. I hope this article on MX Linux will help you know a bit more about the overall ecosystem.
What is MX Linux?
---
MX Linux is a midweight, fast Linux distro based on Debian(stable branch), developed to ensure high stability and great performance on elegant and efficient desktops. It was developed cooperatively by the antiX and MEPIS communities. This is how their name was generated (M from MEPIS and X from antiX). Its current version as of writing this is MX-21.1 "Wildflower."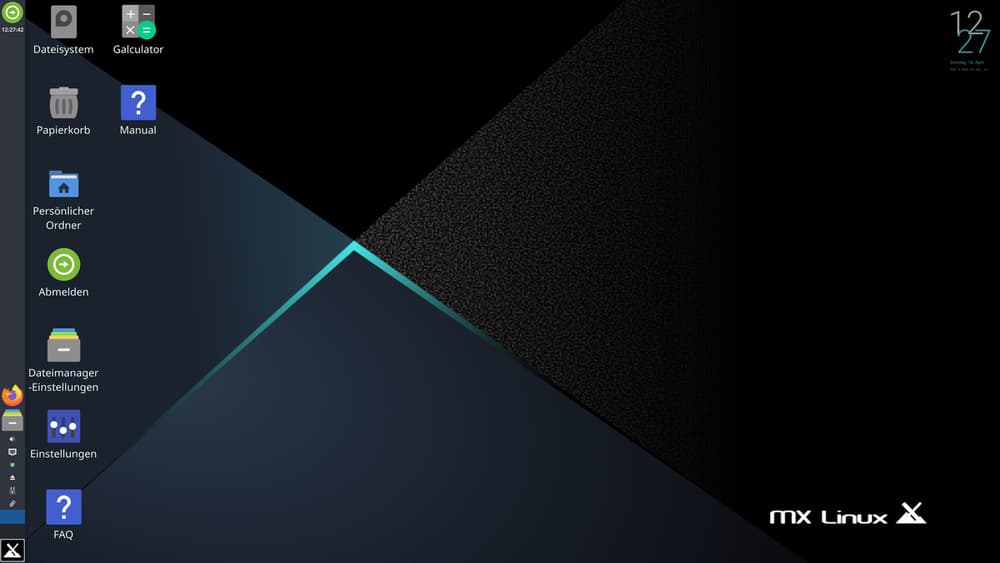 In recent times, MX Linux has gained quite a popularity. According to DistroWatch, it's currently ranking number 1 in popularity. It's quite surprising how it outranked some of the most popular distros, such as Ubuntu, Manjaro, and Mint.
Having a simple configuration with many useful tools, MX Linux is a distro for everyone. Whether you are a new Linux user or a seasoned pro, MX Linux can be a distro to make you feel at home.
System Requirements of MX Linux
---
Mx Linux requires a moderate configuration to run. Any mid-spec PC should be able to run it smoothly.
Minimum Systems Requirements
CPU: A modern i686 Intel or AMD processor

Memory: 1 GB RAM

Storage: 8.5 GB of available space

Media: Bootable CD-DVD drive or a USB stick
Recommended Systems Requirements
CPU: A modern i686 Intel or AMD processor (Multi-core preferable)

Memory: 2 GB RAM

Storage: 20 GB available space(SSD preferable)

Media: DVD drive or USB port to install the ISO image

Others: A 3D-capable video card and a SoundBlaster, AC97, or HDA-compatible sound card
Features of MX Linux
---
MX Linux has many features to make you consider trying out this simple, user-friendly distro. Here, we highlight some of its main features with small details. We only brief the major features here in this section. So, we suggest you check them thoroughly before you check the pros and cons section of MX Linux. The features will give you a better impression of this Linux Distro.
1. Various Versions To Choose From
---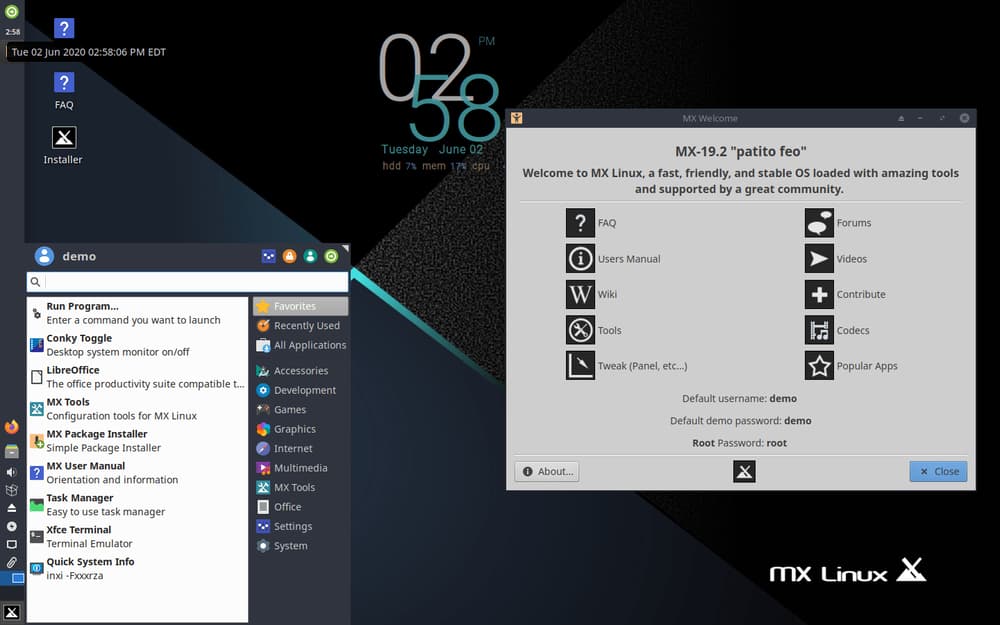 MX Linux offers three distinct desktop versions. Xfce, KDE, and Fluxbox are the versions we are talking about. Here, Xfce is the default and flagship desktop environment for MX Linux. It's user-friendly, fast, and lightweight yet visually appealing.
KDE is a more advanced version. However, it contains many powerful tools such as Dolphin file manager and KDE Connect. It also has extra themes, icon packs, cursors, and widgets if you want to customize the looks. And Fluxbox is a mix of speed and sleekness and offers a lightweight and easy-to-use experience, even on low-spec devices.
There are many communities respins as well. This variety of options makes it a good choice for different kinds of users, based on what they are primarily looking for in the Operating System.
2. Wide Range of Apps Out of The Box
---
When you install MX Linux, many software comes with it pre-installed that you will need in your daily lives. These include must-have applications such as Firefox, VLC, LibreOffice, LuckyBackup, and Thunderbird.
Some other useful apps include GIMP for photo manipulation, PDF Arranger for merging or editing PDF files, AdBlocker to block ads on the web, Conky for monitoring your system, etc.
This set of apps boosts your productivity and adds security. It saves you the time you had to spend searching and downloading them otherwise. No matter what you want to use your device for, there's software to meet your need.
3. Customization and Flexibility
---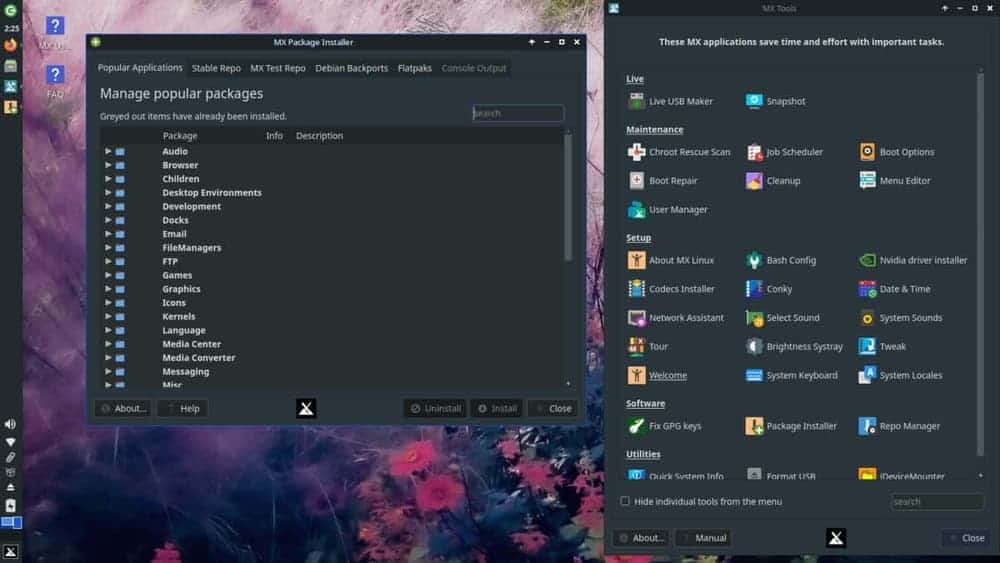 MX Linux is a highly customizable distro. The desktop is enhanced with the addition of the MX Tools suite, which provides a number of useful utilities for customizing the look and feel of the desktop, as well as for managing system settings.
Don't like the sidebar on the left in the Xfce version? You can easily change its position using the MX Tweak tool. You can resize the desktop menu and whisker menu as you like. If Xfce is not your game, you can install other versions using MX Package Installer.
The "Advanced Hardware Support" is suitable for the latest 64-bit machines, while other releases are better to run on older PCs, covering all sorts of devices.
4. Massive Support and Resources
---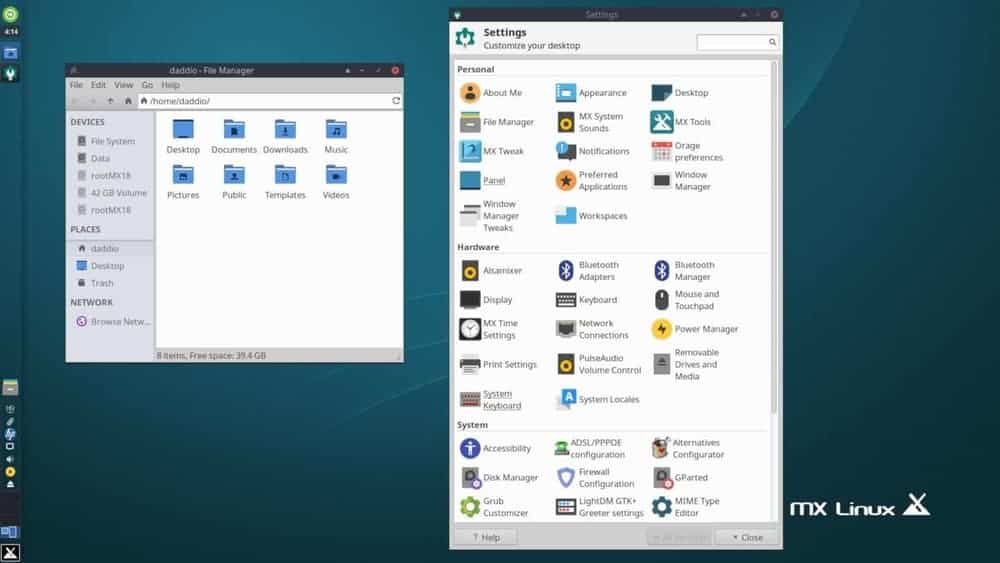 Even if you're an absolute beginner in Linux and choose to go with MX Linux, you can get it up and running in no time. A massive library of video tutorials will walk you through each and every function of the distro, so you don't fall into any difficulty.
A comprehensive User Manual in 9 different languages that covers everything you need to know about MX Linux. Starting from installation to configuring peripherals and managing software, you'll get a detailed explanation of each topic.
On top of these, there are wiki pages, multiple forums with community support, and a FAQs page. With such a level of handholding, you'll never get lost while using this Linux distro.
5. Simplicity and Ease of Use
---
MX Linux is very beginner-friendly, in contrast to some other distros. The installation process is a breeze. The Xfce desktop environment is simple to use, so you don't need to learn much, even as a new user. The Automatic configuration makes it easy for many users to start using their desktop right after installation.
The upgraded MX Tools suite contains many utility apps that make the common tasks such as Live USB making, boot repair, cleanup Disk Management, and driver installation way easier.
These are the basic features of MX Linux you need to know while choosing it as your dedicated Linux Distro. But we have some more information about it. The following section will tell you about the good and the bad sides of MX Linux.
Advantages and Disadvantages of Using MX Linux
---
Certainly, there are both positive and negative sides to all the Linux distributions, and MX Linux is not different from them. As a potential user, you must know about them before installing MX Linux on your daily device. We have filtered out some of the important points about its advantages and disadvantages in the following section.
Pros
MX Linux offers the best possible settings for maintaining the best overall performance from the target system.

The UI is familiar and convenient for general users.

It offers essential tools for all types of users by default.

MX Linux also features its own performance-based system tools for users' convenience.

This distro packs a rich built-in application package, and basic workloads can be handled easily with the default app package.

It is great for low to mid-range hardware configuration.

All your OS maintenance, software updates, and other system-related customizations can be managed by using the MX tools panel.

You will also have a dedicated MX package installer for integrating numerous softwares you might require.

MX Linux integrates Adblocker by default which is a pretty user-friendly and privacy-enriched gesture.

It includes an advanced hibernation mode for a better energy-saving profile while not in use.

The included terminal comes with an eye-catching theme.
Cons
MX Linux's software installation system might seem intimidating for new users.

The included MX installer has some minor issues and bugs.

It is different from the familiar layout, such as the placement of the XFCE panel on the left side.

MX Linux boots slowly compared to other Linux distros.

The available default themes are not appealing and lack if you compare to distros like Ubuntu and Garuda.

It priorities single click operations instead of double click patterns on most other OS, which is pretty confusing.
So, what we see from this section, is MX Linux is not a suitable Linux distro for beginners. If you have better knowledge and experience of using Linux, you can try it as a test of using a new distro. Besides, you may not like the interface of this distribution through the integrated add-blocker can easily impress you.
Final Thought
---
MX Linux might perform really well on low-end systems, but it is not for you if you want to have an eye-catching UI and desktop environment. Surely, it offers smooth performance on day-to-day tasks, even capable of handling certain editing tools and heavy games, yet the overall outlook might seem shabby. If you are coming from MacOS and Windows 10, certainly MX Linux will feel like a cheap office tool for enlisting tickets or something. Again, the system is stable and great for basic workloads.
Feel free to ask us anything if you want to see more discussion on MX Linux or other distributions you want to try out in the future. Hope this article helps you in your MX Linux-based journey. Thank you for the unconditional support.