Mozilla Firefox has been one of the most popular browsers for a long time, especially for Linux users. People choose Mozilla over other popular browsers primarily for its speed, security, and other benefits. Eventually, it is the default browser for most modern Linux distributions. So, the developers of this browser always keep it updated so that users don't have to face any issues regarding speed. Still, many of us need to speed up the Firefox browser on Linux. And today, I will share some of the most effective ways for that.
Effective Tips to Speed Up Firefox Browser on Linux
---
Many times, you have faced different problems that can slow down Firefox. The performance issue is one of the most common problems we often face. However, we have learned about some quick solutions to speed up the browser on the Linux system.
Though this way can be also effectively used on other systems like Windows or Mac but here we will only focus on the Linux system. So, if you are facing a problem with Firefox regarding its speed, you can experiment with the following tips.
1. Update the Browser
---
First of all, we will suggest you check if your browser is updated. Remember that backdated Firefox is the most common cause to make it slower. So, you should always update your browser to get its latest patch. Generally, Firefox is updated automatically on all the Linux flavors. After it gets a new update, it runs the process automatically when your PC is connected to an internet connection.
Still, there are many reasons why your browser may not get an automatic update. If you are in doubt, you can check the running version of Mozilla Firefox on your PC. For that, first, open a tab and then click on the three-lined menu that I have marked on the image. Next, click on "Help" and then hit "About Firefox." A new smaller tab, just like on the below image, will appear.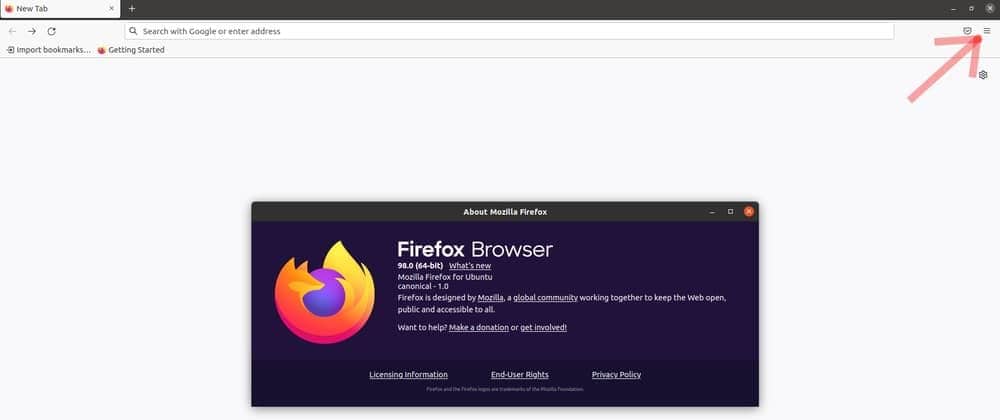 There are two ways you can update Firefox on your system manually. We prefer using the command line to update. You can execute the following commands for the particular Linux distro to update all the software packages, including Firefox.
----------- On Debian/Ubuntu/Mint -----------


$ sudo apt update && sudo apt upgrade



----------- Arch Linux/Manjaro -----------


$ sudo pacman -Syu



----------- Fedora/Red Hat/CentOS-----------


$ sudo dnf udpate && sudo dnf upgrade



----------- OpenSUSE-----------


$ sudo zypper update
The second option is just to update it from the Software store Update section. There you will find all the software that needs an update. You can either update all the software or just update Mozilla. Following these ways, you can update Mozilla easily. But don't forget to restart Firefox for the changes after the update is done.
2. Disable the Use and Collection of Data
---
Basically, Mozilla Firefox collects lots of anonymous data about itself and sends them to the servers. This function is for further feature improvement. Still, it doesn't hamper your privacy in any way, but the process can make the browser slower. In this case, you have to prevent the browser from collecting and sending anonymous data to speed up the Firefox browser.
For that, you have to first click on settings or preference. Next, hit on the Privacy and Security option. Here, you will get another option, 'Firefox data Collection and Use.' Here, you will get 3 to 4 options that you need to uncheck. Finally, restart the browser to allow the change.
3. Enable Hardware Acceleration
---
Another effective way to speed up the Firefox browser is to toggle hardware acceleration. Basically, Firefox comes with disabled hardware acceleration by default on almost all Linux distros. It is not a problem so far. But, enabling the function can help improve the responsiveness of the browser. So, you can take it as a trick to speed up the browser.
To enable hardware acceleration, you have to first go to the setting option. Stay on the General section and scroll down to find 'Performance.' The first option is 'Use recommended performance setting.' Now, uncheck it and check the second option that says 'Use hardware acceleration when available.'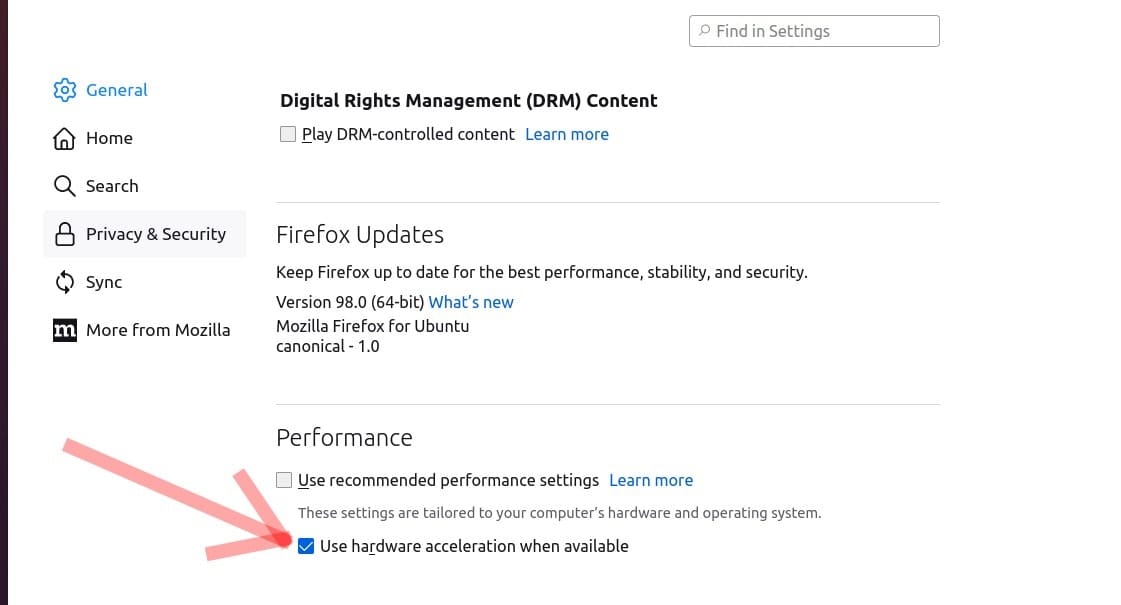 4. Clean the Cache Memory
---
Clearing the application cache files is a proven way to speed up the Firefox browser and even any other web browser. Internet browsers tend to load many resources and save up unnecessary multifold files. Users can easily clean the cache with just a few clicks.
You have to access Mozilla Firefox settings or the preference tab. Then you will see a new window, and you have to click on the Privacy and Security option. Under that option, within the 'Cookies and data part of the site,' you will find the "Clear Data" option. You can clear all data, including 'cookies.' If you don't want to clean the cookies, then just select "cached web content." This will delete all the residual cache and keep the important cookies.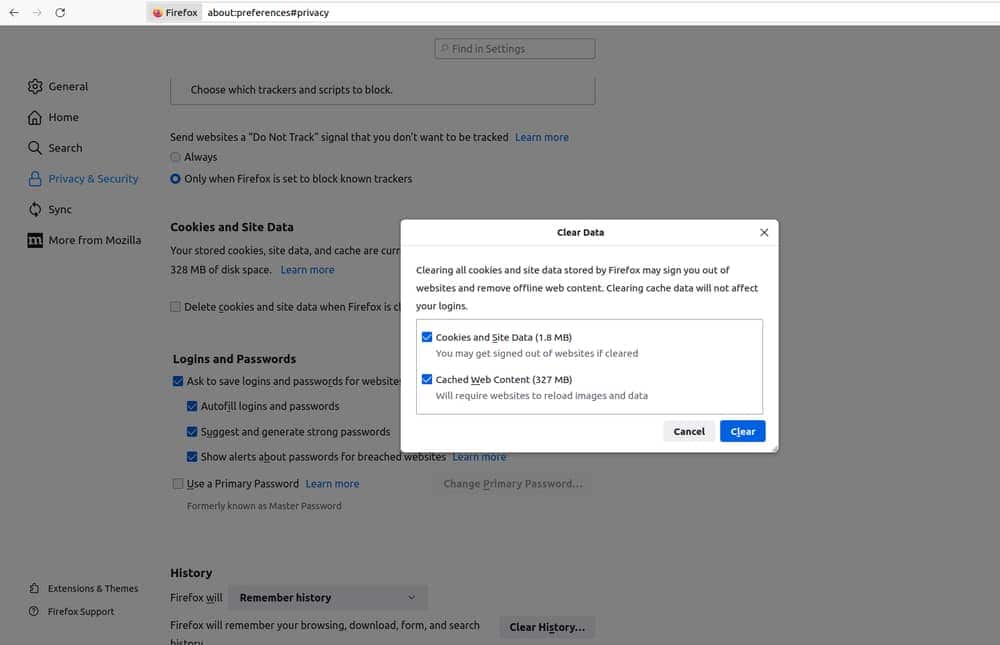 5. Clean the Firefox Data
---
The next way to speed up the Firefox browser is to free up the memory of your browser. Indeed for any issue, you face on your browser, it is suggested to clean the memory. Well, for that, you have to write about:memory on the address bar in a new tab. Another tab will open where the third option is 'Free memory,' and here you have to hit on 'Minimize memory usage.' That's it.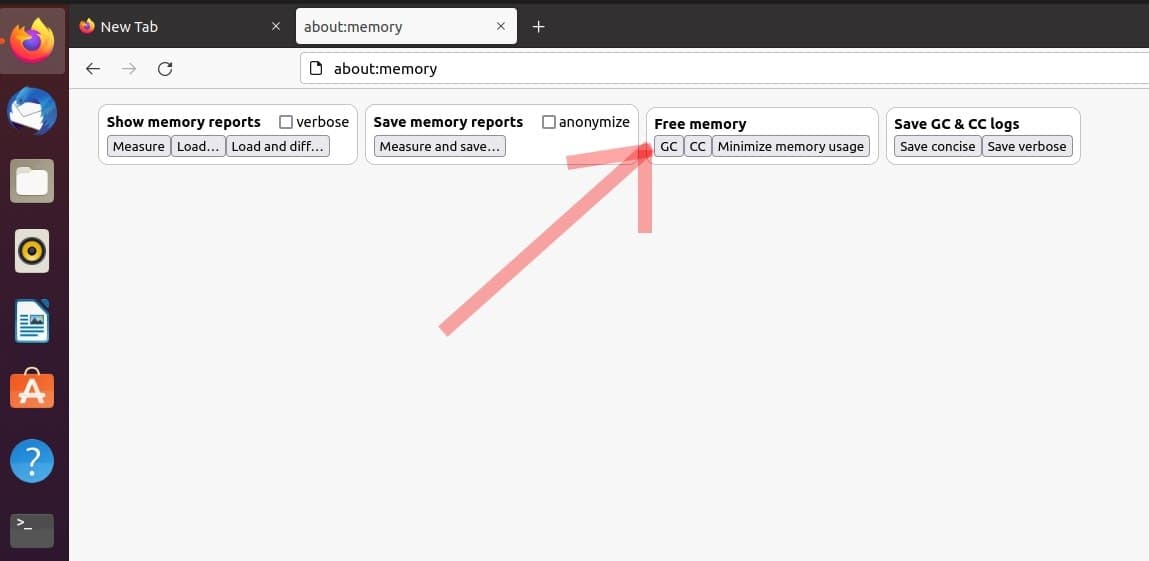 6. Limit the Number of Add-ons
---
If you have a lot of add-ons installed and activated, you will have a tough time loading multiple tabs on Firefox. Even this situation is common for almost all modern web browsers, as these add-ons trigger more memory over the actual memory used by the browser.
If you compare with other apps like Office, Photos, text editors, etc., you will see greater amounts of memory used by the browser compared to those apps. This is pretty easy to solve, and you can deactivate or delete unnecessary add-ons from the "add-on tools." It's best to remove the add-ons, which are not necessary.
You should access the tools function, then to the Add-ons menu, and there you can choose the 'deactivate' or 'delete' option for selected add-ons that are not daily essentials. Additionally, you should not use colorful Mozilla Firefox Browser themes if you require a fast and efficient web browsing experience.
7. Modify the Add-on Settings
---
There are numerous add-ons available for Mozilla Firefox, and many of them are essential for daily use. Also, some of them are not really needed all the time. So, it is better to change the settings for individual add-ons. It will help you boost the loading time and speed up the Firefox browser. You will also experience faster tab opening if you deactivate some of the add-ons in the start-up phase.
For that, you have to go to the web browser's settings and change the configuration for add-ons to 'Ask to activate' instead of 'Always activate.' This procedure will ensure additional control over your internet browser and faster loading time. Additionally, this will save you from potential security breaches if you use plenty of 3rd party plugins from less known developers.
8. Manage the Browser Tabs
---
When you open multiple tabs on your browser, it can affect the speed and performance of the browser. It's because a lot of running tabs drive up the memory usage, and so, the entire system gets affected. However, to speed up the Firefox browser, it is another effective way to manage the browser tabs.
To get rid of it, you can either minimize the number of running tabs or just use an essential add-on that helps manage multiple tabs. Auto Tab Discard is the add-on I am talking about. However, it is a lightweight and secure add-on. It will scale down memory load automatically that is the aftermath of multiple opened but inactive tabs.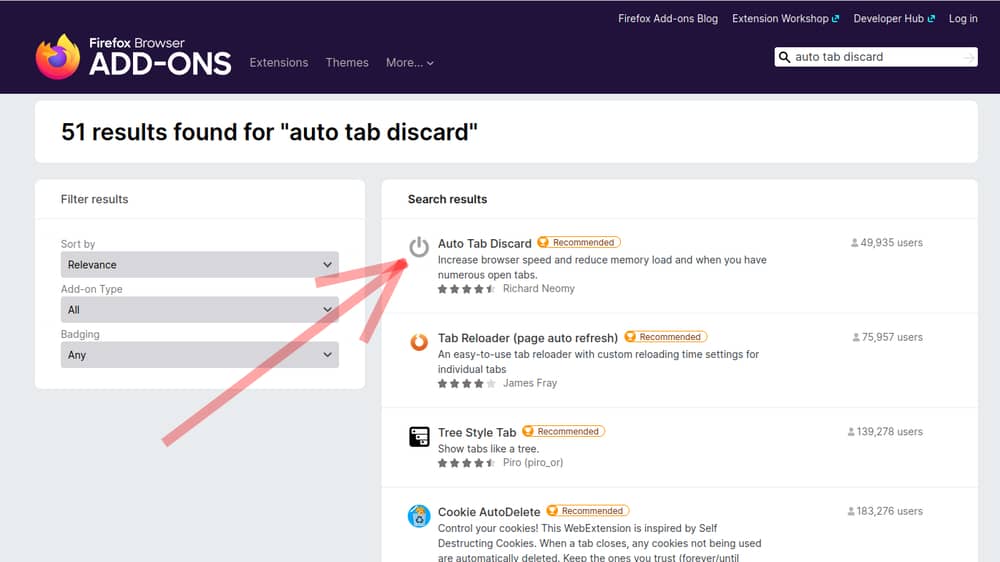 To active this add-on, you have to first open a new tab and hit on the three-line menu on the upper right side. Here, you will get an option for Add-ons and themes. Click on it, and here, you will get a search bar to find new add-ons.
Write the name of the add-on that is 'auto tab discard.' Now, install and launch it to use for the advantages it offers. We suggest you learn more about it from the authentic source of Auto Tab Discard.
9. Disable Firefox Animations
---
Basically, Firefox doesn't showcase a lot of animation by itself. Still, it uses small animation that appears when you open or close a tab on it. But that's not a very big deal as it is very small. Still, it sometimes causes hang-ups, especially when you will open a lot of tabs at a time. So, you can disable the animation to get rid of that. And it is easy as well.
However, to disable animation on Firefox, you have to first open a tab. Then on the address bar, write about:config and press enter. It will ask your permission to start with risk, and you have to click on "I accept the risk!" to continue.
Then, a preference tab will open, where you will get a search bar on the top. Write toolkit.cosmeticAnimations. and get the option. Then, set it to False if it is True. Animation on Firefox is disabled.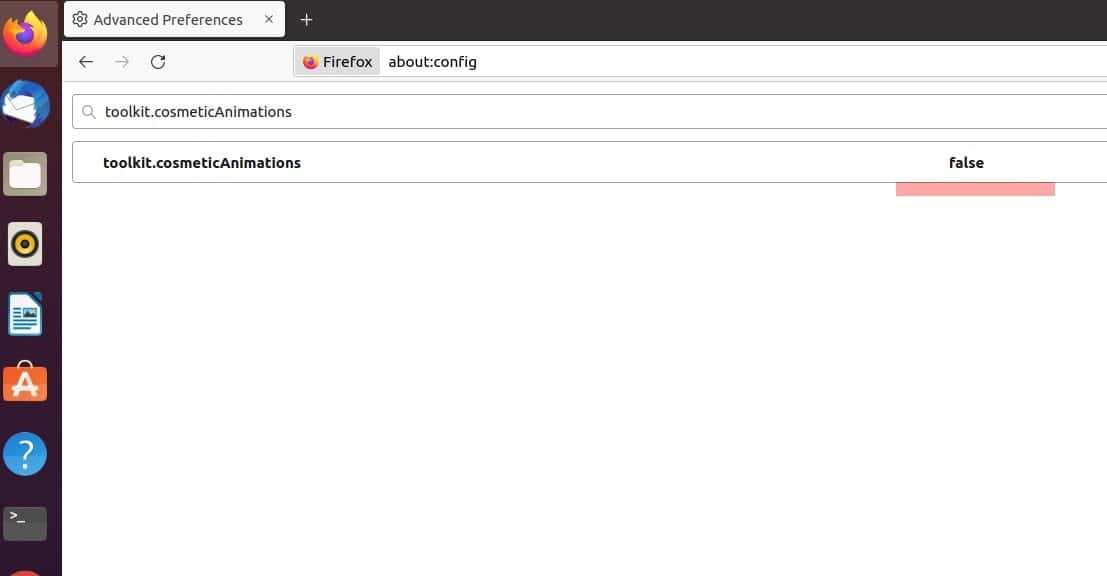 10. Refresh Firefox
---
Finally, you can refresh the browser if all other tricks fail. It is completely like the process of preceding Factory Reset for your smartphone. However, it will take your browser to the default setting and provide a clean slate. So, it must be fast as before.
To refresh the browser, you have to click on the three-line menu that you will get in a new tab's top-right section. Here, find and hit the option 'Help' and then hit on 'More troubleshooting information.' On the right side, you will get an option for 'Refresh Firefox.' Hit it, and it is done.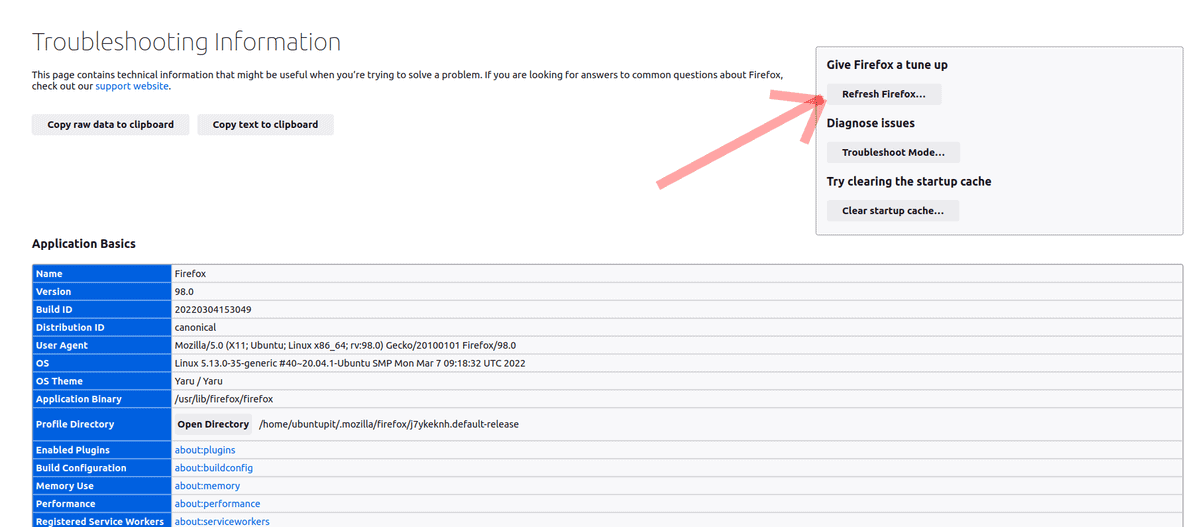 So, these are the most effective ways to speed up the Firefox browser on your PC. You can also disable the telemetry function the same way you can disable animation. It also helps to boost the browser's performance. Besides, an ad-blocker can help in this case too.
Final Verdict
---
If you ever get any problem with your browser regarding its speed, hopefully, the mentioned tips will help you fix it. You may get many rumor tips to speed up the Firefox browser on Linux. But we cannot assure you about their authentication. To our knowledge, these are the most effective ways to boost Firefox's speed and performance.
Anyway, feel free to inform us about other ways to speed up the browser that works on the Linux system. We love to hear from you and get to learn some new sort of information. Thank you for your support.