A synthesizer is a computer program that enables artists or music enthusiasts to create digital audio. They are also referred to as soft synths and comprise an integral part of the digital music industry. Synthesizers employ various methods to generate audio sound while at the same time offering a wide array of services essential for professional music production. As a significant player in the computing world, Linux supports some of the best synthesizer programs that can be used by both professionals and hobbyists alike. However, finding the right synthesizer can be daunting if you do not have prior knowledge. To help you bag the right synthesizer for your needs, we compiled this guide outlining the 15 best Linux synthesizers available right now.
Best Linux Synthesizers
---
The diverse selection of powerful Linux synthesizers makes it very simple for Linux users to produce digital audio. You can find top-notch professional synthesizers with a hefty price tag and free-to-use yet effective synthesizer solutions for your Linux machine. Our experts have covered both types and leave it upon you to select the one you like from them.
1. ZynAddSubFX
---
ZynAddSubFX is an awe-inspiring audio synthesizer that comes with an extensive list of powerful built-in features. This cross-platform softsynth is among those few Linux synthesizers which allow professional audio production free of any explicit charge.
The open source licensing of ZynAddSubFX also makes it a lucrative project for developers looking forward to leveraging the continuously booming digital music industry. Additionally, the audio quality produced by ZynAddSubFX is by far the best we've checked.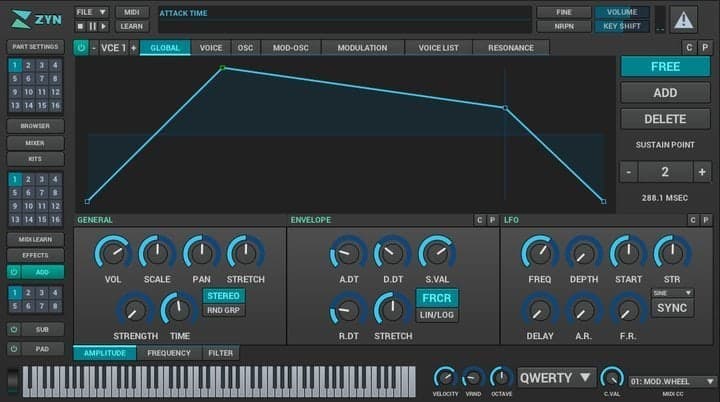 Features of ZynAddSubFX
ZynAddSubFX packages three different synthesizer engines to produce a wide array of sounds, including Additive Synthesis, Subtractive Synthesis, and PAD synthesis.
It comes with compelling filtering tools such as analog-modeled filters, formant filters, and state variable filters, among others.
The user interface is quite intuitive and empowers users with the ability to disable it anytime they like.
ZynAddSubFX offers support for over 1100 instruments and a massive list of audio effects like reverb, delay, echo, chorus, phaser, and many more.
2. FluidSynth
---
FluidSynth is arguably one of the best terminal-based open source synthesizers for Linux users. This powerful yet flexible softsynth for Linux aims to make audio production as hassle-free as possible.
It is one of the fastest and most performance-efficient Linux synthesizers you can get today and packs a big bundle of convenient features into a relatively lightweight core. The cross-platform nature of FluidSynth also ensures a sound collaboration between users on different systems.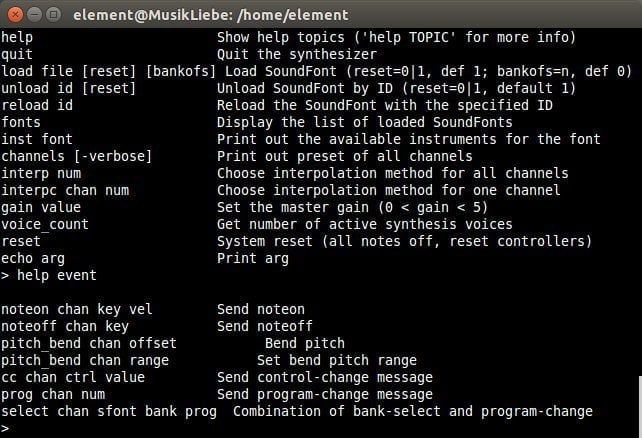 Features of FluidSynth
The in-built command-line shell is very flexible and allows other applications or systems to utilize FluidSynth using its rich and robust APIs.
FluidSynth comes with out-of-the-box support for both SoundFont 2 and SoundFont 3 (Vorbis-compressed SF2).
Users can render MIDI input or files to audio directly from FluidSynth.
FluidSynth can be integrated with other audio or sound-based projects smoothly as a plugin or dynamically loadable object.
3. Helm
---
Helm is an enigmatic Linux polyphonic synthesizer that lets sound engineers produce high-quality digital audio without being troubled with performance or efficiency issues. The software is cross-platform and thus enables audio professionals to collaborate easily on professional projects.
You can run Helm either as a standalone program or as LV2, VST, VST3, or AU plugins. This open-source synthesizer comes under a GNU GPL license and allows users to modify the software to fit their needs.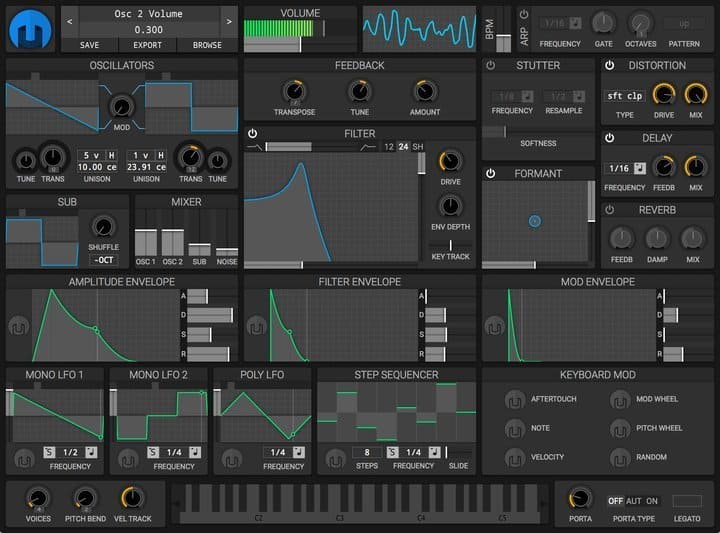 Features of Helm
Helm comes with built-in support for 32 voice polyphony and features a vibrant user interface for effective navigation.
The modulation system of this modern-day synthesizer is quite extraordinary and enables live visual feedback.
Helm packs a significant number of everyday sound effects such as formant filter, stutter, delay, distortion, and reverb effectively.
It also features a step sequencer, a simple yet effective arpeggiator, and various filtering tools.
4. DIN Is Noise
---
DIN Is Noise is a compelling standalone solution for synthesizing digital audio in Linux systems. It's one of the most enthralling Linux synthesizers we've tested in some time and will undoubtedly be a valuable addition to your digital sound production toolkits.
This software synthesizer can also act as a musical instrument and offers numerous convenient features for quality audio production. Although it requires paid license for the Windows and macOS versions, people on Linux machines can run this freely.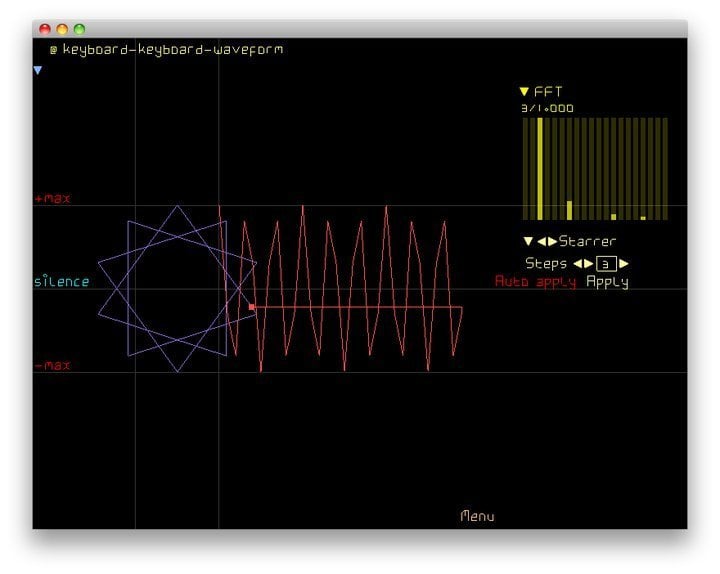 Features of DIN Is Noise
DIN Is Noise is based entirely on the terminal and doesn't feature any graphical user interface.
It facilitates audio recordings and supports MIDI control change, program change, notes on & off, and pitch bend messages right out of the box.
It utilizes JACK by default but can be configured to use ALSA for outputting audio.
DIN Is Noise lets users to change the pitch and volume of the sound when playing instruments.
5. Yoshimi
---
Dubbed as a sophisticated MIDI synthesizer by its dev team, Yoshimi is a fork of the favorite ZynAddSubFX project. This modern-day Linux softsynth offers many powerful features to facilitate digital audio creation for professional and personal use.
The software is lightweight, practical, and exceptionally fast, thanks to its minimal yet vibrant design. It can use up to 16 engines when creating multi-layered digital sounds. Yoshimi is one of those few Linux Mint Synthesizers that are optimized for both JACK and ALSA.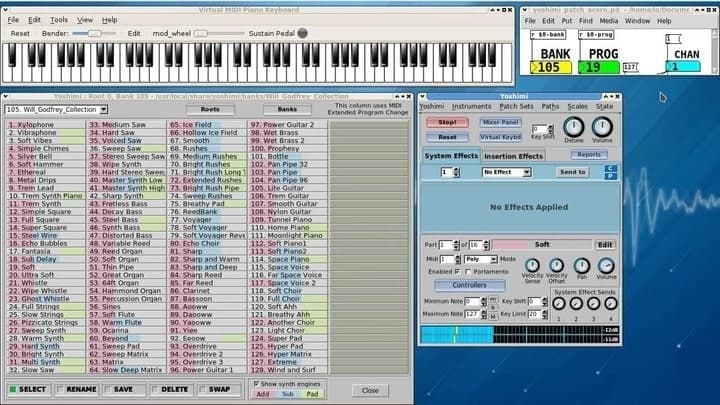 Features of Yoshimi
Yoshimi is written in C++, thus offering a performance matched by only a few open source synthesizers.
Users can run Yoshimi as a standalone binary or an LV2 plugin.
The open source GNU GPL license of this Linux audio software encourages developers to collaborate and modify the project as per their needs.
Yoshimi comes with in-built support for 710 instruments which are spread across 23 different banks.
6. amSynth
---
amSynth is a real-time Linux software for digital audio production. It features many similar operations to analog Moog Minimoog and Roland Juno-60, the epitome of 70's classic synthesizers. The two main oscillators of this softsynth support five different cyclic waveforms and one noise source with hard sync.
The user interface is pretty attractive and offers easy-to-use yet effective navigation. If you're looking for classic analog Linux synthesizers that offer modern-day features, then we suggest you do not miss out amSynth.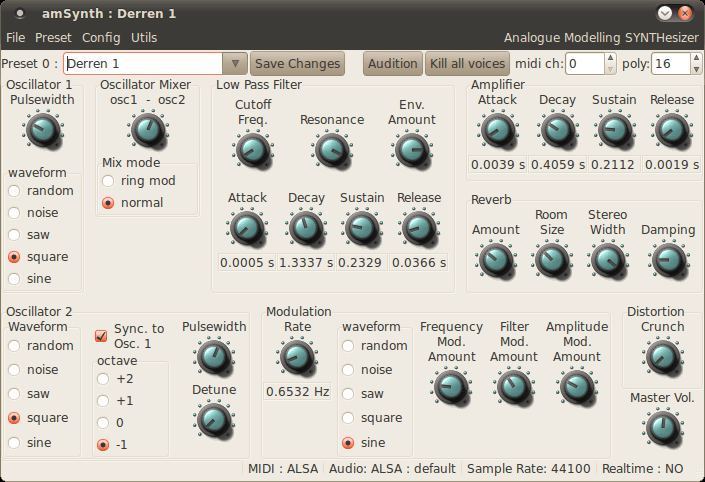 Features of amSynth
The analog oscillators feature sine waves, saw/triangle waves, square waves, and random waves with adjustable shapes.
amSynth comes with a mixer section with robust ring modulation and features analog-style low-pass filters.
The software is extremely fast, thanks to its C++ heritage and pragmatic design approaches.
It is pre-packed with an extensive collection of presets and offers distortion effects and reverbs out of the box.
7. AlsaModularSynth
---
AlsaModularSynth is a robust software synthesizer for Linux featuring a real-time modular synthesizer and a compelling effect processor. It was developed keeping ALSA (Advanced Linux Sound Architecture) in mind but offers support for both LADSPA and JACK.
AlsaModularSynth utilizes virtual control voltages for maintaining the parameters of its modules. It also features an additive synthesizer, a MIDI-arpeggiator, a router, a fader box, and various filtering mechanisms. It is a feasible choice for people looking for straightforward yet rewarding Linux synthesizers.
Features of AlsaModularSynth
Users have complete control over all synthesis and effect parameters in AlsaModularSynth.
It is designed to be controlled with MIDIs and offers a real-time synthesis of digital audio sound.
AlsaModularSynth comes with pre-built support for JACK and LADSPA Browser with search capability.
A sufficient number of high-quality documents makes it really easy to get started and master AlsaModularSynth.
8. terminatorX
---
terminatorX is arguably one of the best real-time Linux synthesizers that effectively allow "scratching" on digitally sampled audio data. It can act on a number of different audio formats, including but not limited to wav, au, ogg, and mp3.
TerminatorX supports multiple turntables, preset real-time effects alongside the LADSPA plugin effect, a sequencer, and a MIDI interface. It functions effectively at 16-bit sampling and converts them to mono when loaded.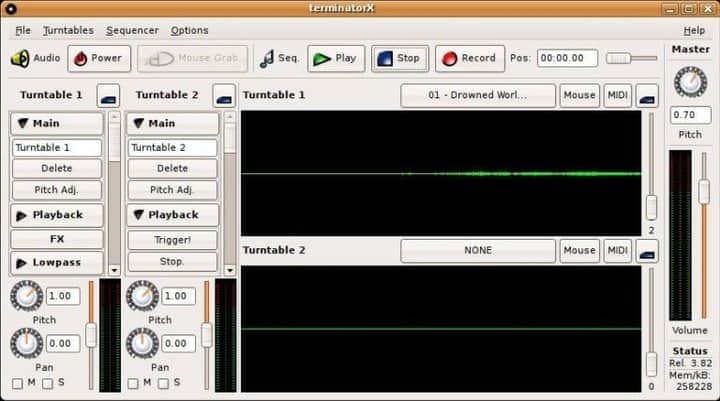 Features of terminatorX
It allows sound engineers to scratch digital audio samples for producing DJ or Hip-Hop music.
The pre-built GUI interface is pretty handy and rewarding in terms of navigational capabilities.
The Aseqjoy joystick to ALSA MIDI sequencer converter enables users to play with the MIDI interface for experimenting with sound effects.
The source code for terminatorX is available freely for customization and modification by third-party developers.
9. SunVox
---
SunVox is a very powerful modular synthesizer that comes with a smart pattern-based sequencer (tracker). It is among the most lightweight open source synthesizers and is exceptionally fast, thanks to its small memory footprint.
The developers curated this modern-day software synthesizer for people who would like to compose music directly on their Linux machines and effectively put a considerable amount of powerful functionalities into a tiny core. Although SunVox is free to use on all platforms, the source isn't available for modifications.
Features of SunVox
SunVox sits on top of a pragmatic, highly flexible infrastructure that allows for blazing fast audio synthesis.
Besides JACK and ALSA, SunVox offers support for ASIO, DirectSound, MME, OSS, Audiobus, and IAA.
It features a wide array of pre-built sound effects, including distortion, echo, reverb, flanger, and many more.
SunVox enables users to record real-time sound events such as notes, touch theremin, controllers, etc.
10. Bristol
---
Unlike other Linux synthesizers featured in this guide, Bristol is not a standalone synthesizer on its own. Instead, it's a software synthesizer emulator that can emulate a large number of classic and mainstream audio synthesizers, including but not limited to Moog Mini, Moog Voyager, Memory Moog, ARP Odyssey, Mono, Poly, and Vox.
It comes pre-packaged with a powerful audio engine sitting behind an intuitive graphical interface that navigates the different synthesizers in a breeze.
Features of Bristol
It is not a single standalone software synthesizer but a collection of vintage synthesizer packages.
Bristol makes it possible to try out different classic audio synthesizers without having to install them separately.
Users can launch multiple synthesizers at the same time and adjust the MIDI channels for layering.
The user interface is simple yet effective when it comes to navigation.
11. TiMidity++
---
TiMidity++ is another robust software synthesizer for Linux systems that offers powerful audio synthesis abilities. It can play MIDI files effectively due to its modular, real-time synthesis.
You can also use this powerful Linux audio software for generating several different waveforms. The software is released under the GNU GPL license and allows for further modification of the software by third-party devs or audio professionals.
Features of TiMidity++
This audio synthesizer doesn't require any additional MIDI instruments to play MIDI files.
TiMidity++ utilizes the Gravis Ultrasound compatible patch files and SoundFonts for synthesizing digital audio files.
Users can select from a number of user interfaces, each offering powerful and convenient navigational capabilities.
It comes with in-built support for microtonal music and displays a sound spectrogram when playing audio.
12. WildMIDI
---
WildMIDI is a free and open source software synthesizer used in most Linux distributions without any hassle. Although WildMIDI utilizes GUS sound patches for converting MIDI note data into audio signals, it doesn't require GUS patch-compatible soundcards.
The core library of this modern-day software synthesizer can be integrated with external applications or modules pretty quickly, thanks to a rich set of powerful APIs.
Features of WildMIDI
The core library features support for RIFF MIDI files, MIDI playbacks, PCM streams, and WAV outputs, among many more.
WildMIDI is Thread-safe and ensures as little computational power is needed to run the softsynth as possible.
The open source nature of this software allows audio professionals to modify it as they see fit.
WildMIDI is widely supported by different BSD systems and has robust ports for FreeBSD.
13. FreqTweak
---
FreqTweak is among those lightweight Linux synthesizers that offer basic yet handy audio manipulation functionalities for aspiring audio engineers. This real-time sound synthesizer features several processing filters, including EQ cut/boost, pitch scaling, gate, delay, limit, compressor, and warp.
Although the Linux audio software hasn't been updated for some time, it can still take on complex audio processing jobs. This software also boasts an open source license, allowing users to modify it according to their requirements.
Features of FreqTweak
It features a beautiful and intuitive GUI interface that makes it easy to perform audio processing efficiently.
FreqTweak can take direct input from ZynAddSubFX's virtual keyboard.
It leverages the JACK Audio Connection Kit for connecting with external audio applications.
The software synthesizer is very fast and lightweight due to its low resource consumption.
14. Mx44
---
Mx44 is a multi-channel MIDI synthesizer for Linux, which utilizes an FM-type synthesis approach for synthesizing digital audio files. The waveforms can receive added harmonics, modulation, and cross-modulation, thus adding some interesting textures to the audio.
Although Mx44 doesn't feature any monophonic capabilities, it supports micro-tuning options for advanced audio profiling. It's one of the most widely popular Linux Mint Synthesizers in the open source community.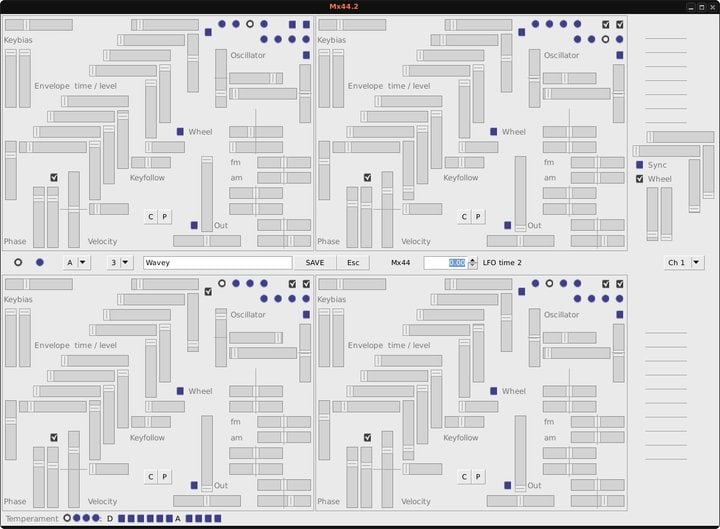 Features of Mx44
Mx44 is written in the C programming language and is optimized for running on almost every Linux machine.
It requires very few resources and thus offers a blazing fast audio processing experience.
The GNU GPL license of Mx44 encourages aspiring developers to extend the software as they see fit.
The user interface is poor compared with other prominent open source synthesizers.
15. PySynth
---
PySynth is a very simple and lightweight Linux software synthesizer that aims to make audio processing fun for beginners. It takes input music tracks as nested audio files and returns a WAV formatted output. Users do not need to tinker too much with the synthesizer to get it to work. PySynth is available for almost every major Linux distro, including Ubuntu, Mint, Fedora, and Arch. It is free to use and modify due to its GNU GPL license.
Features of PySynth
PySynth is really simple and offers only barebones audio synthesis features.
The command-line interface is very interactive and provides concise yet helpful status information.
PySynth can be used inside other Python applications quite easily.
It comes with pre-built support for the ABC notation language.
Ending Thoughts
---
Although many audio synthesizers exist for Linux, only a few can compete with professional synthesizers available for systems like Windows and macOS. However, powerful Linux synthesizers capable of making other softsynths feel inferior also do exist. Our experts have put their innermost effort into bringing them before your eyes in this guide.
Hopefully, we can meet your expectations and provide you with the essential insights you were looking for. Stay with us for further informative guides on a wide range of Linux topics.