Scrum is a popular Agile framework. It basically focuses on software development, intending to deliver innovative, functional, and useful software to consumers as quickly as possible. Versatile fields have been blessed with the power of Scrum. From sales and marketing to advanced research and technology – Scrum has its use. Like many other frameworks, Scrum also needs some tools to work with. Due to the high popularity of Scrum, several Scrum tools are available in the market.
However, you have to choose a specific tool according to your need. The choice of a suitable tool is very significant for enhanced production. So, today, we'll assist you in selecting a suitable tool for your project.
Productive Scrum Tools
---
Any project, how simple may it be, needs management. A simple project can be very successful if you can manage it well. Different companies use different processes to manage their projects. Among many processes, the Scrum framework is one of the best. The management process becomes more convenient using Scrum tools. Let us go through the top 10 productive Scrum tools to manage your projects efficiently.
01. Jira
---
You should have heard the name of Jira. It's possibly the most common subscription and cloud-based agile team software. Since Jira is so prominent, several other project management apps have functionalities with Jira.
The tool actually has everything that a company needs. Jira allows more flexibility, particularly when it comes to creating custom documents and workflow visualizations. Moreover, it's a well-furbished, well-known tool with fair pricing for local, medium, and corporate teams.
Key Features
Jira offers a really well collection of Scrum project management tools, comprising personalized Kanban and Scrum panels, customized queue maintenance filters, and workflow customization.
It also has significantly greater BPM features, such as process models, road mapping, and a "sandbox" method for experimenting with various situations before assigning content and developing estimates.
Jira is accessible on all portable devices and interfaces with over 3000 other applications. It also has a comprehensive selection of APIs.
The tool offers a real-time snapshot of activities so that developers can identify unresolved bugs, incomplete builds, and pull requests quickly.
Although Jira is not free, the license is free for educational purposes and other types of open-source projects.
Jira's strong connection with many other software companies attracts many developers to use it in their projects.
02. nTask
---
nTask is mainly a project management tool with a number of attributes that make utilization of Scrum easy. It has features like timesheets and Gantt charts that will help you keep track of your progression and plan your next moves. Nevertheless, sophisticated meeting controls are also included in nTask, allowing you to organize and run efficient daily scrum meetings without the risk of upsetting efficiency.
Key Features
nTask is less expensive than many other tools. It only costs 2.99-3.99$ per user per month.
It's ideal for small to medium-sized groups that don't need a lot of features. If you're new to Scrum or you're in charge of an agile project management team, nTask is a good option to consider.
You need to track your tasks for increased productivity. That's why nTask has a Kanban board to track any task related to project management.
With a new template and a clutter-free dashboard, nTask now has sharp looks. You can then filter tasks based on one of these types, such as canceled, completed, overdue, overdue, etc.
You can centralize any type of communication in the tool. This feature enables the team members to collaborate while the mission is visualized, minimizing the likelihood of miscommunication and project stalling.
03. Targetprocess
---
It has been only 15 years since the release of Targetprocess. But it has made its rightful place in the mind of developers. Targetprocess has evolved as a core hub to serve a variety of agile framework projects.
It's a great pick for agile organizations with diversified portfolios that will benefit from changing their applications rather than trying to move or mess around with different platforms. Targetprocess gives the opportunity as it's built to fit different use cases and project management types.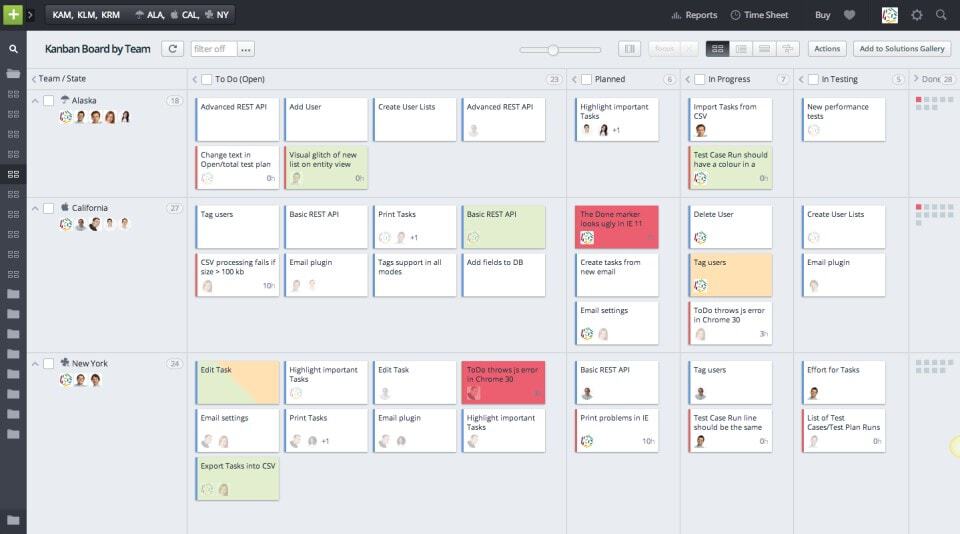 Key Features
Targetprocess is a robust Scrum tool with numerous customization options, including customized views, report templates, graphical reports, and custom cards.
It is one of the most adaptive projects management tools. It can be availed at various levels, from team to business, and can be used in both Kanban-centric and Scrum techniques.
It's also meant to work with SAFe® (Scaled Agile Framework®). Users may use a Kanban system at the portfolio, supply chain, system, or team level.
Targetprocess is designed to integrate with other tools via plugins, webhooks, mashups, SDK, and REST API, making it a delightfully scalable and realistic solution for teams who require coordinating various sensors.
Targetprocess has a paid version as well as a free version. The paid version costs 20$/person/month.
04. Vivify Scrum
---
VivifyScrum is a well-rounded platform with powerful Scrum functionality and a user-friendly interface. This cloud-based software has a simple, clutter-free platform that lets you see all of your projects on one screen.
Many Scrum software offers easy project management, but Vivify's seamless flow and fast accessibility actually make it so. Besides, it has a broader range of business features than you would imagine, such as invoicing and a file management system. So large companies can try this out.
Key Features
The tool is basically free for a lot of users until you use some specific functions.
It is very detailed, and you can make critical stats and reports and configure them according to the project's necessities.
You can choose between Scrum and Kanban boards and allow users to produce basic charts, custom workflows, and manage tasks.
Although you cannot get free access to some statistical features, the free functionalities are enough to manage a project efficiently.
Vivify integrates with a lot of companies, such as Github, Trello, Travis, Slack, Bitbucket, etc.
05. Scrumwise
---
Scrumwise was first released in 2009. Over the last decade, it has become a very spontaneous, user-friendly project management tool. Nevertheless, it has devoted itself to being an easy, excellent agile project management software. As a result, Scrumwise is an excellent choice for teams looking for an oriented Scrum tool without having to wade through extra project/business management attributes. In addition, the pricing of this tool is less than many other tools. It charges $7.50/month/user.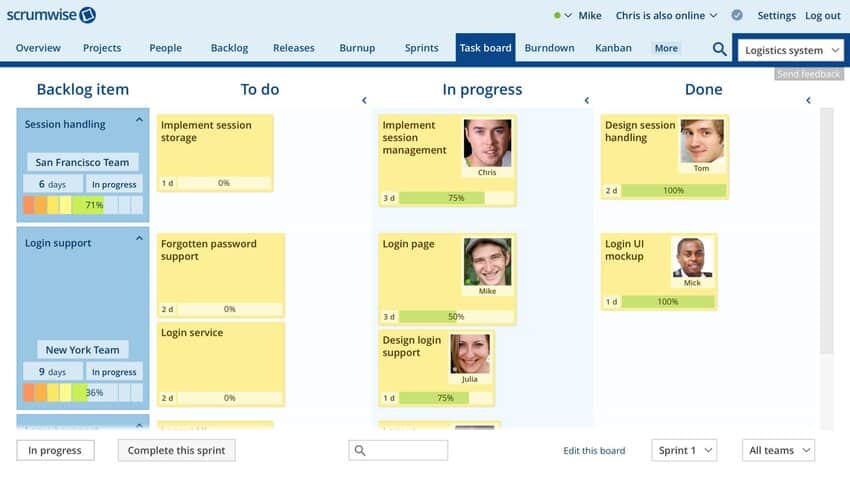 Key Features
The tool has a lot of fascinating features. For example, it offers features such as time, task, backlog, and sprint management.
The tool has an easy-to-use platform, drag-and-drop Kanban boards, and basic visualization techniques through charts.
This tool takes an avoidance behavior to features and tries to eliminate complex issues, making it a great option for small- to mid-size squads that don't require anything too rigorous.
You can extract all of your data for easy analysis as well as reporting, and the API supports one- and two-way communication with other applications.
Although this Scrum app has limited out-of-the-box convergence with other platforms, it is compatible with iOS and Android phones.
06. ClickUp
---
ClickUp hits an outstanding balance between high security and reliability, and it provides a comprehensive set of training resources. Overall, ClickUp is among the finest Scrum tools available. The tool is not only designed to be simple to understand, assimilate, and customize, but it is also a forward-thinking software that incorporates cutting-edge technology such as NLP and ML. In terms of Scrum tools, ClickUp has more features than most other Scrum applications.
Key Features
In addition to all of the Scrum basics, the tool includes time tracking, project templates, scheduling, and Gnatt charts.
ClickUp's usability is constantly expanding—you might begin employing it just for the Scrum, but it may conveniently become your primary business process management tool.
ClickUp also utilizes artificial intelligence (AI): the tool uses natural language processing (NLP) to analyze times and dates, so subscribers don't have to worry about the exact layout.
ClickUp has over 1000 integrations and can produce existing data from CSV format or apps such as Trello, Asana, Todolist, Flow, Jira, and 50+ other platforms.
The tool will cost you only 5$/user/month.
07. Axosoft
---
While some tools, such as Scrumwise, aim to simplify the peculiarities of an agile environment, Axosoft's strategy is to accept complexity simply. This Scrum tool provides informative and significant Scrum project data, giving structure and framework to the many elements of Scrum product design. Some tools provide about the same level of better reliability as a festival bumper car. However, you can compare Axosoft to a pilot's cockpit- it is reliable as well as granted.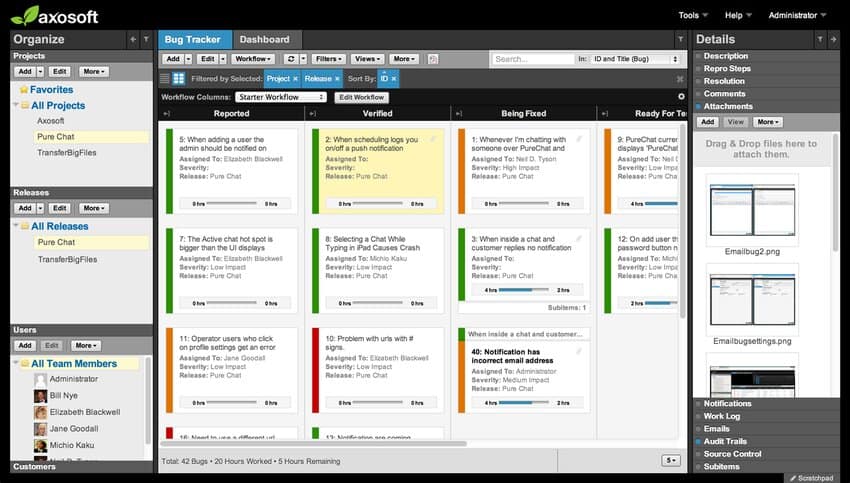 Key Features
The release planner makes the tool quite special. For example, you can view team member level as well as the capacity of the sprint using it.
It also includes a ranking feature for setting priorities, a tool for creating custom interfaces, and a "Daily Scrum Mode" for swooping into the day's achievements, identifying obstacles, and providing updates.
It also has the basic Scrum attributes, such as burndown charts, drag-and-drop boards, flow charts, and Kanban-style cards.
Like many other Scrum apps, Axosoft integrates with many other tools like GitHub, Gitlab, Trello, etc.
Axosoft costs 25$/ month for five users. At this cost, you can get any of the features that a project needs when managing.
08. Nutcache
---
Nutcache is a Scrum-enabled platform for plan development, organization, and analysis of project management's fundamental and intricate phases. In addition, the software includes tracing time and supplier registration functionalities for a variety of project forms.
Nutcache's color scheme timetables, task management queues, and data analysis assist you in managing and tracking your project. Moreover, you may use their Gantt chart to strategize your activities visually before switching to a Scrum board outlook.
Key Features
Nutcache also has a plethora of sprint configuration options, allowing users to select the sprint period, describe its target, connect the sprint to its launch, and end it at the right time.
You can also enhance the sprint scheduling by evaluating work progress, identifying acceptance tests, and using tags to ensure users stay on track with the sprint goal.
It has famous integrations, such as PayPal, Authorized.net, Google Drive, Slack, GitHub, 2Checkout, QuickBooks, etc.
The managing expenses and billing process of the tool are what makes it different than others.
The pro plan of Nutcache costs 5$/user/month.
09. Wrike
---
Wrike is an award-winning, user-friendly project management tool that more than twenty thousand companies worldwide use. Any team with five to infinite members can get flavors of the tool from anywhere.
It includes Scrum functions and technologies and is completely customizable, enabling users to make their own workflows, reports, dashboards, request forms, and other features. In addition, users can switch between one-click Gantt charts, Agile Kanban boards, and conventional workflow views using Wrike's simple interface.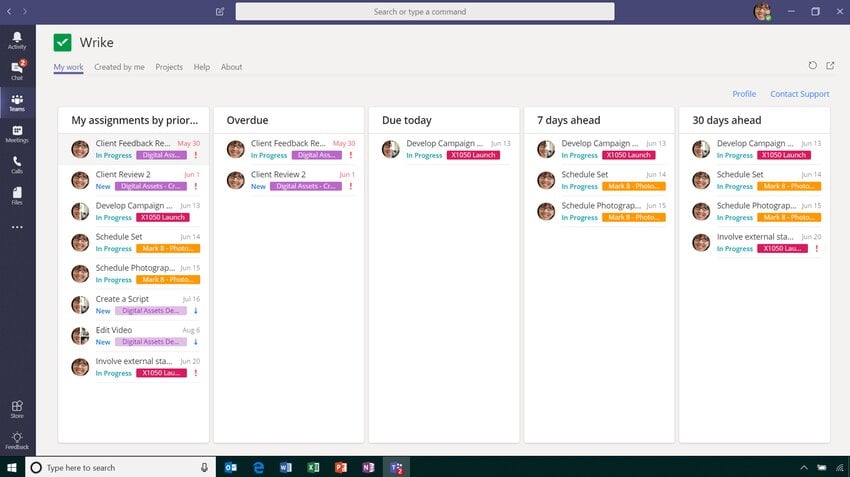 Key Features
You don't have to overthink about making templates as the tool has several built-in templates.
It has special features, such as real-time collaboration, schedules, subtasks, shared workflows, task lists, and file sharing.
Automated backlog prioritization, sprint planning with Gantt maps and Kanban boards, and sprint progress tracking with one-click reports.
Wrike's GUI and navigation are simple to use and intuitive, with diversity in connections, files, and tasks. Timecards, dashboards, schedules, reports, and an update stream can all be accessed easily from the home screen.
Wrike has a devoted support center that includes immersive training, videos, a guide for beginners, and a vibrant community.
Wrike has over 400 global integrations, including a few with the most famous file management tools.
10. MeisterTask
---
MeisterTask is a project management tool for agile teams that is both easy and elegant. To control your delays and sprints, the internet platform offers customizable Kanban boards. Nevertheless, this is an excellent resource for businesses who are new to the Scrum technique.
A lot of pre-installed automation and huge integrations with other tools make it appropriate for your project. Moreover, you can cooperate with your team to build backlogs, sprints and organize projects through MeisterTask's Kanban-based boards.
Key Features
Boards are separated into vertical pieces, with tasks moving from left to right before they are completed.
Both the management team and client are kept up to date on project advancements through real-time updates, while accurate statistics and reports include transparency into the team's results.
A customized dashboard allows you to notice what you need to concentrate on today at a look and keep a record of all tasks that are important to you.
The Scrum tool is so simple that any department of the company can use the tool and benefit from it.
For beginners, MeisterTask organizes free webinars. An online help center is also available, which replies in a short time.
It costs a little more- $8.25/user/month. However, with the features they offer, many think it's worth the price.
Finally, Insights
---
Developing a product is not easy. You need to follow many steps to deploy a project successfully. The project's performance is determined by how well everyone works together at each step. Finally, and most essentially, you have to manage the whole project.
Some tools may be handy in this regard. Especially if you are going through a Scrum project, taking help from a tool may ease the management of the project. First, however, you must select the right tool for the right task.
That's what we explained in the article. Hopefully, it will help you choose the exact Scrum tool for your project. We could not add all the tools in the world. Tools better than the ten listed here may be available. But we have tried to list the best Scrum tools according to most companies. Let us know about your thinking on the article.