YouTube is currently the world's number 1 video-sharing platform that helps you watch, share, like, and comment on the video. In this video-sharing platform, you can find all categories of videos. If you are accustomed to using YouTube every day, you must use the YouTube playlist feature to save your favorite content for later viewing.
However, video streaming is very annoying if your internet connection performs slowly. But hopefully, there is a YouTube video download tool that will help you download YouTube videos online. But what if you want to download all the videos from the YouTube playlist or Youtube channel? Downloading videos one by one is tedious and time-consuming.
So it would be great to have a tool that can download entire videos from the YouTube playlist with a single click. And that's why there is a YouTube playlist downloader that will help you download online videos from the YouTube playlist.
YouTube Playlist Downloader will help you download offline saved videos and personally created playlist bulk videos. In today's article, I will discuss the top 10 YouTube playlist downloaders that will allow you to download high-quality videos and save time. So read the article thoroughly and learn about the YouTube video download online tool.
Best YouTube Playlist Downloader Online
---
I have listed the top 5 YouTube playlist downloaders website that offers you direct download video from the website instead of getting the help of any installed application.
Choosing a malware-free online download tool is very important. Because many online video download tools contain malware, so you should be aware before downloading a video directly online. The listed sites in this article ensure security and a fast download experience, so please dig down the article and find the best website for your Youtube playlist download support.
1. KeepVid.to
---

KeepVid.to is the best online video download platform that lets you download videos from more than 1000 popular video-sharing sites, including Facebook, YouTube, Instagram, DailyMotion, Twitch, etc.
With the KeepVid.io tool, you can download high-quality videos. Keepvid.to allows you to download 1080p, 720p, and 480p video formats. Besides you can also extract YouTube videos to mp3 audio format to listen to the audio offline.
The advantage of using this platform is that you do not go to YouTube to copy your desired URLs. You can search Youtube videos from the KeepVid platform and download them from the search result. While you will download the particular video, you get multiple video formats and subtitles to download. You choose your required video format and subtitle from the numerous download options.
Besides, you can download the whole YouTube playlist without any hurdles. Moreover, it offers secure https browsing, complete privacy, and no tracking of your activities. However, while downloading a YouTube playlist, you can not download all videos in batches but can download them one by one.
Pricing: Free
2. DDownr
---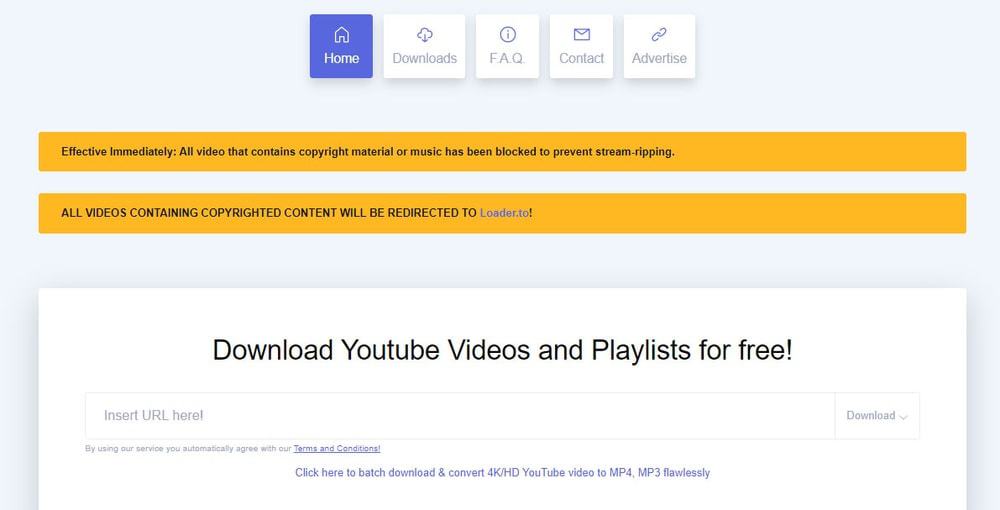 If you are looking for a Youtube video downloader online to download high-quality videos, DDownr is the best solution. From this site, you can download up to 8K quality videos. Besides, this site allows you to download video 360p, 480p, 720p, 1080p, and 4K quality.
DDownr offers a simple and safe experience for downloading youtube playlist videos. To download a video, paste the copying youtube link in the Insert URL here box and select the video format; the DDownr automatically does the rest. You do not need to create an account or sign up to download youtube videos.
Pricing: Free
3. Youtube Multi Downloader Online
---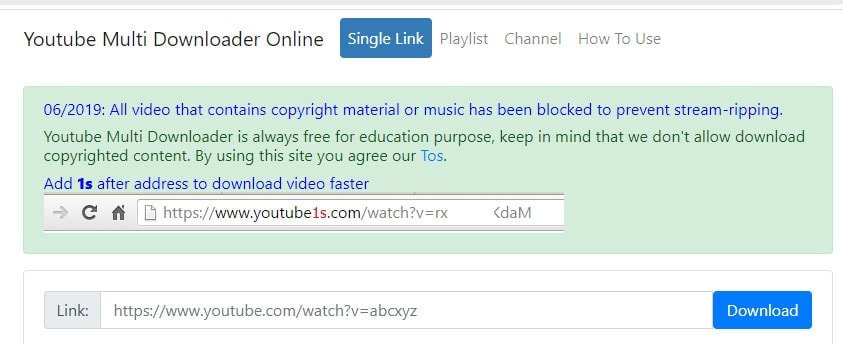 Youtube Multi Downloader Online provides a straightforward user interface that makes it easy to download Youtube playlists and channel videos. Firstly, copy the Youtube link and paste it to the Youtube Multi Downloader Online site list box. After that, the site analyses the link and offers available options to download videos. You can download up to 720p video format from this site.
The best part of this site is that the downloaded video is saved based on the original Youtube playlist serial. So you are never misguided to find the particular video. You experience the video offline as you have experienced in the Youtube playlist online. However, the only drawback of this site is that it can not download the copyrighted video. Besides these, you can download any youtube video from this site quickly.
Pricing: Free
Go to Youtube Multi Downloader Online
4. Loader.to
---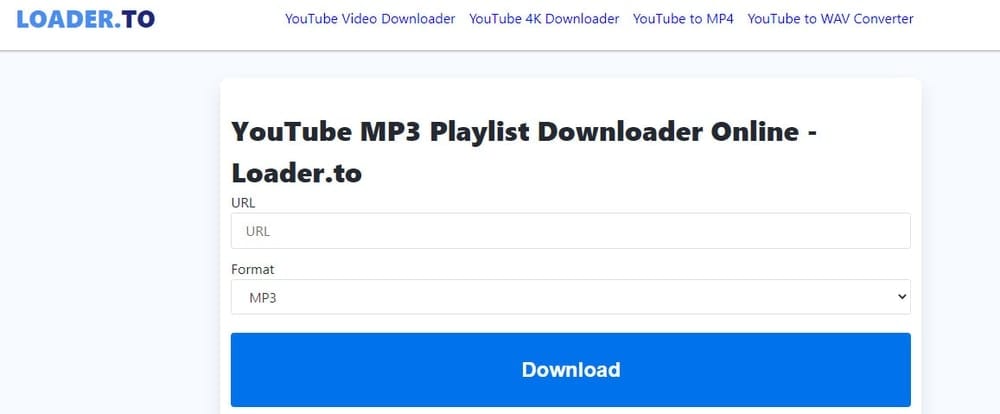 Loader.to is another youtube playlist downloader site that offers impressive features. Here you can select the playlist start and end video to download from the particular Youtube playlist. You can download HD quality videos up to 8K video format from this site. This site offers multiple video formats from 360p to 8K. So you can download the video according to your required video format.
All videos are downloaded in MP4 video format, compatible with all operating systems, including Android and iOS. Besides, Loader.to lets you extract audio from the Youtube video. This site supports all popular audio formats, including MP3, WAV, etc.
Many online downloading sites contain malware and phishing. So the internet user is always should aware of safety and privacy. Loader.to concern about this matter and regularly monitor the site to ensure the site becomes malware-free.
Besides, you can use this site enables you to download videos from 8 popular video and audio sharing sites such as Youtube, Vimeo, Soundcloud, Facebook, Twitter, Twitch, TikTok, and IMDB. So start downloading videos from Loader. And make your life easier.
Pricing: Free
5. YoutubePlaylist.cc
---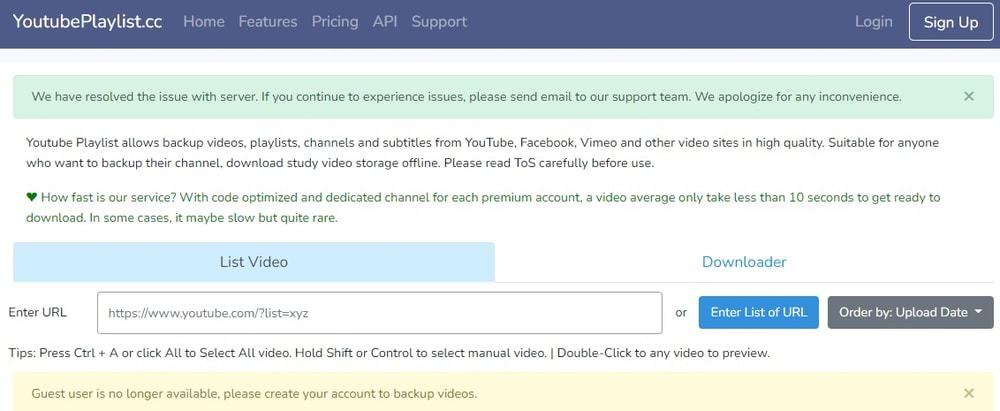 YoutubePlaylist.cc is another web-based YouTube playlist downloader that helps you save playlists and channel videos from multiple video-sharing sites like Facebook, Youtube, Vimeo, etc. From this site, you can download videos up to 720p video format.
YoutubePlaylist.cc enables downloading videos online faster than other similar platforms. The best part of this site is that you can download subtitles for each video from here. In addition, you can see a preview of the downloaded video.
Pricing: Free, but you need to subscribe premium account to enjoy a complete and fast video download experience.
Our Recommendations
---
Youtube playlist downloader online is a great tool for downloading all youtube playlist videos quickly and straightforwardly without installing an app on your computer. It saves your time and your computer space to maintain another app on your computer.
With these online tools, you can download all videos from your designated playlist at once instead of one video at a time. So this is an innovative solution for youtube users to save videos offline. But the question is, which site is the best for you?
Undoubtedly, all Youtube playlist downloader sites mentioned in the list are trustworthy and well-performing, but it is still safe to say that Keepvid.to is the best for its unique features. However, if you need to download high-quality Youtube videos, you can download them from DDownr and Loader.to.
On the other hand, YoutubePlaylist.cc is recommended for those who can subscribe to YoutubePlaylist.cc premium account to experience fast download speed.
Finally, Insights
---
YouTube playlist downloader online tool provides a better experience of enjoying all videos at your convenient time. You do not need to download any application for this. This tool lets you download the video directly from your browser. Besides, it protects your privacy so that none can track your download activities.
I have picked the top 5 best Youtube playlist downloaders online in this article. You may find a few youtube video downloader websites besides my list. I request you not download videos from any other site outside my list because downloading videos from unregistered sites increase the risk of computer malware.
If you think this article has helped you find a suitable YouTube playlist downloader, you can share it with your friends. Moreover, write about your experience downloading Youtube playlist videos directly from the browser. Your engagement in this always encourages us to contribute more.