Is Mozilla Firefox better than Google Chrome? – The most common question we often get from many people. Basically, these two browsers are, without any other competitor, the most-used browsers. So, the competition between them is quite strong. However, both Firefox and Chrome are developed based on open-source web browser engines. Still, there are many differences among them. And today, we will discuss the complete fact of Chrome vs Firefox.
Basic Points of Comparison: Google Chrome vs. Mozilla Firefox
---
Generally, Google Chrome is a personalized browser that prioritizes the quality of UI the most. It is indeed integrated with Google's product. On the contrary, Mozilla Firefox is a privacy-centric browser that lets you use the internet without being tracked. These two popular browsers share a lot of similarities, and still, there are many dissimilarities too.
In the battle of Chrome vs Firefox, we are not going to discuss just the similarities and dissimilarities of these two competitive browsers. Indeed, we aim to reach a conclusion where you can choose the best browser for you. So, we will discuss some major facts of these two browsers and tend to find out the winner in the particular fact. Before going into the details, you can have a look at our previous article on the Brave vs. Chrome battle.
1. User Interface
---
Developers of both Chrome and Firefox assured that their users get the most out of the web browsers. They are working well to update them simply so that anyone can easily access all the necessary tools within minimum reach.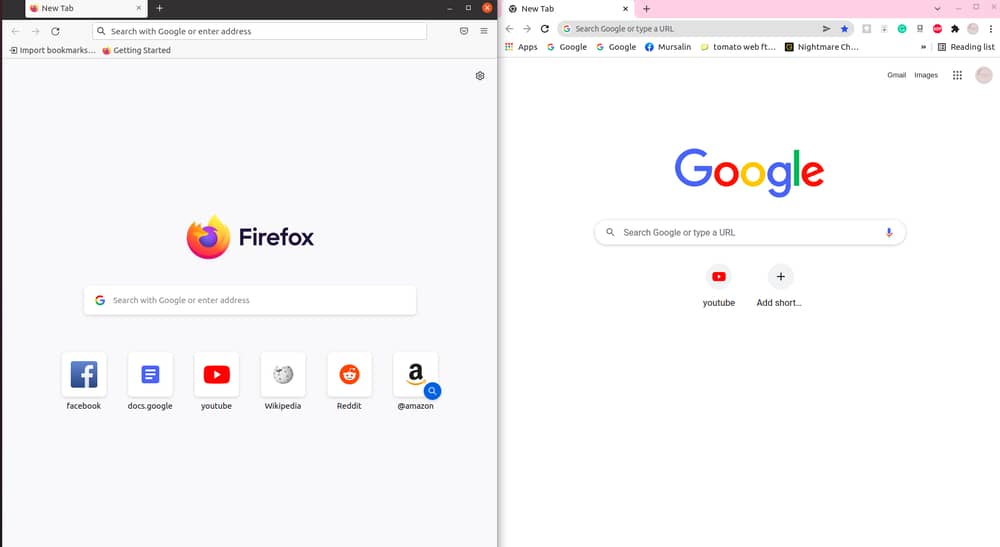 When you are not an expert and don't want to get deeper besides the search results, the layout of Google Chrome would seem cleaner to you. You have to learn nothing special to run and manage this browser. Additionally, reverse image search is something nowhere else to find.
But if you are already tech-savvy and think that personalization of the interface makes it more effortless, then Mozilla Firefox is one step ahead. You can add buttons, customize tabs, and so on. Horizontal scrolling is another facility that you can only enjoy with Firefox.
With time, anyone can adapt to any of them as they have almost dozens of similar functions and features. Synchronization across multiple devices and bookmarks are available for both. Also, both of them allow you to select the theme of your choice. So, the battle of Chrome vs Firefox is a tie here.
2. Privacy and Security
---
Nowadays, people are becoming more aware of their privacy and security. So this is a fundamental fact to consider about a browser. In this case, Mozilla Firefox can take the credit for a cut above Google Chrome for some valid reason.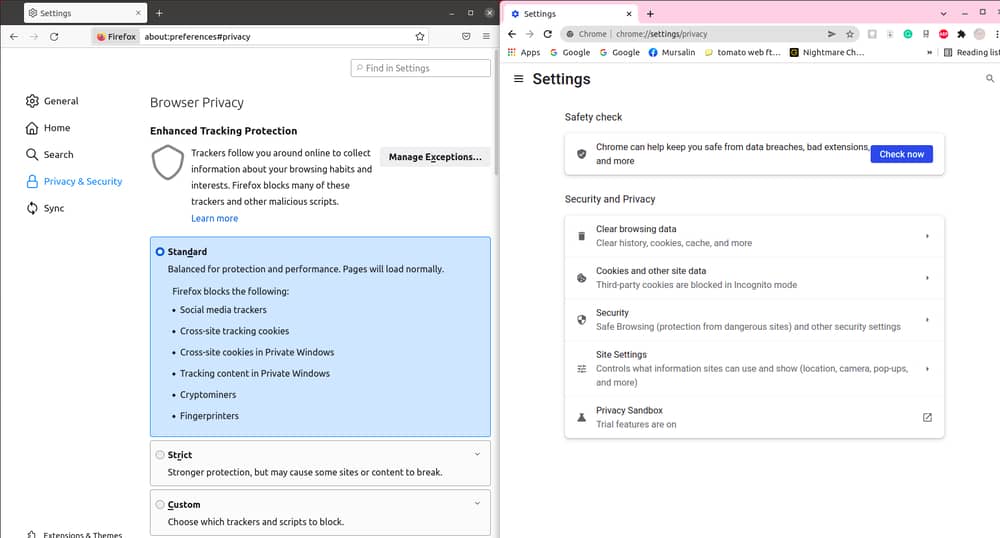 Enhanced Tracking Protection (ETP) of Mozilla blocks up to 2,000 trackers. Firefox Monitor will let you know whenever you should better change the password. Also, this browser lets you use a master password to make sure the saved passwords are protected. Moreover, you can use the extension or the add-ons for extra security here.
Google Chrome will always warn you with pop-up messages about malicious URLs. But, privacy is a point where Chrome needs yet to improve more. The reason is the fact of data collection from its users. They claim to use the data for better services, but not all of us are convinced of that.
About security, both the browsers are safe. They both have a "sandboxing" feature to avoid any effect on your devices from dangerous web pages. The private browsing mode of Firefox and incognito mode of Google will immediately remove any history or activity data.
3. Speed
---
One of the fundamental facts to check is speed when choosing a browser. Many of us will choose a browser over the other one just because of the speed progression. A bunch of other features is negotiable over speed. Firefox definitely gets the plus point for their effort into this.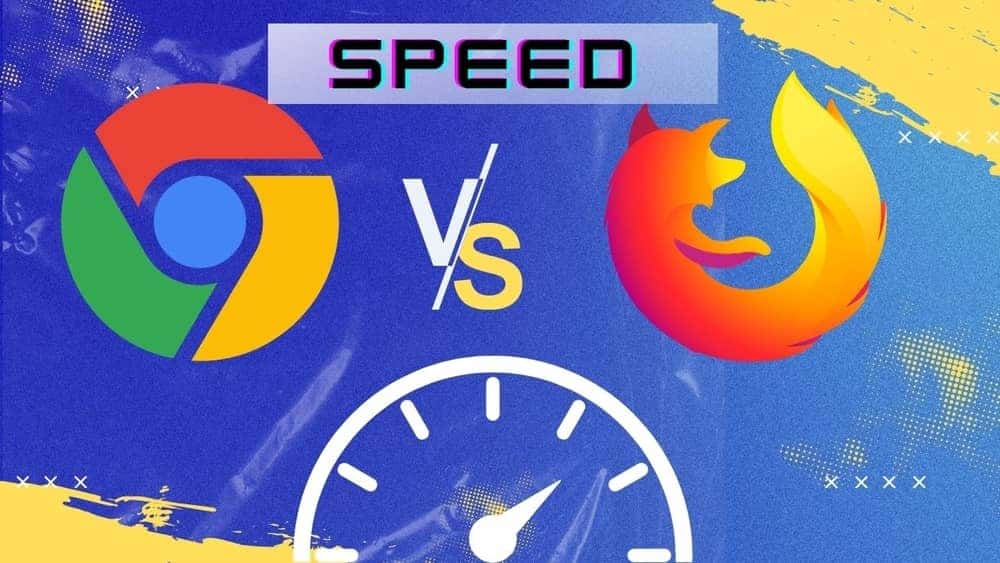 Firefox is faster to respond to the results. Even when you are working on multiple tabs at a time, it can take care of the load. The experience is better with desktop surfing. The RAM usage is minimal with Mozilla as well. You can optimize more data usage with the option of disabling images.
Battery consumption is to a lesser degree with Chrome. But it uses enormous RAM space and slows down while multitasking with several tabs. Without any active application in the background, it can take up quite a room. So, when the battle of Chrome vs Firefox is about speed, Firefox is the winner.
4. Performance
---
Based on performance, you can not really pick one. Both are high-performance browsers, according to users' feedback. As a dominating browser, Chrome is always kept in consideration while designing websites. So a person can read the web pages in Chrome better most of the time.
Another difference is that Firefox does not read a page without being fully loaded. On the other hand, Chrome doesn't need to load the whole page completely to read. Then again, Mozilla Firefox has more diversity to serve the user. About the performance, it is a tie.
5. Extension
---
On the matter of extension, it can take the browsing experience to the next level. There are two factors to prioritize here. Firstly, Chrome has more extensions to offer in their store if we count on numbers. Secondly, quality is more taken care of with fewer extensions in Firefox.
Besides, the Firefox library collection is sufficient to provide all the services you might ask for. More extension customization is also a plus point for it. And some of the unique extensions are up for grabs only in this browser.
Other than that, various services of Google such as Google search engine, Google Translate, Gmail, Drive, Google Docs, and many more are already available to operate without the extension support. Furthermore, there is no restarting required after the installation of an extension. So, Chrome is the winner here.
6. Portability
---
Almost every version of Chrome and Firefox is get-at-able in the most leading mobile operating systems and Laptops. Indeed, Android, iOS, macOS, Windows, Linux, etc., are easy-to-go with both Chrome and Firefox. Additionally, both of these browsers provide you with sync features, including bookmarks, passwords, opening new tabs, and so on.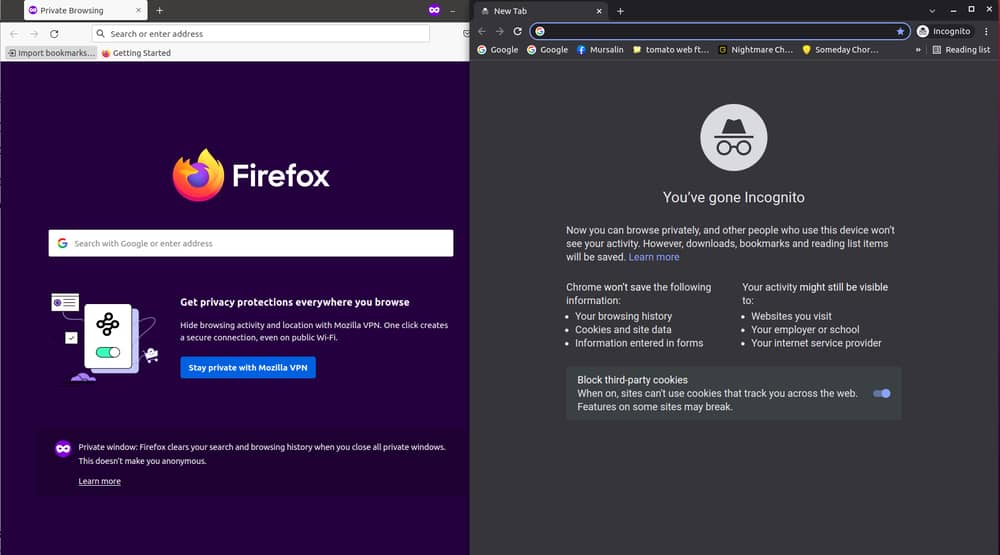 However, Firefox is more dependable in setting passwords and security. It offers an initial password, and whenever the user tries to go through the saved logins, one needs to go under a primary set of locks and keys. On the contrary, Chrome does not offer an additional security system.
Firefox allows the user to open a tab manually on the device or the desktop. Whereas in Chrome, one does not need to send the tab manually from one device to another. Moreover, it is handy, especially while reading an article or ebook. The only complication is automatic syncing, as multiple users can browse with one's signed account. So, the battle of Chrome vs Firefox is a tie here.
7. Utility
---
This time, both Chrome and the Firebox offer a more extensive library for extensions. Moreover, Chrome integrates with Google services, including Google Docs, Gmail, etc. Indeed, its catalog is vast compared to any other browser. Contrariwise, Firefox also brings an incredible number of active contributors and numerous useful extensions.
Although Chrome grants with extensions, Firefox has some excellent built-in features. It has a reading mode and screen capture tool, which will make things convenient for the user. Also, the feature helps to strip every tab and keeps the only one that has been reading.
Furthermore, Firefox makes a horizontal scroll on all the open tabs, so the tabs don't get smaller while making a new one. On the other hand, Google Chrome shrikes down all the tabs in order to make the favicon visible. However, multiple tabs from the same website can be troublesome.
8. Device Synchronisation
---
To synchronize the tabs, settings, bookmarks, other browser's data, and so on, Firefox and Google Chrome equally allow the users to do so. These two different platforms also help you with multiple user profiles. In addition, one can make an extra user profile to keep the record of settings, bookmarks, history, and separate and private data.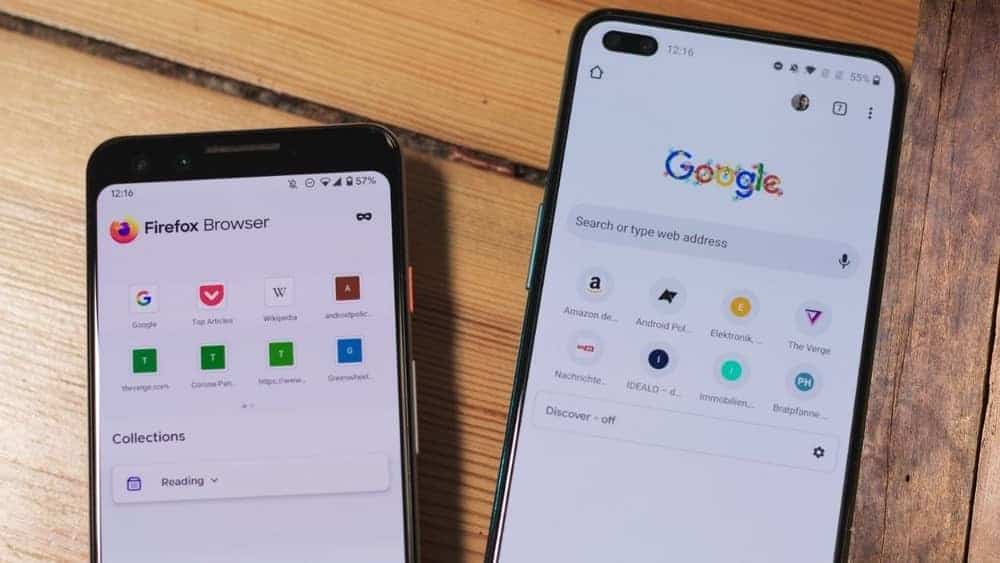 Here, Chrome users have a bonus point which is it integrates with Gmail, Google Docs, and Drive. No wonder managing all the google services from one browser is indeed handy. Furthermore, the task manager in Google will help with tabs and extensions in the browser, and there is a button with 'end process' too.
However, Firefox doesn't allow for data saving mode, whereas Chrome lets the user limit the data with data saving mode and remove all the meaningless elements. Additionally, Chrome has the most extensive extensions library, and every time it updates, Firefox only has thousands for the users.
9. Stability
---
Both of the websites allow for separate tabs with the help of the option, open web pages. Primarily, the separate process is quite hassle-free and does not have any effect. This is why the individual web pages are sandboxed.
Even though one tab with an open website gets crashed, the other tabs or content will not crash. Then again, the integral task manager helps the user to close any particular tab, and this also works in both Chrome and Firefox. So, once again, the battle of Chrome vs Firefox is a tie.
10. Usability
---
Both Google Chrome and Firefox organize open web pages with tabs, which will help open multiple websites altogether. The widespread problem most Chrome users encounter is that they accidentally close a tab with a double click. Indeed, one needs to look at the favicon icon to identify the websites.
On the contrary, Firefox always keeps a fixed minimum size for the tab. Furthermore, it can be scrolled horizontally, and increasing the number of pages does not mess. Nevertheless, the web browser allows personalizing its interface with multiple Themes.
Moreover, the default search engine is changeable, and its address bar doubles similar to search bars. In addition, the recently visited websites display on the home page for the user's ease. Plus, these have an auto-complete feature and will let the user mute or block any of the tabs.
So, these are the basic factors where these two popular browsers, Google Chrome and Mozilla Firefox, differ. Though you have noticed some of the points declared a tie in the battle of Chrome vs. Firefox, these are some points of slight differences too. So, we suggest you read the facts carefully to understand the differences.
Which is The Best: Chrome vs. Firefox
---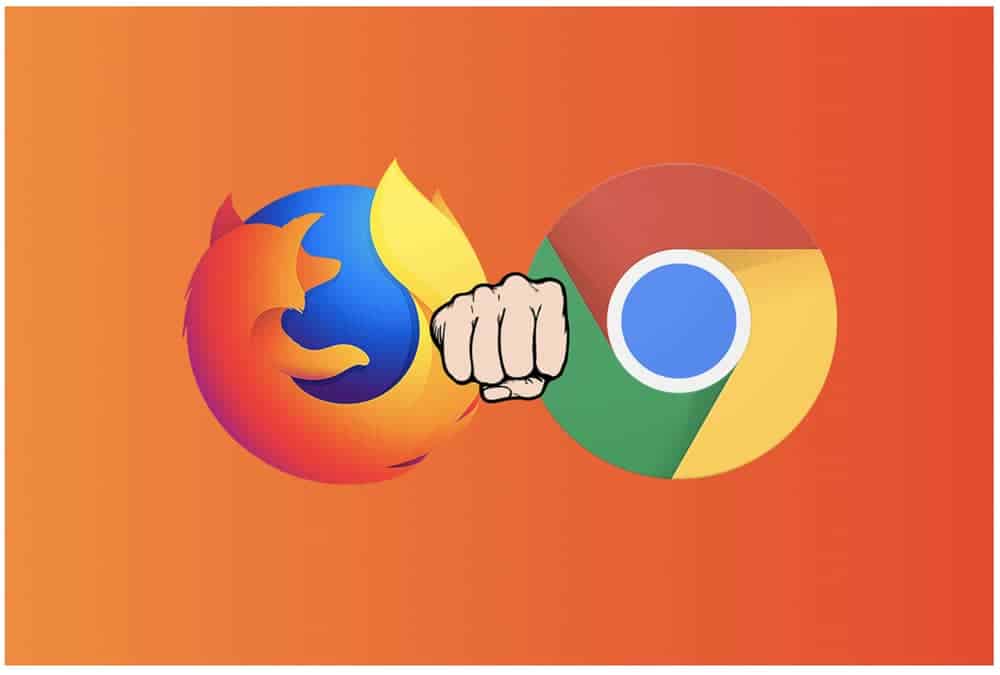 If you check out the above ten facts where Chrome vs Firefox battle has huge competition, you must get a clear idea about the entire concept. Still, some of you must be still confused about which one to try. For them, I am organizing this part. Here, you will get a quick list of points where these two browsers are different from each other.
Firefox is definitely more secure than Chrome.
Google Chrome supports reverse

image search, and Firefox doesn't.

Firefox offers

Enhanced Tracking Protection, and in Chrome, it is not available.

Firefox also comes with a built-in anti-tracking system, unlike Chrome.
Chrome uses more CPU and RAM, and so, Firefox is faster than Chrome.
Chrome allows data saving mode that Firefox doesn't.
The

extensions library of Chrome is richer than Mozilla Firefox, for sure.

It is easy to manage Google's tools with Chrome than Firefox.
Unlike Chrome, Firefox is not compatible with Chromecast.
Firefox offers a QR reader for mobile, and you may not find it in Chrome.
Automatic Translator is absent in Firefox but available in Chrome.
The full-screen capture tool is available in Firefox but not in Chrome.
Final Verdict
---
Both Chrome and Mozilla Firefox are free to use and almost support all the platforms. So, if you still be confused about the fact, Chrome vs Firefox, you better use them on your device and find out which one is suitable for you. But, I think the mentioned points are enough to get a clear idea about the differences between these two browsers.
However, inform us about which browser you think is the best. There are other browsers like Edge, Opera, Brave, etc. Do you think they are competitive to these two browsers too? Please inform us about it in the comment box. So, here, we take our leave for today and very soon, will see you with something new. Thank you for your time.