Network inventory software refers to the online tools, which deal with the hardware and software resources of a network, including the operational issues. Using this type of software, it becomes easier for administrators to know about the infrastructure components and their configuration systems. Also, it helps to keep the physical record of the network assets or equipment smartly. The components can be Firewalls, Routers and Switches, Storage Area Network, DNS, Servers, Load Balancers, SMTP, VPN, and more.
Best Network Inventory Software
---
The activities of the network inventory application help to reduce cost and time in regular operations of the whole network. Today, we are going to let you know about the top 10+ best inventory software for Linux platform. Each of these tools is described with a short review and necessary features, along with their official links. 
1. Open-AudIT
---
If you wish to know about the complete environment of a network, including its configuration, then Open-AudIT can be an excellent choice for you. This free network inventory software comes with a database of information that can run on Linux and Microsoft Windows as well. It is an open source tool under GNU Affero GPL v3 license.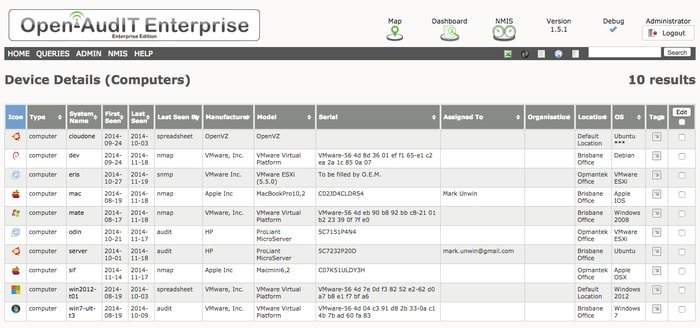 Important Features of Open-AudIT
Brings a flexible user interface with the facility of quick and easy customization. 

Lets users track data of SCSI devices, Memory details, Video, and Sound Cards, Monitors, Battery information, USB Devices, and many more on computer hardware systems. 

Helps with providing notification after a certain period to check the network and devices automatically. 

Keeps updated data on Antivirus, Nmap discovered Ports and Firewall.

Provides reports regarding IE versions, Software keys, Low Disk Space, Hard Disk sizes, Processor types and speeds, installed software, and more.
2. openDCIM
---
OpenDCIM comes with a feature-enriched Data Center Inventory Management tool with a lot of advanced functionalities, especially for Linux. It welcomes you with the facility of using, modifying, and sharing with other inventory applications. It's an open source program and requires PHP language and MySQL database for running this software.
Important Features of openDCIM
With the custom image, openDCIM allows image mapping to create individual clickable zones, including the facility of having Graphical Cabinet Viewer. 

Based on a cost per Unit and Watt formula, it lets you report on hosting costs by department. 

Using openDCIM, you can easily customize the port names and upload images for devices.  

Besides having the capability of deleting containers, rows, power panels, and power sources, it also lets users enter values manually for the power strip load.

Provides the authority to track spare parts supplies and to execute transaction audit properly. 
3. opsi
---
Now, it's about opsi, an open PC server integration package that provides automated software distribution and patch management facilities. It lets you get an overview of the software and hardware which can be deployed in different sectors like Information Technology, business, education, and public administration. opsi runs on both Linux and Windows OS.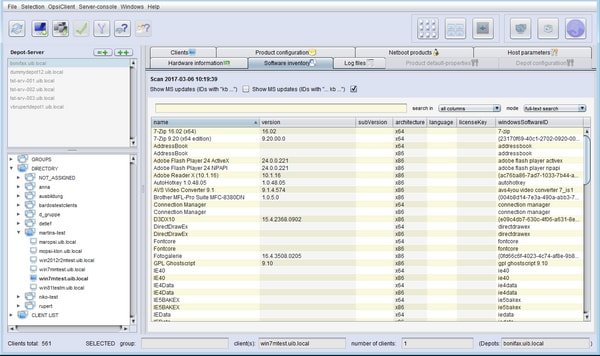 Important Features of opsi 
Supports several locations, including the facility of software depots and shares on local servers.

Provides multi depot support by which clients get the connection dynamically with the most appropriate depot for the users to get the software packages. 

Integrated with Clonezilla, an open source product to get an excellent solution to handle partition and disc images. 

Using 'Kiosk Mode' in opsi, users can select and install many software products without the interaction of the administrator.
4. OCSING
---
OCS Inventory Next Generation (OCSING) is one of the most popular and free network inventory management tools to keep track of the hardware and software configuration. It comes with a flexible and user-friendly web interface. This tool is developed using PHP and Perl languages. OCSING is an open source software released under GNU General Public License v2.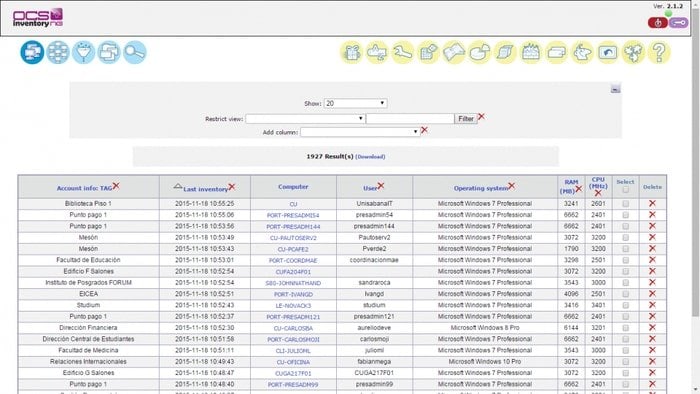 Important Features of OCSING
It lets you gather relevant inventory information of BIOS, memory, system controllers, sound devices, video adapters, and other equipment in the network. 

Provides the facility of using an advanced broadcasting system for deploying computer software installations within a smooth network system. 

Uses XML and Zlib compressed data so that it can reduce network usage. 

It allows extending the functionality using extensions through APIs. Also, it lets you synchronize with several third-party tools like iTop and GLPI. 

Provides packet deployment solution which allows uploading the packets remotely on remote computers. 

Supports most of the major operating systems, including Linux, Microsoft Windows, Mac OS X, BSD, Sun Solaris, Android, and more.
5. openITCOCKPIT
---
openITCOCKPIT comes with a template-based inventory management solution to manage and monitor all the server systems and applications. It is programmed in PHP and JavaScript languages developed especially for Linux platform. Using this tool, you can manage the distributed system centrally with less effort.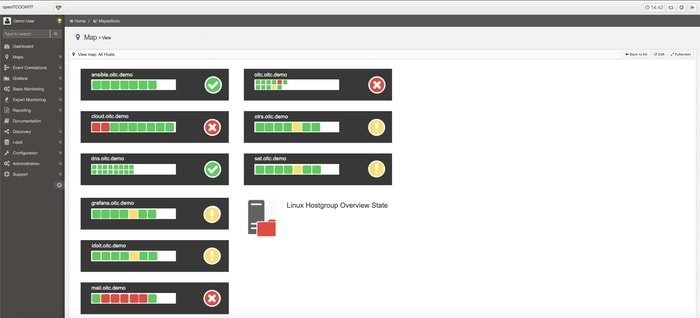 Important Features of openITCOCKPIT
Contains a modern and easy to use web interface with highly configurable dashboards. 

Provides clear and comprehensive documentation to clarify the technical facts and the installation process to its users. 

Allows creating reports on downtime and notification history, including state history. It can be generated and sent automatically in several formats like PDF, HTML, and CSV.  

Integrated with several extensions like Grafana and Graphite, Checkmk, OTRS, i-doit, and many more. 

Using WYSIWYG, users can generate custom maps to track everything they want from the network. 

Provides an extra layer of security using LDAP and two-factor authentication systems. 
6. FusionInventory
---
FusionInventory comes with an advanced network inventory software that helps to keep track of the hardware and software configurations of devices. It is a free application under the GNU General Public License v2. FusionInventory deals with various management tasks like network discovery, local inventory, and software deployment. This package runs on several operating systems, including Linux, Microsoft Windows, Mac OS X, NetBSD, OpenBSD, and more.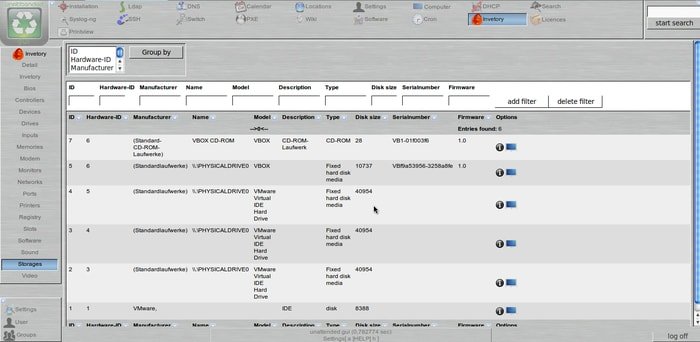 Important Features of FusionInventory
Besides installing, updating, and removing any software, it also lets you push the administration scripts quickly.

Supports various types of devices like computers, printers, network devices, Android phones, and virtual machines. 

It contains a GLPI plugin that acts as the Information Resource Manager with an additional Administration Interface.

Supports different virtualization mechanisms like Libvirt, FreeBSD Jails, HPVM, Parallels, Xen, and more. 

Compatible with OCS Inventory, OTRS, and Uranos servers and can act as a centralized control point. 
7. Racktables
---
It's time to tell you about a robust and one of the best network inventory software, RackTables. It helps to list all of your network devices, including racks and enclosures. It uses PHP programming language to build this application and MySQL to create the database environment. All in all, you will get an excellent solution for datacenter and server room asset management through this feature-enriched inventory software.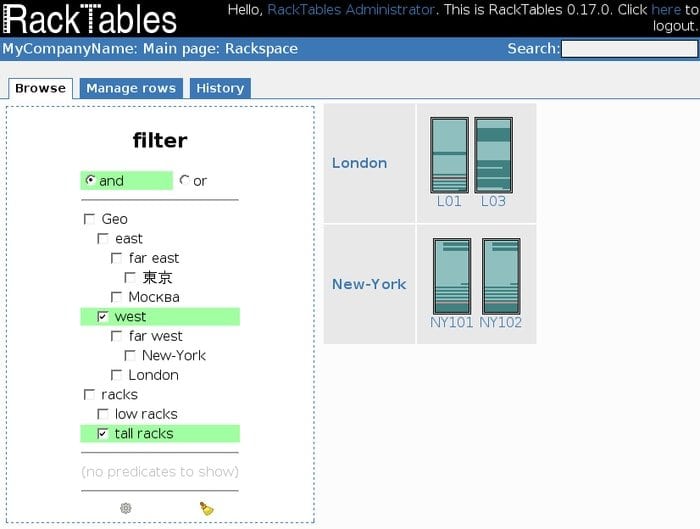 Important Features of Racktables 
Users can manage plugins from the web interface, which provides the capability of installing or uninstalling and enabling or disabling them.

It provides complete support of Unicode for user's data with Rackspace documentation.

Integrated with different network monitoring and graphing tools like Munin and Cacti. 

Lets users maintain physical ports of the devices and allow them to create a link between them. 

To identify missing foreign keys or triggers, system-level rows, and tables, it provides an 'Integrity Check' report to its users. 
8. ManageEngine AssetExplorer
---
We come with another product to introduce with you that helps to monitor and manage various network components in a smart way. It's ManageEngine AssetExplorer, a modern network inventory software for your business. You can scan your workstation and network devices like routers, printers, switches, etc. with the help of this tool.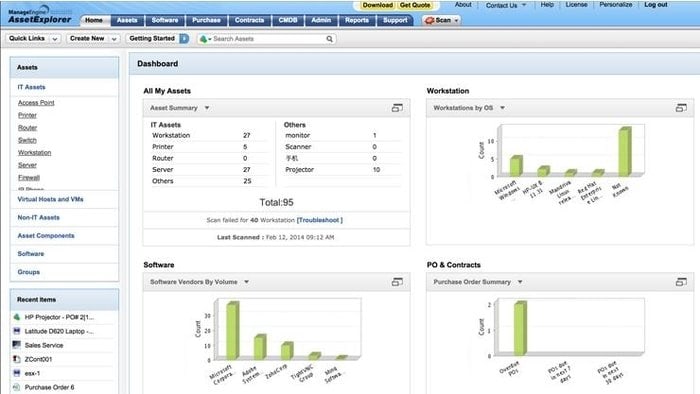 Important Features of ManageEngine AssetExplorer
Keeps the data of the network assets, including the purchase orders and contracts.

 

Helps to discover the available licensed and unlicensed software in each workstation.

Lets users scan and audit the workstations and provide clear information about the ownership of the hardware and software network assets. 

Along with trial and professional version of this application, it also provides the free edition, which is restricted to 25 nodes.
Get ManageEngine AssetExplorer 
9. Spacewalk
---
If you are searching for the best inventory software for Linux, Spacewalk comes with the best features with provisioning and monitoring facilities. It is an open source program licensed under GNU GPL v2 which is developed by Red Hat. Spacewalk used Java, Perl, and Python programming languages.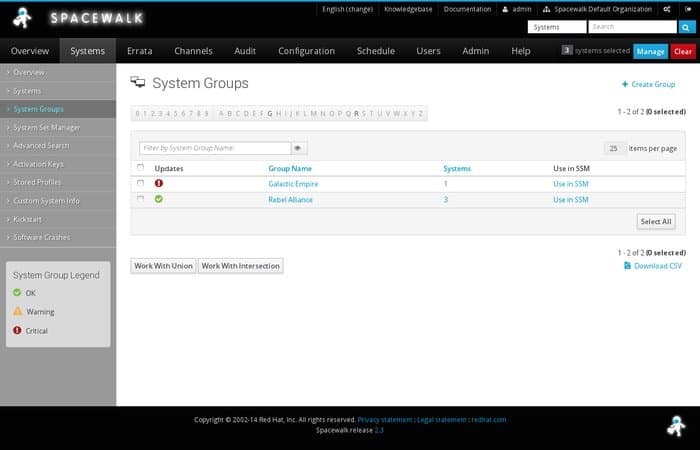 Important Features of Spacewalk
An easy to use inventory management tool for several Red Hat derived distributions like CentOS, OpenSUSE, Fedora, Oracle Linux, and Scientific Linux. 

With provisioning capabilities, it lets users manage and monitor the systems and deploy configuration files. 

Besides installing and updating the software on your systems, it also collects and distributes them into different manageable groups. 

Spacewalk provides the authority to control, monitor, and manage the virtual Kernel-based Virtual Machine and Xen guests. 

It enables the distribution of content in several geographical locations in an efficient way using Spacewalk Proxy to reduce the load on the central server.
10. Kuwaiba
---
Kuwaiba is another modern and popular network inventory software. It comes with a comprehensive and extendable data model with an intuitive interface. It uses Java to build this application. It lets integrate with various software and network components. Also, it's a powerful cross-platform program that runs on Windows, Linux, and FreeBSD systems.
Noteworthy Features of Kuwaiba
Includes IP address manager and high-level topology designer with this inventory tool.
It provides the facility to locate and connect 3G/4G network components.
Using Kuwaiba, you can reduce the resolution time, including the information at the time of troubleshooting.
Includes service and project management modules with the option of customizability of reports.
Provides support for the physical layer, bulk upload, and basic MPLS.
Also, supports several technologies, including IP networks, GPON networks, SDH networks, and more.
Wrapping Up
---
Along with other operating systems, network inventory software has a wide range of popularity and importance in Linux to track the network components smartly and flexibly. We researched and sorted out some of the best inventory software for our audience. Do you prefer something different from this list? Then, let us know your thoughts and help us to enrich this article.
Hopefully, it will help you to find out the most suitable network inventory application for your business. If it seems to be a helpful resource, don't forget to share with your community. Till then, have a great time!