At an earlier age, we had to do a lot for a Barbie doll. Eventually, almost all of us love to play with those wonderful dolls. But many of us didn't have the whole Barbie world. However, if you now have a smartphone, either iPhone or Android, you can simply enjoy the world as a whole of the Barbies in a completely new setting. Well, I am talking about the best Barbie games that let you enjoy the virtual world of beautiful Barbie dolls.
Best Barbie Games to Get Back to Your Childhood Barbie World
---
Undoubtedly, there are hundreds of Barbie games out there. But we cannot choose all the good games to list. So, we check the different categories and features of those games. Basically, barbie games are known to be the best games for girls and kids.
So, most games are offline, but some online games have exceptional features like multiple modes. However, we tried our best to choose the best games from different categories so that you can easily find exactly what suits you the best.
1. Barbie™ Fashion Closet
---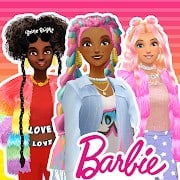 Let's start with the most popular Barbie doll game, Barbie™ Fashion Closet. This Barbie makeup game offers a unique Barbie story for both Android and iPhone users that you can explore. The Barbie and her friends are waiting there to show you their fashion and style sense. And your task is to help them get their best look with fabulous dress and makeup. So, if you love Barbies and makeup, maybe this one is just a perfect combination to entertain you.
Important Features
You can simply makeover different Barbie characters like Rinne, Nikki, Teresa, and many others.

There are tons of hairstyles, makeup kits, and dresses available for you to choose from.

You can eventually use magical makeup to change the look of the barbies completely.

You can earn points by making over every character. With the points, you can simply unlock many makeup kits and dresses.

The graphics and sounds are incredible in this game.
Pros: In the photoshoot sessions, you can take photos of the Barbies you dressed and styled, and you can eventually share the image on social media too.
Cons: 30 seconds long commercial advertisements often irritate the players.
2. Barbie Magical Fashion
---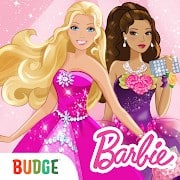 Being a fairy or princess is the most common dream of all girls. But the reality is different, so this dream cannot always come true. But you can be the virtual fairy quickly with Barbie Magical Fashion. It has come with real magic that will get you a fairy outfit and some gorgeous accessories. Additionally, you can choose and design your gown and customize hair in your way. Moreover, there will be a unicorn, and you can put magic on it to make it get a sparkle from an enchanted land. 
Important Features
You can add streaks of color in your Barbie's hair along with a variety of hairstyles.

It initially lets you put on some glittery gems to make a sparkly necklace.

There will be a lot of unlocked magical gift boxes to surprise you.

This game also offers mermaid tails and even fairy wings to bring a perfect fairy look.

There will be a whole package of colorful makeup to bring a magical look.
Pros: You can share your enchanted look on social media with your friends and families. Furthermore, this game offers many backgrounds and dresses all the time.
Cons: Sometimes, it shows too many advertisements.
3. Barbie Dreamhouse Adventures
---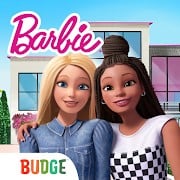 How about joining your dream house adventure in Malibu with your favorite barbie doll? Indeed, Barbie dreamhouse adventures will offer many fun activities like dancing, baking, pool parties, and so on. You can design every room with glaring decorations and colorful wallpaper.  Additionally, the kitchen of this game will get you many mouth-watering recipes too. Indeed you can join this game with your closest friends and family members and enjoy it to the fullest.
Important Features 
You can bake and cook delicious food from the recipes and upload it in this game for everyone to see.

Here, you will find a hair salon, and it offers lots of different hairstyles to give a gorgeous look.

This Barbie horse game indeed offers many beautiful and comfy dresses, and you can ask for suggestions from Nikki too.

There will be a Malibu Nail spa where you can get your nail design from gorgeous stickers and patterns.

You can dive, swim, make sand-castle and even play with your puppies 
Pros: This exciting adventure game offers multiple mini-games, including surf champion and so on. Additionally, it will arrange a special event like the Royal Ball at the Floravian castle.
Cons: You cannot enjoy this game without an internet connection.
4. Horse Riding Tale – Ride With Friends
---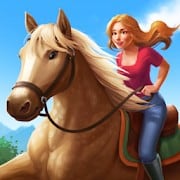 Riding a horse is the most exciting part of any adventure. However, if you love Barbies and adventure is your other attraction, I am sure you will love Horse Riding Tale. Basically, it's not a regular Barbie game but an adventurous Barbie horse game. Here, you can choose a Barbie Avatar to choose and ride a horse to enjoy an adventurous journey. This high-end 3D game lets you enjoy riding through the forest, desert, sea beach, and roads. Your friends can also join you to enjoy the journey together.
Important Features
This Barbie horse game initially offers feature-rich graphics and mind-blowing sound quality.

You will get a lot of hairstyles, dresses, and fashion customizations to change the Barbie avatars.

It lets you enjoy exploring the small countryside area and have fun with your friends.

There's a mystery of the Pegasus and Unicorn horses, and you have to solve the puzzle to get more points.

Apparently, you can join the Showjumping Academy and meet more players from around the world. 
Pros: This game has a very smooth control system. Moreover, you can enjoy riding with your friends using multiplayer mode.
Cons: There is not a lot of dress up and makeup customizing kits in this game
5. Makeup Girls – Games for kids
---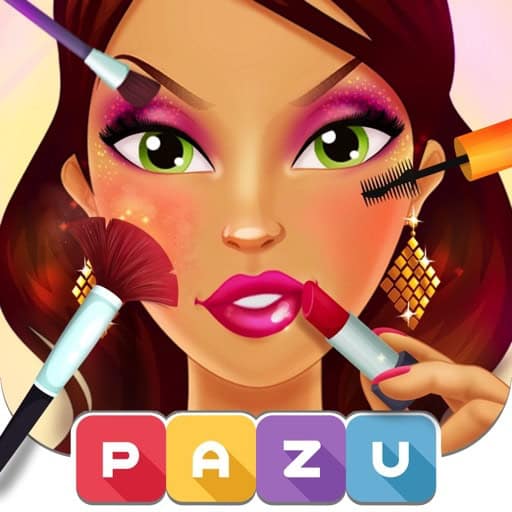 If you love Barbie makeup games, then why not try Makeup Girls? Undoubtedly, this game has a rich collection of makeup accessories, and you will find hair color and hair accessories. No wonder you can redesign your Barbie model with your style and put on a unique look in it.  Plus, there are lots of looks and outfits available there, and you can choose the best match for your doll.
Important Features 
This game is totally safe for the kids, and it will give fun educational experiences too.

The gaming interface is quite user-friendly, and kids can enjoy it without the elder's help.

You will initially find an extensive collection of eye shadows, mascaras, colorful lipsticks, blushes, and so on.

Apparently, you can give a gorgeous appearance to your model with thin braids, Harajuku-styled hair, or a doll face.

It also offers accessories like chic glasses, prestigious necklaces, and much more.
Pros: The game has brought Pazu's game with an entirely new version. Moreover, you will get full access to multiple game categories. 
6. Fashion Doll: Dream House Life
---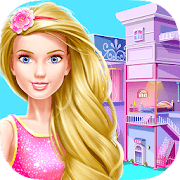 You can now decorate your Barbie dream house with your own style and theme. Well, Fashion Doll has come with some exotic furniture patterns and classy decorations of your dreams. Moreover, there are multiple rooms, and you can choose the style from tons of options and match the right one. And after getting your house in a beautiful Luxury style, you can put on some stylish outfits on the model for the hot fashion show. 
Important Features
You can simply choose the best matching wallpaper or simply paint the room.

It initially lets you bring some shelves or decorations to make your room more lively.

You can also design all the rooms similar to your dream house. 

This Barbie cooking game allows you to choose a room randomly, select furniture, and redesign it.

Its unique navigation system is relatively smooth, and anyone can enjoy it fully.

There will be options for classy decorations to bring a beautiful luxury design to it.
Pros: There's a cake decorating task in the kitchen room, which is actually quite fun. Additionally, it offers a lot of dresses for Barbie, and they are gorgeous.
Cons: The game doesn't have many levels.
7. Mod Barbie Pink – Maps House Minecraft PE
---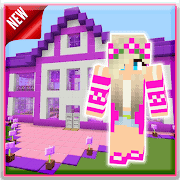 For those who would love to design a pink mansion of their own, Mob Barbie Pink will go with them for sure. Indeed, this is one of the best barbie games that includes a two-story luxurious home with a backyard pool, outdoor kitchen, and so on. In addition, there will be a lot of rooms, and you can choose your own decorating styles. Undoubtedly, it is more like a thrilling adventure in this futuristic palace.
Important Features
You will find a hot tub and hidden entrance to the underground bunker.

This game will get an expansive living room, a staircase that will take you to the second floor.

You will find some fancy furniture, and if it's not enough, you can get more by using mobs.

There will be a map and add-on barbie to make this game worthy for you.

To enjoy every part of the game, you need to download each stuff.
Pros: You will find an excellent sound system while playing this game. Plus, the graphics here are of the best quality for sure.
Cons: This game takes a considerable time to download everything.
Android
8. Fashion Doll Makeover
---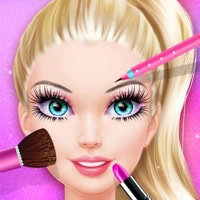 Fashion Doll Makeover has come with some fun features, and it will let you open your own spa Salon. At first, you can start with a facial spa for your Barbie model. And then you can put on some gorgeous makeup on them to look more pretty. Of course, you need to dress them with stylish outfits from head to toe, such as tights, skirts, tops, skirts, hats, jewelry, and so on. Want more features to get impressed? No worries, it has a lot more for you.
Important Features
The Barbie dress-up game initially offers six individual themes for you, including a vintage tea party, fairy party, pajama party, ballet girl, shopping girl, candy girl. 

There are multiple hairstyles, and you can fix Barbie's hair for the party. 

There is a massive collection of fancy accessories that you can download easily.

It also has a photography feature, and you can share beautiful photos of your Barbie girl.

The interface is indeed so smooth that your fingertip will be enough to give them a gorgeous look.
Pros: There are options for more games. Furthermore, you will find magical adventures with one mission for more fun.
Cons: Its voice system is a little annoying.
9. Makeover Games: Fashion Doll Makeup Dress up
---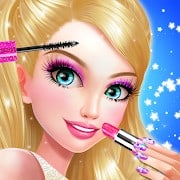 Love to open your own fashion spa and put on some gorgeous dress for your Barbie Princess? Well, Makeover Games has come with some makeup stages, and a new dress and excellent hairstyle will give a perfect shot to their looks. Moreover, it gets you tons of jewelry, dresses, shoes, tights, hats, tops, and so on. Additionally, you can take their beautiful photos and share those with a single fingertip.
Important Features
Here, you can start the makeup session with a facial spa that will glow with their appearance.

You will get six different themes to choose including Ballet girl, shopping girl, candy girl, pajama party, fairy party, vintage tea party. 

It indeed allows you to put different makeup, shoes, and accessories on each Barbie doll.

You can also pick beautiful hairstyles matching their dress code.

The interface of this Barbie dress-up game is eventually very smooth, and you will get a complete beauty makeover with a tap.
Pros: The game offers different breathtaking challenges. Also, it is packed with an extensive collection of beautiful games.
Cons: The fun doesn't have any restart option in it.
10. Doll Designer
---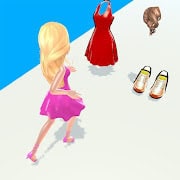 Doll Designer lets you choose the style of your Barbie doll, and it needs to be both classic and chic all the time. And it's our final recommendation for today. Here, you can work with your sense of style and make an artistic combination to their outfits. No wonder, It's a creative and fun game that tests your skills of fashion, and it helps to make a picture-perfect Barbie model. In addition, you will get to create a full makeover and show your talent around. 
Important Features 
You can simply use color combinations to mix and match their perfect-looking outfits.

It lets you go shopping for your model and get them different fancy accessories.

The game is initially divided into different levels, and you need to go through them.

Here is a studio that lets you enjoy mini-games like Happy Glass, Mr. Bullet, Love Balls, Ink Inc. 

The concept of this game is unique and has a user-friendly interface.
Pros: Even if you get defeated, you can start the game again. Moreover, multiple people can join this game at a time.
FAQ
---
Q: What is the best Barbie makeup game for kids?
A: Barbie Magical Fashion and Makeup Girls are the best Barbie makeup games for kids. The first one is available for both Android and iPhone and the second is only available for the iPhone user. These games provide exciting gameplay where the players meet lots of Barbie characters and makeover them using different makeup kits. Teenage and young girls also like these games as well.
Q: What is the best adventurous Barbie game for the iPhone?
A: Horse Riding Tale and Mod Barbie Pink are the best adventurous Barbie games you can enjoy for free. The Barbie horse game, the Horse Riding Tale is free to play and available for both Android and iPhone.
But Mod Barbie Pink is available for Android users only. However, both these games are pretty adventurous, and so, both kids and young girls will love them without any doubt.
Q: Is there any offline Barbie game?
A: Yes, there are many offline Barbie games available for both Android and iPhone. All the games we have already mentioned above, including Barbie Fashion Closet and Mod Barbie Doll, are free to play. Here, some of the games offer in-app purchases, but they all are optional. So, don't worry about the paid subscription.
Finally, Insights
---
It's true that you can explore AppStore and PlayStore to find the best Barbie games for sure. But our mini-guide will help you not get confused and select the appropriate game to try. None of the mentioned games are completely paid here, and some of them offer optional in-app purchases. So, please don't get bored in your leisure and enjoy our handpicked Barbie games. Thank you a thousand times for your time.