When it is about the most nostalgic and exciting indoor games, we, especially the 90s' kids, cannot deny the supremacy of the carrom board games. Still, we love to spend a great time with our friends and family playing this legendary game. But most of us don't have enough time to play and enjoy this game at home. Well, how about playing the best online carrom board games along with your friends? Seems interesting, right? Well, don't skip today's discussion, and I am sure you will thank me later.
Best Carrom Board Games to Enjoy Your Free Time with Friends Remotely
---
Basically, carrom board games will be interesting when you can play them with your friends. So, most carrom games are online so that you and your friends can enjoy them together. And here, we picked the best carrom board games that will definitely make you nostalgic and addicted. We prioritized the original gaming features and the best multiplayer modes while choosing the games. You can check the brief details to get your best fit.
1. Carrom Friends
---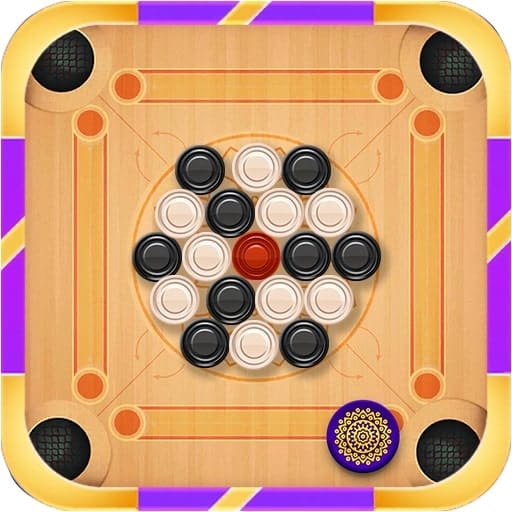 Carrom Friends is one of the most popular Carrom games among all Indian-style pool disk game apps. It is a real-time online game. Meaning, you can play it with your friends just like playing with a real Carrom board. Moreover, it includes brilliant in-game physics and intelligent AI that makes every strikes just like real carrom strikes. Not only the online mode, but it also has four exiting modes in total. Apparently, you can play this magnificent game anytime, anywhere, with or without an internet connection.
Important Features 
There are lots of things you can unlock in the game. Initially, there are over 36 strikers and 36 pukes which you can achieve by playing.

You can simply connect "Carrom Friends" with Facebook to know who plays this game and invite them to play with you.

This exciting Carrom game is available for both Android and iOS devices.

It runs smoothly on most smartphones, including very old versioned ones.

There is a "Pool Disk" mode where you can play Carrom without the queen puke.
Pros: Just like any disk pool game, Carrom Friends has a lot of challenging lobbies. Ultimately, there are eight different lobbies where you can play according to your progress. Besides, it is quite compacted in size and doesn't put high pressure on the device.
2. Carrom King
---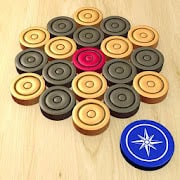 If you are looking for an exciting and fun game that you can play and enjoy playing with family and friends, then nothing better than Carrom King. This exciting pool disk alike game is also a kid-safe game. So, you can play with any person at any time, no matter wherever you are. You can simply connect to the internet and start playing Carrom in real-time. Plus, you can chat with your opponents with fun emojis and messages. Moreover, this mind blogging game allows you to play with global players. 
Important Features
This is a real-3D game and provides the best realistic gaming experience for you.

In offline mode, you can pause the game at any progress and resume later. Apparently, you won't have to ignore important stuff to end a game session.

You can indeed connect this game to several social media and challenge your friends on an exciting Carrom match.

There is a special mode for learning and mastering trick shots.

It also runs much smoother. You even can play fluently with a low internet connection with this Carrom board game.

It indeed features a lot of exciting strikes and pukes that you will win.
Pros: You can also play this game offline against the computer. Additionally, this game is available for both Android and iDevices.
Cons: This carrom game doesn't feature local match mode.
3. Carrom Pool
---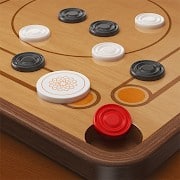 Carrom Pool is certainly one of the most flexible Carrom games you can play on your smartphones, tablets, and laptops. The best part is that this game runs flawlessly and has amusing animation effects, which eventually amplifies the fun of the game for everyone. The controlling is really easy, and everyone can easily understand and play it.
Moreover, there are various items that you can unlock and change the appearance of the game. Carrom Pool has smooth control and realistic physics to enjoy the best gaming experience. 
Important Features
You can play Carrom with friends online. Apparently, the online playing mode is available for both Carrom and Disc Pool mode.

This online carrom board game includes realistic physics that will surely make your Carrom playing session more satisfying.

There is also an offline mode in Carrom Pool. Apparently, you can enjoy this exciting game anytime, anywhere without an internet connection.

It features a daily golden shot where you can win big prizes and skins.

Not only with friends, but you can also play with players around the world.
Pros: There are lots of in-game arenas where you can enjoy playing and win hundreds of rewards. Lastly, it doesn't consume much power the device.
Cons: It may feel laggy on very smartphones with lower specifications.
4. Carrom Multiplayer
---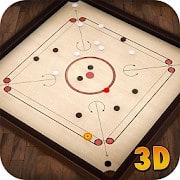 Carrom Multiplayer is a pool disk game with satisfying and realistic 3D graphics. This excellent game is playable by persons of any age with no restrictions. You can also play 2-player games through it in real-time. You are allowed to play online both with your friends and players around the world. Also, there are a total of four different modes in this Carrom game, including Practice mode. Moreover, you can play Carrom Multiplayer on almost any Android device. The game size is relatively compact and puts less pressure on the device.
Important Features
The developers used high-level artificial physics in this game.

There is indeed a practice mode where you can practice and improve your carom skills.

You can certainly invite and challenge your friends for a competitive carom match.

It consumes less power than other alternative Carrom games.

This is a family-friendly game that is good for your kids as well. 
Pros: It also features several beautiful strikers and pukes skins you can win as rewards. Besides, Low spec smartphones are not a problem for this game to play on.
Cons: You can't play a four-player match in this game.
5. Carrom Superstar
---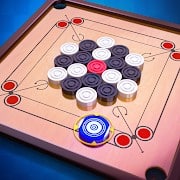 If you love games with HD graphics and stunning animations, then you should not miss Carrom Superstar. This incredible Carrom game will blow your mind with its beautiful decorative design and user-friendly operating. Even the setting is effortless to reach and adjust. The control of this game is unbelievably easy and smooth. Despite being a 3D game with HD graphics, it conveniently runs on maximum devices. Plus, it doesn't put heavy pressure on the device ram that causes lagging.
Important Features
This addictive multiplayer carrom board game initially features five different modes. Apparently, all of them are equally enjoyable for everyone.

Carrom Superstar is available for both Android and Apple devices.

The in-game physics is very realistic. Eventually, the striker and pukes move like real ones.

Also, the game includes a local mode where two real people can play Carrom locally.

There are several areas where you can play and win extra rewards. The arenas eventually promise as you improve in the game.
Pros: The simple two gesture control makes the game comfortable to play. Plus, global matches run smoothly even on low internet connections.
Cons: It is quite hard to win this game, and so we don't suggest it to kids.
6. Carrom 3D
---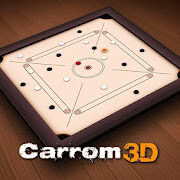 Carrom 3D would be the right choice if you ate in search of tons of modes and levels. Basically, it has almost all types of Carrom gaming modes in just one game. Wherefore, you can enjoy a whole bunch of Carrom gaming flavors from this one game. The game is available on both the Google Play Store and the Apple Store. Taking about the appearance, Carrom 3D had realistic 3D graphics, which really like physics. Apparently, you will get the feeling of playing a real-life match with Carrom every time.
Important Features
This best carrom board game features tons of game modes, including Challenge Mode and Time Trial. Though, there are four primary modes.

You can play this exciting game with 3D graphics online with hundreds of other actual players.

It indeed includes a practice mode where you can practice and improve yourself.

You can always connect to Facebook or other social media to see who plays Carrom 3D and play with them.

Adjusting any setting or preference is super easy in this game.
Pros: There is 80 different level in this Carrom game. In addition, it put less pressure on the device and runs quite smoothly. Moreover, there are over ten elegant stickers that you can choose and use.
Cons: Four-person playing is not initially possible in this Carrom game.
7. Real Carrom
---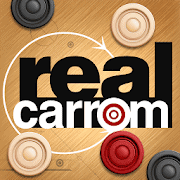 Real Carrom is a great way to get the fun of the Carrom game- a disk pool-like game. The best thing is, you can enjoy the pleasure of Carrom with entirely realistic environments in this exciting game. The controls are also easy and quite like the actual game. Plus, it is a 3D online game and doubles the fun. The sound and animation effects are also far better than most carrom board games. It includes bet-style gaming where you can win or lose in-game coins.
Important Features
You can connect with other local Real Carrom players through a wifi hotspot and play it together. Apparently, you won't need an internet connection to play like this.

The practice mode of this game comes in three difficulty levels.

There are indeed four different playing types in this game.

You will find tons of strikers designs and skins and progress in the game.

The linear guide of the game lets you practice more fluently and master trick shots.

It eventually features a leaderboard that makes the game more fun and challenging.
Pros: There is a local play mode where you can locally play with friends turn by turn. Besides, the game is relatively smoother and lag-free on every method.
Cons: Sometimes, it requires a stable internet connection for international matches.
8. Carrom Clash
---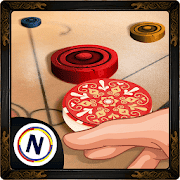 Carrom Clash is, so far, one of the most user-friendly ones among all the Carrom board games for Android. A great thing about this game is the soft and smooth graphics that make it super comfortable to play on. This game does not include any foul language or brutality, meaning it is safe for the kids to play.
Moreover, its two-step control is super easy to understand and master, and it is quite similar to real-life Carrom control. Lastly, in-game physics is relatively better than the best carrom games.
Important Features
Carrom Clash features various levels with creative and fun challenges with the Carrom board. Apparently, you won't find these on any other Carrom game.

It features four different game modes which are suitable for different situations.

The offline mode is indeed available in this game, where you can play with the computer.

This incredible game includes a local mode where you can play Carrom locally with your friends.

You can also play online with the global player to win a great reward and prove you are the best in the addictive multiplayer game.
Pros: There are over 100 unique levels that will definitely keep you attracted. Besides, there is a wide range of exciting stickers which you can unlock by completing goals.
Android
9. Carrom Live!
---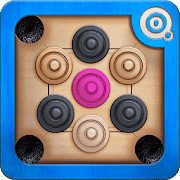 If you want to try the most exciting multiplayer carrom game with your friends and people worldwide, this live game is for you. Carrom Live comes with the best multiple gaming features with real carrom board playing rules. Octro Inc developed this game only for real carrom game lovers. And so, we can ensure that you will enjoy this game just like you did back in your early ages. However, let's check more about this game.
Important Features
Freestyle and Black & White are the two basic gaming modes available here.

You can simply invite your Facebook friends to enjoy this game together.

While playing this game, you will feel the realistic carrom gaming experience with the multiple camera setting options.

The leaderboard will eventually show you the place you achieve in this game.

Apparently, this game ensures initiative control over the virtual carrom board, and the sound is quite realistic as well.

You can also select your opponents and challenge them to beat you.
Pros: The in-game chat option will let you contact other gamers. That's how you can meet and learn about people from around the world.
Cons: The coins you will earn quite often vanish for no reason.
10. Carrom Board Game
---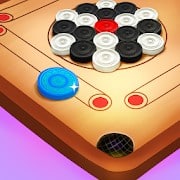 Lastly, it is Carrom Board Game by Megus Game. I am sure you will love this game if you are truly a fan of the real carrom board game. However, it's not basically a regular Carrom game, but the entire game is designed with laser and neon light settings. This multiplayer game is free to enjoy, and you can play it with your friends and other players were randomly chosen by the gaming system. Want to learn more about it? Check the features right below.
Important Features
You can challenge players and choose your opponents to earn more points.

If you don't like the basic neon light setting, you can simply enjoy the normal gaming mode. Eventually, this game provides multiple methods too.

It is a very addictive game, and you will love to enjoy it in your leisure.

3D gaming setup with HD graphics will definitely create an exciting gaming experience.

You can also select strikers from multiple ranges. Additionally, you can earn more points by getting the sticks.
Pros: This game lets you invite your friends and family to join through different social media. Eventually, you can ask them to be your opponents as well.
Cons: Because of in-game bugs, this game rarely fails to open.
FAQ
---
Q: Can I enjoy carrom board games online with my friends?
A: Yes, you can enjoy the best online carrom board games with your friends. We know that carrom games are only interesting when we play them with our friends. So, most of them require a stable internet connection so that players can use the multiplayer mode. So, there are lots of multiplayer carrom board games you can enjoy along with your friends and family.
Q: What is the best four-person carrom board game?
A: Carrom Multiplayer and Carrom King are the best four-person carrom board games you can play on Android and iPhone. These multiplayer games let you play a single match with four different players. Eventually, you can invite your friends and check if they are online. And then you can enjoy these multiplayer carrom board games with your friends.
Q: Is there any offline carrom board game for practice?
A: Real Carrom is available with both online and offline modes. So, if you wish to practice Carrom alone without an internet connection, you can simply try this game. It is, eventually, a very addictive game with the features of the original board game.
Q: How can I change the language of the Carrom King?
A: Carrom King is one of the most popular carrom board games that most players cannot enjoy because of language. Most often, this game is installed in either Chinese or Indian language. But you can change the language quickly.
Right after installing the game, you will get an option for setting, and you can recognize it by the standard-setting icon. There you will find one sector with multiple options. That must be the language setting, and clicking on it; you can easily change it to your native language.
Finally, Insights
---
Our mini-guide of the best online carrom board games must bring you back to those nostalgic days when you played indoor games with friends together. So, why spend time here? Just call your friends and share this content to choose the most appropriate one in a mutual discussion. And then enjoy ultimate carrom games anytime, anywhere. But don't forget to share about your selection with us. We love to learn which one you like. Thank you in advance.